Girls with long hair think they know all there is to know about ponytails. This hairstyle is often considered to be a quick fix for times when your imagination runs out or you have no time to wash your hair.
However, a well-made ponytail is a separate hairstyle all on its own. Knowing how to make amazing ponytails is a great skill which is an absolute must-have for all the girls out there.
So, if your hair is long or at least medium in length, there are loads to learn about high ponytail making. They can make you look really beautiful without draining too much time. All ponytails are created in a matter of minutes and, if done right, can last all day.
Choosing the right one depends on your mood and the accessories you have. But even a simple scrunchy can help you create an amazing image. Don't be afraid of learning something new about high ponytail hairstyles. You will find these options very useful.
Amazing High Ponytail Hairstyles For All Hair Types
A high ponytail is a universal hairstyle used by all men and women with long enough hair. However, not enough attention is paid to the variety of ponytails out there. By considering a simple way to arrange your hair, you deprive yourself of a chance to make some very stylish arrangements.
We have done a long job of choosing the most amazing high ponytail hairstyles to help you understand how much you might have been missing out on. You can try them one by one to look incredible every day.
A high ponytail is a great way to always keep your hair neat while sporting a very fashionable hairstyle other girls will admire.
1. The classics
This classic high ponytail seems easy to make, but there are a couple of tricks to it. The hair is not pulled in tightly to create some volume on top of the head. If you have bangs, such hairstyle will not look as effective.
2. Loose top
This high ponytail looks very special due to a loose and voluminous top it creates. You will need to make a middle part and brush your hair to the back and upwards. Once the volume is reached, tie the ponytail with an elastic band. You can pull one strand of hair around the band to hide it.
3. Wavy ponytail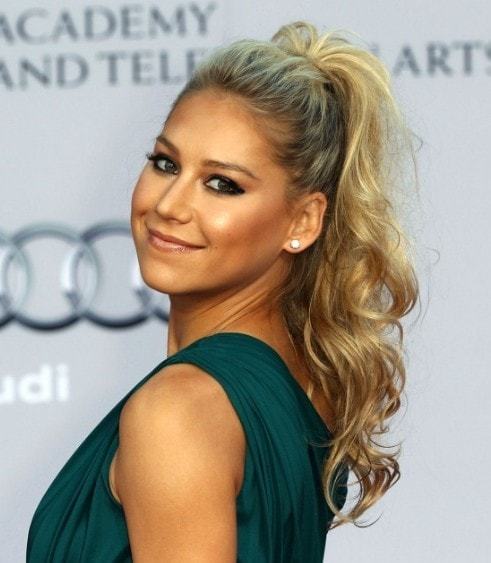 If you've always dreamed about wavy hair but didn't want to go through the hassle of perming damage, this ponytail is for you. You will have to curl just the lower part of your locks, which can save your hair some quality. The curls will stay intact longer.
4. High and mighty ponytails

This ponytail is perfect for girls who are into sports. It is very tight and doesn't get into your face while exercising. The hair is collected on the very top and tied together with a thick elastic band to create a high impression. A strand of hair is pulled over the band to hide it.
5. Get creative with braids
If you have a bit of time and are tired of simple ponytails, this hairstyle is for you. Create braids on both sides of your head and pull them up and backwards. Add the rest of the hair and make a loose ponytail. You will get an amazingly wild hairstyle.