It's hard to picture life without hair clips. Sure, we would still have hair ties, but what about our pretty yet practical clips that come in a variety of shapes and materials for a variety of different uses? Let's face it, if you've got hair, clips are essential in your life.
Using the right types of hair clips can make a huge difference in styling, creating, and rocking certain hairstyles. That is why it's crucial to know which clip is meant for which moment and how it use it right!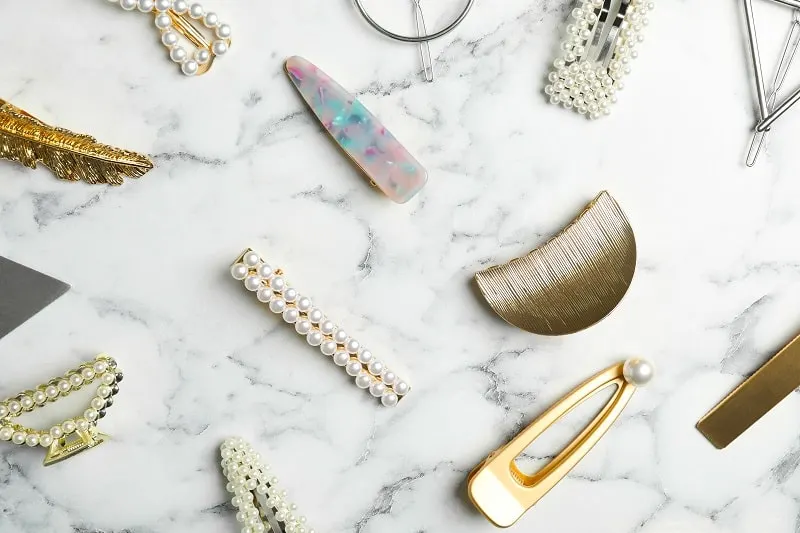 Types of Hair Clips
Choosing a hair clip comes down to your needs. Do you need a clip for cutting hair? Perhaps for styling it? Or maybe you're looking for something that is predominantly decorative. Either way, we have 15 different types of hair clips worth checking out below.
1. Claw Hair Clip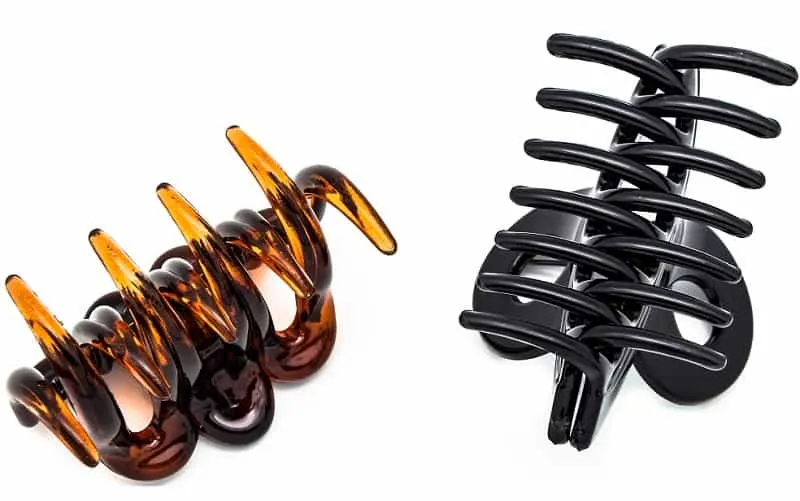 Chances are, you've got our first hair clip lying around the house. Women wear claw clips because they are comfortable and easy to use. Typically, a style done with a claw clip will sit directly at the back of the head.
Smaller versions can fasten a low ponytail. pinback bangs, or secure a half-up style. To top it all off, they don't dent or crease hair as a conventional hair tie does.
2. Bobby Pin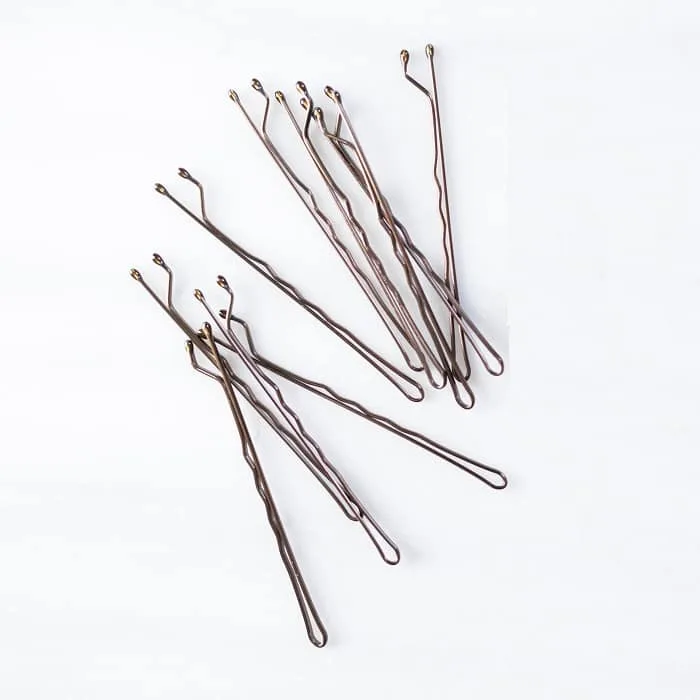 The simplest and smallest on this clip list, the bobby pin can work alone to casually pin up a portion of hair or in tandem with dozens of others to create elaborate couture styles.
Characterized by one straight side and the other grooved, bobby pins give the strongest hold out all of these types of hair clips.
Bobby pins are narrower than hair pins. Their narrow pin turn means they really secure hair tightly. Now, they are available in blonde or brunette tones, besides classic black.
3. Sectioning Clips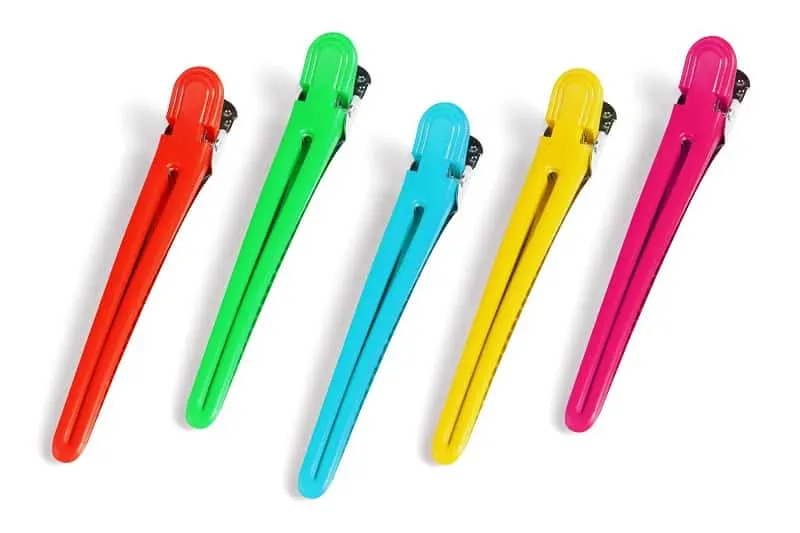 Also known as an alligator clip, sectioning clips hold large sections of hair during the styling process. The long, narrow shape makes them comfortable for securing hair for long periods of time.
Use them while applying extensions, blow-drying, straightening, curling, braiding, or in any styling moment where you would need an extra hand. Sectioning clips are a must-have!
4. Wave Setting Clips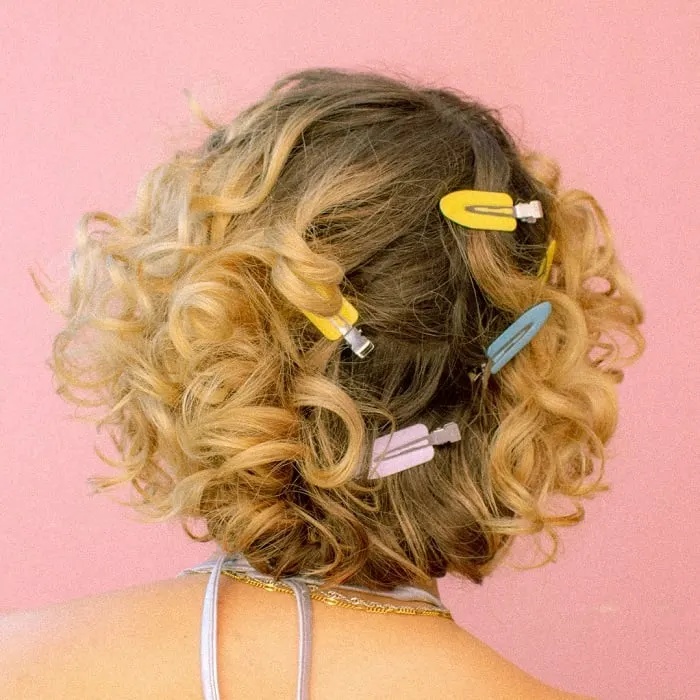 Designed for the professional but perfect for you, wave setting hair clip types secure hair after styling so make-up can be done. While they are perfect for retro-glam styles such as finger-waves, they are ideal for securing virtually all hairstyles without creating a dent. If you're looking to up your beauty connoisseur game, get your hands on wave setting clips.
5. French Barrette
First created in France, a French Barrette is small, metal, and has a fastener underneath that pops into place to secure. The classic style is two simple lines of metal on top but nowadays have many different materials are fastened to this top portion for vibrant styling.
Barretts can be small and placed over the ear or come in a large variety to be attached to the back of the head. They offer a fairly secure grip to the head as well.
6. Snap Clip
Seeing these clips should give you a touch of nostalgia. The easy snapping mechanism makes them great for kids that are learning to style their own hair. The fact that they often come in bright colors to make them fun! Because they don't hold very much hair at once, they are great for children's typically fine hair types.
7. Banana Clip
This interesting clip is good for securing a lot of hair at once. Due to its teeth in the middle and the outer circle that locks together on one end, it is the best option for long and thicker hair.
Women with thick, kinky hair can search for larger versions made of bendable, flexible material that exists in the marketplace. Choose a simple design for every day or select a decorated one made of beautiful materials for an important event, such as a wedding.
8.Pearl Hair Clips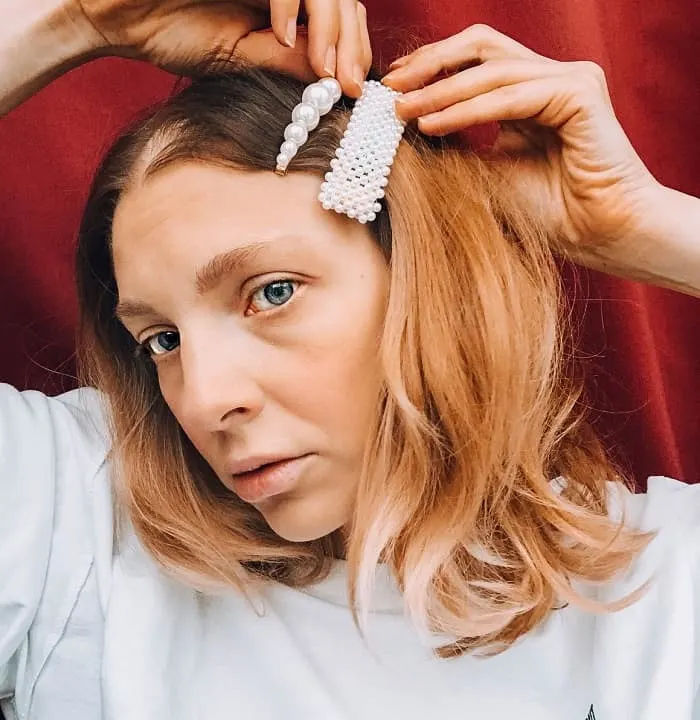 This style encompasses several different types of hair clips, such as bobby pins or banana clips. Regardless of the shape of your clip, these styles must be covered in pearls, such as pearls of equal or varying sizes, to fit the bill.
Pearl hair clips are great for showcasing a preppy style are especially appropriate for romantic events and brides-to-be.
9. Double Prong Curl
Like wave setting and sectioning clips, the double prong curl clip is used solely during styling. Most often, they are wrapped around a freshly hot curl to secure and hold their shape.
Most often, women will wear them all around their heads to 'set' the curls and take them out at the last moment, where they will be then brushed out. Double prong curl clips can also be used in the same manner as wave setting clips, where a playing card is pressed underneath the top of the clip to avoid a crease.
10. Duck Bill Clip
Another functional hair clip type, the duckbill variety is most often found in a hair salon. Stylists use them when cutting or highlighting hair because the sharp point at the end of this long, thin clip is perfect for sectioning off fine portions of hair without having to reach for a comb.
This also means that they don't hold as much hair as sectioning clips. You may not need this variety unless you are a professional or need to section off hair for braids.
11. Hair Ribbon Clip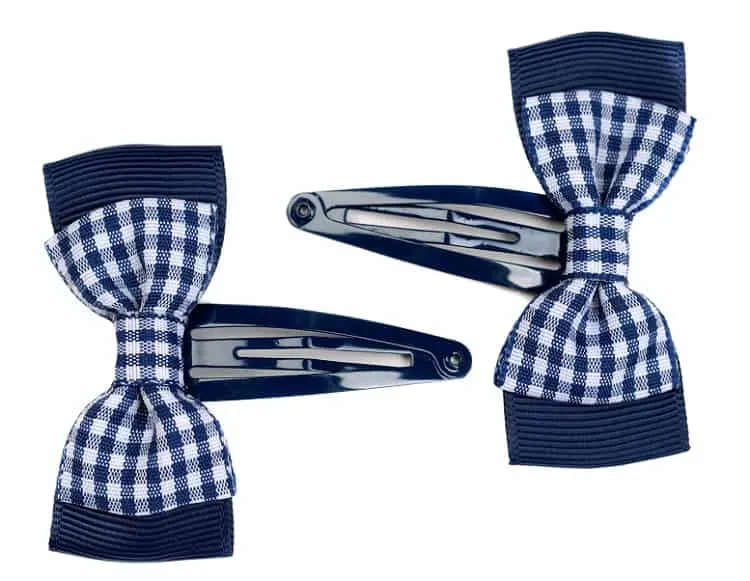 Hair ribbon clips are most commonly found on the sweet hairstyles of little girls or your mother in the 90s! Clip bows avoid all of that ridiculous fuss of tying up hair and shaping ribbon into a bow.
These bows come already attached to a snap clip. Find them in small styles or in large ones that can help you create a low ponytail or lower half-up style.
12. Geometric Minimalist Clips
The backs of minimalist hair clips are thin and simple like a bobby pin but secure into place like a french barrette, without the popping sound. They tend to hold hair very well, so long as you don't try to work too much hair into the clip, as it can't hold very much.
These clips are typically seen as a decoration on the temple or as a fastener of the front strands of the face in a half-up style at the back of the head. They often come in geometric shapes like a simple circle or complex astrological styles.
13. Bumpit Hair Pins
Long gone are the days when securing your bumpit presented a whole other challenge. This simple yet revolutionary style attaches a bumpit filler to a small, comb clip so that placing and securing the volumizing portion onto your hair has never been easier. Use it for sleek, elaborate up-dos, or for extra oomph on a night out.
14. Butterfly Clips
Bring back that 90s flair with cute butterfly clips. Don't think about wearing just one, several clips are usually worn at a time with each small section of hair braided or twisted. They can't hold much hair at once, so use these throwback clips as a decorative style.
15. U-Shaped Hair Pins
They make look similar to bobby pins, but u-shaped hair pins can do more heavy lifting than their narrow counterparts. Get your hands on these when pinning complex up-dos, especially if you have thick hair. The wide U shape of this pin can tuck and secure loads of hair.
Each of the above hair clip types has a purpose. While some may be more fun than others, they all are essential pieces of the ultimate stylist's glam kit. For you, they can make creating certain styles that you love so easy to achieve.