On the wedding day, nothing is more important than looking and feeling her best for a bride. But how can you choose the ideal wedding hairstyle?
Whether you're looking for something classic, romantic, or modern, there is a wedding hairstyle that will bring out your inner beauty.
From loose cascading waves hanging down the back and half updo hairstyles to high ponytails with faux flowers and everything in between. It can be difficult to choose!
We've compiled a list of best hairstyles for brides and created a guide on choosing a hairstyle that will compliment your style, personality, and wedding aesthetic.
How To Choose a Wedding Hairstyle
The best wedding hairstyle will match your style, theme, face shape, dress type, and other critical factors. Here are some helpful factors to consider when selecting the perfect bridal hairstyle.
Face Shape
Face shape plays a major role in determining hairstyle. The oval-shape is well-balanced face shape and can pull off any hairstyle.
If you have a round face, you may opt for an updo or a style with some height to elongate your face.
You can go for soft curls if you have a heart-shaped face, as they will accentuate your beautiful features. For a square look, try an updo or side braid to soften the angles of your face.
Hair Type
If you have straight hair, you can go for an elegant updo, loose waves or curls, or a sleek and polished style. For curly-haired brides, embrace your natural texture with a half-up style or keep it loose and flowing.
If you have thin hair, try volumizing products and have it styled in an updo or a side ponytail.
For thick hair, you can choose from various styles, such as a half-up/half-down, an updo, or big beachy waves.
Hair Length
Your hair length can be a factor in deciding what style you choose. A partial updo is perfect for short hair, as it will show off your beautiful facial features. You can also rock a sleek pixie cut or a voluminous bob.
Medium-length hair allows you to choose between an updo, romantic waves and curls, a high ponytail, or a half-up style. On the other hand, long hair is great for creating an intricate updo or wearing it down in soft romantic curls.
Dress Neckline Type
Your wedding dress neckline can help you decide on your hairstyle. A high neckline looks best with an updo, while a long hairstyle flatters a lower neckline.
You can wear an updo or let it down in romantic curls for a strapless dress. For a one-shoulder dress, you can wear your hair half up and half down with a braid or go for a voluminous ponytail.
Dress Type
Different types of wedding dresses require a certain hairstyle. For instance, a romantic bohemian wedding dress looks best with a low and loose updo or tousled waves.
If you opt for a full ball gown, go for a polished updo or romantic curls. A mermaid dress calls for an elegant twisted updo, soft waves, or side-swept curls.
Wedding Location
The venue can also help you decide on the ideal wedding hair. If you're having a beach wedding, go for big waves or an effortless up-do with a few loose strands.
Or choose a romantic curly updo or voluminous half-up/half-down style for an outdoor garden wedding. And for an indoor wedding, you can choose from various hairstyles that suit your dress and face shape.
Wedding Hairstyles for Brides
For instant bride style, try one of these 50 gorgeous wedding hairstyles.
1. Beehive Updo
A classic beehive updo makes the best wedding hairstyle for brides with long to medium tresses.
Tease the crown area to achieve a perfect dome shape with smooth sides and a middle-parted front. Complete the look with a chignon bun and a tiara on top.
2. Braided High Bun + Textured Bangs
Drop jaws with a hipster hairdo that can be created at home with ease. Crimp the hair and style it into a braided top bun.
Concerning the bangs, you can use a faux clip-in fringe or flip down the hair ends at the front to achieve temporary bangs. Don't forget the flowers!
3. Side Hairdo with Cocktail Hat
Look like royalty on your big day by putting on a stylish cocktail hat. Opt for curls or loose waves and wrap them into a side updo with the hat tilting on the opposite side. A high bun or low chignon won't look bad too.
4. Loose Tendrils
Keep it relaxed with a messy wedding hairstyle, and you'll look equally stunning. Pin back the hair into a loose bun with a subtle pouf on top.
Pull the strands loose by pinching them with your fingers to achieve a texture hairdo and retain it using lots of hairsprays.
5. Piled-Up Curls
Black brides can set their natural curls on full display by piling them on top of their heads. Go for a sleek side part with a crown embracing the curls.
Use a synthetic drawstring bun if needed. Put on your veil and get ready to say 'I do'!
6. Double Dutch Braids
Dutch braids never disappoint. Those who love braids can get one on each side of the head. Merge them into one braid at the back or wrap them around into a low bun instead.
Pull some chunks loose along the way and curl them. Or don't!
7. Romantic Fishtail Braid
Talking about braided wedding hairstyles for brides, what can be more romantic than a simple fishtail braid?
Curl the side locks away from the face while plaiting the remaining strands to fall at the front. Add some flowers and there you go!
8. Brushed-Back Short Coiffure
Brides who do not want to style their short tresses into usual updos can consider this wedding hairstyle without worry.
Ask for a good blowout and brush the strands away from the face. Spare the bangs on the forehead to avoid a blunt look.
9. Wedding Pixie with Pearls
Though hairstyling options are limited when it comes to pixies, there are a number of hair accessories that you can rock with that short crop.
Style the strands as usual with an angular fringe framing the face. Put on a pearl net coronet with matching jewels and voila!
10. Bold Buzz
Be bold, be beautiful! Turn around heads on your special day with a buzz cut. Keep the top long with tapered sides and back.
Don't go with a tiara or veil as it won't complement the look instead, keep the focus on the face with suitable makeup.
11. Mini Afro + Fancy Head Piece
There are so many things that can be tried with long afro curls. How about chopping them off into a natural pixie to surprise everyone, including the groom?
Keep the strands at uniform length all over the head and put on a fancy headpiece for a festive look.
12. Layered Bob with Dreamy Beach Waves
Look like a princess by coupling your bob with romantic beach waves. Add curls and brush them out to make the layers really stand out.
Try loose side braids with a middle part or place a floral crown on the head, pushing it slightly away from the face.
13. Classy Lob + Floral Headband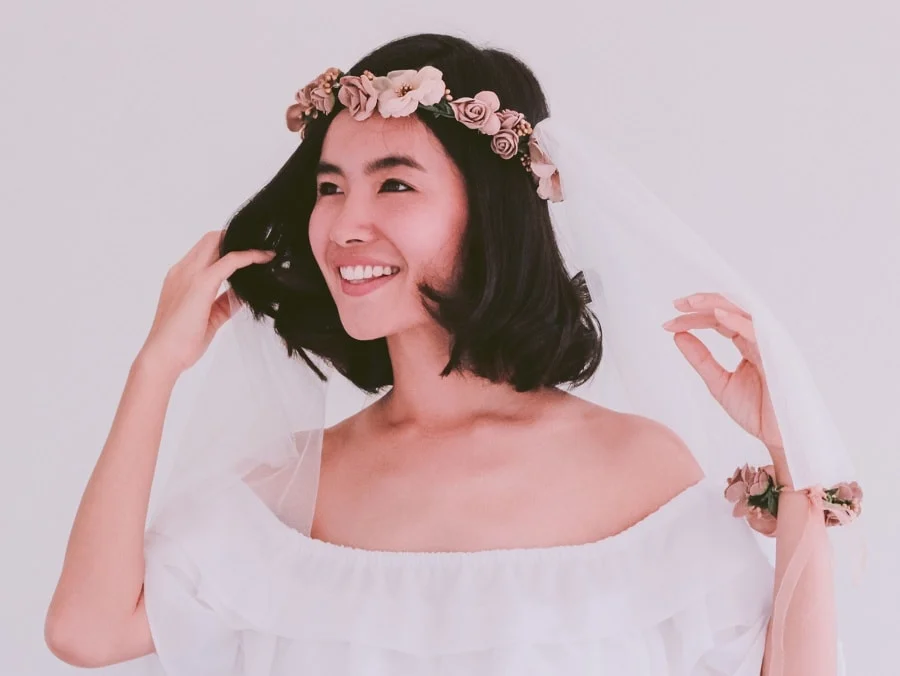 Here's a bob hairstyle for brides who wish to add a bohemian touch to their look. Keep the lob straight or curl the ends to achieve some movement.
Place a flower headband on top, and instead of pushing it away from the face, as mentioned above, make it sit across the forehead.
14. Chignon French Twist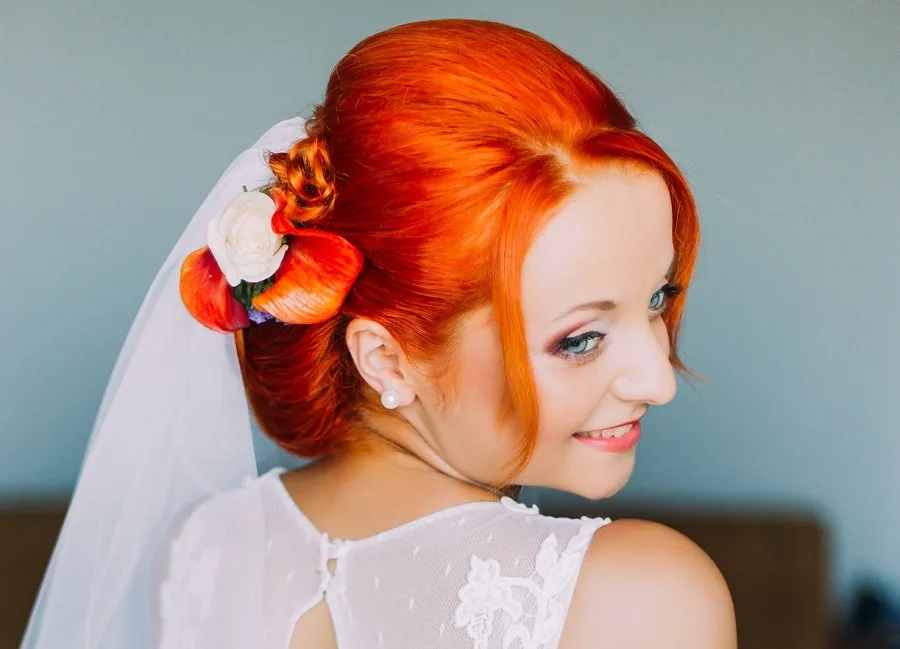 Show off your bright ginger tresses with a chic French twist chignon. Opt for a beehive bump on top and gather all the hair on one side before rolling it inward toward the scalp. Secure in place with pins and tug out some chunks at the front.
15. Messy Bridal Ponytail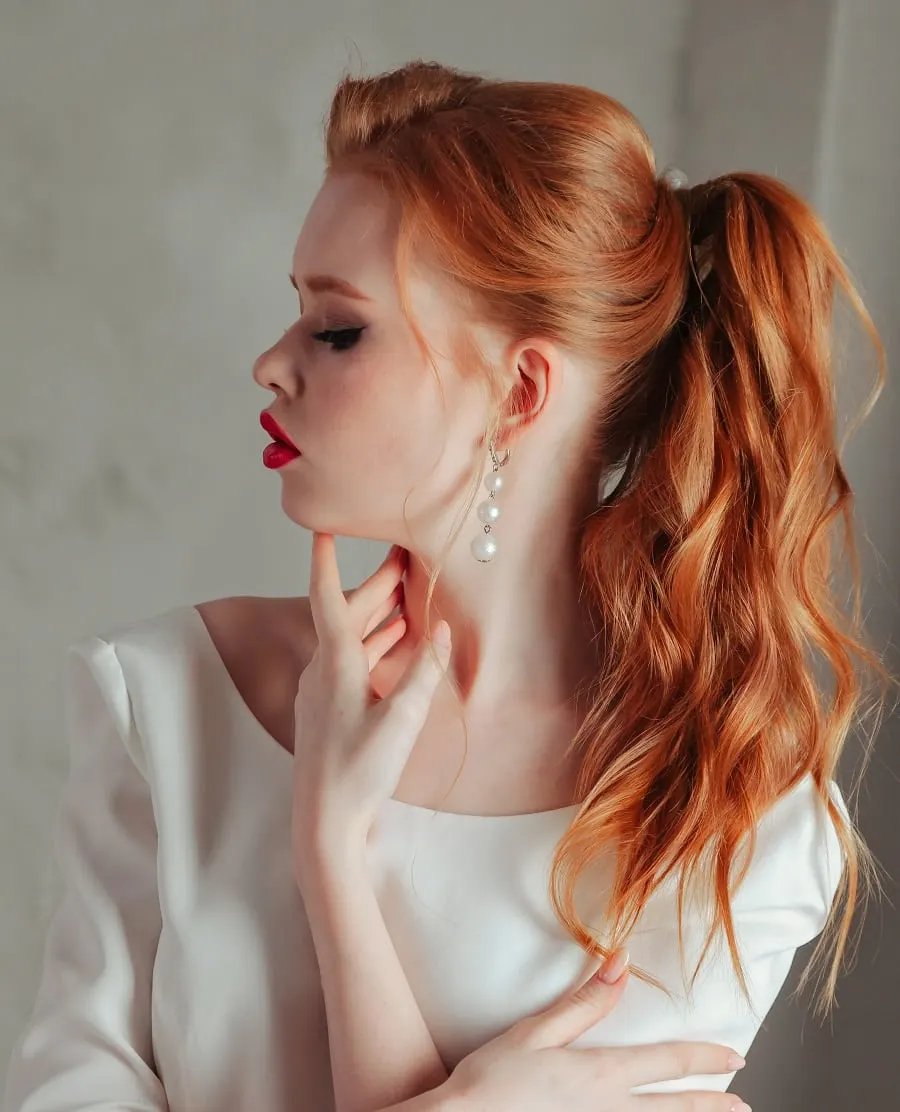 A messy ponytail is ideal for brides with red hair who are looking for something more modern and casual. Gather the hair at whatever height you want and add loose curls.
Pin back the front strands separately with a center or side part and tease the tresses for a messy yet sexy appeal.
16. Funky Faux Locs with Micro Bangs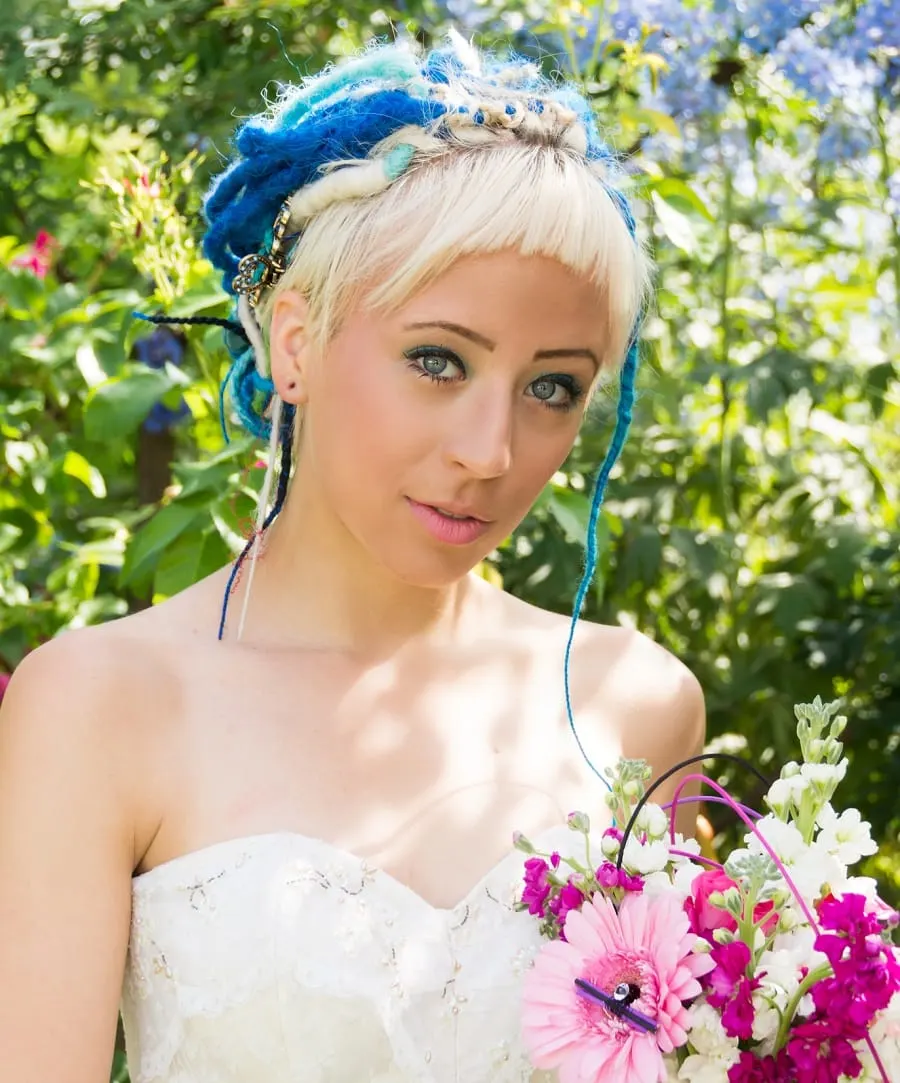 Can't take off your eyes, right? Express your punk side even when becoming a bride with colorful faux locs.
Assemble them loosely on top of the head with uneven micro bangs at the front. Decorate with beads, clips, and yarn, and get ready to pop some eyes.
17. Dreadlock Updo
African-American beauties don't need to let go of their funky dreads to rock a graceful wedding hairdo. Spare some chunks at the front while wrapping the remaining ones in a jumbo top bun.
Curl the front locs tightly or create rose petal loops using rubber bands to sit on the forehead like bangs.
18. Elegant Half-Up Hairstyle
Elegance is all that matters when it comes to wedding hairstyles for brides. And nothing can be more sophisticated than a cute half-up hairdo.
Secure the upper half of your hair at the back with pins and a jumbo bow instead of a veil. Curtain bangs and soft waves will just look perfect!
19. Careless Curls
Ask for a head full of bouncy curls to look like a vintage bride in no time. Keep the tresses loose with the front strands swept away from the face toward one side.
Complete the look with bold red lips, winged eyes, and sparkling jewels.
20. Festive Ponytail
Another ponytail hairstyle for the young brides out there. This one features much more volume and height on top, with curls near the ends.
Wrap a chunk of hair around the base along with a bejeweled headpiece. The front side swoop is to die for!
21. Flower Bun with Neck Curls
Recreate this detailed bridal updo at home taking one step at a time. Tousle the hair on one side and start plaiting the strands from the very front.
Leave the ends loose and roll the braid into a spiral bun. Curl the ends, adorned with pearls, and done!
22. Tiara and Loose Curls
Bridal hairstyles don't need to be detailed all the time. Keep it simple with loose curls and a sparkling tiara on top. You can also twist back your side locks or braid them down instead.
Fresh highlights or a balayage can make a huge difference.
23. Asymmetrical Hairdo
Be a one-of-a-kind bride by rocking an asymmetrical hairdo. Whatever the hair length, pin the side-parted strands high up on the head while leaving the other ones to fall loosely along the opposite side of the face. Opt for a bun or ponytail at the back.
24. Half-Up Pouf
Keep it traditional by teasing the top front region and smoothing out the hair to end up with a soft pouf.
Pin back the sides tightly and add curls to the remaining tresses to achieve a chic half-up half-down hairstyle that won't be ignored.
25. Pink Emo Wedding Hairstyle
This funky wedding hairstyle is a must-try for emo brides who are not afraid to make bold choices. Go for a shoulder-length razor haircut with side-swept bangs.
Set it on fire with a vibrant pink hair color. All you need now is a white wedding dress and a tiara!
Many women feel like they need a veil for their wedding hairstyle. Top off a high coiled bun with its smooth locks with a gorgeous lace veil.
27. Wedding Hairstyle for Black Women
On your big day, let your naturally black hair show itself off. For medium or short hair, fill the body with waves or a couple braids, then top with a tiara.
28. Short Wedding Hairstyle
Short hair, like this brunette layered pixie, is super chic with an old-fashioned veil and large white feather. A gorgeous necklace will stand out nicely when hair is off the neck.
29. Boho Wedding Hairstyle for Brides
Prefer a flapper wedding hairstyle? A vintage look like this one features medium or long hair with curls or waves gathered up off the neck and a head wrap with pearls or sequins to set it off.
30. Half Up Half Down Wedding Hairstyle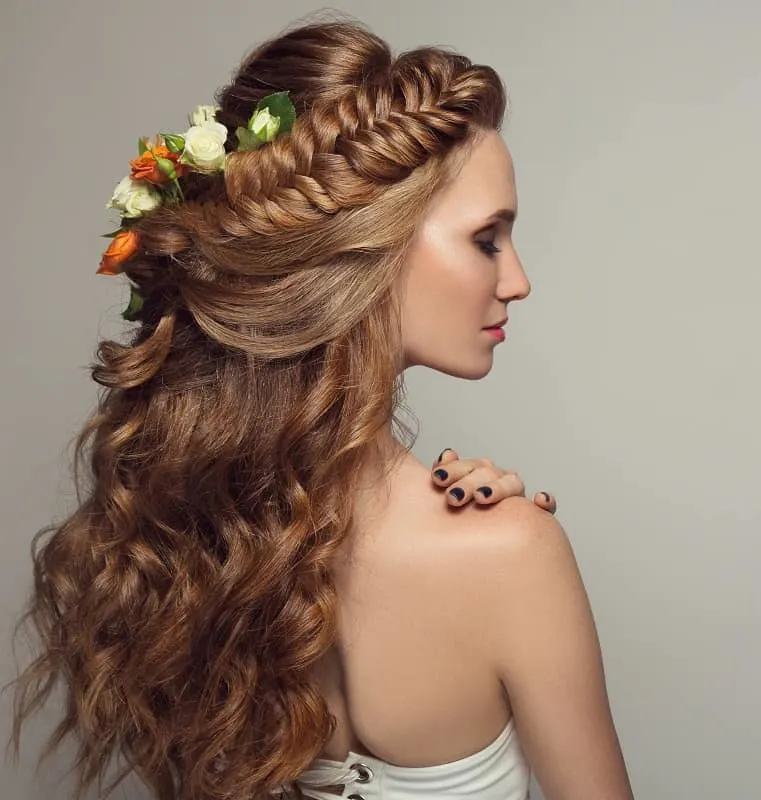 When you're not feeling the wedding updo hairstyle, try a look that shows off your length with a half updo. Gather the top half into a loose fishtail braid for a regal look.
A low braid or ponytail with a few twists mixed in is just the hairstyle for a bride who wants an Elsa princess look. Weave in some flowers to make the style truly romantic.
32. Wedding Hairstyle for Long Hair
Another flower child/boho look for the blushing bride is this half updo featuring long hair coiled in a half updo with a thick braid to secure it in place.
33. Beach Wedding Hairstyle
For a beach wedding, you'll want to keep your hair looking gorgeous especially if it's a windy day. Make a long braid and top it with a flower crown.
34. Vintage Wedding Hairstyle
For a vintage look on your wedding day, make a low braided ponytail and wrap it around itself to get this pretty bun. Brush your side bangs neatly off the forehead.
35. Indian Wedding Hairstyle
Indians love big dramatic hairdos. Be proud of your background by making your hairstyle full of texture with braids in different styles and wearing the hair in a down hairstyle.
36. Low Bun
This low bun might seem too simple to some brides, but it's one of the most popular hairstyles. It makes the hair look neat on top and allows you to attach any hair accessories you wish. It's a great choice for virtually any hair length.
37. Braided Bun
This wedding hairstyle is one of the most long-lasting options. Make sure not to make this braided bun too loose. You can add some flowers to make the bun look unique.
38. Ombre
If you weren't feeling up to dyeing your hair before, the wedding day is a perfect opportunity to do it. Lighten up your locks with a professional ombre and your wedding hairstyle will shine with new colors. Make sure to make a trial run a couple of weeks in advance.
39. Loose And Red
There are two things you can never go wrong about at a wedding: a red color and curls. Mix them together to get an amazing wedding hairstyle any brave bride will appreciate. Leave a couple of curled strands hanging near your face for a romantic look.
A high updo might seem too simple for a wedding hairstyle but it's a great choice if you are after hair accessories and long veils. The more attention you want to focus on accessorizing, the less complicated your hairstyle should be.
41. Stray strands
No matter what updo you choose, you have to think about letting some stray strands out. While they need special attention, extra hairspray and some touch-ups, the stray strands look romantic and give your overall appearance extra softness.
42. A messy approach
A curly messy hairstyle without any tight places is easy to wear but hard to keep intact. Such hairstyle is a good choice for girls who are planning to wear a long veil or headband. The bangs are neatly styled while the back part is windblown.
43. Headbands
No bride should underestimate the true power of headbands. No matter how long your hair is and what hair type you have, a well-chosen headband can save the day. Always have one ready in case of a bad hair day.
44. Retro Bob
Retro hairstyles are very popular among the modern brides. Be it a pixie from the 20's or a bob from the 40's, you can make an amazing impression. Coupled with a vintage dress, your image can be stunning.
45. Curls Everywhere
Only a small percentage of wedding hairstyles are created without curls. Curls are a compulsory part of special occasions and a wedding is far from being an exception. Play around with curly hairstyles by leaving a few curly strands to hang loose.
46. Sleek High Bun
A voluminous bun created on the very top of your head is an all purpose hairstyle, which can be a wonderful choice for a wedding. It allows you to keep the hair neat all day long adding the volume and a feeling of grandeur.
47. Side Swept Mane
Making your ponytail sideways is a great way to kill two birds with one stone. This wedding hairstyle keeps the hair neat with voluminous waves. Leave one strand loose for a romantic look.
48. Huge bun
A huge pin up bun on the back of your head is a wonderful creation that can make your hairstyle look vintage and unique at the same time. Most of the time, brides don't have enough hair to create one. That's where the hair extensions come in.
49. Use flowers
If you are after a romantic image but your hair is not long or thick enough to make natural braids, consider getting headbands with flowers. Flowers are a compulsory part of any wedding. Use them for your hair.
50. Hollywood Waves
If you have long locks, you don't have to hire a professional hairstylist to do the hair for your wedding. Simple long hollywood waves can do the trick. You just need to consider using plenty of hairsprays to keep the hair in place.
Tips to Make Your Bridal Hairstyle Look Better
Here are a few tricks to make your hair look awesome on your wedding day.
Do a Trial
Plan your trial hairstyle about two months before the special day. This way you'll have plenty of time to make changes. Make sure to wear the same makeup you are planning for your wedding day and have all the hair accessories and the veil ready.
Know What You Want
The best way to have an amazing hairstyle you always wanted is to know what it is you always wanted. Once you choose the hairstyle, don't write down the title, save the pic to your smartphone and bring it to the hairstylist. A picture is worth a thousand words of a nervous bride.
Don't Wash Your Hair
Sounds crazy, doesn't it? It's not if you want curls. Curls look better and last longer if created with hair that's not freshly washed.
So if you are planning any hairstyle that involves using a flat iron or any other curling tools, wash the hair the night before the wedding. Use a leave-in conditioner to outline the curls even more.
Don't Pull Tight
Yes, you know that the best wedding hairstyle is an updo, which is tight and hard to unravel. However, tight hairstyles are great for short-term occasions.
Pulling your hair too tight can cause you a headache by the end of the evening and ruin your wedding night. Loosen up your updo a little. It's better to touch it up during the day than fight a headache during the evening.
Frequently Asked Questions
In the quest to look stunning and make your wedding day epic, here are answers to questions people commonly ask:
How to make my wedding hair last all day?
To make your wedding hair last, use volumizing products to give it more body and hold. You can also opt for a loose updo or a half-up/half-down style which you can secure with pins or bobby pins.
Should I wear my wedding hair up or down?
It depends on your wedding dress type and the shape of your face. An updo looks great with a high neckline, while long locks look great with a low neckline.
How many hours before the wedding should I get my hair done?
It depends on the hairstyle. If you're going for an intricate updo, it will be ideal to get your hair done at least 2-3 hours before the wedding.
Should I get my wedding hair or makeup done first?
Do your makeup first to avoid ruining your wedding hairstyle.
Should I wear my hair straight at the wedding?
It depends on your personal preference, you can wear it straight or opt for romantic waves or curls.

If you have naturally curly hair, you can choose to go with your natural texture or add some waves for a romantic look.
We hope these bridal hairstyles made your choice a little easier. Remember, it's your special day, and everything should be perfect. Don't make a mistake of spending too little time on choosing your hairstyle.
You May Also Like