Bun hairstyles were always among women's favorites, and they will remain on top even in 2023. Whether we're talking about modern space buns that all young ladies adore or elegant low buns, these hairstyles are here to rock the trends once again. Depending on your hair length, you can use sponge donuts to help you build a flawless bun hairstyle.
How To Do a Bun
Transforming a bun hairstyle is the first step to finding something that will suit your personality, style, and face shape. There are a variety of buns, from messy buns, top knots, ballerina buns, braided buns, sock buns, and regular buns.
Knowing the basics of doing a bun will help you be ready to rock any bun hairstyle you'd like to wear.
Step 1: Brush Your Hair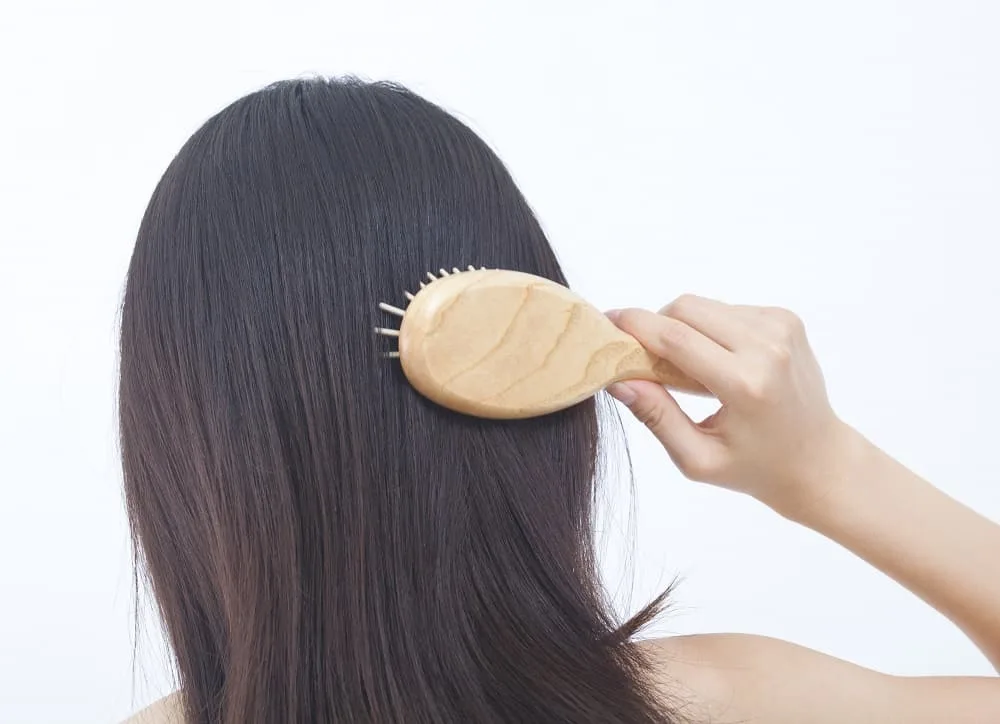 Brushing out knots or tangles is the most crucial part because wrapping knots into a bun will lead to even more knots. Do not part your hair.
Step 2: Pull Your Hair Into a Ponytail
Whether you're doing a low, mid-height, or high ponytail will determine where your bun will rest on your head.
Step 3: Twist Your Hair
Starting at the base of your ponytail. Twist until the entire ponytail twists from the base to the ends.
Step 4: Wrap Into a Bun.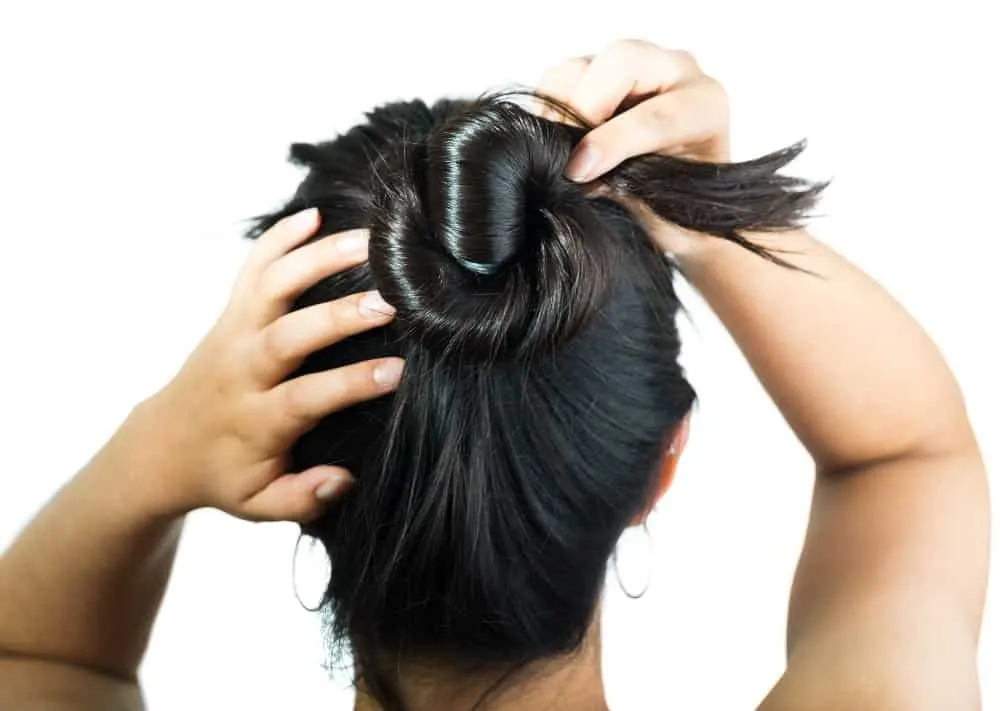 Wrap the twisted ponytail into a circle against your scalp. The loop should rotate around your ponytail, then twist the ends under the bun to keep the lots hidden.
Step 5: Secure the Bun
Sliding a few bobby pins into the buns keeps it in place. Twisting the bobby pins helps to secure them in place. However, bobby pins don't have to be your only option. You can also add a second ponytail to secure the bun.
Bun Hairstyles
When we are talking about elegant bun hairstyles, there are plenty of options: the chignon bun that rocked the 40s, the ballerina bun, or a low sock bun with decorations. If you want, you can transform any of these hairstyles into something that will suit your personality, style, and face shape.
Discover below 61 easy-to-recreate bun hairstyles that will be in high demand in 2023!
1. Chignon Bun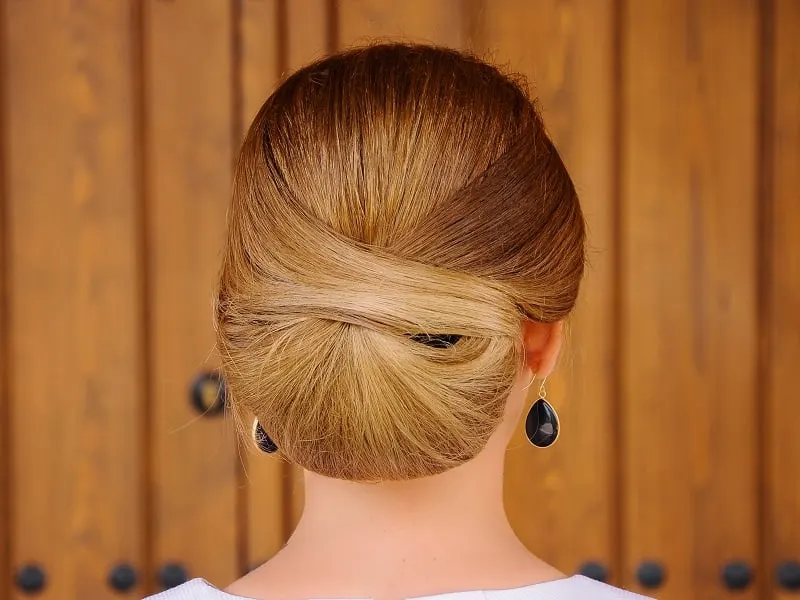 The Chignon bun was highly admired and used in the 40s. It is very a very elegant bun that you can wear anytime you need to look remarkably beautiful and glamorous. To make it look flawless, you can use a hair donut and side strands to cover the sponge.
2. Space Buns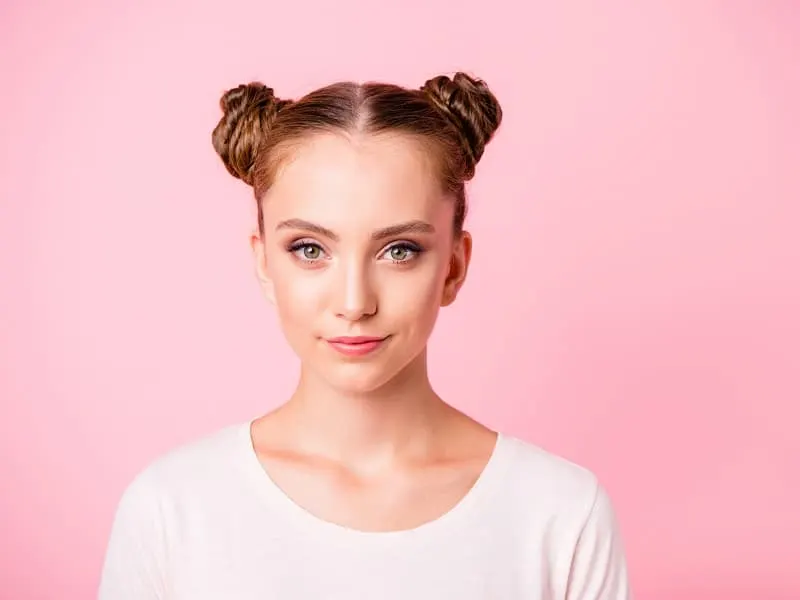 Space buns are among the most popular bun hairstyles in 2023. To recreate this look, part your hair in two sections. For each section, style a bun on top of the head. You can even braid a few strands and wrap them at the base of the space buns.
3. Sleek Bun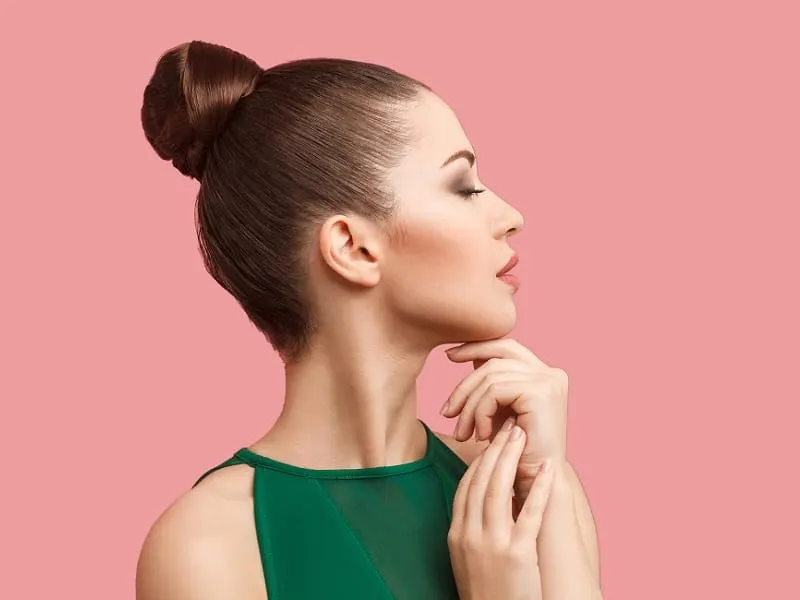 This fabulous sleek ballerina bun looks incredible and is ideal for all those women who want to make an impression at an event. Gather all the hair on top of the head and create abun. Make sure all strands are secured and that there are no threads that stick out.
4. Cornrow Bun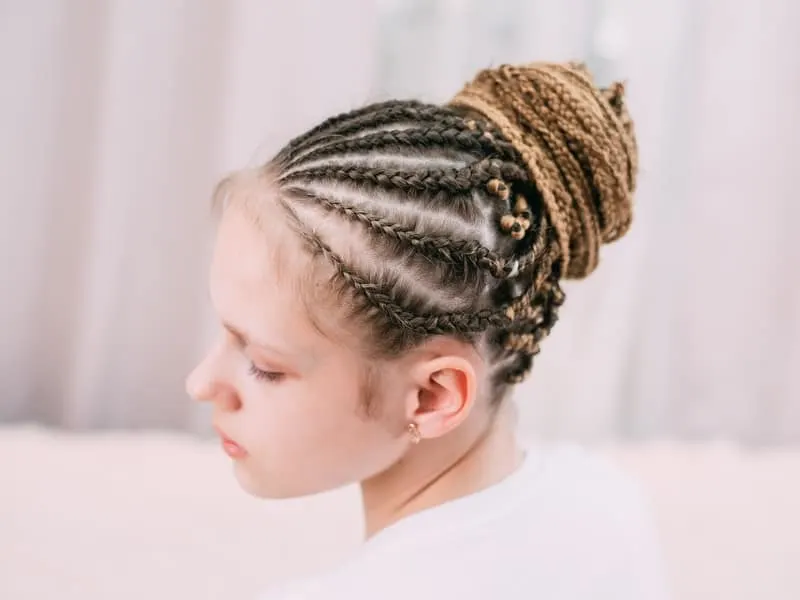 Cornrow braids are quite versatile because they look fabulous in so many ways. In this case, gather them all in the back and style a voluminous bun. This is a hairstyle that can help you anytime you're tired of carrying the long braids on your shoulders.
5. Sock Bun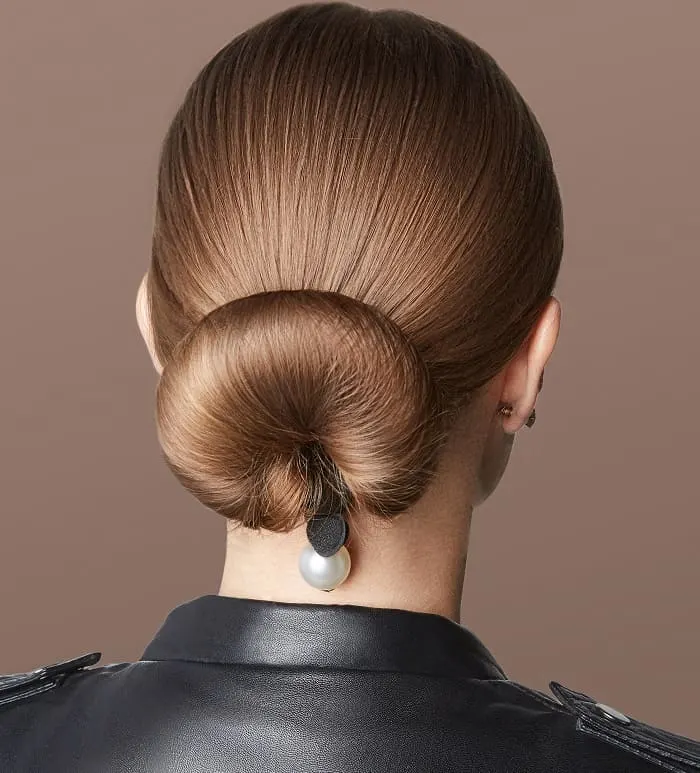 When styling this ravishing sleek low bun, to obtain that perfectly round effect, use a hair donut. You will cover it with hair, and the bun will be flawless. Opt for a pearled hair decoration if you want to look even more elegant.
6. Keep It Low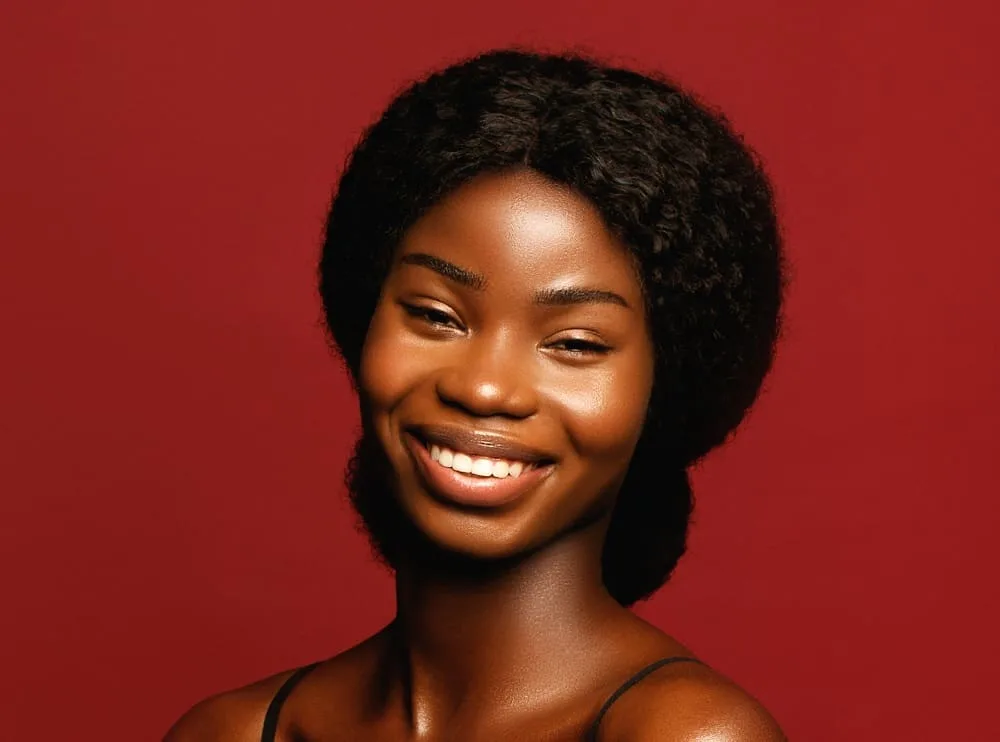 Natural kinky afro curls create a voluminous updo effortlessly. African-American ladies can gather their hair in a low bun at the back with a center or side parting. Pull some strands loose to frame the face or keep them neatly tucked away using hairspray.
7. Tail-Out Look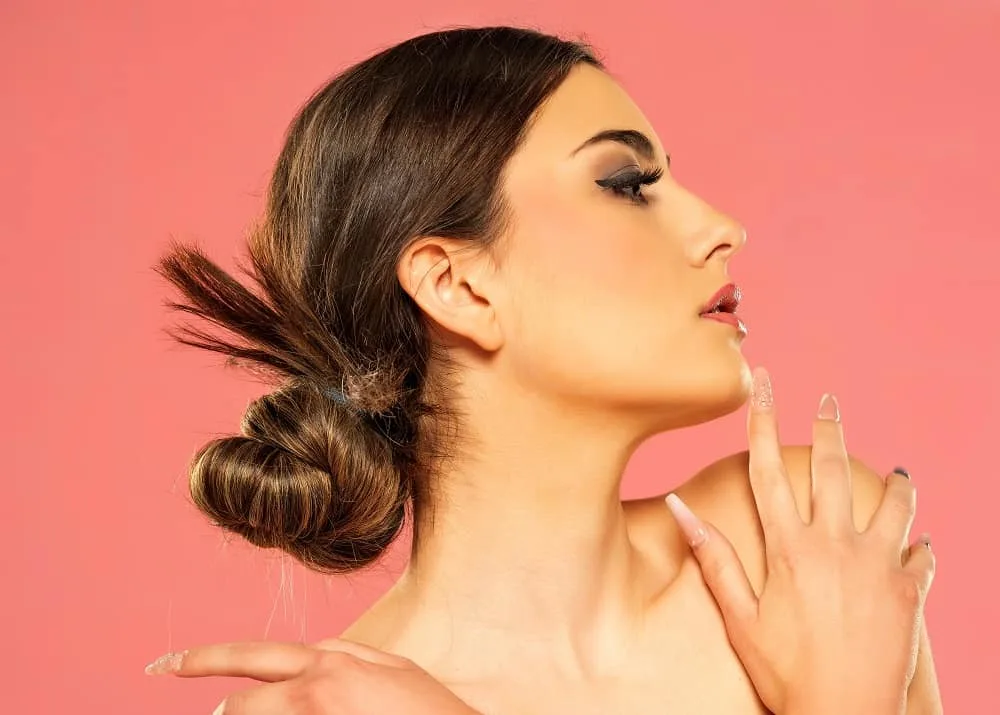 Try out this look next time to add a funky touch to your boring hairstyle. Slick back the mane into a low ponytail and twist it into a knotted bun leaving the end out creating a sort of unpinned tail. Easy yet eye-catching!
8. Silver Vixen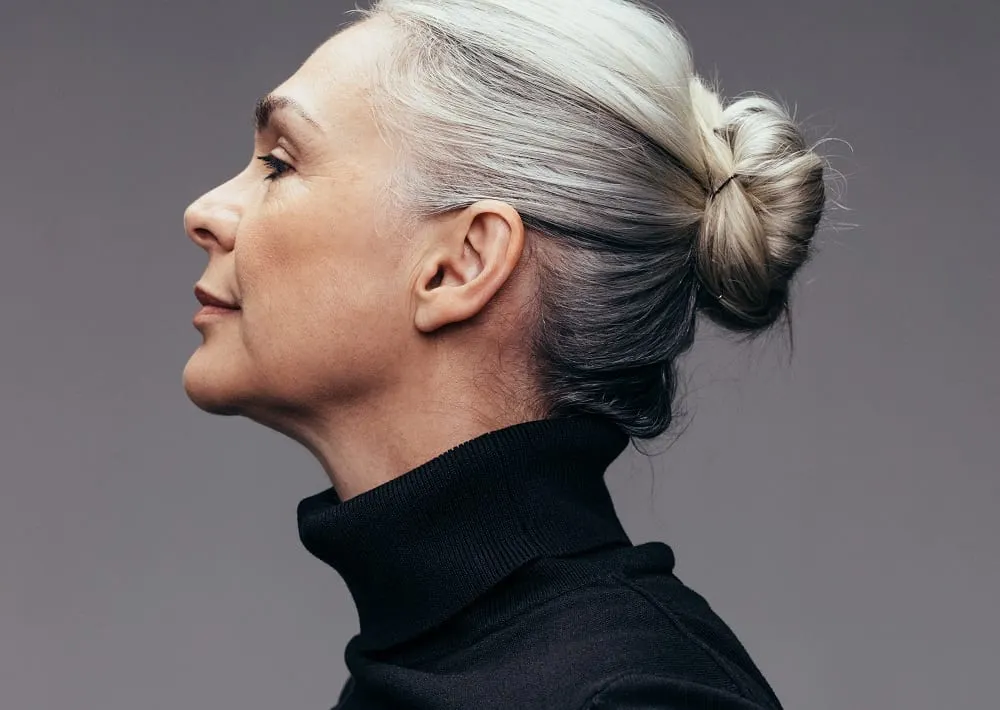 Ladies getting on in years can flaunt their greys gracefully while rocking a chic bun. Don't go for a low granny bun instead create a ponytail at mid-height and wrap around the strands to be secured with pins. This simple yet elegant style makes a great everyday look.
9. Twisted Updo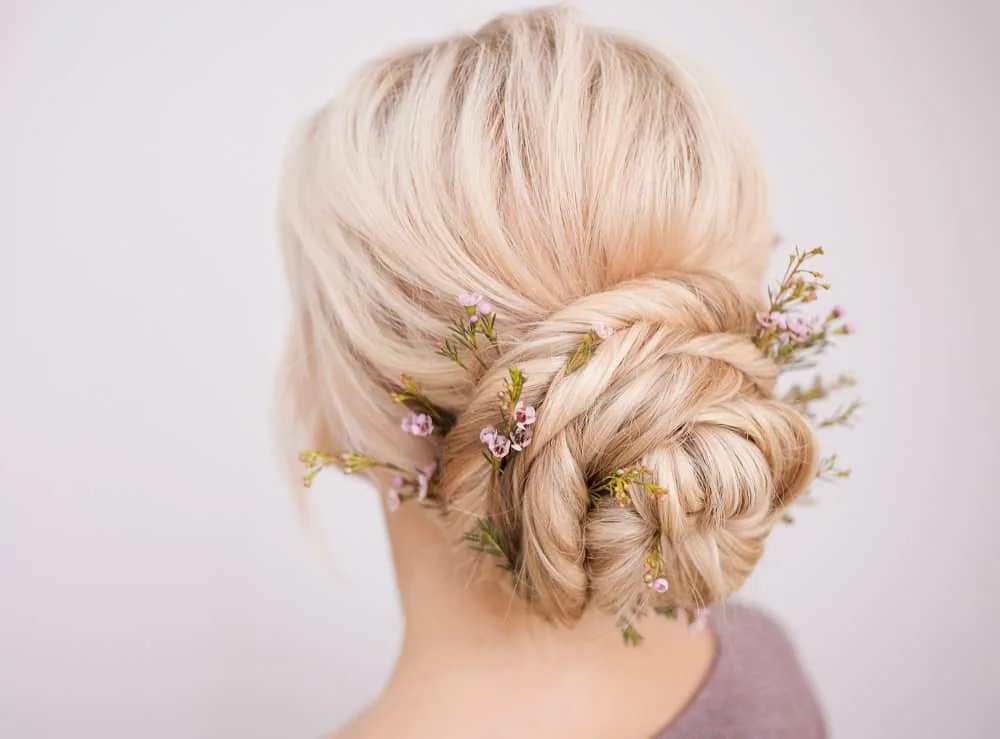 Don't know what to do with your long mane at formal events? Consider this jumbo updo that will surely attract some attention. Twist and turn the hair starting from the middle and moving outward reaching the end. Top off with flowers.
10. Messy Appeal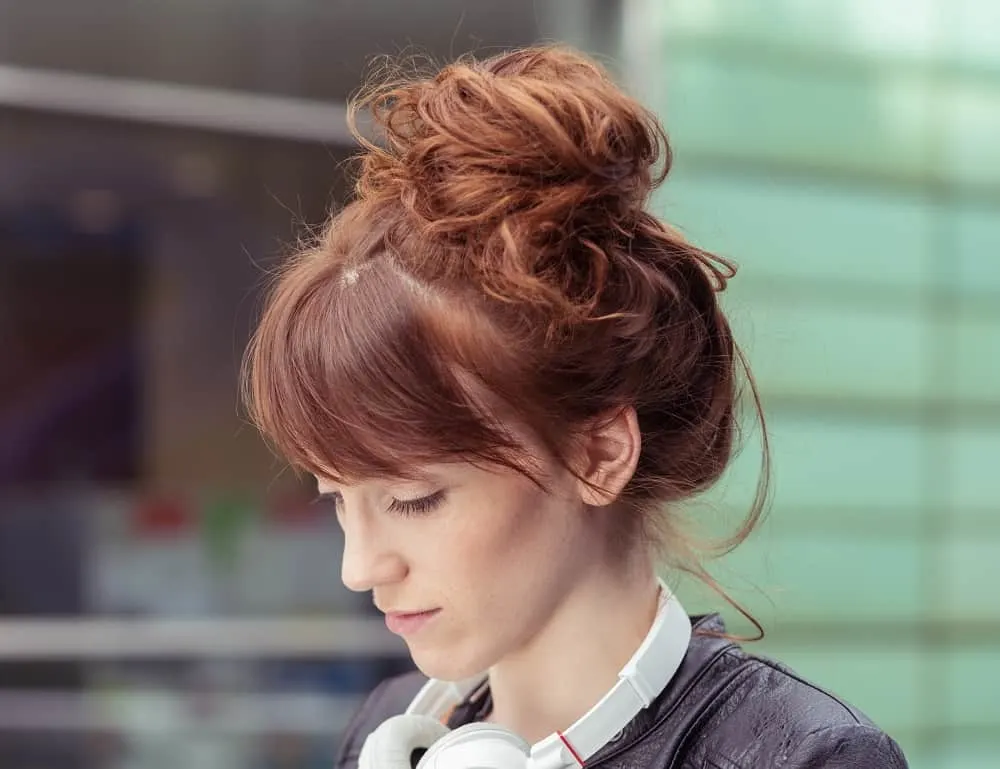 Messy is the new dressy! Ruffled bun hairstyles are the to-go look for lazy girls. Just gather the hair on top of the head in a messy pile sparing the front fringe and fix it with pins or a hair tie for an undone appeal.
11. Bun for Short Hair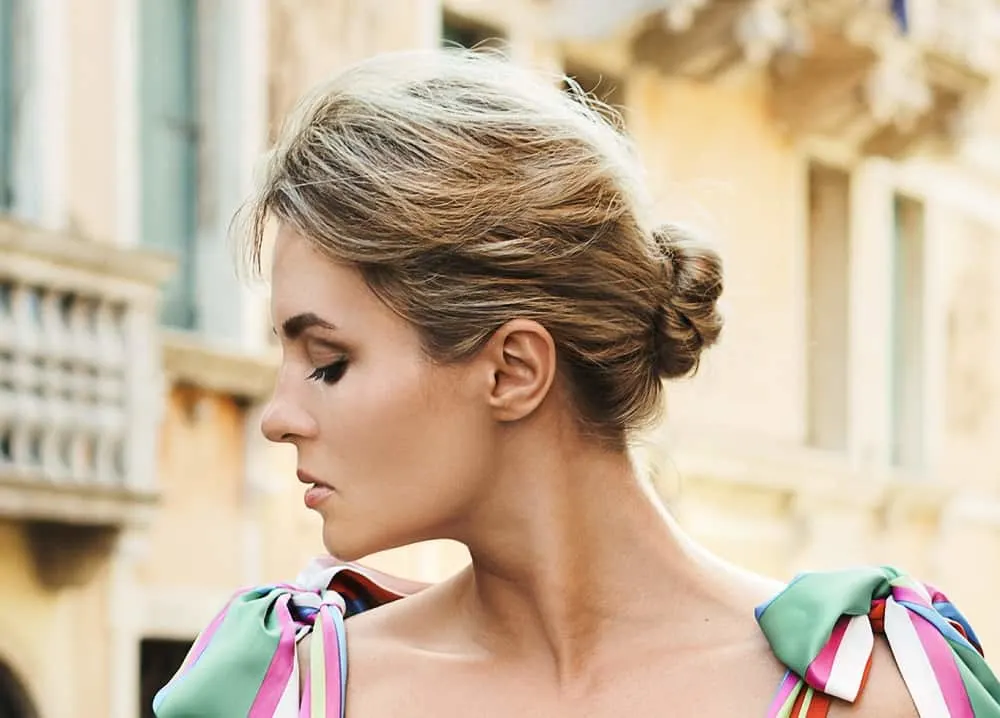 Though it can be tricky, short tresses can be styled into a bun too. Determine the height where all the strands can be tucked in neatly and create a bun using pins and setting spray. Don't worry about the stray hairs add they add up to the style.
12. Tiny Top Knot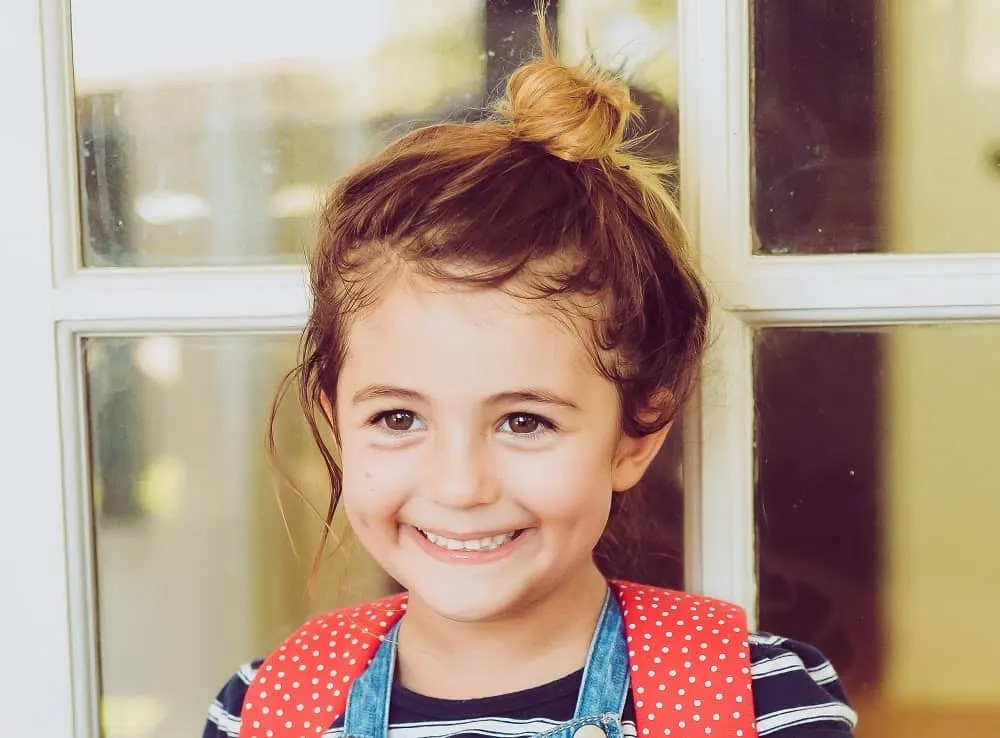 A top knot bun comes to the rescue on an oily hair day. Gather the strands in a ponytail and wrap them around tightly. Tilt the bun slightly to one side for a funky appeal. This look is suitable for all hair lengths and types.
13. Bantu Knots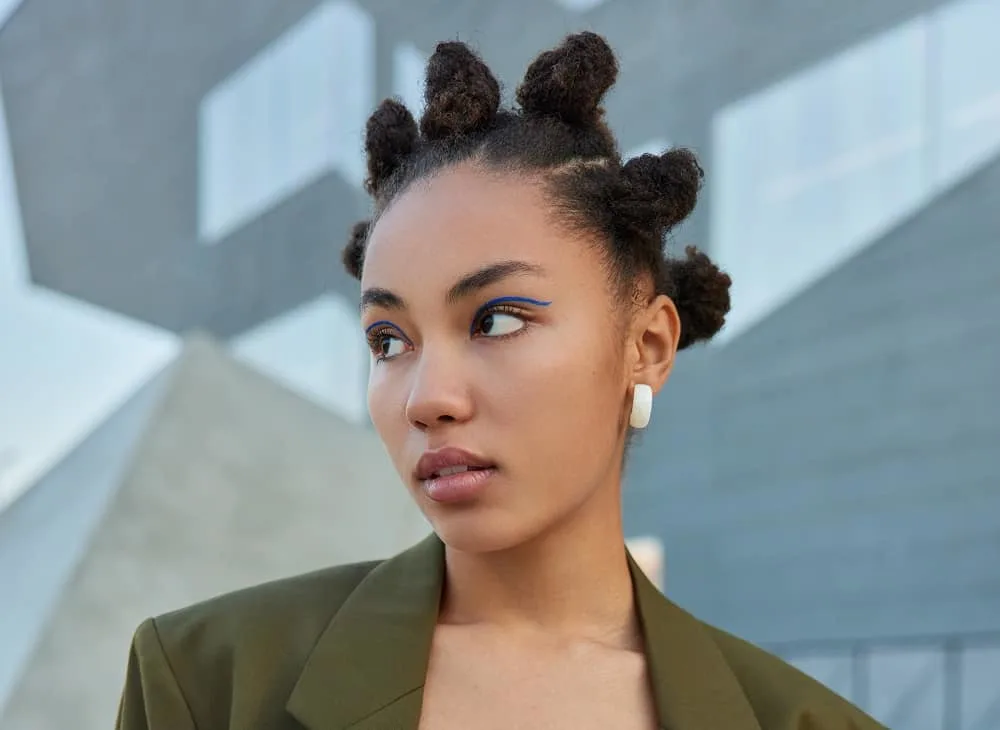 Inspired by the African culture, Bantu knots or Zulu knots are a protective hairstyle that will turn around some heads while keeping the hair away from the face. Section the mane and twist and wrap the hair to create stacked spirals.
14. Half-Up Half-Down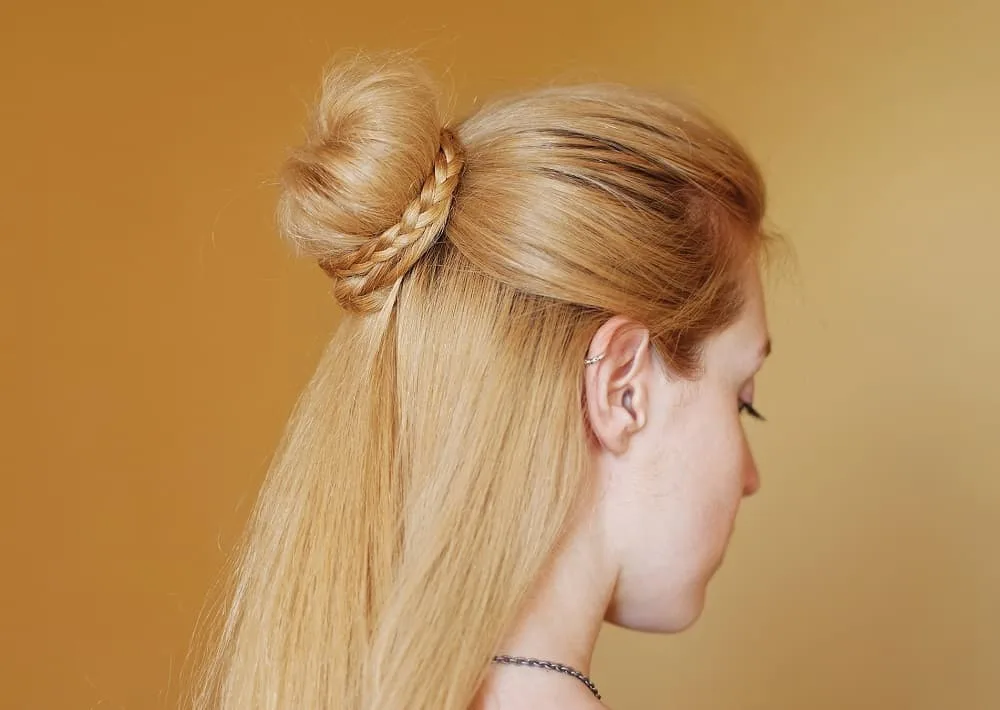 Many celebrities have turned the basic half-up bun into an actual hairstyle. Take half of the strands and style them using a hair donut while wrapping one or more braids around the bun. Leave the remaining mane straight or add curls. Your choice!
15. Piled Up Curls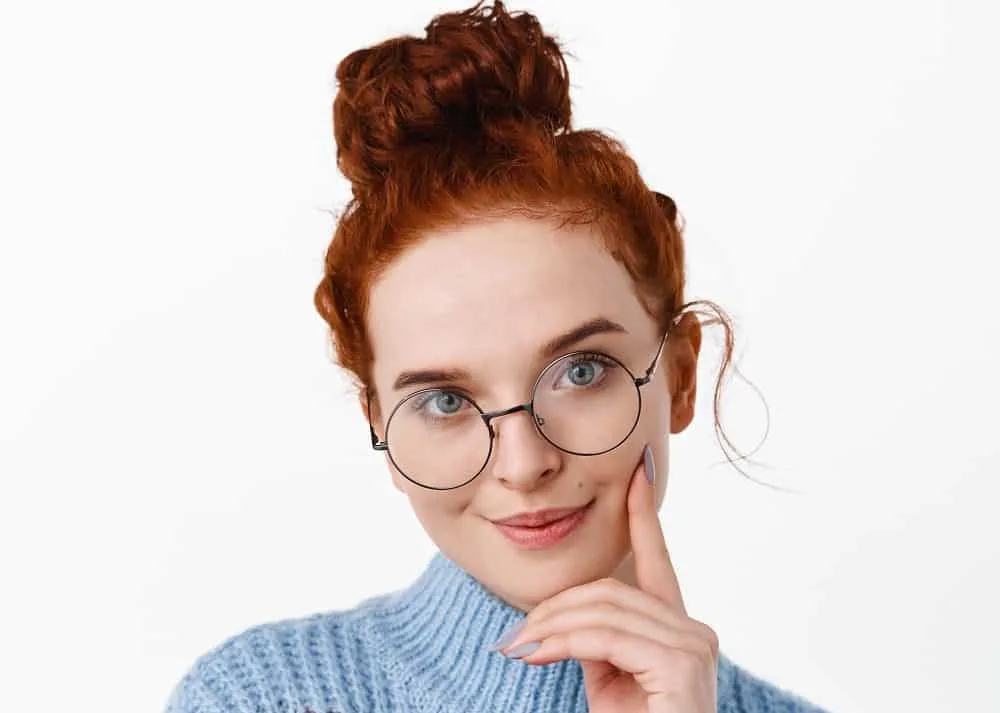 Though natural curls are a great blessing from God, styling them on a busy day can be a bit of a hassle. Keep up with the heat by piling them on the top of the head like a crown with some strands sticking out for a carefree look.
16. No Fuss Look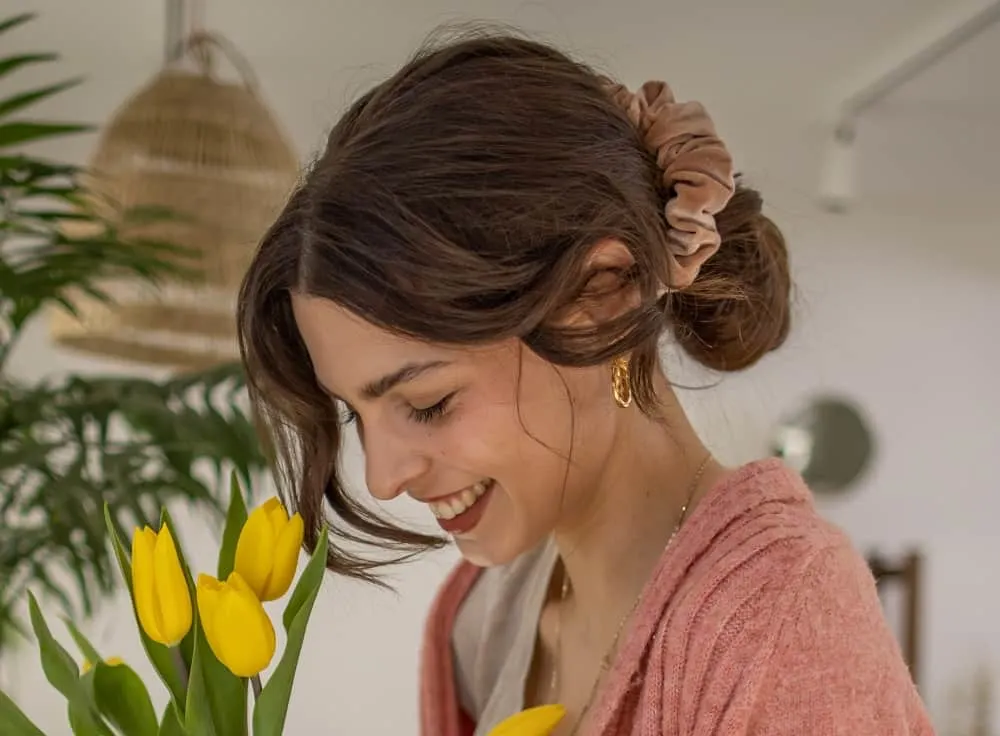 Pulling and twisting the hair when styling it in a high tight bun can often damage it. So on casual days use a good old scrunchie to keep all the strands together loosely. Finish off with a middle-parted fringe falling on both sides of the face.
17. Knotted Bun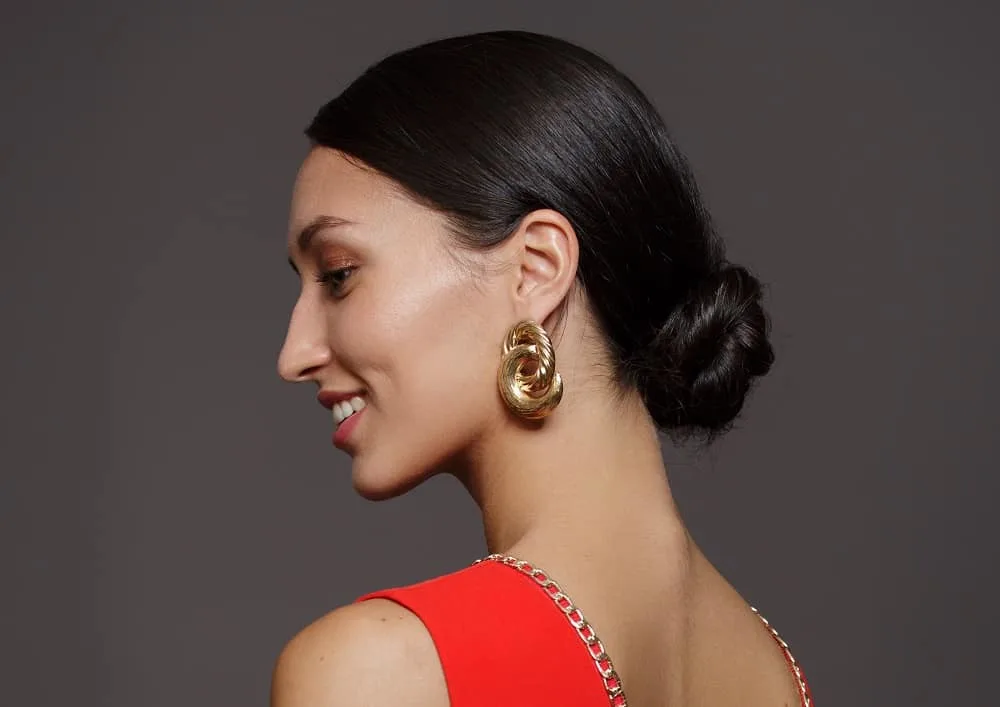 Steal the show with a sophisticated hair look like this. Section the low ponytail into two parts and twist and turn them around each other reaching the ends creating a knotted cord-like look. Tame the flyaways with setting spray to achieve a sleek finish.
18. Undercut Design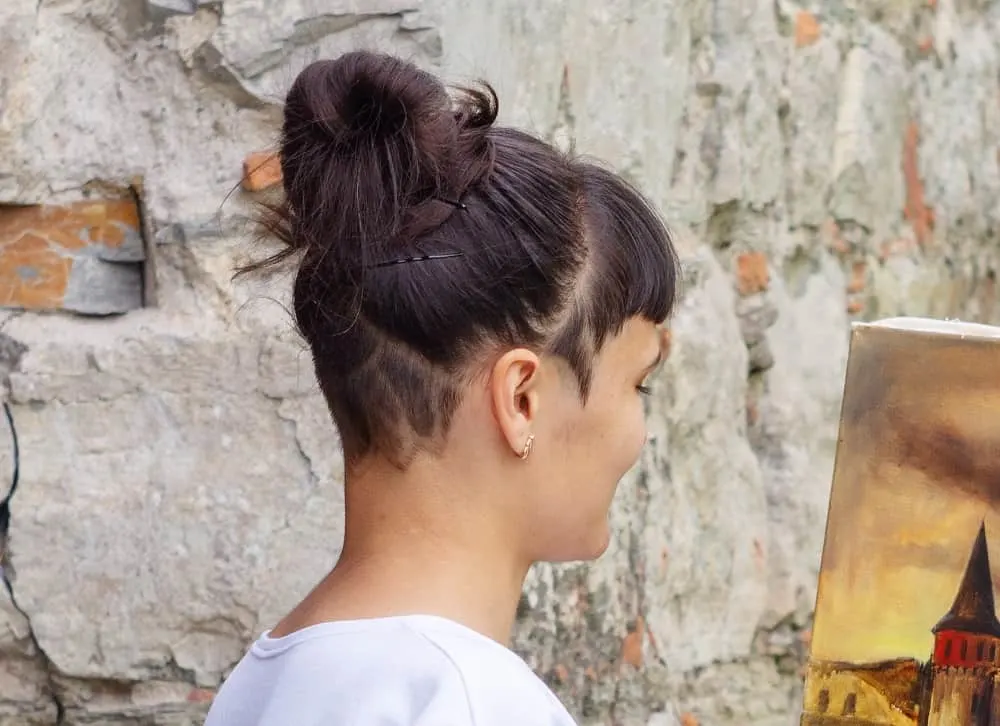 Flaunt a daring undercut by pairing it with a stylish bun hairstyle. The back of the head above the nape is buzzed with a floral design carved into it while the remaining hair is secured with pins. You can take a step further and buzz the sides too!
19. Stylish Puff

Thinking of something more elegant? Try out a jumbo puff at the front by teasing the crown area with the remaining tresses styled in a perfectly round updo. Spare a chunk of hair and braid it to be wrapped around the bun. Romantic!
20. Side-Swept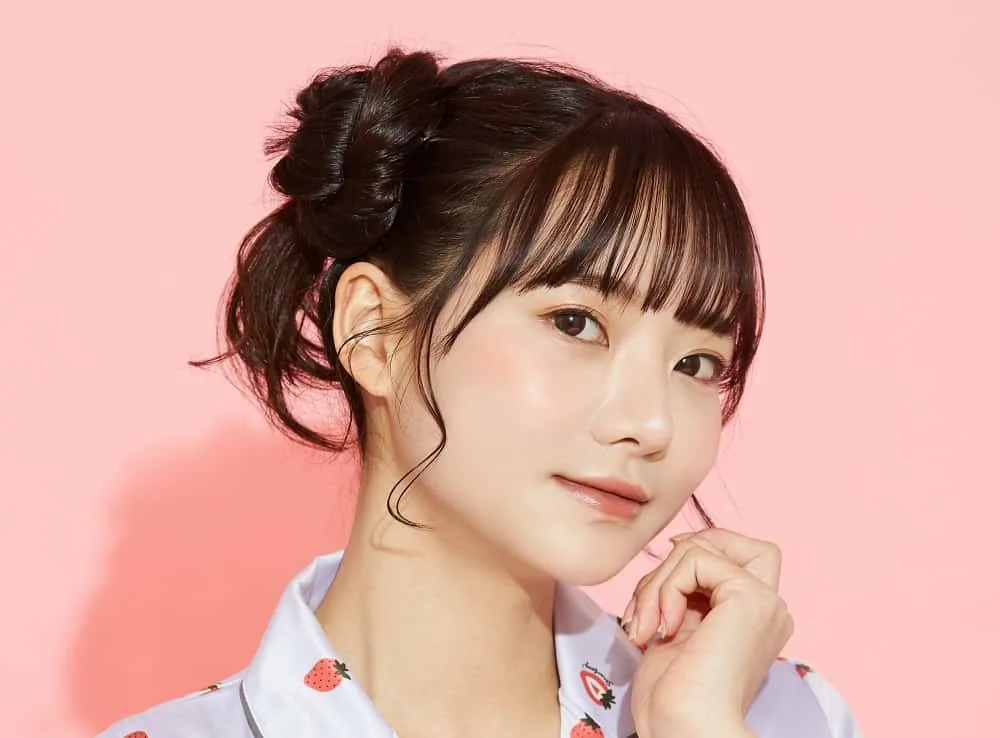 Asian girls can express their hipster side by pulling all of their locks to one side of the head above the ear and wrapping it around leaving the ends sticking out like a tail. The eyebrow grazing bangs add some sweetness to the style.
21. Crimped Hair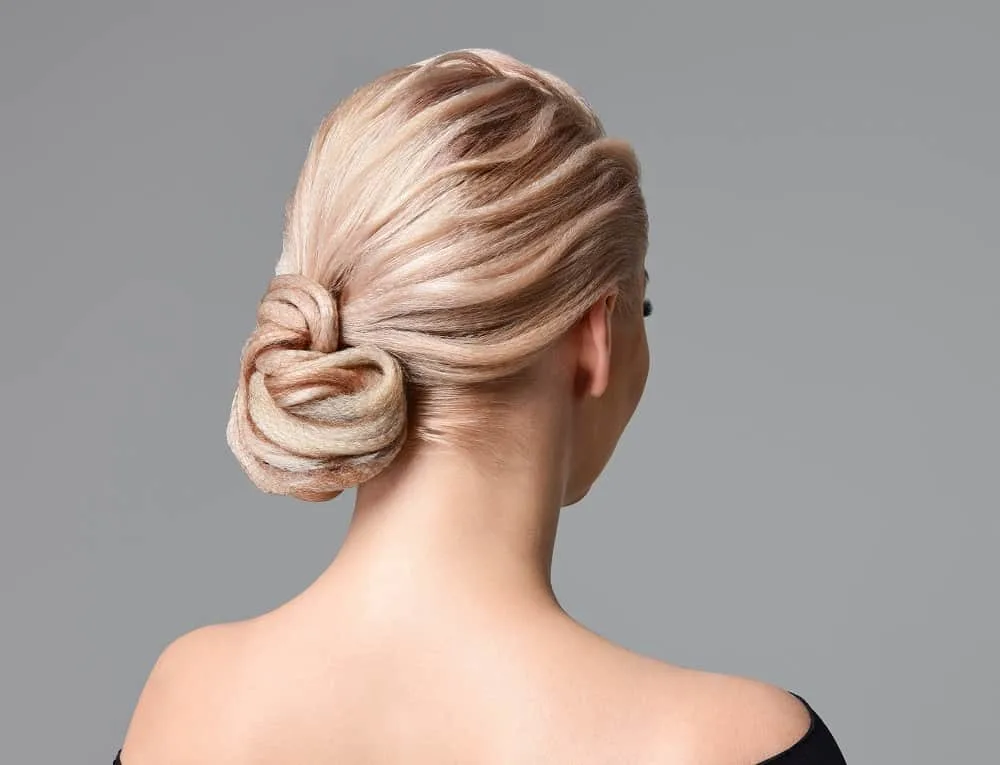 Another formal hairstyle that looks complicated but can be achieved taking one step at a time. Crimp the hair lightly to attain some volume and texture. Create a loop and wrap the ends around it. Use hairspray to pull the strands into defined waves on the head.
22. Casual and Carefree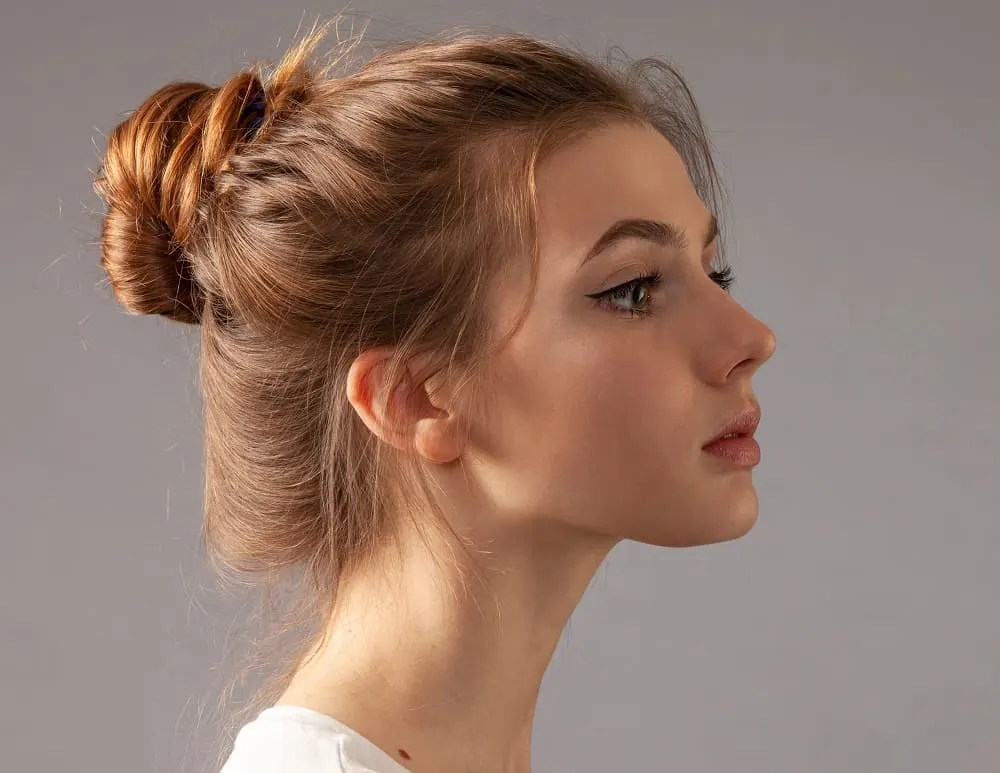 When you are just not in the mood for styling your hair just grasp the tresses with your hands, twist and turn them into a messy bun and secure it in place. Pull some tendrils loose at the front and you are ready to go.
23. Undone Style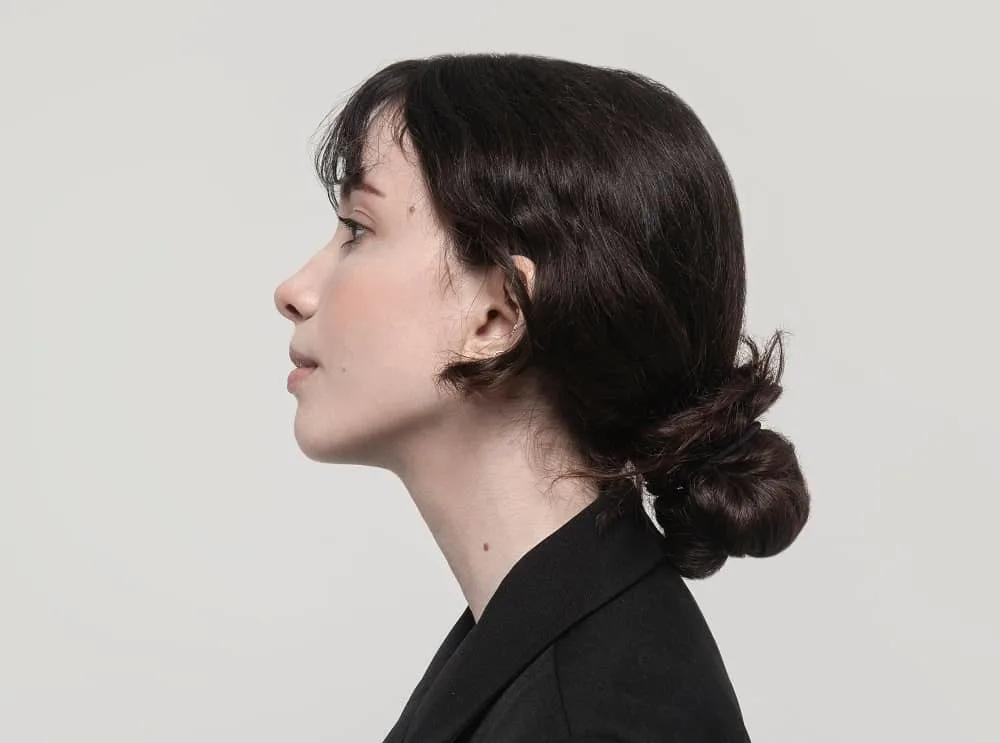 Keep it low-key by mangling the locks in a loose spiral bun dangling at the back with an elastic hair tie while leaving some strands loose for an undone look. This style stays in place the entire time making it suitable for busy days.
24. Add a Bandana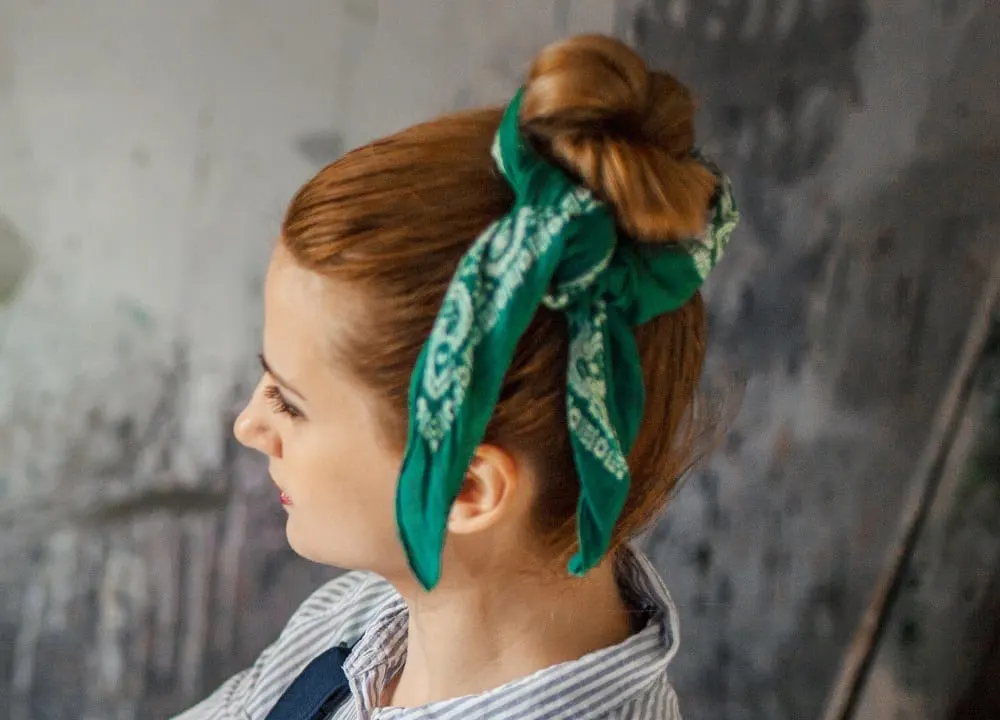 Add a classic touch to any boring hairstyle with a piece of cloth called a bandana. Just opt for a stylish ballerina bun and wrap the bandana around it with the knot dangling on one side. Finish off with a spritz of setting spray.
25. French Braid Bun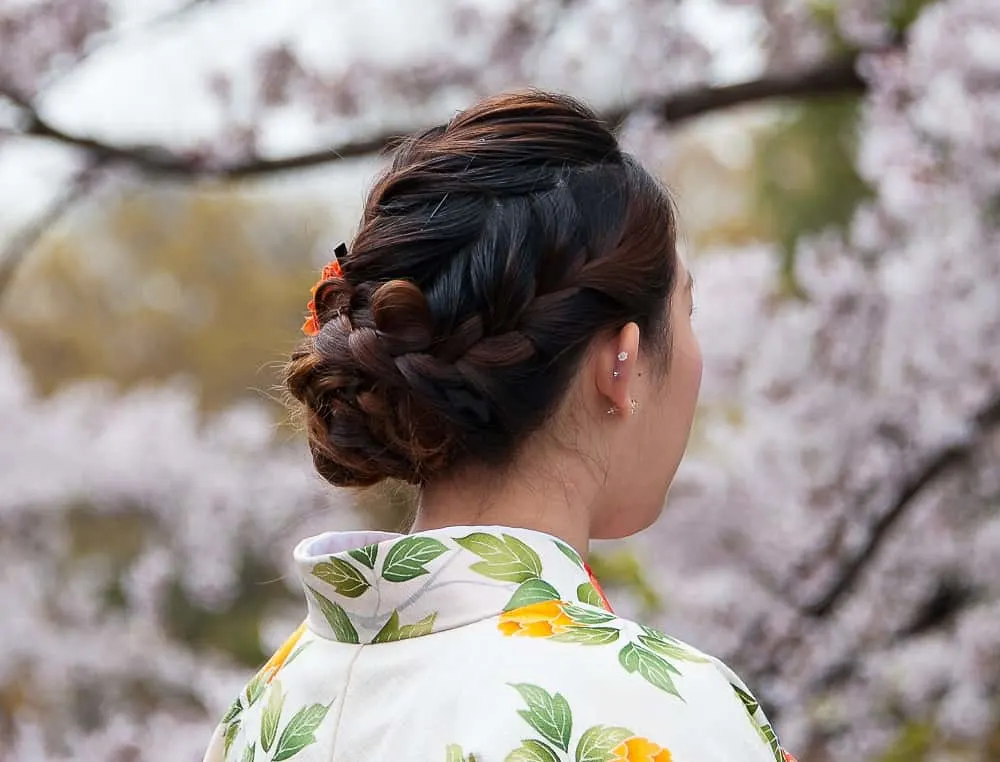 Those who love braids can couple them with a bun style with ease. Section the mane into three parts and plait them in French style till the end. Wrap the braids around one another above the nape and top off with a floral hair clip.
26. Asian Wedding Look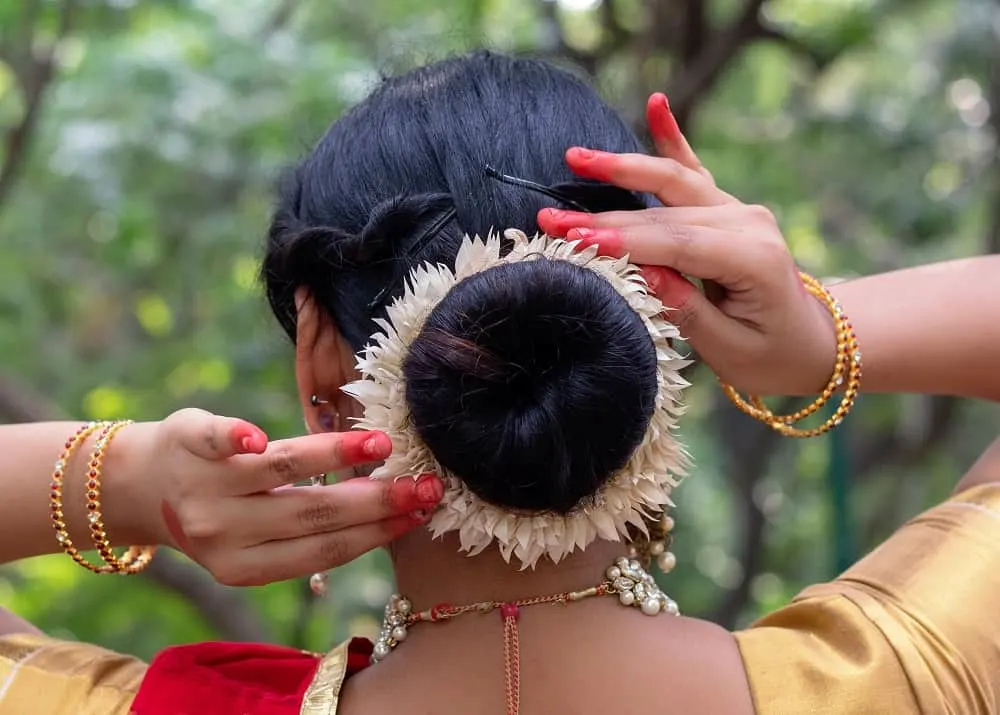 Asian women have turned this simple updo into their essential wedding look. The long thick mane is styled in a donut bun with twisted-back side locks. What's the hype about? The circumference of the bun is always outlined with gorgeous flowers.
27. Loosely-Tied Loop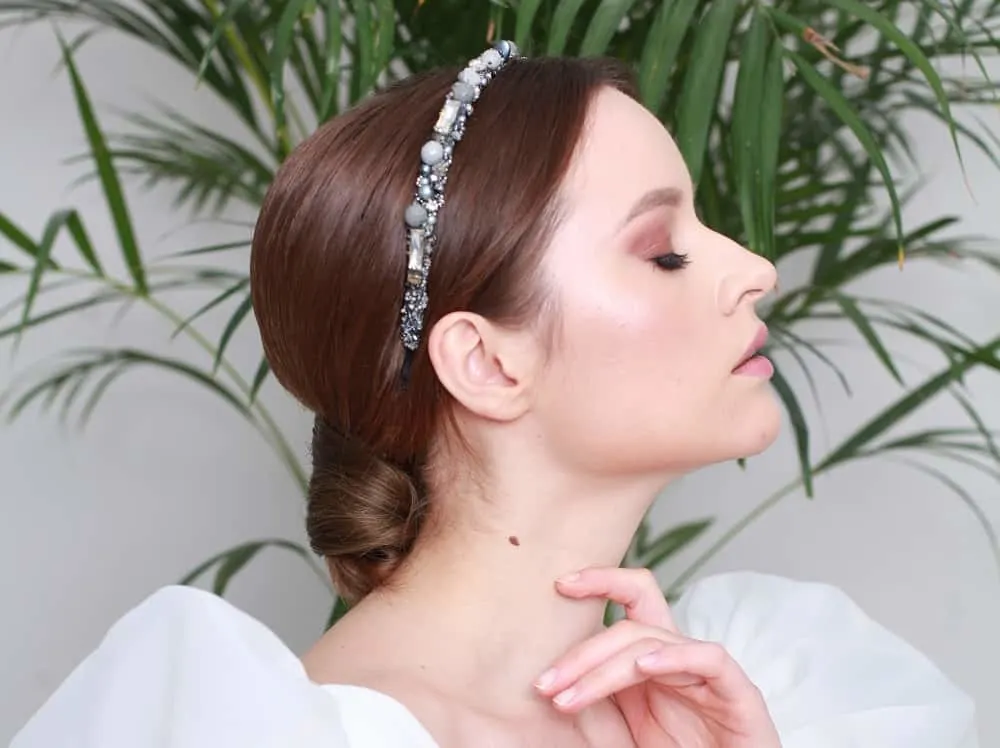 Look like a majestic queen by sporting a charming style like this. Pull a low ponytail halfway through the hair tie and wrap the ends around the loop with a center parting at the front. Complete the look with an embellished headband.
28. Middle-Parted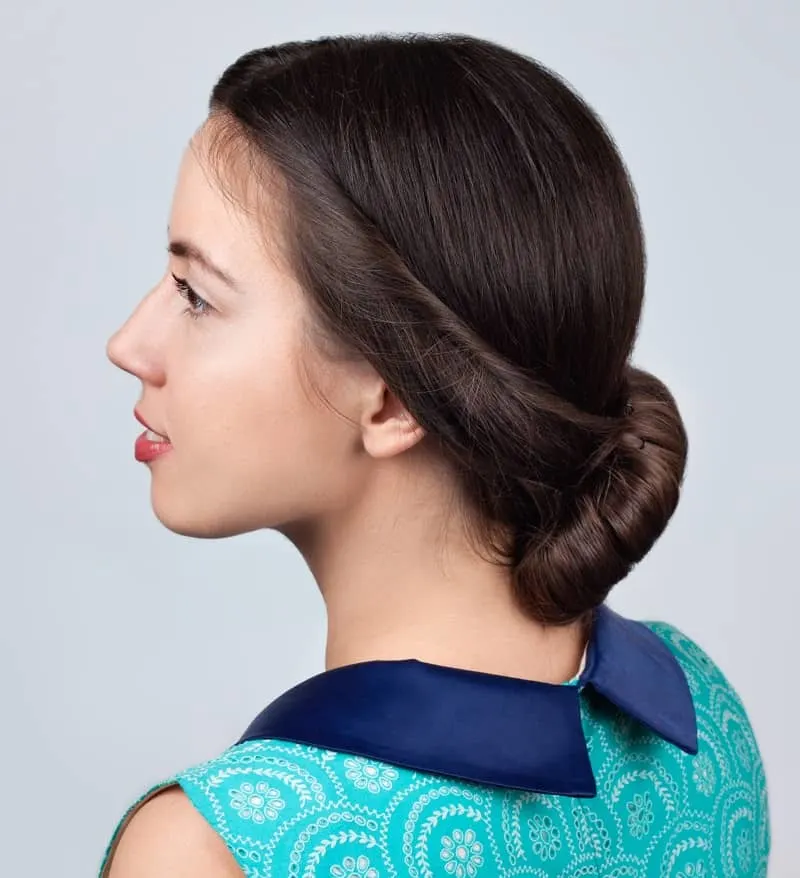 There is no need to complicate your look when a simple style does the job. Detangle the middle-parted tresses followed by twisting back the side chunks while the remaining hair is secured in an elegant low bun. Done!
29. Natural Hair Bun
When you have natural curly African American hair, you can't complain about the lack of volume. Use a comb with dense brittle and gather the whole mane on top of the head, where you will style a bun. Complete the look with discreet makeup and a pair of rounded golden earrings.
30. Half Up Bun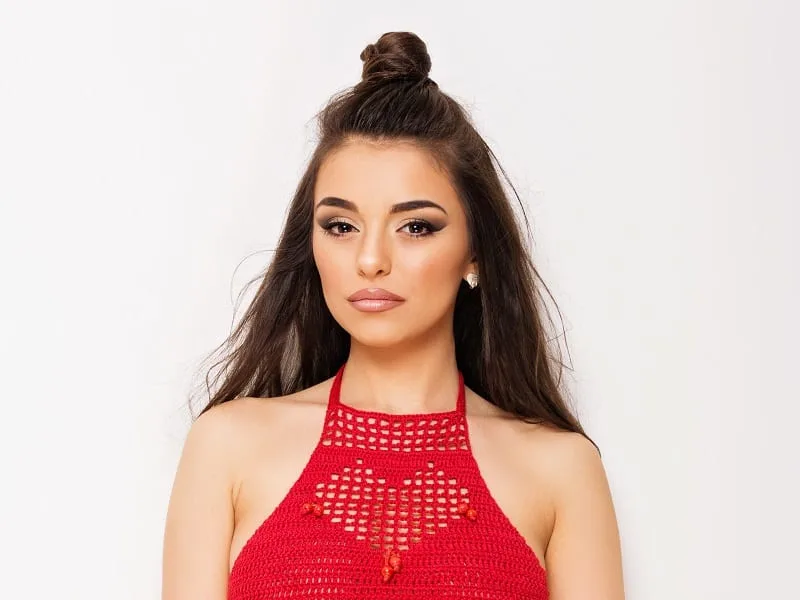 A half bun hairstyle uses only the top strands and sometimes the temple hair. Gather all those locks on top of the head and style a bun. Create a few waves and tousle the mane to get that messy appearance.
31. Wedding Hair Bun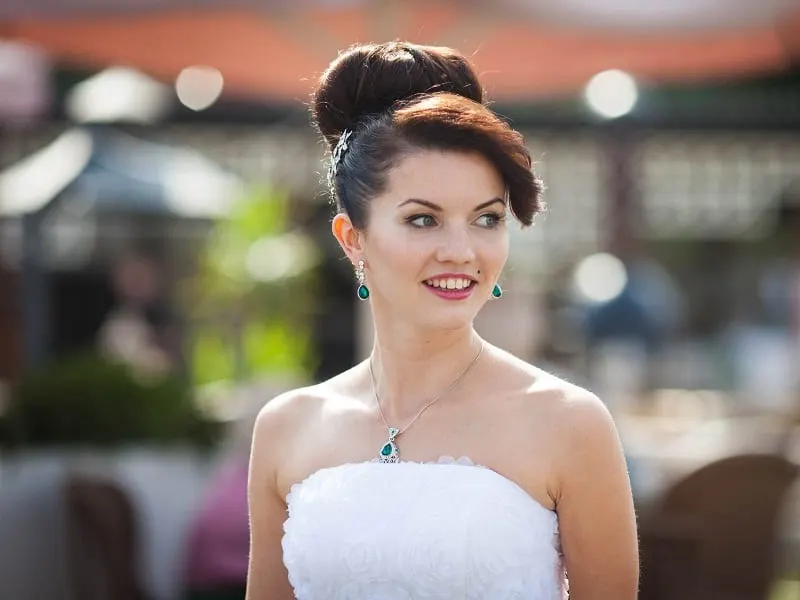 Buns are ideal hairstyles for any occasion, including weddings. Whether you are the bride or a guest, a bun will certainly make you shine. Use a large hair donut to recreate that bun hairstyle and get a fringe that you can wear on one side.
32. Bun with Bangs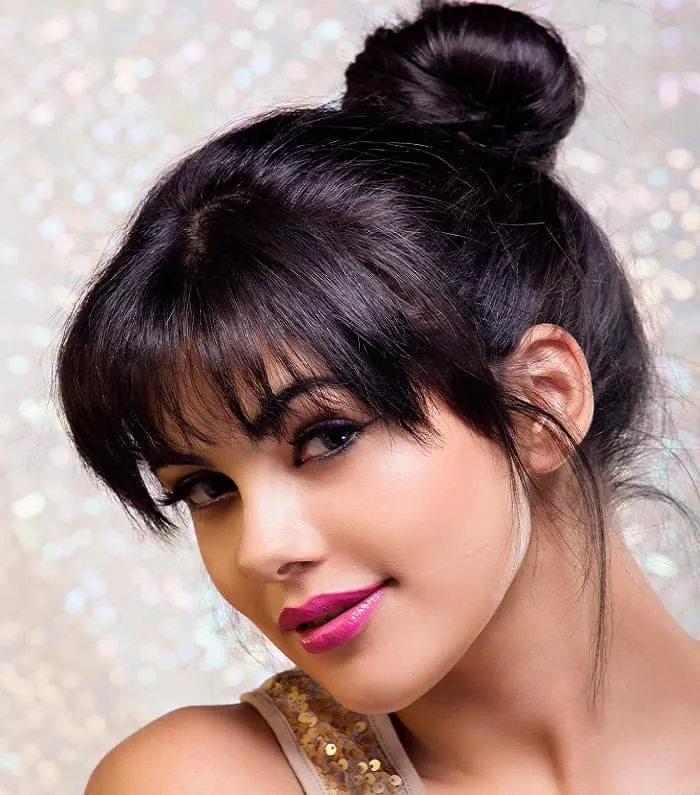 Opt for a messy look that is ideal for walks in the park, a stressful day at the office, or coffee or movie with your friends. Keep the bangs spread on the forehead and style a loose bun on top of the head.
33. Japanese Hair Bun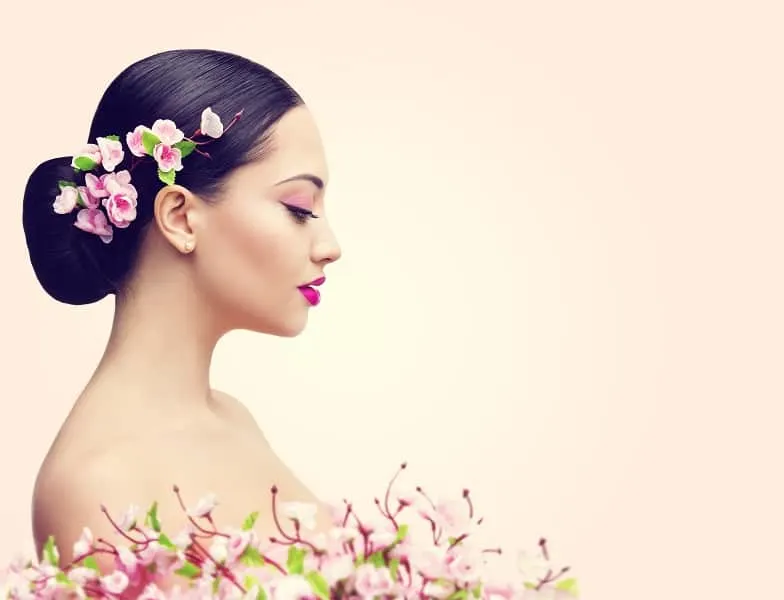 If you want a bun hairstyle that is inspired by the Japanese culture, opt for a low bun. Use a hair donut to obtain that flawlessly rounded hairstyle and decorate it with pink or cherry flowers. For the make p, opt for a fuchsia lipstick and a pale pink eyeshadow.
34. Triple Bun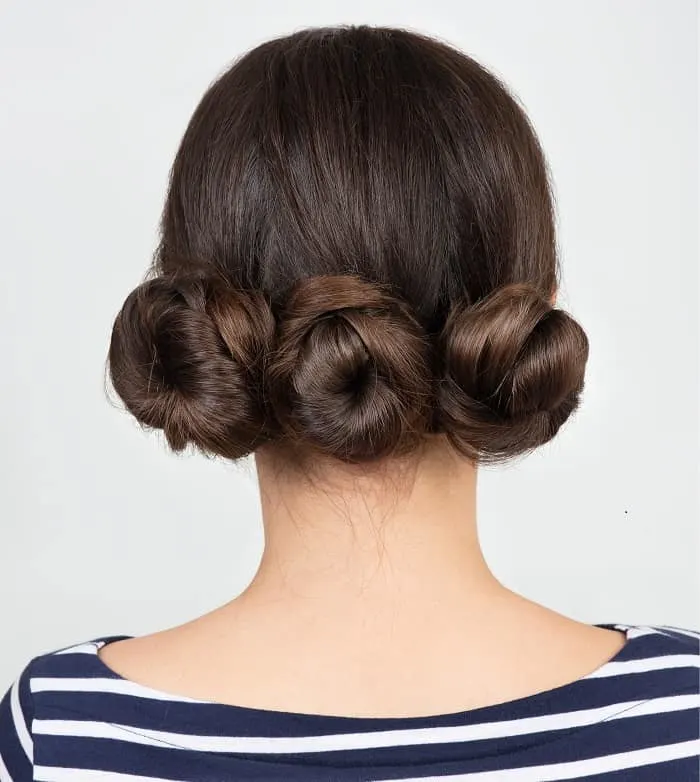 Having thick hair is a blessing for women, and it will be such a shame not to take advantage of this aspect. To recreate this hairstyle, you need to section the hair in three and style three low buns. Use a hair strand for each and wrap it at the base.
35. Ninja Bun
Ninja buns are high and perfect for African American women who want to keep their natural hair in one place. Use plenty of jam until you can create a sleek hairdo. Pin all the hair in a top bun and wrap a strand around the base.
36. Tiered Bun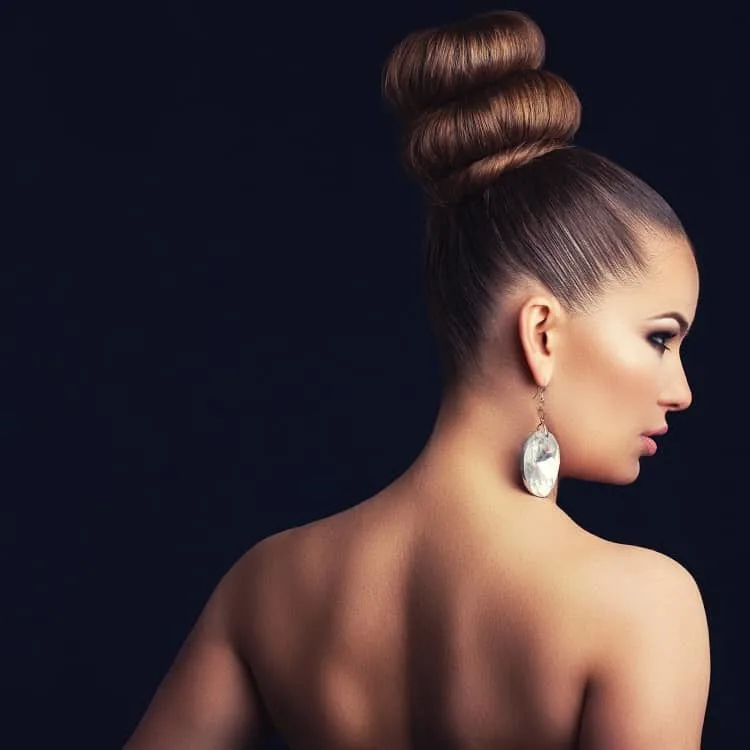 When you have long hair, your options are limitless when it comes to hairstyles. Instead of creating the regular bun on top of the head, you can style even two updos! Place the first bun using a donut, and on top of it, use a smaller donut to create the second bun.
37. Low Braided Space Buns
Whenever you crave for an absolutely gorgeous bun hairstyle, this is a marvelous option. Part the top hair in three sections and style French twisted braids. Once you reach the base, roll the hair into two space buns.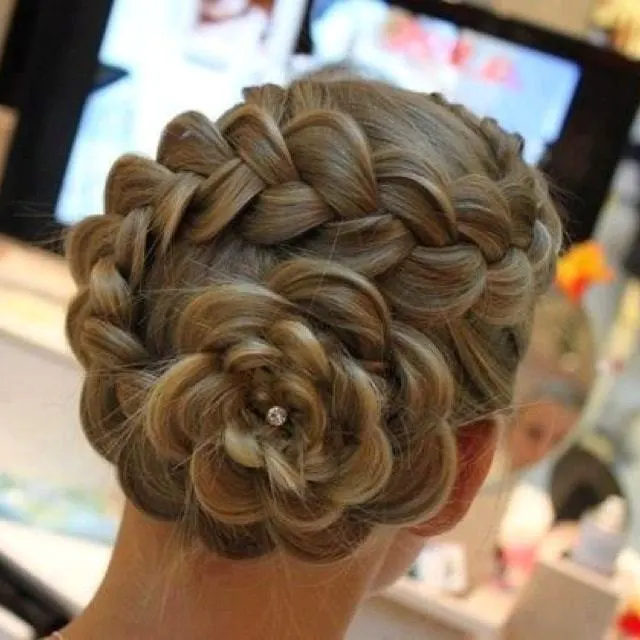 This braided bun might seem complicated, but actually, this is one of the easy bun hairstyles out there. All you need to do is make a long braid and arrange it into a bun. Pin it to the rest of your hair in as many places as you wish to create a curved look.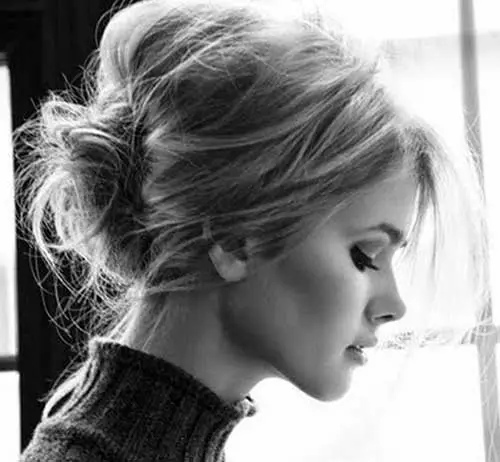 The messy bun is a great way out for girls who don't want to spend too much time on their hair but would like to keep it out of their faces. Make a low ponytail, arrange it into a bun and pin it to keep its shape. In order to create a messy look, let it be loose. If you have long hair, try these long messy bun hairstyles.
40. The classics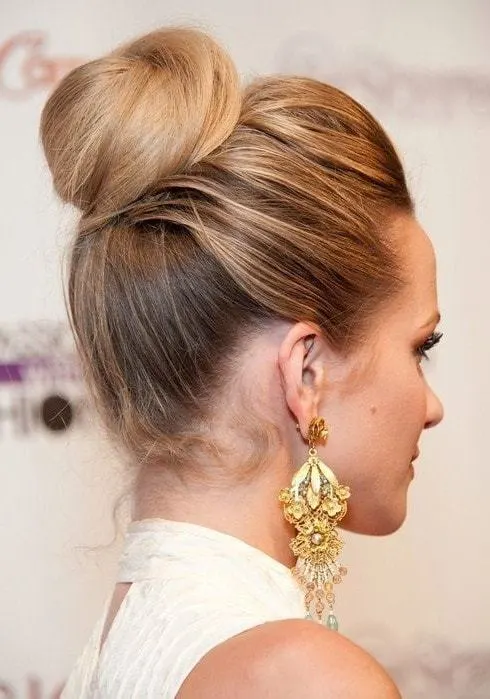 The classical bun is very easy to make. Gather your hair into a high ponytail and tie it with an elastic band. Then wrap the ponytail around the elastic band and use some pins to attach the bun to the rest of the hair. Use some spray to avoid stray hairs.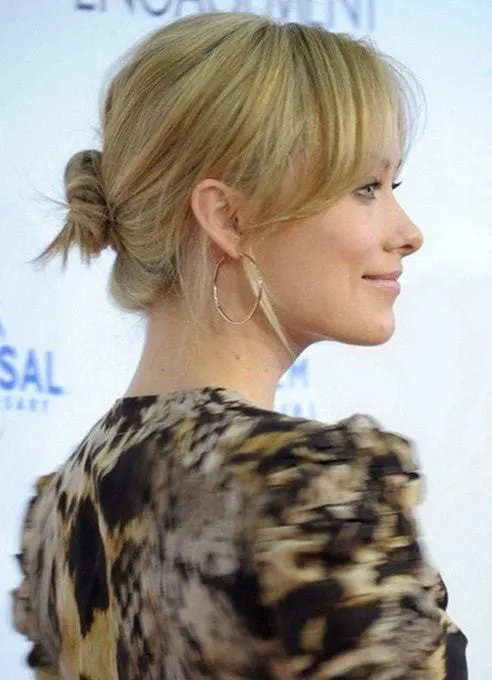 If your hair is not too long, there is no need to forget about the buns. In fact, small buns look extremely cute. So, follow through the standard bun making procedure and don't worry about the size. After all, everyone knows that size doesn't matter.
42. Loose Bun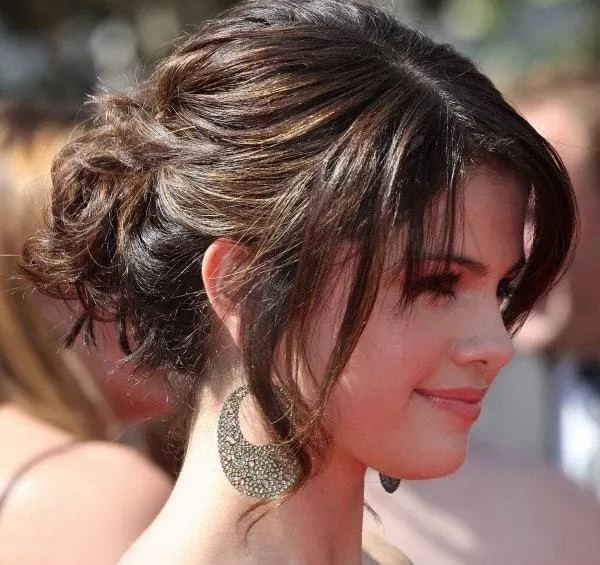 This loose bun is perfect for medium-sized hair. Make a ponytail and tie it with an elastic band. If you don't have enough hair to wrap around, just pin it to the band. The result will look very interesting. A great choice for girls who don't like long hair.
43. Creative ribbon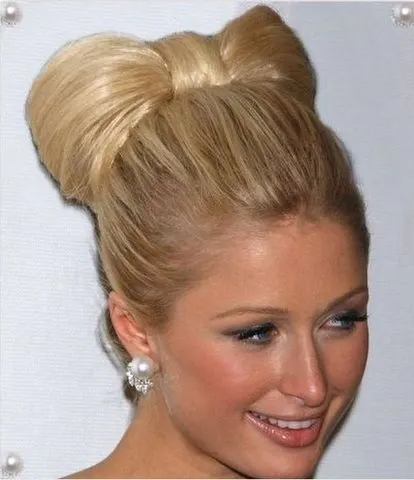 If your hair is very long or you are about to get a weave, you can go for a ribbon bun. It is created by making a loose bun, tying it with an elastic band in the middle and running one wide strand of hair to cover up the band.
Have long hair? Try these styles
44. Braid-bun mix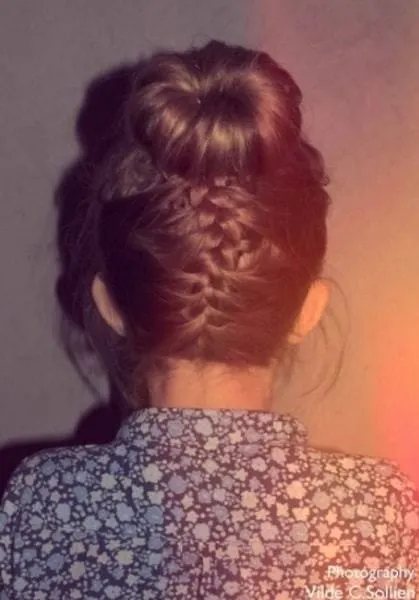 This fun hairstyle will surely be appreciated by girls, who like to get creative. You start by making a braid. Then hair gets pulled up on top, tied with an elastic band and pinned to the rest of the hair. Then the ponytail is arranged into a bun.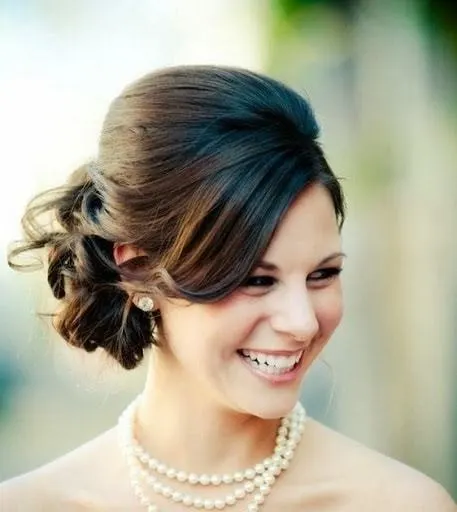 If you are making a bun for a special occasion, you can go with loose curls. You start with curling your hair. Then you create a low bun. Afterwards, pull some strands out to make the curls obvious. You will love the look!
46. Low bun with a braid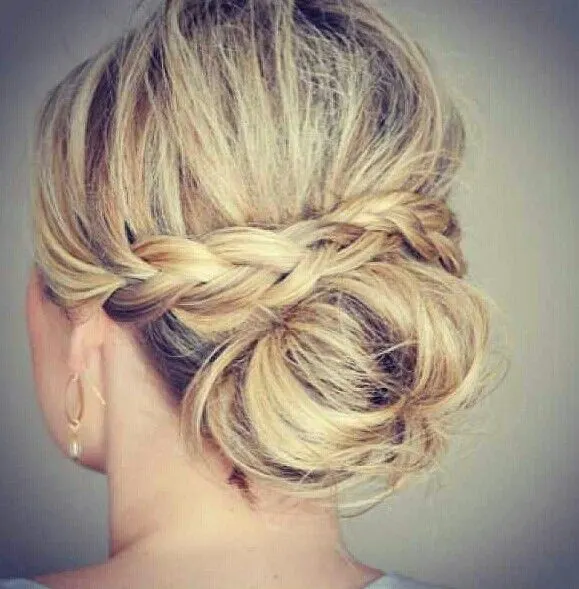 Mixing buns and braids can go a long way. This is a great and easy bun hairstyle. All you need to do is leave two strands on the sides and then go through with making a low bun. Then you braid the two strands and arrange them on top of the bun.
47. High and loose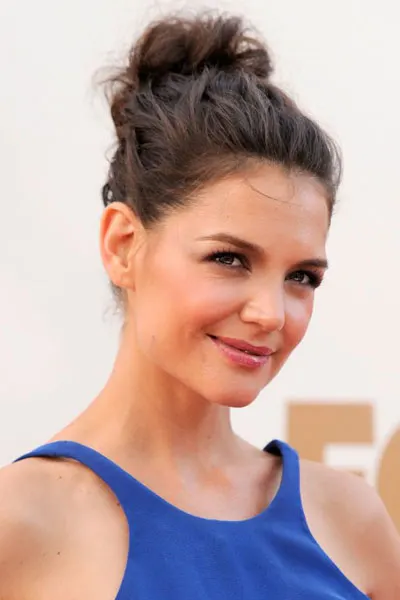 This is a great bun for women with wavy hair. Since a tight bun is almost impossible to make, they should go for creating a high loose one. Then the waves on top will be obvious and the bun will seem voluminous. Give it a try!
48. Cute and simple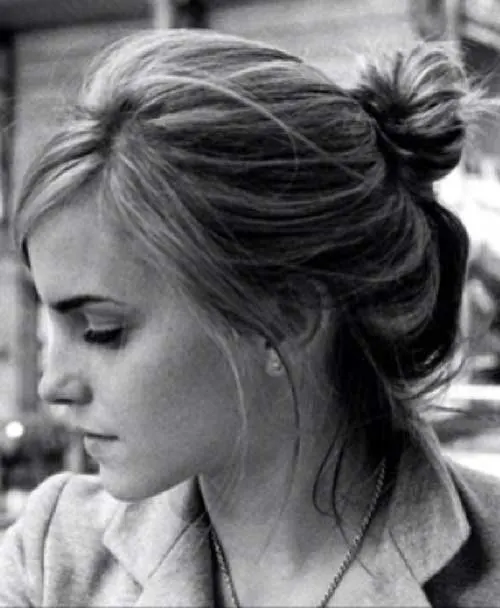 This bun will become the best friend for girls with medium-length hair in no time. All you need to make is a high ponytail and tie it to the end stays inside the elastic band. A cute and simple bun is ready and needs no maintenance during the day.
49. Get creative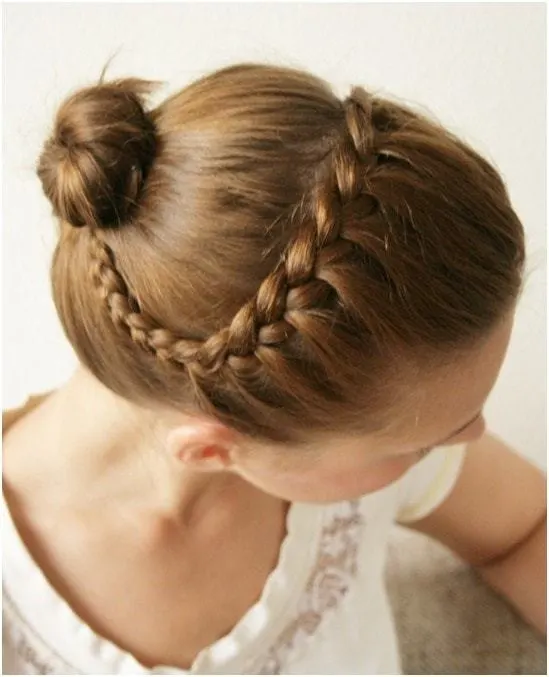 If you are really good at making different hairstyles, then it is time to get creative. Take a look at the picture. You will need to start braiding from up top, arrange a braided curve and then make a bun with the rest of the hair.
50. Wavy and loose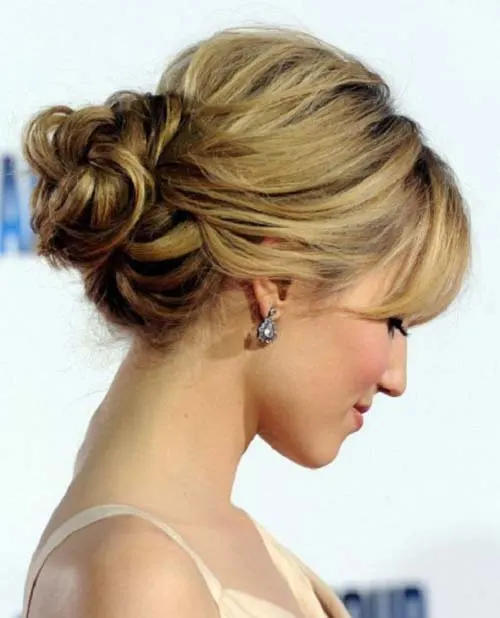 This is a fast and easy bun hairstyle for women who have fine hair. In order to create a lot of volume, make waves with a flat iron and then create a very loose low bun. Pull some strands out to make a bun look as big as you can.
51. The Knot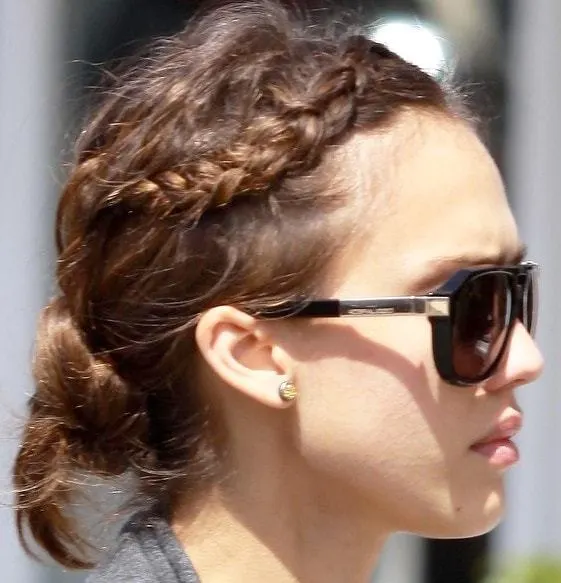 This is a great and simple hairstyle that looks quite complicated. No need to be scared. All you need to do is make a short upper braid and let it run down to the bottom where you arrange a knot. Pin into the rest of the hair and apply some hair spray to keep it intact.
52. The Donut Bun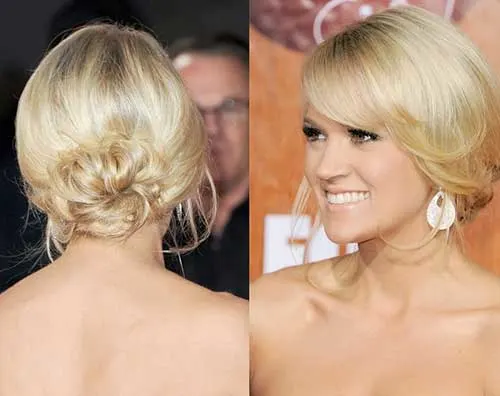 If your hair is not long enough to make a proper bun, you can use special accessories. A donut can become your best friend. In fact, it has helped many women create original hairstyles. Give it a try and you won't regret it!
53. Short Bun hair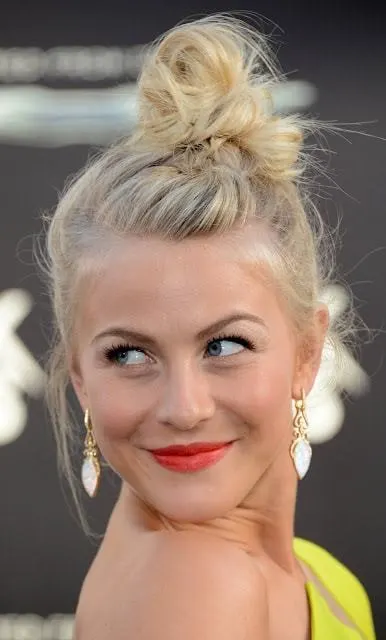 If you like original hairstyles, this fun bun is for you. Braid your bangs to run backwards and pull the rest of the hair up to the crown. Carelessly tie the hair into a bow and pin it to hold shape. You will look truly amazing.
54. Accessories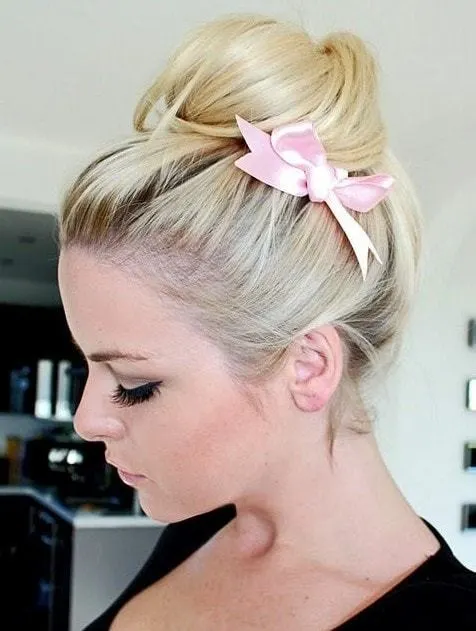 Accessories are a very important part of different hairstyles. They can create a real pageant style out of a regular and mundane cut. The same goes for buns. Use bows, ribbons, pins and elastic bands to make your bun stand out of the crowd.
55. Weave Bun
If your hair is not too long, but you've always wanted a cute bun hairstyle, use a weave! Hair extensions create amazing and very neat buns. You can choose voluminous upper buns and simple low ones. Experiment!
56. Asymmetrical bun
There is no reason to make a bun right in the middle. Experiment with arranging this hairstyle on different sides of your head. Make sure to use a lot of pins and hairspray to keep it intact. Asymmetrical buns like to fall apart.
57. Braids + Bun
Make a voluminous braided bun on the very top of your head to create a wonderful hairstyle for a special occasion. Hair is too short? No problem. Follow Alyssa Milano and get a weave. You will really get some heads turning. If you are an African American woman, try these black braided bun hairstyles.
58. Red Bun
This high bun is created by making a very high ponytail and tying the end with the same elastic band that holds the beginning. Add some cute accessories to make the hairstyle even more amazing. Red hair color adds a ton of style.
59. High and tight
If you really want your bun to serve its original purpose, make it as high and tight as possible. As you can see on the photo, Olivia Wilde has done just that and is ready for a long day of work. Don't forget that the initial purpose of a bun is to keep the hair neat and out of your face.
You can mix and match braids and ponytails to create an original hairstyle. In the end, you can tie everything together and make the appearance of a bun. This creative hairstyle is perfect for times when you really need to impress someone.
61. Side Bun
Buns on one side look really unique. However, they will require a lot of help to stay together. Use different accessories to keep the bun in place and some hair spray to allow it to stay neat throughout the day.
FAQs
Learn more by reading these frequently asked questions about bun hairstyles.
What is the minimum hair length for wearing a bun?
Hair length for wearing a bun is based on using the Hair Length Chart, which estimates inches based on hair texture. The primary basis for these measurements is how far your hair goes beyond your shoulders.

Having hair between 18 to 24 inches is the standard minimum for being able to wear your hair in a bun. This length gives you the room to twist your hair into the bun hairstyle of your choosing.
Will hair buns cause loss or breakage?
Yes, any type of pulled-back hair puts tension on your hair, especially if the hair is being pulled back tight. Likewise, ponytails and buns put stress on your hair follicles, especially if you wear this style full time.

The placement of your hair tie also causes your hair to weaken and eventually break. In addition, consistent tension on the roots due to tight buns (ballerina buns) leads to hair loss due to the scarring hair follicles.
Can hair buns cause headaches or neck pain?
Putting your hair in a bun pulls on the nerves in your scalp. So the most straightforward answer is yes. Hair buns can cause headaches or neck pain if worn for an extended period. This is because when you're pulling the nerves, it also activates the sensory nerves. This activation often results in a headache.
Is a hair bun good for hair growth?
It depends. Loose buns that aren't tightly pulling your scalp is beneficial to promoting long-term hair growth. However, if your hair is pulled too tightly, you'll be lessening the blood flow in your scalp. This will actually reduce hair growth.
Should I tie my hair into a bun when it's wet?
No. When your hair is wet, it's at peak elasticity. Therefore, tying back wet hair causes breakage near the hair tie because your hair cannot retract back to its natural state.

While you shouldn't tie your wet hair into a bun, sometimes it is unavoidable if you don't enjoy damp hair on your face, shoulders, or back. It's essential to prep your hair with a leave-in conditioner while it's wet before putting it into a bun.
Ready to experiment with some amazing buns? We hope these options have made your choice a little easier. Start with the classics and go on to try different braided variations, as well as loose hairstyles. Get ready for an amazing bun journey. Best of luck!