When planning for your wedding day, there are almost too many hairstyles to choose from. Black women especially have a wide variety of gorgeous options to accentuate either natural, straight, textured, or braided hair. Fortunately, when it comes to the most beautiful styles, we have the best of the very best to inspire you.
Wedding Hairstyles for Black Women
Read on for our 101 different wedding hairstyles for Black women.
1. Elegant Up-do For Straight Hair
If you're searching for the ultimate wedding up-do hairstyle for Black women, look no further than this chic style for straight hair. If you have an outside venue or your dress has a dramatic back, then emulating this elegant up-do is the way to go.
2. One-Sided Natural Curls
Simple is the way to go when it comes to the ideal Black wedding hairstyle for bridesmaids. A one-sided style keeps your bridesmaids cool at an outdoor venue or on the dance floor while still showing off gorgeous, natural texture.
3. Multiple Bun Crown
This multiple bun African American wedding hairstyle with weave is as unique as it is stunning. Start by smoothing down your natural hair at the root then creating multiple buns horizontally across the crown of the head.
4. Naturally Textured Curls
Your wedding hairstyle for natural Black hair can be as intricate or as simple as you want. For a simple style, wear your incredible curls as you normally would. It's easier to create a short to medium-length hair so your dress is still in focus.
5. Short Twist Braids
Twists or locs make gorgeous for the perfect braided wedding hairstyle for Black brides. Wear them straight down your back or let them flow freely if you wearing your hair short.
6. Small Box Braids
A perfect wedding hairstyle with veil is a small box braids up-do. To help frame your face, leave a small portion of hair down at the back of the neck. We love the curly, unbraided ends that bring a touch of softness to this bridal look.
7. Long Wispy Style
If you're going for a natural, romantic look, then consider using this long wedding hairstyle for Black women as your inspiration. A bit of bedhead suits a simple slip or silk dress that is easy to create with texturizing spray and your fingertips.
8. Voluminous Low Ponytail
This is your wedding day, so show off your gorgeous face! A slicked back look makes for the perfect Black wedding ponytail hairstyle. Create volume by leaving your ponytail full and curly down your back.
9. Sleek High Bun
This beautiful wedding bun hairstyle for Black hair is simple yet sophisticated. Emphasize your gorgeous face and shows off an intricate or eye-catching neckline by creating a smooth ballerina topknot.
10. Curly Low Chignon
Pinning up lots of curly volume can be a challenge. This wedding hairstyle for curly black hair is a winner that's easy to create. Leave a few face-framing pieces of hair out for a romantic feel.
11. Natural Pixie Cut
Pixie-haired brides have it made! Because styling is minimal with a natural pixie cut, you can focus on features like your make-up and dress while suiting your hairstyle best. Just be sure your hair is prepped with a nice moisturizing oil.
12. Medium-Length With Layers
This African American wedding hairstyle for medium hair is the perfect loose style for your special day. To keep attention on your face, curl your face-framing layers out away from your face on one side. For balance, try a brooch or beaded clip on the other.
13. Classic Up-do With Flower Crown
If you want to wear your African American wedding hairstyle with a tiara, your updo should be simple. A side part will soften your appearance in a subtle, feminine way that nearly any bride can appreciate.
14. Up-do With Center Part
Let your stunning dress do the talking with a simple African American vintage wedding hairstyle. Try an uncomplicated yet stylish up-do with a strong center part. It will reveal your beautiful face and highlight elegant cheekbones.
15. Beautiful Braided Up-do
You'll never regret this braided up-do because the look is truly timeless. Create medium to large cornrows to frame a large braided bun and you'll be ready to say 'I do.' Don't forget elegant dangle earrings, of course!
16. High Ponytail Braids
Whether your hair is braided or not, a long, high ponytail is elegant yet strong. Plus, it gives you an instant face-lift! Draw all eyes to you with this high ponytail braid look that shows off your cheekbones.
17. Creative Bun

This complicated hairstyle is absolutely perfect for a wedding. You will need to straighten out your hair, make a low bun, but leave the ends free and sticking upwards. Then one strand is used to make a braid and hide the elastic band. The ends are curled into small loops. The bangs are left straight and side swept.

18. Neat Curls With An Ombre

Straighten out your hair and make an ombre. Colors can vary but a black and brown mix will look very natural. Gather your hair in the back to make a loose ponytail. Curl thin strands into loops and attach them with pins. A great idea for a bride with short or medium length hair.
Wedding Hairstyles for Brides with Long Hair

This amazing wedding hairstyle can be made on your own. All you have to do is start making a high runaround braid while leaving the strands hanging freely. Clip the braid with some pins and then curl the ends. Voila!
If you have long locks, you just must flaunt them by creating this stunning black wedding hairstyle. Women all over the world are using this approach to make a special style. Add some jewels to the knot to make the hair shine.

20. 1920's queen

If your hair is short and you have to forget about braids and buns, go for the 1920's looks. This wonderful hairstyle will never become unfashionable. All you have to do is make soft waves and use a lot of hair gel to keep them intact. Black girls with long hair will envy your light look.

21. Seashell bun

This seashell bun will do wonders for looking impressive in the back and beautiful in front. It will have to be created by a professional since the precision here is very important. The bangs are styled to stay out of your face.

22. Cornrows

Black women look amazing with cornrows. So why not use them for a wedding hairstyle? Make your favorite cornrows and gather them upwards into a high bun. Keep them together with elastic bands and a veil. Add a large headband accessory to make the hairstyle even more impressive.

23. Braids

If you've got long hair, then you have a myriad of haircut choices. But remember, touching long locks up during a wedding day can be a real hassle. So, think about making braids and arranging them in a crown on top of your head. The result will be amazing!
Want to try Braid? Check these styles
24. The wild look
If your hair is short, straight and unruly, you might have trouble achieving real tight and neat hairstyle. So, why not go for something wild? Gather up your hair upwards and pin it to keep the shape. Add some different accessories and a lot of hair gel to keep the look intact.
Even if you are tired of your untidy locks, you can enjoy a messy black hairstyle for your wedding. Ask your hairstylist to add some volume to your hair by brushing it upwards and securing with pins and flower-related accessories.

25. Curl extravaganza

If you have medium length hair and are not about to straighten out your beautiful locks, this image is for you. All you need to do is separate your curls and make them neat with the help of some hair cosmetics. Then pull your mane upwards into a high ponytail.

26. Side swept palm

This is one of the most extravagant and interesting hairstyles for black women. You will need help of a professional hairstylist to do everything right. Your hair will need to be arranged on one side and kept together with elastic bands, pins and hair gel.

27. Voluminous bun with a braid

This is a great hairstyle for girls with long hair. However, women with short hair can make it too. All you need to do is create a high bun and get a braided weave to run around it. This will make a truly amazing hairstyle. You can decorate the braid with white flowers.

28. Loose and curly bun

This is one of the simplest wedding hairstyles for black women. All you need to do is curl your hair, make a high bun and then pull some strands out. Pin the loops to the rest of the hair for a neat appearance.

29. Highlighted bun

Your high and loose bun will look especially pretty if you make proper highlights. Black girls usually have very dark hair, so diversify your appearance by adding some light brown or blond highlights. You will love the result!

30. Straight and simple

If your hair is straight, you can make this very simple hairstyle. Pull it backward, make a side ponytail and then twist it upwards. Clip the ponytail to the rest of the hair and add some accessories to make it look even more fantastic.

31. Unusual braid

This black wedding hairstyle will surely be a hit! It is easily done by making a high braid and then arranging it on top of your head in this special way. Your main task will be to keep it securely pinned, otherwise, the hairstyle will lose its special brilliance.

32. Voluminous ponytail

If your hair is straight and not too long, you can go for this voluminous ponytail. It is very easy to make if you've got a wide headband. Raise your hair upwards as if you are about to make a regular ponytail, gather it loosely with an elastic and cover it with a headband. Use pins to keep the ponytail high and neat.

33. High and tight braided bun

High and tight hairstyles are very fashionable. So, if you want to make an impressive and easy one, go for the bun. All you'll have to do is make a very tight ponytail, turn it into a braid and then arrange it into a bun on top of your head. Special accessories are welcome.

34. Twisted do

This hairstyle is achieved by separating your mane into two parts and then twisting them toward each other. While seemingly easy to create, some professional help will be needed to keep it very neat. A headband will be a good compliment to this style.

35. Highlighted bun with high bangs

A very simple hairstyle can look just amazing if you make proper highlights and add bright accessories. Your very ordinary bun will turn into a great wedding hairstyle when you add some blond highlights and make high bangs.

36. High and fluffy afro

What black woman hasn't pondered getting an afro at least once in her life? The wedding is the perfect time to finally make it. A classic afro decorated with beautiful hair accessories, tiara or a headband can help you make a great statement.
It is easily achieved by gathering your locks upwards and keeping them together with a decorated headband. You will get a simple yet very romantic look.

37. Deadlock loops

If you've got pretty dreadlocks, no need to get rid of them before your wedding day. They can be beautifully arranged into small loops on top of your head. You will definitely be the most beautiful and modern bride!

38. Low curly bun

This hairstyle is great for women with medium length and long hair. A simple low bun will turn into a real masterpiece when some strands are pulled out, curled and arranged in a beautiful fashion. Large white flowers will be a great addition to this look.
If you are ready to straighten out your locks or your hair is not too curly, consider this hairstyle. The top is straight and slick while the bottom part is arranged into a bun. Each strand is curled and attached to the rest of the hair.

39. Voluminous deadlock bun

If you like thin dreadlocks, this hairstyle is for you. Only a couple should be made to keep the bangs neat and then the rest have to go into a large and voluminous bun. You will get a very special and light look most brides will appreciate.

40. High and veiled

If your hair is short, you can lift it upwards to make an impression of a lot of volume. Keeping it together might be a hassle, so smart brides use handy veils. These accessories don't just hold the hair together, they add a very mysterious and romantic look.

41. Flowery headbands

Flowery headbands are the most popular black wedding hairstyle accessories. They can save the day, even when your hair is too short to come up with something creative. Choose the headband to suit your image and your hairstyle is ready!

42. Braids and curls
If you have long and unruly hair, consider getting it straightened out. Straight locks are much easier to manage. Create a low bun supported by a braid and leave a strand to make pretty coils on top.
43. Ombre coils
Your wedding is a great occasion to try ombre. You don't have to make it too obvious, otherwise, the image will change too drastically. Just choose a light burgundy shade.
A crown braid is a simple way to arrange your hair. But when you have ponytails hanging down from each coil, then it becomes a very special black wedding hairstyle all other brides will envy.
45. Amazing pixie
Want to look like a 1920's movie star? Then this hairstyle is for you. You will need to straighten out your hair and make soft and large waves. Don't forget about the long bangs!
46. Seashell bun
A seashell bun is a great way to make your hair look most impressive. This complicated hairstyle will require a lot of clips and hair gel to stay in place. Use some beautiful wedding accessories to diversify the image.
47. Cornrow bun
Cornrows look amazing on black girls. So even if you haven't tried them before, you can make a bold decision to sport them. Their main advantage is that they will stay intact all day long.
48. A weave
If you have short hair, you can make a creative braided bun with the help of a weave. A wedding is a great occasion to sport long locks, so why not try them out. You might want to keep them.
49. Messy fun
A messy black wedding hairstyle is a perfect way to make a statement. It's also a great way to save money. If you love wild images, this hairstyle is definitely for you. Give it a try!
50. Short and high
If your tresses are short, you can still make them look as if you've got a very long mane. Brush the locks to the top and secure them with a lot of hair gel. This option is only available for girls with thick and wiry hair.
Want to make a real impression on your wedding? Consider making a one-sided undercut. This is one of the most popular modern hairstyles for black women today. If you have enough guts, give it a chance.
52. Large bun
A large bun with a braid around it can make you look like a real princess on your wedding day. Isn't it what all the girls are dreaming about? Don't be shy about your hair. Make it work for you.
53. Loose braided bun
Another great black wedding hairstyle for girls with long hair is the loose braided bun. In fact, it can also work if you have medium-length lock since the looseness creates volume.
54. Smooth and suave
Smooth hairstyles are preferred by women who usually have to deal with unmanageable locks. This is a simple yet very regal hairstyle that will make you feel like a real queen.
55. Oriental chic
Girls who have thick and straight hair can go for this simple yet chic hairstyle by sweeping all the hair backwards to create a small bun that will be covered by a veil or pinned with a large accessory.
56. Mohawk style
Always wanted to sport a Mohawk but were never brave enough to shave? No problem. You can achieve the desired effect by making a high and large braid and clipping it on top of your head.
57. Large accessories
Knowing how to use the right accessories, especially if they are large, is a real art. If your hair is not too long, such an accessory can arrange it into a voluminous bun.
58. Shiny braids
A simple braided bun might not look like a good black wedding hairstyle unless you turn on your imagination. Use some glitter to brighten up your image and special accessories to make it festive.
59. Indian princess
Being an Indian princess is definitely a great choice of a wedding image. Lift your hair up in a large and low bun and use an accessory to imitate the spot on a forehead.
60. Highlighted bangs
Blond highlights look great on black girls. So if you want your black wedding hairstyle to look even more special, highlight the bangs. The result will be truly beautiful.
An afro is a bold way to make your statement during your wedding day. You can soften it a little with delicate accessories that gather your hair into a very loose bun.
62. Blond coils
Arranging your short hair into thin coils is a great way to deal with dreadlocks. This is a perfect method to tame the wilderness of your hair by making it look smooth and regal.
63. White roses
No wedding in the world goes on without flowers. Using faux flowers as part of a black wedding hairstyle is an idea that lived through the centuries. Clip a couple of white roses to your hair and your image will immediately become impressive.
64. Dreadlock bun
Wild dreads can become a soft and delicate hairstyle in the hands of a real professional. So don't think that a wedding means getting rid of your favorite style. Just let the maestro do his work.
65. The palm tree
This palm tree hairstyle is one of the best choices for black girls with short hair. Take advantage of large wedding accessories to make the most stunning hairstyle out of your tresses.
Never underestimate the power of a headband. It can make even the simplest hairstyle look amazing and extravagant. If your hair is too short to create something extraordinary, get some help from a headband.
67. Micro twists
This is the hairstyle for women who lack length. You can attach the micro twists to give your hairstyle some volume. By wrapping them around your head, you are allowing yourself to forget about maintenance and get a chance to use accessories.
Braids always give girls a sophisticatedly understated appearance and can be a hot choice for a black woman to wear for her wedding.
There are limitless options for braid hairstyles that you can wear for a chic look such as the above-given side-swept fishtail braid that is giving noticeable romantic features to the girl. To add a more sparkling element to your appearance, you can embellish this hairstyle with pearls, floral accessories or by wearing a tiara.
69. Fiery buzz
If you have a short hair, go all out with your bangs. Shorten out your curly locks and you can use a flat iron to create soft waves. Such looks don't just look neat, they outline your eyes and make your overall image priceless.
70. Keep them down
If you have beautiful and long hair, you might want to consider simply flaunting them. Black and neat waves can outdo any complicated wedding hairstyle you can come up with. Add a tiara, a headpiece or a veil.
71. Braided bun
A braided bun is one of the simplest yet elegant black wedding hairstyles that make women look impressive. While a braided bun can suit any hair accessory, it requires absolutely no maintenance.
This elegant faux bun and side cornrows can be a bewitching option to wear for uber-stylish bridal attire and to hold your unruly afro-textured hair into place.
It may look complicated to achieve, but in actual it's not, as, you can place a weave on your head to get this black bridal hairstyle, easily done. Finish the look by wearing a headpiece or tiara!
73. Smart approach
Do you have shoulder length hair but want a great updo without any hair extensions? This hairstyle is the perfect choice for you. You'd need to carefully tidy up your curls and use the hair gel to style them upwards.
Most of the black wedding hairstyles for women have to do with curls and waves. Stand out of the crowd with this slick and chic hairstyle. You can easily make this bun on your own with the help of some hair gel.
75. Loose ponytail
This is a great hairstyle for women who want to flaunt their curls and volume. A loose ponytail makes no effort to create. If you don't want the style to look too simple, use a large hair accessory to complement it.
76. Asymmetrical style
Asymmetrical hairstyles are great for weddings since they look wonderful on the photos. You can have a complicated design in the back of your head but no one will ever see it on the photos. Swept forward styles take care of this problem.
77. Rose bun
A high bun in the shape of a rose is a wonderful choice of a black wedding hairstyle any woman can appreciate. You'll need micro twist hair extensions to create this hairstyle unless you have long enough hair.
78. Just a bun
This simple large bun is one of the most popular hairstyles for black women on their wedding day. The slick hair on top outline the shape of the face and the beautiful eyes, while the volume on top give the hairstyle a decorative look.
79. Smart braiding
If you have medium length locks and don't feel like using hair extension, this asymmetrical braid can save the day and make you look truly stunning. Don't be afraid of experimenting with the asymmetry for your black wedding hairstyle.
80. Beautiful curls
Most of the wedding hairstyles have to do with making curls. Even if your hair is completely unruly and frizzy, a respectable hairstylist can create impressively soft curls for one day. If your hair is long, go for it.
81. Straight and long
Straightening out your hair is another way to go about making a magnificent look for your wedding. This is a great choice for women with shoulder-length hair who want to create something special.
Looking for a beautiful mane, but all you've got is a bob? Use cornrow extensions to create any hairstyle you can wish for. The neat curls or long waves are easy to create with the right extensions.
83. Style mix
Havana twists on top, cornrows in the middle, and Marley twists on the bottom is a wonderful style twist any woman can be jealous of. This black wedding hairstyle might be hard to make but it's easy to maintain and looks glorious.
84. Ethnic black wedding hairstyle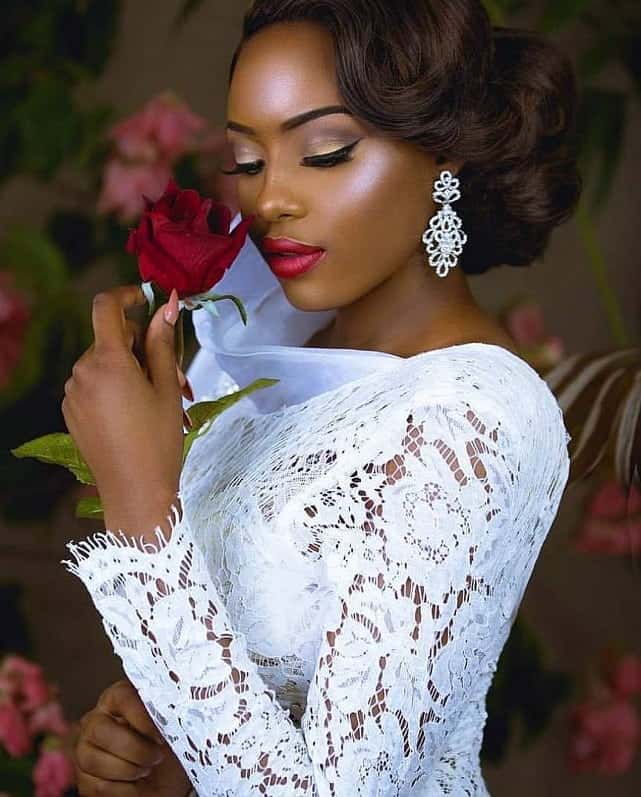 This classic look will make it harder for you to drive your eyes away from it. This black bridal hairstyle is effortlessly enticing that features a puffy side-parted top and floral bun that hardly needs any artificial titivation.
Bouncy Jheri curls are one of the most ultra-glamorous wedding hairstyles for black women because of the big and distinctive structure. It is difficult to attain the rich voluminous curls on natural hair, but hold on! There are plenty of extensions or sew-in weaves that you can wear to get the desired bouncy hairstyle.
86. Half up side swept hairstyle
If sleek and straight is not your thing, go with some dramatically wavy hairstyle. Tie your tresses into messy half-up hairstyle and side sweep the remaining hair for a balanced look. It is a splendid choice for black women with fine hair as the loose curls will add volume to their hairstyle.
87. Wedding Bun
When planning their wedding hairstyle, many black women forget about the dyeing trick. Changing your hair color for your wedding is a great way to make a statement and enjoy a wonderful appearance.
88. Natural approach
If you are planning a close to nature image and want to wear your hair down, you can take advantage of this interesting style. By twisting the side strands in the back, you are keeping the hair out of your face while the rest is freely flowing down.
A high loose curly bun is a no-lose option for any special occasion, including a wedding. This hairstyle might require some touch-ups during the day due to its slightly windblown nature but it's worth the effort.
Contrasting straight bangs and curly hair can make any black wedding hairstyle for women look more special. This is especially good if you want to wear your hair down. Side swept blunt bangs can be a great choice.
91. Black bridal hairstyle with flower
Keeping your hairstyle as close to natural as possible can give the bride that special romantic look that the guests can remember forever. Using flowers to outline the natural way your hair flows is a great idea.
92. Extreme wedding expression
Want to surprise others with your dramatically exciting entry? If yes, go with this extremely appealing black bridal hairstyle. The fresh floral headband and outstanding makeup will create an amazing wedding expression.
93. Regal vibes
It can be a queenly solution to hold your kinky hair in place with so much glamour. It is easy to style and carry, as you do not have to spend a lot of time to style the stubborn hair texture into a perfect updo or bun.
Moisturize your curly mane to get a glossy aesthetics and wear a net veil that has a magnificent head crown attached with it.
94. Afro hairstyle with tiara
If you want to celebrate your short, natural afro hair on your big day then, you can opt for this black women's wedding hairdo by skipping the weaves/extensions. Style your hair into an afro Mohawk hairstyle and adorn it with an adorable pearly tiara for an exquisite look.
95. Artistic bridal hairstyle
Wear a hairstyle that does not need any tiara or jewelry to get an angelic look like the one in the above image. This classy bouffant hairdo is a perfect example to show how simplicity can win people's heart without any need for adornments.
Turn the top into a puffy structure and hold it in place with a hair spray; style the remaining hair into a twisted or criss-cross updo to get an ideal look for your wedding
96. Loose side braid and bun
This divine black braid and bun combo will provide you outstanding and sparkling features. To get this look, side part the hair and make a simple braid. Tug the braid to achieve the loose and effortless structure.
The cute tiny floral accessory will add more magic to your whole look and there will be no need for any veil or heavy head jewelry as well.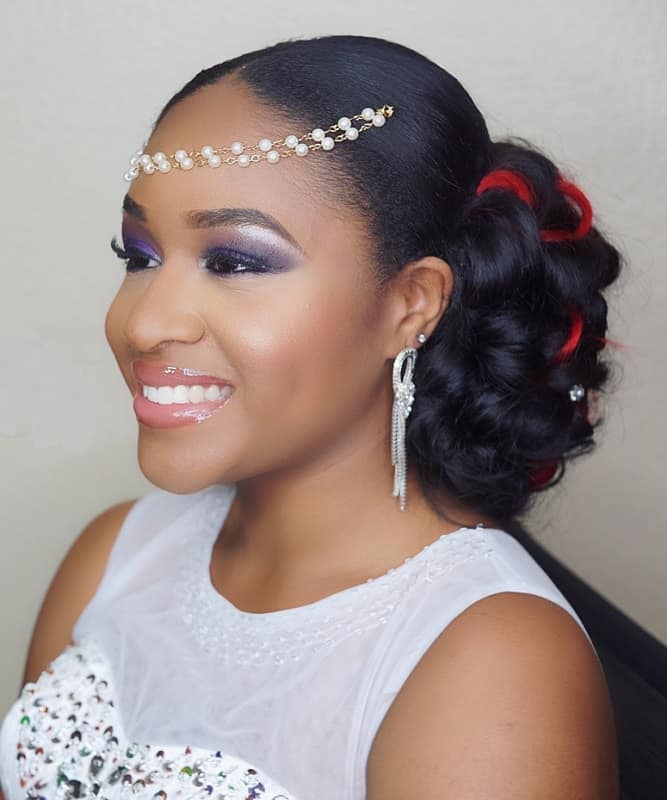 Styling the natural black hair can be sometimes so challenging in terms of the styling details. With all hair tied into sleek mid parted bun hairstyle, will add radiance to your fetching makeover.
The touch of romantic red, tiny floral ornament, and lovely pearly headpiece will offer a tantalizing feature to your appearance.
We love this uber-shiny and manageable black bridal updo hairstyle. To attain this look, apply a strong-hold hair gel after washing hair and style the front side-parted hair into a loose, s-shape by holding the hair strands with wave clamps.
Once, you get the loose finger waves, unite your hair into a low bun and accessorized it with hair jewelry for sublime features.
99. Front bun hairstyle for black women
Want to make your appearance cuter as well as mesmeric? Switch up to a front bun hairstyle rather than going for commonly done low or side 'dos. To get this black wedding hairstyle, place the faux bun at the top left corner of the head and prettify it with a charming hair accessory.
100. Black glamorous side updo
Here is another updo hairstyle for black brides that will provide a vintage and quixotic vibes to them because of the flowing side-swept wavy bangs. It is a simple yet elegant hairstyle that a black girl can wear for her special day to add more femininity and contemporary expression.
Sister locks come under the short and thin category of dreadlocks that can provide black women, an ultimate inspiration to wear for the wedding. You can wear the sister locks with great innovations such as style them into a two bun hairstyle; one bun covering the head top and the other as a low bun.
FAQs
While each woman wants to look the best on her special day, not all the hair is created equal. Wedding hairstyles for black women are somewhat different from what women with lighter and less thick hair can take advantage of.
Black women have plenty of interesting options to choose from, including all types of braids and thick updos. If you are planning your wedding and wondering what to do with your hair, you probably have hundreds of black bridal hairstyle options firing at you from everywhere. We'll help you narrow it down and finally come up with the perfect wedding hairstyles that'll suit black women.
Choosing the perfect black bridal hairstyle fully depends on your hair and your preference. First of all, ask yourself what you want and how you wanna look. Ask the below questions to yourself.
Do you want hair volume?
If you want volume, you should go for updos. Your hair is most likely thick enough to create a voluminous bun or a braid. If not, opt for hair extensions.
What length do you prefer?
If your hair is too short to create a flowing hairstyle you always dreamed of? Hair extensions are there to help you. You can choose from a wide variety of braids from Senegalese to cornrows. Meanwhile, you can take advantage of sew-ins to add some soft unbraided locks.
Do you prefer comfort than looking fabulous with a complex bridal hairstyle?
If you want to feel comfortable during the wedding and forget about constant touchups, you need an updo. Having flowing locks might look beautiful but it requires special hair. Any braided updos or buns can make you forget about your hair for the whole day while looking more than stunning.
Do you want any particular hair color to be matched with your wedding theme?
Are you tired of your black tresses and want to create something special for your wedding? Consider getting highlights. Adding just a few partial highlights to your black mane can make a magnificent difference in your image. You don't have to actually dye your hair, you can use hair extensions for highlights.
Do you want to enhance your wedding hairstyle with hair accessories?
If you are into jewelry, use various hair accessories for your wedding hairstyle. Black women look stunning with a bridal hairstyle that includes wedding dress-matched hair accessories. You need to adjust your hairstyle to the accessories you want to use. Meanwhile, they should match your wedding dress.
We have done our best to bring you the most popular and beautiful black wedding hairstyles for women. If you are still in doubt, take another good look at the above options. Your perfect hairstyle is waiting for you right here.