Is your wedding day quickly approaching, and you're panicking because you're unsure how to style your bob cut?
Have no fear; we have curated a list of the best wedding hairstyles for a bob. No need to fork over hundreds of dollars on extensions; embrace your stylish bob haircut on your wedding day.
Bridal Bobs For Your Wedding Day
There is a reason why bob haircuts have been the classic, sought-after 'it girl' hairstyle for decades or even centuries. A bob hairstyle adds a certain luminosity to someone's profile shedding light on their gorgeous features like high cheekbones, and you can style it in many ways such as wavy, crimped, or soft curls to add wondrous allure to any wedding look.
1. Loose Curls With A Perfected Blowout
No one wants frizz on their wedding day, especially with shorter bob-cut hair. Make your hair silky and sleek with a good blowout, followed by loose curls made by a thicker barrel tong or a solid round brush. Simple yet mesmerizing.
This is a stylish and old-Hollywood-inspired bob wedding hairstyle that we love!
2.

Loose Waves And A Flower Tiara
Wedding hairstyles need not be super complicated. If you are doing your hair and makeup with your own prowess, consider airy, soft waves in your bob cut with a beautiful flower tiara. Use white wildflowers for the best effect, but any color scheme will work well with this style.
This is a classy and easy wedding hairstyle for bob cuts.
3. Beach Casual
An outdoor wedding in an open vineyard or on the beach is perfect for a beach casual bob hairstyle. Use a crimper to create perfect-looking beach waves but don't make more than two crimps per strand of hair so you get the illusion of slightly medium-length hair.
4. Throwaway Simple Beach Waves
If you want to rock a no-accessories wedding hairstyle with a bob cut, loose and simple beach waves will serve you well! There's something so classy about soft and gentle wavy hair on your wedding day.
5. Perfected Blowout With Bangs
This hairstyle is one of the most youthful and compelling ones because the bridal bangs add dimension to the face and the perfect blowout with inward curling of the ends, ensuring a sleek result.
6. The Glamorous Side Part With Jeweled Barrette
For an effortlessly chic and super sophisticated wedding hairstyle, consider loose-end curls with a glamorous side part secured with a jeweled barrette, preferably of rhinestones.
7. Natural Textures With A Diamond Tiara
This hairstyle celebrates the bringing together of the sharp contrast between a casual hairdo that utilizes a bride's natural texture of hair along with a sophisticated diamond tiara as the star of the look.
8. A Sharp Pixie Cut
If you remember the haircut of Tinkerbell in the Peter Pan movie, then you'll see why this beautiful bob pixie cut is incredibly youthful and great for bringing out a bride's eyes, cheekbones, and the shape of her lips.
9. Old Hollywood Glamor Extraordinaire
This hairstyle is reminiscent of old Hollywood, with a powerful side-part and curls paired with winged eyeliner and red lips. This is one of our favorite wedding hairstyles for bob haircuts. It's got a vintage vibe but is so elegant, and romantic-it's a beautiful wedding day look.
10. A Bohemian Bob
A Bohemian bob cut with loose waves and curls and an assortment of decorative hair flowers of a tropical and exotic variety are ideal for an outdoorsy wedding. This short wedding hairstyle is fun and flirty and perfect with wedding dresses that have a high neckline.
11. French Chic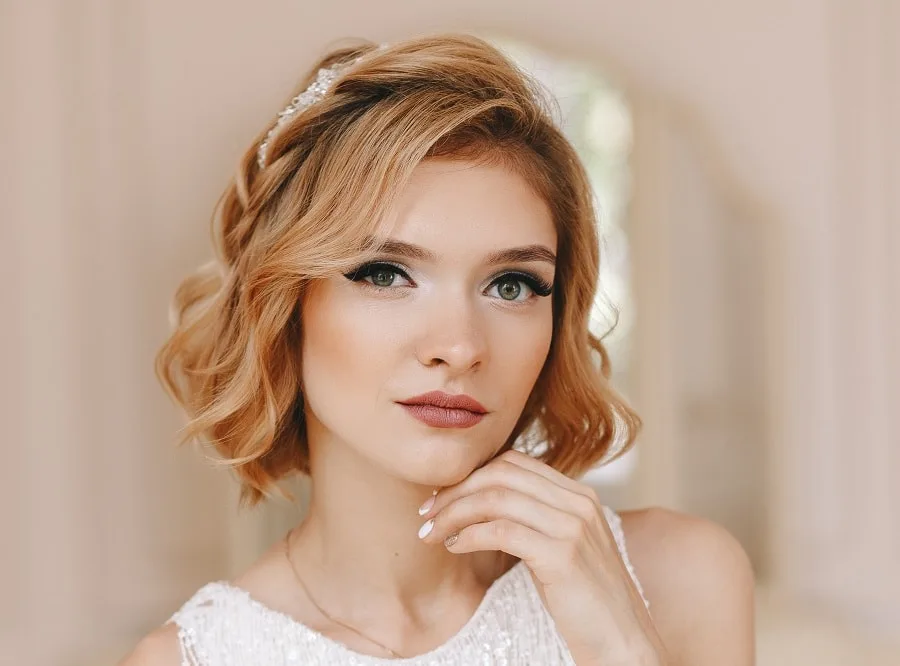 This wedding hairdo styles a bob cut with loose and sleek waves (some of them framing the face) and a wonderfully chic tiara. It's French and regal all simultaneously, and we love it! And the soft strawberry blonde hair color with blonde touches is beautiful.
12. Perfect Straight Long Bob With Bangs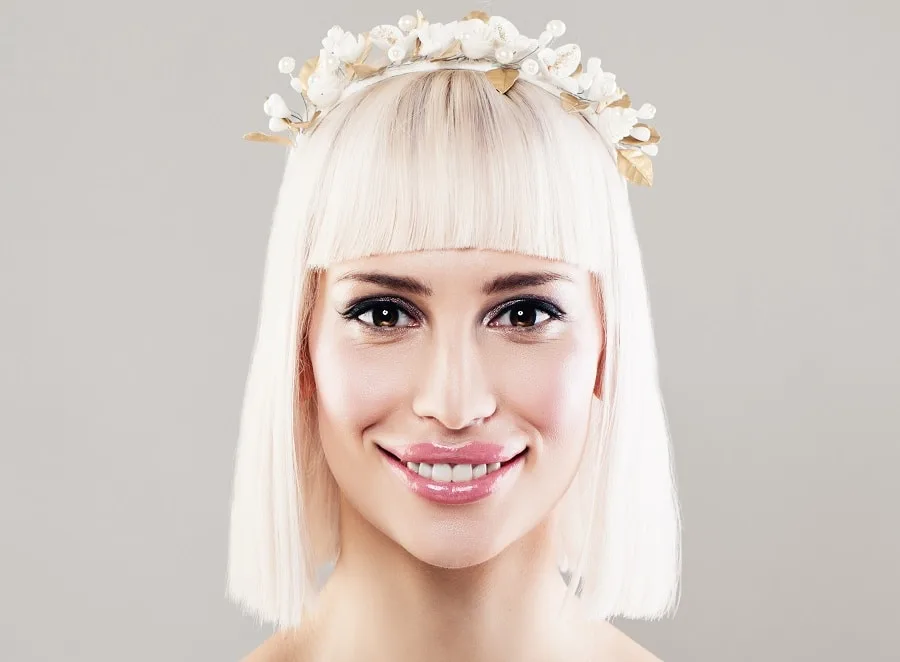 There are so many ways to style a bob cut, but having it super sleek and straight with bangs is very runaway fashionable, and you can adapt it with hair accessories galore such as pearls, foliage, flowers, or gems. A bit Avant Garde don't you think?
13. Side Swept & Simple
For brides wearing ball gowns or mermaid gowns of immense extravagance, it might seem a little dated to have a complicated hairstyle, so opt for well-blow-dried hair swept to the side for a simple and sleek look.
14. Volume At The Crown
While we're on the topic of simplistic, gorgeous hair, try this style and straighten the hair, adding a lot of volume to the crown area with a teasing comb and some volumizing spray.
15. Androgynous Peroxide Blonde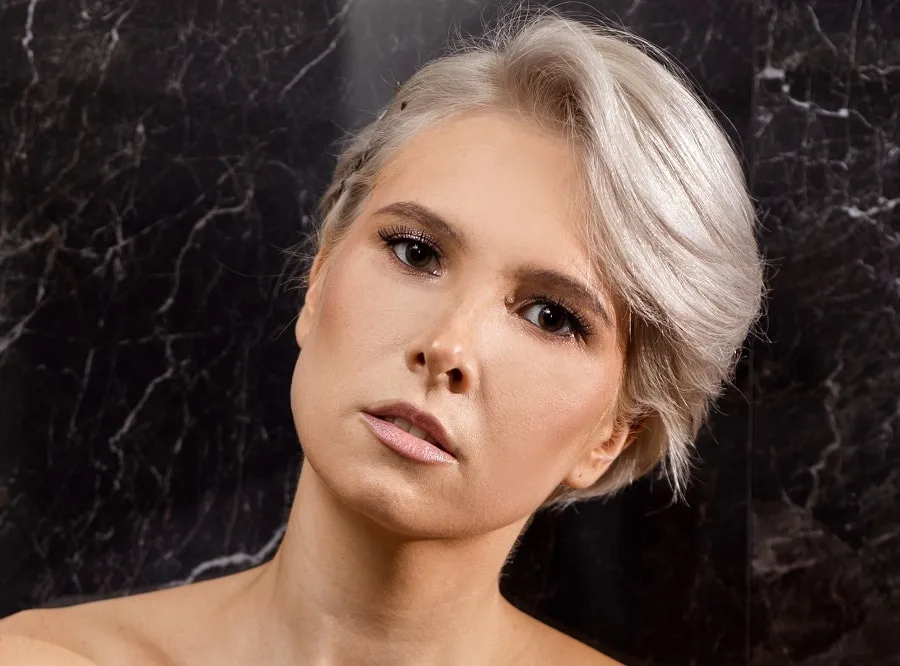 If you are one of those brides looking to change their hair color to a super stylish greyish-peroxide blonde, this hairstyle is for you. It pairs the icy blonde hair color with a distinctly androgynous cut and style.
16. A Gen-Z Style Bob
Middle partings with a slight wave in the hair was a style popular in the 90s, and you might have seen it in a ton of movies and commercials. Opt for this Gen-Z hairdo for your wedding, and finish the look with an attached veil.
17. A Rhinestone Headband & Pixie Cut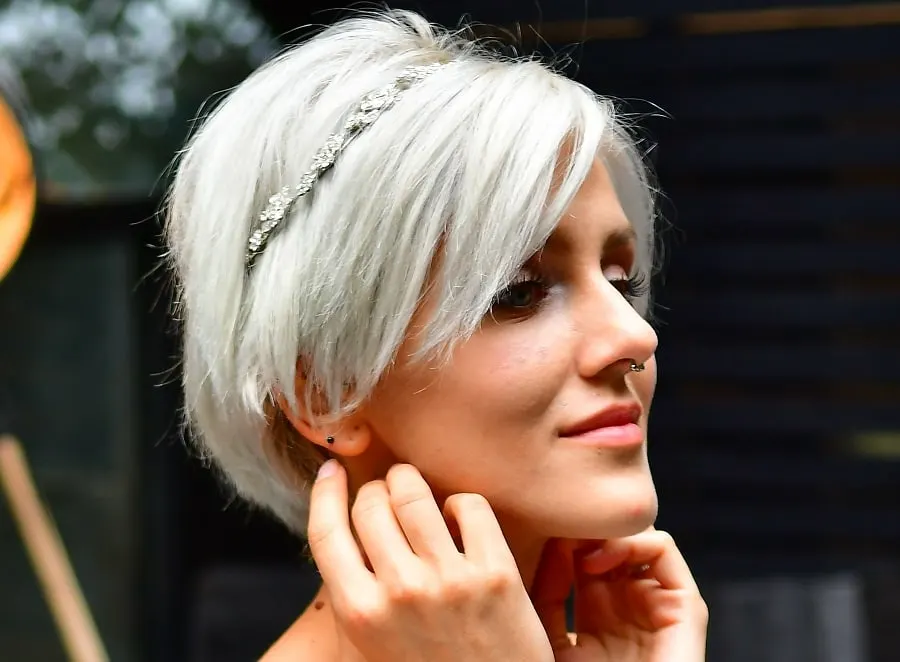 If you have an heirloom, such as a gem headband or tiara, consider letting it be the showstopper for your whole bridal attire.
18. Wild Burgundy Locks With Soft Waves
Red hair makes a powerful statement, but even if you aren't dyeing your hair, consider letting it look purposely a bit wild for a Bohemian, natural look. When it comes to wedding hairstyles for A bob cut, we think this one is the most romantic.
19. A Flapper's Bob
A 20s-style flapper's bob cut with fringe is very much in vogue right now and complements small face shapes best. Style with some beautiful vintage hair jewelry or jeweled hair clips!
20. The Bardot Look
This hairstyle aligns closely with many popular styles of the 60s poster girls. A small formal hat like a fascinator makes the concept perfect for your wedding day, especially if you prefer adding more refinement and formality to your bridal attire.
21. Punk Rock Pastels
For punk rock enthusiasts, this fusion hair dye moment with plenty of pastel shades thrown in is a dream hairdo to bring to fruition. Not to mention it is exceptionally memorable and unique!
22. Keep The Focus On The Veil
In many cultures, the veil is an integral part of the bridal attire. So if you are wearing a gorgeous vintage gown with a lace veil, it makes sense to let that be the leading player in your hairstyle.
23. A Mega Regal Bob
Consider smooth, straight hair and a jeweled headband worn over the forehead in a flapper's style. It's chic and regal! It's perfect with this beautiful long bob cut.
24. Crimped Wavy Hair With Hair Jewelry
If you have a longer bob cut, consider less-than-perfect crimped wavy hair with a statement headband or tiara.
25. Casual Structure With Curls & Tiara
This bob hairstyle plays around with the natural texture of the hair incorporating some loose and messy curls and waves, tying the look together with a statement tiara or jeweled headband.
Bob cuts are some of the most timeless and classic hairstyles out there, and you can style them in dozens of different ways, contrary to what some people think is only possible for longer hair!
So let your bob cut shine with one of these iconic hairstyles as you walk down the aisle.