Are you looking for good updos for women with medium length hair? Updo hairstyles for medium hair can prove to be difficult to find for most women to achieve.
Usually, you need a bit of inspiration to get those creative, hairstyling juices flowing. While your stylist might be able to assist with selecting a hairstyle, sometimes you may have to perform a bit of research to determine which style defines you best. Good news, we have done the work for you this time.
Casual Updos for Medium Hair
If you are not trying to come up with something amazing for a special day, you should take advantage of the casual updos for medium hair. Most of them involve low buns, ponytails, twists and simple braids.
If your hair is not long enough to lift it up completely, you should consider making all the same hairstyles as you would for long hair, but keeping the hair low.
Some of the below options can help you come up with a great casual hairstyle.
Updos for Medium Hair with Bangs
The updos for medium hair look especially stunning if you have bangs. In order to outline your beautiful fringe, you need to consider high hairstyles.
If your locks are not long enough to be lifted high up into a bun or a ponytail, consider the hairstyles when you need to sweep the side strands to the back. Such an approach brings attention to the bangs. Make sure that the bangs are always well styled.
Best Updo Hairstyles for Medium Hair
Experimenting with medium-length hair might seem a little less fun than with long locks. However, it's entirely untrue. Medium hair allows your imagination to run as wild as you let it.
The only problem that the girls might face is running out of cool ideas. That's why we are ready to present to you 10 updos for medium hair which are not just spectacular to look at, they are pretty easy to do.
So the next time you feel as if your hair doesn't look right, take advantage of the below medium length updo hairstyles for women. Here are 55 beautiful medium updo hairstyles for women you should try this season.
1. Low Wrapped Bun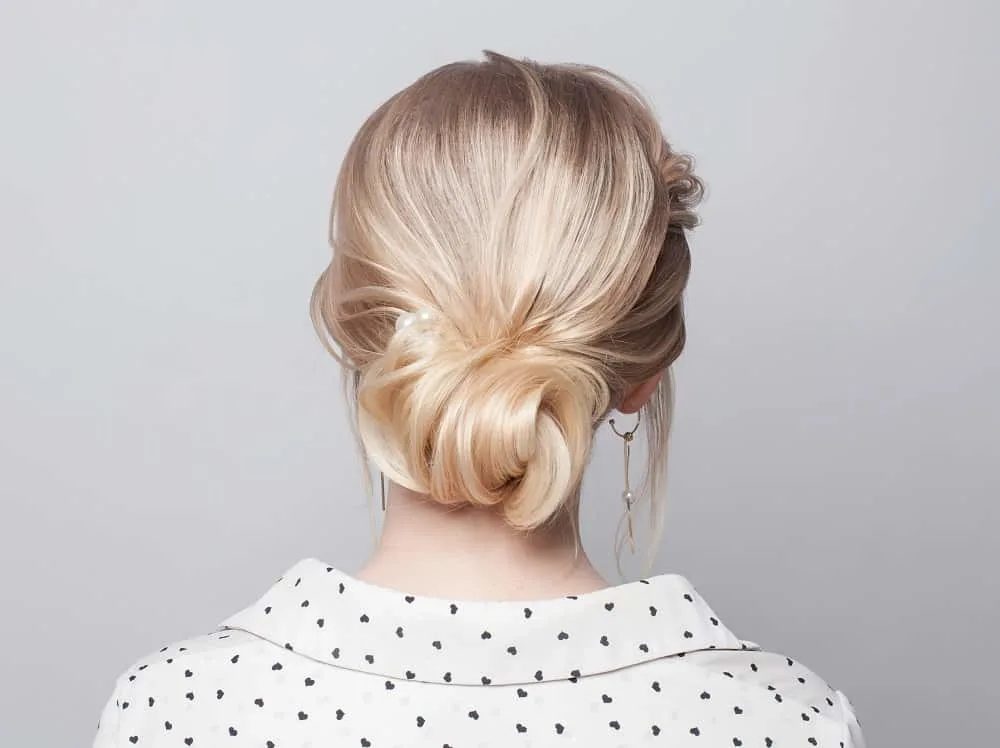 With medium length hair, you can easily create a beautiful low updo like this low bun. It's wrapped or coiled up from the bottom and secure with a clip tucked behind the hair. Soften it around the face by pulling loose a few tendrils of hair.
2. Messy Curly Bun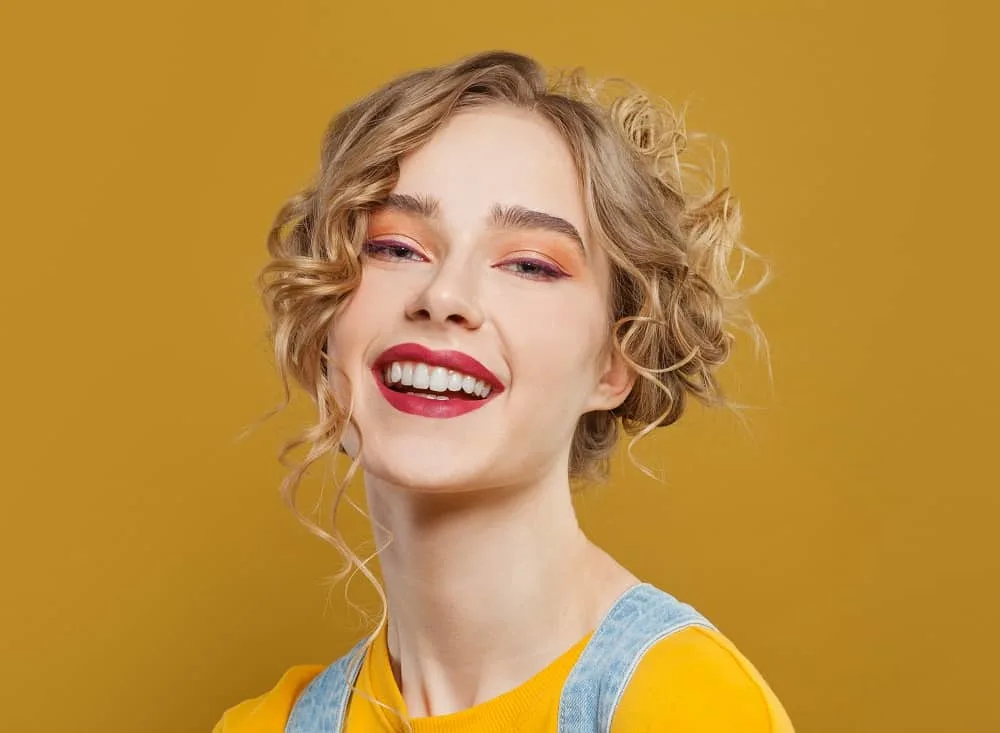 Women with curly hair definitely need to try this messy bun. The key is to gather and secure it loosely so that pieces of it fall out. It's the best updo for showing off those curls!
3. High Combed Back Bun
Older women who have kept their long locks will appreciate how graceful a high updo like this bun is. After combing the hair back, form a ponytail at medium height, then twist it up and secure with a hair claw.
4. French Roll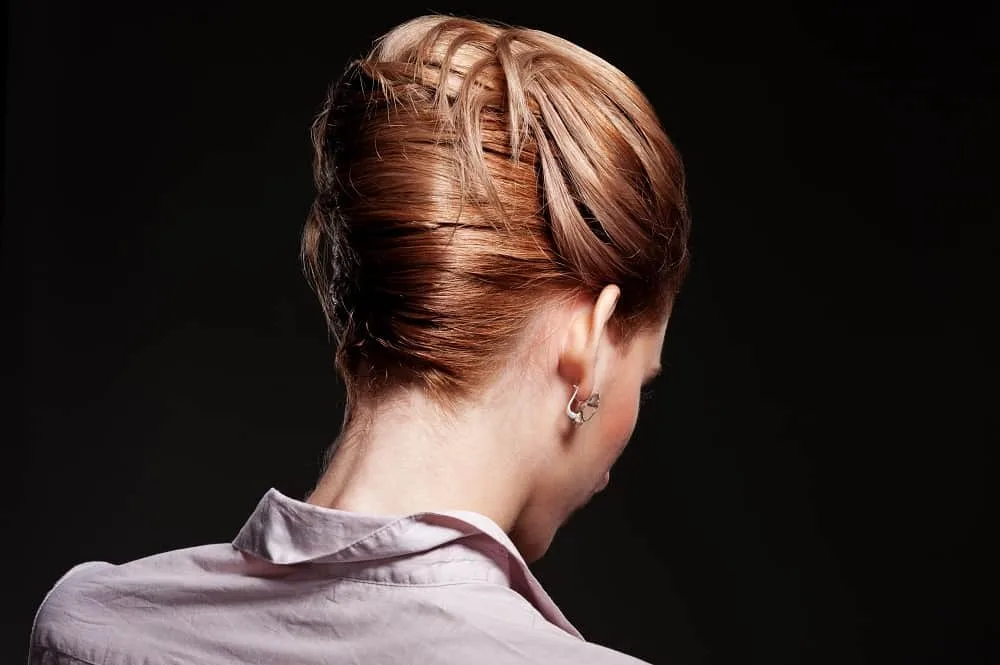 Whether it's prom, a wedding, or a special date night, a French roll is one classy hairstyle and all you need is medium length hair! Touch it up with hair spray to nix frizz and consider tucking in some cute hair clips to dress it up even more.
5. Messy Twist Bun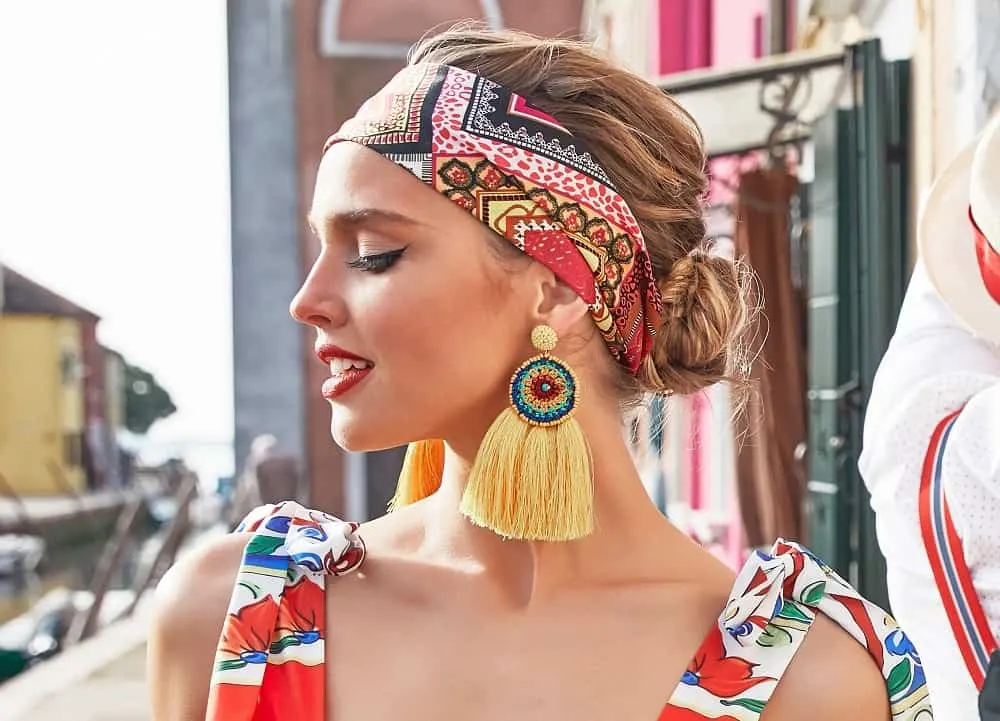 We love this beautiful low bun and the hippy vibe the printed bandana gives the look. To get it, finger comb hair, then tightly coil or wrap the hair into a bun. You can also braid a few small sections of hair for detail.
6. Tucked Bun with Volume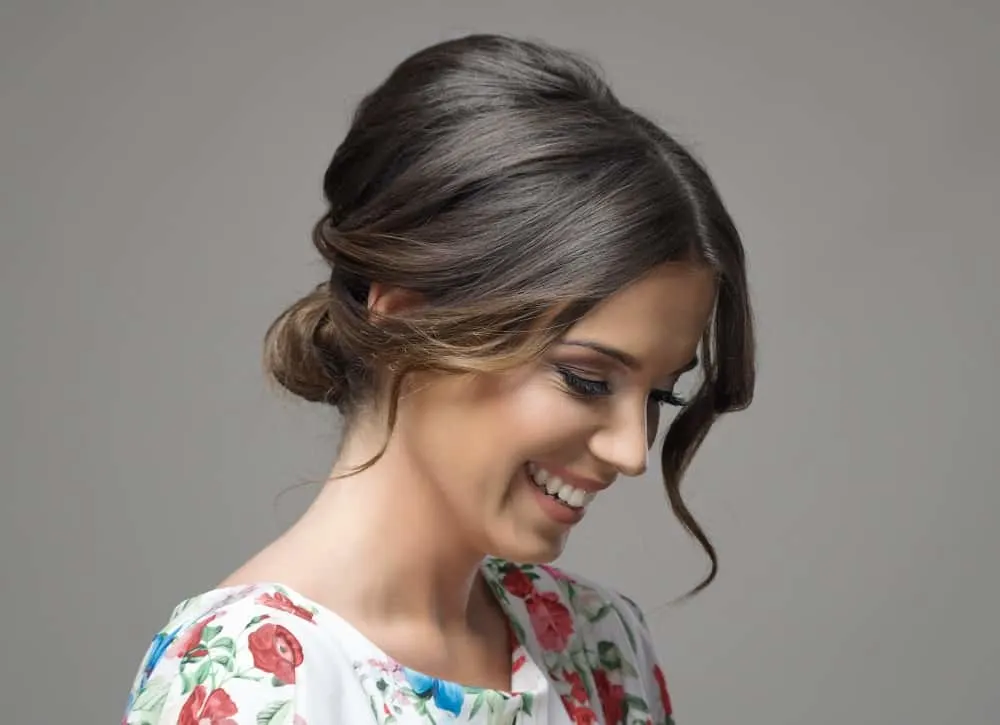 Before making a low bun at the neck with your medium length hair, tease the hair at the crown of the head for height and volume. Be sure to leave a few loose tendrils around the face for softness.
7. Side Bangs with Bun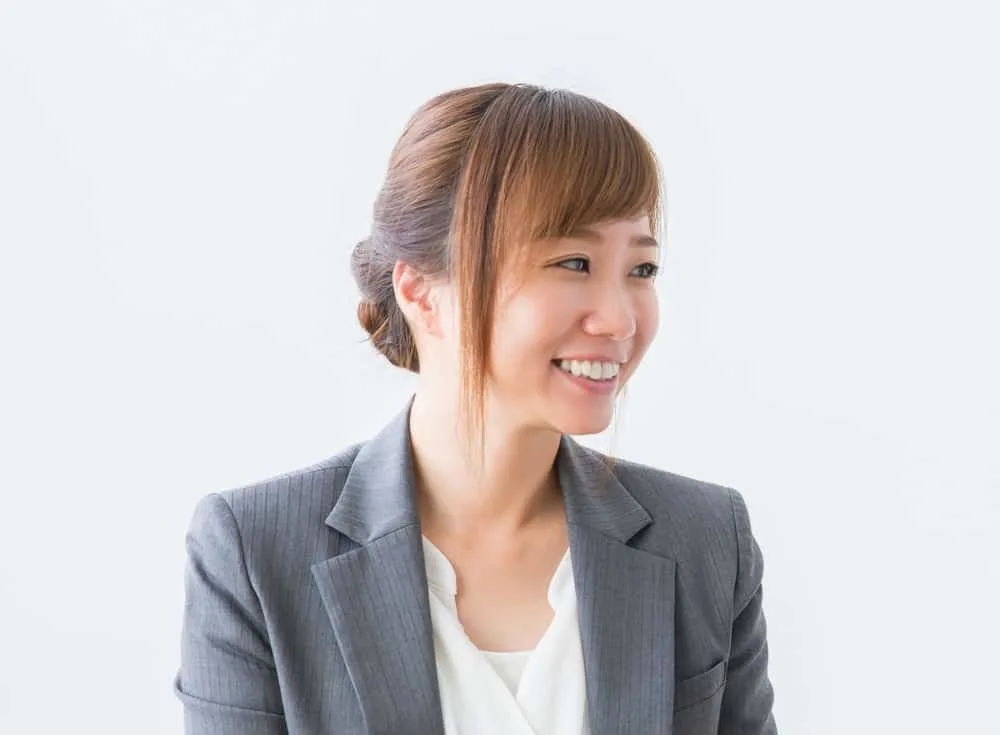 When rocking your medium length hair in a beautiful updo, use your fringe to your advantage! These straight side bangs make the perfect framing detail on a low braided bun.
8. Side Braid Bun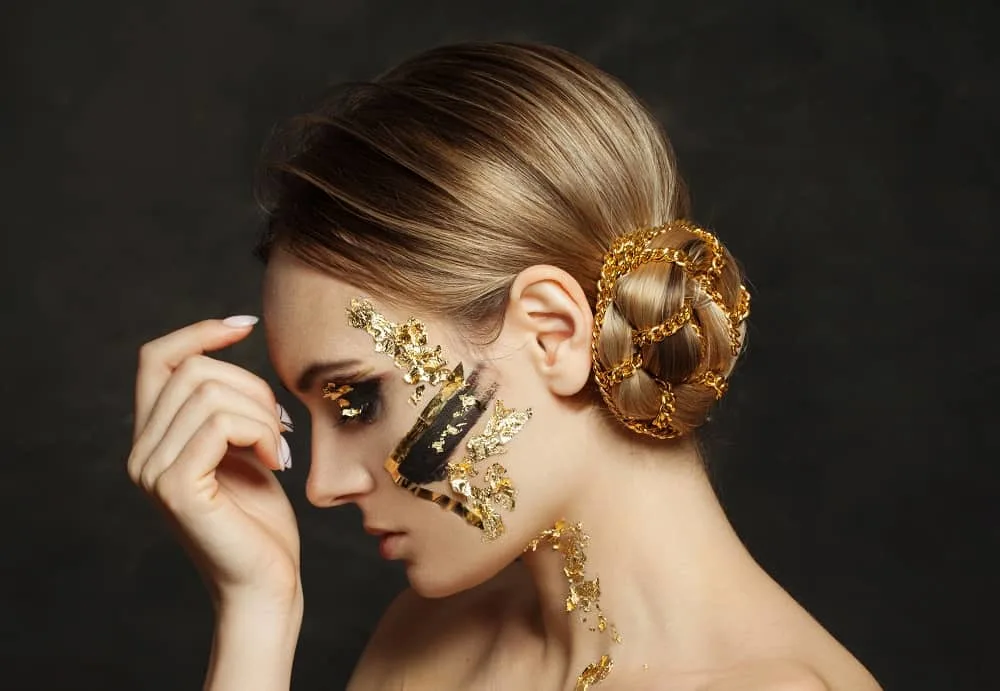 There are many ways to fancy up a formal updo for medium length hair. To get the style above, make a side part, then gather the hair into a low side braid. After wrapping it up in a bun, place an elegant hair cage over it.
9. Crimped Half Ponytail
If your hair is thin or fine, thicken it up with a hair crimper to get tons of volume. When hair is in a half ponytail updo, the texture will be front and center, right where it should be!
10. Wedding Updo Twist
Although this wedding updo will take a little longer to style, the result is worth it! The key is forming lots of little messy twists in your medium length hair. Finish off the style with some flowered accessories.
These French twists demonstrate that medium cut hair does have some degree of versatility and thus, can take on a twist style. Part hair down the middle and twist hair on each side. Take the remaining hair in the back and use it to form a neat or messy bun.
20 Hair Updos Dedicated to Women With Short Hair
12. Side-Pin Hairstyle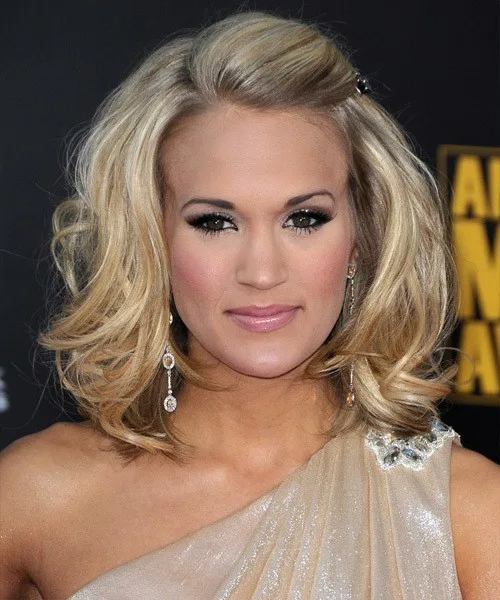 Sometimes an updo does not mean having to lift your hair up or back into much of anything. Here, Carrie Underwood uses a glittering pin that raises hair up and back on one side.
This style demonstrates that even the most basic of techniques can allow for transformation for the most casual of occasions and the most formal of events. This semi-updo hairstyle is yet another demonstration of how a natural hairstyle for medium hair can prove fruitful.
13. Vintage Pinup Hairstyle for Medium Length Hair
If you decide to wear your medium hair in an updo style, why not go vintage? Curls and waves fashioned with a vintage flair are yet other ways to style your medium tresses.
For those women with a medium cut style who have just enough length for a ponytail, consider creating a hair design with a unique twist. Section hair so that the sides and back make up the composition of your ponytail while the top, middle section of your hair an elegant single, French braid.
Women Look Stunning With These Beehive Hairdos
15. French Bun for Medium Length Hair
For those who have a lengthier, medium-cut, the French bun is a classic and favorite updo hairstyle and with the right holding spray, some additional hair for packing, you can create a marvelous hair.
Another option of medium hair updos is the messy bun. Given the length of the hair, the messy bun will work best at the base of the head.
17. Side Front Braid with Bun Style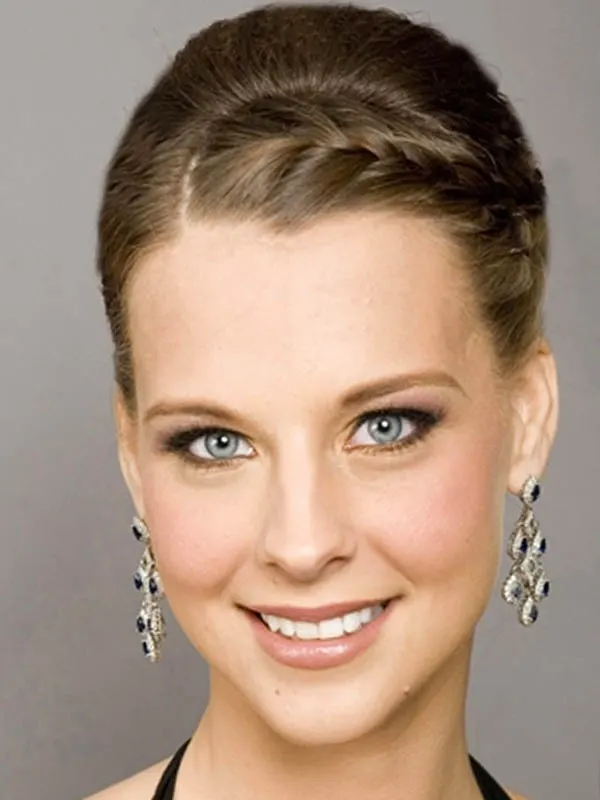 Braids and ponytail styles are an excellent alternative braided updo hairstyle for medium hair. It's a unique but simple way to create texture and versatility.
18. Formal Wavy Pin Up for Medium Length Hair
Speaking of hair texture, transform your medium updo hairstyle with a few waves. Waves and curls are an excellent way to deliver volume to your updo hairstyle.
19. Half-Knot Hairstyle
Take your Bob style and transform it into a half-knot hairstyle with something as useful as a hairband or your hair. Although your hair may not appear to have enough length for a ponytail at first glance, a half-knot can give the illusion of a ponytail style on medium cut hair.
The Quinceanera Hairstyles That'll Suit Every Girl
20. Faux Hawk for Medium Cut Hair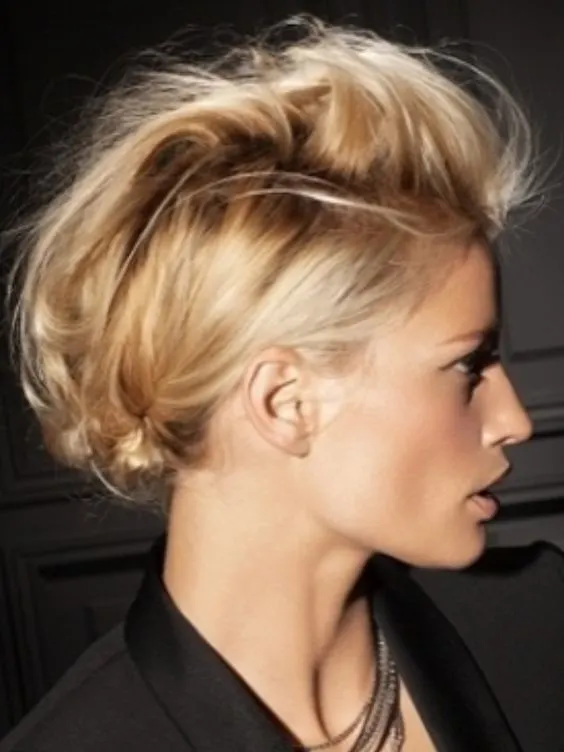 Use your medium cut hairstyle to invent a faux hawk. Pinning hair down and to the back, you can create the illusion of short hair on the sides while with the simple lift and a bit of teasing of hair up top, raise hair to give the illusion of your faux hawk. It's messy, but this hairstyle challenges the norm.
21. Clip'em
If your medium locks are not long enough to make a bun, consider clipping the strands upward. It will create an appearance of a voluminous bun in the back of your head. Keep some strands hanging loose in the front.
Different Updos for Women With Curly Hair
22. Twisted bun
This is the simplest way to create a bun when your hair is not too long. You need to collect your hair as if you would be making a ponytail and twist it around the tips. You'll need plenty of clips and hair gel to keep it intact.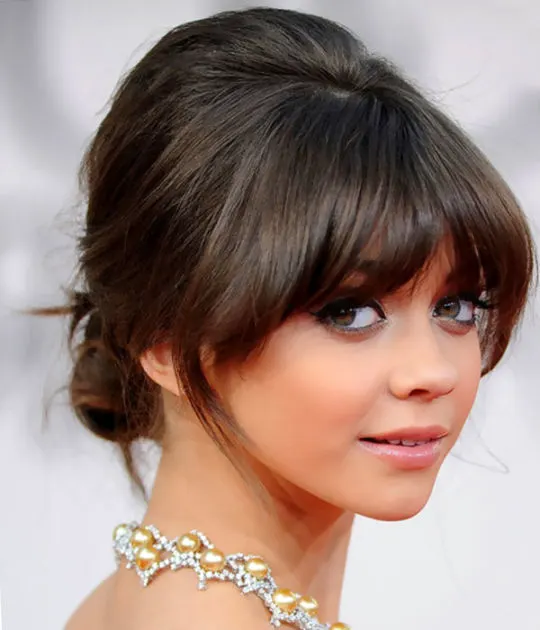 This is a great updo for medium hair when you have a layered bob. All you need to do is collect the hair as you would for a ponytail without lifting it up and make a twist for volume. Use hair clips to keep it in place.
If you don't have a layered hairstyle, this option is for you. Start by braiding the hair from the front toward the back and then collect the low part and twist it into a bun. The size of the bun depends on the length of your hair.
Take a look at this simple way to create a chignon with medium hair. All you need to do is copy the three simple steps. The longer your hair is, the more impressive the result will look.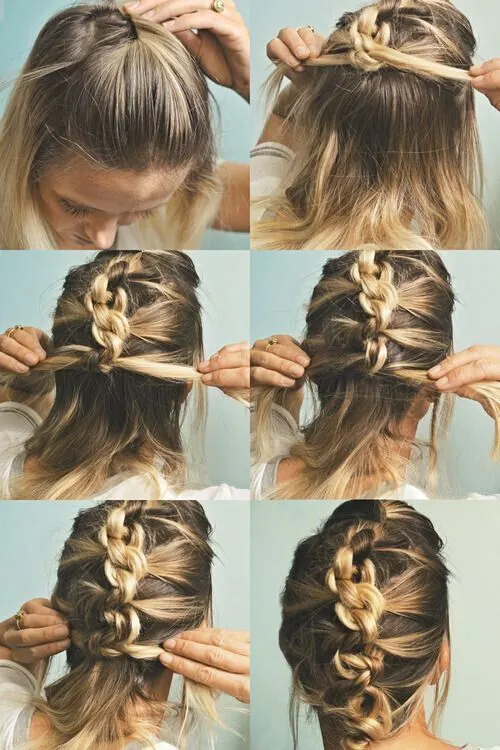 While a chain braid might seem complicated when you see it on someone else, it's actually pretty easy to make. Take advantage of these simple instructions to create one of the best updos for medium hair.
27. High hair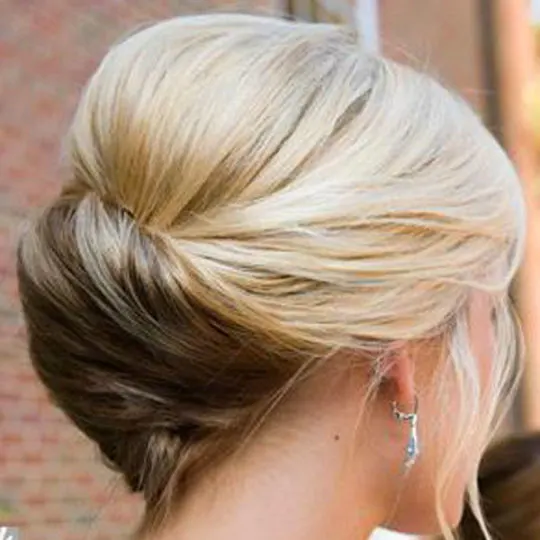 This high hair twist is easy to achieve just by brushing. Take a close look at the picture and repeat the process. Don't forget to use a brush to pump the volume of the hair up on the top.
28. Braids and buns
The above three options can help you enjoy the braids and buns with your medium hair. The instructions are straightforward. They might seem hard at first, but once you try them, you'll be surprised at the simplicity.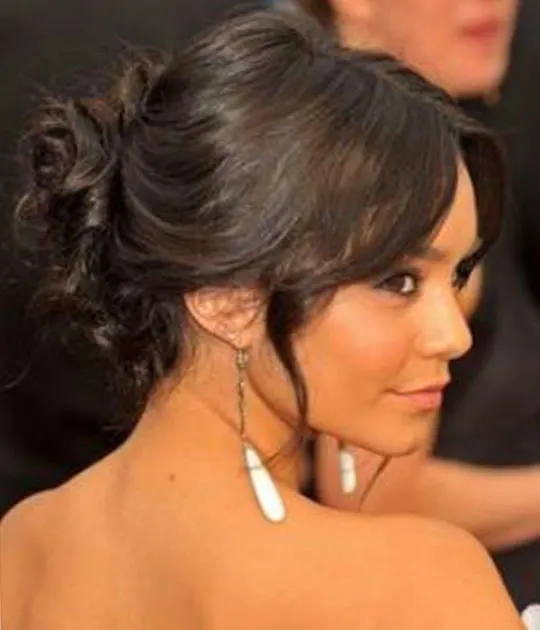 This option is the perfect choice for a special occasion. You make a low ponytail, pin the ends up to the back of your head and curl each one of the strands. You might need to do some extra clipping.
30. Triple twisting
If you always wondered how to make these fun low twists, take a look. Make three ponytails and then lift each one to be clipped to the beginning of another. You should twist the strands in the process.
31. Bridal updo with pearl hairpin
Bridal updos are the best! They look so romantic and lovely that all the girls love to incorporate them for their wedding day. This one is one of those perfect updos for medium hair. Also, the lovely pearl hairpin will provide you with the extra dose of glamour, that is more than needed for your big day.
32. Purple updo for medium hair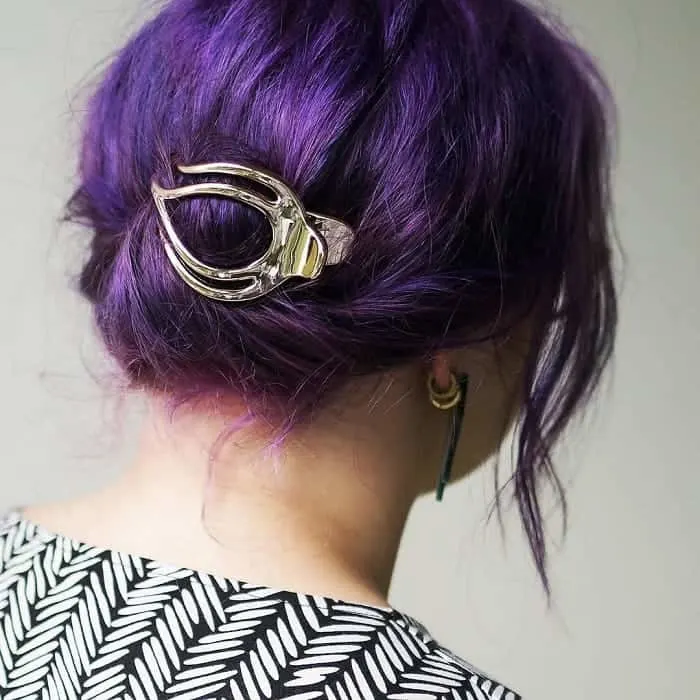 Purple hair might not be the one that we see that much, but the fact is that it looks very attractive. If your hair is not so thick, then the best solution for you is to make her in a twisted updo. By adding an exciting hairpin, you will switch the attention from your hair to the accessory, so there won't be any unnecessary questions.
33. Low updo with twisted moments
To achieve this look, you need to have medium hair that is thick and strong. By using a comb style it back and gather in a low bun. Use bobby pins to secure it from the inside, and add lovely shiny hairpin just for a sparkly effect. If your hair is done in ombre or balayage technique, this hairstyle will look even better.
34. Lob updo for medium hair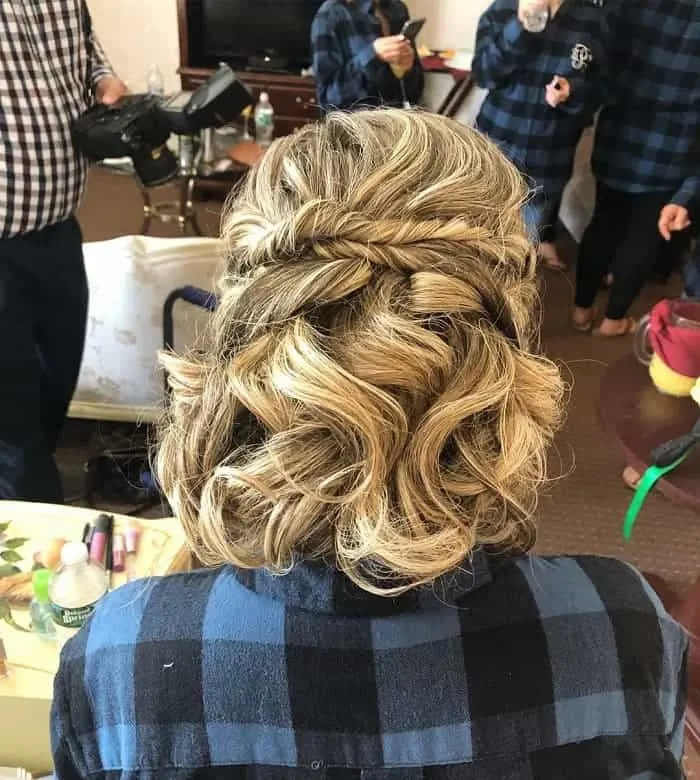 Curled lobs are great not only for special occasions but for everyday events as well. You can curl your lob hairstyle in the morning and twist the part of your hair. Use bobby pins to secure it at the back. Et voila! You get a fantastic hairstyle in less than 20 minutes. These updos for medium hair length are great for all busy women.
35. Sparkly updo
If you were searching for something unique to overshine your friends and family at gatherings, look no further. This medium hair updo literally shines! Use little lights that have batteries, but don't forget to hide battery box. This low bun has just got an upgrade, perfect for the winter holidays.
36. Updo for thick medium hair
Fury auburn red hair, twists, and medium updo – these are just some of the things you get if you decide to copy this look. We would suggest it for bridesmaids since this updo is very elegant. Leave a few strands out of updo, for a chic, messy look.
This updo might not look like this if your hair is not highlighted. So, you know what to do! If you have brown hair, ask your hairdresser to dye some blond highlights so your braids and twists can look fantastic. Updos for shoulder length hair is inspiring, so don't hesitate to try this one!
38. Colorful and unique
Colorful hair is not for everybody. The fact is that only brave girls with a bold style can wear hue like this. Orange ombre hair will definitely bring you some positive comments and amazing looks. This updo for medium hair is great for elegant occasions where you want to stand out from the crowd.
39. High twisted bun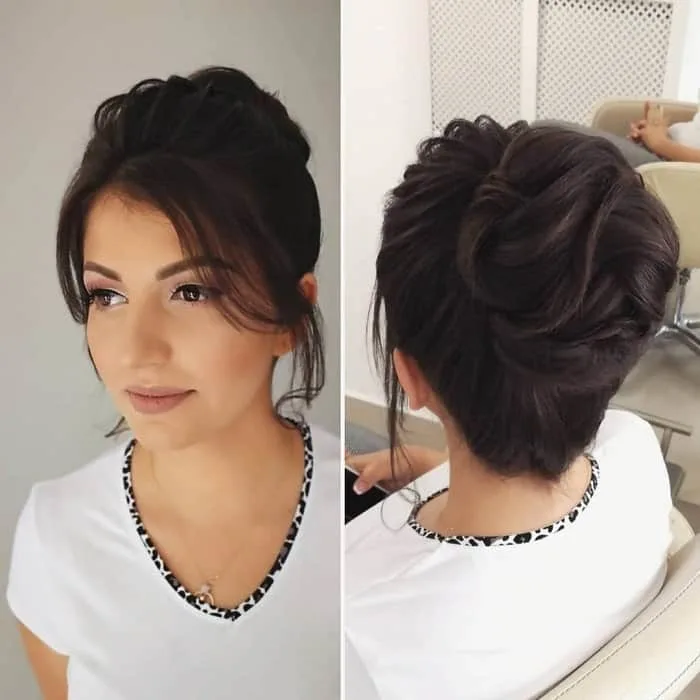 Not all buns and chignons are low and classy. You can opt for a high bun with bangs as well. If your hair is long enough, you can ask your hairdresser to go higher when making the bun. It will look equally elegant as a low one. Leave a few strands of your hair at the front, and let them frame your face.
40. Classic Chignon bun
Classic chignon is one of the most popular medium hair updos. It is classy, romantic, perfect for occasions of all kinds. This bun is worn by both young girls and older women. That is the key – it suits all ages and styles.
41. Flower-inspired updo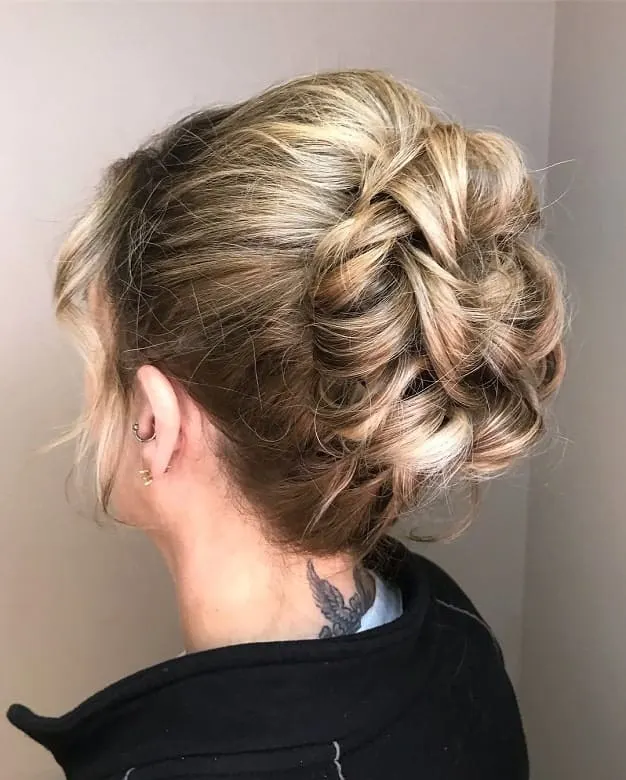 Yes, your bun can absolutely look like a flower. If you have medium length hair and you are heading to some event, then there is no better way to look stunning than this. This bun is made of small twists and braids and styled to look like rose petals. Great, right?
42. Soft and low braided updo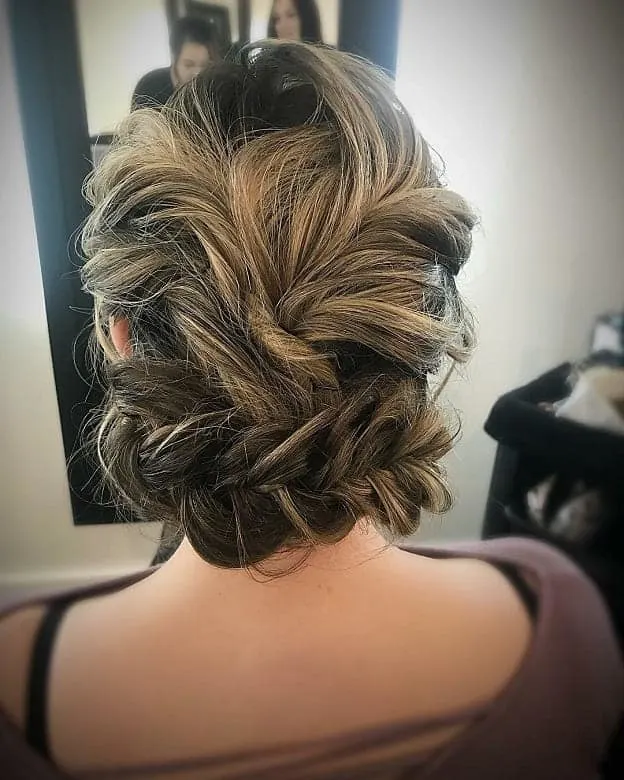 Medium hair is great for styling. You can combine a few looks in one, and still manage to look fantastic. Low and loose braid here serves like a bun, and it is fabulous. Your hair is combed back and just bit curled. Add a lot of pins and hair spray to keep everything in place.
Ombre hairstyles don't stop to impress us. Especially in situations like this one – bouffant bun never looked this good and eye-catching! White the tapper of your hair is brown the updo for shoulder length hair is blonde and looking absolutely stunning.
44. Flower accessories in hair
Flower accessories are typical in Asian culture. They give every hairstyle unique and romantic vibe that no one can resist. Combed back hair with a low bun is great for both young girls and older women seeking elegance and glamour.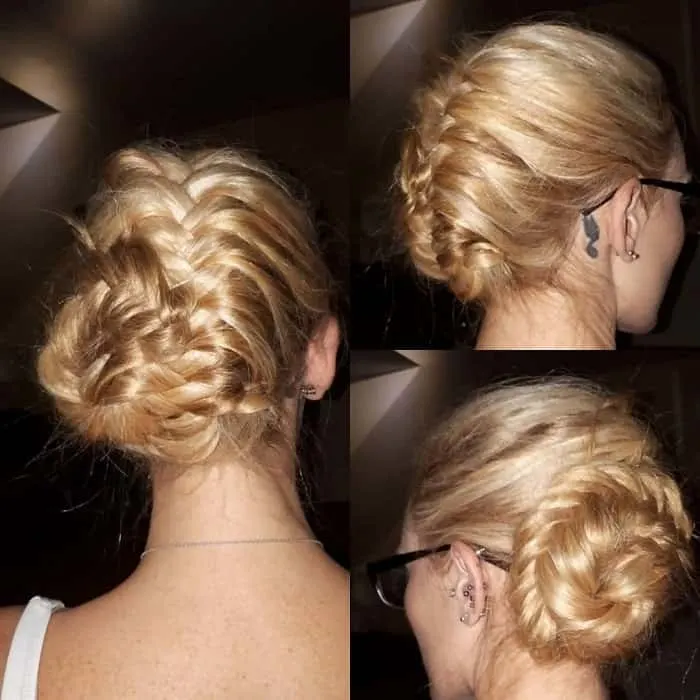 Braids are a great addition to any hairstyle. If you are seeking for updos for medium length hair that will make a statement, look no further. You should do a French fishtail braid and twist it at one side in a low bun. This hairstyle is good for both day and night events.
One of those cute and famous updos is definitely the crown braid one. It is more than stylish for both everyday and special wear. Many famous girls wear it, day and night. You can style it for many different occasions since it is easy to make.
47. Elegant medium hair updo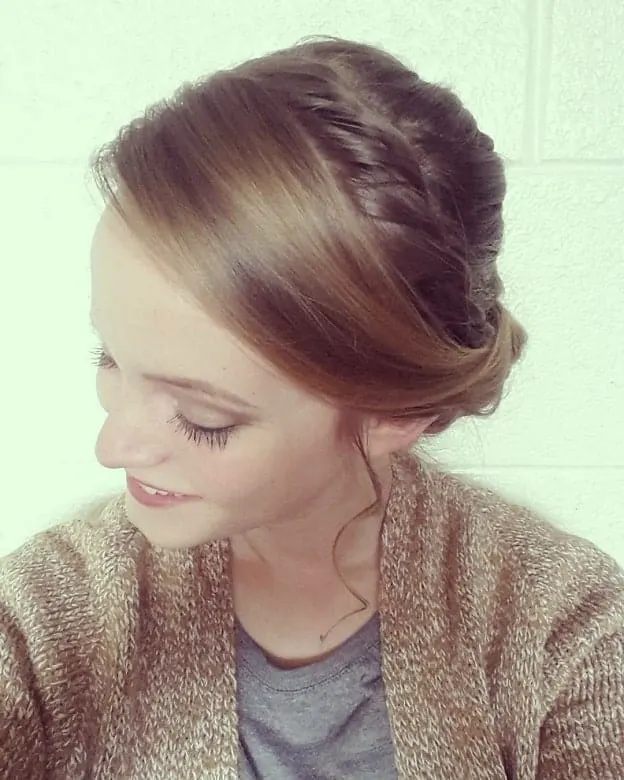 For all girls seeking something classic, this is the hairstyle they should turn to. Lovely medium updo with braided strands at the tapper will make you look good and very elegant. The front is just combed at the side, so you don't need to put much hair spray on.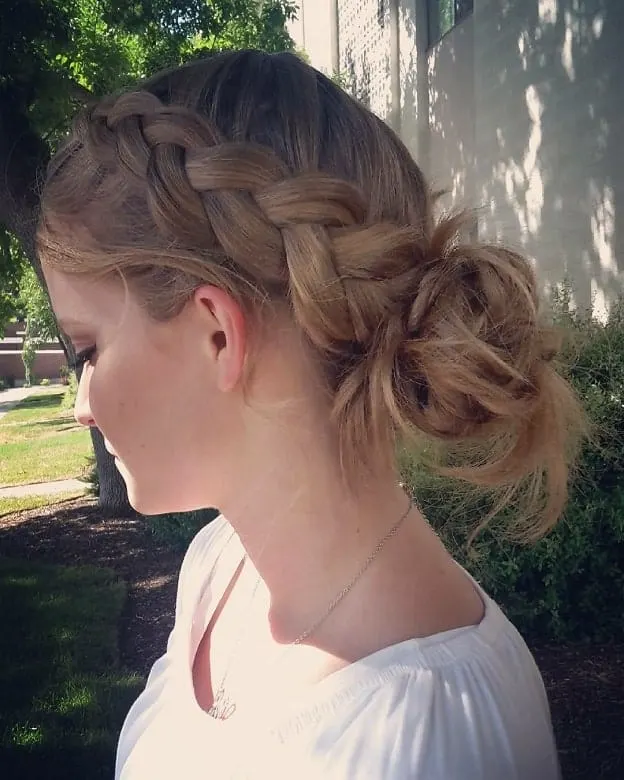 If you are searching for something that can be both elegant and casual hairstyle, look no further than this. It is bohemian inspired updo for medium hair that suits all women. The large side braid is gathered in a low bun, with a messy look.
49. Braids on Point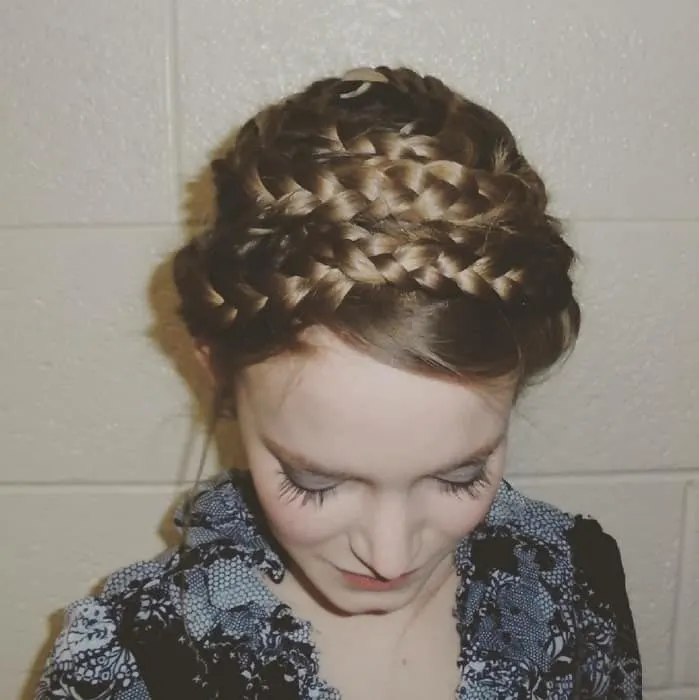 Why don't you try braiding more than one braid? It will surely provide you with a lot of styles and romantic vibes. This hairstyle is great for brides, bridesmaids, as well as guests at the wedding. Simple yet powerful, don't you think?
50. Updo for Brunettes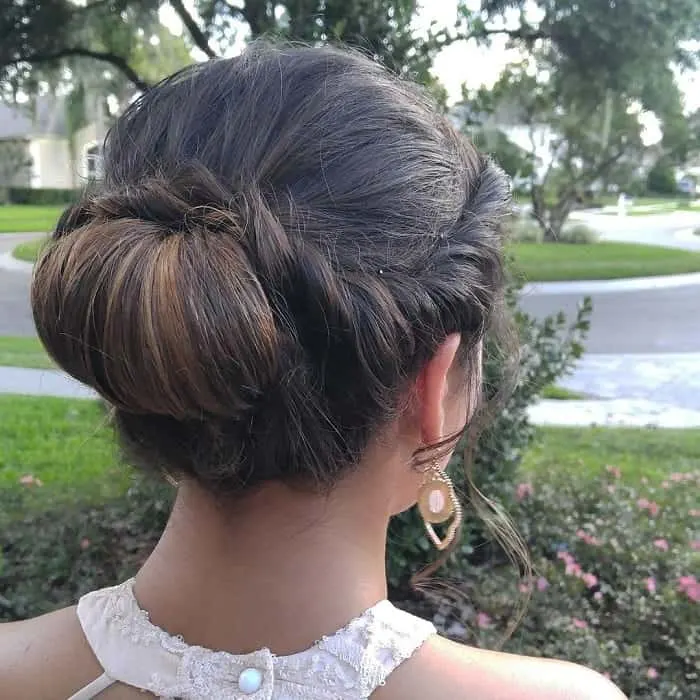 Updos for medium hair like this one are perfect for special occasions, such as proms, wedding days, or birthday celebrations. Low chignon bun is upgraded with part of your twisted hair, so it looks more attractive. You can add some sparkly hairpin for an elegant vibe.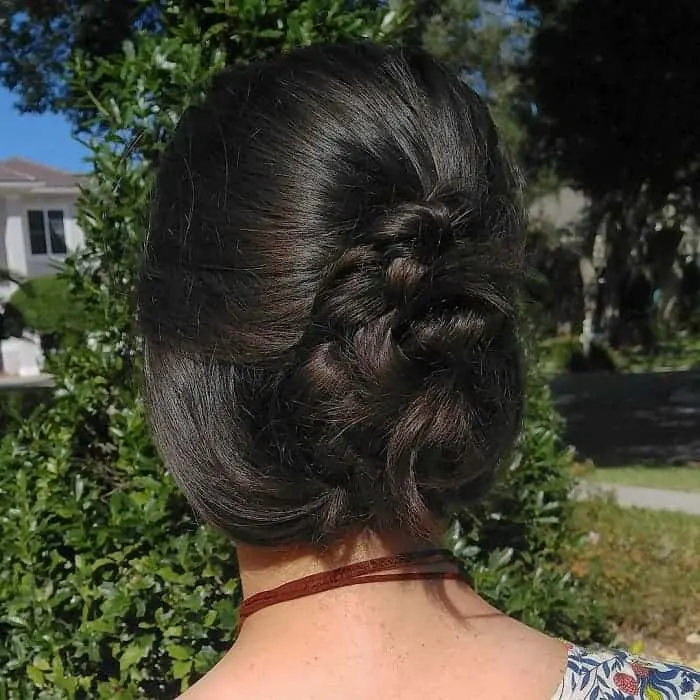 Sometimes it is best to find a hairstyle that is easy to make and maintain. If you are feeling fancy and you want to achieve that kind of hairstyle, then just pull half up and braid the bottom half. Gather everything in a bun and voila! Your hairstyle is ready.
Cornrows are practical and so good solution for medium hair in the hot summertime. If your hair is medium length, don't hesitate to braid it completely and gather it at ends into a small but practical bun. The bun can be located at the top of your head or low.
53. Casual braided updo
Updos are great because they can be casual, as well as elegant. This one, for instance, can be perfect for both daily and night events. The loose side braid is highlighted yet not over-the-line. Decorate it with sparkly hairpins for special occasions.
54. Messy and chic updo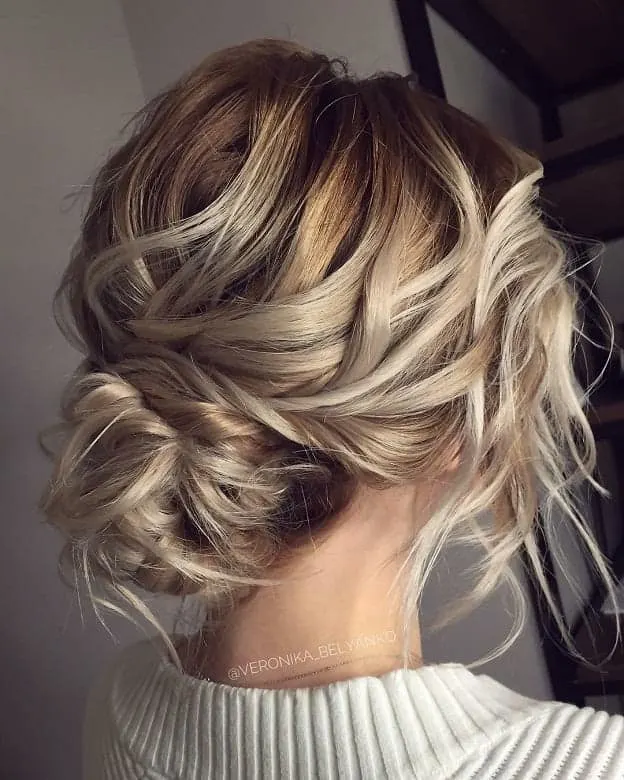 This hairstyle proves to us that you don't need to have extremely long hair to make it work for you. With medium hair and just a bit of your time, you can achieve this lovely look. The messy bun updo is perfect for all kinds of occasions.
55. Highlighted updo
Black hair and blonde highlights – a fantastic combination that not many girls prefer. However, you can see how it looks with this lovely twisted updo. You can opt for updos for medium hair like this one if you want your hair to be styled all the time.
There you have it! These are just 55 amazing updos for women with medium length hair in search of a little bit of inspiration.