Are you looking for good updos for women with medium length hair? Updo hairstyles for medium hair can prove to be difficult to find for most women to achieve.
Usually, you need a bit of inspiration to get those creative, hairstyling juices flowing. While your stylist might be able to assist with selecting a hairstyle, sometimes you may have to perform a bit of research to determine which style defines you best. Good news, we have done the work for you this time.
Casual Updos for Medium Hair
If you are not trying to come up with something amazing for a special day, you should take advantage of the casual updos for medium hair. Most of them involve low buns, ponytails, twists and simple braids.
If your hair is not long enough to lift it up completely, you should consider making all the same hairstyles as you would for long hair, but keeping the hair low.
Some of the below options can help you come up with a great casual hairstyle.
Updos for Medium Hair with Bangs
The updos for medium hair look especially stunning if you have bangs. In order to outline your beautiful fringe, you need to consider high hairstyles.
If your locks are not long enough to be lifted high up into a bun or a ponytail, consider the hairstyles when you need to sweep the side strands to the back. Such an approach brings attention to the bangs. Make sure that the bangs are always well styled.
Best Updo Hairstyles for Medium Hair
Experimenting with medium-length hair might seem a little less fun than with long locks. However, it's entirely untrue. Medium hair allows your imagination to run as wild as you let it.
The only problem that the girls might face is running out of cool ideas. That's why we are ready to present to you 10 updos for medium hair which are not just spectacular to look at, they are pretty easy to do.
So the next time you feel as if your hair doesn't look right, take advantage of the below medium length updo hairstyles for women. Here are 45 beautiful medium updo hairstyles for women you should try this season.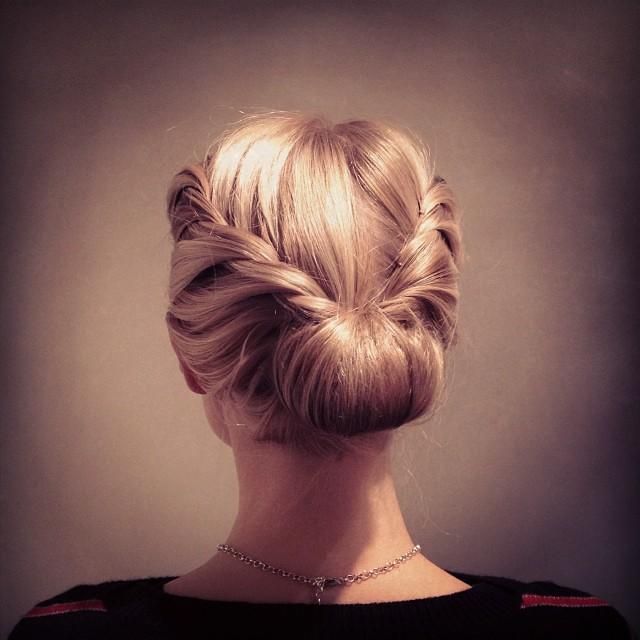 These French twists demonstrate that medium cut hair does have some degree of versatility and thus, can take on a twist style. Part hair down the middle and twist hair on each side. Take the remaining hair in the back and use it to form a neat or messy bun.
20 Hair Updos Dedicated to Women With Short Hair
2. Side-Pin Hairstyle
Sometimes an updo does not mean having to lift your hair up or back into much of anything. Here, Carrie Underwood uses a glittering pin that raises hair up and back on one side. This style demonstrates that even the most basic of techniques can allow for transformation for the most casual of occasions and the most formal of events. This semi-updo hairstyle is yet another demonstration of how a natural hairstyle for medium hair can prove fruitful.
3. Vintage Pinup Hairstyle for Medium Length Hair
If you decide to wear your medium hair in an updo style, why not go vintage? Curls and waves fashioned with a vintage flair are yet other ways to style your medium tresses.
For those women with a medium cut style who have just enough length for a ponytail, consider creating a hair design with a unique twist. Section hair so that the sides and back make up the composition of your ponytail while the top, middle section of your hair an elegant single, French braid.
Women Look Stunning With These Beehive Hairdos
5. French Bun for Medium Length Hair
For those who have a lengthier, medium-cut, the French bun is a classic and favorite updo hairstyle and with the right holding spray, some additional hair for packing, you can create a marvelous hair.