Retro hairstyles are complicated. No matter which one you choose first, you are bound to struggle for quite some time. Finger waves are among the simplest ways to make your hair look outstanding without spending hours in front of the mirror. All you have to do is follow the instructions closely without being afraid of failure. After all, it's just hair. You can always wash it and try again.
How To Make Finger Waves: Fast Tutorial
What you need:
A curling iron with a 1-inch barrel
A brush
Hair clips
Heat Protectant
Hair Spray
Step 1: Wash your hair and dry it. Brush it thoroughly.
Step 2: Apply a heat protectant.
Step 3: Divide your hair into three equal vertical sections and clip each one up with a hair clip.
Step 4: While dividing the hair, create a part that you want to see after the curling is done.
Step 5: Take one section down, divide it into 1-inch sections.
Step 6: Use the curling iron to curl each section, scrunch it and pin the section up.
Step 7: Wait 30 minutes while the hair is settling into curls on the top of your head.
Step 8: Let the hair down and brush it with your fingers. Gently separate the curls.
Step 9: Apply hairspray or serum to your hair.
Step 10: Use a smoothing brush to make your waves take an S-shape while taming the flyaway strands.
Step 11: If your hair is long, you can make low ponytails, twist and pin them up in the back. Try these long finger wave hairstyles.
Step 12: Put on your favorite retro hair accessory and you are ready to go!
Finger Waves for Short Hair to Get The Look
Smart Tips For The Best Finger Waves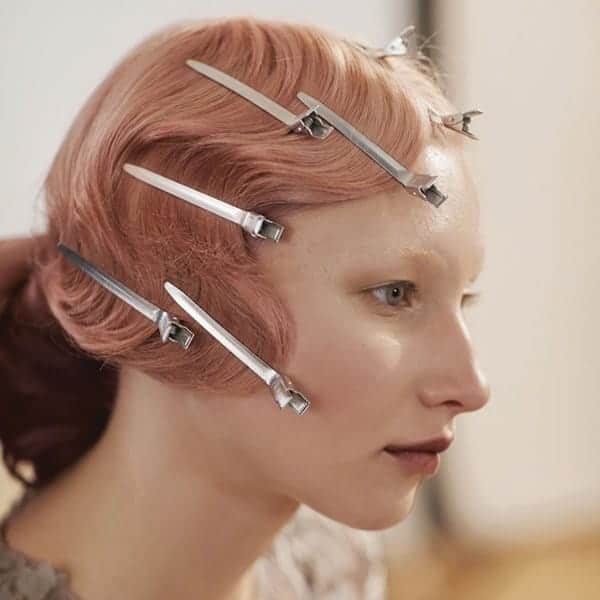 Take advantage of these tips when you learn how to do finger waves. They can make the process faster and more enjoyable.
Always use a lot of hair gel. You may want to start with dirty (washed 2 days ago) hair so it's easy to mold. Apply a lot of hair gel and brush it through the hair. Even though it may feel horrible, it'll make your job much easier.
Use a fine comb to create the waves after curling.
Buy wave clips to hold the waves in place for some time. This way, they can last longer.
Leave the wave clips on for 30 minutes to achieve the best effect.
If you have long locks Work with the top part of your hair more thoroughly. You can even "forget" to curl the bottom part. It will need to be hidden afterward anyway.
Finger Wave Hairstyles for Every Hair
We hope this tips can help you enjoy your new and improved retro hairstyle. If you have a special occasion coming up, take advantage of finger ways. They are a grand way to make an impression!