Classy Short Bob Hairstyles
1. Short Bob with Bangs
2. Short Shaggy Bob
3. Short Stacked Bob
4. Asymmetrical Short Bob
5. Short Inverted Bob
6. Short A-Line Bob
7. Short Blunt Cut Bob
8. Short Weave Bob
9. Short Bob Braids
10. Short Sew In Bob
11. Short Bob for Thin Hair
12. Short Undercut Bob
13. Short Bob + Side Bangs
14. Short Pixie Bob Haircut
15. Very Short Bob Haircut
16. Short Bob for Round Face
17. Short Tapered Bob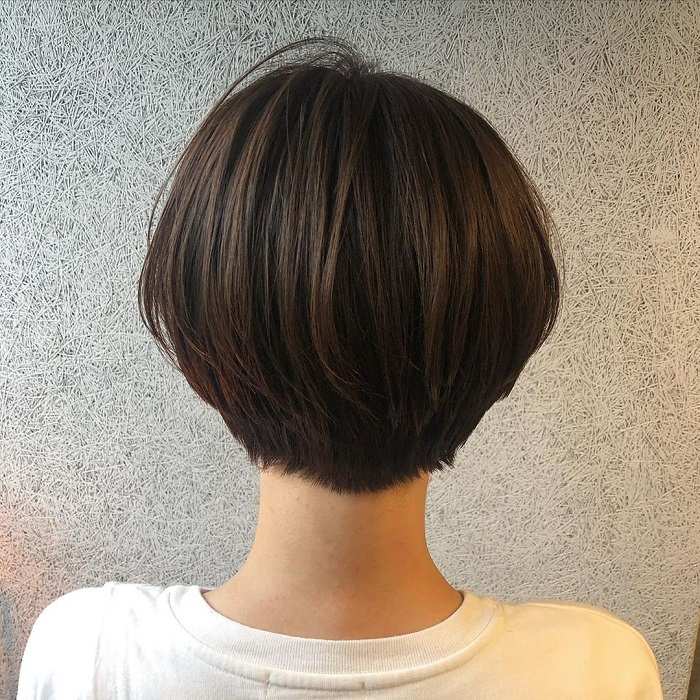 18. Short Bob Updo
19. Short Ombre Bob
20. Short Feather Bob Cut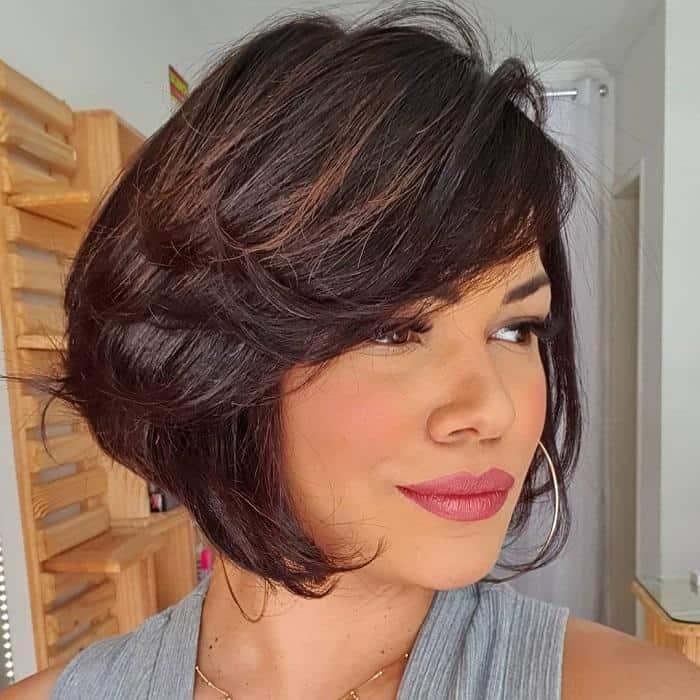 21. Short Razor Cut Bob
22. Short Crochet Bob
23. Short Permed Bob
24. Light And Airy
To provide such a perfect blow-dried body, bounce and shine you'll need to resort to high-quality hair gelatine. However, be careful to overload it with too many products. Otherwise, it will lose its naturally free movements.
25. Voluminous Short Bob
If you don't want to go for classic cuts because you think they're to cliché, then this kind of short women bob hairstyles are custom made for you.
Best Sew In Short Bobs for Elegant Women
26. Disconnected Design
Not all designs are eye grabbing because of textures and unusual colors. Because sometimes you need to think a little bit outside the box to fully mark that success check box.
27. Choppy Short Bob
Combining the chopped cut and the extremely attractive color gives you a young yet sophisticated look with a sleek finish. Moreover, these layers will give off the illusion of multidimensional tones yet a soft blend exists throughout it.
28. Short Wavy Bob
For this look, we recommend medium hair length. Otherwise, you would not be able to recreate the fullness that might not be present in shorter hair. Moreover, these short women bob hairstyles are best suited for girls with oval or heart-shaped faces.
29. Short Layered Bob
Playing with your hairs layers is a risky yet daring step towards the top of the fashion chain. So, if you're an adventurous girl who loves to rise up for new challenges and competitions, then this is the right hair design for you.
30. Messy Short Bob
For those clients who come bickering about how much little time they have to take care of their hair styling first thing in the morning, this cut is the answer to all of their prayers. Because it is a great look for those in the professional world that still want to look up to date with the latest and craziest fashion trends.
31. The V- Cut
What makes your bob cut edgier is sneaking a peek towards your scalp through a V-shaped trim. Moreover, this cut is pretty easy to maintain for girls with straight hair. On the other hand, for curly hair will require more effort. Yet, you will come to realize that it has been worth the trouble.
32. Straight Short Bob
For girls with a lot of fine hair, this is the style that probably suits you best. Because it will enable you to harness your hair's volume and show it off like your newest achievements to everyone who dares to question your powerful designs.
What Hair Products Should You Use?
To perfect the art of these short women bob hairstyles you'll need to use: (before blow drying)
Thickening spray
Styling cream
After Blowdrying, you'll probably need some help from dry texture sprays to give the hair a tousled yet textured live look.
Short Weave Hairstyles In trend
33. Vintage Bob
Defined lines and retro-inspired bands make up for the best bob haircuts out there. Whereas the slightly textured effect at the tips and edges gives it a modern yet sophisticated feel for women who wanted to be taken more seriously.
34. Short Black Bob
What makes this style so special is that women and girls of any age can pull it off. Especially when they have diamond shaped faces like Rihanna's in the photo shown above as an idealistic role model. Moreover, it can be worn with minimal makeup to make sure the spotlight is solely focused on its uniqueness in style.
35. Short & Thick Bob
Some other designs need to be carefully treated to help keep their desire thickness. Otherwise, the hair will go too flat or soft and ruin the whole look.
36. Balayage Short Bob
Any girl can get this short bob hairstyle done. But, keep in mind that women with straight hair wouldn't get the same successful result as girls with naturally curly hair!
37. Natural Bob
Go out " Au naturel" which worrying about rushing out of the door without brushing your hair with this effortless short bob cut.
38. Fun And Flirty
Combing choppy layers, wild textures, angled cuts, and breathtaking colors is tricky. However, if done right, it can guarantee you the ultimate short women bob hairstyles imaginable. In addition to that, it's pretty easy to duplicate at home.
39. Short Blonde Bob
Adding texture to your hair is not the only thing that will make you look more stylish yet sophisticated. Because you'll need a fuller look that manages to keep dynamic layers and the blissful feeling of having a lot of hair at the same time.
So, even though your hair is not long enough to the social norm, you can still look like the successful and serious businesswoman you had in mind.
40. Textured Short Bob
Even though these short women bob hairstyles are super easy to style, they need regular trimming if you want them to keep their random remedies. So if you live close by to your stylist that will be very convenient. Otherwise, you will need to man up and enjoy longer randomness until you are able to swing by the barber shop.
41. Short Angled Bob
This silver gray bob can go from straight and sleek starting off from the top portion reaching tousled and textured on your side bangs. So, how to recreate this modern madness?
Curl the side bangs with at least a 1 – inch curling iron to obtain messy ringlets.
Straighten the tops for a better contrasting textured look.
42. Short Bobs With Curls
The great thing about angled cuts is that they are not tailored to a specific kind of client. So, if you're a stylist with a client torn about her new look you don't have to think twice about it! Thus, just get her one of these chic choppy cuts.
43. Graduated Short Bob
For those who are not familiar with what a graduated bob is, it requires hairline length at the back of your head while the front portion gradually elongates to reach mid – neck. However, you need to care about the clean and precise line formed at the back of your neck. Because it is practically what defines the whole design.
44. Short Bob for Women Over 50

In order to give the shape of the bevel of the bob, you will need a small round brush to make it happen. As well as some help from anti-gravity spray for fixation and volume enhancement. Finally, don't forget the mighty shine finishing sprays for the glorious glow.
45. Short Bob with Highlights
Some bobs cannot fully light up and give us the result that opts for without a badass color to take our breaths at first sight. So, don't hesitate in picking out a bold color for your highlighted hair strands. Because they are your key to standing out.
Inverted Bobs to Show Your Pride
In a nutshell, taking a look at the list above can definitely give you a glimpse of the versatility of short bob hairstyles. Therefore, don't hesitate to get inspired by our digital catalog above and gain visions for your upcoming ravishing new look!