Are you determined to make 2023 your year? Start it off with a great new short bob hairstyle! Short bobs come in many lengths, from chin-length to neck-length, and are filled with details. Choose to have short layers to create volume, wear hair straight or permed, or add colorful ombre.
Classy Short Bob Hairstyles
Short bobs are ideal for women who like having short hair but want a new way of wearing it, or for women who have never had short hair and need a way of easing into the new length. These 55 hairstyles will have you looking amazing all year!
1. French Girl Bob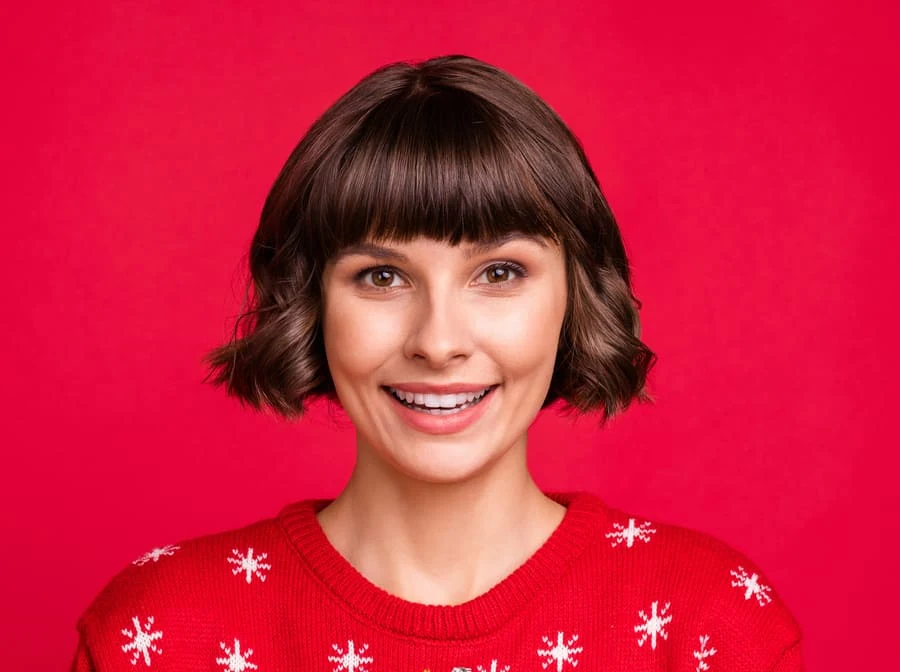 Flaunt your jawline and neck with this modern French bob with bangs. The bangs are grazing the eyebrows and add softness to the look. Add bouncy waves to frame the face. This look is easy to care for.
2. Long Front Fringe
This chic short hairstyle is created by adding an asymmetrical long fringe. Chop down the strands to ear length. The chin-length long front fringe is side-swept and covers a part of the forehead. This style is ideal for blonde women who want to rock a bob.
3. Thick and Curly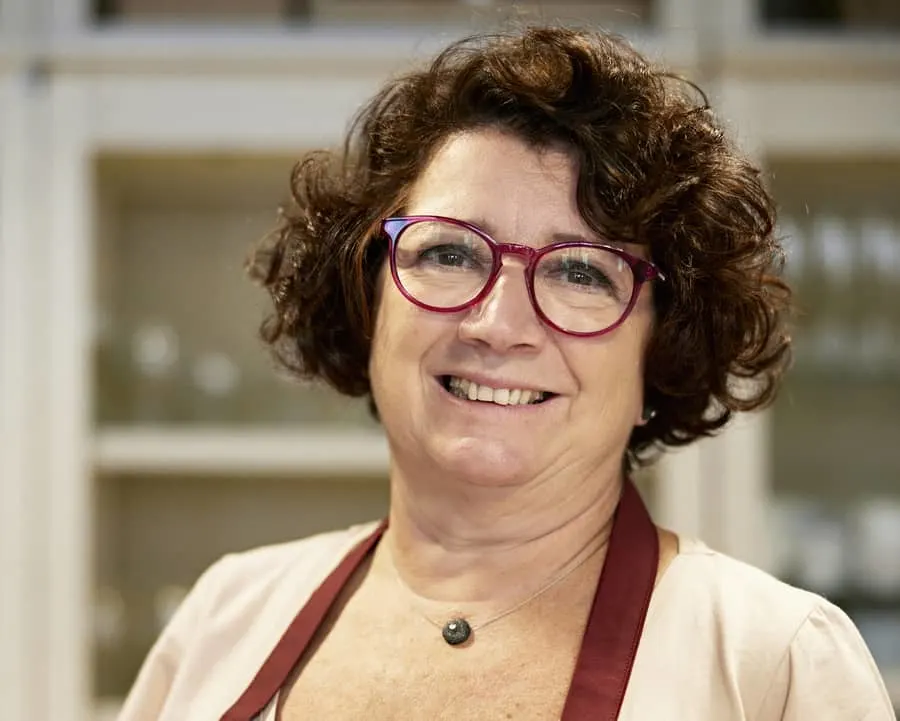 Women over 50, who are not afraid to cut their hair short and express themselves, can go for this curly and short bob haircut. The curly strands are layered in a way to frame the face all along. Finger-comb the hair with a subtle side part.
4. One-Length Bob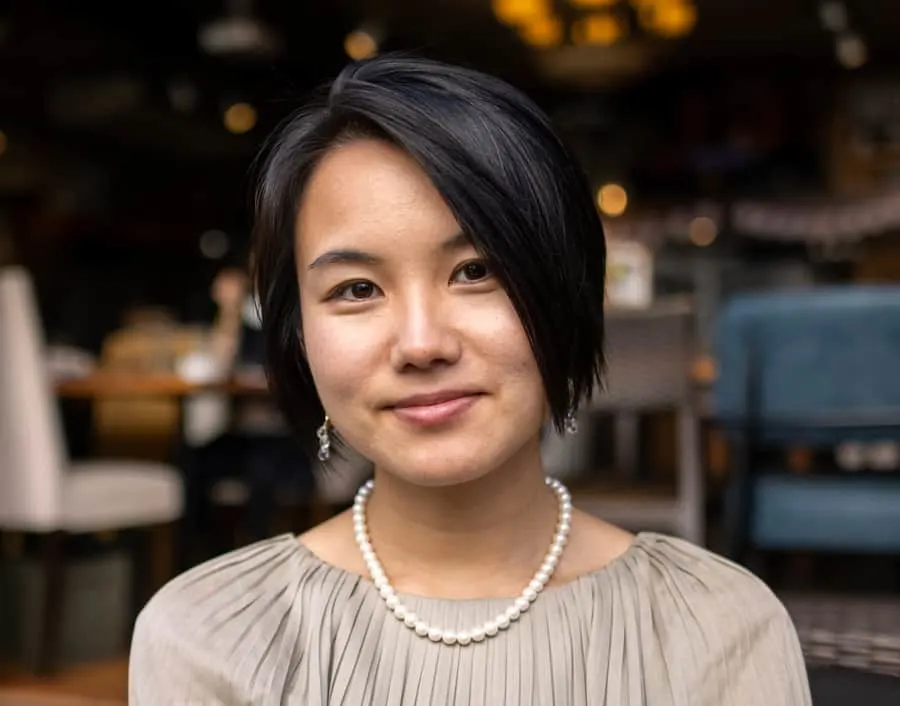 Asian women can carry this one-length bob gracefully on their straight and shiny black hair. All the strands are cut at the same length at the jawline with minimal to no layering at all. This is an undemanding haircut that does not require much time to style.
5. Asymmetrical Look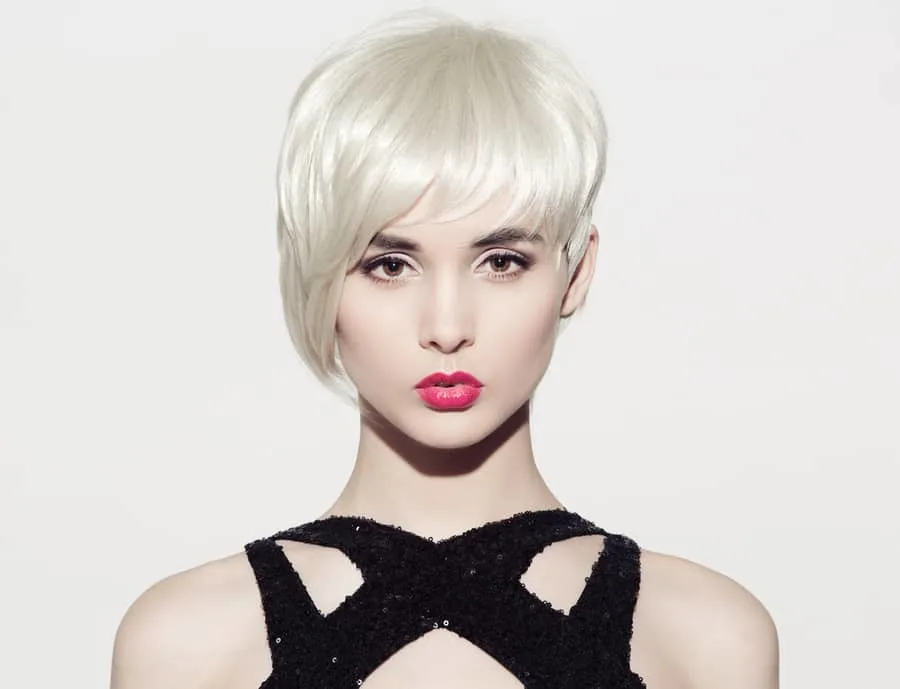 Add a chic touch to your short bob hairstyle by combining it with an asymmetrical haircut. Dye your hair in an icy blonde shade. Add bangs and keep the strands longer on one side reaching the jawline. This style gives you a futuristic look.
6. Blonde Bob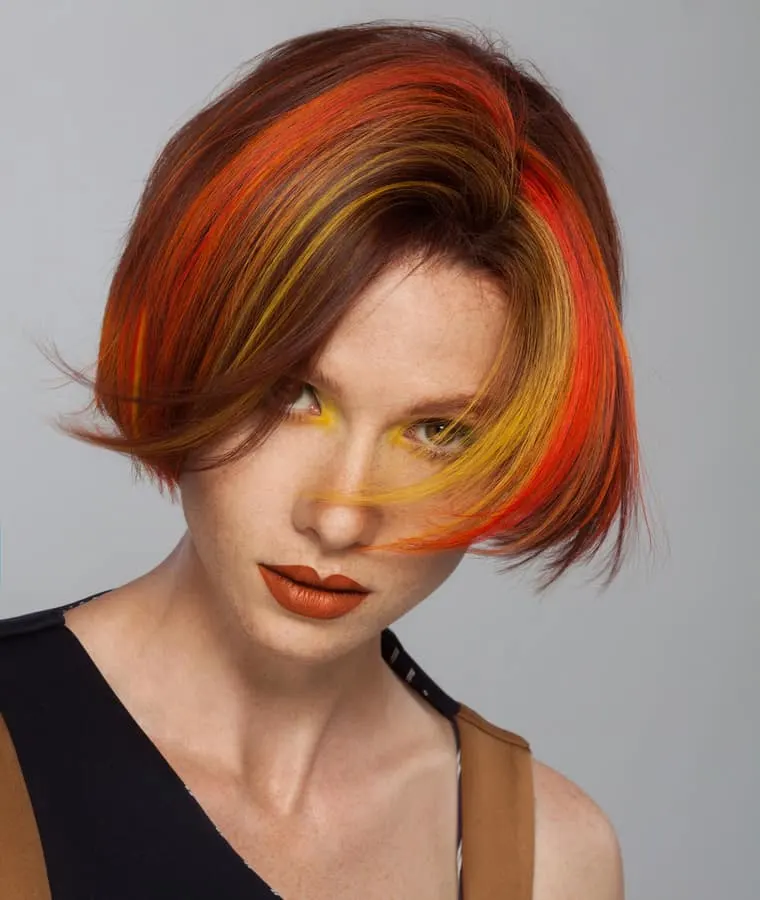 This hairstyle reminds us of the autumn season at the first sight. Get a jaw-length bob haircut. With an auburn-brown base color add bright orange and yellow highlights at the swoopy front to accentuate the style. Pair it up with a yellow eyeshade to complete the bold look.
7. Carefree Waves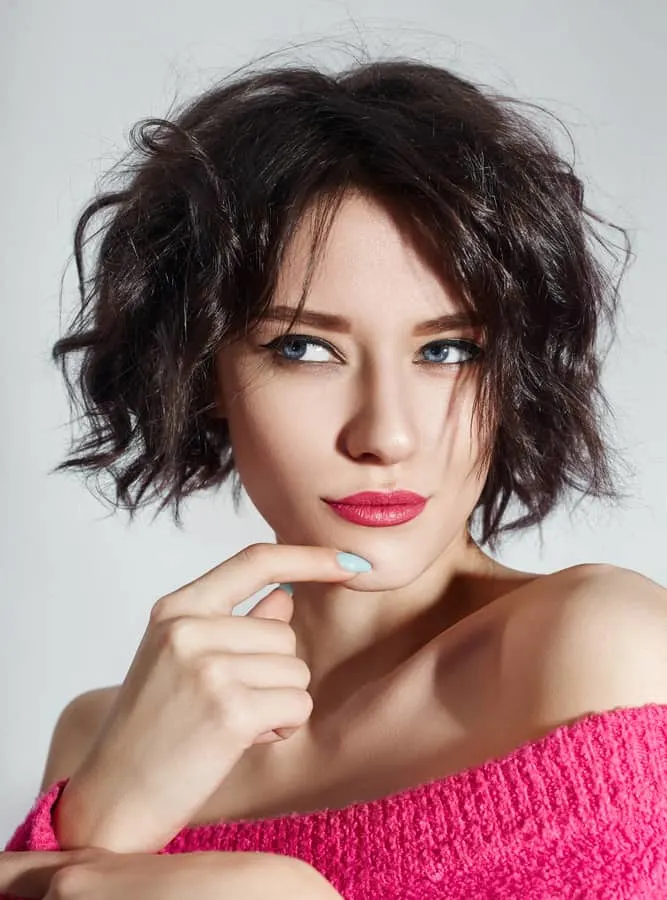 Carry a choppy short bob in a carefree way with this hairstyle. Chop down your hair and layer them to enhance the texture. Add waves that bounce in all directions. With a middle part that leans a bit towards one side, tousle your strands for a messy look.
8. Layered Pink Hair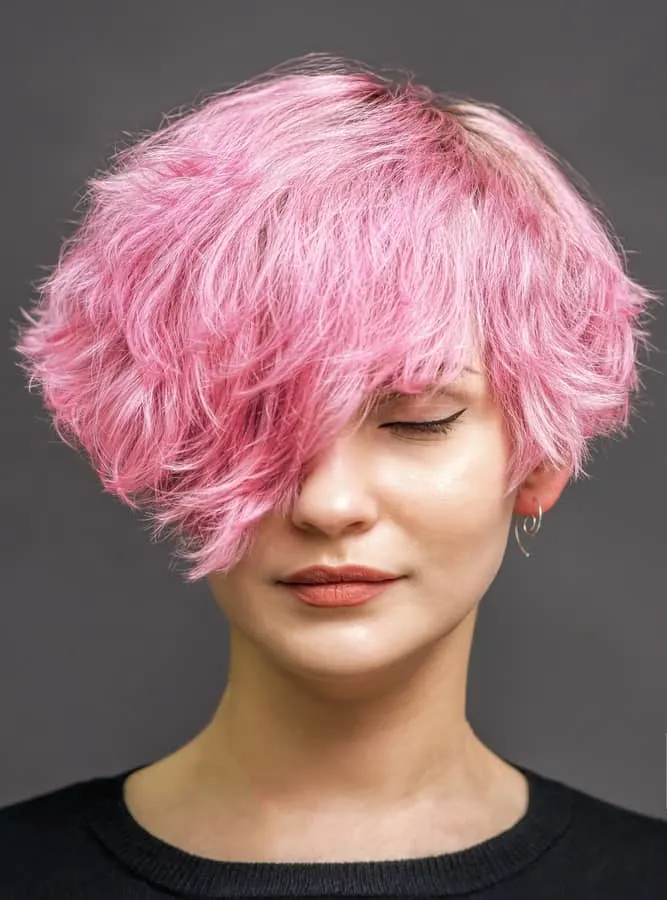 Go pink this year with this cute angular hairstyle. It lies between a pixie cut and a short bob with an asymmetrical touch to it. Get a side part and keep strands longer on one side of the face. Add a lot of layers to complete this textured look.
9. Pixie Bob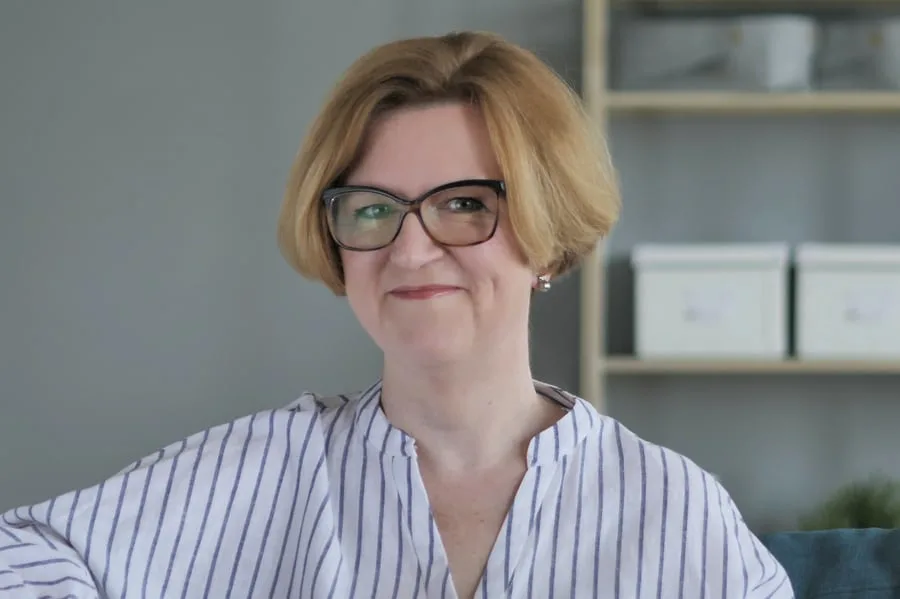 Here is another short bob for women over 50 who want to rock short hair. The front is long enough to cover a part of the ears while the back is neatly trimmed. Brush down the hair with a side part. This style is effortless to maintain.
10. Blue Balayage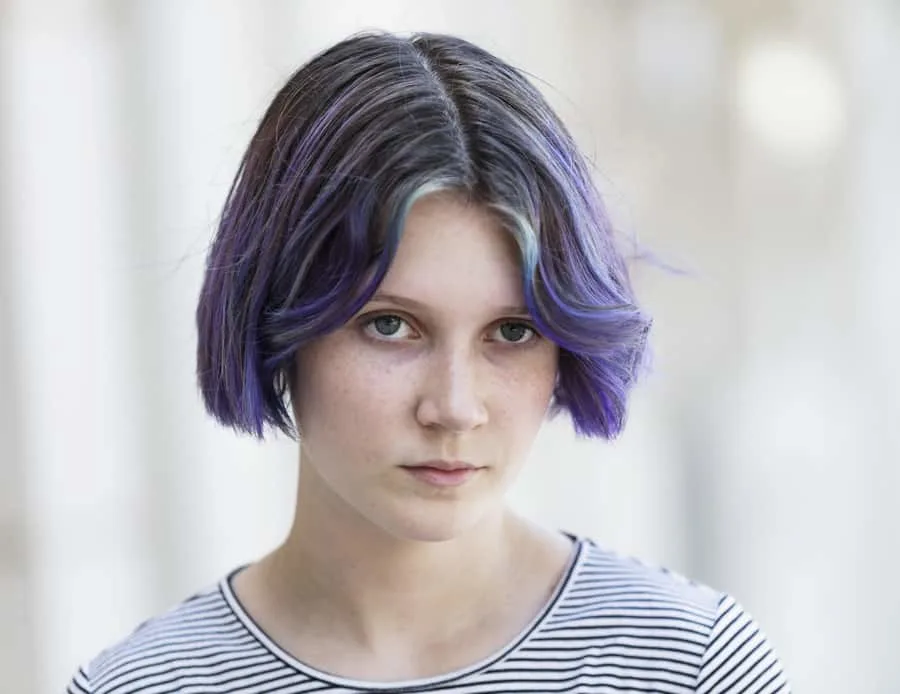 Go bold with your bob in 2023 by rocking an unconventional bright color on it. Chop your hair into a bob and add a balayage with light and dark shades of blue. A silvery hue in between the top strands completes this short look.
11. Short Bob with Bangs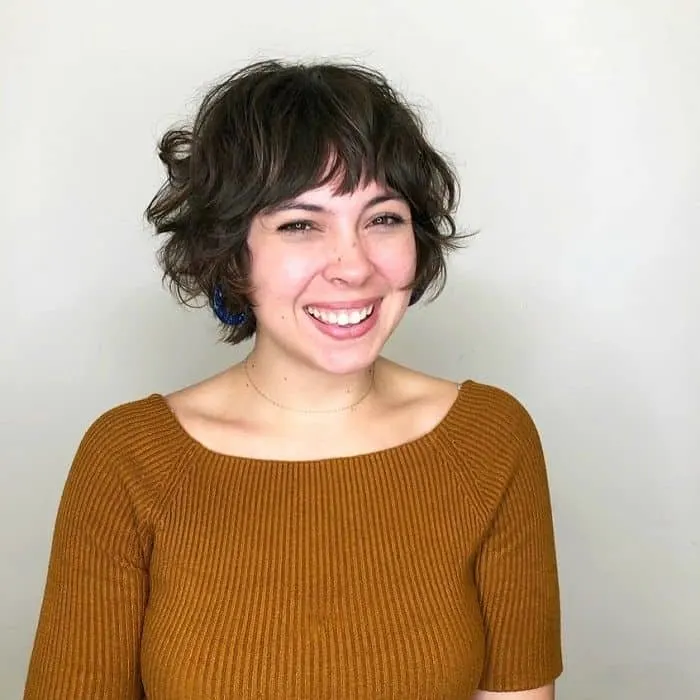 Brunette short bobs with short, choppy bangs give off a playful, perky feel. This style has plenty of movement and dimension and it will be easy to manipulate the texture.
12. Short Shaggy Bob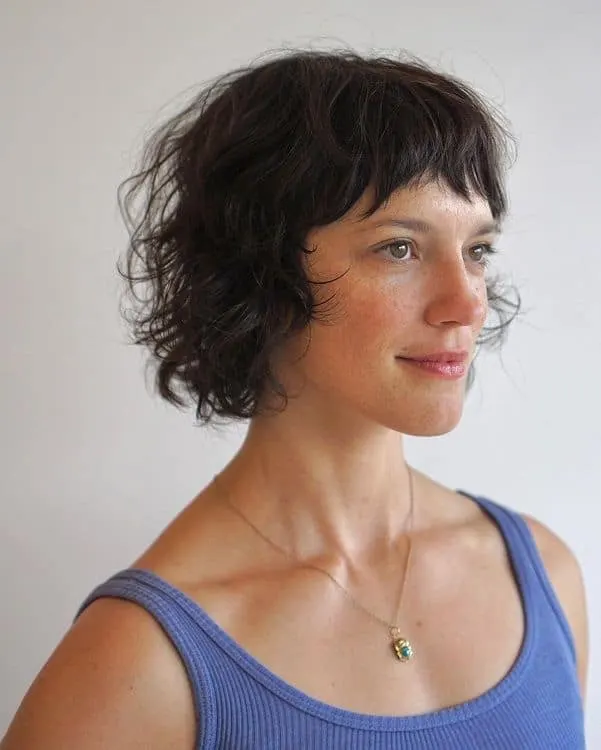 If your hair is on the thin side, a short bob with shaggy texture will help give the look of thickness. Allow hair to air dry and fluff up locks with your fingers.
13. Short Stacked Bob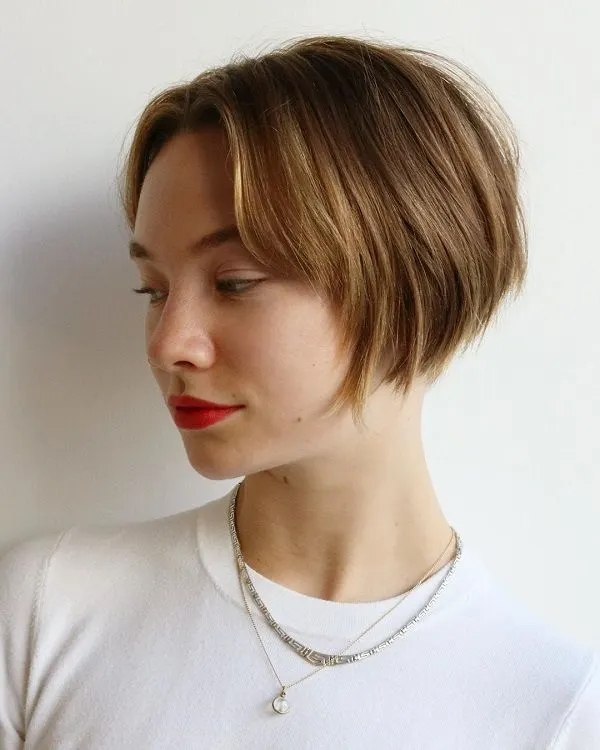 This short bob features choppy layers that get shorter as you look closer to the back of the head. With longer more feminine strands up front and the shortness at back, it's the best of both.
14. Asymmetrical Short Bob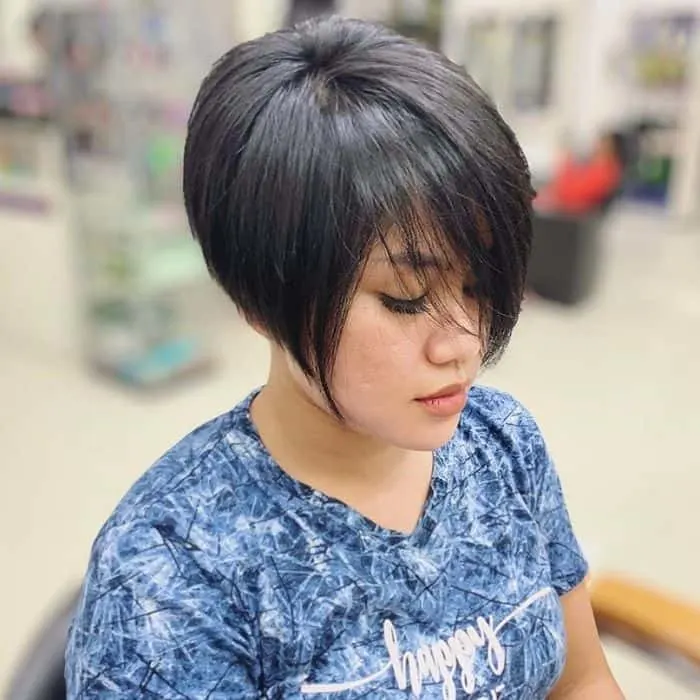 Short bobs that are asymmetrical look super sophisticated when hair is straightened. A deep side part and bangs that fall across the forehead help disguise an oval face.
15. Short Inverted Bob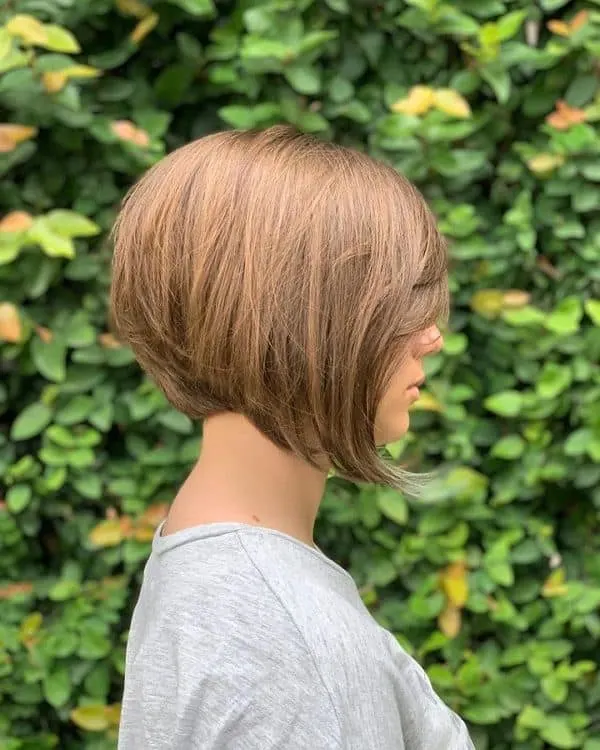 An inverted short bob features long hair up front and short hair in the back. Layers are more noticeable in the back, while the front pieces have a little curl at ends.
16. Short A-Line Bob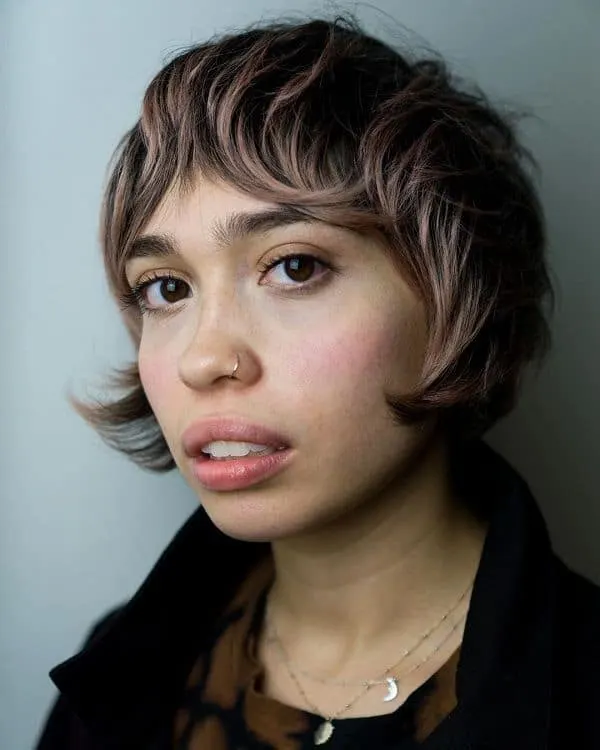 Short a-line bobs look great on women with round faces. Pair the cut with bangs that are at their shortest right between eyebrows and let them grow longer closer to the sides of the face.
17. Short Blunt Cut Bob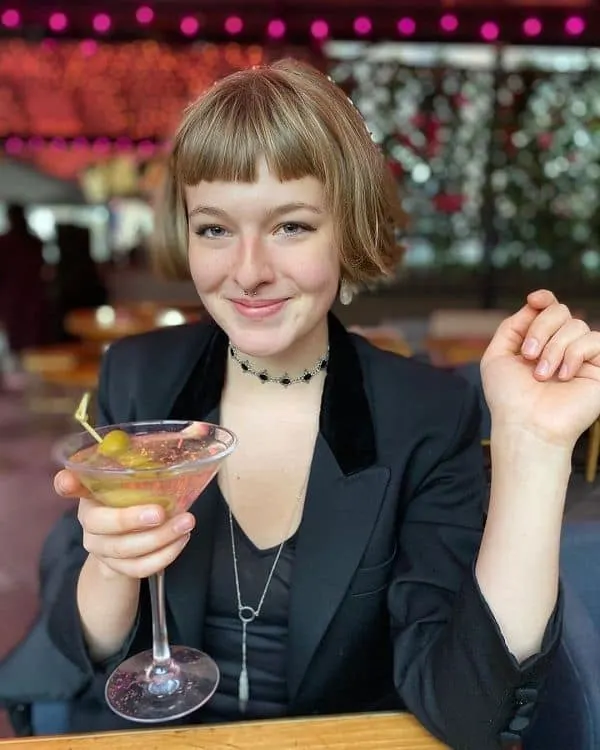 If you prefer a little less maintenance, a short bob with blunt bangs doesn't require much upkeep. Keep bangs at least an inch above eyebrows and wear the hair straight.
18. Short Weave Bob
A weave bob can have as much or as little detail as you want – this cropped bob features two colors that make it edgy: light green for the bangs and platinum blonde for the rest of the hair.
19. Short Bob Braids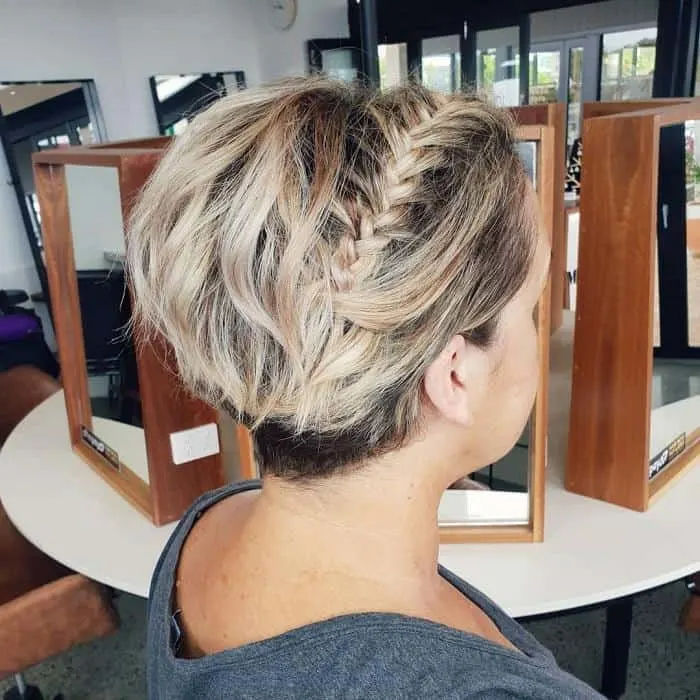 Heading out to a date or fancy event? A side braid is a soft touch of femininity and takes only a minute. Wear it tiny or go for a thick braid.
20. Short Sew In Bob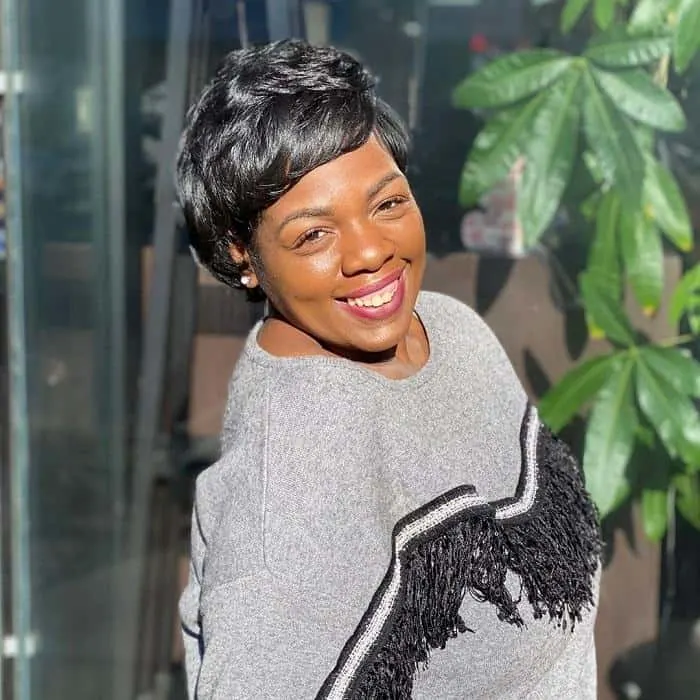 A short sew-in bob will give black women a cute layered hairstyle that will last at least six weeks. Keep it straight for chicness or get sparkly with a few clips.
21. Short Bob for Thin Hair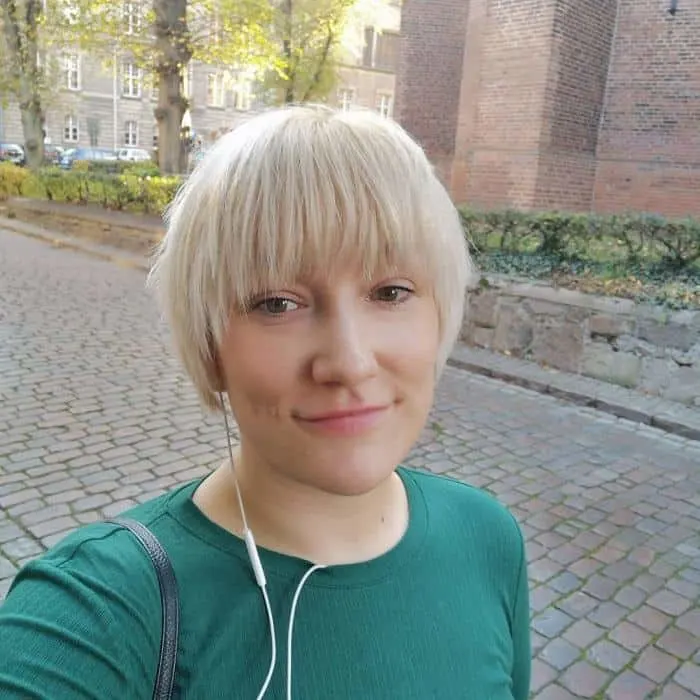 Fashion your thin hair into this adorable platinum short bob. The hair is one length all around and the bangs are long, completely covering up eyebrows.
22. Short Undercut Bob
Adding an undercut to a short bob is an easy way to get an edgy hairstyle. You can still be office-friendly but express your personal style, especially when you pull hair up into a bun or ponytail.
23. Short Bob + Side Bangs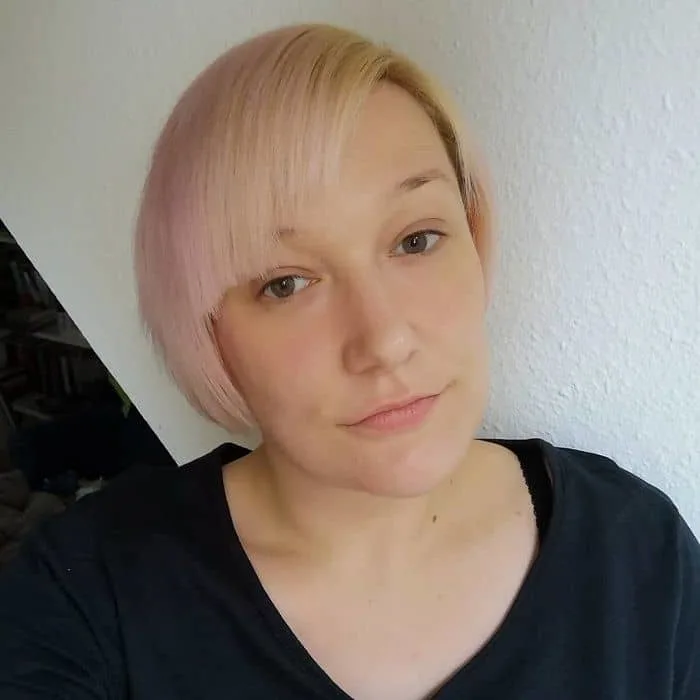 Mix edgy and feminine on a colorful straight short bob. Soft side bangs and pastel pink combine with the edgy hairstyle for a look no one else will have.
24. Short Pixie Bob Haircut
Pixie bobs meet the nape of the neck and feature plenty of layered piecey locks. It's easy to comb the hair in multiple directions for volume.
25. Very Short Bob Haircut
Simple style is all in this short bob with blonde highlights. Hair is worn straight and tucked behind the ears for a professional look you can easily transition to evening.
26. Short Bob for Round Face
Women with round faces should choose a short bob that will shape to the face. Keep hair at least chin-length for the best look and don't be afraid to use hair creme to accentuate texture.
27. Short Tapered Bob
A tapered bob is known by its stacked layers which stop at the middle of the neck. Keep it one color or play up your personality by adding highlights.
28. Short Bob Updo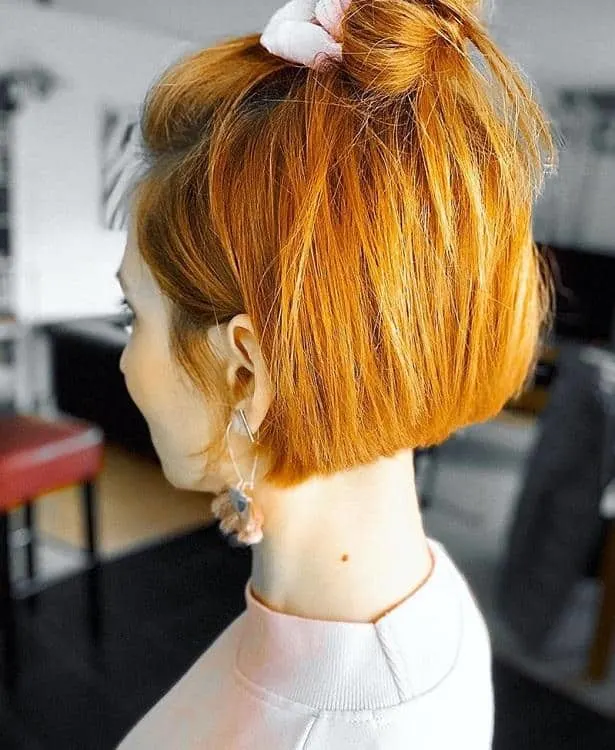 You don't have to wear your bob down all the time! Pull up the top half of the hair into a pony or messy bob and secure with a colorful scrunchy for quick, super cute style.
29. Short Ombre Bob
Pink and blue ombre on a short bob is the pop of color you need in your life. Part hair in the center and let leave hair down for beautiful built-in style.
30. Short Feather Bob Cut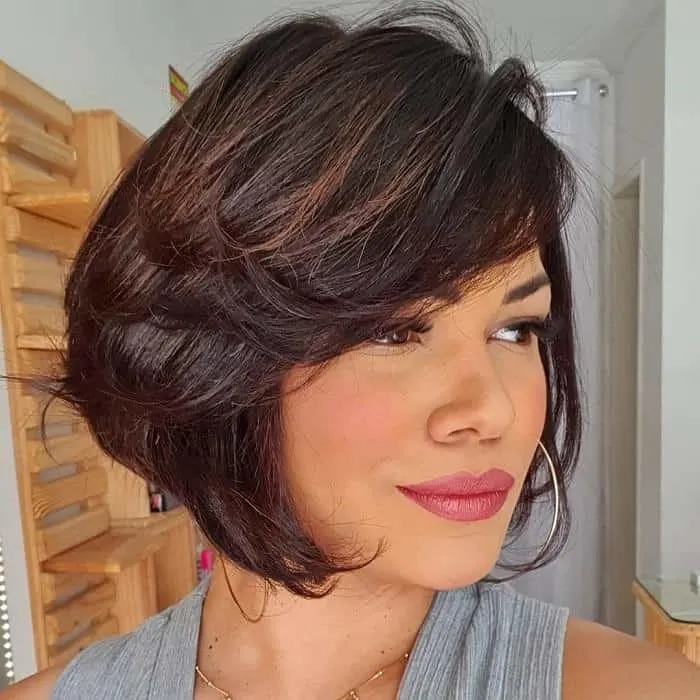 Adding feathered layers with subtle caramel highlights to a short bob gives a beautiful lift for hair that may be thick. Part hair at one side to see volume take over.
31. Short Razor Cut Bob
Having a short bob with razor cut ends means the hair is cut with a straight edge razor blade. The result can be this straight hairstyle with wispy strands and piecey locks.
32. Short Crochet Bob
A short crochet bob is great for women looking for a stylish, protective hairstyle and not a lot of length. With regular upkeep, your locks will stay healthy, shiny, and luscious.
33. Short Permed Bob
If your hair is thin and in need of some texture, opt for a short permed bob to give life back to it. It will last about six months, so you don't have to worry about anything but your smile.
34. Light And Airy
To provide such a perfect blow-dried body, bounce and shine you'll need to resort to high-quality hair gelatine. However, be careful to overload it with too many products. Otherwise, it will lose its naturally free movements.
35. Voluminous Short Bob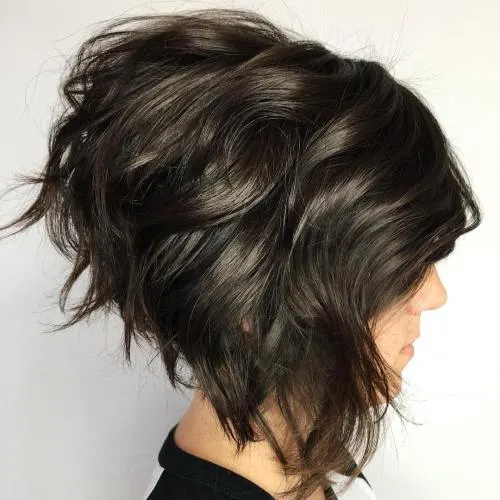 If you don't want to go for classic cuts because you think they're to cliché, then this kind of short women bob hairstyles are custom made for you.
Best Sew In Short Bobs for Elegant Women
36. Disconnected Design
Not all designs are eye-grabbing because of textures and unusual colors. Because sometimes you need to think a little bit outside the box to fully mark that success check box.
37. Choppy Short Bob
Combining the chopped cut and the extremely attractive color gives you a young yet sophisticated look with a sleek finish. Moreover, these layers will give off the illusion of multidimensional tones yet a soft blend exists throughout it.
38. Short Wavy Bob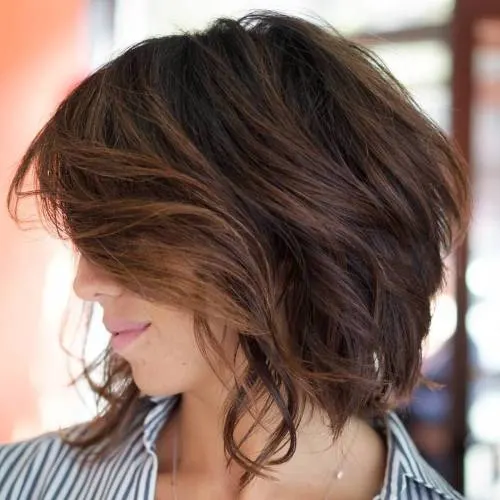 For this look, we recommend medium hair length. Otherwise, you would not be able to recreate the fullness that might not be present in shorter hair. Moreover, these short women bob hairstyles are best suited for girls with oval or heart-shaped faces.
39. Short Layered Bob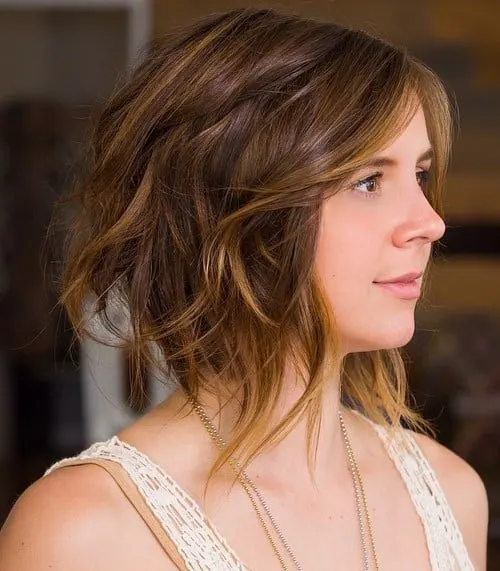 Playing with your hair with layers is a risky yet daring step towards the top of the fashion chain. So, if you're an adventurous girl who loves to rise up for new challenges and competitions, then this is the right hair design for you.
40. Messy Short Bob
For those clients who come bickering about how much little time they have to take care of their hair styling first thing in the morning, this cut is the answer to all of their prayers. Because it is a great look for those in the professional world that still want to look up to date with the latest and craziest fashion trends.
41. The V- Cut
What makes your bob cut edgier is sneaking a peek towards your scalp through a V-shaped trim. Moreover, this cut is pretty easy to maintain for girls with straight hair. On the other hand, for curly hair will require more effort. Yet, you will come to realize that it has been worth the trouble.
42. Straight Short Bob
For girls with a lot of fine hair, this is the style that probably suits you best. Because it will enable you to harness your hair's volume and show it off like your newest achievements to everyone who dares to question your powerful designs.
What Hair Products Should You Use?
To perfect the art of these short women bob hairstyles you'll need to use: (before blow drying)
Thickening spray
Styling cream
After Blowdrying, you'll probably need some help from dry texture sprays to give the hair a tousled yet textured live look.
Short Weave Hairstyles In trend
43. Vintage Bob
Defined lines and retro-inspired bands make up for the best bob haircuts out there. Whereas the slightly textured effect at the tips and edges gives it a modern yet sophisticated feel for women who wanted to be taken more seriously.
44. Short Black Bob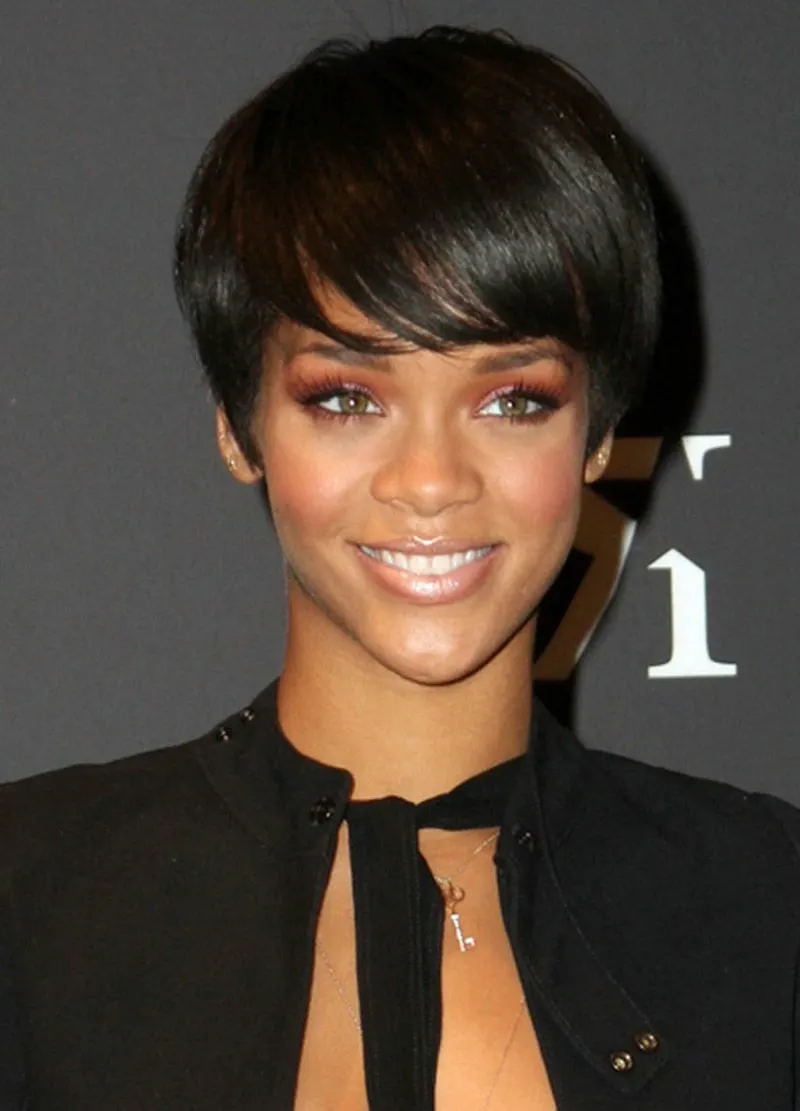 What makes this style so special is that women and girls of any age can pull it off. Especially when they have diamond shaped faces like Rihanna's in the photo shown above as an idealistic role model. Moreover, it can be worn with minimal makeup to make sure the spotlight is solely focused on its uniqueness in style.
45. Short & Thick Bob
Some other designs need to be carefully treated to help keep their desire thickness. Otherwise, the hair will go too flat or soft and ruin the whole look.
46. Balayage Short Bob
Any girl can get this short bob hairstyle done. But, keep in mind that women with straight hair wouldn't get the same successful result as girls with naturally curly hair!
47. Natural Bob
Go out " Au naturel" which worrying about rushing out of the door without brushing your hair with this effortless short bob cut.
48. Fun And Flirty
Combing choppy layers, wild textures, angled cuts, and breathtaking colors is tricky. However, if done right, it can guarantee you the ultimate short women bob hairstyles imaginable. In addition to that, it's pretty easy to duplicate at home.
49. Short Blonde Bob
Adding texture to your hair is not the only thing that will make you look more stylish yet sophisticated. Because you'll need a fuller look that manages to keep dynamic layers and the blissful feeling of having a lot of hair at the same time.
So, even though your hair is not long enough to the social norm, you can still look like the successful and serious businesswoman you had in mind.
50. Textured Short Bob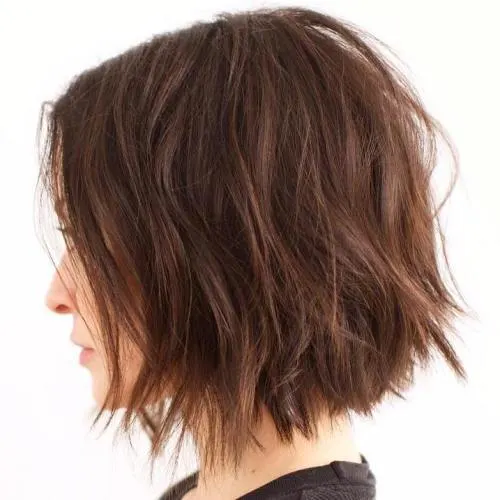 Even though these short women bob hairstyles are super easy to style, they need regular trimming if you want them to keep their random remedies. So if you live close by to your stylist that will be very convenient. Otherwise, you will need to man up and enjoy longer randomness until you are able to swing by the barber shop.
51. Short Angled Bob
This silver gray bob can go from straight and sleek starting off from the top portion reaching tousled and textured on your side bangs. So, how to recreate this modern madness?
Curl the side bangs with at least a 1 – inch curling iron to obtain messy ringlets.
Straighten the tops for a better contrasting textured look.
52. Short Bobs With Curls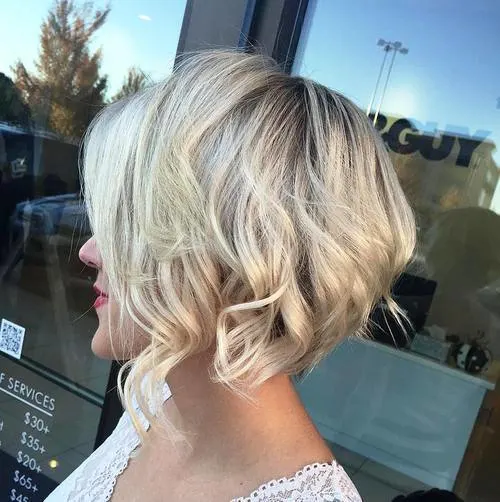 The great thing about angled cuts is that they are not tailored to a specific kind of client. So, if you're a stylist with a client torn about her new look you don't have to think twice about it! Thus, just get her one of these chic choppy cuts.
53. Graduated Short Bob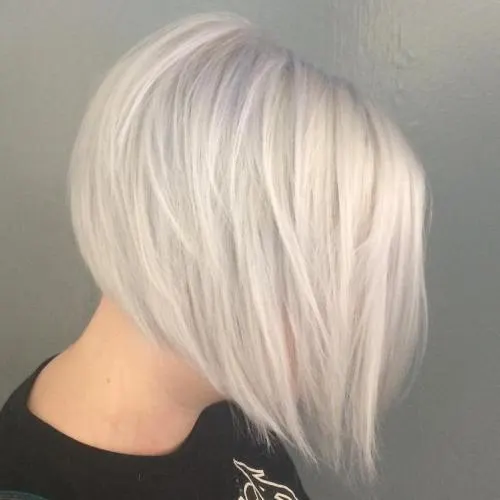 For those who are not familiar with what a graduated bob is, it requires hairline length at the back of your head while the front portion gradually elongates to reach mid-neck. However, you need to care about the clean and precise line formed at the back of your neck. Because it is practically what defines the whole design.
54. Short Bob for Women Over 50

In order to give the shape of the bevel of the bob, you will need a small round brush to make it happen. As well as some help from anti-gravity spray for fixation and volume enhancement. Finally, don't forget the mighty shine finishing sprays for the glorious glow.
55. Short Bob with Highlights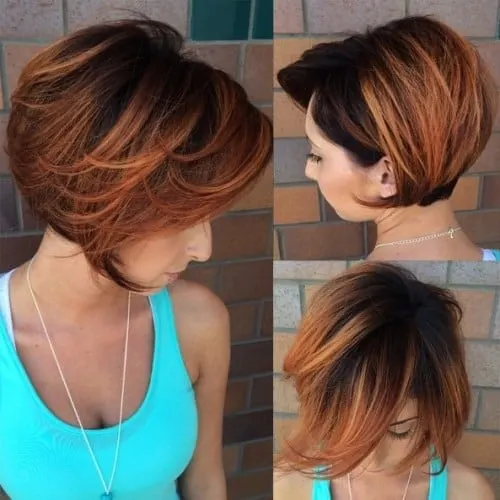 Some bobs cannot fully light up and give us the result that opts for without a badass color to take our breaths at first sight. So, don't hesitate in picking out a bold color for your highlighted hair strands. Because they are your key to standing out.
Inverted Bobs to Show Your Pride
In a nutshell, taking a look at the list above can definitely give you a glimpse of the versatility of short bob hairstyles. Therefore, don't hesitate to get inspired by our digital catalog above and gain visions for your upcoming ravishing new look!