There's this pervasive image that implies the only hairstyles for older women are short and simple. You need to forget about the dated idea that women over a certain age have to chop off all of their hair and get perms.
That's ridiculous. You can still have fun with your hair at over 40, 50, 60 years old and beyond. Don't let age dictate your style. As long as you feel beautiful, that's all that matters.
Traditional haircuts for older women are fine if that's what you like, but don't do it just because you think society expects it of you. Society can go and chop off its own hair. You, however, should start looking around for your next signature style — and go wild with it. Do something with your hair you've always wanted to do but never dared.
The Ideal Hairstyles for Older Women
Forget what you've been told about hairstyles for older women. Think about what you like. Consider the hairstyles you admire on other women, whether they're famous or not.
Don't let conventions trap you into wearing your hair in an unflattering, unbecoming style. You're an adult, a grown woman who knows what she likes. It doesn't matter if it's a sophisticated chignon or mermaid hair. What do you think of the hairdos below?
1. Half Halo Braid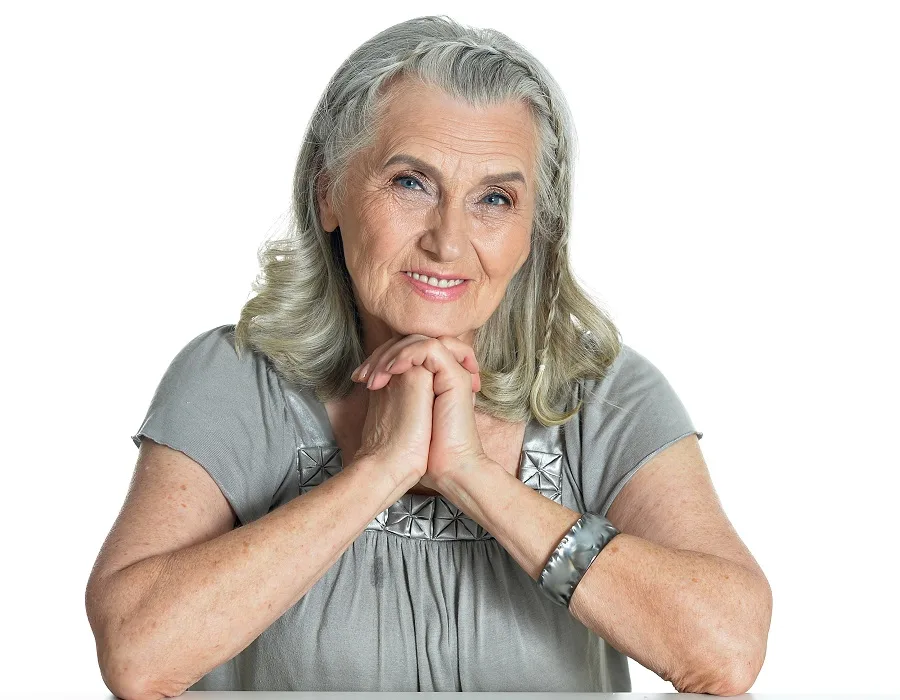 Hairstyles for older women can be as varied as the ones for younger girls. In this example, the bangs are swooped to one side and braided in a French braid. The rest of the mane is loose and slightly curled with a big iron.
2. Curly Layers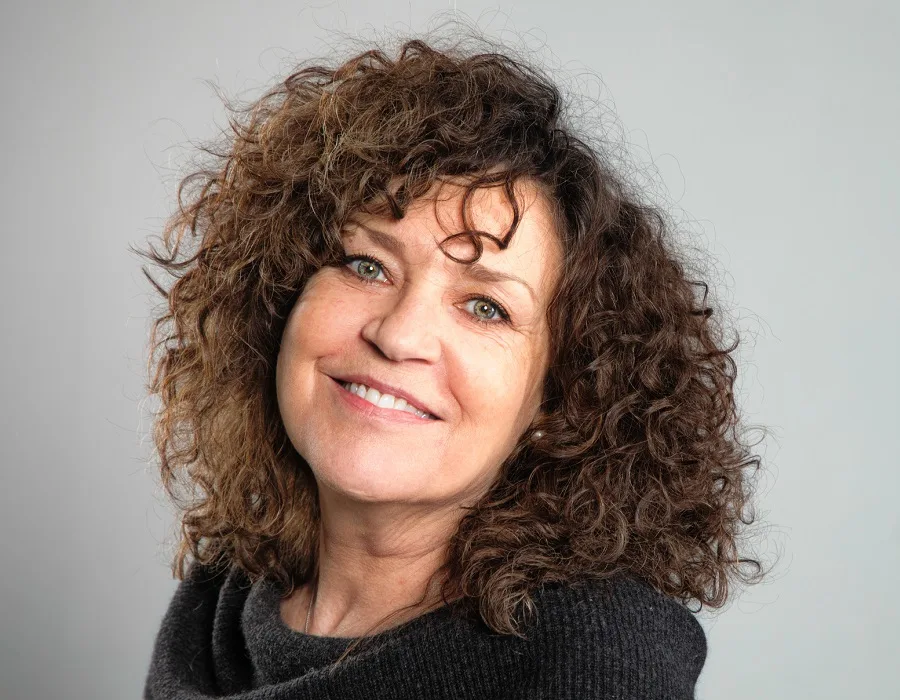 It doesn't matter if your hair is naturally curly or if you regularly perm it. Consider layering your strands and creating bangs to give it movement, more volume, and a great shape. Swipe them on one side and use a special conditioner for curly hair to make them look softer.
3. Curly Box braids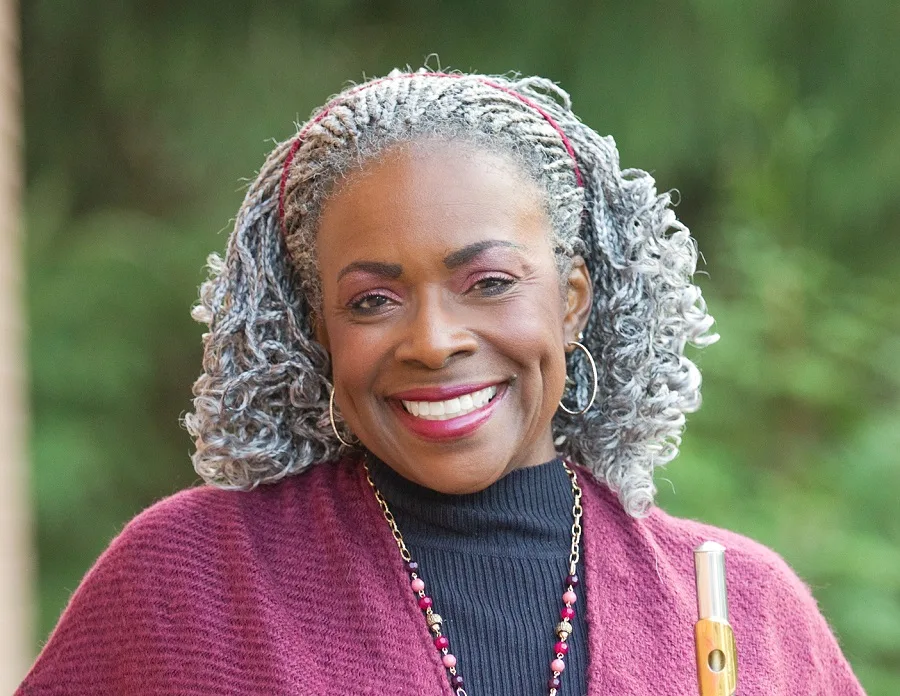 Box braids can suit any age, even if you are in your 20s or 60s. This hairstyle for older women uses box braids that are later curled. Roll them on curlers and dip them into hot water to obtain that wavy look for your knits. They will preserve the shape, and you can use a ribbon or a headband to keep the braids away from your face.
4. Long Wavy Hair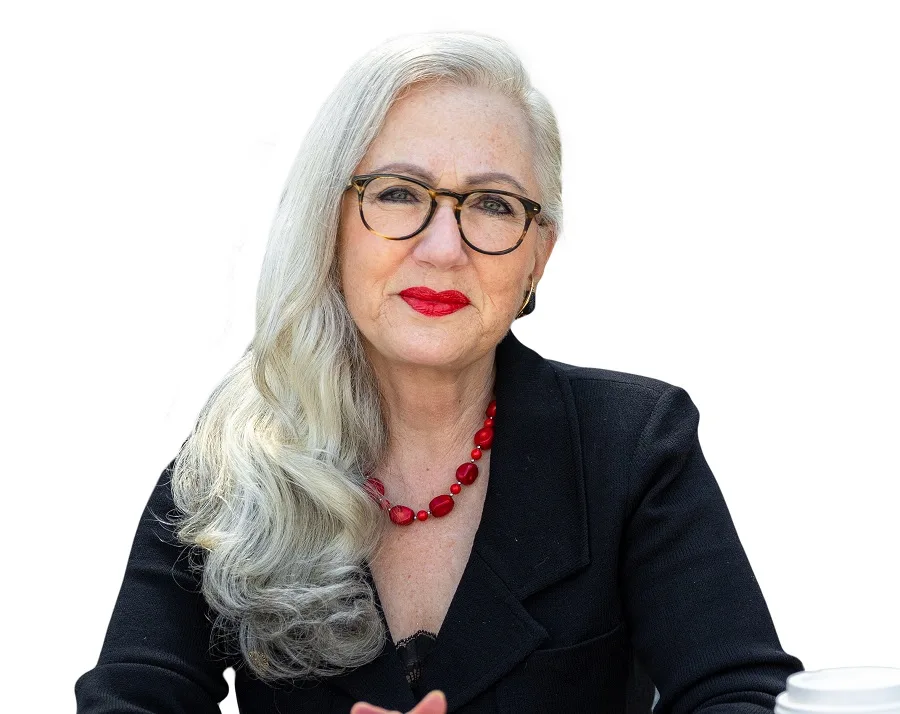 When you want to look stunning and a true professional, a more formal look is certainly the best approach. Flip all your hair on one side and make sure it has lots of volume. At the ends, use a curling wand to create that stunning texture.
5. Top Purple Bun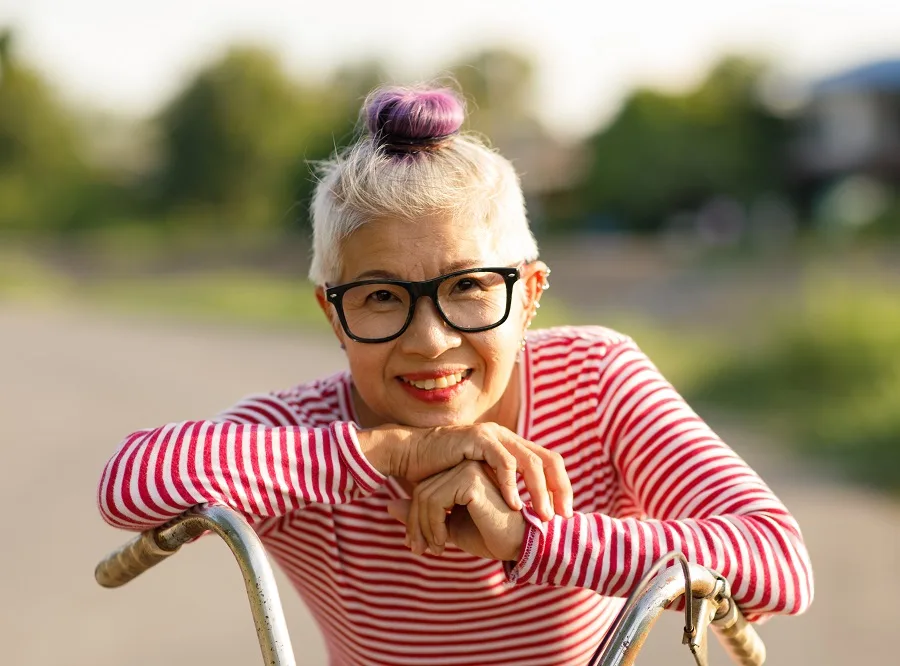 If you are one of those women who doesn't like to show her real age, this is a hairstyle that will totally suit you and make you look and feel younger. Shortly trim the hair on both sides and the back and die the top in a purple color. Roll the longer pieces into a bun.
6. White Bob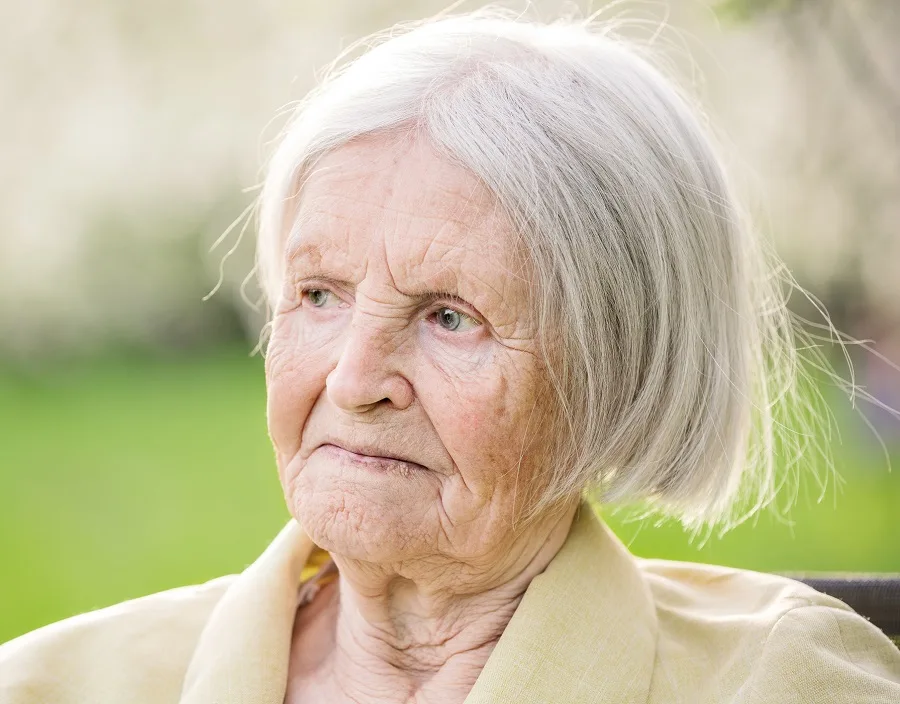 Once you get older, your hair becomes white and thinner, and you need to adapt your hairstyle to these inevitable changes. If you want to make it look thicker, go for a short bob haircut with a middle part.
7. Salt and Pepper Mohawk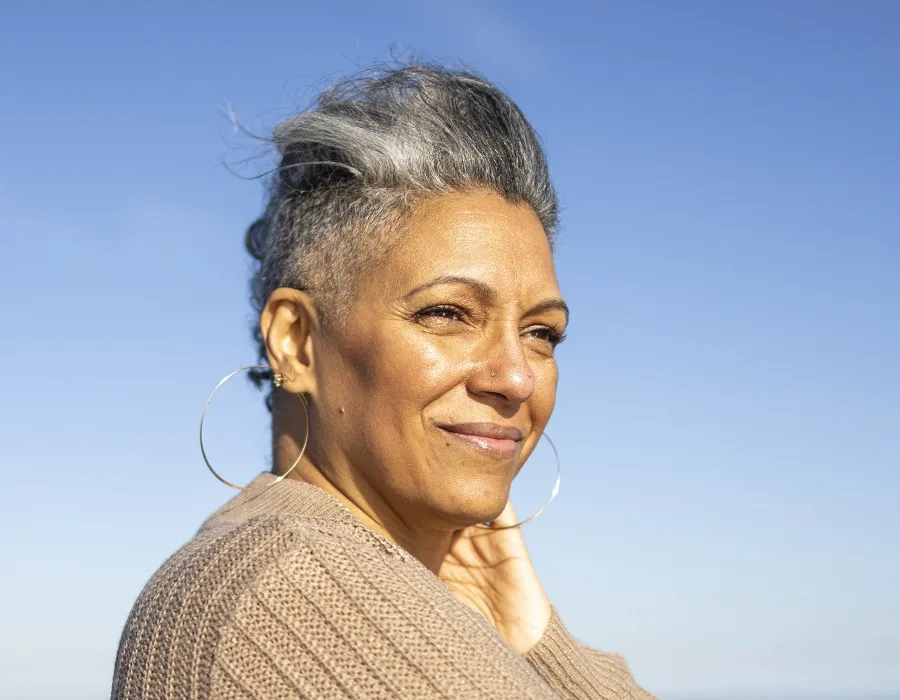 This hairstyle for older women is modern and suitable for all those ladies who want to maintain a cool look. Shave the sides and keep a long mohawk. Comb it to the back and create hight by teasing hair. Pin it in the back and wear large rounded earrings.
8. Long Purple Top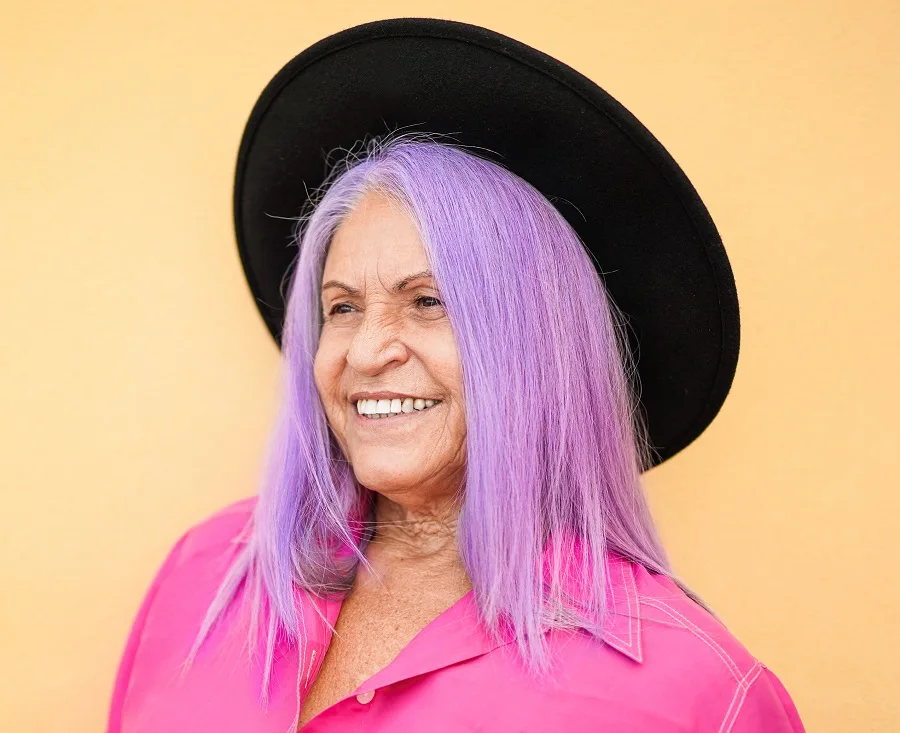 One of the best things about losing hair pigment once you get older is that now you can dye your hair in any color without needing bleach. Opt for a pale purple and layer your hair around the shoulder line. Create a cool look by wearing a hat.
9. Messy Waves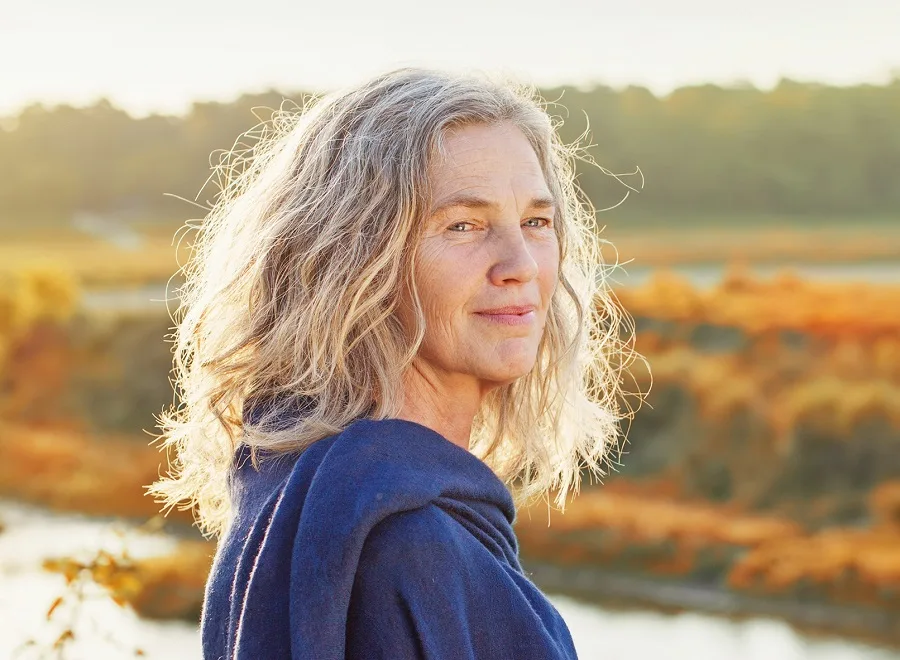 Ombres and highlights are the best way to make white hairs blend beautifully with blonde and almond nuances. If your hair is naturally wavy, cut it into layers to build more volume. Tousel the mane and you'll get a stunning hairstyle for older women.
10. Afro Curls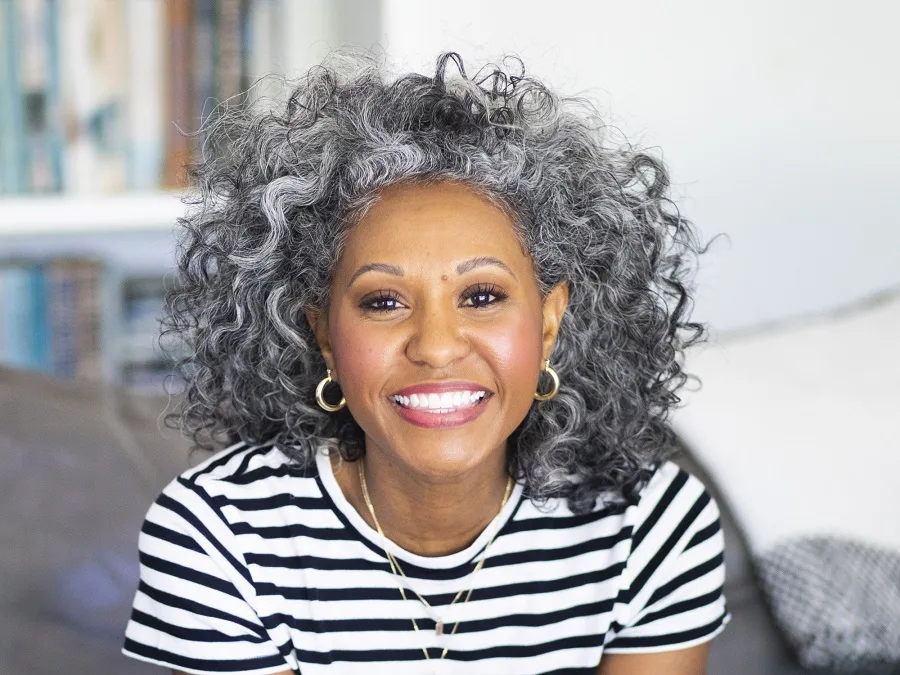 Your Afro curls need no presentation because they look absolutely gorgeous. The way white and black hairs mix offers such a highlight to your curls. Dyeing the whites is always an option but this blend seems so much better.
11. Fine Hair for Older Women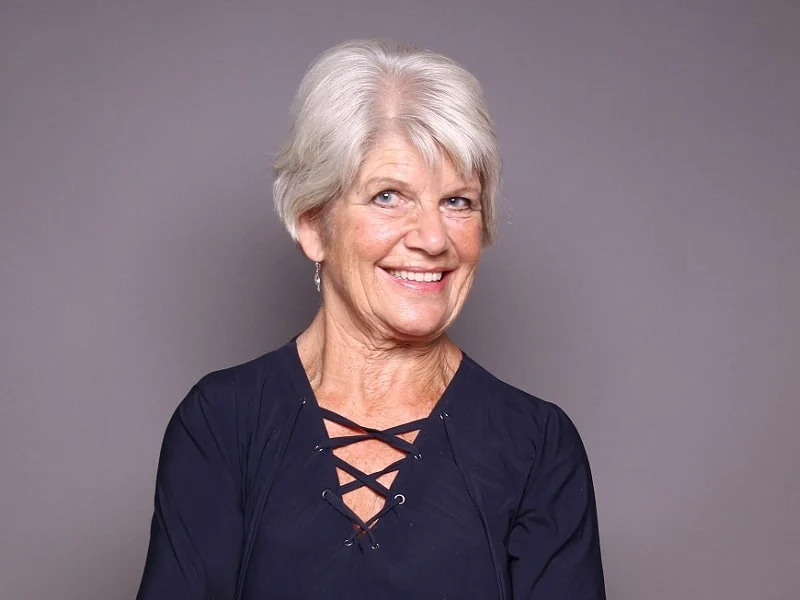 Play up your fine hair with this cute white short pixie. With a bit of teasing in the back, hair looks thick and will be on trend no matter where you are.
12. Hairstyle for Older Woman with Glasses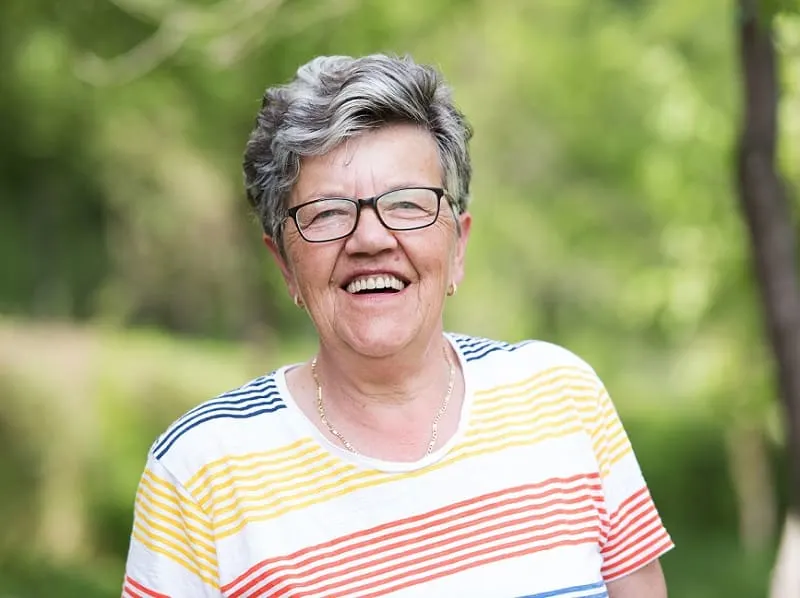 When you do decide to go for a short haircut, play up your natural grey and white hair by cutting it into this short pixie. The waves are beautifully framing for a face with glasses.
13. Blonde Hairstyle for Older Woman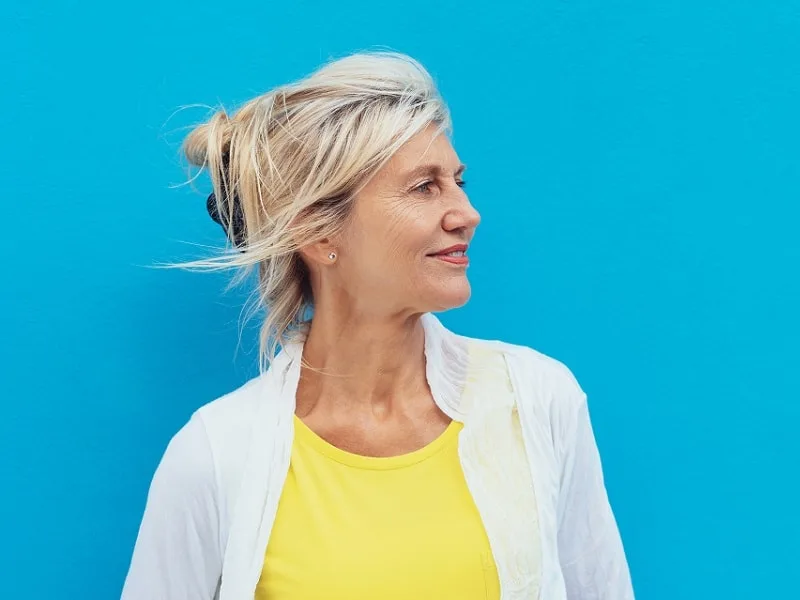 Going blonde when you're older is a trendy way to stay feeling youthful. Pull back your medium or long hair into this updo secured with a hair claw. Loose tendrils around the face make this classic look pretty.
14. Older Woman with Dark Hair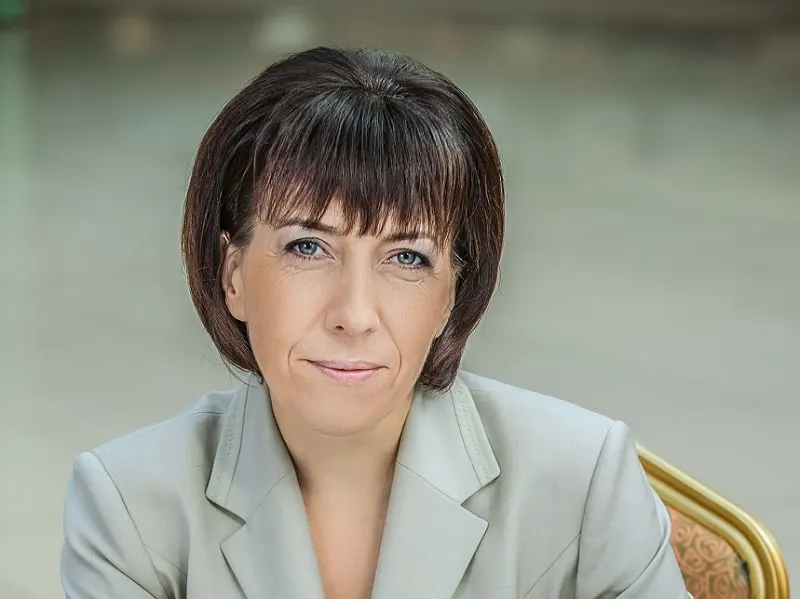 Another way you can wear your straight hair is combed back into a short hairstyle. There is no center part visible but the blunt straight bangs do all the talking on this sophisticated look.
15. Gray Hairstyle for Older Woman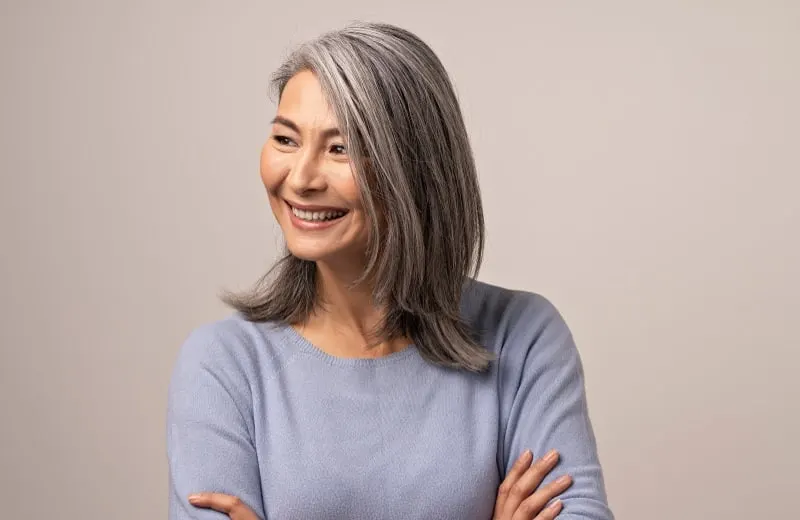 Add layers to your long grey hair and part it at the side for a quick update to your daily style. The side part will switch up the way you look at your face and it's a manageable look for everyday wear.
16. Older Woman with Round Face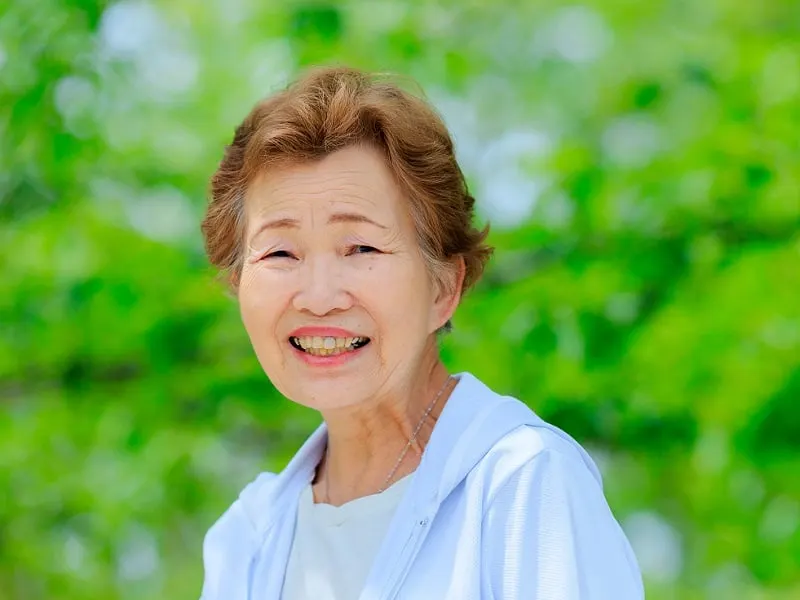 Soft waves on a short hairstyle make for a friendly and inviting look. Hair is shorter on the sides while it's longer on top; this creates shape that only requires working hairspray through with fingers.
17. Medium Hairstyle for Older Woman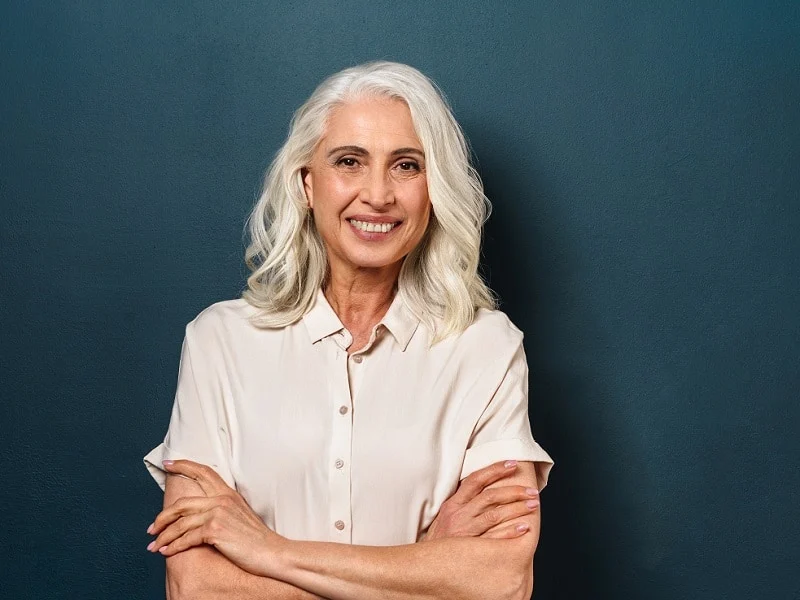 Shoulder length hair that is full of waves is a classic choice for an older woman's hairstyle. The all over white, whether natural or dyed, is flattering to the skin tone and something to be proud of!
18. Thick Hairstyle for Older Women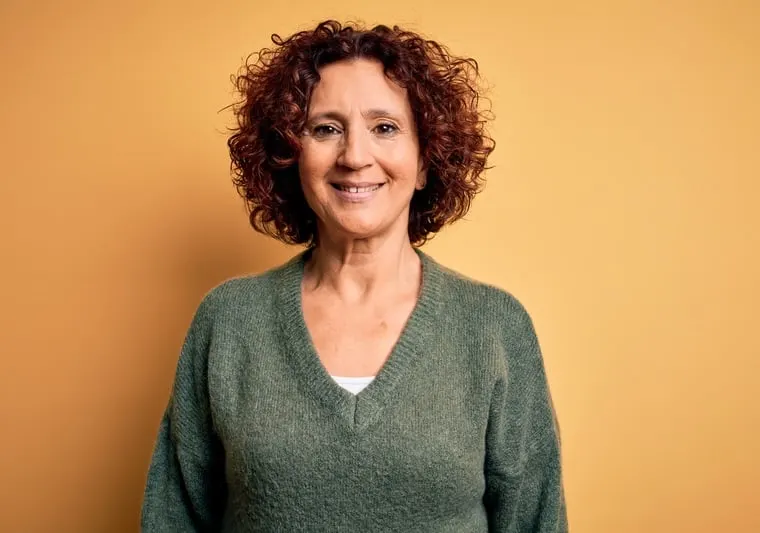 If your hair isn't thinning out as you age, count yourself lucky! Rock that thick hair by scrunching in curls and building the body with mousse on a short hairstyle parted in the center.
19. Older Woman with Highlights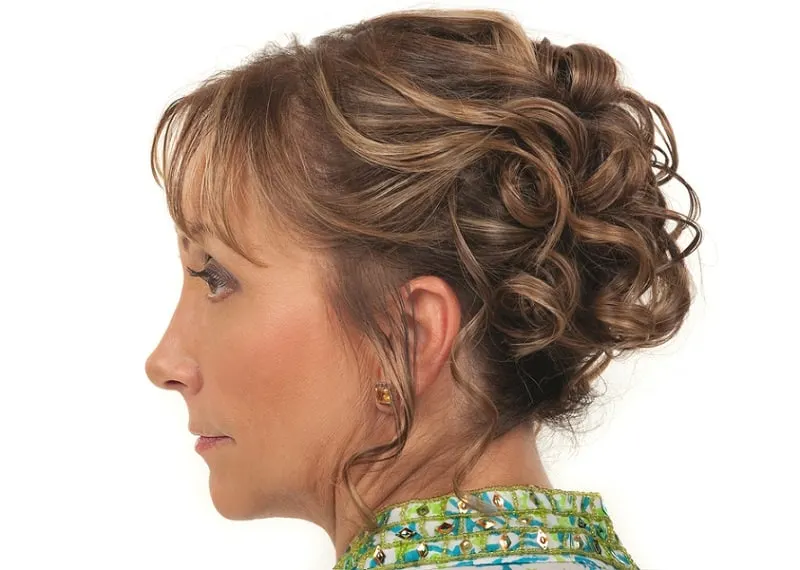 Highlights will do wonders for an older woman wanting to retain her youthfulness. If you have medium blonde hair, opt for a shade or two lighter for highlights; these will brighten up your face easily.
20. White Ponytail for Thick Hair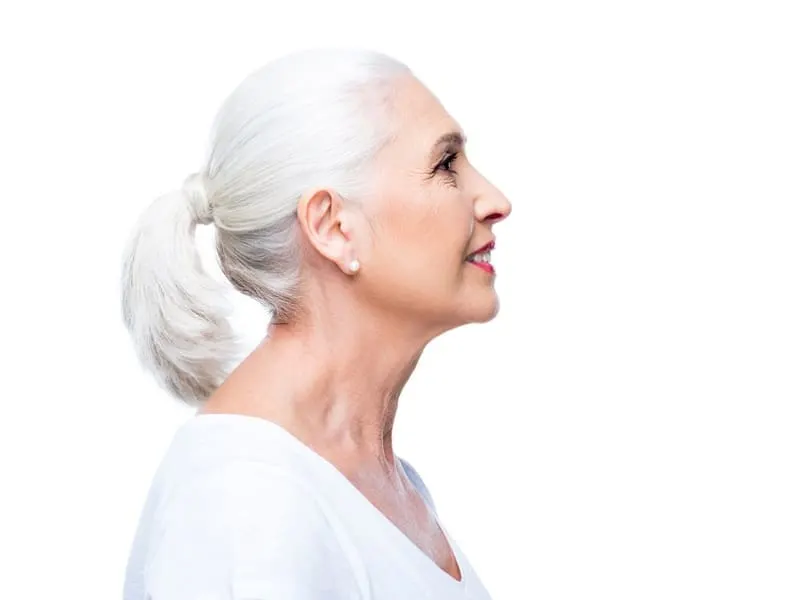 Look chic and sophisticated by gathering your white hair in a low ponytail. Class it up by wrapping the ponytail in a small section of hair instead of using an elastic band.
21. Bun for Thin Hair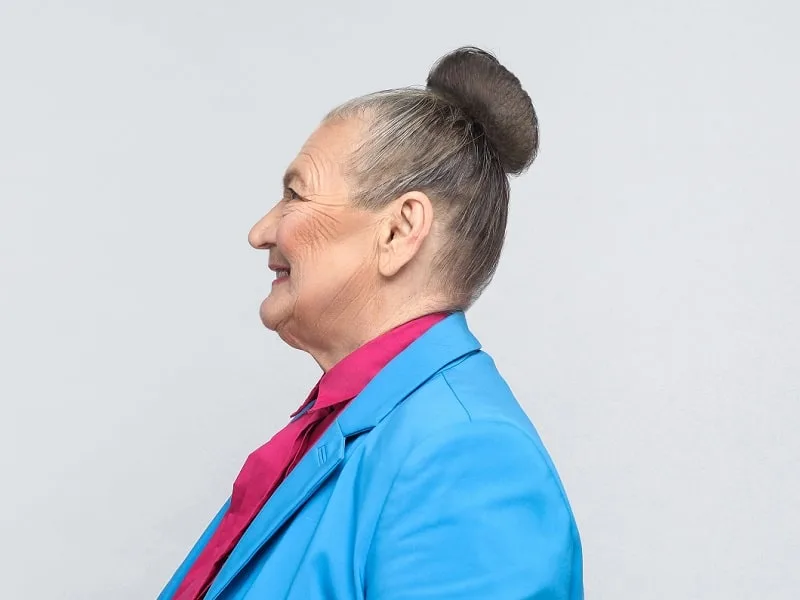 Those special occasions still come up when you get older – get dressed up with this high bun that makes thin hair look lush. It's a great way to rock your salt and pepper hair color.
22. Curly Thin Hairstyle for Over 70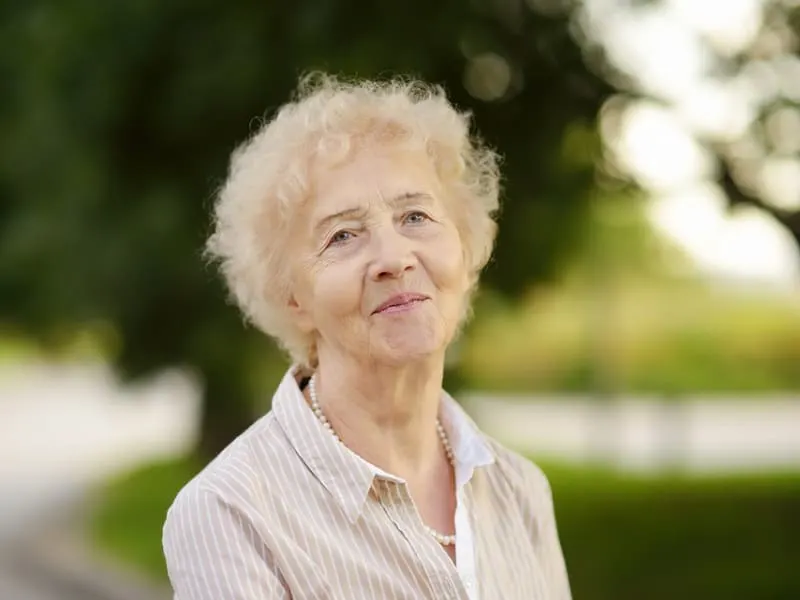 Your hair may be thinning, but if you have curls, you can still rock them. If you're a woman over 70, cut your hair to ear level and let it air dry to this soft waves.
23. Long Side Braid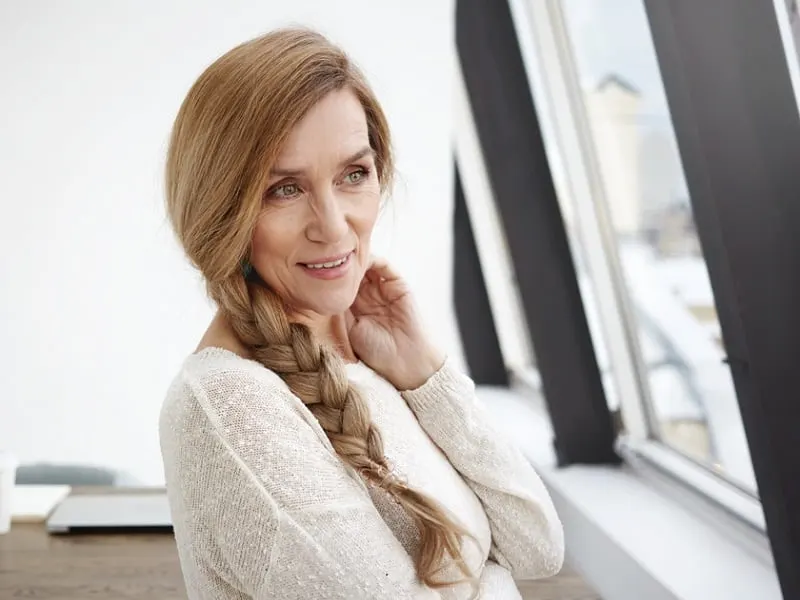 How long has it been since you've worn a side braid? Older women with medium to long hair can easily fashion this soft look. Keep it draped over the shoulder for timeless style.
24. Straight Bob with Bangs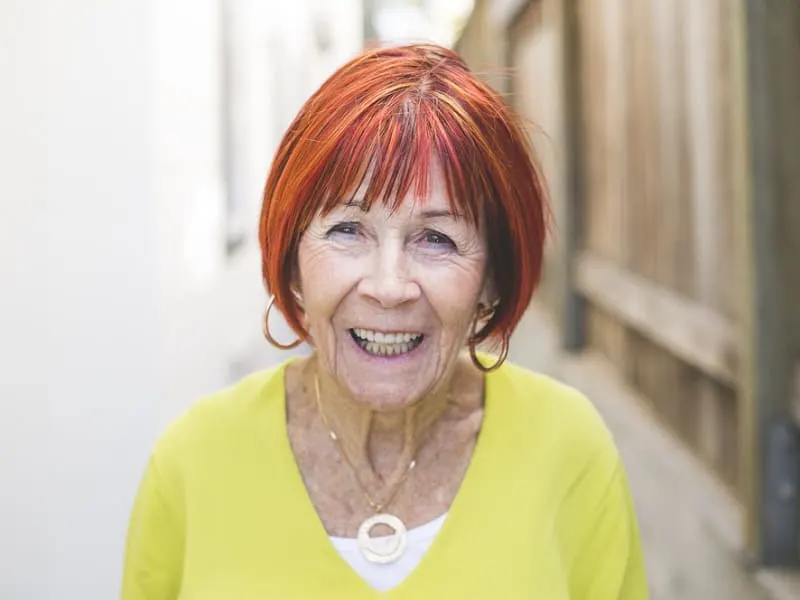 Maintain a balance of long and short with a bob. It's a manageable look perfect for naturally straight hair and the colorful style keeps you feeling youthful.
25. Off-Part Bob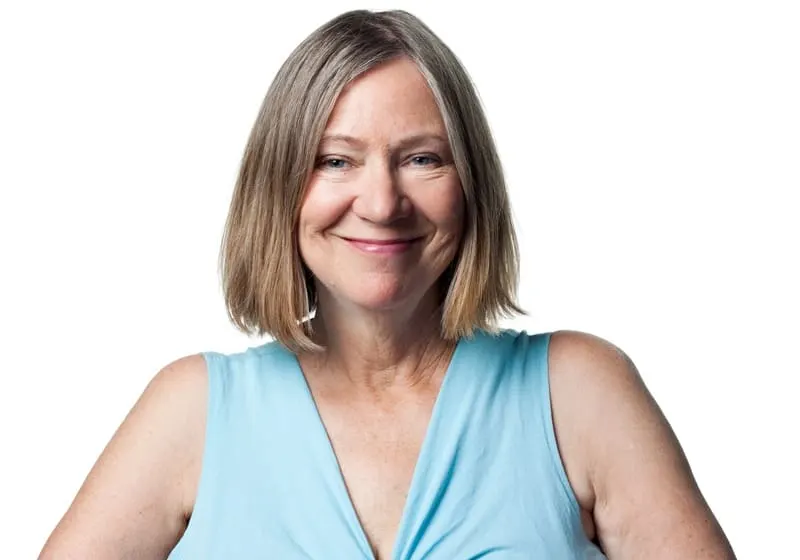 Forget the center and side part – this off-center part has more design to it and helps a straight bob stand out. The choppy ends add texture.
26. The Keaton Crop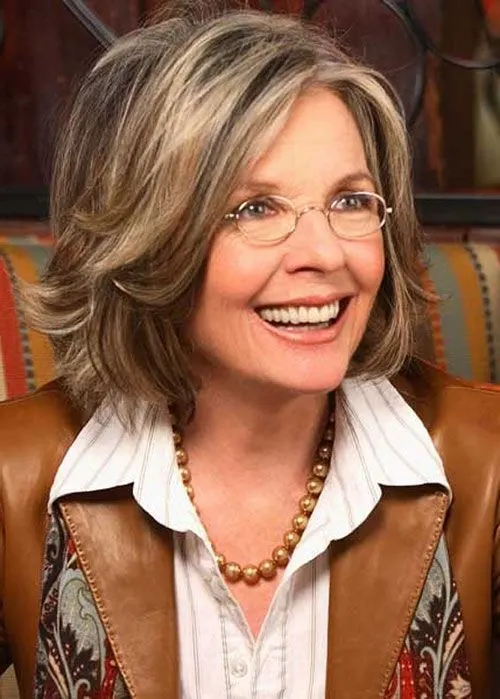 Honestly, Diane Keaton is single-handedly changing the definition of how hairstyles for older women should look. Her cute, flippy cut is a take on a layered bob, and it's beyond flattering.
27. Face-Framing Bangs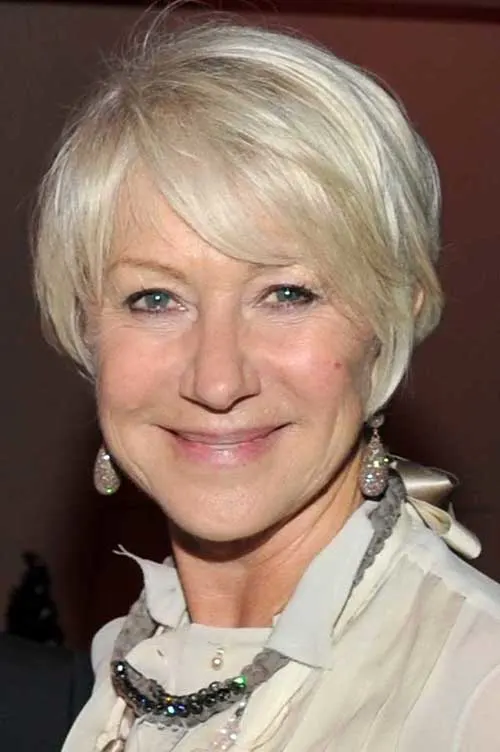 Because bangs do frame the face, highlight the eyes, and hide the forehead, they're ideal for older women. Younger women love them for the same reason. Whether they're hiding frown lines or pimples, bangs are lifesavers.
Short Hairstyles for Round Faced Women Over 50
28. Curled and Spiked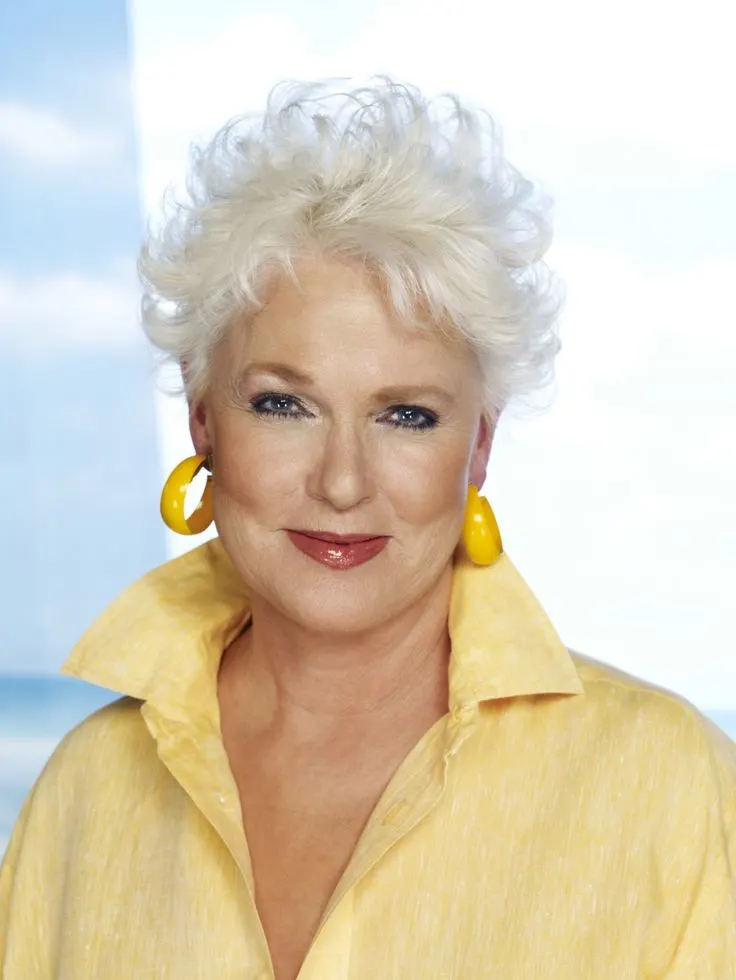 It's awesome to see a woman turning the curly stereotype on its ear. You can rock curls at your age without looking like a blue-haired old lady—just add spikes for some serious edge.
29. Bangs and Bobs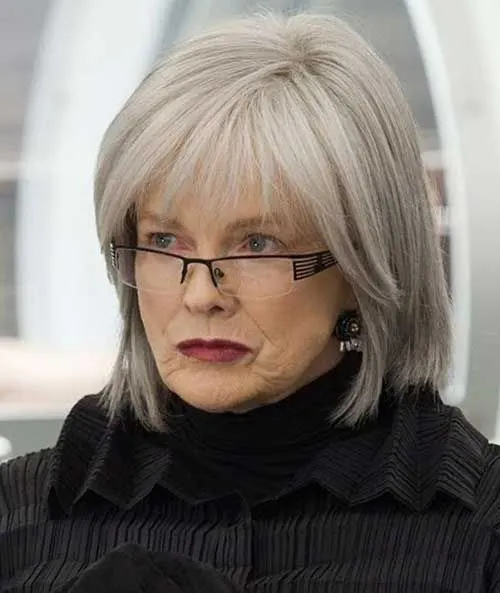 A traditional bob is a perfect compromise between long and short. Add some layers for lift and bangs for pizzazz, and you've got yourself a stylish, sexy hairstyle for older women.
30. Bob for Fine Hair
Take a page from Helen Mirren's hair book if your locks are on the fine side. Here's a perfect example of what kind of bob to get. The layers and long bangs are particularly on-point.
31. The Devil Wears Prada Style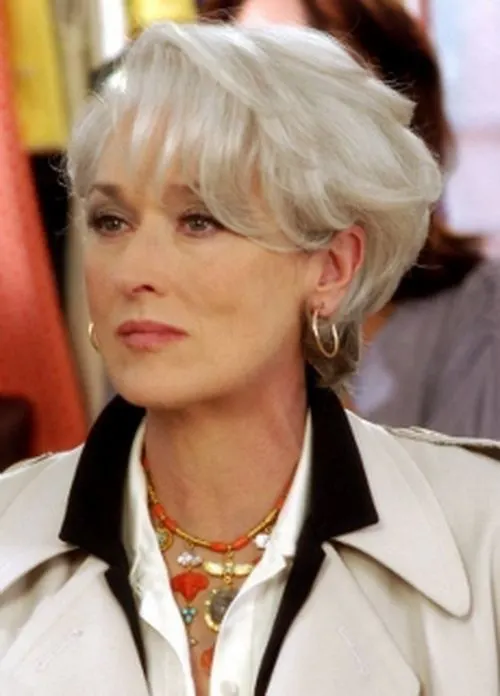 Meryl stole the show in The Devil Wears Prada, and Miranda Priestly's hair is partially responsible for that. A sleek silver coif with bangs and stacked layers in the back is flawless. Steal this.
32. Precious Pixie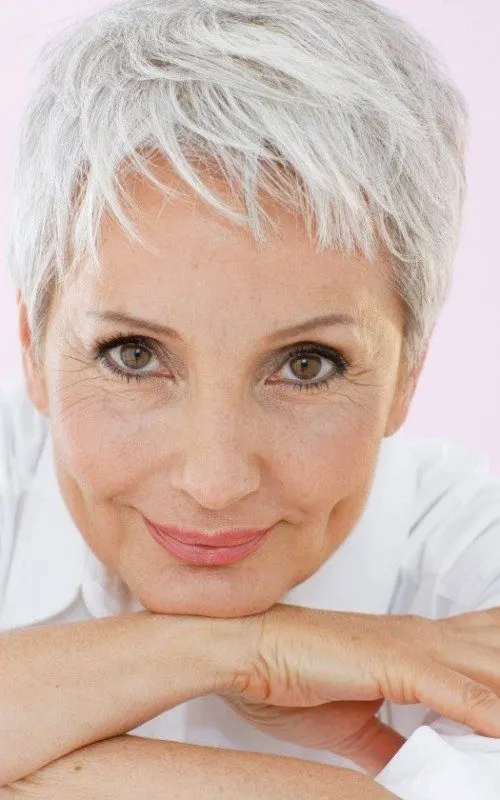 A pixie cut this precious works for any woman of any age. It's an especially fierce haircut for older women, however. It's easy to style, you don't have to wash it every day, and it's universally becoming.
33. Slicked Back Silver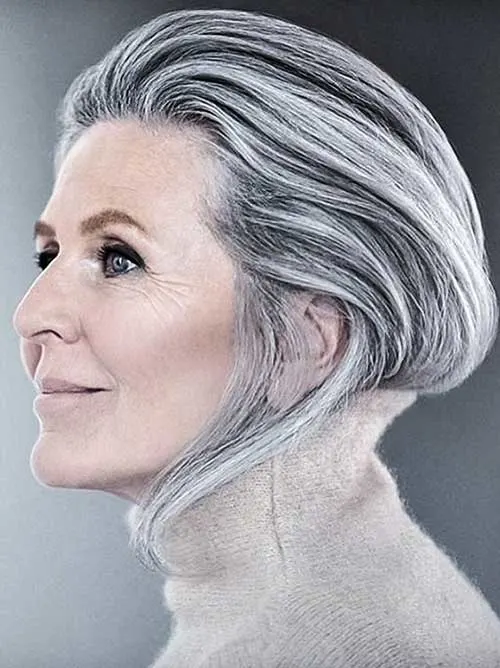 Everything about this hairstyle is on fire. It's fit for a queen. That silver shade is exactly why you shouldn't worry about hiding your gray hair, too.
34. Natural Curls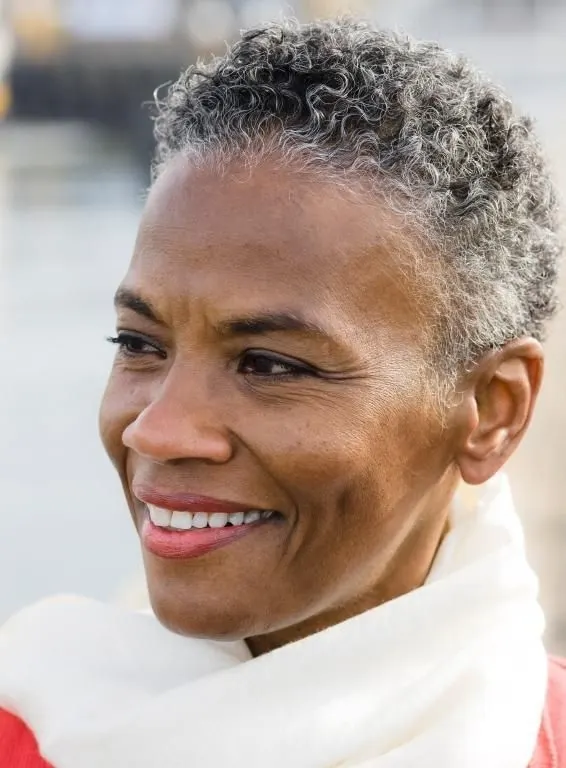 Natural is always gorgeous. Her finger curls are flawlessly styled and beautifully shaped, and you can tell that her protective routine is on-point.
35. Jamie Lee Short
Jamie Lee Curtis has been wearing her hair in a close-cropped pixie forever, it seems like—and it's no wonder because it works for her. There's nothing wrong with choosing a short hairstyle for older women, just make sure you give it some shape, structure, and edge.
36. Soft Flowing Side Part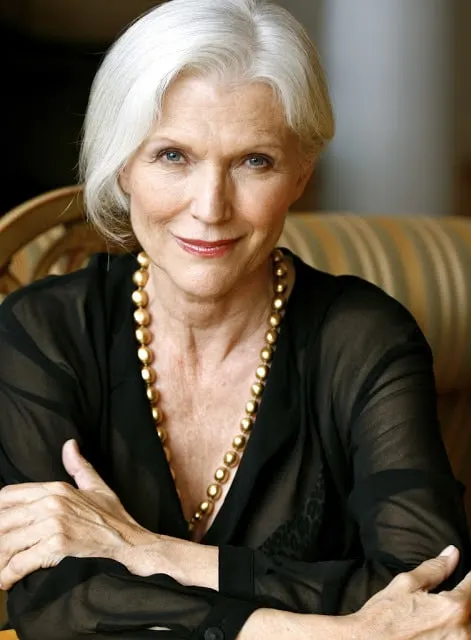 Here's an elegant, softly flowing 'do that no one will expect. There are several ways to pull off a style like this: if you have long hair, a loosely tucked bun or chignon will do it; or you can ask for an asymmetrical cut that's longer on one side.
37. Curls Upon Curls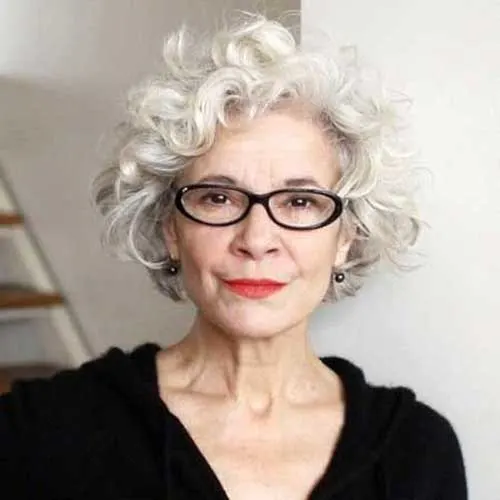 This is the way you do curls as an older woman. Natural, loose, and soft, they're nothing like the tight poodle curls that result from perms.
38. Long and Lush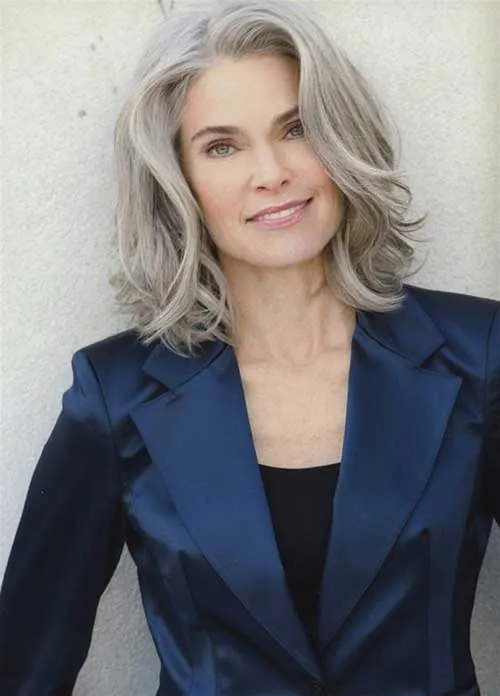 Don't cut your locks just because you're over 50. Long hair has no age limit, and it's lovely at any age. Keep your tresses long and flowing, just ask the stylist to shape your hair and cut some long layers.
The sharp lines of an angled bob define the face and draw attention to the eyes and mouth. It elongates the neck, as well. In other words, it's just a fierce hairstyle for older women, younger women, teens—everyone.
40. Short Afro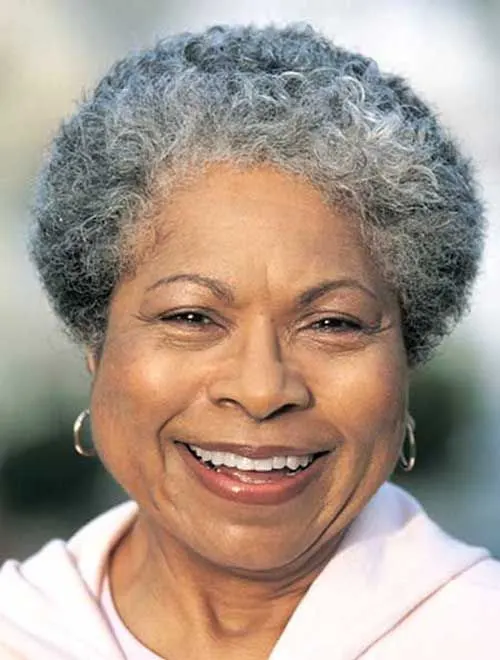 A short, beautifully shaped afro is ideal for older women embracing their natural hair. The structure really is stunning, don't you think?
41. Sleek and Sharp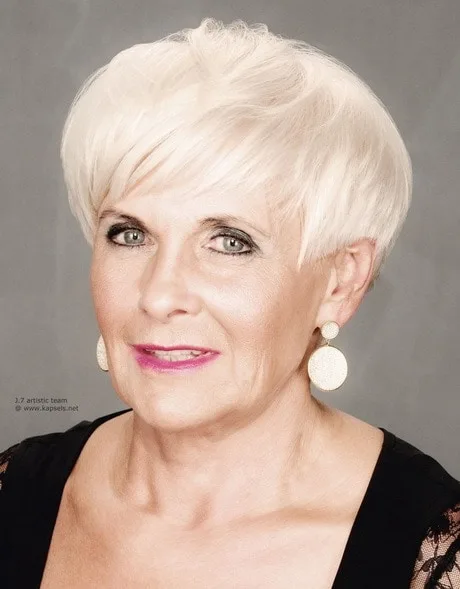 Everything about this coiffure is perfectly polished. Look at the trim over the ear—that is sharp! Because of the way you comb the hair forward, this style works well for women with thin or fine hair.
42. Trimmed and Tousled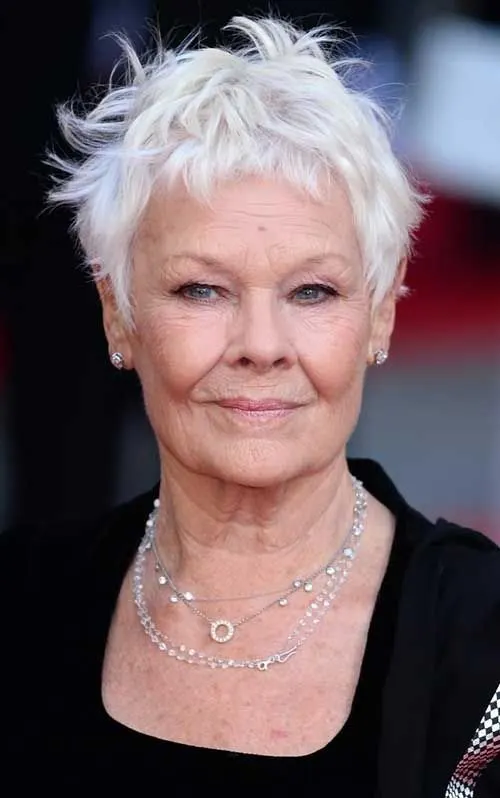 Judi Dench splashes out a punk rock hairstyle and it's definitely gorgeous. Her tousled pixie is the best example of a bedhead ever.
43. Elegant Curls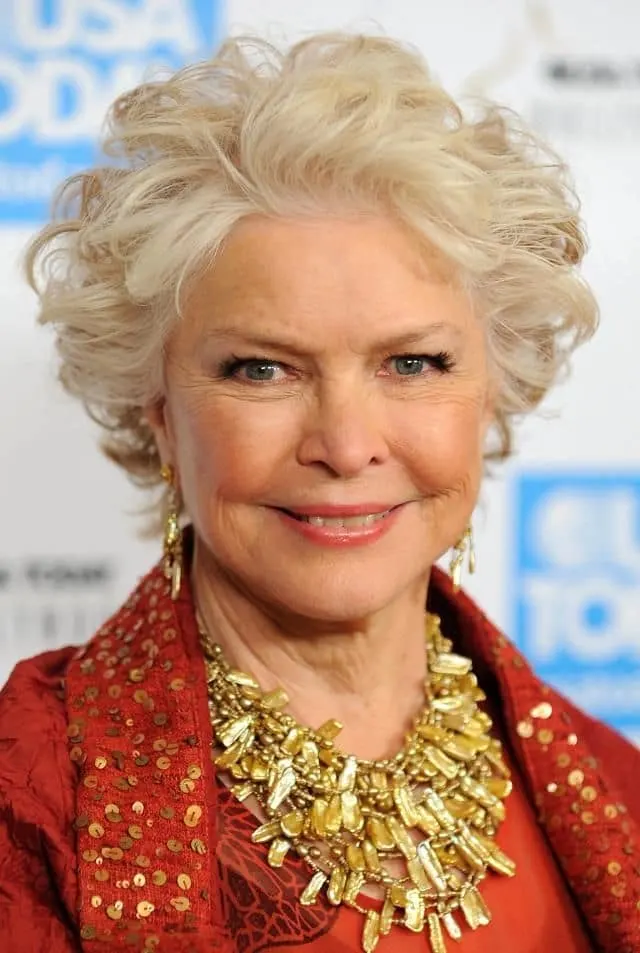 Remember, the key to wearing curls is to make them natural. Loose, soft, and flowing—that's the combo you want.
44. Spiked but Sophisticated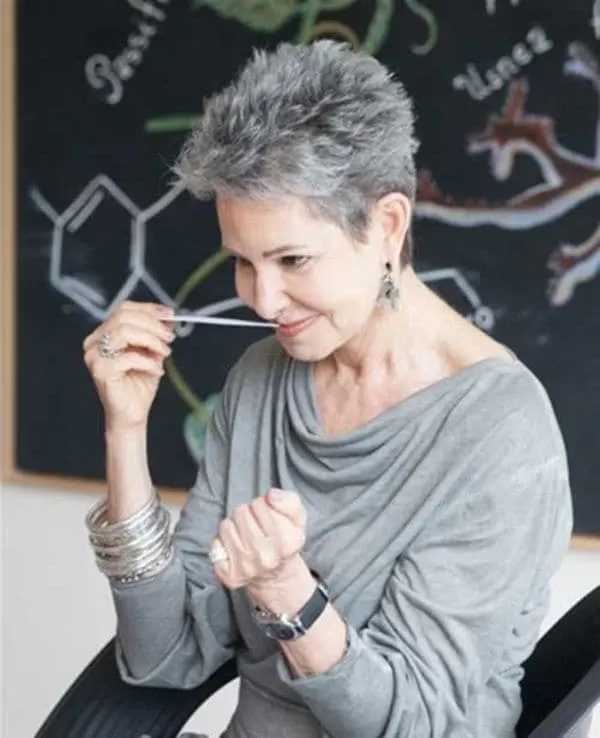 Who knew that spiked haircuts for older women could look so sophisticated? The pewter shade of her hair is fire, too.
45. Longer Pixie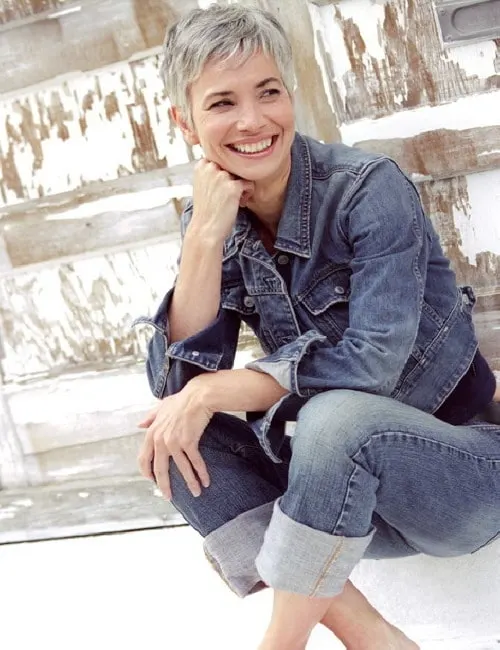 You don't have to get a full crop, you know. A longer pixie like this one is stylish, modern yet age-appropriate, and it's kind of sexy.
Which Hairstyle Length Is Best for Older Women?
Well, society obviously says that the only acceptable hairstyles for older women are short. The honest answer is that both long and short styles are best for older women. Simply put, whatever you like is the best option. If you're 60 and decide to crop your hair, dye it pink, and spike it, good for you.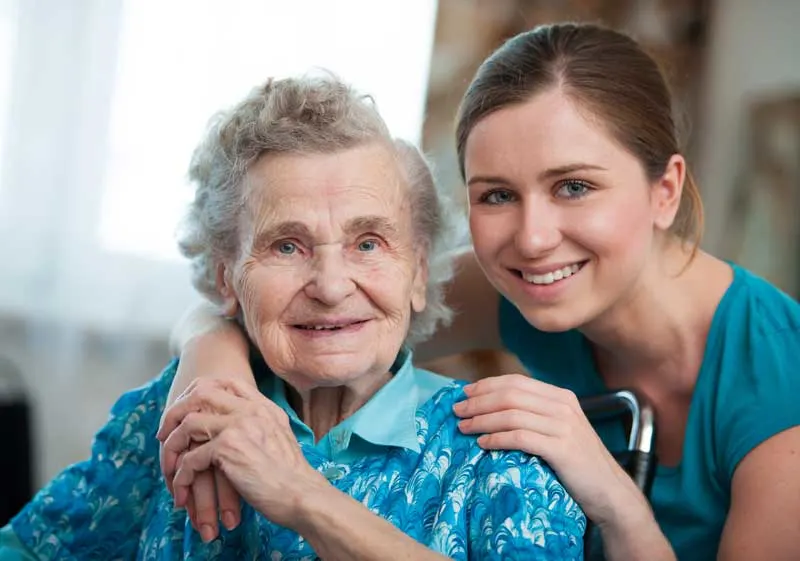 There's no right answer here. It's a personal preference. Fortunately, older women in the spotlight are enthusiastic about breaking boundaries and shattering stereotypes. Women of a certain age on television, in the movies, in the music industry, and in fashion wear hair of every imaginable length and style.
Respectful Short Hairstyles for Older Women
Your hairstyle depends on your hair, your lifestyle, your personal style, and how much time you want to devote to it. Some older women prefer short hair because, over time, the body produces less of the natural oils needed to keep the scalp moisturized and the hair lustrous.
For other women, that isn't a concern, and they happily grow their hair as long as they like. Do what looks and feels fantastic.
Which Hairstyles Are Best for Older Women with Fine Hair?
Fine hair doesn't have to confine itself to a single style. Many haircuts for older women with fine hair are on the longer side, while others are pixie short. Again, it comes down to personal preference.
The best styles for fine hair run the gamut—bobs are ideal, especially if they have long layers, but for the most part, mid-length hair is better. Try an inverted bob with a center part. Avoid anything too long only because long, fine hair can look thin and scraggly.
If, however, your hair is fine but thick, then a longer 'do is perfect, but stay away from shorter ones. Short styles are best for fine, thin hair.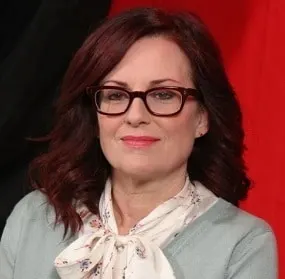 Glasses often make the haircut. They can add an edge or an intellectual vibe based solely on their design. Long, short, and medium-length styles all look fantastic with glasses. However, if you have long bangs or a fringe, that's going to hide your glasses and impede your sight. Bangs are perfectly acceptable, but keep them short enough to see clearly. Otherwise, bobs of all lengths complement spectacles, as do pixie cuts.
Glamorous Hairstyles for Women Over 50
Youthful or Respectful – What to Pick?
What are you? Are you young at heart, or do you embrace the dignity of age? Your answer to that question factors into which hairstyle you pick. To show off your youthful side, trendy hairstyles, vibrant colors, and the bucking of conventions are all yours. For a more dignified, respectful coiffure, you can go with the traditional short, permed cut, a neat bob or pageboy, or a hairstyle that keeps your long hair tidy, such as a bun or a braided updo.
Clearly, old women hairstyles can't be easily defined. Wear your hair exactly how you want to wear it. Being happy with yourself is the only thing that matters.