There's something about glamorous finger waves on a black woman that looks so elegant and pretty. Mastering the finger wave will always leave you stepping out of the house looking like a million bucks, and we've come up with a few different finger wave hairstyles for inspiration.
How to Do Finger Waves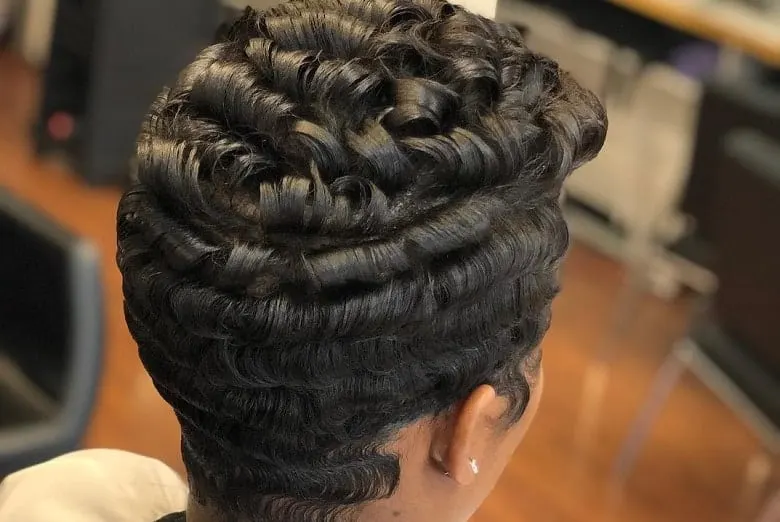 Doing a classic finger wave hairstyle for black women is a lot easier than you may think. There are only a few steps that need to be followed in order to achieve a darling finger wave look:
First and foremost, you need to start with damp/wet hair. Make sure it's not overly wet and dripping. But the hair MUST be moist, or the hairstyle will not form.
Next, you want to comb all hair straight back, then either off to the side or down the middle. Beginners may want to start with the side as it will be easier to form the iconic 'S' shape.
Place a handful of products in your hair. The gel is always an excellent option, although other products may be used as well.
Using two fingers, create the infamous 'S' shape. You'll want to go forward in one direction with a 'C', then follow with another 'C' in the opposite direction.
Continue this process until all of your hair is completed. Remember it is easiest to start with the front section of the hair, going backwards to the ends.
To set this hairstyle in stone, you will want to dry it completely before stepping out.
Watch The Following Video to Learn How to Do Finger Waves Hairstyle
Difference Between Finger Waves and 360 Waves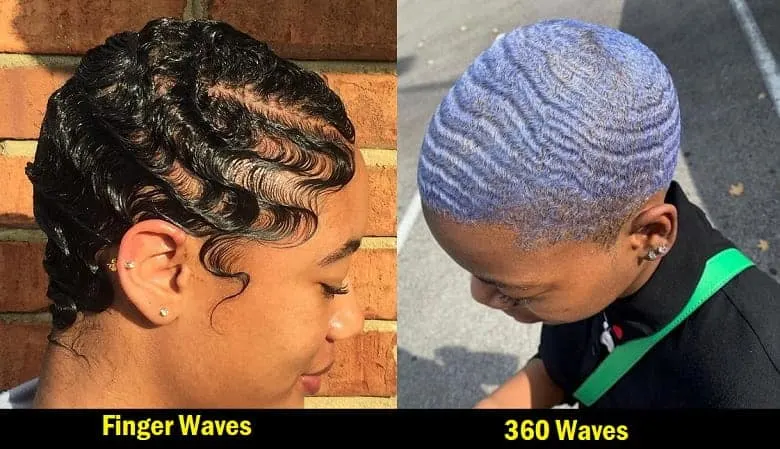 If you are looking into finger waves you may come across a hairstyle known as 360 waves. The two hairstyles do have their similarities, but they are very different.
The way a 360 wave looks differs from finger waves in the way that they have a ripple-like texture. And instead of styling the curls to have an 'S' shape while wet, the person trains their hair to lay completely flat by brushing and combing repetitively. By doing so, the hair is flattened down to the scalp and provides that rippling structure.
Elegant Black Women's Finger Wave Hairstyles
Following are the latest finger wave hairstyles ideas that black women can sport like a pro.
1. Side Part
Even though finger waves appeared for the first time in the 20s, the hairstyle began to raise popularity again in the 90s. Therefore, you can use the technique to style a modern side parted hairdo with retro influences that will blow everybody's mind.
2. Two Waves
One of the greatest parts about this wavy hairstyle is that you can pull it off on all hair lengths. That also includes such a fabulous thick and long mane like the one above. You will need a load of hairspray and fixing products that will make your hair preserve this shape for a longer period.
3. Pale Pink Pixie
This finger waves hairstyle for black women is a real work of art. To recreate it, you will need to define the small channels created by the comb. For that, your hair needs to be soaked in pomade or other styling products that you prefer to use. Also, the color plays a huge role in making this hairstyle look exquisite.
4. Elvis Pixie
If you want to be a rockstar, you certainly need to start with your haircut. Therefore, getting this pixie haircut with a longer top and blonde highlights will take your look to the next level. Use the curler and some styling spray to create more texture and make the hairdo last the whole day.
5. Crown Large Waves
One thing is for sure, black women really know how to take advantage of their natural hair and know how to blend hair extensions to make their hair look fabulous each and every time. To pull off this look, you will need to style finger waves for the crown area and attach a ponytail to the back.
6. Lollipop Look
This is certainly one of the best finger waves hairstyles. To recreate it for black ladies, you will need to style highlights using different shades of pink. This lollipop look is a real game-changer, and it will get all the attention it deserves.
7. Platinum Blonde Waves
Platinum blonde hair color is a great choice you should consider if you are a black woman with short hair. Bleach and dye your hair and use a fine-tooth comb to build the waves. The hairstyle will channel all your glam and fierceness.
8. Half Side Waves
If you're aiming for a look that makes you fierce and creates quite a statement, you should go for a pixie bob hairstyle. This way, on one side, you can create the finger waves and strengthen the longer tresses for the other section of your hair.
9. Retro Look
This 20s-inspired look will give black women such an elegant and glamorous vibe. You need to get a bob haircut and style big curls using a large curler if you want to pull this off. Also, build some dimensions for the top.
10. Waves and Curls
Combining curls with finger waves is a marvelous choice for any black woman who wants a hairstyle that grabs attention. Versatility is one of the main characteristics of such hairdos because it allows you to combine ringlets with straight hair or braids.
11. Ultra Short Red Hair
This finger waves hairstyle for black women requires you to bleach your hair. This way, you will be able to get that electric red shade. The hairstyle is a bold statement but be careful because it is not really too low maintenance.
12. Buns and Waves
Black women adore finger waves, and they use this technique to create mesmerizing hairstyles. Use the forehead hair to create your waves, and for the other section, style a high braided bun. Use plenty of your favorite jam to make your strands more manageable.
13. Dark Purple
One of the best things about finger waves is that you can pull them off on both long and short hair. So if you have a pixie cut, this will allow you to style the hairdo easily. To spice things up, you can also so get dark purple highlights.
14. Multicolored Waves with Ponytail
To achieve such a spectacular hairstyle, you will certainly need a few hours to spare. First of all, choose the colors for your highlight and dye your hair and your faux ponytail. Secondly, create the finger waves for the top and style intricate braids for the pony.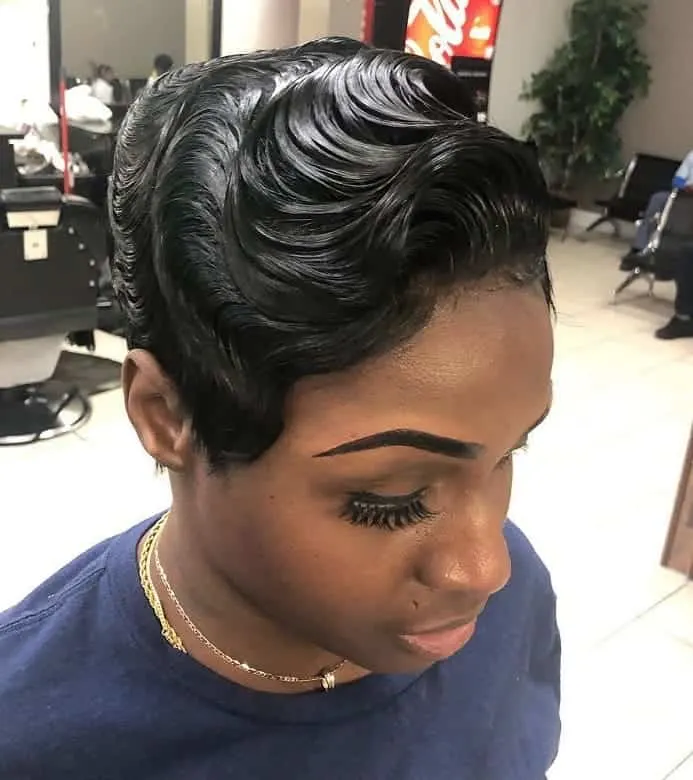 The most common type of finger waves will be extremely short with no extra length left for styling. While super short finger waves for black women are traditional and posh, leaving a little extra length on your tresses allows for more depth and uniqueness when applying your finger waves.
She keeps just enough length for dimension and height, which pairs well with a perfectly sculpted eyebrow.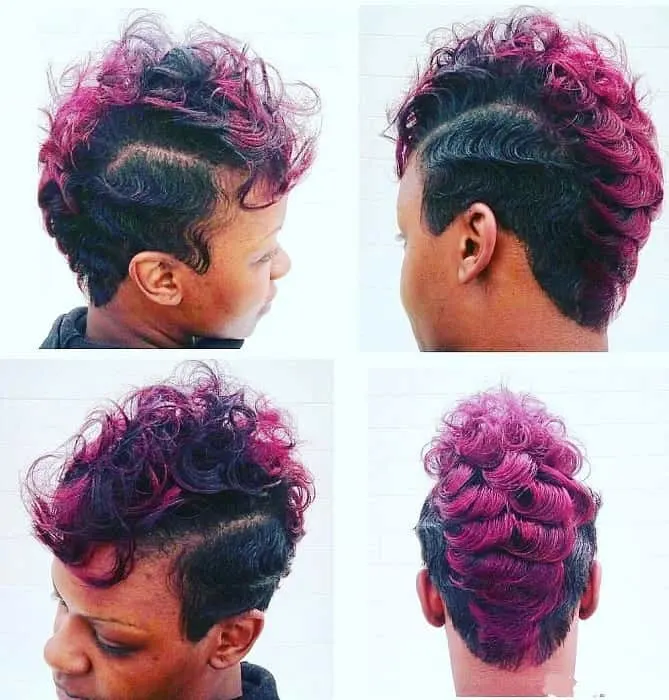 Edgier ladies that want an out-of-the-box, eye-catching style may want to try this enticing finger wave mohawk. This hairstyle is loaded start to finish with some incredible height and modern dimension. To add an extra dose of high-end style, she tosses on some rock star hot pink hair to keep things interesting.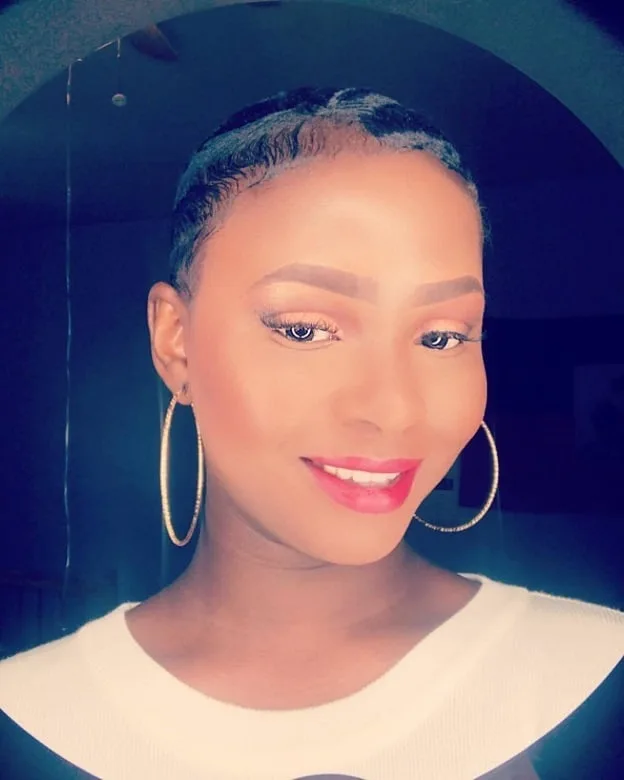 Shaved down to an extra short pixie, she still leaves a few tresses for styling. This Black woman's finger waves are contemporary and cute, the perfect mix for a lovely woman. Not only is this style classy, but it's also easy to take care of and can be pieced together in a flash.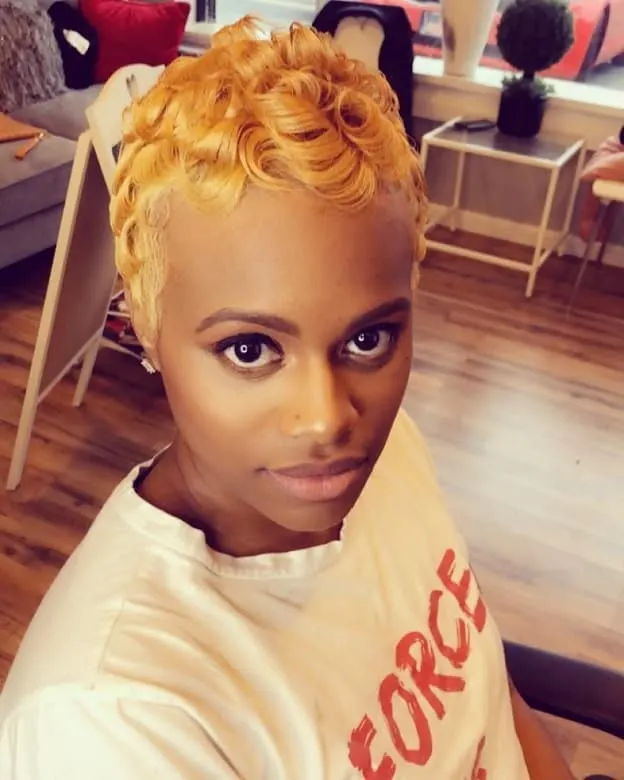 One easy way to give your hair a boost of flavor is to douse it in a neon hue such as this. Bright orange is an excellent option and will play off of a black woman's darker tone easily, much as neon pinks and reds will do also.
Adding color makes black women with finger waves hairstyle fun and completely unique to you and your style, so we encourage it as much as possible!
19. Classic Finger Waves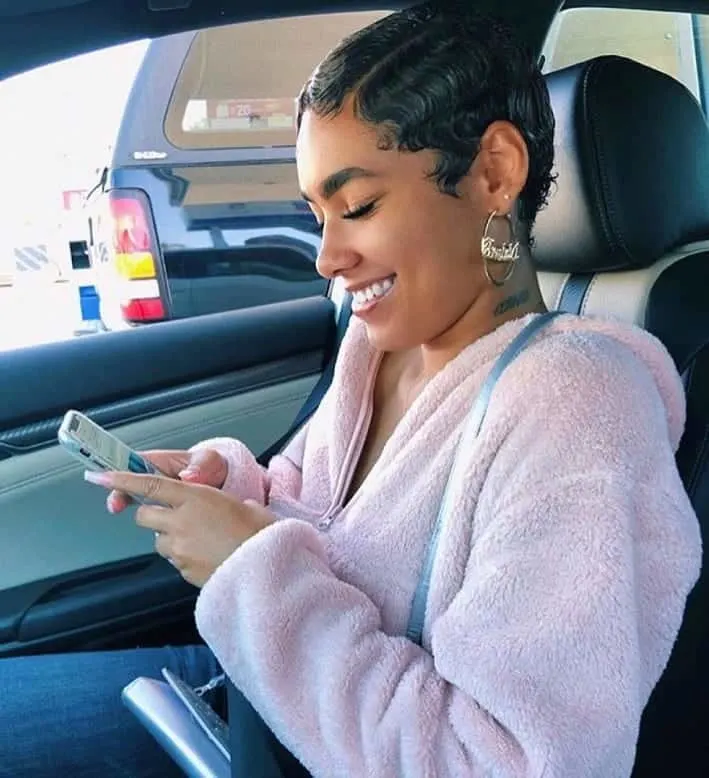 If you're looking for the traditional finger wave as short natural hairstyle for black ladies, this is it. The hair is just long enough so you can see the classic 'S' shape of a finger wave 'do, and the sleekness if very apparent. This look is as charming as it gets and looks great on any black woman.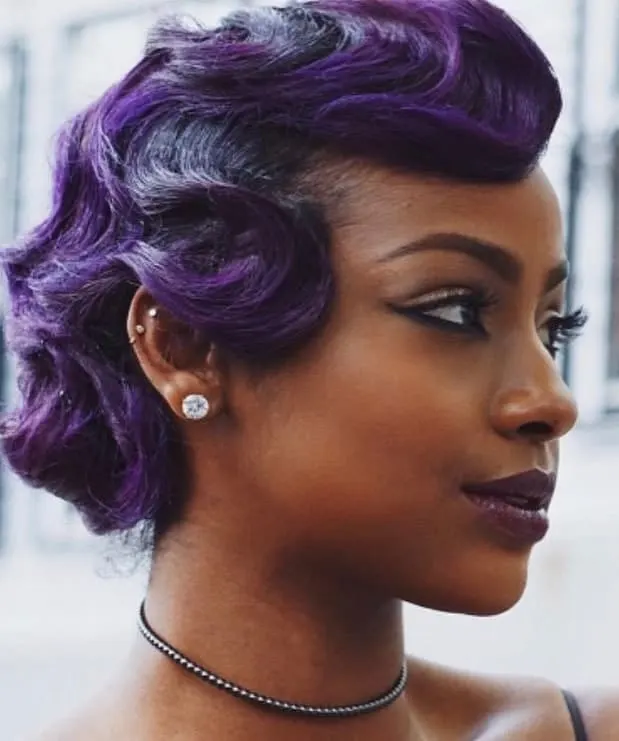 Finger waves on black women's hair don't always have to be short and close to the head. In fact, we encourage you to go beyond the traditional finger wave hairstyle from time to time and indulge in something a little bit more fun!
These finger waves with purple balayage hair are oozing with elegance and pristine style, which is why they've been given the name 'Hollywood finger waves'. It's a style that's been seen on many lovely black celebrities and models, and we say give it a shot!
Empower this look a step further with some eye-catching colors, such as this intense shade of purple. It went well with black women's skin tone and paired with a purple lip and exotic eye makeup, you have a stunning finish that is good enough for the American Black Film Festival.
Finger waves are one of the most prominent hairstyles for black women. They have the appearance of elegance and sophistication and can be worn anywhere- whether you're headed out to the office or going out with friends for the night.
Creating finger waves may be a challenge at first, but with persistence, you, too, can create these darling finger waves for black women and wear them every day!