Although flappers helped to popularize finger waves on short hair, the style is also a glamorous go-to favorite among women of color, whose hair texture turns body waves into softly curled works of art.
It doesn't matter if you're dressing up on a Thursday just because, preparing for Sunday service, or getting ready for a date—finger waves are fashionable, fierce, and flawless when done right.
What are Finger Waves?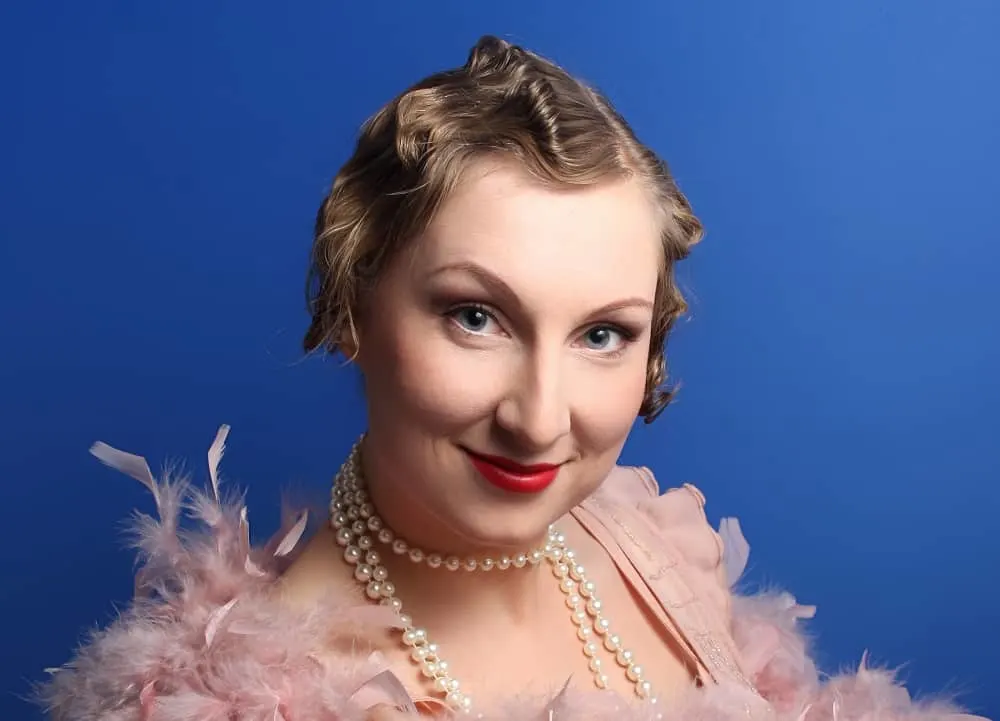 Finger waves are waves you sculpt into hair with fingers and tools such as combs or picks. The hairstyle dates back to the ancient Romans, but most people today associate finger waves with the 1920s and flappers.
Products and Tools Required
Plenty of tools make finger waves easy and manageable at home, but there are a few that you cannot go without to rock this vintage look.
You will need a comb and a solid product to hold your hair in place. If you become very experienced and have the right hair texture, you can do finger waves with hairspray and a regular comb.
However, beginners need a rattail comb and a strong holding gel. Additionally, beginners will have an easier time with finger waves if they have pins or clips, a hairdryer, and some mousse to mix with the holding gel.
How to Do Finger Waves with Short Hair
If you want to do finger waves on short hair, use the following steps:
First, comb your hair into the part you want your finger waves to originate from. This part will give you a guideline to work off. Next, place your holding product onto the tips of your fingers. The amount you will need depends on the product's strength and your hair type.
Then, work the product into a small section of hair, no bigger than you want the side of the wave to be.
After that, use your comb to hold the center of the curve in place. Use your fingers to sculpt the top of the wave. The shape should look like a "C" against your scalp.
Next, add more product to your hair, place the comb underneath the curve you created, and sculpt another wave in the opposite direction. Eventually, this will give the waves an "S" shape.
Continue adding curves to your hair in this manner until you reach the bottom of your hair.
Don't stop working on your hair if the gel is still wet. Either wait for it to air dry or speed the process up with a hairdryer.
Lastly, you want to hold your finger waves in place. Despite the gel you worked into your hair, you still want extra hold. Consider decorative hair pins or clips. Otherwise, you can add liberal amounts of hairspray.
Watch The Following Video to Learn How to Do Finger Waves on Short Hair
Short but Chic Finger Wave Hairstyles
So, you've got a cropped 'do, and you're interested in a new, stunning style. Regardless of length, finger waves in short hair will always stop the show.
Add them to a bob, a pixie cut, or something in between—just make sure you know what you're doing or that you visit a stylist in the know because otherwise, those curls are gonna fall.
1. Vintage Finger Waves
If you are a fan of retro looks, this 1920s finger waves style for short hair will win your heart in an instant. Once you styled the waves, don't forget to curl the ends of your mane.
2. Finger Waves on Blonde Bob
Recreate those glorious finger waves on bob haircuts by using a conical iron, and once the curls are done, use hair clips to get the desired shape. The procedure is not as easy to pull off for longer hair, but you will obtain a similar look.
3. Great Gatsby Finger Waves
Get a vintage short finger wave hairstyle by building a marvelous bun in the low back. Use your bangs and some pearled bobby pins to recreate the waves. If you are attending a Great Gatsby party, this is one of the best ways to nail the perfect look.
4. Finger Waves on Long Hair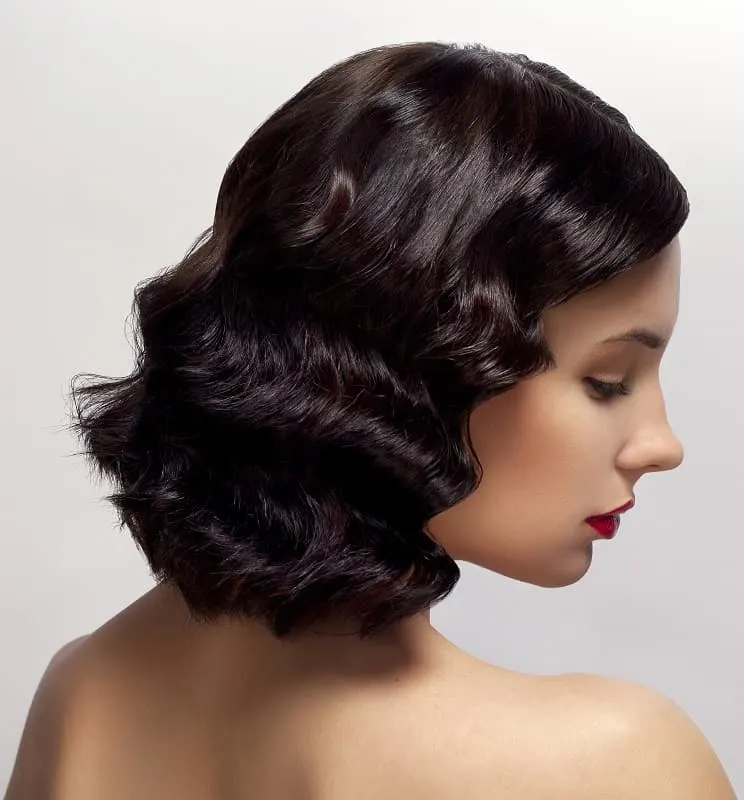 Finger waves are a great styling option for short hair that measures between 2 and 4 inches. If you love them so much and want to recreate that effect on longer hair, style similar waves, and use some product to make your hair look sleek.
5. Dark Red Finger Waves
Finger waves on short, thin hair are a great way to revive retro looks and to transform them into eye-popping modern hairdos. Opt for a dark red shade and use plenty of accessories or just a pair of big rounded golden earrings.
6. Finger Waves for Caramel Hair
If you are a black girl that needs a dramatic transformation, this is your chance. Bleach your hair and dye it in a light caramel shade. Use plenty of moisturizing and fixing products and build those fabulous finger waves.
7. Pastel Purple Finger Waves
If you are aiming for something fresher that astonishingly blends a retro coiffure with modern hues, go for a pastel purple color. This short hair will make you feel feminine and will show off your self-confidence.
8. Demi Lovato Finger Waves
Demi Lovato is well known for her flawless appearances on stage and red carpet. These are no ordinary finger waves, so you will only need just a little bit of pomade and a curler. Instead of making your hair look wet, get the same shape for your waves and keep them voluminous.
9. Wet Waves
Finger waves are a retro hairstyle that is blowing up again this year. Combined with dense feathered eyebrows, a wet wavy look is an ideal choice for a woman with blonde hair. Use hair gel and a fine tooth comb to perfectly place and arrange your waves.
10. Blonde Short Hairstyle
Finger waves are perfect for short hair, especially because they give you the opportunity to make them slightly messy. Sometimes the greatness lies in these flaws that make a hairstyle look incredibly cute. Wear a hat somewhat on one side, and you'll have the perfect outfit for a formal party.
11. Black Woman Waves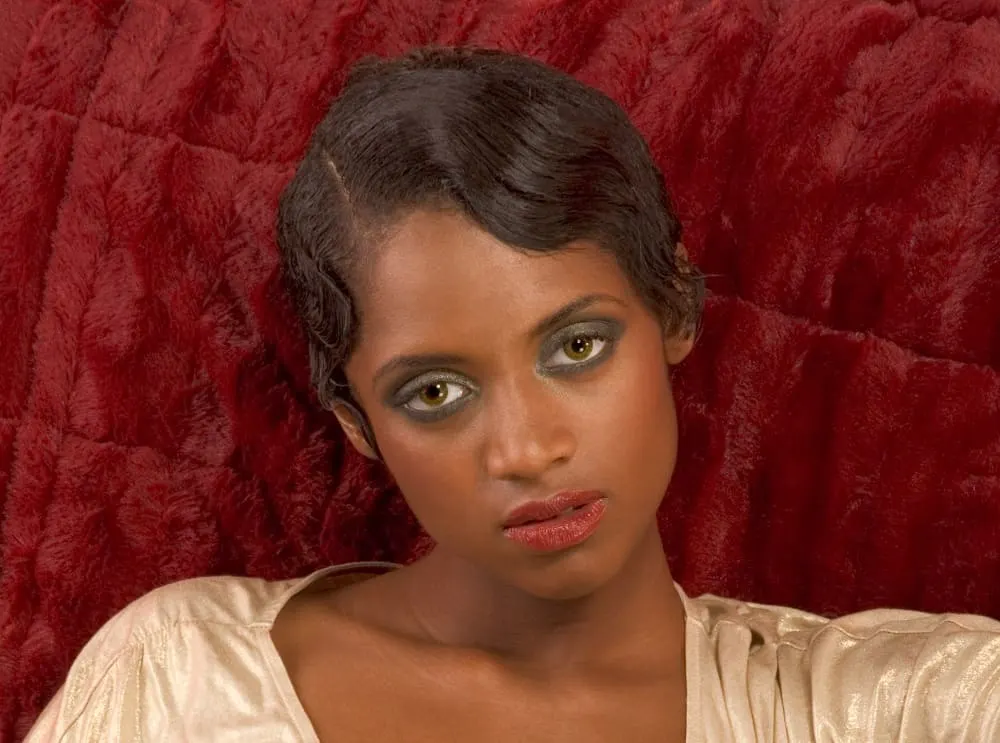 If you have naturally coarse hair, don't fully straighten your locks, especially in the root area. Use a fine tooth comb and use the other end to create the parting and wave the hair. Use protected bobby pins or clips to hold the strands, and add pomade and jam to make it hold.
12. Zendaya's Short Waves
The talented Zendaya actress is stealing the spotlight with every red carpet appearance. She sports fabulous looks, and the one that really got the attention was a short hairstyle with finger waves. She had a part on one side and glamorous shiny waves.
13. Honey Waves
Finger waves on short hair arguably look better than they do with long hair. This type of curl is finicky and quick to fall under too much weight, after all. Short tresses allow the waves to hold their shape and position for a longer amount of time. I also love the honey blonde, by the way.
Elegant & Chick Short Choppy Hair for Girls
14. Platinum Fierce
There's something about finger waves and unexpected hair colors. I don't know what it is, but it's always eye-catching. Dark roots fade to platinum blonde so pale, it verges on silver. How gorgeous is the contrast with her skin?
What did I tell you? Bold colors and body waves go together in a way no one could have possibly imagined in the 1920s when this hairstyle was first popularized.
16. Curls Up Top
On the surface, this powder blue coiffure doesn't look any different from other finger waves in short hair. Check out the top, though. That collection of curls, almost in the shape of a faux hawk, is definitely a modern detail.
17. Shaved Sides
Rawr! Talk about a modern take! The waves up top are on point and slick to death, but they're absent on the sides because this stunner is rocking an undercut. Honestly, this is one of the most imaginative undercut styles I've ever seen.
Picture Perfect Short Curly Wavy Hair
18. That Dip
Not all finger waves are small, tight, and sculpted. It's easy to make them bigger, wider, and fuller—and to create a to-die-for dip like this one. It lends a slightly masculine edge to the hairdo, and hot dog does it ever work!
19. Almost Bangs
See this? Emulate it. This is exactly the way finger waves on short hair should look. There's even a retro, throwback flair here, thanks to the waves themselves, the dramatically arched eyebrows, and those beautiful bow lips.
20. Messy and Modern
Forget the old rules. Who says your waves have to be flawless and precise? Wave the sides of your hair, but spike the top and leave it a little tousled. The juxtaposition is fire.
21. Ringlets and Waves
Waves aren't usually full curls, hence the name. They wave and undulate through your hair. Add a few coils and curls, however, and your coif becomes something remarkable. Somewhat wavy, somewhat curly, but all stylish.
22. Loose Waves
If you don't have the patience to create such a time-intensive hairdo, opt for deconstructed finger waves on short hair, instead. Doing this involves the same overall shape of the wave, but it's looser and not nearly as structured.
23. Waved Bob
Pairing waves with a short, blunt, bob-length haircut is right on-trend with the revival of the 19290s. It's a superb formal hairstyle, but if you have the time and feel like setting your hair, then it's just as ideal for a random Wednesday. Basically, anytime you want to look and feel glamorous, finger waves will take you there.
Fun & Fabulous Short Stacked Bobs
24. Over the Forehead
Arranging waves on your forehead is a bold choice. It has the appearance of a crown. You don't need any hair accessories with something like this.
25. Flipped Over
What if your hair is short on one side and longer on the other? No problem! That's the beauty of finger waves in short hair—they're versatile, so your hair can be versatile, too. Check out that pout—she knows she's cute.
26. Curly Crop
Even if your hair is cropped shorter than short, waves are still a possibility. They might not be as pronounced, and some tendrils will probably curl rather than wave, but you can't say this isn't a bomb look.
27. Waved and Hawked
I really love the combo of finger waves on the sides and a spiked faux hawk up top. It's that modern meets vintage aesthetic, y'all, I just can't resist it.
28. Sleekly Side Parted
You've gotta love a wave with a high sheen. It's glorious. Each wave here is perfect, precise, and on-point, but the side part amps it up to a higher level.
29. Flapper Fun
The blonde is optional, of course, but flappers were well known for wearing finger waves in short hair due to the androgyny of it all. This lovely lady needs nothing more than a flapper dress and a strand of knotted pearls. Maybe a feathered headband, too.
30. One Curl
Ooh, girl! That one single curl, right in the middle of her forehead—but this coiffure is anything but horrid. Also, check out her smize!
Finger Wave Styles for Long Hair
FAQs
Read these frequently asked questions to learn more about finger waves.
Can I do finger waves on short natural hair?
Yes, natural short hair works exceptionally well with finger waves. Short hair uses the same process as long hair but has fewer curves to add. You might consider making the curves smaller on short hair so that you can have more waves, but this isn't necessary.
How long can finger waves last on short hair?
It depends! The product you use, the hair type you have, and how active you are while sleeping all contribute to how long your finger waves will last.

The longest that finger waves can reasonably last on short hair is about four days. Any longer than that, you would want to wash your hair anyways. The good thing about finger waves is that you can quickly and easily add them back to your hair after washing it.
Do I have to relax my hair for finger waves?
Depending on your hair length and hair type, you may have to relax your hair to get finger waves. You can style it without relaxing if you have short hair.

If your hair is at least a couple of inches long, you will find it much easier to do finger waves if you relax your hair. You don't need to take this extra step if you have naturally straight hair.
It's safe to say that finger waves on short hair are timeless. They've been around forever, and they're not going anywhere. Do you love the vintage appeal of this hairstyle?
You May Also Like