Curtain bangs, aka Bardot bangs, are being preferred by many women. However, the latest reports show that the bangs have made another yet big comeback with some improvements.
Some may say that curtain bangs haircuts are not classy, but they are a way of life. But take it this way, most red-carpet regulars like Alex Chug have been rocking this hairstyle for years now.
Other renowned celebrities and slay queens have learned just how sophisticated these bangs can be. Therefore, we will give you some of the stylish cuts and styles of Curtain Bangs for women to wear for a great look.
How to Style Curtain Bangs
Curtain Bangs can completely transform a woman's look. When done correctly, they boost a style; however, when wrongly done or wrong kinds of bangs are selected, they can have bad results. The below video tutorial will help you understand how you can style the curtain style bangs the right way.
Popular Curtain Bangs Hairstyles
If you are planning to have this haircut, it is essential to be knowledgeable about some of the different hairstyles and select the one that will look great for your hair length and type, skin tone, and face type.
We can help you out. Below we have compiled a gallery of various hairstyles for women with curtain bangs. So be sure to browse down and see the classic collection we have for you.
1. Fresh Copper Hair with Curtain Bangs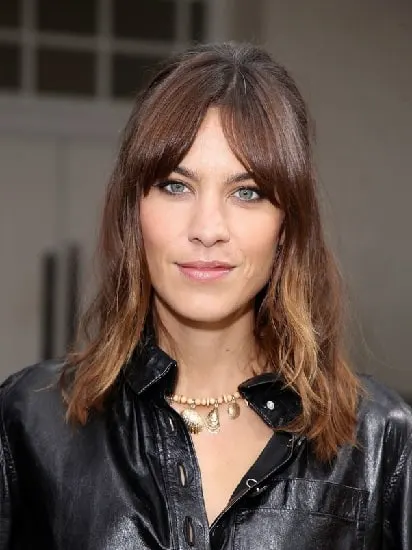 This is a fresh-looking coper hair with curls. The style is styled at medium length to avoid much weight. Besides, the curtain bangs are incorporated to frame the oval-shaped faces. Undoubtedly, bangs and fresh copper are a perfect combination.
2. Half Up with Long Curtain Bangs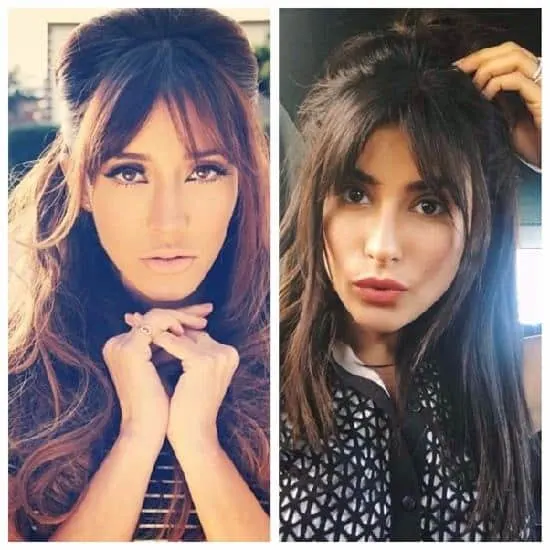 If you are blessed with extended hair and want to take it to the next level this year, this cut will do magic for you. The results are exciting when paired with a 1960's haircut, such as a fuller half-up haircut.
3. Curtain Bangs with Rounded Ends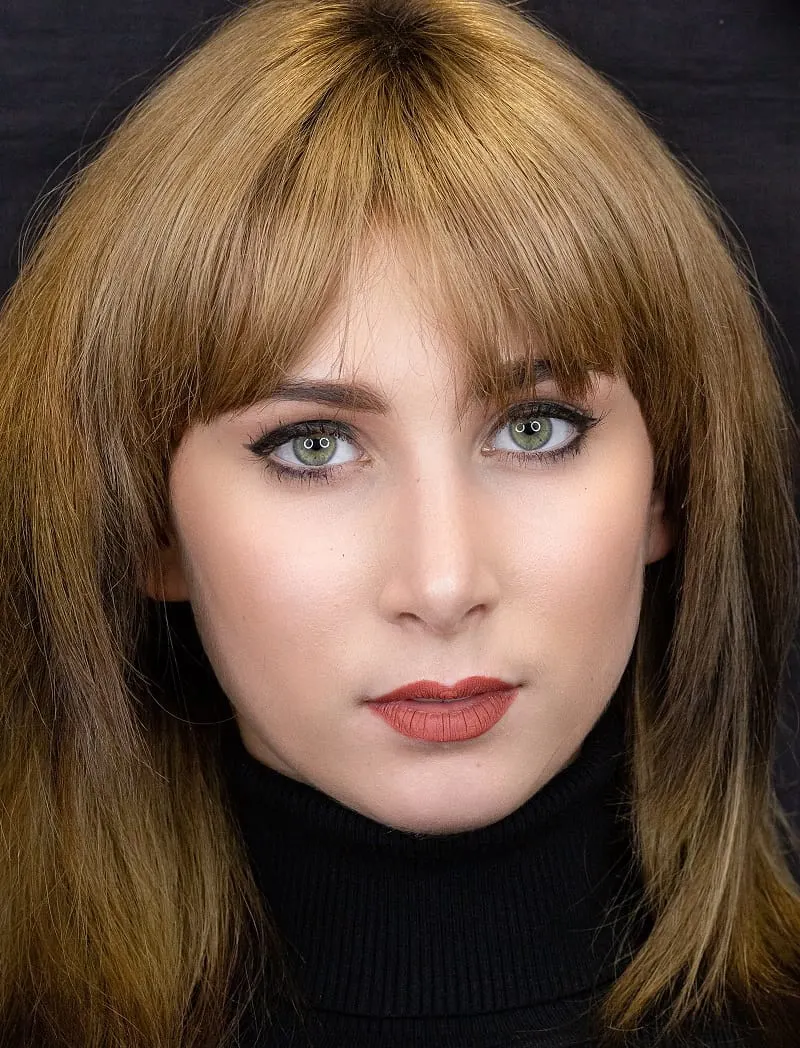 This year, many people prefer to wear curtain bangs with their bluntly trimmed bobs. However, the look can be made exquisite and soft by using bangs. The look is so versatile and sassy.
4. Choppy Straight Bob with Highlights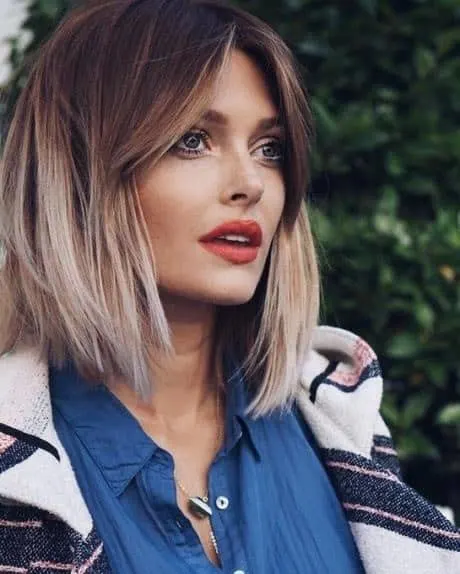 Sometimes it may feel like you have added an extra layer to your already heavy hair. This short curtain bangs cut will boost volume and movement to your long bob. However, it is not recommended for women with curly hair.
5. Amazing Updos With Curtain Bangs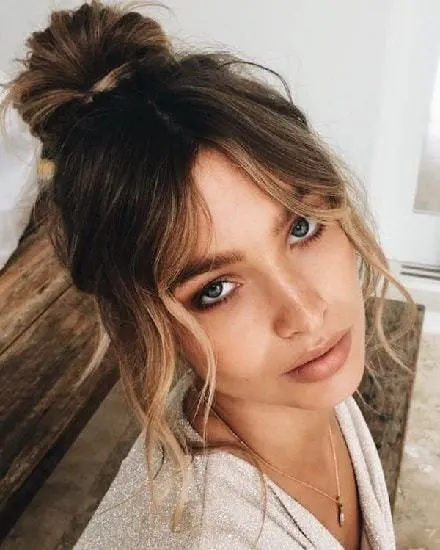 One way to get these updo looks is to trim our bangs. When augmented with this beautiful haircut, braids and top-knots look excellent. It is an ideal way to achieve sleek updos if you have a long face. It will do a great job of keeping everything in balance.
6. Wavy Long Bob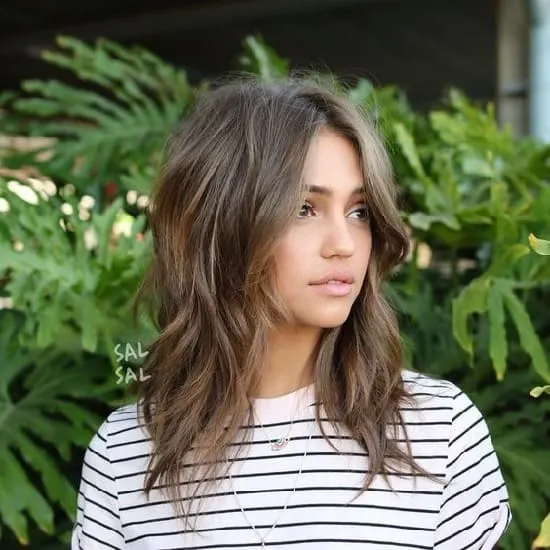 Looking for curtain bangs with long hair? The long wavy bob has been with us, so why not complement your classy bob with the latest trend? So a haircut with curtain bangs will increase dimension to your wavy bob without adding any extra maintenance.
7. The Modern Bardot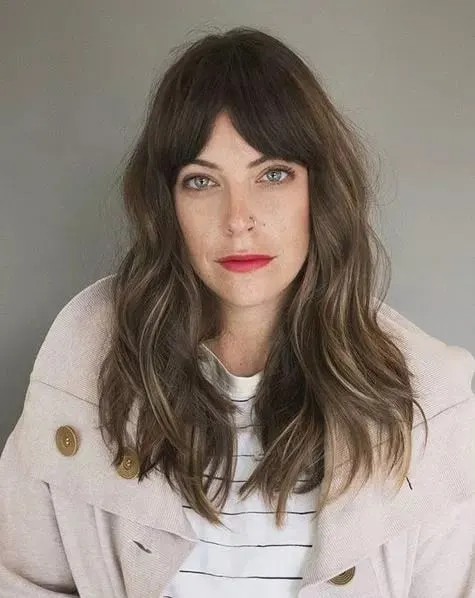 When an idea of haircut with curtain bangs comes into your mind, you think about Bardot. This iconic style is still an inspiration for many women, but we like it with some subtle modern twists. Enhanced texture and face-framing layers work together to give this style an excellent look.
8. Side Swept Curtain Bangs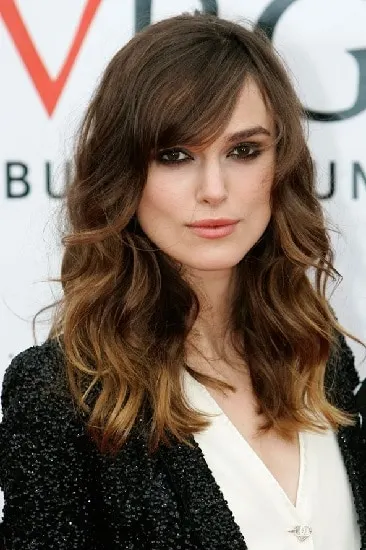 Many types of curtain bang we come across are parted down at the middle to come up with a window out of your face. However, not all women find this appealing because of their face type. To get it right, go for s bangs parted on either side to create an extra wispy and unclear curtain-bangs look.
9. Lash -Skimming Style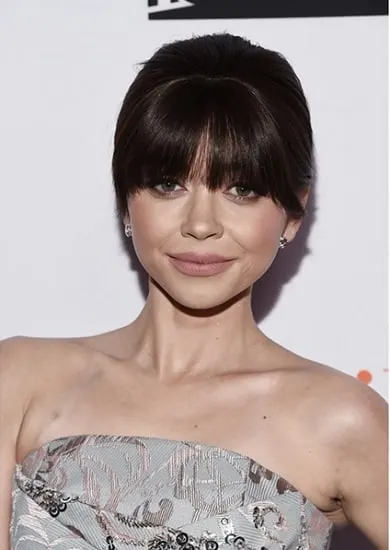 Lash-skimming is a modern curtain bang hairstyle first done by Ryan Richman. It is a blunt and strong bang that gives you varying looks according to how you wear it. It has many volumes at the roots.
10. Side Swept Bangs with A Bun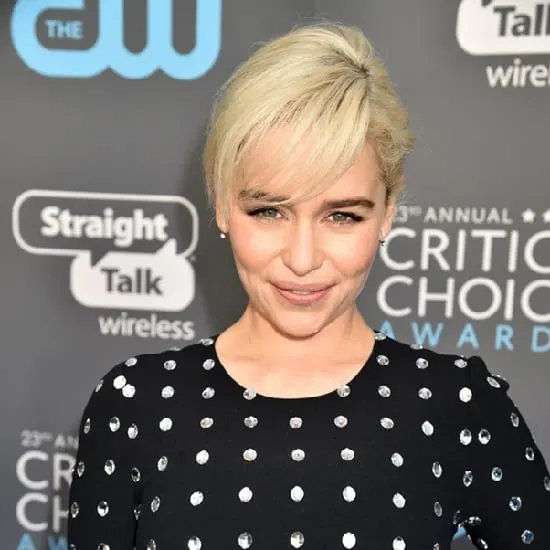 This is a new style encompassing blow-gazing and side swept bangs that reveal your cheekbones amazingly. It is the ideal hairstyle to show off your high cheekbones.
11. Long Hair with Curtain Bangs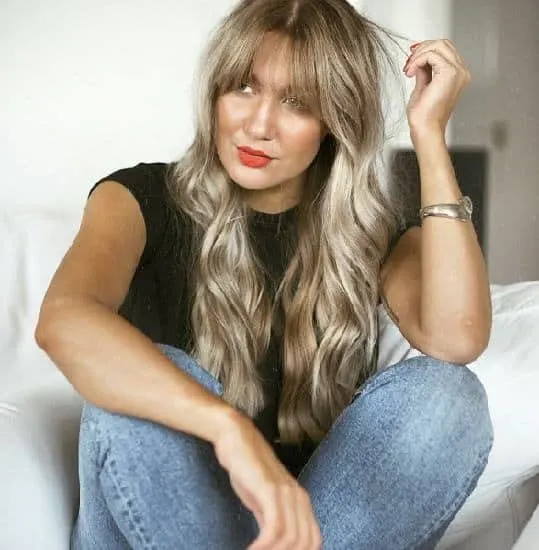 This look represents major breathtaking styles, especially when the look is parted right down at the center.
Related: The Best Curtain Bangs for Round Faces
12. Long, Piecey Haircut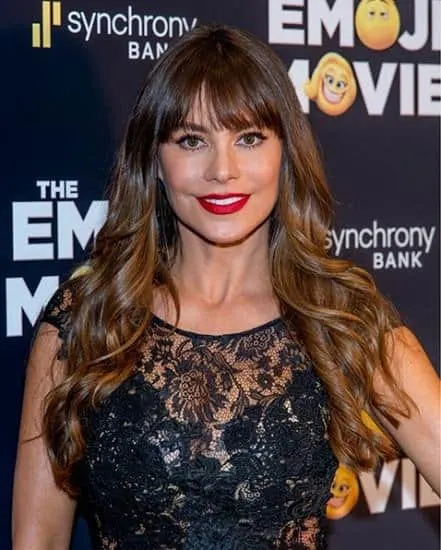 The thinned-out fringe works well on the thick curtain bangs haircut. If the bangs are falling on your forehead, you can use a dry shampoo at the base and wreck them using your fingertips.
13. Curly Bangs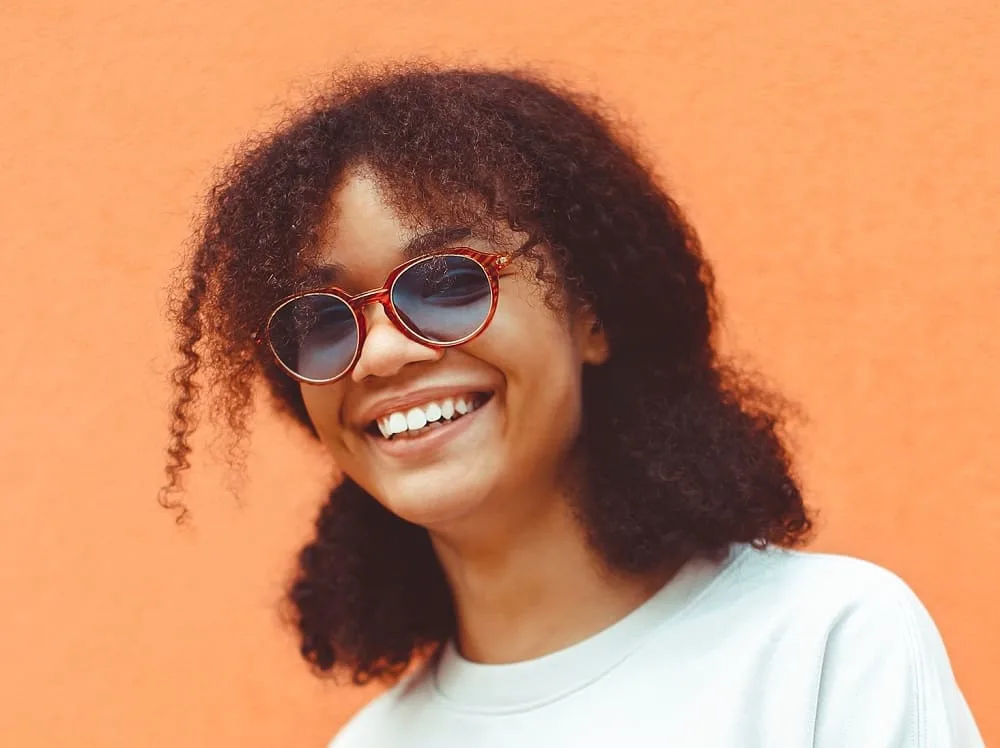 Did you say that bangs and curls are the water and oil of haircuts? This bang is denouncing that as an idle village talk. One word; well-defined waves appear more gorgeous than frizzy mop-ensure you keep it moisturized to maintain the crispness of your coils.
14. Fake Style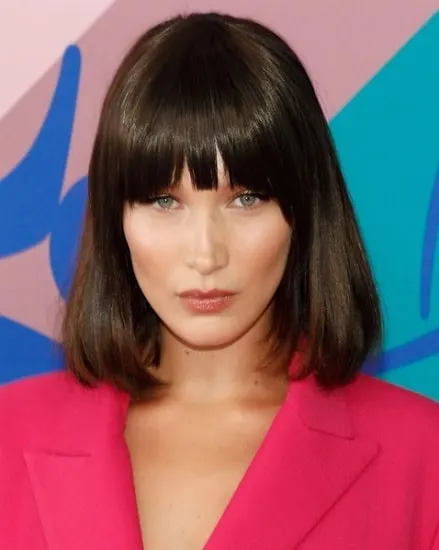 This is one easy, proven way to add fringe without trimming your hair. For natural bangs, get a hairpiece that compliments your hair texture and color. Next, part your hair down at the middle, tease the base, and hold them with hairspray. Finally, brush your natural hair to mix the bangs with the rest of your mane.
15. Thick and Blunt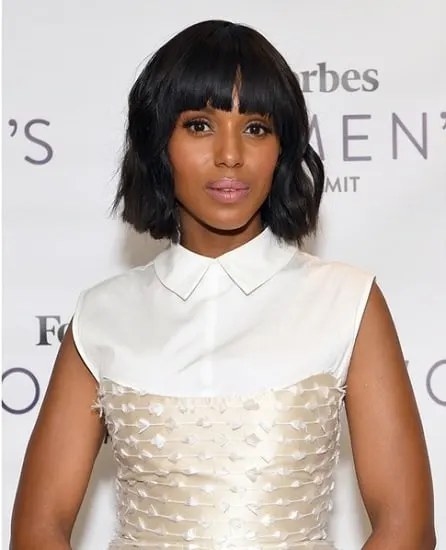 This heavy bang is suitable for thick hair and gives an oval face a thinner look. The contrast between the straight bangs and the curly bob is so visible. The style also covers the brows in the most exciting way.
16. Thick, Mid Length Bangs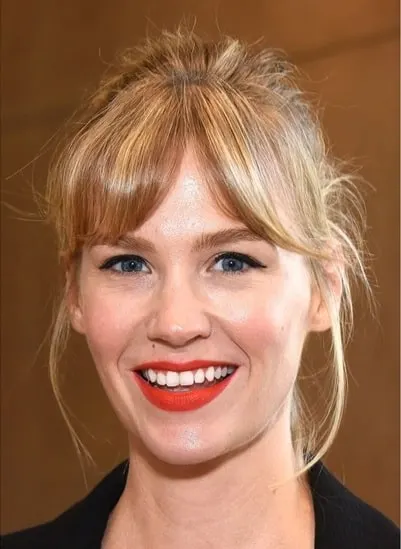 These are the universal style that looks excellent in almost all face types. All you need to do is mess them using your fingers to separate them to get a gorgeous look. The bangs don't taper to the sides, making them jauntier and hard to conceal.
17. Classic Side Swept Curtain Bangs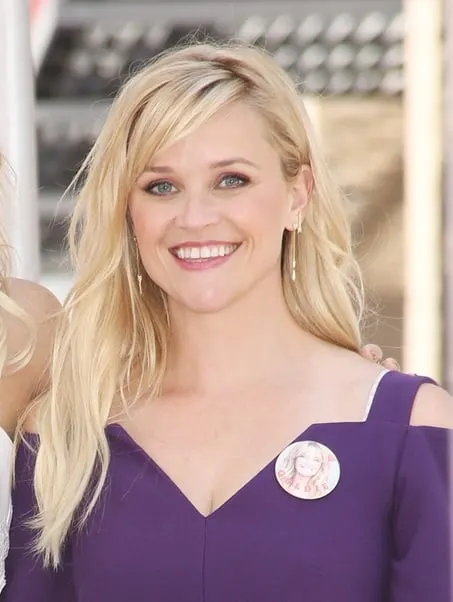 Do you remember those days when side swept bangs were like a rite of passage? One unusual thing was that it was hard for them to slick down and stay in place. That is what makes them so appealing. An unfussy texture augmented with a polishing part is sure to get this style right.
18. Long Airy Curtain Bangs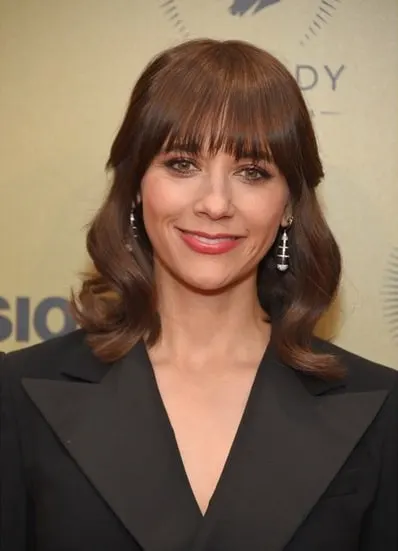 An airy curtain bang will appear purposeful rather than endemic if you have fine hair. However, you will want to make them more controlled, though. Sweeping a flat iron over the manes aids the trimmings to remain flat against your forehead.
19. Short and Precise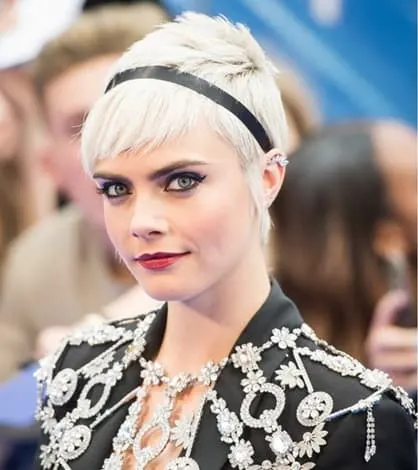 Subtle bangs make pixie haircuts look more gamine and ingenue. They also make round faces appear slim, and a smaller forehead appears longer. Tell your hairdresser to trim your bangs three inches back from the brows for a gorgeous look.
20. Dynamic Long Shaggy Cut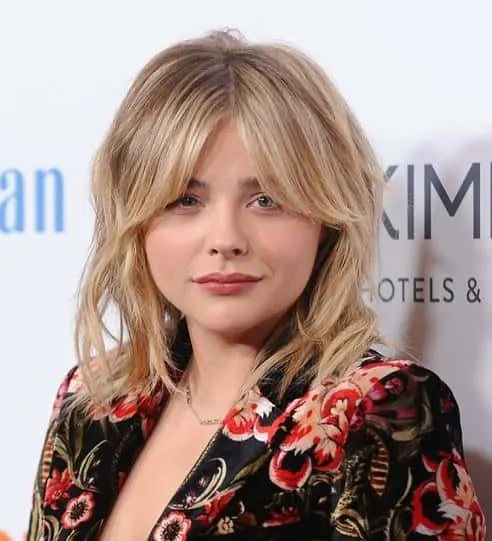 Bangs that extend to the right corners of your eyes, highlighting your cheekbones, look flattery to round and oval-shaped faces. To achieve this look, center parts them and use a flat iron to flick out the trimmings. By doing so, the fringe assumes a relaxed and loose look.
21. Jagged and Asymmetrical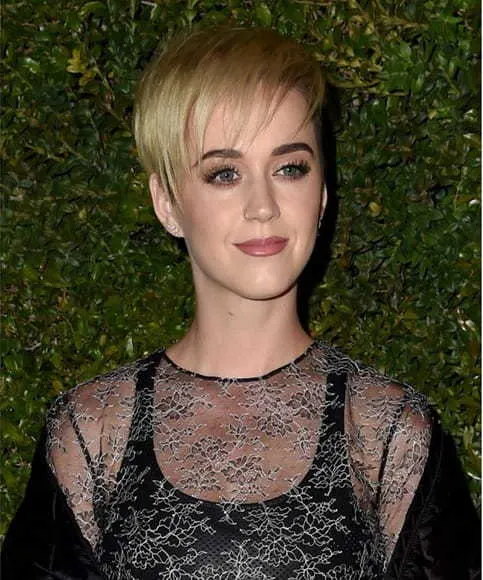 Katy Perry's bangs are particularly augmented with a short crop. However, the bangs also look great with extended cuts too. Deep side part to mix them to lay flat and add lots of pomades to hold them in place.
22. Extended Face Framing with Curtain Bangs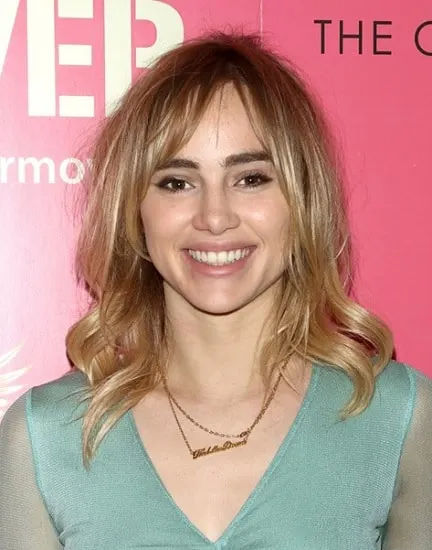 If you look clearly at this face-framing style, you will notice that they are maintained short at the center of the forehead and gradually tapered into a length of the tresses on the sides. By separating them in the middle, you add a little imperfection to this haircut.
23. Supper Messy Half Curtain Bang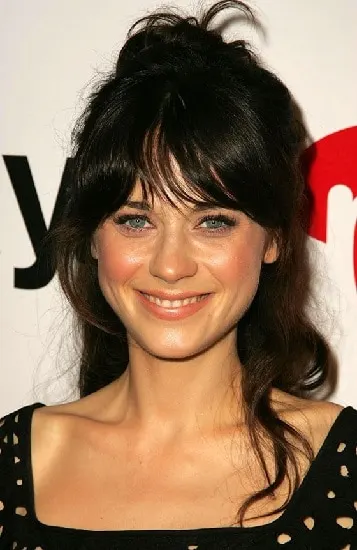 This is a super curtain bang that women with a prominent forehead prefer. It is an ideal hairstyle to hide your large forehead entirely and make you look like a prototypical girl-next-door. The messy half bun at the top is perfect for those days when you don't have enough time for dressing too much.
24. Super Swept Faux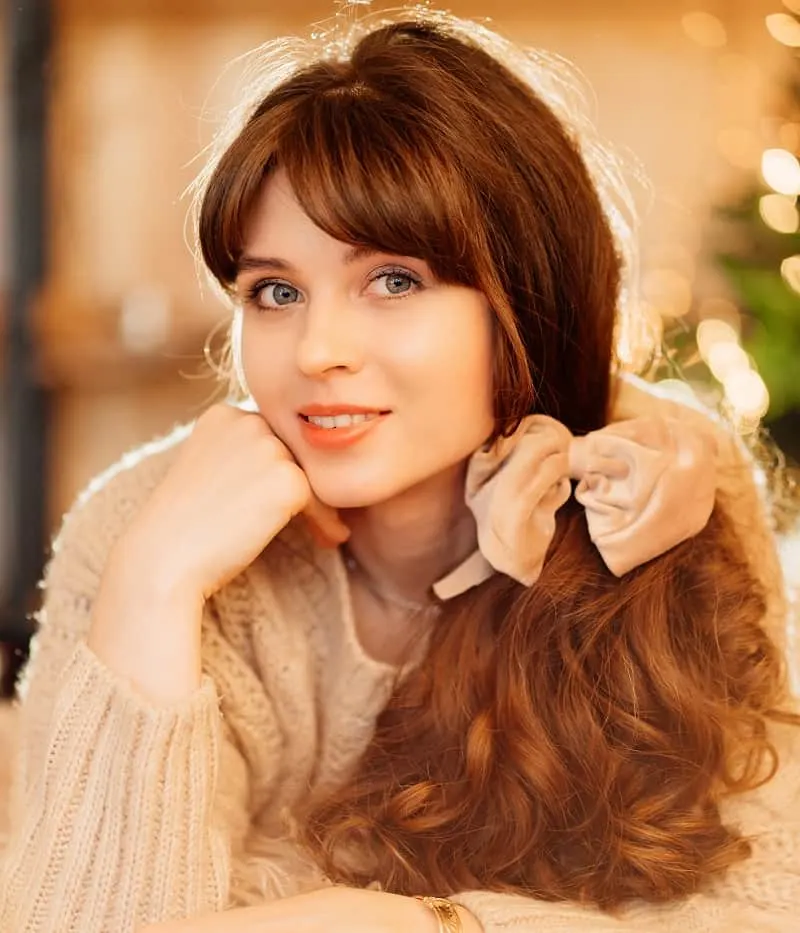 If you have seen anyone with this gorgeous curtain bang, you can be sure that it is at its peak. The style is characterized by various textures and the swept hair at the front on either side to cover up the head. It works excellently for women with prominent foreheads and round faces.
25. Medium Shag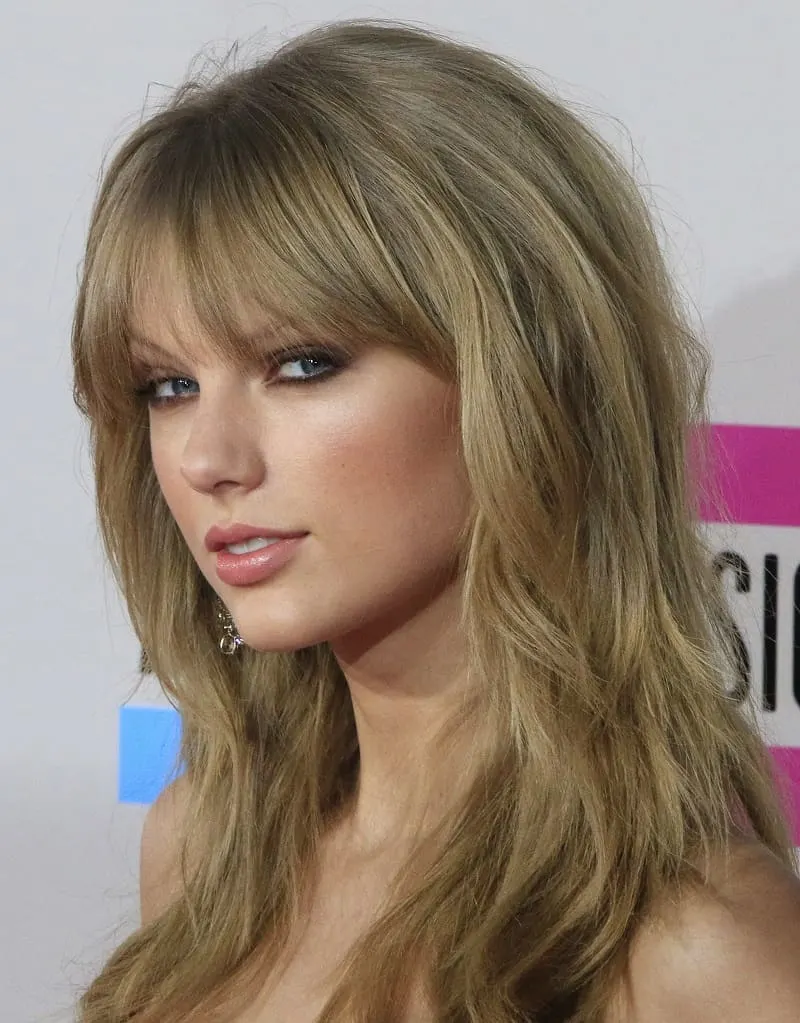 Do you remember that night Taylor swift went crazy with her Anna Wintour hair look? Luckily, those days are gone. She threw away those straight bangs for this chic shag with subtle and swept bangs to achieve this sophisticated and edgy look.
26. Centre-Parted Layered Bun with A Curtain Bang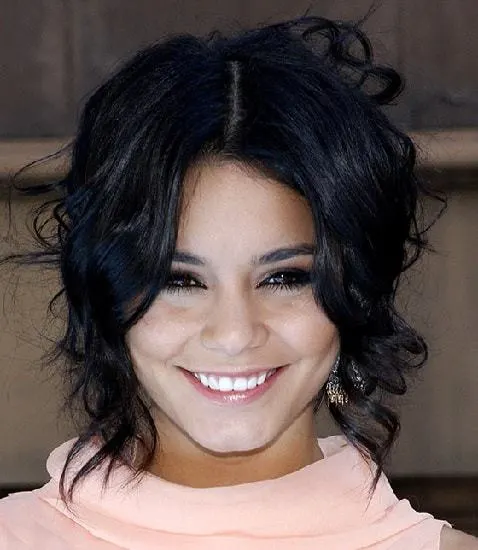 For the ladies with diamond-shaped faces and a broad forehead, getting your hair chopped into some layers is the best choice for you. The style frames the face well on both sides, making your cheeks and forehead look smaller.
27. Ultra-Sharp Curtain Bangs with Top Knot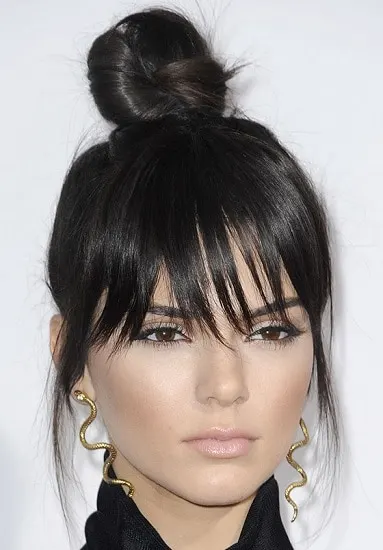 Listen, every lady wants to look edgy and cool and badass. Thank god you have this hairstyle to show you what that means. This top vertical knot augmented with sharp straight bangs is undoubtedly not for the faint-hearted.
28. Two-Tiered Ponytail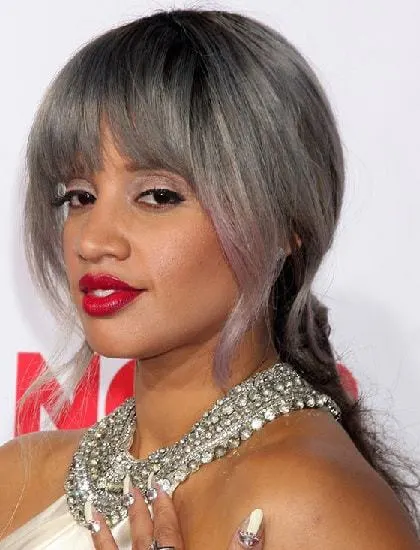 This is a composition of a simple low ponytail and gorgeous two tired curtain bangs. To be more beautiful-looking, the highlights of this hairstyle have to be the lavender silver shade. You will never get it wrong with this queen of the coast killer style.
29. Short Layers with Curtain Bangs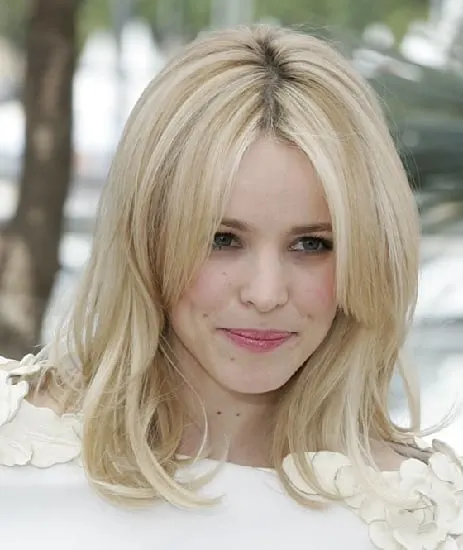 Bangs are not the only options when choosing a haircut for your long forehead. Layers can prove this right. You can achieve this style easily by cutting the short layers in your medium-length hair and side parting it down in the middle.
Then, you get a bangs haircut on either side of your face created by the first layer of your hair. These bangs will hide a significant part of your forehead from the two sides of your head.
30. Scrunched Up Hair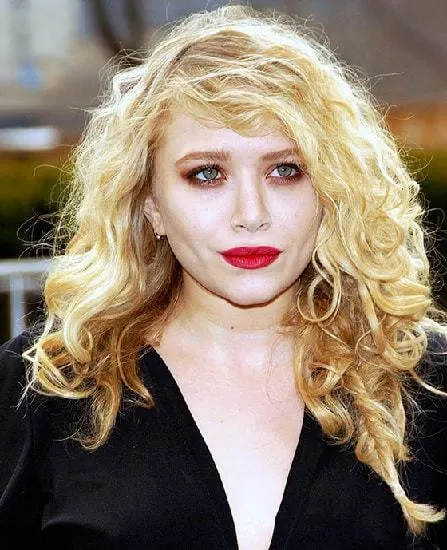 This is our favorite look in this long list of curtain bangs hairstyles. This super gorgeous texturized hair is achieved by adhering to a simple hair scrunching approach. And if you want to include a bit of character to your tresses, deeply part the hair on either side and highlight it with a braid to create a hippie impact.
31. Glam Hairstyle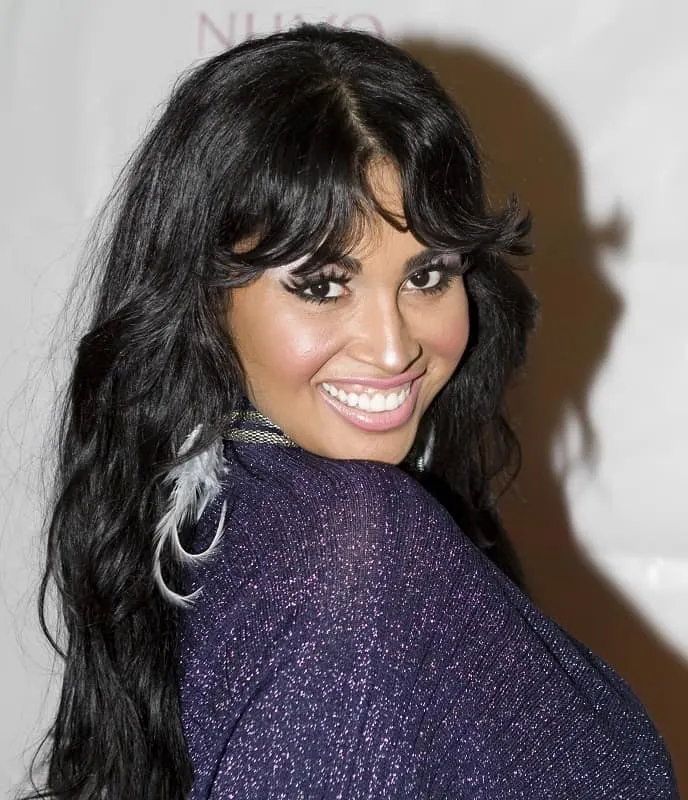 You may not be heading to a red carpet event, but a glam look with curtain bangs is a go-to if it's a date night or night with the girls. Use hairspray to tease in volume and this sexy wavy texture.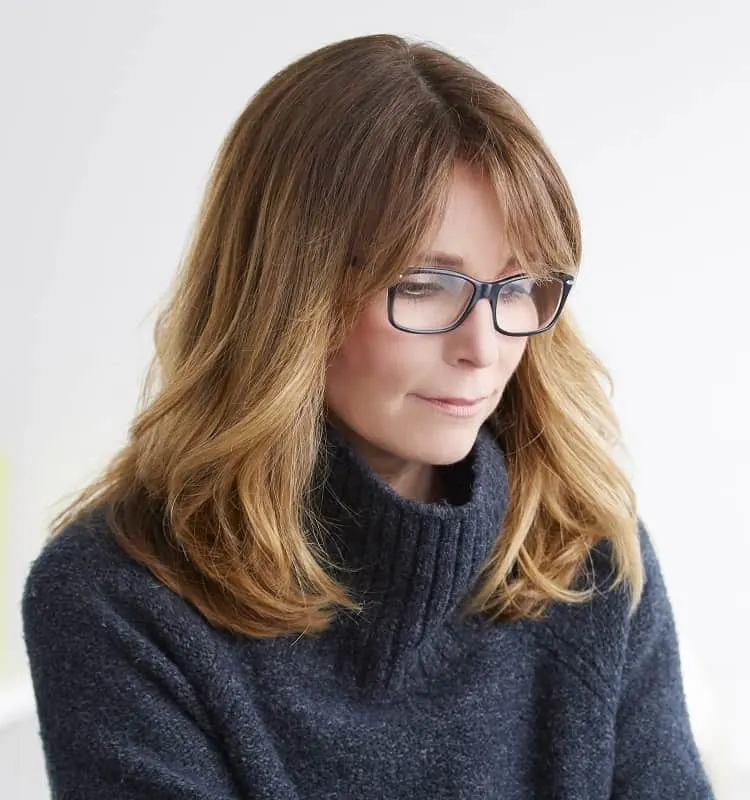 Women who wear glasses can't go wrong with a soft curtain bang that grazes those specs. Likewise, a medium-length haircut with long layers will look gorgeous with the fringe.
33. Low Pony
A low ponytail with straight curtain bangs is a classy style no matter where you're headed. Wrap the ponytail in your hair for sleekness and cover up a plain hair tie.
34. Blunt Brunette Bangs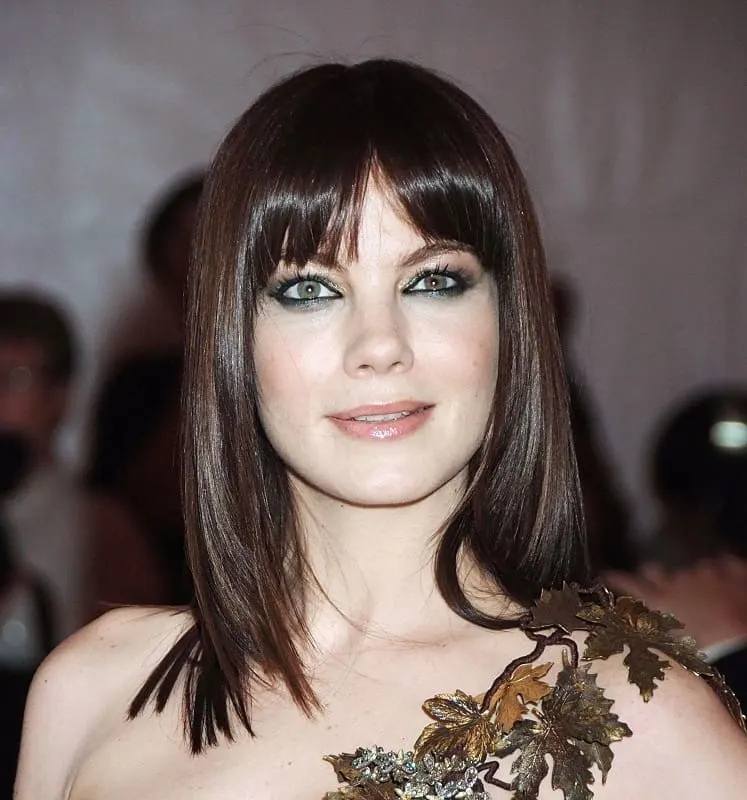 Usually, a blunt cut can come off a little harsh on the fringe, but it works on these curtain bangs for a straight, sleek shoulder-length hairstyle in brunette.
35. Kinky Curly
Whether you're embracing natural black hair or you want to rock natural kinky curls, kinky curtain bangs are super cute. Use highlights in blonde or caramel to lighten up dark hair.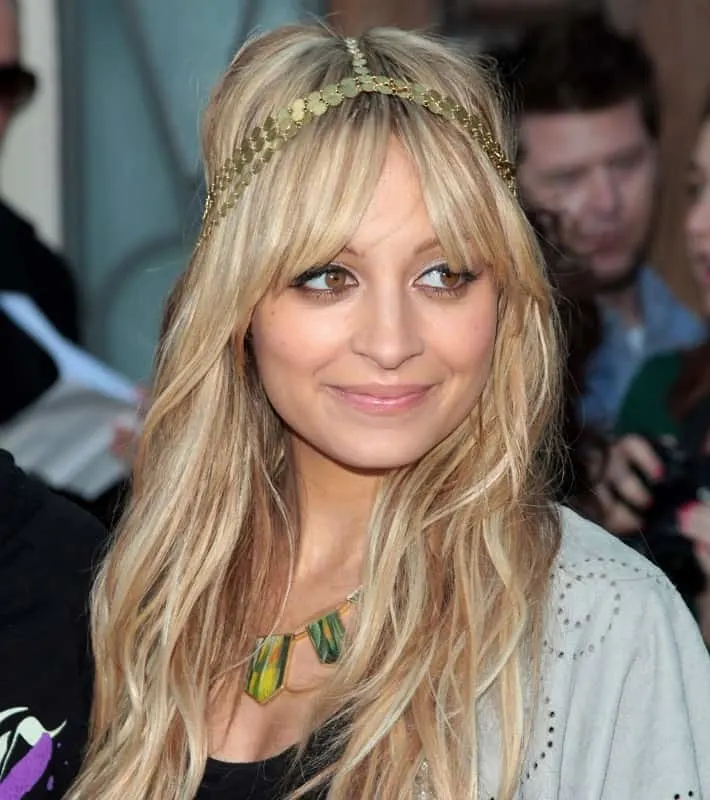 When Nicole Richie rocked Bardot bangs, women everywhere took note. They're extra long and very flattering for eyes of any color. Wear with a cute boho headband!
37. Long Thin Hair
Is your hair on the thin side? First, thicken it up with long layers, then straighten and make blunt curtain bangs pin-straight for instant sophistication.
38. Parted Curtain Bangs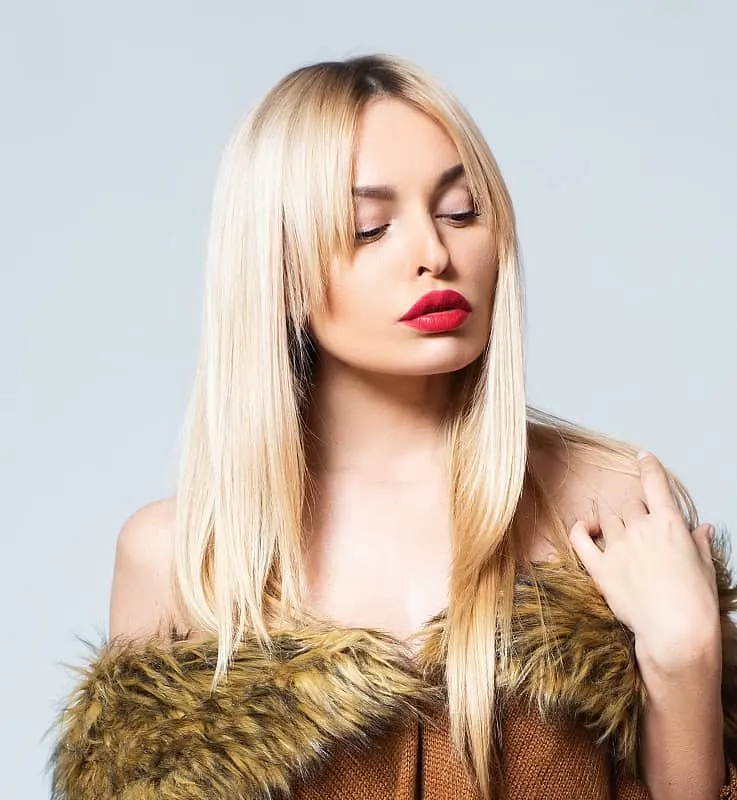 Many curtain bangs are worn to drape slightly over eyes, but for a going out look, use a bit of product to comb them to the sides as another way of face-framing.
39. Frizzy Hair and Smooth Bangs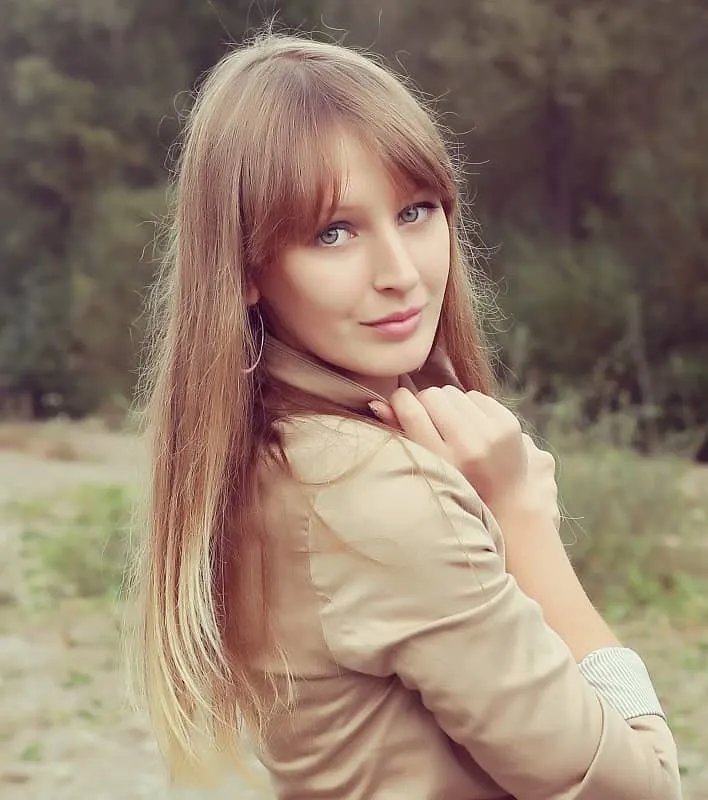 When you wear your curtain bangs smooth and straight, it's a cool contrast when the rest of your long layered hair is straight but slightly frizzy.
40. J. Lo Curly Curtain Bangs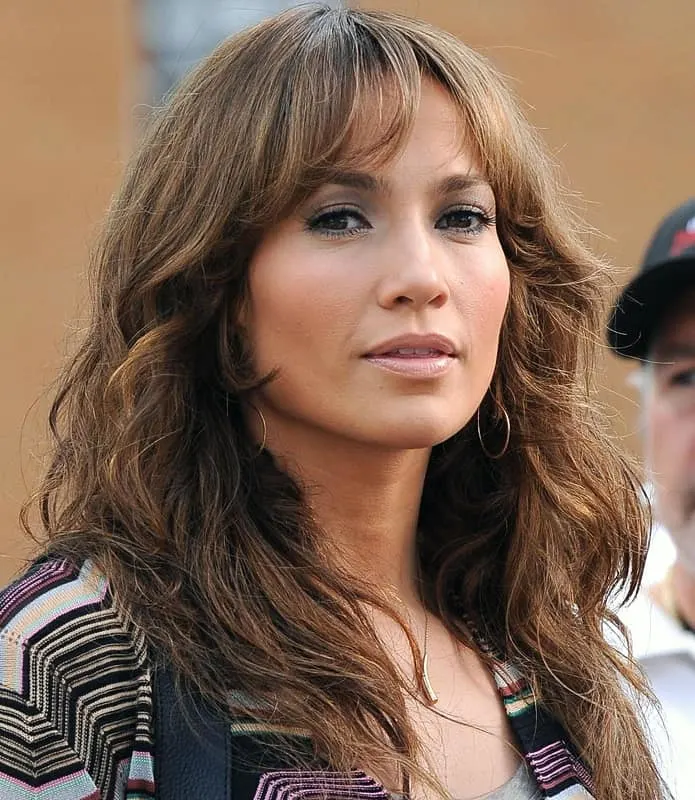 Take a hint from style icon Jennifer Lopez who wears her curtain bangs slightly curled when wearing her long hair naturally. Continue face framing with long layers concentrated around the face.
41. Zooey Deschanel
We love Zooey Deschanel's soft straight curtain bangs that pair beautifully with long curly hair. Avoid a rugged look but not make bangs pin straight. The key is a slight wave.
42. Thin Curtain Bangs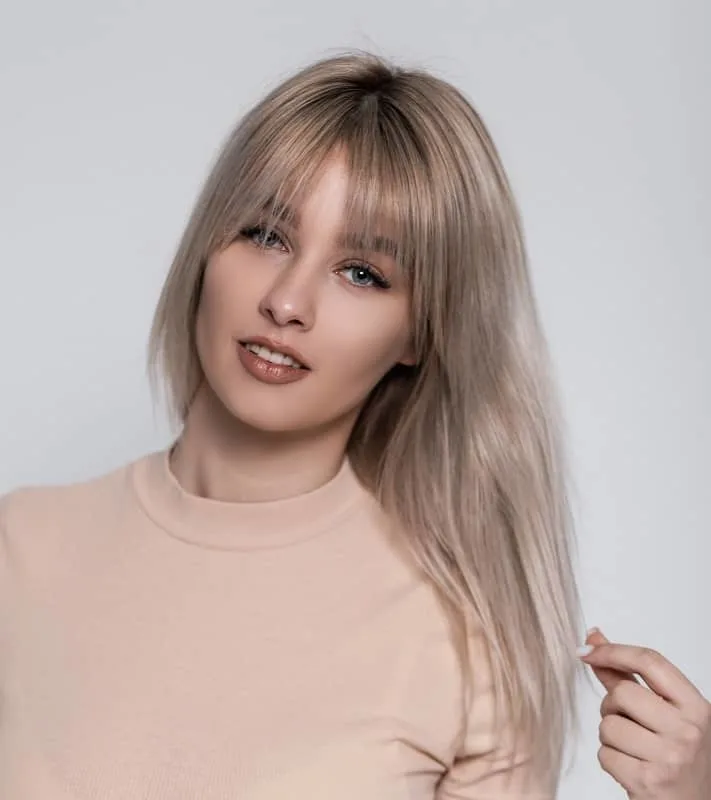 No one will notice your hair's thinness when you have long straight curtain bangs helping your eyes play peekaboo with the world when hair down or form a low pony for quick style.
43. Sparse Curtain Bangs for Older Women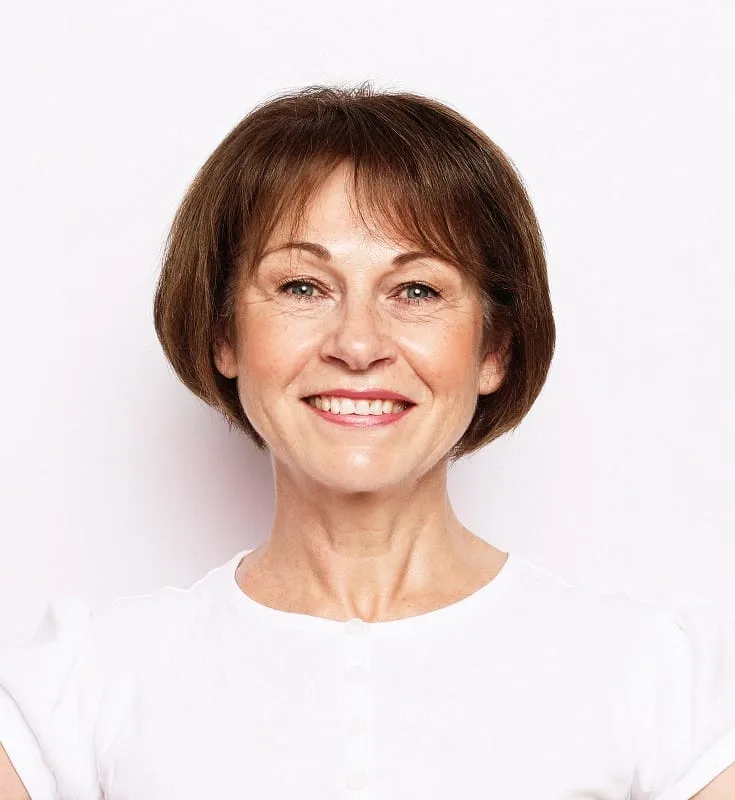 If you're an older woman and not into spending a lot of time styling your hair, you'll love sparse curtain bangs. They're low maintenance, and you can wake up and go since you're wearing them natural! Add them to a short bob or a medium-length hairstyle.
44. Feathered Hair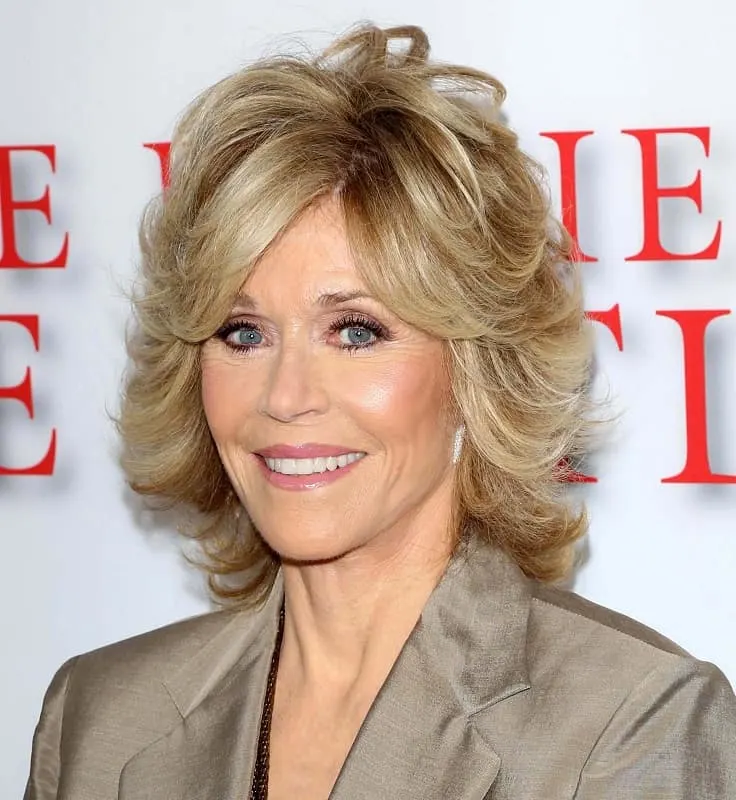 Feathering the hair makes it appear to have a cute flipped-up look at the ends. Jane Fonda's short hairstyle looks thick and voluminous with large curls and wavy curtain bangs.
45. Curtain Bang Updo
Get a gorgeous girl next door look with a medium updo – such as a twisty bun – and long straight curtain bangs accompanying loose hair around ears. A bold red lip is all you need for that finishing detail.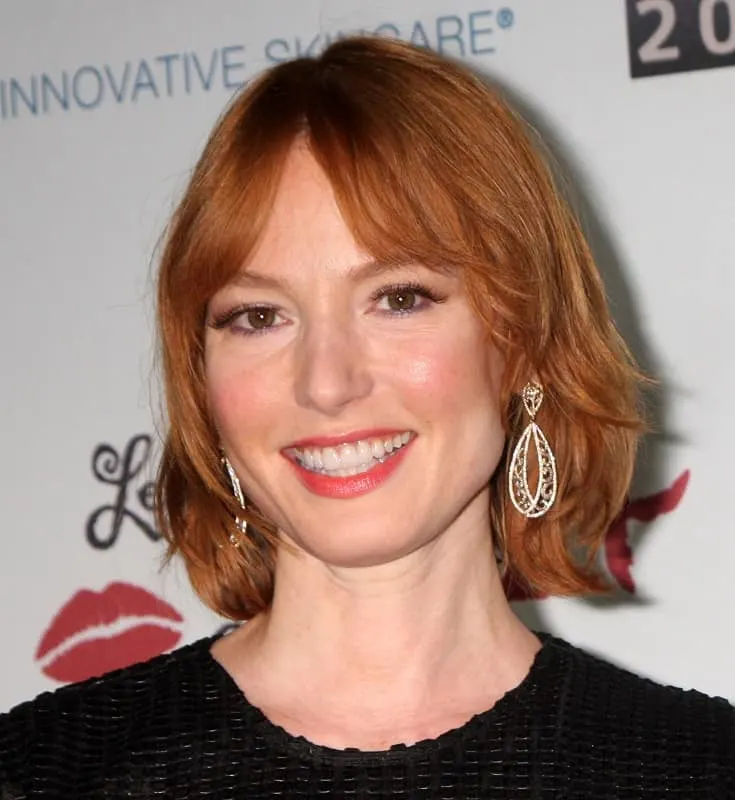 Do you have an oval face? You'll look great with a short wavy bob with layers. Curtain bangs cover up a large forehead and round or square out the oval shape you might not be fond of.
47. Kristen Dunst Low Bun
The pros style her, so take a hint from actress Kristen Dunst on how to wear curtain bangs. Short, slightly waved blonde bangs are super pretty for a low bun updo on date night!
48. Vintage Curtain Bangs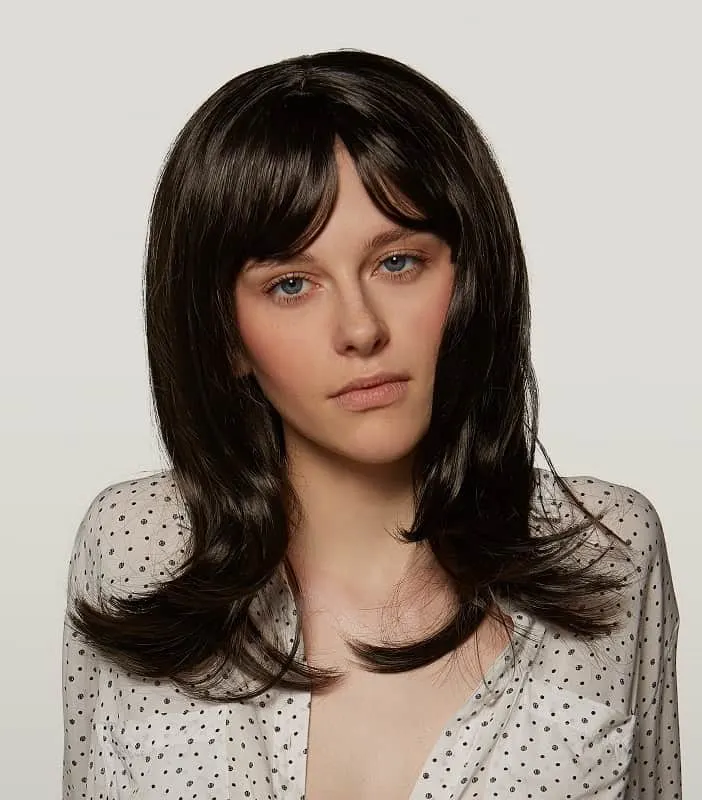 Ever feel like you were born in the wrong era? A vintage haircut with curtain bangs will make you feel right at home. Wear hair mostly straight but flip the ends. Tease the crown for volume or wear a cute headband.
49. Piecey Curtain Bangs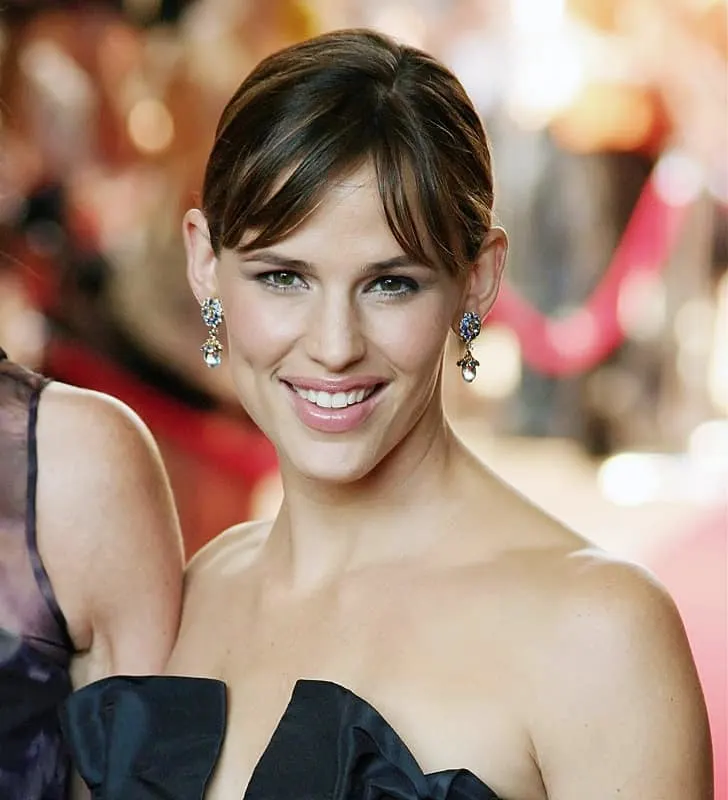 The balance between thick and soft bangs is this piecey curtain bang on actress Jennifer Garner. She wears hers beautifully with a low bun but would look just as gorgeous with long loose hair and highlights.
50. Beach Waves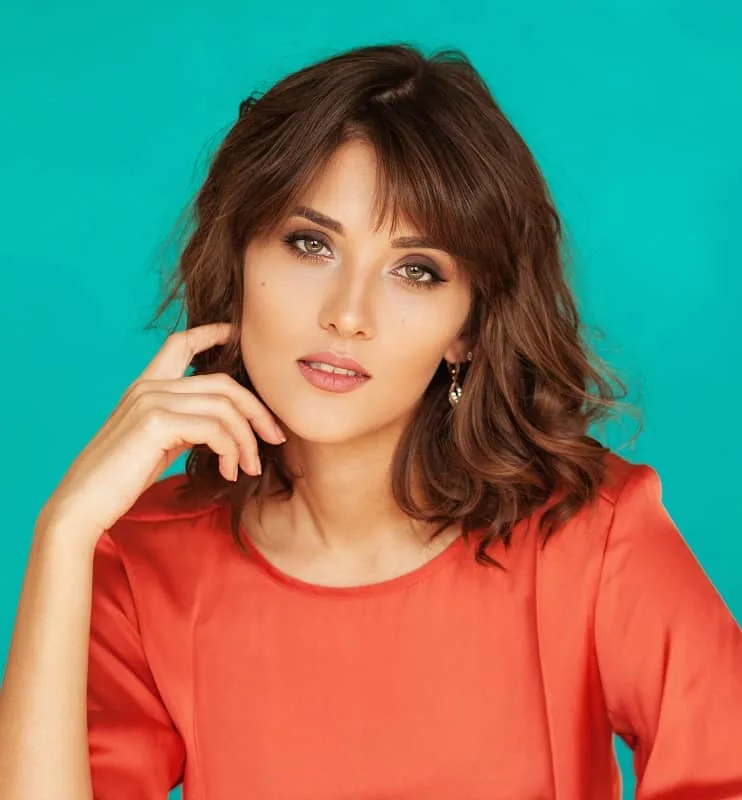 You can take to the beach or the office for a casual style, rock a medium wavy hairstyle with straight short curtain bangs.
Frequently Asked Questions
Here are answers to some frequently asked questions about curtain bangs hairstyles.
What are curtain bangs?
It is a type of hair fringe that you part down the middle, with long pieces of hair framing your face. People call them curtain bangs because they slightly resemble draped window curtains.
What are curtain bangs called?
Those are also known as fringe bangs. Another alternative name is Bardot bangs, which comes from the French model, Brigitte Bardot.
Do curtain bangs suit heart-shaped faces?
Yes. Curtain bangs on a heart-shaped face should balance the forehead and chin, with a relaxed fringe that extends past the eyebrows.
Are curtain bangs good for round faces?
Yes, curtain bangs are perfect for round faces. They will add more dimension to your face and emphasize your cheekbones.
Can I get curtain bangs with thin hair?
Yes, curtain bangs can be quite attractive with thin hair. On thin hair, it will be wispy, casual, and face-framing.

They will still look good as they grow out and can be easier to manage than other types of thin hair bangs. You can also combine long bangs with layers to create the illusion of more volume and texture.
Are curtain bangs hairstyles high maintenance?
No, curtain bangs hairstyles are generally low maintenance. They are cut to match your natural hair texture and are usually long enough that they won't dry strangely. To take care of bangs, all you have to do is part your hair in the middle and then style your hair as you normally do.

These bangs are designed to grow out nicely into longer face-framing pieces, so you can either leave them be and let them grow out or trim them to keep the shorter length.
Will curtain bangs make my forehead look smaller?
Like other types of bangs, curtain bangs can help conceal part of your forehead and create the illusion of a smaller forehead. Thick bangs in particular will help your forehead look smaller.
Can curtain bangs be parted on the side?
Curtain bangs are intended to be parted in the middle, but they can also look nice when styled with an off-center part.

You will want to avoid parting your hair so far to the side that all of the bangs are on one side of your head, as this will create a side-swept bang, a retro look that has yet to make a comeback.
Are curtain bangs and face-framing bangs similar?
Curtain bangs and face-framing bangs are almost similar, but curtain style bangs are usually shorter and more defined.

It usually stop below the eyebrows and are distinctly shorter than the rest of your hair. Face framing bangs, or face-framing layers, are shorter pieces of hair that frame your face but aren't as distinguishable from the rest of your hair.

As bangs grow out, you can often style them in the same way you would face-framing bangs. Face framing bangs or layers are also a great way to experiment with bangs without taking the total plunge.
Will curtain bangs suit an oval face?
Yes, curtain bangs look nice on an oval face. Similar to a round face, an oval face will benefit from bangs that emphasize the cheekbones and eyes.
Will curtain bangs make my face look thinner?
Curtain bangs style won't necessarily make your face look thinner, but they will draw attention to the upper half of your face, which can make the lower part of your face look narrower by comparison.
We hope this style will give you an effortless look to show off your inner child or a legendary fashion-forward appearance. It's a beautiful style that will revolutionize the way we style our bobs and longer hairstyles.
Remember to keep your bangs maintained and hair texture before designing the curtain bangs or opening the window.