Gray hair color is gaining popularity fast. Just a few years ago women were fighting to cover up their silver locks any way they possibly could. Nowadays even young girls are trying to add some silvery shine to their tresses.
The main rule about dyeing your hair gray is not overdoing it. It looks stylish on younger women while older gals shouldn't always consider it. If you are over 40, the silver hair color will make you look older. However, if you still want a few silver stands, no one can stop you. There are plenty of ways to incorporate gray into different hairstyles.
You can try subtle highlights or a three-level ombre. Gray hair can look soft, appealing, extravagant, and respectable. So if you decide to dye your hair silver/gray, watch the below video that'll help you along.
Creative Gray Hair Color Ideas
Dyeing your hair gray can be outright scary. What if you start looking like an old lady? If you find a professional hairstylist, there is no way gray hair color can make you look worse unless you are over 40 and choose the wrong shade. There are many ways you can approach this color while still looking young and fabulous. It's a special shade that can make some women look amazing while others might hate it.
We have made a list of 61 interesting ideas to gray hair color that can help you decide whether or not you are brave enough to try it for yourself.
1. Grandma gray color
This gray hair color is suitable for young girls only. Beware of this choice if you are nearing 30. The outright gray looks appealing and inviting on a young woman but will make an older one look like a grandma.
2. Purplish gray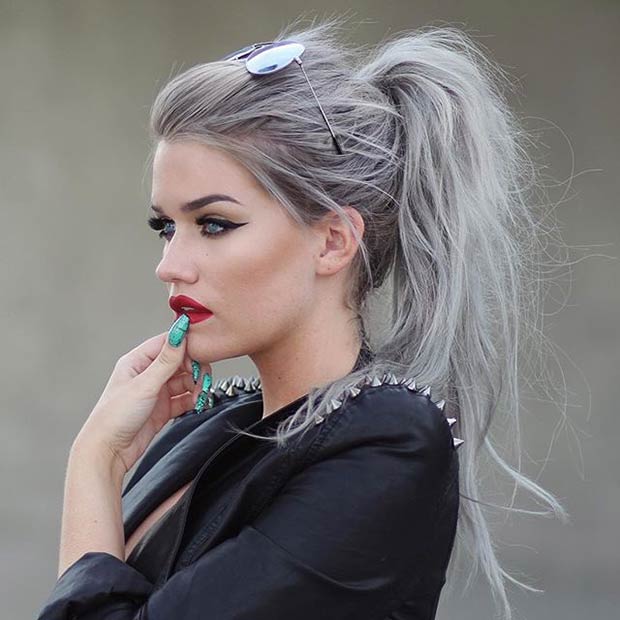 Adding a little purple into your gray locks will make them look special and will take the age out. Consider making purplish highlights on gray hair or gray highlights on purplish hair.
Balayage Plus Ombre Hair Color Inspirations
3.Blue moon
Blue moon gray shade will make you look as if you just stepped down from a black and white portrait. It's suitable for all girls up to about 40 years of age who have long locks. Short hair won't look as impressive.
4.Moonstone gray
Moonstone gray hair color is close to ash blonde. It can be a great choice for girls who want to make a statement. It looks especially appealing on long and wavy tresses with a touch of purple.
Diversify your blonde hair with a few gray highlights. Make sure not to start dyeing near the roots or you'll achieve the grandma effect. Make a few on the sides and in front. Light blonde and gray go well together.
A smart way to go about gray hair color is to make an ombre. Keep the top part of your locks black and go for soft gray hues on the bottom. This technique is suitable for older women since there are no gray roots.
Hottest Hair Color Ideas for 2022
7. Partial highlights
Partial gray highlights can look impressive if you know how to go about them. You can create a few gray strands on top but make sure you keep the roots dyed a darker color in order to avoid the aging effect.
8. Silver and black
Silver and gray make an appealing mix. Young girls can take full advantage of such highlights without being afraid to look older. Adult women can consider this choice if they have long hair.
9.Ash blonde and silver
Ash blonde and gray hair color look similar and their mix is a wonderful choice for women of all ages. You can either keep the roots black or use ash blonde to cover them. The combination is priceless!
Golden, Ash and Reddish Brown Hair Color Ideas
10. Combination highlights
The combination of black, blonde, and silver highlights is a bold way to go about your image. Even though you need to touch them up often, the result is so amazing, it's worth the effort.
11.Powder and purplish gray
Powder and purplish gray are perfect for an ombre. Consider making the same one you see in the picture. Make sure to use the gray on top only. The bangs and the ends can be any shade of blonde.
12. The right hair type
If you have the right hair length and hair type, you can take advantage of the full-blown gray hair color regardless of your age. Make sure your locks are thick, long, and in the best case wavy.
13.Bluish gray and blonde
Blueish gray is one of the options you can use for the top of your ombre when it comes to pairing gray and blonde. The dark gray shades look close to natural hair color and will give your image an extra oomph.
14. Silver Strands
Using subtle silver strands on a black-blonde ombre is a unique approach you might want to try. They will not make you look older. Just the opposite, they will give you a spunky and bright look.
15.Burnished steel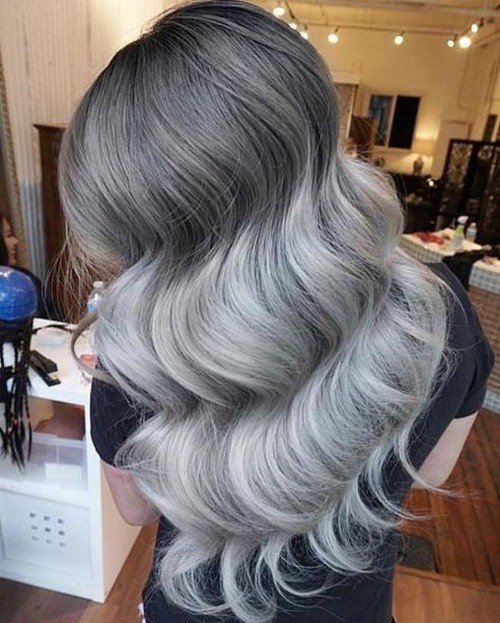 The burnished steel gray hair color mixed with soft ash gray are a wonderful choice for an ombre. Make the top as dark as possible in order not to go through the frequent touch-up hassle.
16.Purple mix
Gray hair can give your highlight mix a great diversity. If you are already considering more than three colors for highlighting, add gray into the picture. You will see how your hair lightens up.
17.Silver undercut
Another bold way to go about gray hair color is to make a simple undercut. Dye the top of your undercut any color you'd look (blonde will be the best) and make the bottom silver for contrast.
Undercut Hairstyles for Fearless Women
18.Ash brown and silver
Ash brown and silver create a soft gray color which doesn't have a grandma effect. This shade can be used by women of all ages. It looks sophisticated, elegant and very appealing.
19.Purplish-gray hair color strands
Purplish gray strands can be used as partial highlights to add an extra zest to your blonde locks. Your goal is to keep them subtle and not overdoing it. Otherwise, you'll get a completely different look.
20. Silver shimmer
You can add your blonde locks some shine by using the silver shimmer trick. It can be achieved with a few highlights or special spray with temporary dye.
21.All shades of gray hair colors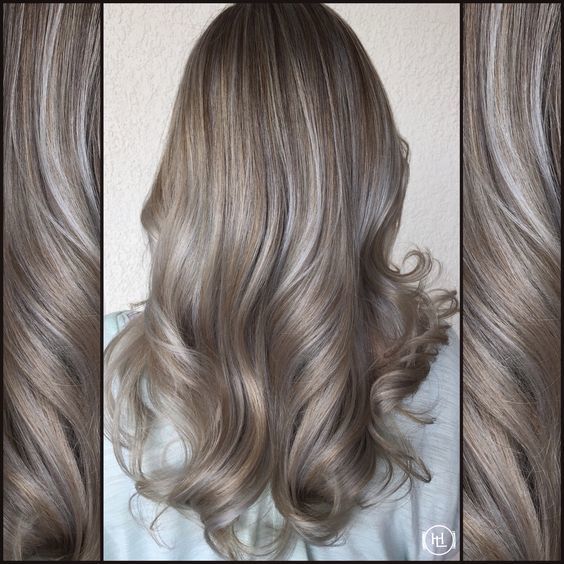 Gray highlights look amazing when coupled with black, auburn, caramel, and blonde. It's a wonderful choice for girls who like unusual hair colors. This combination is suitable for women of all ages.
22. Partial gray and blonde
Brighten up your blonde mane with partially gray hair color. Spray on some silver dye to achieve an unusual effect. This hair color will definitely make you stand out of the crowd and enjoy your look.
23.Hidden gray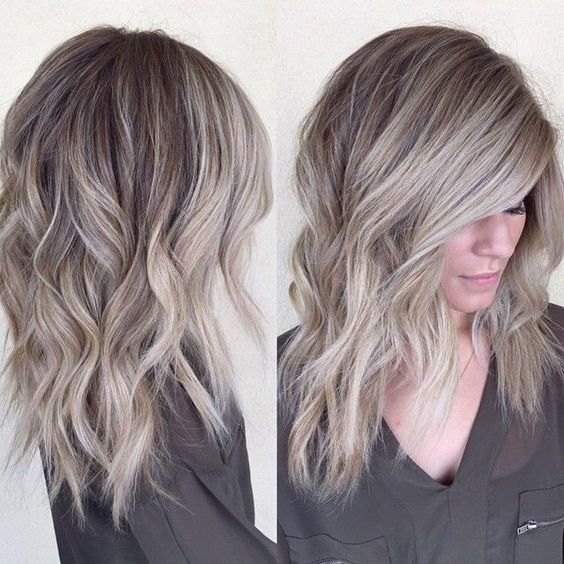 This is a smart way to go for girls who have graying hair. You can cover the gray up by creating differently colored highlights, where one of the colors is silver. Give it a try and you'll be surprised at how amazing it looks.
24.Ash blonde and gray
Ash blonde and gray mix can make your hair look bleached. So if you are after really white blonde shades, gray hair color can be your best helper. Try it on any hair type.
25.Simple highlights
If you are looking for a simple way to color your hair, you can go for highlights. Use the darkest shade of gray coupled with any blonde hue and your overall appearance will be amazing and impressive.
Try Amazing Auburn & Blonde Highlights
26.Silver roots
Silver roots might seem like something you should avoid but some girls don't mind flaunting them. If you are young enough, they might look like an interesting addition to your hairstyle.
Ash gray is a wonderful hair color for girls who are tired of regular blond. It looks quite natural and doesn't cause a grandma appearance. Using this color will definitely lift your mood.
28.Pavement gray
Pavement gray shade is close to silver and looks really smooth. It looks well on any hair length and will suit girls with dark or olive skin tones. If your skin is light, you can try it too but will need to play around with makeup.
29.Rolling fog gray highlights
Rolling fog gray is essentially very light gray hair color that looks great mixed with all shades of blonde. It's a good solution for girls look for a way to brighten up their blonde locks.
30.Battleship gray
Steel battleship gray is a catchy color that will surely make some heads turn your way. You can diversify it with a few rosy or bluish hues and add partial blonde or light auburn highlights in front.
31. Heather gray
Heather gray is a light color that can look amazing combined with very light blonde. Consider dyeing the back part of your locks heather gray and use blonde hair dye in front. You'll love it!
32.Jean gray ombre
A jean gray ombre looks appealing when the color is used on the very top and then complimented by the golden locks on the bottom. This is a wonderful natural-looking idea.
33. Gray and white
If you want to take the age out of the silver hair, you can add some white hues to your locks. The mix of pavement gray, black and white makes a stunning impression that you will appreciate.
34.Covered gray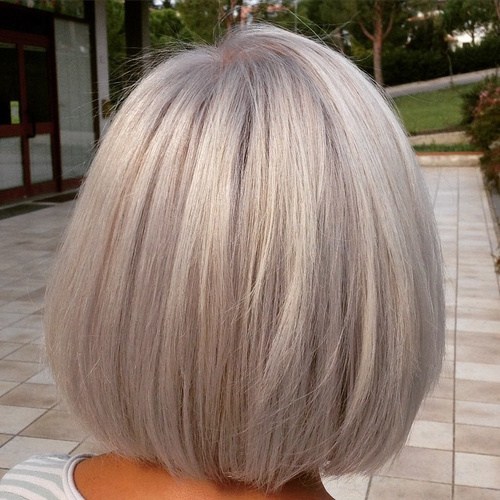 If your hair is graying, a wonderful way out is to make it as blonde as possible. Only then the gray roots won't be very visible and you will avoid getting frequent touch ups. Give it a try!
35.The gray impression
If your hair is naturally dark and you dye it light blonde, when your roots grow, you might be in for a surprise. The dark roots contrasted with bleached blond create a grayish impression you might want to avoid.
36. Purplish gray hues
Asymmetrical dyeing is gaining popularity fast. So why not dye one side of your head one color and the second side another. Give your image more extravagance by using purplish gray highlights.
Dark and Honey Blonde Hair Color Ideas
37. Gray ponytail
This hairstyle can be achieved if you use gray hair color as part of a black and gray ombre. This is a great idea for women of all ages since the roots are black and the gray is obviously not a sign of aging.
38.Foxy shades
Gray can be the color you've been needing to complete your foxy look. The French pavement black shade looks marvelous when combined with black, blonde, and auburn. Don't be afraid to give it a try.
39.Zebra beauty
The zebra effect is quite popular among the young women. It used to be achieved by mixing raven back and bleached white hair color. You can add some uniqueness into the picture by making a few gray highlights.
40.Totally white
Sometimes you own naturally gray hair color can make you look much older that faux white one. Consider covering your gray with white and your image will change immediately. You can dye your eyebrows dark gray or black.
41.Gray sides
The natural gray hair can be used to create an amazing combination. Dye the top of your locks white and leave the sides silver gray. You'll be the most stylish girl with silver hair on the block.
There are plenty of gray hair color ideas that you can take advantage of. All you have to do is stop being afraid of looking older. After all, if you don't like the color, you can always switch back to whatever you had before. Experiments are awaiting you. Time to make an appointment!
Related Topics: