We know that long curly hair for women can mean two things, at the same time: a blessing but also a thorn in your hand. Curls and waves are something most girls want to have, and they repeatedly damage their hair to get it every day.
But at the same time, these types of hair strands are rebel, never seem to stay where put and sometimes very capricious. It would be such a shame not to show off your outstanding mane with every move you make.
Amazing Long Hairstyles for Curly Hair
Because we understand your struggles and we don't want to damage your hair with the frequent use of the straightening irons, we found out for you the best hairstyles for women with long hair. They will add value to your locks and make your hair always look its best.
1. Curly Long Hair with Bangs
Waves quickly became one of the most desired hairdos, and that is thanks to the effect they have. You can style relaxed waves that are ideal for a casual look or a beach party; the choice is yours. Style some bangs and keep them straight, on your forehead, to complete your outfit.
2. Long Curly Natural Hair
Long naturally curly hair requires a lot of work, and you really need to adore hair if you want to keep it in this length. You will probably use pounds of moisturizers monthly, but you will undoubtedly look breathtaking with every step you take.
3. Long Blonde Curls
This image represents the ideal curls. You can choose a Babyliss Secret Curl device that really helps you get that perfect curl and minimizes the time spent creating them. A blonde color will make them look textured and glamorous.
4. Messy Side Ponytail
We all know that the messier it gets the better the curls come out. Try out this side ponytail on a lazy day to look effortlessly gorgeous. Add loose curls, if not natural, and side tousle them to be secured in a messy ponytail. Braid the strands into a loose braid or don't!
5. Highlights
Want to spice up your long mane without compromising on the length and texture? Try out highlights. Ladies with naturally dark 3c/3b coils can rock a lighter shade by dipping their strands in a rich blonde tinge with a hint of platinum creating a mix of light, medium and dark strands for a multi-dimensional look.
6. Half-Up Style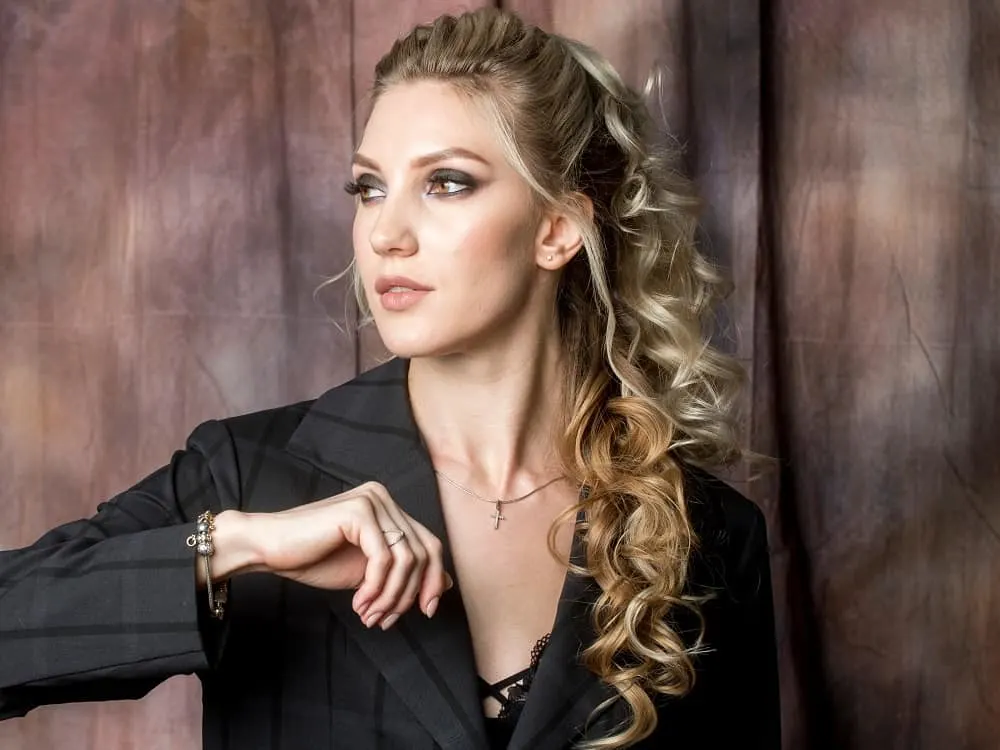 The half-up look is a classic that never gets out of style. This look features sandy blonde tresses with light caramel blonde peekaboo highlights. Half of the bouncy curls are secured in a ponytail or clip with some strands pulled loose at the front to frame the face elegantly.
7. Pretty Pigtails
Pigtails look cute and are ideal for young girls to tame their long locks. Detangle the strands with a middle parting and braid them before securing with hair ties. The subtle dirty blonde to golden blonde gradient adds a dreamy appeal to the look.
8. Mermaid Hair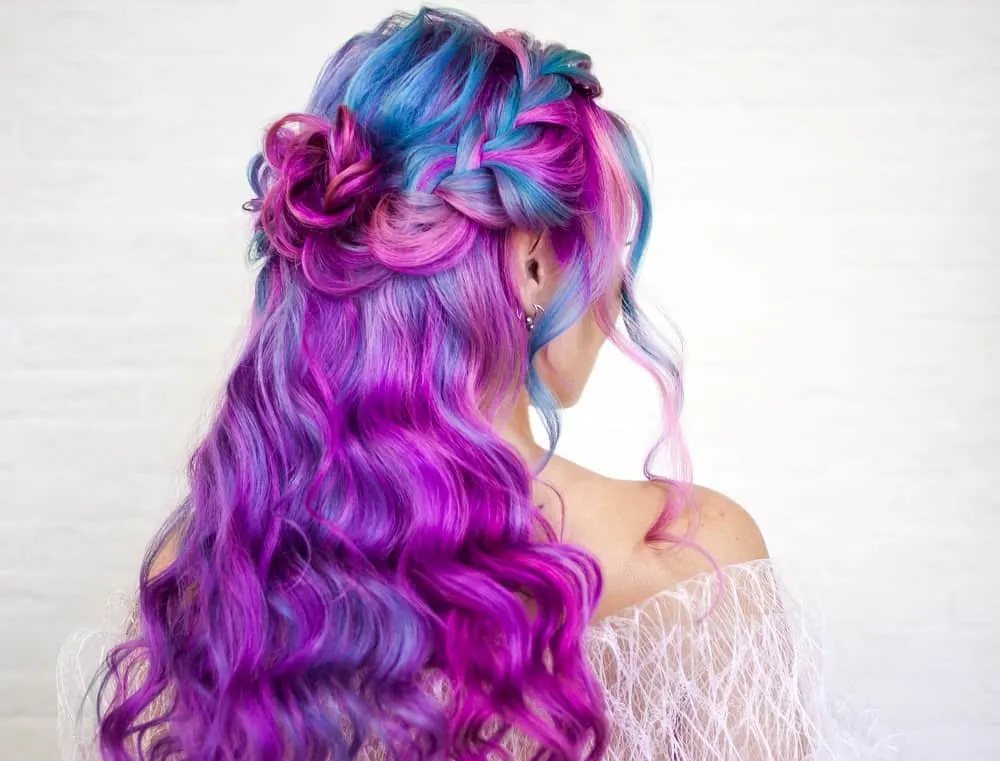 This amazing long hairstyle for curly hair will surely turn around some heads. Ask the hairstylist for bright stripes of purple and aqua blue on the hair. Add curls and braid the front to be styled in a flower at the back. Tug some strands loose and your mermaid look is done!
9. Delicate Twist-Back
Here is an amazing soft golden brown hair shade bordering between brown and blonde that will make you look like a model. Curl the strands as usual but leave the ends straight for a chic touch. Twist back the front chunks leaving the remaining hair loose to sway with the wind.
10. Ginger Locks
Redheads are blessed with beautiful ginger locks and having a long healthy mane is yet another blessing. Recreate this alluring look to stand out from the crowd. The front hair is pinned back sparing two long strands to accentuate the face with the remaining loose curls falling forward at the front.
11. Pastel Dreads
Be Bold! Be Beautiful! Though curly dreadlocks demand commitment they are low-maintenance and perfect to express your wild side. Incorporate streaks of baby pink accentuated with a touch of pastel purple while dreading the strands for a cute girly appeal. Add some beads and rock the locs with a half-up ponytail sitting just behind the hairline.
12. Chunky Braid
Why complicate when a simple hairstyle does the job? Women with a natural blonde fluff can tame it by plaiting it to dangle at the back or front. The natural texture of the hair creates a gorgeous chunky braid effortlessly that many wish to achieve. Don't worry about the flyaways as they add up to the style.
13. Romantic Floral Headband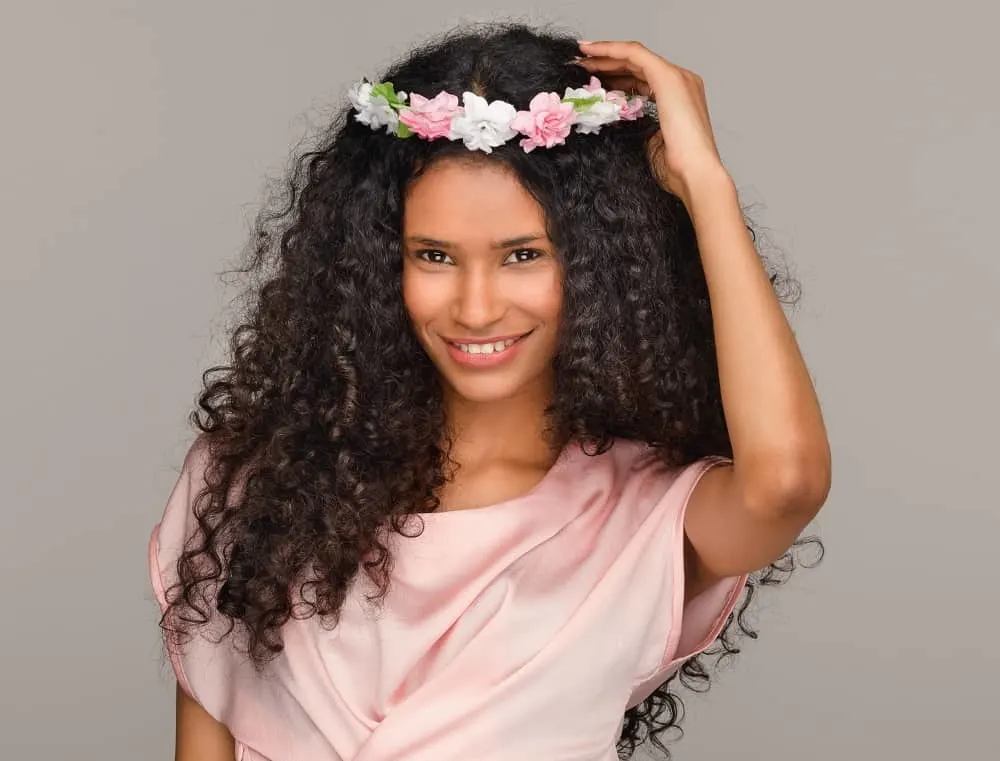 Growing out natural curls is not an easy task but the effort and patience are worth it once you achieve a long hair length. African-American ladies can amp up their curly coils with a U-shaped layered haircut. Wear the mess loose with a middle or side parting and top off with a floral headband. Romantic isn't it?
14. Curly Perms for Long Hair
Does your hair lose its volume and you want a long-lasting change? Style a layered haircut and opt for a perm. Make the curls in the lower area tighter than the crown hair.
15. Long Red Curls
If you love bohemian appearances, it's pretty easy to recreate this look. Choose a brown-red hair dye and leave your roots in their natural black color when applying the hair dye. If you don't have curly strands, a tight perm for long hair will help you reproduce this look.
16. Long Curly Wedding Hairstyle
Brides need to look flawless on their wedding day, especially because they will be in the center of attention the whole day. To achieve a look that leaves room for no mistakes, you can style the perfect curls and add a bit of class with a pearled hair jewelry.
17. Thick Long Curls
Long hair looks fabulous and classy if it's slightly waved. If you have straight hair, you can opt for a curling iron that will give your hair a fantastic shine. Toss you long bangs on one side for an elegant touch.
18. Curly Long Thin Hair
If you have thin hair, you can choose a gorgeous layered haircut for long hair. To create that wet look appearance, all you have to do is to use hairstyling foam and apply it on your curls. They will stay tighten in one place.
19. Curly Long Hair with Undercut
Razored back designs are in high demand, and that happens because they look impressive and glamorous. Every time you pin your hair into a bun, you will show off that stunning fashionable construct.
20. Long Kinky Curly Hair
If you don't have long natural curl, you can simply recreate this look with some hair extensions. Layer your locks and toss your bangs on one side. Everyone will be astonished by the volume and curl definition.
21. Long Curly Gray Hair
A gray hair will fantastically match your olive skin, especially if you dye it into an ombre. You will master this relaxed, stunning beach look, and your mane will look sun-kissed.
22. Curly Long Hair for Woman Over 50
Women over 50 can look stunning with a gray hair dye that will mask all the unwanted white threads of hair. You can even create a gray ombre that will fabulously match your blue eyes. Tousle your locks and swipe your crown hair on one side.
Styling layers can quickly obtain a casual wet look like this for your hair. This way, you will reduce that considerable volume in the lower part, and each of your coils will have its own personality if you use foam. Also, a blonde ombre can ake real miracles for your look.
24. Long Curls for Mixed Girls
Whenever you want to brag about your long hair with perfect curls, use a long layered haircut to show off. Flip your bangs on one side and define each curl with foam. You can also wear a big silver rounded pair of earrings to complement the hairdo.
25. Long Curly Shag
Ready for rock and roll? Build this stunning curly hairdo by adopting tons of layers that gradually reduce the hair volume. Style some short curly bangs, and you'll feel like your favorite 80's rock and roll idol.
26. Long Asian Curls
Give your hair a fabulous shape with a layered haircut. Start developing the layers close to your shoulders area to avoid the full effect that the 3B curls can have. Accessorize the look with a jeans bandana that covers your top head.
27. Long Brunette Curly Hair
If you love retro looks, this hairstyle with tight curls is the ideal choice for you! Create a middle part and let those fabulous coils fall on your chest. Because of its weight, the hair will lose its bounciness but will be highly curly at the tips. Accessorize this hairstyle with a pair of rounded glasses.
28. Very Long Curls
By recreating this look, everybody will envy you! You'll look just like you got out of the ocean water, after a good warm swim. Style a sun-kissed ombre and comb your hair on your back. Use loads of hairstyling foam to embrace the wet look.
29. Long Curly Emo Hair
You just have to look at these stunning curl and see they always sit just the way they want. A long hairstyle with bangs for curly hair will make them beautifully arrange by themselves. For a fabulous touch, use a vibrant red color and choose a straight fringe.
30. Puffy Long Afro
Not all long hair has to be down to your knees! You can still have very long hair in the shape on an afro, and this is the proof. Of course, to get it to look like this, you'll have to properly comb it with an afro comb and puff your curls to create the same effect as in this picture.
Another great option for women with long and curly hair is to simply leave their hair down and 'wet' as if they were coming from the beach!
You'll have to wet down your hair and apply some hair gel to give shape to your curls, then simply let them dry by their own and you're done.
Get your long thick curls tamed with this cute and easy to do hairstyle. First, comb your hair back with your own hands and tie it up in a hairband -not too high on your head!
Make sure to leave some strands of hair at the front of your face to give you some frame and to make the overall hairstyle look more fresh and natural.
33. Completely Slicked Back Hairstyle
Not all curly hairstyles have to be about having the hair up in your face. You can try to get your fine curly hair wet and push it all the way to the back, applying some hair gel to make sure the 'wet' effect lasts long even after your curls have dried.
34. 90's Hair Pins
Now let's get into the fun hairstyles! The first thing you'll have to do is put your hair in a classic half up half down the ponytail, making sure to leave your baby hairs out so you can, later on, laid them with hair gel and a tiny brush. Last, but not least, add the hair accessories and you're done.
To recreate this long curly airstyle we recommend you to wash your hair first and give some more shape to your curls with your own fingers.
Then, when it's dry, separate it to create the middle part, laid down your baby hairs to create the edges and add the pins evenly throughout the curls!
Another great long hairstyle for curly hair is braids. You can braid your whole head with chunky braids, making sure you tie them up leaving a little piece out to recreate the same style as the picture.
Put your hair into two high space buns, leaving front pieces of hair out of the buns. This hairstyle is perfect to give you a more 'careless' look.
Consider this hairstyle as a variation of the previous one! Instead of having all of your hair up, you can try getting two space buns, but leaving the rest of your hair down.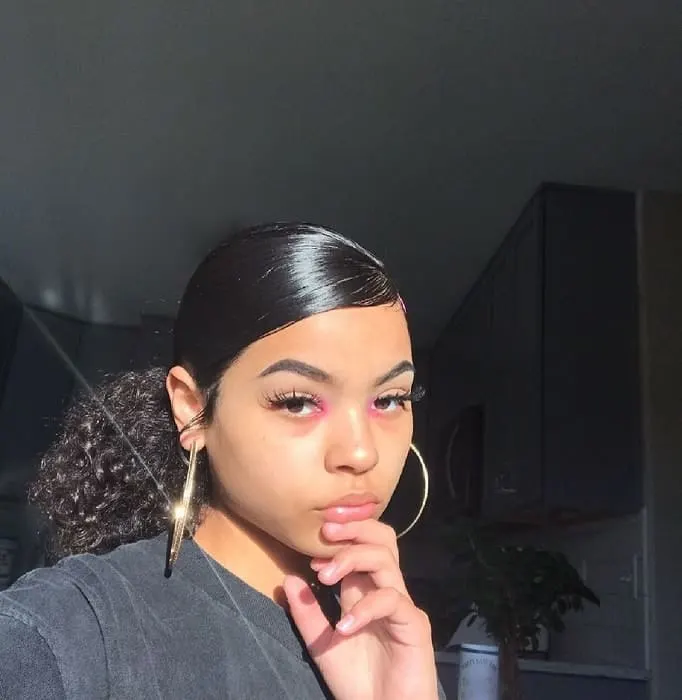 Not all haircuts for long curly hair have to be fun and crazy. You can try going for this classic low ponytail, but don't forget to slick back the top part of your hair and really laid it down before tying it up on your hairband!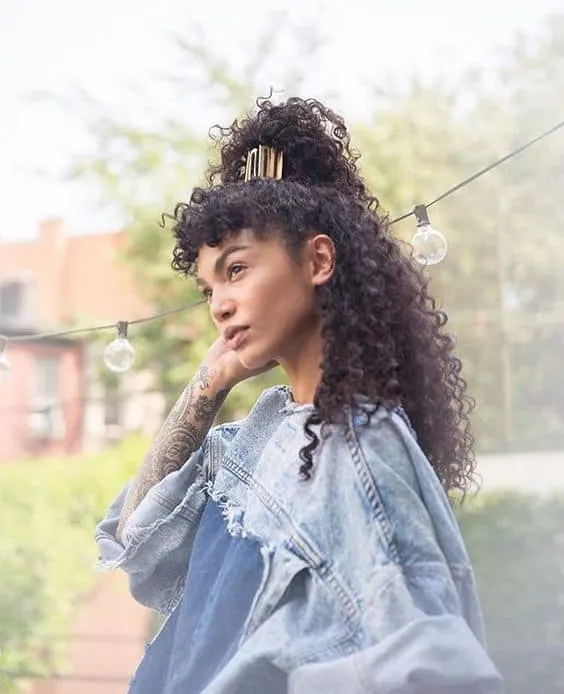 Another great take on the classic long hairstyles is this one! First, separate your curly hair leaving the top part up and the rest down, but instead of tying it everything up with a ponytail, do it with accessories to give it a little extra touch.
Striking Blue Curly Hairstyles to Look At
Twist are a better popular option for curly-haired women, and you can add your own touch to it by getting these chunky braids done! Then simply put the half part up into a bun and you're done recreating this particular hairstyle.
If you're part of the women with long and curly hair club who just want easy hairstyles this one for you! All you have to do is part your hair slightly to one side and tuck just the top front part of your hair behind your ear. Make sure to secure it with big hairpins for that extra stylish touch.
This curly ponytail was a must-try long hairstyle for women back in the '80s. You'll have to put your hair up in a ponytail, but instead of having it completely straight at the top of your head, try tilting to one side, it's literally that easy.
Amongst our favorites, this particular long curly haircut with bangs is the chicest! You see, all you have to do is pretend you're putting the top part of your hair in a ponytail but instead doing a bun, making sure the tips of your curls are facing towards your face to create the illusion of fake bangs!
All women with long hair can agree sometimes you just want to put your hair away from your face, and with this hairstyle, you can. Divide your curly hair into even halves and then put those in big, puffy buns on each side of your head and you're done.
This is a fun take on classic women with long and curly hairstyles, and it's actually really easy to do. First, you'll have to grab two front pieces on each side of your hair and braid them, pulling it down and back.
Once that's done, follow up by separating your hair into pigtails, style your baby hairs and add the butterfly clips for a fun touch.
Believe it or not, this hair isn't wet, but you can make it look like it. You'll have to wash your hair and apply hair gel to create the curls, once you do -and don't be afraid to use too much hair gel!
Simply apply some hot hair with a diffuser to really set the look in and you're done.
You can wear your long kinky curly hair down and still get it away from your face with this hairstyle. Simply let your hair down and pull it back to expose your face, then simply tie up a bandana to hold your hair in place throughout the day.
Crazy Hair Color Ideas for Women with Curls
Take your long natural curls to the next level with this hairstyle. First, wash down and dry your hair with a diffuser to really bring out the beautiful shape of your curls and then simply part it slightly off to one side -whichever you want, and you're done.
If you are looking for curly hairstyles for long hair but you already have your hair in cornrows, you can try styling it this way by putting the top half part of your hair up in a top knot bun or ponytail! Making sure to leave the other half down.
Instead of doing a regular low ponytail, try doing this one! Tie your hair up as high as possible and then puff out the curls to make them stick out. Finally, tie a bandana around and make sure the curls actually fall down on it!
52. Sleek Curly Bun with Laid Edges
This is a great long hairstyle for women with curly hair who just want a classic, beautiful look. You'll have to carefully comb your hair into a big bun and then, with the help of a tiny brush, laid down the edges on your forehead to better recreate this particular style.
This hairstyle is very simple and easy to do. Simply part your hair down the middle and tie it down to where your shoulders meet your neck.
Make sure to actually pull your hair away from your face when doing so and simply let the ponytail hang loose on their own.
Similar to the style mentioned above, but this time, you'll have to braid the ends of your hair into simple two strands braids. Tie them up with a scrunchie and make sure to laid your edges before you finish.
Dazzling Curly Shag Haircuts for Women
If you're looking for more of lazy curly long hairstyles you can try this one. All you have to do is put your hair up in a bun and slightly pull your hair to make the bun seem bigger. Last, but not least, leave some intentional curls out to frame your face.
56. Turban + Edges
Again, if you just want to put your hair away from your face, using a turban to keep your hair tucked is a great idea! Just don't forget to leave the baby hairs out so you can be laid down your edges as well.
57. Bantu Knots
Take your simple buns to look to another level with these multiple mini buns style. Separate your hair into 8 sections and carefully put them in little buns across your head to recreate this look.
58. Buns + Low Braid
Similar to the previous style, but this time, instead of putting all of your hair in buns, leave the bottom part loose so you can, later on, braid it into a simple three-part braid.
Amazing Curly Hairstyles for Women Over 50
This is one of the most fun long hairdos with curls and all you have to do is simply separate your hair in big chunky parts and then braid it down! The braids don't have to be perfect, so don't worry too much about it.
60. Long Curly Hair with Highlights
A hair like this looks fabulous! We have to pay our respects to those who have it and care for it. It requires a lot of time spent in the bathroom paying loads of attention to it, but it totally worths the effort. Keep your base color in a dark brown and make some ginger blonde highlights.
Last, but not least, if your hair is already braided, you can style it by separating your hair in half and putting it in two very high ponytails, using your own braids as headbands to hold them together.
Frequently Asked Questions
Is a long curly hairstyle unprofessional?
No, a long curly hairstyle is not unprofessional. Unless you work in a profession where your hair needs to be kept pulled back for health or safety reasons, wearing your curls long is completely acceptable.

Some ideas for professional hairstyles for long curly hair include headbands, stylish hair clips, a half up-do, and a high bun.
Are long curls high maintenance?
Depending on how you like to style your hair, long curls can be high maintenance. Having more hair means it will take more time for you to detangle, wash, and style your hair. However, many people find it easy to manage once they figure out a wash-and-go routine that works well for their hair.
Why does curly hair take longer to grow?
Curly hair takes longer to grow out because the hair curves as it grows. When straight hair grows, the new length is quite visible since the hair is growing straight down. With curly hair, the hair needs to grow enough to complete an entire curl for the new length to be noticeable.
Does long curly hair need layers?
No, long curly hair doesn't necessarily need layers, but many people prefer their curly hairstyles with layers. Layers will help prevent your curls from being weighed down, which is especially helpful when your hair is long.
Short or long curly hair – what is the best length for me?
Curly hair looks beautiful, both short and long length. When deciding which length is best for you, consider how much time and effort you want to spend on your hair.

Short hair takes less time to wash and style, but if your hair is too short to pull back, you may end up washing and restyling it more frequently.
Who Should Try A Long Curly Hair?
We know you want to jump right into the curly hairstyles for long hair list, but before you do, there are some things you should know and consider about the following hairstyles.
First and most important, you need to be honest about the current state of your own curls: Is it healthy? Have you been taking proper care of it? Has it been damaged lately?
Understand that many of these hairstyles are done on very healthy hair, so you don't want to ruin yours trying to imitate these styles. On the contrary, we encourage you to take care of your curls and create a proper hair care routine that will allow you to replicate these long hairstyles as close as possible!
That being said, the second thing you need to consider is your hair length. In this list, you'll see a lot of women with very, very long hair, but don't get discouraged! Even if your hair isn't as long as theirs, you can still try to recreate these curly hairstyles.
What we mean to tell you is that yes, even if your hair isn't down to your waist yet, you can still go on and try all of these outs and make it work with your own hair and the length is currently in!
Last, but not least, we recommend you to not stick to just one hairstyle on the list. If you're a part of the women with long and curly hair the don't settle for one single hairstyle!
Try different ones depending on the occasion, on what you're planning to do or even your mood. Trust us, after you see all the styles we've got prepared you won't want to settle down for just one.