Low-fade haircuts are one of the most popular hairstyles you'll find men are doing in 2023. However, not all men know that there are plenty of different ways to create such a hairstyle.
They stick to one haircut, which works for them and forget about the myriad of options waiting in the fashion world.
Depending on the length of your hair and the extent of your imagination, you can come up with a low fade hairstyle that can help you conquer the universe. While there are plenty to choose from, we came up with just 31, to make your struggle easier.
What Is A Low Fade Haircut?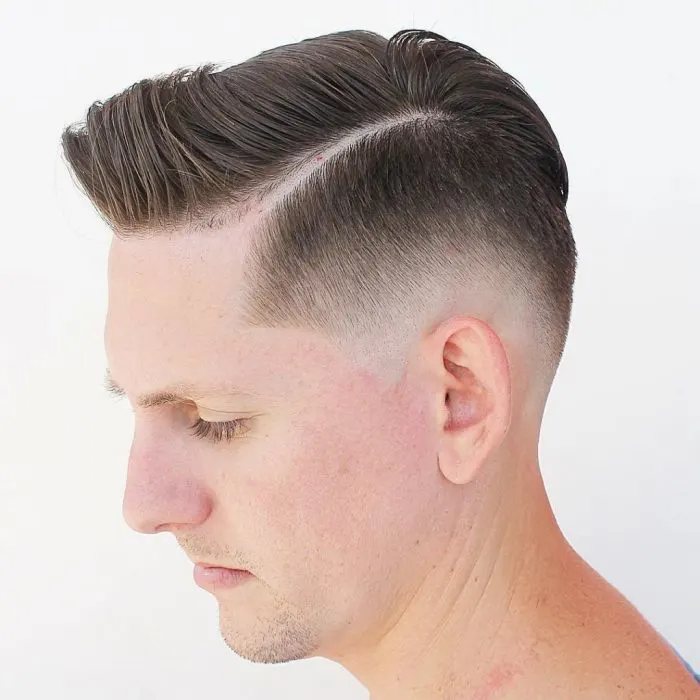 With all these fade haircuts conquering the planet, not many people can give a clear definition of the low fade.
The low fade is a fade the shortest part of which starts below your ears. There are four different low taper fades you can take advantage of.
The Neck Fade
This is the lowest fade haircut which involves trimming a couple of inches near the neckline, while the rest of the hair stays the same length.
The skin fade involves shaving the hair about 1- 2 inches above the ears in front and below the ears in the back. The shaving is done in the back of the head as well.
The Classics
The classics or the high and tight haircut involves cutting the hair short at the ear level and making layers above the skin line. You can either use a razor or scissors to create the classic low-fade haircut.
Very Short Low Fade
A very short low fade is close to the military hairstyle when most of the hair is cut as short as possible with a trimmer and only about 2-3 inches are completely shaved at the ear level.
When you go to the barbershop and ask for a low fade haircut, make sure to specify exactly what you need.
The best way out is to show the hairstylist a photo of your dream haircut. Read the differences between low fade and high fade hairstyles if you are confused.
Men's Low Fade Hairstyles
Low fade haircuts for men come in all shapes and sizes. The main difference between them is the starting length of your hair.
Some men are brave enough to create such hairstyles on their own while others entrust their hair to the hairdressers.
Low fades created with trimmers and razors are a simpler option. Meanwhile, a scissors fade, which takes longer to make, appears much more stunning.
Short low fades require fewer touchups than long ones. However, they don't look as impressive.
1. Short Low Fade with a S

ide Part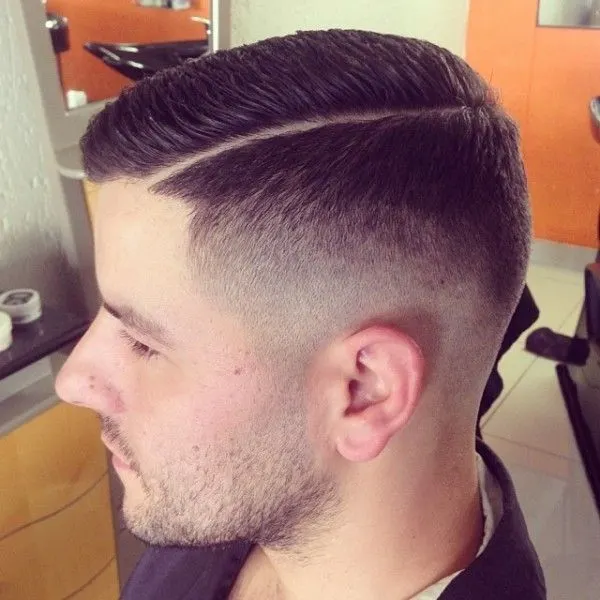 A short low fade haircut is a great option for men who want to look great when they just get out of bed. In order not to make this hairstyle appear too simple, you can ask the hairstylist to accentuate the side part with designs.
2. The Simpler The Better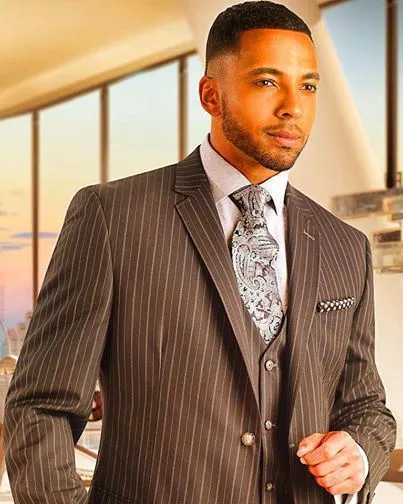 This classic low fade is especially favored by men with thick, unruly or curly hair. The hair all over the head is kept the same length and only a couple of inches above the ears are shaved. This hairstyle can easily be done on your own.
Different Types of Fade Haircuts for Men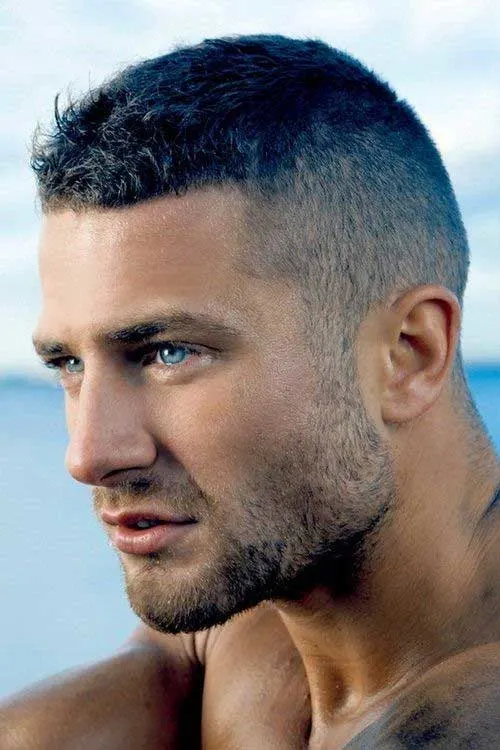 Low fade hairstyles, just as any fade haircuts, look great when coupled with a beard. The transition from the thick hair on top and a trimmed line on the bottom to the facial hair creates a great impression.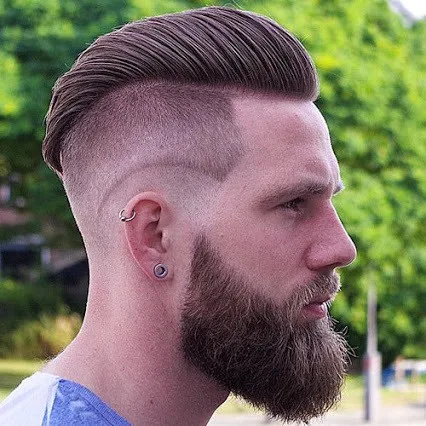 Mohawk is a bold hairstyle not many men are ready to go for. Fading the hair on the sides makes the overall appearance more stylish. The difference between the tapered layers outlines the high hair on top.
Related to Low Fade Haircuts:
5. Scissor fade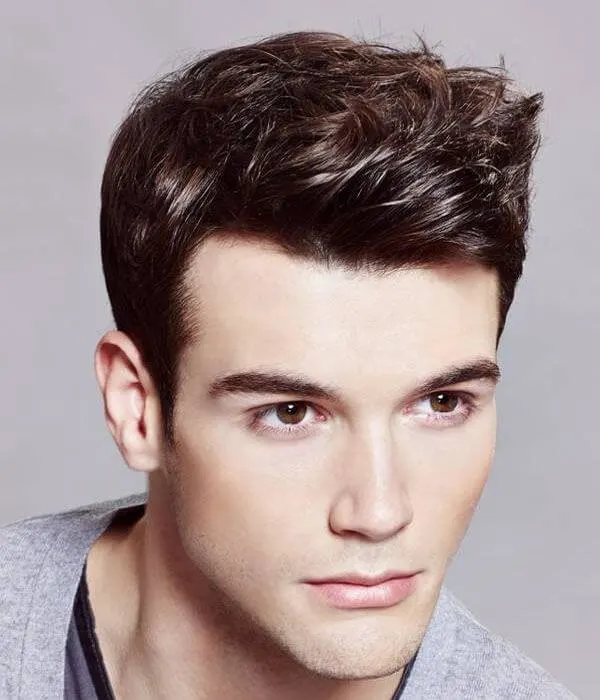 This low fade haircut for men is magnificent due to the way it is made. Scissors fades are harder to accomplish and require more frequent maintenance, but they appear more stylish and create an overall interesting look.
6. Very low fade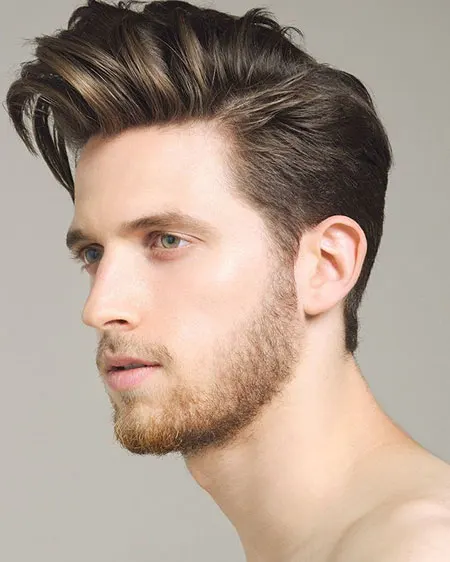 This very low scissors fade requires plenty of work but looks extremely fashionable especially if you are ready to leave the top part long. The hair on top of the head can be styled into spikes or a comb over.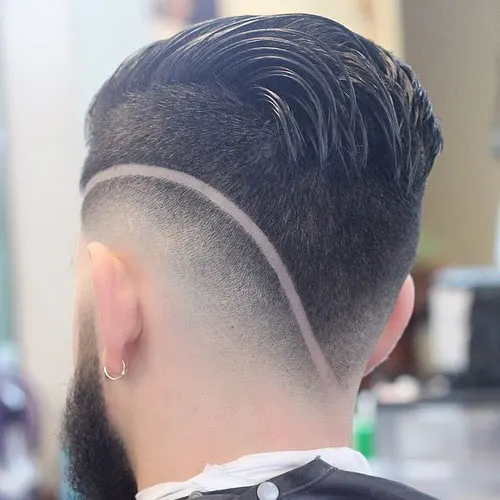 The low drop fade keeps the hair short not just on the sides but in the back of the head as well. Adding a fashionable line which drops down together with the hair improves the overall look and brings in extra style.
8. Fade Highlighting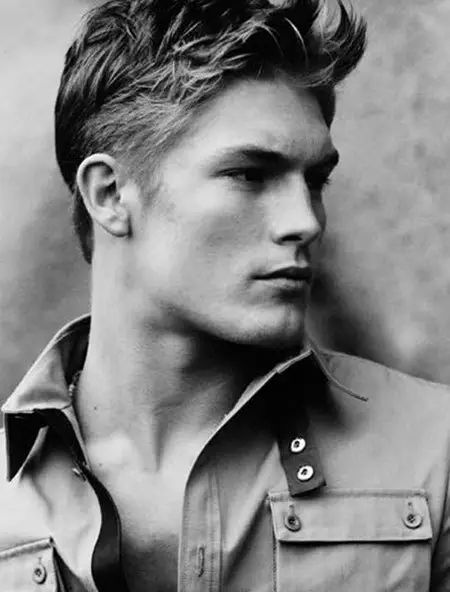 This special low fade hairstyle doesn't just involve cutting the hair, it creates contrast by highlighting. The sides are dyed a lighter color than the top and the back. As a result, you get an appearance of a fade without any trimming.
Unique Short Faux Hawk Haircuts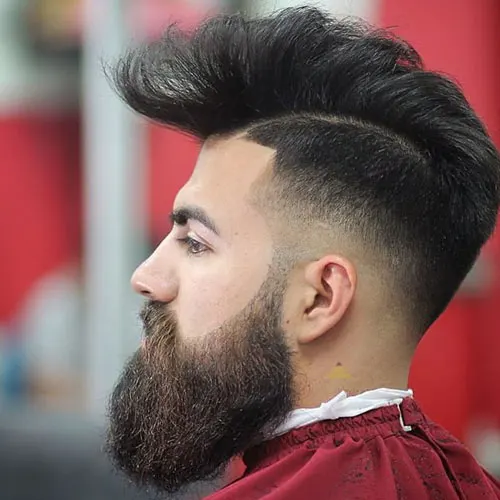 If you want to make a really cool statement with your hair, consider playing around with the contrast. Leave the hair on top several inches long to create the appearance of a mohawk. Add a beard for a more manly look.
10. Above The Ears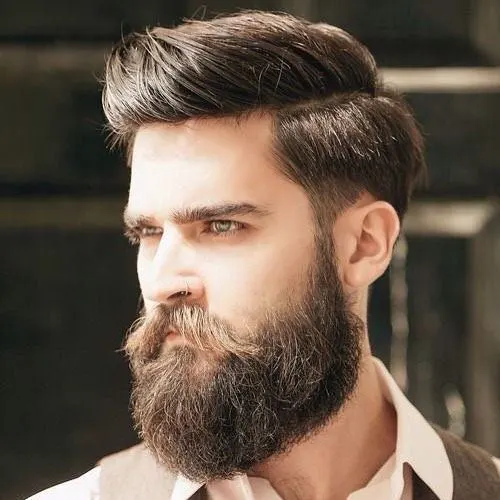 This low fade haircut is very easy to achieve since only the part above the ears is cut noticeably shorter than the rest of the hair on the sides. A prominent side part coupled with long hair on top can make you truly shine.
Taper vs Fade: What's The Difference?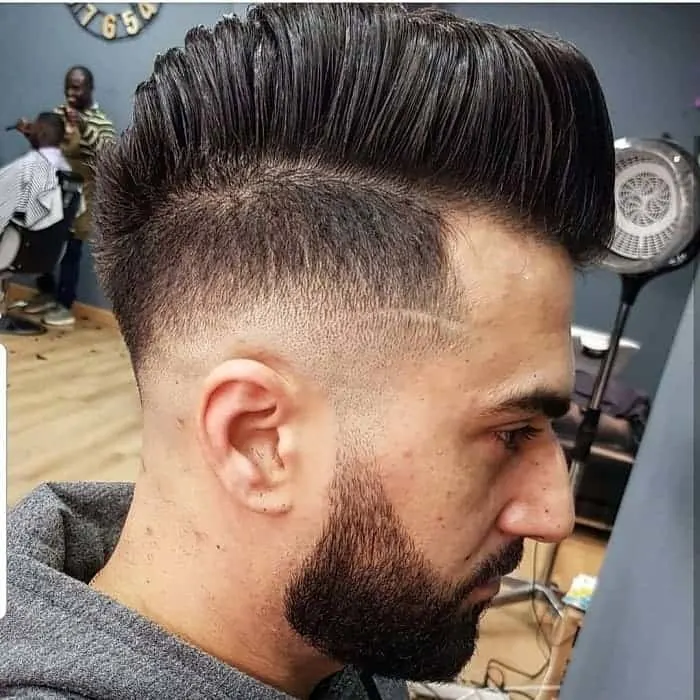 This modern pomp hairstyle features large voluminous hair on top and low drop faded sides. The top hair first turned into a layered cut and then, styled into a pompadour hairstyle with the help of good quality pomade. Fade the sideburns to make the full beard blend into the drop fade cut for an uber-cool look.
12. 360 waves + Low Temp Fade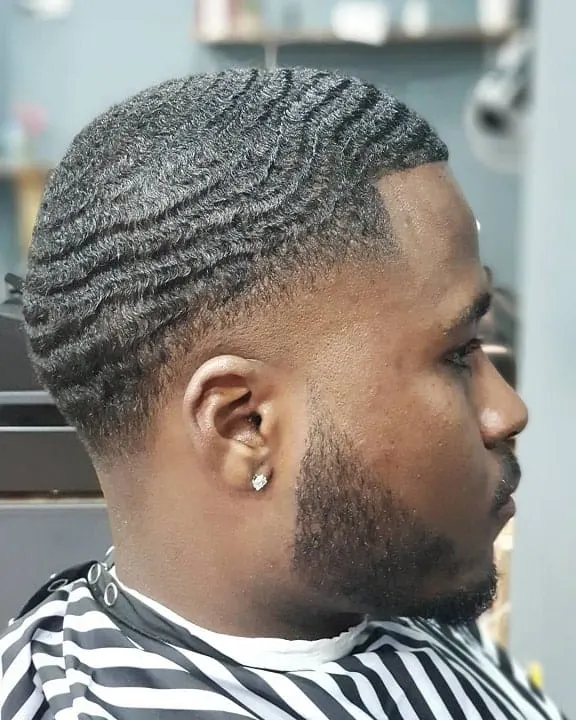 360 waves are a flatter version of afro's kinky hair curls which gives black men manageable and suave appearance. If you want to keep it on a slightly sharp side, you can fade the temples, sideburns and the hair at the nape of the neck.
This hairstyle is highly practical and comfortable to carry, especially when you run out of time to style your hair and it can last for several months.
13. Creative Fade Haircut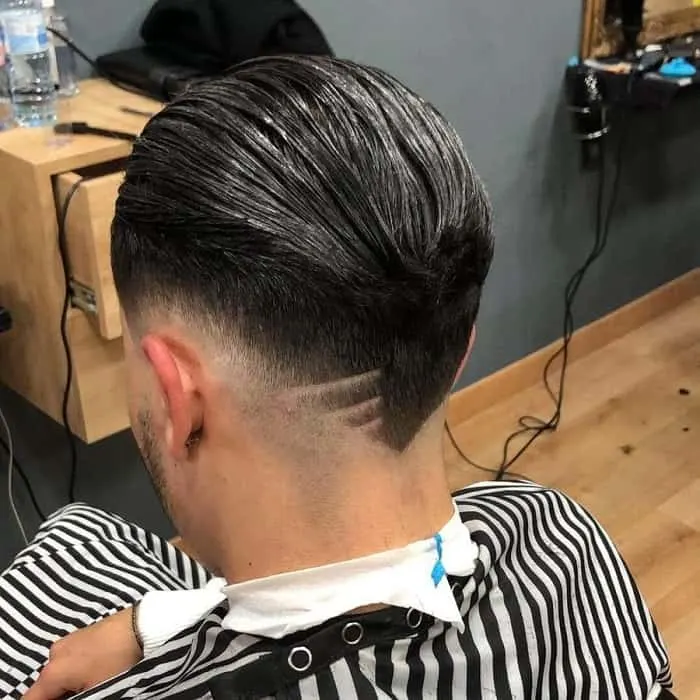 The V-shape low fade hairstyle for men is achieved by leaving thick long hair on the top while the sides are faded gradually and back is turned into V-shape by trimming the neckline neatly. The top hair turned into super glossy slick back hairstyle for a polished look. The three razor lines at the back give an edgy and awe-inspiring look to men.
14. Dreadlocks Hairstyle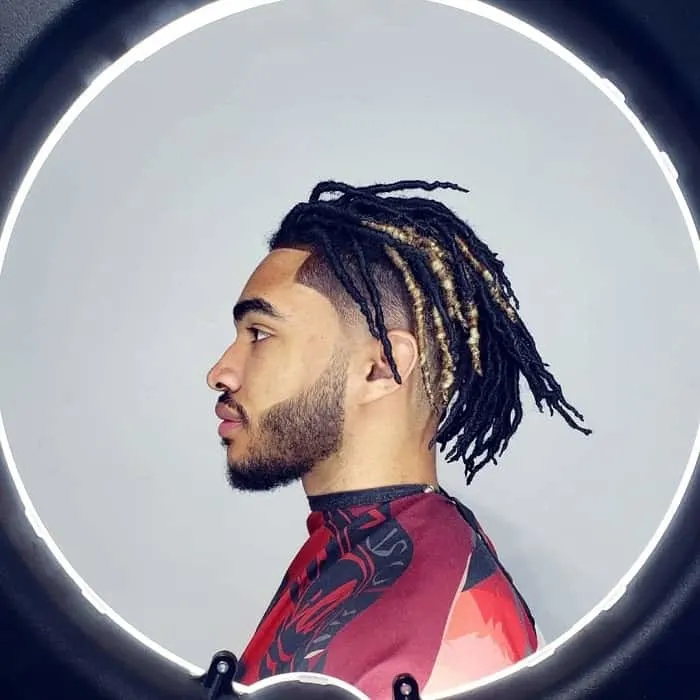 Go crazy and playful with your dreadlocks! The handsomeness of this hairstyle lies within the men's low fade. Keep the top dreads longer and trim the back hair shorter to make it resemble an undercut.
You can sweep the dreadlocks at back or tie them into a topknot for a subtle appearance. The golden dreadlocks add an ultra-trendy touch to the hairstyle.
15. Textured Bangs and Low Fade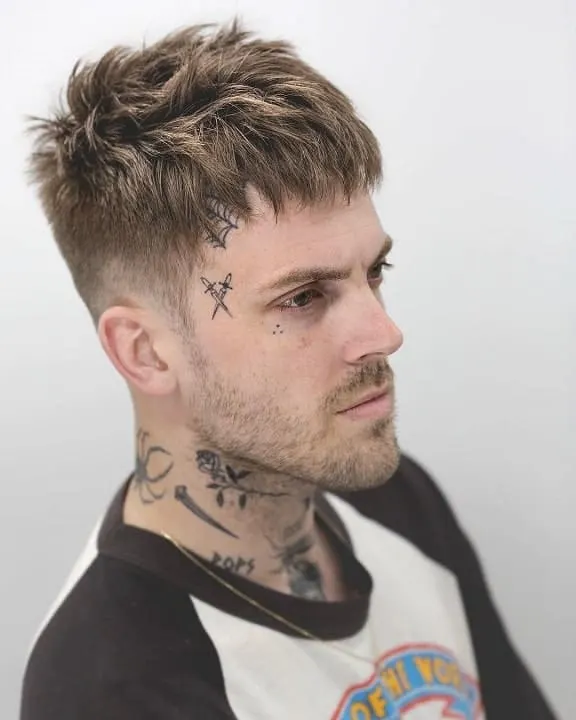 If you want to flaunt with your natural thick locks, choppy spiky top along with front textured fringe and fade haircut will be a great choice to get a bad boy personality. 5 o'clock shadow beard will add an extra funkier element to your overall look.
16. Classy Transformation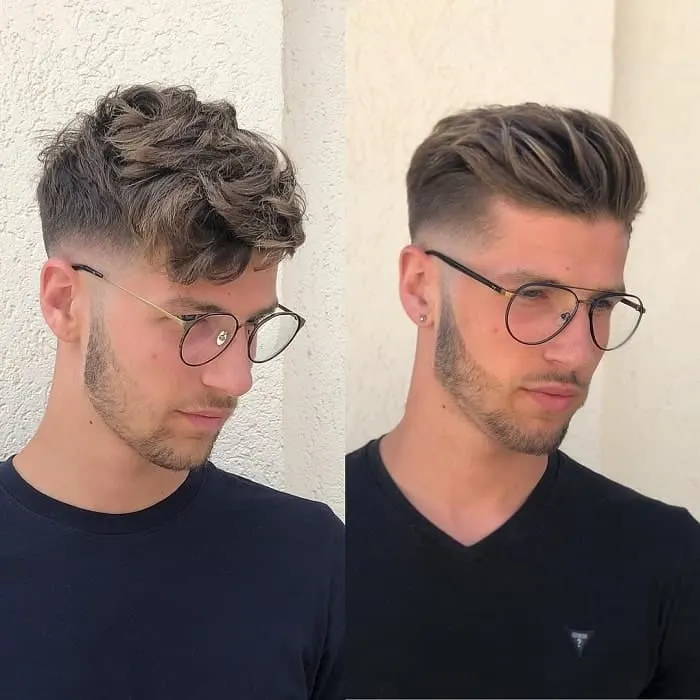 Get a hairstyle that can give you a classy transformation from a rebellious look to a graceful look. The jagged textured top is for those guys who are afraid to use any styling product that can cause damage to their locks.
But you can change this messy look at any time if you have long top hair as long hair provide you limitless styling options like Quiff, long comb-over, and spikes .e.t.c.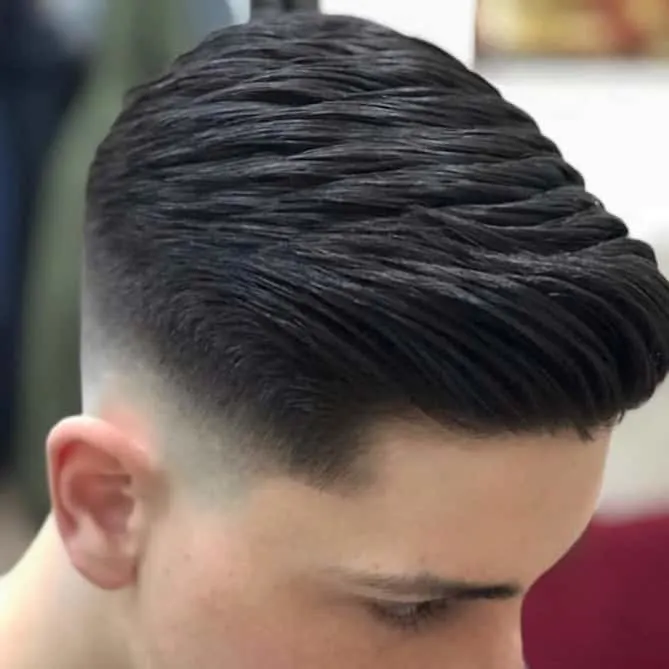 Well-structured comb-over haircut with faded sides and back looks so classy and graceful on young guys and mature men. You can try a comb-over hairstyle with enormous versatility such as; you can style it into a slick comb-over or create a height from the front to give your face elongated features.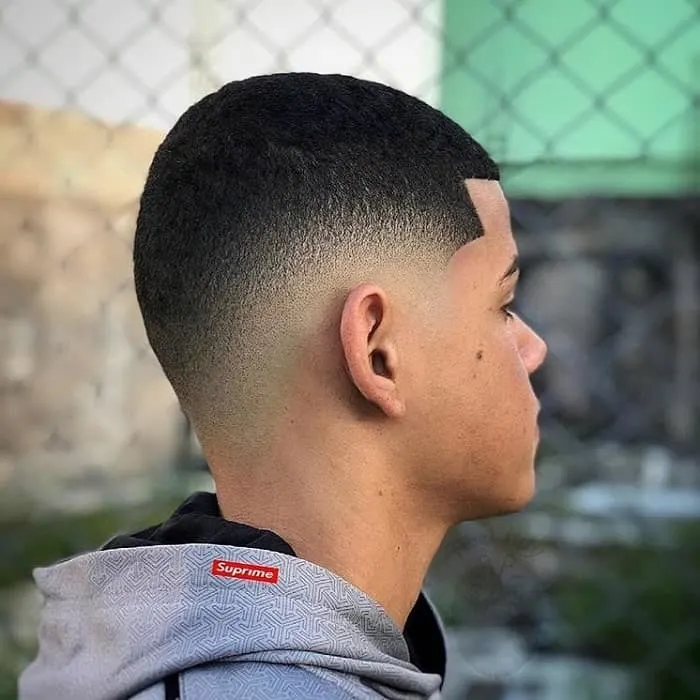 A simple buzz cut may not look exciting in appearance because of its simple and flat structure, but that's not mean that you cannot inspire others with your outdated style as you can give this haircut an absolute refreshing update by pairing it up with fade. You will surely love this change if you want to rock with short hairstyles!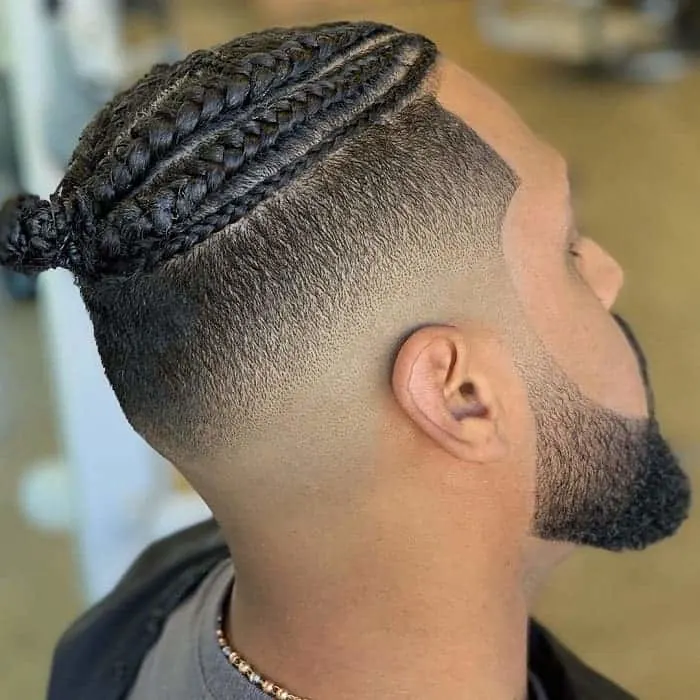 It is impossible that you wore a cornrow hairstyle and did not look trendily cool. Cornrows are one of the most popular braiding hairstyles amongst men and it is up to you that how can you take benefit from these braids to make your personality striking.
The top is styled into cornrows and tied into a topknot hairstyle. The low faded undercut will make the entire men's outlook uber interesting.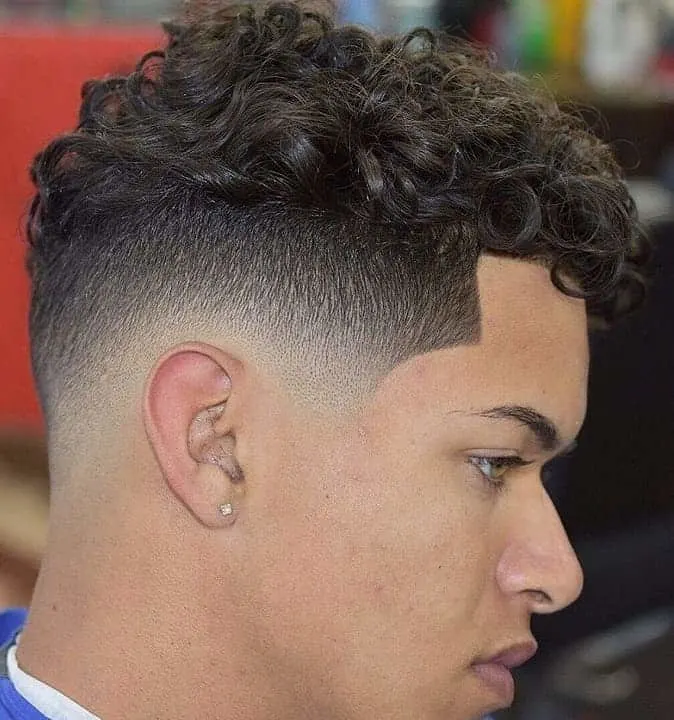 Want to get noticed with your curls? No worries, you can get your desired look more smartly with the help of faded low hair. This cut will give more emphasis to your textured curly top of the head and will keep your curls in a better-controlled structure. Do not forget to add a line up as it will give more definition to your curly top.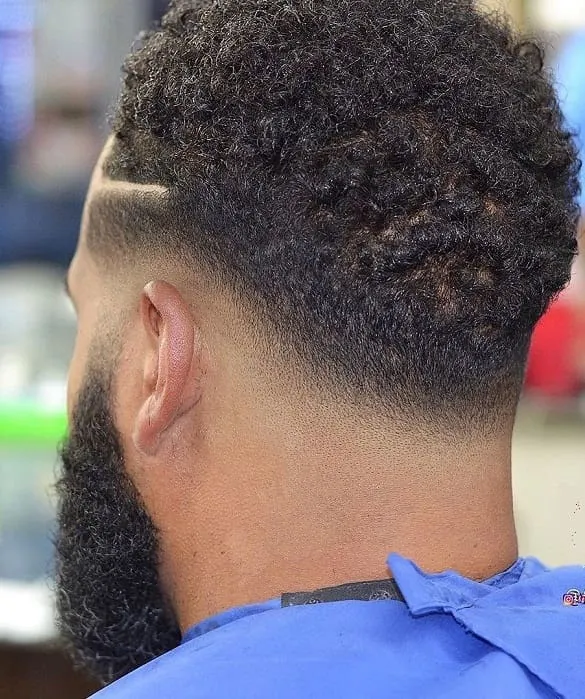 This men's low fade haircut focuses on afro-textured top hair, perfectly trimmed hairline that appears like a box shape. It is easy to maintain hairstyle and when combined with a thick beard it reflects truly hipster vibes. Half razor line at one side on the head provides a sharp and funky element to men's appearance.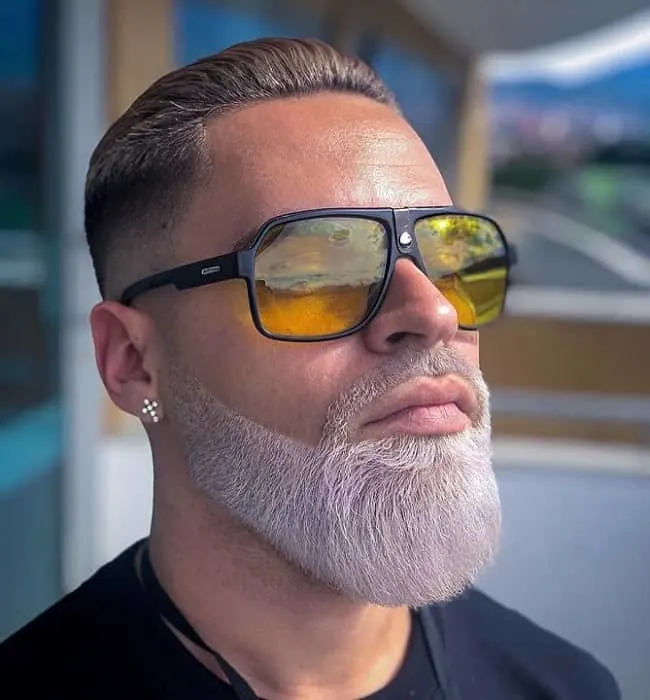 Fade hairstyles can be clubbed up with any sort of top haircut, but look awesome when carried with full of swag. The slick back hairstyle, faded sides and back and silver-blonde lineup beard look sophisticatedly charming on men.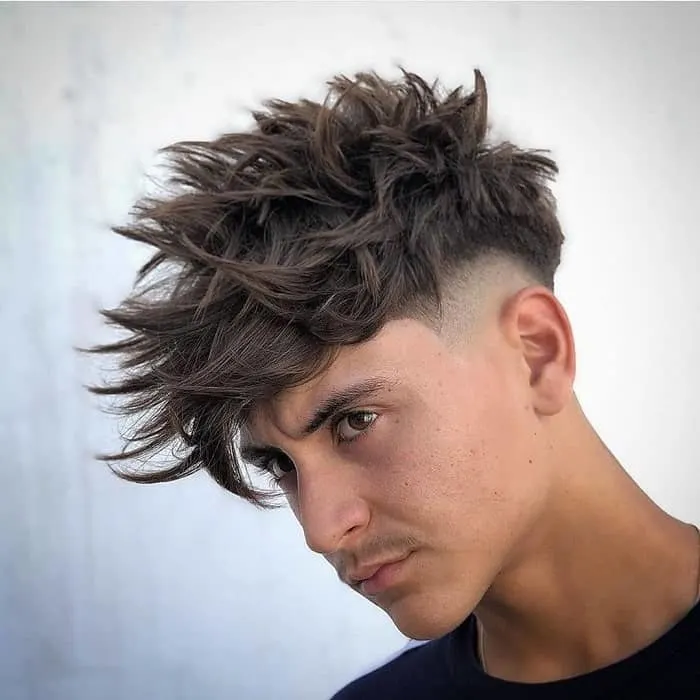 If you want to get a sharp and edgy outlook for yourself then, you can opt for super edgy Fohawk jazzed up with low cut fade. It is ideal for guys with thick textured hair. The spiky texture is achieved with the help of fingers and hold into place with good quality hair gel. It is a cool hairstyle choice, especially for tween boys.
24. Fresh Drop Fade Look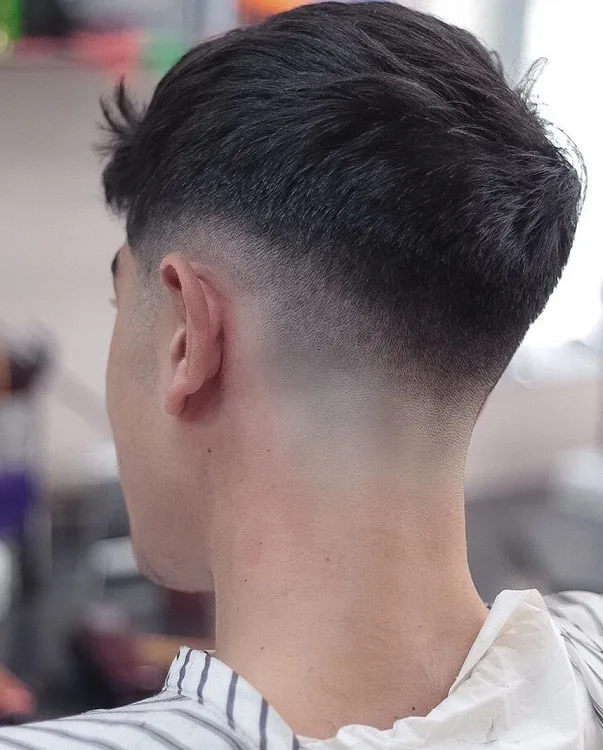 This low fade haircut for men looks great with straight hair on top no matter what's the size of hair. The fading starts from the temple, goes around the ear and ends above the neck's nape which are the core steps to get this fresh and neat look.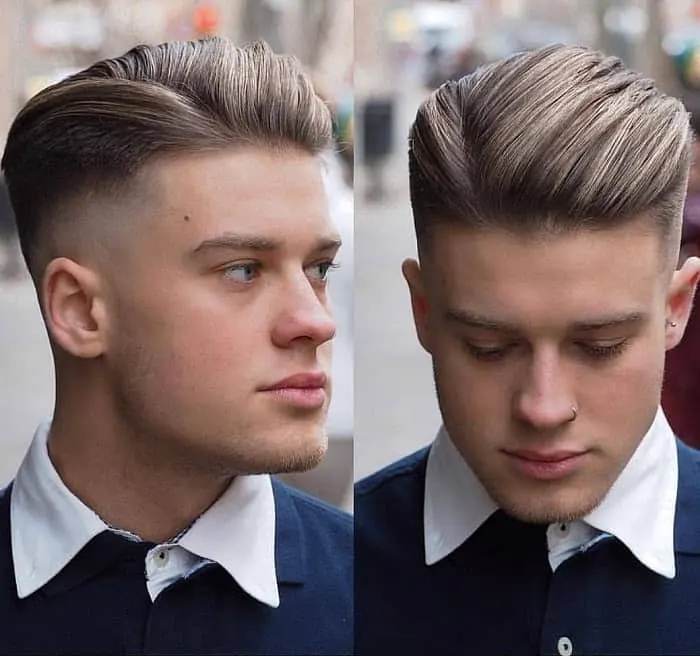 In this particular hairstyle, not only the top gets pushed back but the low fade cut also seems pushed back gradually as it appears long from the front and gets shorter towards the back. The best thing of pushed back hairstyle is that it follows your natural head shape without any flaw.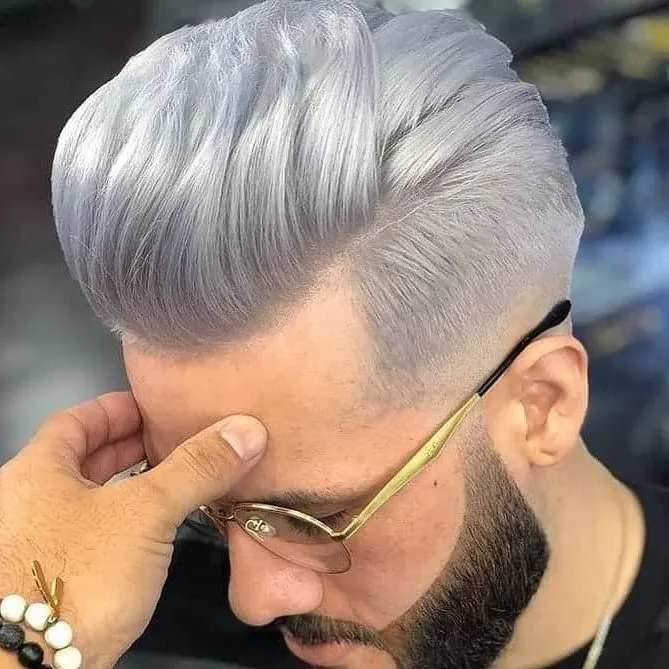 If you are courageous enough to change the color of your natural hair boldly such as turning your hair into flashy gray tint then, give this avatar a big shout out. Well-groomed black beard and gray hair make an alluring contrast.
27. Fade Haircut and Tattoo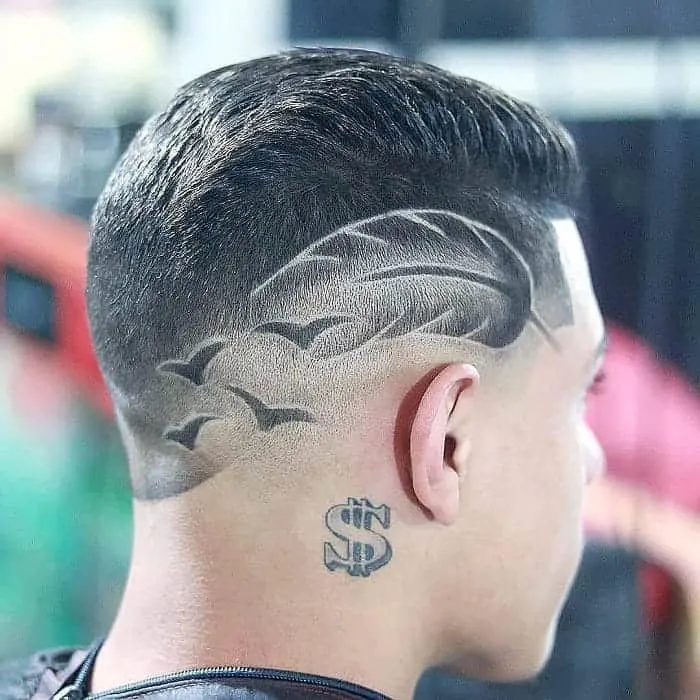 Want to make your low cut fade hairstyle fascinating that will help you to gain the attention of everyone around you? If so, level up the fade game by incorporating a magnificent hair tattoo at one side of the head. Here, the feather and bird hair tattoo represents freedom, bravery, trust, and courage.
28. French Crop Hairstyle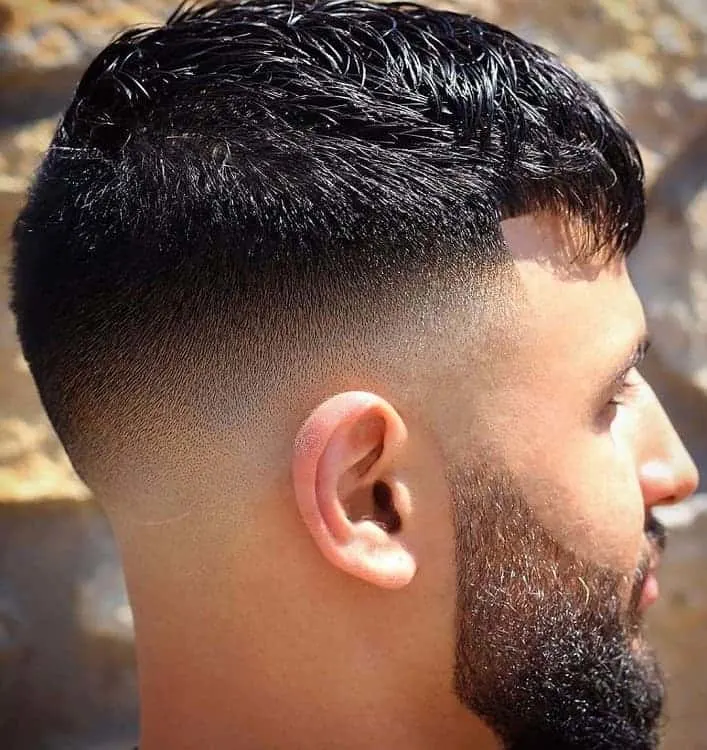 The hairstyle that has a polished, stylish and understated element with a capacity to boost the personality attitude of men! Maintain the freshness of the crop hairstyle with fade. Good quality pomade will help you to attain this rich glossiness and thick beard will enhance your mannish features.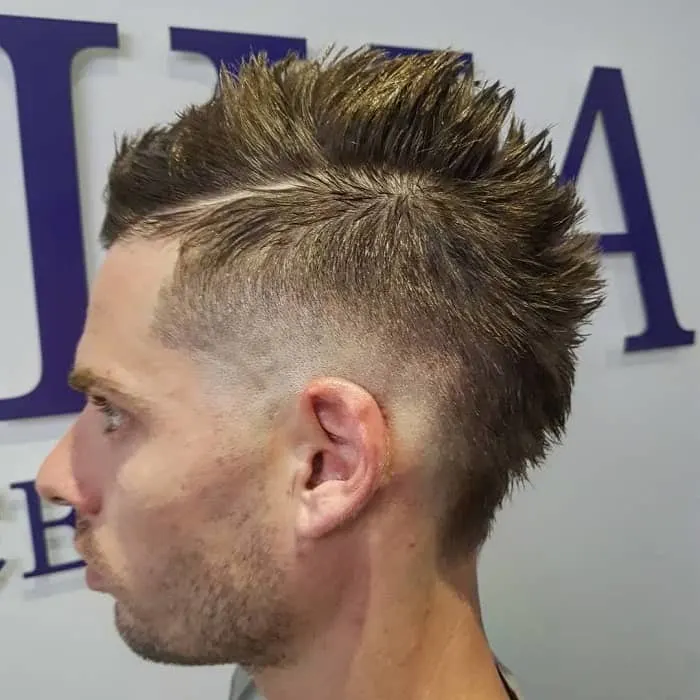 Short Mohawk is ideal for those men who are looking for a less edgy and trendy hairstyle that contains some punk element as well. It is quite flattering from the top but gets pointed gradually when reach toward neck's nape.
30. Brushed Up Hairstyle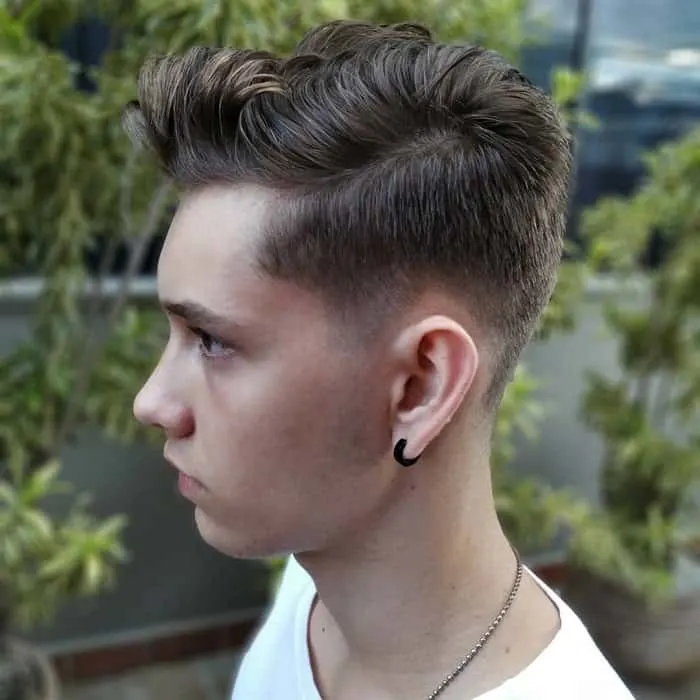 A brushed up hairstyle with low fade provides an ultimate combo of modish, swanky and edgy personality features. Guys with medium length hair can opt for this haircut to look tremendous. If you style the front hair into rounder shape twisting in inward direction then, you will end up with a short quiff.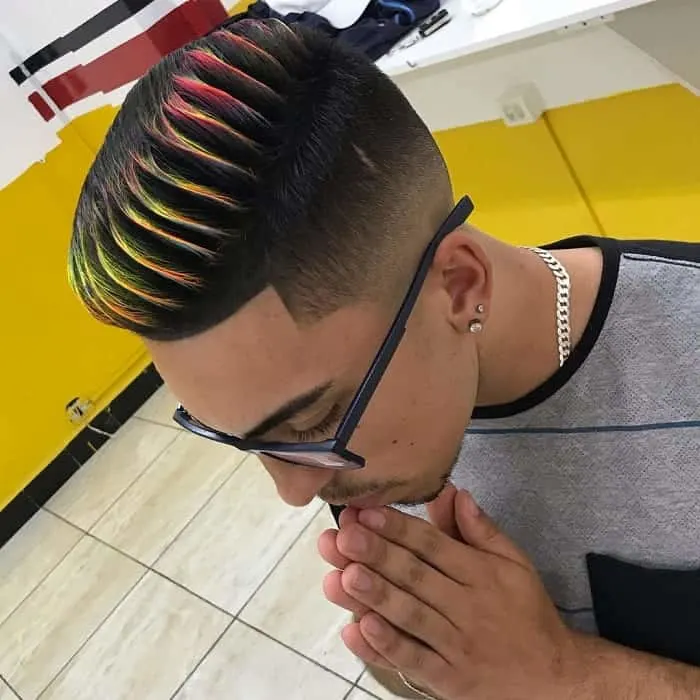 This vibrant fun look features heavily gelled and heightened Quiff, and low side faded hair and back of the head. To give more details to hairstyle symmetry, embellish the lining of the top hair with colorful multi-tone highlights. The rainbow color outlining the Quiff looks no more than a feather in appearance because of the layered cutting.
Now that you know how much low fade haircuts for men can vary, you can start making your choice. Whether it's a voluminous mohawk or a very short fade, the overall image is bound to make you feel extremely well about yourself.