11. Toasted Ombre
The color on the ends of her curls is just everything. It stands out like a sunset against her milk chocolate skin and the pitch dark roots of her hair. This girl is a goddess, and she knows it.
12. Gone Gray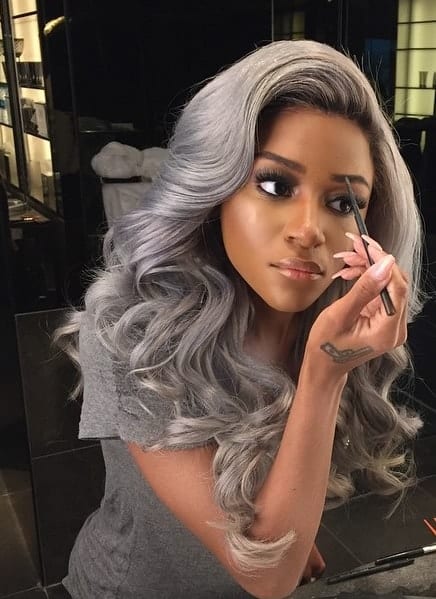 A stunning, silvery shade is ideal for nearly any skin tone, but it sparkles with a particular brilliance against warm skin with golden undertones. The upkeep takes a minute, but gray hair will always be worth it.
Best Sew In Hairstyles for Black Women
13. Blue Violet
Oh, those purple hues. They are unquestionably among the best hair colors for dark skin. Purple is so royal, after all, and this woman indisputably regal.
14. Almost Red
A little auburn, a bit orange, all fabulous—that's the formula for this look. It's not really ombre, but do note the darker roots. That's always a sign of easy maintenance, and we love easy color upkeep.
15. Blonde Bombshell
This half-and-half hair is fantabulous. The curls add to the glam factor (her gorgeous red lips don't hurt, either), but it's really the contrast between blonde and brunette that makes this color combo a stunning one.