Afro-textured hair can take a long time to grow, so many Black women and young girls choose to have a weave fitted. However, there are plenty of amazing short natural haircuts and hairstyles for Black women. Rather than damaging your hair and your scalp with harsh chemicals or tight weaves, learn to love your natural hair.
Natural afro hair is normally curly, kinky or wavy, and can take a little more taming than other hair types. Nonetheless, afro-textured hair looks amazing and many of today's popular styles have a proud heritage behind them.
Tips for Choosing a Short Natural Hairstyle
Remember that no matter which short natural hairstyle you choose, the typical length of time it will last is six weeks
Choose a hairstyle you will be comfortable maintaining. Don't want to spend more than 15 minutes styling each morning? Keep that in mind!
Keep your face shape in mind when looking at hairstyles: for heart-shaped faces, add layers; oval and round faces can both pull off braided short styles beautifully, etc.
The more detailed the hairstyle is that you choose, the longer you'll spend having it styled in the salon
Short natural hairstyles look their best when styled with the best products. Use leave-in conditioners and moisture-rich hair oils to smooth frizz and add shine.
If you like both texture but an easily controlled style, there are looks that combine both natural hair's waves with microbraids
If your job requires a certain professionalism, choose a hairstyle that is reflective of that (ex. no crazy hair colors)
Some short natural hairstyles have a ton of volume, while others such as braids, do not. If you wear your curls naturally, it will be easy to embrace texture. For low maintenance minus texture, braids are the best choice.
Short Natural Hairstyle Ideas for Black Women
The following list will show you a range of styles that look amazing with short natural hair. None of the styles should require chemical straightening or for you to have a weave put in, so your hair should stay in much better condition.
Check out these wonderful short length natural haircuts and hairstyles perfect for black girls and women.
#1: Teeny Weeny Afro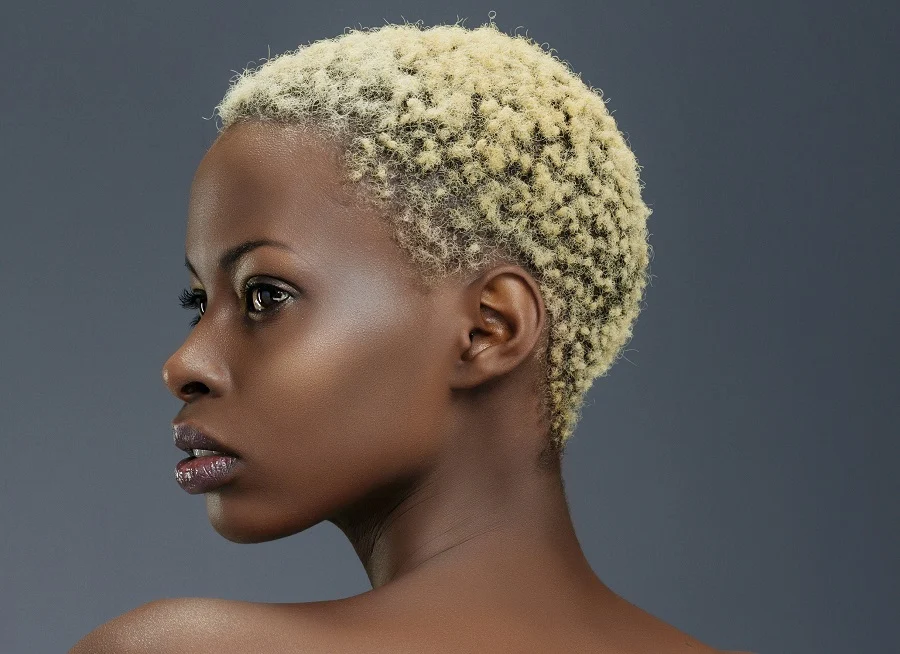 Embrace your curls with the chic TWA. If you have newly big-chopped hair or prefer low-maintenance styles, this look is for you. Keep your hair moisturized and let your natural curls shine proudly.
#2: Playful Coily Pixie
Frame your face with a coily pixie cut. Perfect for all curl types, this short hairstyle requires minimal upkeep. Define your curls using a light gel or mousse for a stunning, playful look.
#3: Modern Tapered Side Part
Opt for a tapered cut with a side part to create a sleek, polished appearance. This style flatters all face shapes and works for any occasion. Maintain the shape with regular trims and keep your curls moisturized.
#4. Defined Finger Coils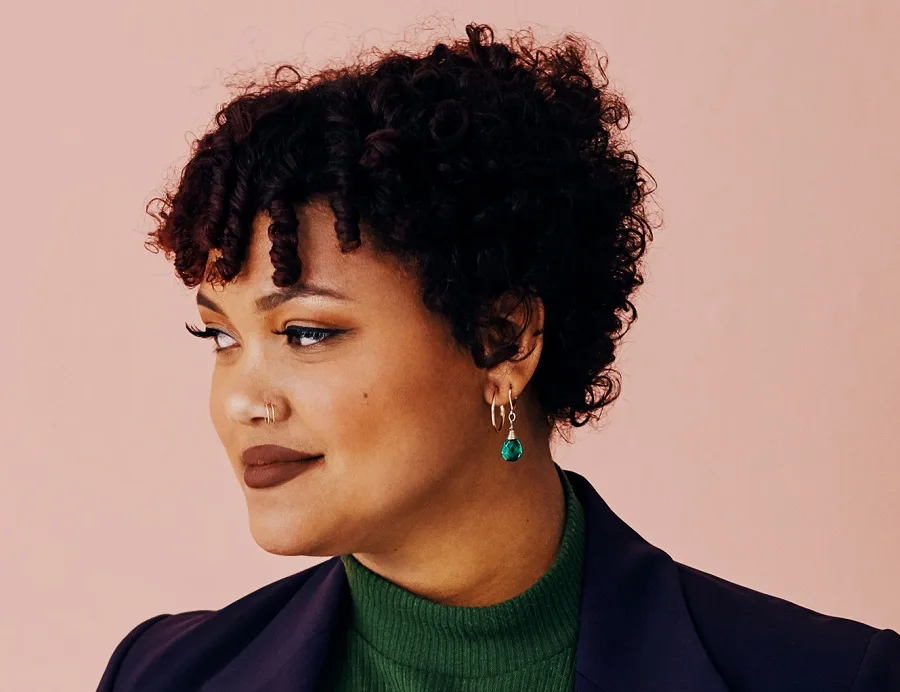 Give your short hair a boost with finger coils. Ideal for tighter curl patterns, this technique adds texture and definition. Apply a light gel or curling cream to create beautiful, well-defined coils.
#5: Voluminous Flat Twist Out
Achieve a textured look with a flat twist out. Ideal for maintaining healthy hair, this protective style works with all curl patterns. After your twists have dried, carefully untwist them to reveal your bouncy, voluminous curls.
#6: Bold Bantu Knots
Showcase your heritage with intricate Bantu knots. Ideal for short hair and all curl types, this protective style makes a statement. Divide your hair into sections, twist, and secure each knot for a stunning look.
#7: Fierce Frohawk
Make a statement with a frohawk. Perfect for those looking to stand out, this edgy style complements various curl patterns. Pin the sides up and let the top curls flourish for a bold, confident look.
#8: Sophisticated Pinned Curls
Elevate your short natural hair with elegant pinned curls. Perfect for special occasions, this updo works with all curl types. Pin your curls upward and secure them with bobby pins for a classy, sophisticated hairstyle.
#9: Low-Maintenance Short Twists
Opt for short twists as a protective style that's both stylish and easy to maintain. Suitable for all curl patterns, this versatile look can be accessorized with headbands or scarves to suit your personal style.
#10: Simple Wash and Go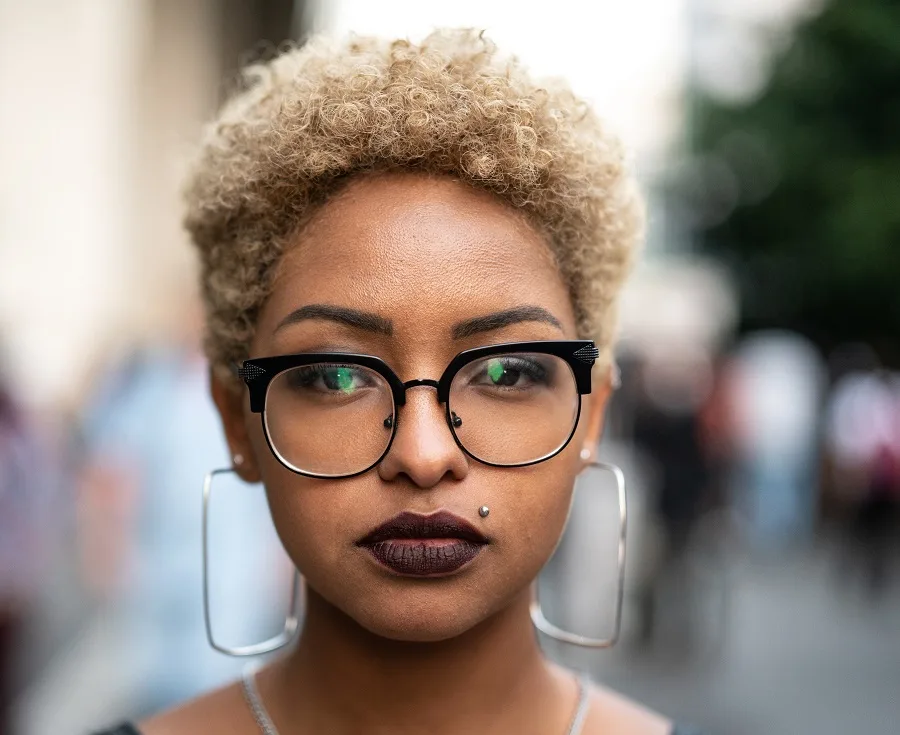 Showcase your natural curl pattern with a fuss-free wash and go. Ideal for all curl types, apply a leave-in conditioner and a light gel to enhance your beautiful curls.
#11: Empowering Buzz Cut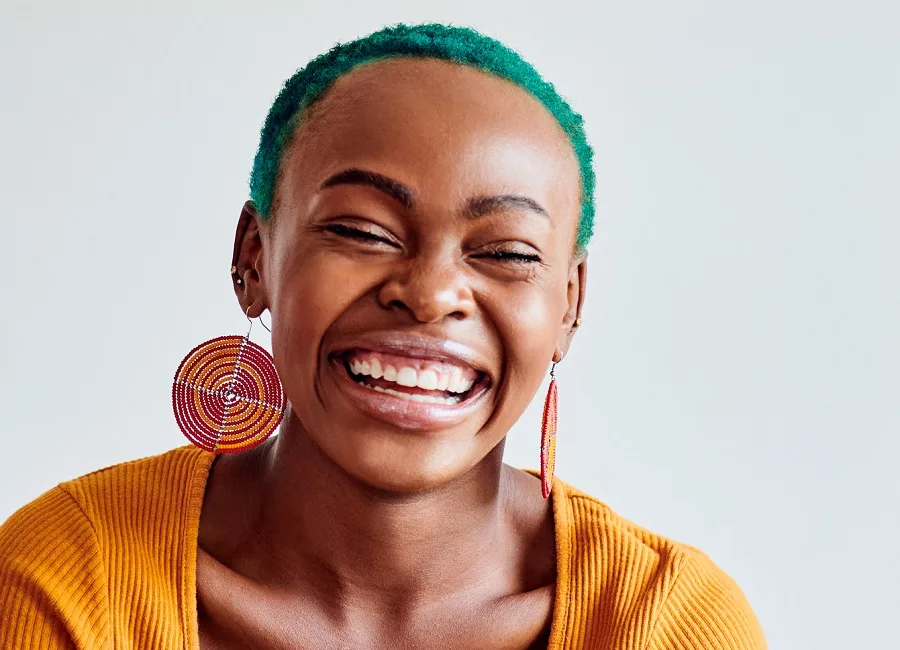 Dare to go bold with an ultra-short buzz cut. This low-maintenance look suits all face shapes and curl patterns. Keep your scalp moisturized and enjoy the freedom and empowerment this hairstyle brings.
#12: Flirty Curly Bangs
Add charm to your short hair with curly bangs. Ideal for looser curl patterns, this face-framing style adds a fun twist to your look. Trim your bangs to your desired length and shape, letting them frame your face beautifully.
#13: Youthful Short Afro Puff
Embrace your natural texture with a short afro puff. Perfect for all curl types, this carefree style keeps it cute and simple. Use a hairband to secure the puff, and let your curls shine.
#14: Quirky Space Buns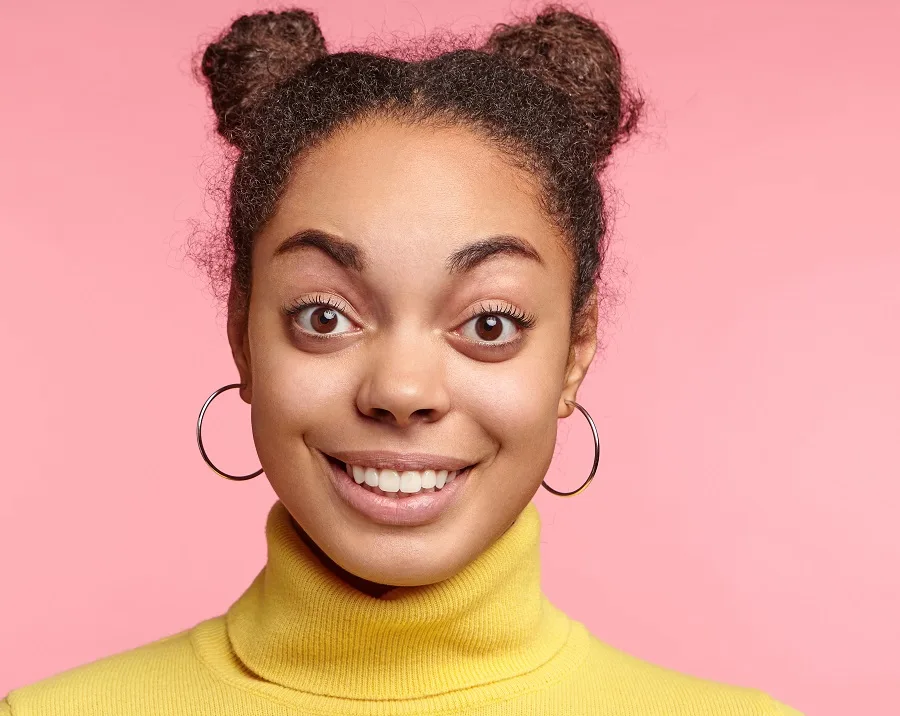 Create a playful look with space buns. Ideal for short hair, this double-bun hairstyle suits all curl patterns. Divide your hair into two sections and secure each bun with an elastic for a fun, quirky hairstyle.
#15: Edgy Shaved Sides
Stand out with shaved sides and voluminous curls on top. Perfect for the daring, this look complements all curl patterns. Keep the sides trimmed and the top curls moisturized for a striking appearance.
#16: Chic Faux Locs Bob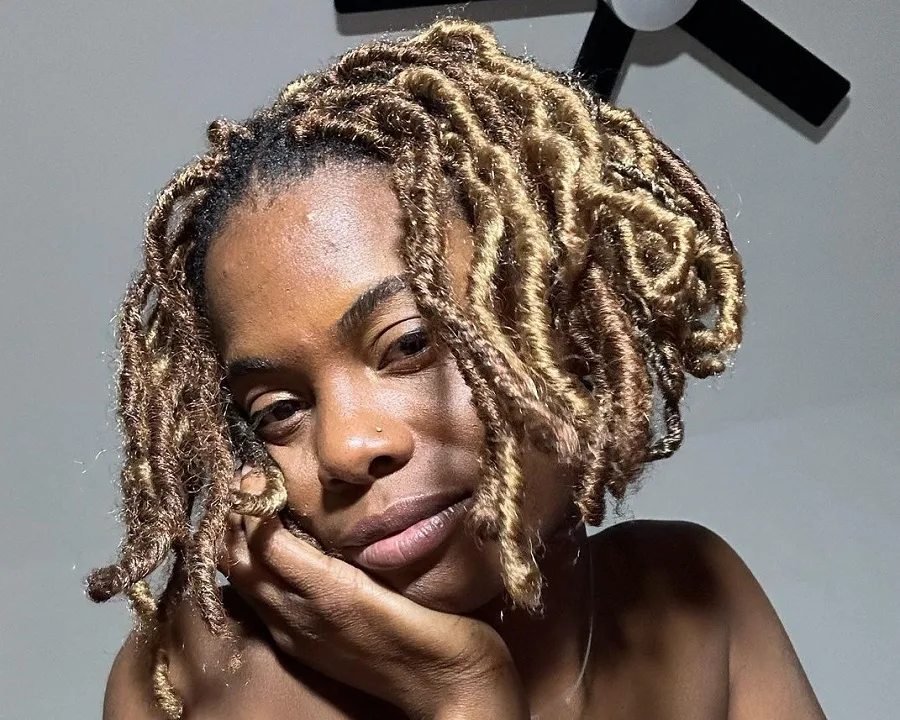 Experiment with a faux locs bob without committing to real locs. Ideal for all curl types, this protective style allows you to switch up your look. Use extensions to achieve the desired length and thickness, and enjoy the versatility this style offers.
#17: Retro High Top Fade
Pay homage to the '80s and '90s with a high top fade. Perfect for tighter curl patterns, this iconic style flatters all face shapes. Maintain the shape with regular trims, and rock this retro look with confidence.
#18: Stylish Short Box Braids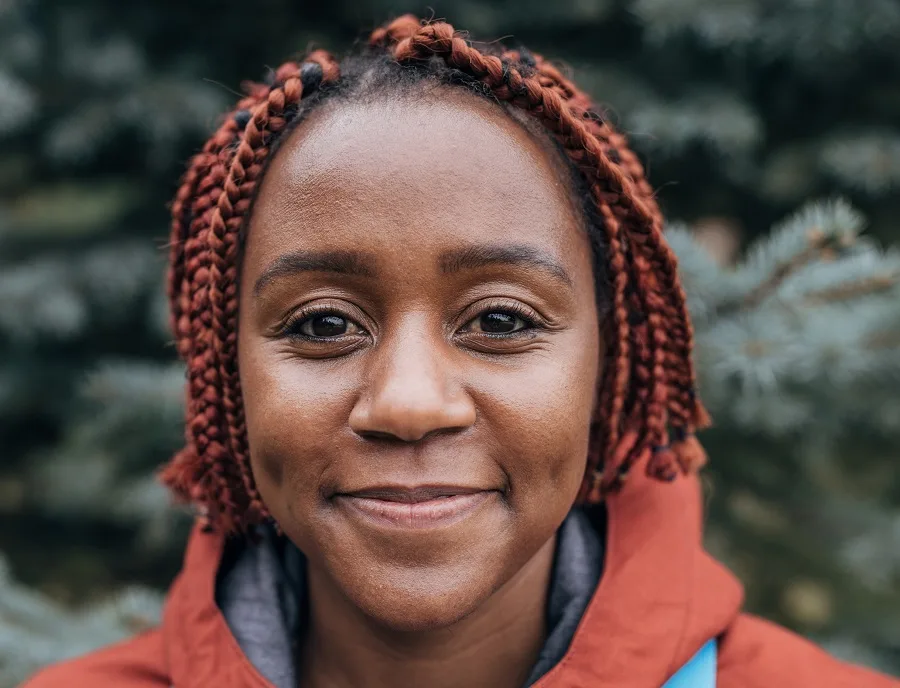 Choose short box braids for a low-maintenance protective style. Suitable for all curl patterns, this versatile look is perfect for those who want to change their style without too much effort. Add beads or hair cuffs to customize your braids to your liking.
#19: Textured Bob
Showcase your natural curls with a textured bob. This classic style is perfect for those who want a chic, polished look that works with their natural hair texture. Use curl-enhancing products to define your curls and maintain their shape with regular trims.
# 20: Pineapple Updo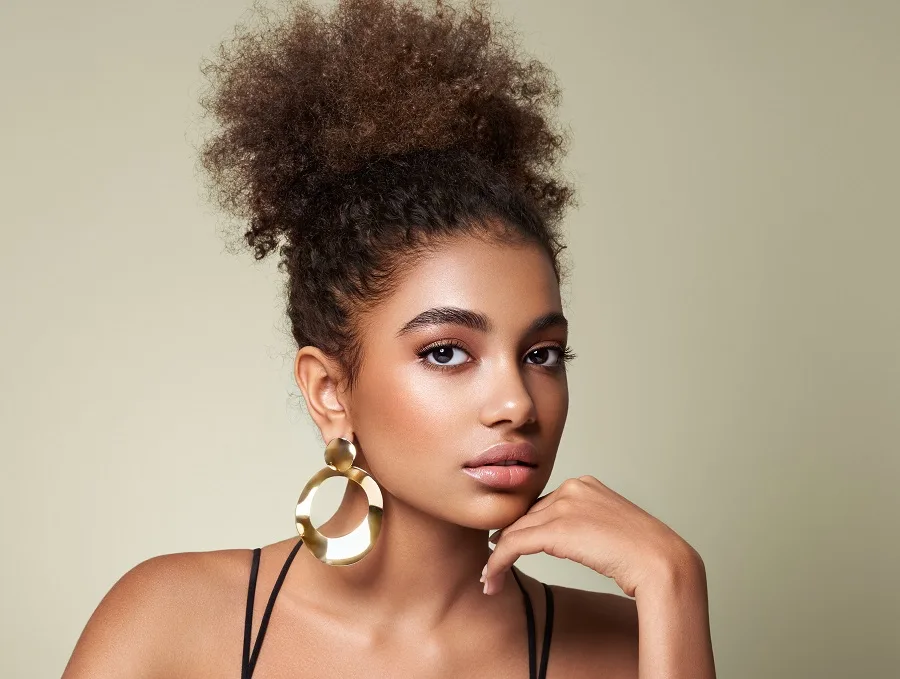 Create a fun and flirty look with a pineapple updo. This trendy style is perfect for those with short, curly hair who want to add some volume and playfulness to their everyday look. Gather your curls at the top of your head and secure them with an elastic or a stylish hairband.
#21: Spiral Curls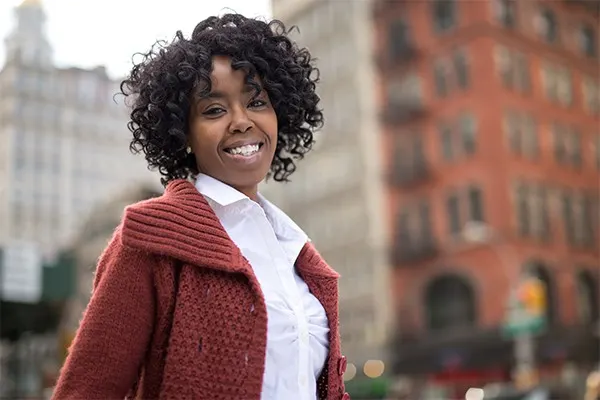 Spiral curls look fantastic on African textured hair. Many people can achieve this look using over-the-counter curling products which are designed for coarse hair, rather than having to use harsh chemicals.
Best braided hairstyles for African American women
#22: Straightened Bob
This is a beautiful black natural hairstyle. Those who are growing their hair, a straightened bob is a great choice. Change the look a little bit with a diagonal side parting.
#23: Frizzy Curls
Don't spend hours fighting your frizz when you can actually use it to enhance your style. Frizzy curls have loads of volume and they look amazing when they are brushed back away from your face.
#24: Caramel
This is a good option for black girls with short length hair. If you want to change your hair color, a warm caramel will look amazing with your complexion. Coloring with highlights and lowlights will help to keep your face soft.
#25: Natural Mohawk
Keep the sides of your head closely short to allow your natural tight curls to grow upwards. Color your hair caramel whilst leaving your roots natural to enhance the style.
#26: Short Afro
A short afro is one of the simplest natural hairstyles that will look good on especially black women. The only real care that your hair will need is washing and drying.
#27: Tight Curl Crop
A crop style looks amazing with natural tight curls. Keep your hair cropped closer to your head than you would with an afro by having your hair cut and styled regularly.
#28: Teeny Weeny Afro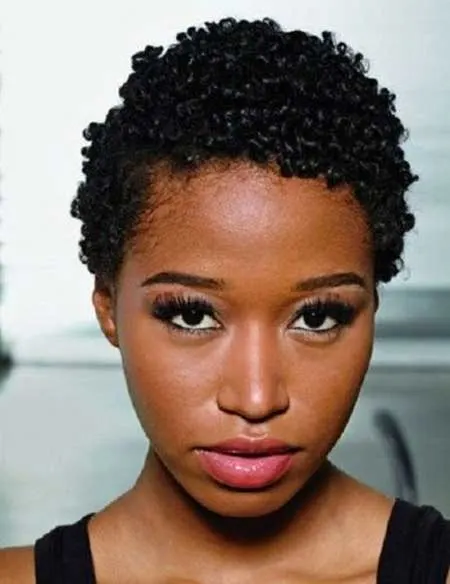 The TWA (or teeny weeny afro) is now one of the most popular short hairstyles for afro-American women. It is a gateway style to a bigger afro and it requires very little maintenance at this stage.
#29: Bouffant
Natural hairstyles for black Afro-American women can be pushed back into a classic bouffant style using a simple headband. Choose a plain band to allow your style to do the talking.
#30: Two-tone mohawk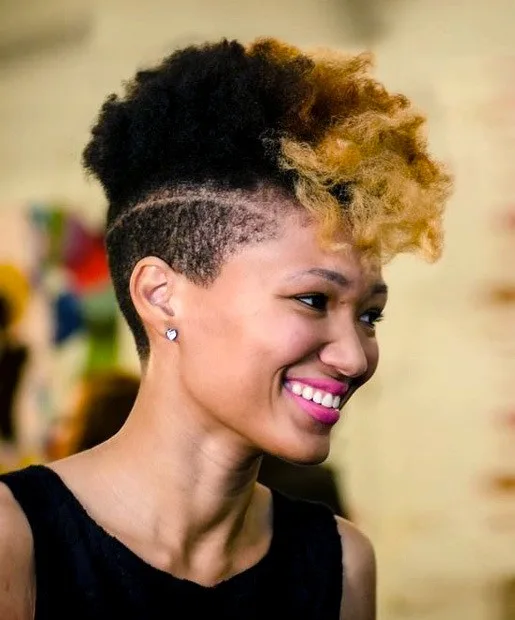 This fabulous mohawk has a caramel quiff to make it even more eye-catching. Shaven sides help to create a high-fashion look.
#31: Short Corkscrew Curls
Short corkscrew curls are not as tight as an afro and can require more maintenance. When you style your hair, you may need to apply anti-frizz products to keep each curl defined.
#32: Downwards Quiff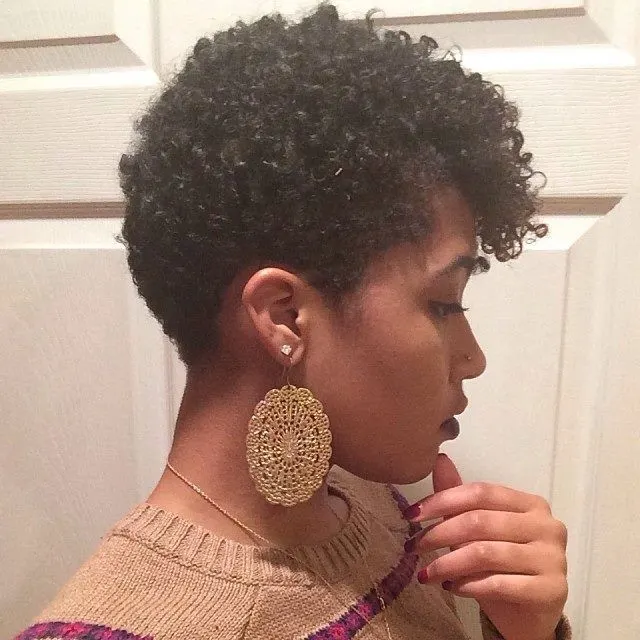 This hairstyle is commonly seen among African American women. Draw attention to your face and eyes by styling in a downwards quiff. Draw hair from the back and sides to create a voluminous quiff at the front of your hair.
#33: Short cut
Black short haircut like this looks fantastic and it is great for people who want a style which requires very little maintenance. Short natural styles like this are perfect for people with strong facial features.
#34: Highlights
Whichever hairstyle that you choose, adding highlights is a great way to alter any short haircuts for black girls. Caramel highlights are the most popular, but reds and chocolate browns also look great.
#35: Bronzed
This eye-catching bronze coloris great for people who want to step away from their natural color. The bronze color will help to enhance your eyes and your complexion.
#36: Lopsided Fringe
A lopsided floppy fringe looks great on a natural hairstyle. It looks even more effective as part of a style with short shorn sides.
#37: Short back and sides
This caramel boyish cut looks absolutely striking on black girls who is bold enough to wear it. Keep the back and sides short but not shaven to add a soft touch to your style. Team up with big earrings to show off your feminine side.
#38: Grey Goddess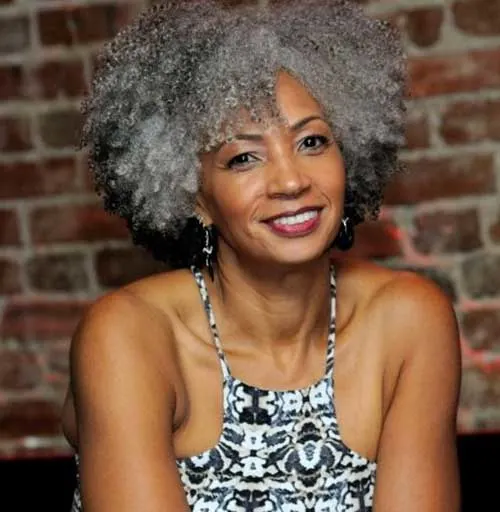 Silver or grey produces a fantastic contrast from your natural shade. Either let your hair age gracefully or dye it for effect. Color all of your hair or leave some black to produce a two-tone style.
#39: Tight Tapered Curls with a Mohawk
Short tight curls at the side and the back of your head graduate up to longer tight curls in the center of your style. Brush your curls forward to add an amazing floppy fringe to your style.
#40: Shocking Pink
Dye your natural hair a vibrant shocking pink color for a style which will really turn heads when you walk into a room. To achieve this vibrant color you may need to bleach your hair first to prepare it.
#41: Onward and Upwards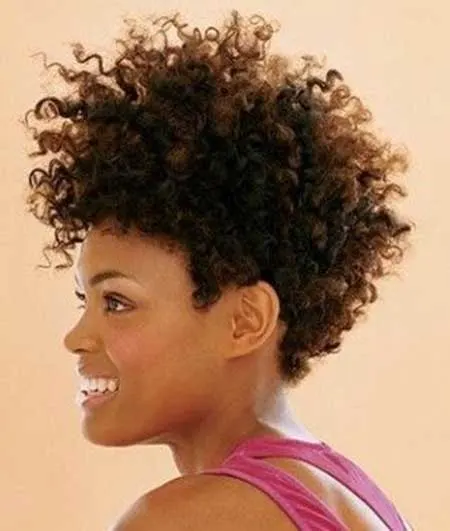 This black short hairstyle is all about height and teasing your hair upwards, rather than outwards. Keep your hair relatively short at the sides but long enough so that you can pin sections up to create upwards volume.
#42: Straightened Crop
This androgynous crop is stylish and sexy. Straighten your hair then cut it so that you have shorter sections near your crown and longer sections at the front which you can use to create a sweeping fringe.
#43: Beginner Cornrows
Even if you only have very short hair, you can start to tease your hair into very simple rows. Once it grows a bit longer, you will be able to create more defined rows.
#44: Bob with Corkscrew Curls
Corkscrew curls look amazing when styled as a bob. To give your bob a rounded shape, you will need to add layers into your hair and part from the crown.
#45: Hairlines
If you want to add a funky twist to any short hairstyle for black women, ask your stylist to shave in a line or two. These lines add an amazing, modern twist to classic styles.
#46: Short-Medium Afro
The bigger that your afro gets, the more maintenance that it will need. Use special afro care products and shampoos to help to keep your style looking and feeling soft.
#47: Crop with a fringe
Enhance a short curly crop by putting in an asymmetric sweeping fringe. Bring in hair from all across your head to add volume. This type of fringe will allow your facial features to shine.
#48: Cornrows with Shaven Sides
Braids and cornrows have been a popular choice for natural hairstyles for black women for centuries. This high fashion look provides a modern twist on traditional cornrows by having only a small number of statement braids. The shaven sides will help to enhance high cheekbones.
#49: Caramel Crop
A short crop in caramel will look great, even when your roots start to show. To maintain this tight crop, simply have your hair colored again every time you have your length restyled.
#50: Beginner Afro
This beginner short afro looks amazing on young black girls. Even though it is a beginner afro, you don't need to wait for it to grow at all, because it already looks amazing. At this length, your hair is more likely to grow upwards, rather than outwards.
#51: Asymmetrical Short Style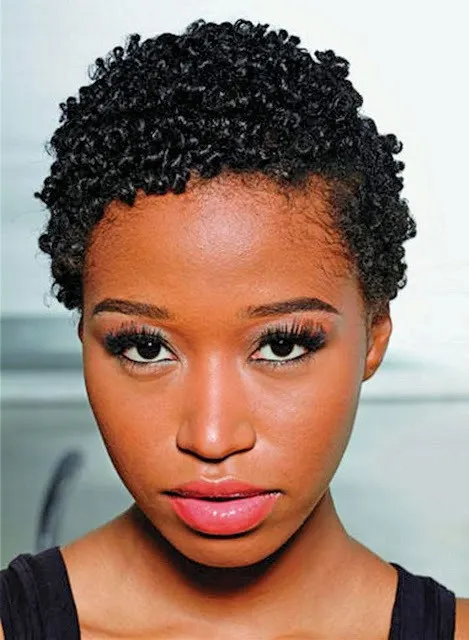 Make your short style asymmetrical by cutting your hair shorter at one side than at the other. Choose from subtle asymmetry, right through to extreme asymmetry with one side completely shaven.
#52: Accessorize with a bow
Tap into the 40's riveter style by using a thick bow as an accessory. Tie it around the underneath of your hair to help to give your hair upwards volume.
#53: Short and Curly crop
Mid-tightness curls look amazing in a short style. Keep your hair shorter at the sides and the back to create an amazing androgynous look which will make your cheekbones stand out.
#54: Naptastic Hair
This nappy style is the essence of natural short hairstyles for black women. Let your hair do whatever it wants, or lightly style it. The amazing natural kinks will speak for themselves.
#55: Traditional Dreadlocks
Dreadlocks have been widely appropriated as a hippy hairstyle, although they are actually natural hairstyles for black women and men. Reclaim dreadlocks by choosing them as your natural style. Short locks are now a popular fashionable choice.
#56: Rows and Curls
Add a unique touch to your natural curls by adding in a few miniature cornrows. The area of your hair where these rows will look best can depend on your style. Close to your forehead or above one ear are both popular places for small sections of cornrows.
#57: Asymmetric Bob
Straight natural hair looks fantastic as an asymmetric bob. Straighten your hair and then comb the majority of it to one side of your hair. Make the look even more dramatic by including a sweeping fringe.
#58: Short cut with super tight curls
Many women with afro-textured hair have natural super tight curls. If you want to keep your hair short and manageable, then this style may be perfect for your needs.
#59: Corkscrew curls with a side parting
If you have corkscrew curls, adding in a side parting will allow you to create a stylish asymmetrical look. This style is great for everyday casual wear or for wearing at the office.
#60: Caramel tips
Whatever hairstyle you choose, you can change it up by having your stylist tint your tips caramel. Caramel tips help your hair to look as though it has more texture and volume.
#61: Close Cut with line
Close cuts look fantastic on people who have a strong bone structure. Make a statement with your style by having a line cut into your hair which starts from your forehead.
#62: Straight with Volume
If you have straight hair, add volume to it by brushing upwards from the roots. Natural short hair is thick and has a tendency to hold its shape, however, you may want to add a little product to help it if you want extreme upwards volume.
#63: Queen of Frizz
Another gorgeous example of natural black hairstyle. Go against the grain and work with the frizz, rather than fighting it. The frizziness of this style helps the afro to look amazingly thick and voluminous. This style just screams big, bold and natural.
#64: Short Mohawk
Add an extra fashionable twist to your short Mohawk by shaving clear lines into your hair at either side of the peak. This helps to enhance the Mohawk without meaning that you need to completely shave the sides of your head.
#65: Afro with Large Curls
Afros look fabulously fashionable with larger curls or spiral curls. To keep the definition in bigger curls like these, make sure that you use anti-frizz products as part of your hair care routine.
#66: Pixie Cut
Pixie cuts are classic hairstyles for black women with straighter hair. Add a few tapered layers to the top of your hair to add texture and volume.
#67: Patterns
If your stylist is competent with a razor, then you can ask them to shave amazing patterns into your hair. Either cover your whole head or just style a small area. The only real limits are the artistic skills of your stylist!
#68: Extreme Side Parting
An extreme side parting gives hairstyles for black women extra volume. Brush your hair upwards and across from the roots if you want to achieve even more lift.
#69: Soft Springy Curls
Make a big impression with soft, springy curls. Although your hair is short, your volume will be huge. If you cannot wait for your natural hair to grow this long by itself, springy curls are a popular choice for a weave.
#70: Short Caramel Afro
Contrast your short caramel afro with big bold black lashes. Don't worry about your roots starting to show through as your afro grows, because your roots will add texture and volume as your hair increases.
#71: Rows and Columns
Cornrows can be horizontal or vertical, but if you want a completely different look then you can try mixing up both styles. This will create an amazingly eye-catching and funky new look to wow your friends.
#72: Side-swept Asymmetrical Style
This side swept bob style is a brilliant new take on a soft Afro. If you have coarse hair then you may need to relax it a little bit to give it enough flexibility to be swept over from one side to the other.
#73: Serious Afro
Despite the fact that this style has been nicknamed a "serious" Afro, the hairstyle is all about being fun, funky and enjoying your natural hair. Although the style seems short because it doesn't flow, your hair will actually have to be quite long to get an afro this big. Growing a serious Afro can take a long time, but it is worth it!
#74: Purple Tint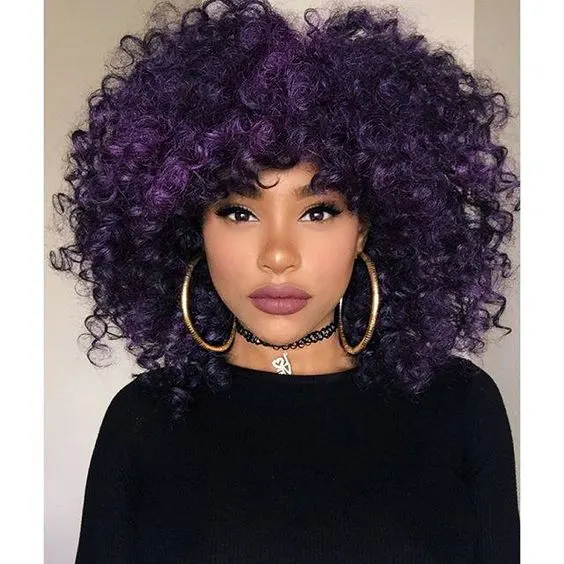 Give your 'fro a hint of colour by choosing a dye that adds a purple tint to your hair. If you have black hair, dyes which give a hint of color when the light catches it are actually much better for your hair than more overt dyes are. This is because they do not normally require you to apply bleach before applying the dye. This will keep your natural hair healthier.
#75: Bangs and a Bun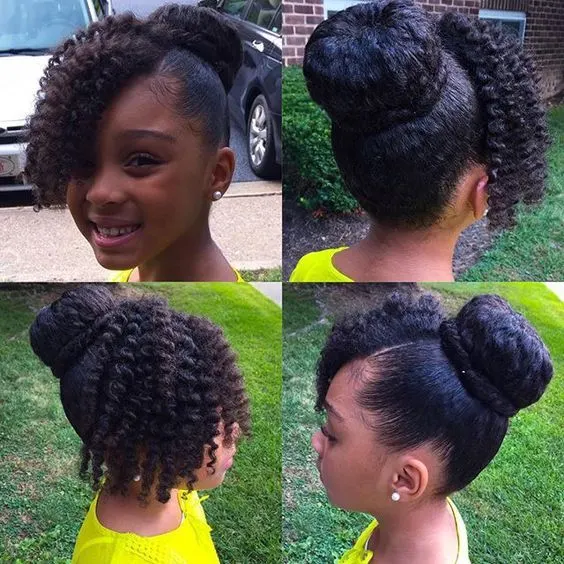 Leave a section of your hair loose in natural corkscrew curls and then pull this hair forward to create beautiful bangs. Pull the rest of your hair taut to straighten out the kinks and then wrap it around and up into a tight bun on the back of your head.
#76: Stylish Mullet
A mullet is usually defined as short hair at the front with much longer hair at the back. This is a stylish take on the mullet style. Put the shorter front sections in cornrows and then allow the longer rear sections to hang down in gorgeous cornrow curls.
#77: High-Top Criss Cross Curls
Divide your hair into two sections. Draw them both up as if you were creating a high bun on the top of your head, but make sure that you crisscross the sections into a lattice formation. Leave a few strands of hair down to draw attention to your eyes and face, which will complete this funky look.
#78: Two-Tone Pixie Cut
This is a pixie cut with a difference. Color the very top section of your hair a beautiful caramel blonde color but leave the rest of your hair a dark black color. The black color will still be visible below the caramel, which can help to give your hair gorgeous texture and depth.
#79: Corkscrew Curls with a Side Parting
Parting your hair at on side will give you an asymmetrical style and can help to create move volume on one side of your head than on the other. This style is tried and tested, and can be worn as an everyday style or for a night out. Hundreds of thousands of women choose this style every single day.
#80: Perfect Pineapple
Flip your head upside down so that all of your hair falls straight down. Bunch it together on the top of your head and secure it with a hair elastic. Your hair will splay out like the top of a perfect pineapple. You can only achieve this perfect look if you have African-textured hair which has the right combination of stiffness and springiness.
#81: Wavy Pixie Cut
Keep your hair cut short around the front, sides and back. If you have lightly wavy hair, it will add a little bit of texture to your beautiful pixie cut. Run your fingers through your hair a few times to give your hair a more tousled style.
#82: Mid-Afro in Caramel
A mid-length Afro looks amazing if you have a longer face shape or higher cheekbones. Use an afro comb to help to keep everything looking perfect. Color the very tips of your hair a delicious caramel color, but leave the roots black to make your hair look deeper and thicker.
#83: Number 2 Cut with Tramlines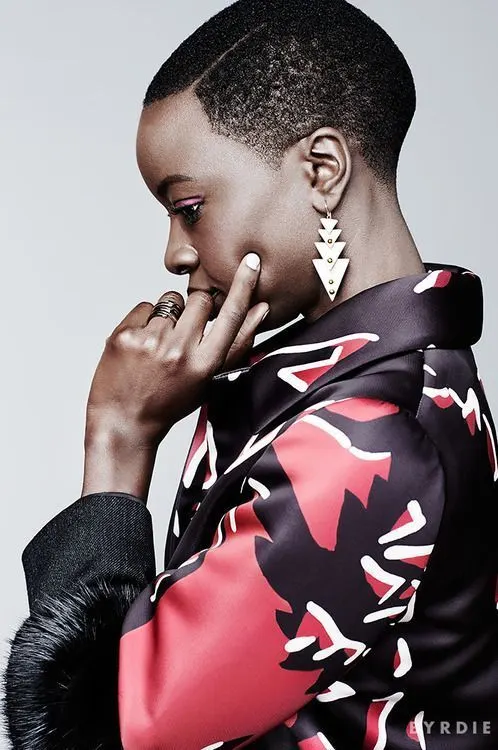 Ask your stylist to use a hair trimmer to give you a uniform length number 2 cut. Once your hair is the same length all over your head, you can use a razor to cut a poker straight tramline into either side of your hair near to the top. This style screams high fashion supermodel cut.
#84: Thick French Braids
These thick French Braids really stand out because they do not sit flush with the head. Weave the braids only part of the way back down your head and then pull the rest of your hair up into a high pony. Twist your hair and clip it up.
#85: Frizzy Corkscrews
Love your frizz in this cool corkscrew style. A little bit of frizz does not matter, as long as you can still define the shape of each curl. Frizziness can also help your curls to look a little bit softer.
#86: Afro with a Large Forehead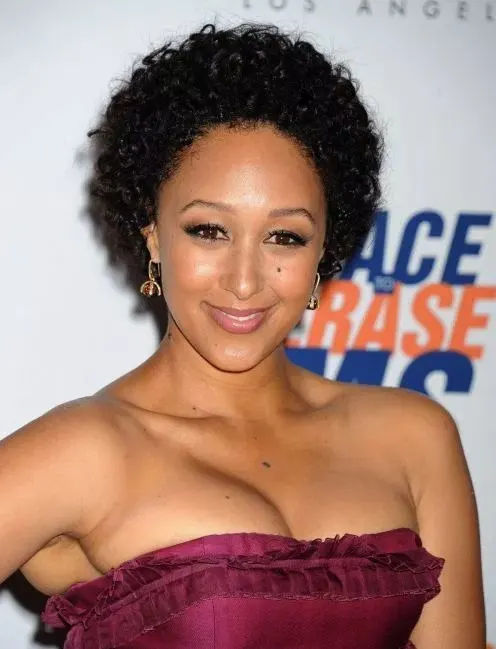 If you have a larger forehead, a perfectly symmetrical Afro might be a great choice for you. The symmetry of the design may help to make your features look perfectly proportional.
#87: Red or Dead
A subtle hint of red is a great choice if you want to stand out in a crowd without making a scene. Dark red dye can easily be laid over dark browns and blacks to give a gorgeous subtle tint.
#88: Pompadour
Although a pompadour is a retro look, this Afro pompadour is a totally modern look. Use styling gel to tease your hair up into a Fohawk with a pompadour quiff.
#89: Assymetrical Afro
An asymmetrical Afro is a chic modern hairstyle for black women who want to wear their natural hair in a short style. Simply cut your hair shorter at one side than it is at the other side!
#90: Short Cut with Tramlines
A short cut is easy to maintain, so it's a perfect choice if you want a cool look but don't have much time to spend on your hair. Simply use a razor to shave a distinct tramline into your hair at either side of your forehead.
#91: Tamed Down Natural Hair
A perfect look for a fierce and ambitious woman's day of work. Very professional and classy, it's easy to achieve this look by taming down your soft curls with styling gel. It will give it a wonderful finish, and your hair will stay in place all day too.
Short Natural Hairstyles for Older Black Women
#92: Short Tight Afro with Shaved Side
This is one of the most natural hairstyles for black women with short length hair. All my fierce girls should try out this edgy but short hairstyle. With the sides shaved neatly, the remaining hair is given a great structure according to the face. If you have naturally tighter and smaller curls, this hairstyle could be the one for you.
#93: Short Hair with Messy Afro
This amazing hairstyle is not only feminine but also fierce in its own large way. It's a bold statement-making hairstyle that looks messy at first glance, but when you look at the small side braids, the detail blows you away. You can also accessorize it in the same way with some cute clips.
#94: Straight Bob With Fierce Bangs
This straight hairstyle is easy to achieve and maintain as well. Get your hair straightened and into a bob that works best for your face. The bangs should be cut sharply to give it that fierce finishing touch.
#95. Tapered Close Shave With Sharp Edges
If you know your face well, you can create a sharp edge around your forehead to make this tapered close shave look even more dynamic. It's a beautiful low maintenance style that you can try for summer and then let it grow out during the rest of the year.
#96: Small Tight Curls And Huge Afro
Small tight curls are lovely. All they need is good natural coconut oil every other night to keep them nice and shiny. When it comes to short natural hairstyles for black women, growing out these tight natural curls into a big bold afro is a great idea. However, don't forget to keep this hairstyle well maintained as well.
#97: Blonde Natural Hair Crew Cut
These close shaved crew cuts are lovely on natural curly African hair. To spice it up even more, opt to bleach your hair with blonde dye. This haircut gives a functional and super chic look which is easy to maintain on an everyday basis too. Once your hair grows out, you can get rid of the blonde after a while!
#98: Side Part Natural Perm
Tightly permed curls is a wonderful hairstyle that makes them look neat and stylish. This is a cute look for young girls. It's also a very charming look to have for a professional day to day basis. Its side part gives it a fresh young look.
#99. Faded Shaved Sides with Straight Front Bangs
This short natural haircut is very stylish and professional for black women. The neat fade keeps it looking sharp. To achieve this hairstyle, trim down your sides and nape area and straighten the frontal hair. Apply some gel to keep it in place.
#100: Short Crop with A Shaved Side Part
A cute short natural hairstyle for black women when it comes to short crops. This side part shaved design is the one addition that makes this look so perfect. It gives it much more depth. If you know your face well, you can easily achieve this look.
#101: Natural Afro with A Distinct Side Part Shave
This is a wonderful look for whoever wants a side shave but doesn't want to compromise on their lovely growing afro. You can pin most of your hair to one side and shave off the other side. It's a much more natural look.
#102: Dutch Braided Short Hair with Edges
Braiding up in this short natural hairstyle can be beneficial in many ways. It gives you an instant style and also allows you to keep your hair feeling fresh and healthy. You don't have to do much to maintain this hairstyle that's why once it's done you can be hassle-free for a few weeks.
#103: Big Open Afro with Tight Coils
Tight coils are wonderful but maintaining them is hard. The best way to let them breathe is by letting them grow freely. Keep your afro open and natural with style like this which is easy to rock anywhere.
#104: Deep Purple Short Crop
This haircut uniquely combines a shaved side with a short crop. You can try out different bright and feminine colors if you want to achieve this funky look. It's trendy and easy to maintain. If it speaks to you, then you must try it out once.
#105: Jheri Curl With a Top Formation
A type of perm popularized in the '80s the Jheri curls have always been a favorite. Mix short hair to the front with Jheri curls, and this is the amazing result you get. It's a lovely hairstyle for black women with most of the hair pulled up to achieve this finished hairstyle.
#106: Pompadour Hairstyle for Black Women
Pompadour is a vintage hairstyle popularized because of the volume and elegant finish. Today it would be edgy and cool to have a look like this. To achieve it you must take help from professionals or someone who's done it before.
#107: Blonde Spiral Afro
Blonde tips and highlights are not just for white women. Girls with afros can rock it wonderfully as well. Make sure to keep your ends well moisturized before they go frizzy. Giving your natural hair a little bit of depth by bringing out the blonde is a very cool hairstyle.
#108: Big Spiral Perms Afro
We are all for letting our natural hair down. That's why if you have naturally permed hair like this, then by using a little bit of styling get you can tone it down and give it a finish like this. The end result is this amazing uneven spiral perm look.
#109: Tall Standing Afro
Afros don't have to be tamed down always. If you want a tall Afro, we suggest you try this out. It's a great hairstyle for black women that make them look fierce and bold.
#110: Big Curls Short Bob
An amazing and rather chic combo is the big curls short bob one. It's a classy and old school but always trendy style. It's easy to achieve if you just want your hair out for a while. Ask for a shoulder length bob, and you're good to go.
#111: Smoothed Down A Short Lob
Short lobs suit everyone. In this cute side, lob meets smoothened hair combo the hair is parted sideways. It's an overall great look for trying something different for your hair.
#112: Pastel Pink Crew Cut
This pastel pink crew cut is ambitious as well as crazy. It's cute on young girls. You will have to bleach your hair first and select a good pastel color that you prefer best. Then cut off your hair from your normal hairline to keep it from getting overwhelming.
#113: Natural 4C Hairstyle with Bandana
Regardless of the myth, 4C hair is easy and fun to style. This lovely type of hair can try many short natural hairstyles for black women. A lovely scarf tying up the hair and bangs front of the face is a great way to style 4C hair.
#114: Mohawk With Liberty Spikes
This fierce haircut gives them a bold and confident look. To carry off a mohawk and side shaves you must have that face structure and features. Good dark and funky makeup can always help elaborate this look a little.
#115: Blue Dyed Waves On Short Hair
Short wavy hair with side swept bangs are purely magical on small cute faces. It's a kind of a longer pixie cut. When added in color combos like the sea or electric blue the results are always amazing and one of a kind. Like this short natural hairstyle here.
#116: Side Swept Wavy Bangs
Side swept curls are cute and girly even when kept short like this. If you've always wanted to try a side shave, this could be the perfect hairstyle. The curls are kept long and gentle near the forehead, and a sharp side shave gives it a fierce look.
#117: Short Straight Blonde Bob
Bob cuts that are tethering on the edge of lobs are a super cool haircut. Mix in blonde hair and a sleek middle part you've got yourself a work-hour look for days.
#118: Light Pastel Sea Green Curls
This hair color is huge in the hair industry right now. If you have short hair with natural curls, style them up like this with some wax and styling gel. Opt-out for nicer shades in reds and purple too according to your preference.
#119: Half Top Knot with Front Braids
Letting your hair breathe is fine. But you can always add a touch of elegance and charm to this short hairstyle. Give yourself a top braided knot and leave the rest of your hair in its natural African beauty.
#120: Short Soft Curls
If you have soft curls, you probably don't want to braid it all up. Keeping them short and open is a very beautiful option too.
#121: Boy Styled Hair for Black Women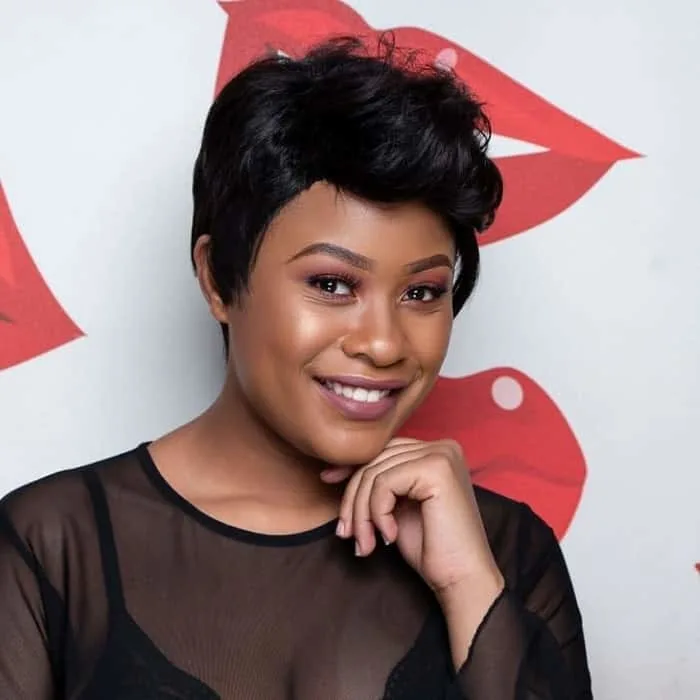 If you are a black woman with short hair who loves the same hair length on the full head, try this natural hairstyle. Your hair at the top of your head is given a backcombed windswept look using styling gel and a lot of products.
Embrace what your parents gave you and learn to love your natural hair. There are plenty of short natural hairstyles for both black young girls and adult women to choose from, so it won't take long to find one that looks great on you.