Red highlights look great no matter your hair is dark or light brown. There are so many different shades of red out there along with interesting and sometimes unusual ways to make highlights, that this approach will never get old.
Red highlights are exactly what you need to freshen up your image. They can be both soft and outrageous, extravagant and respectable, mind-boggling and subtle. When it comes to red highlights on brown hair, you can go for darker hues such as burgundy and cherry. There is so much to choose from!
Different Red Highlights on Brown Hair
In order to make you understand how amazing red highlights on brown hair can look like, we have collected 28 impressive examples. Take a look at what can be done with red highlights and you'll definitely find something suitable for yourself.
Women all over the planet have been using red highlights to make themselves look magnificent. The time has come for you to give them a try. Check out the various red highlights on brown hair. You can also check these brown hairstyles on caramel highlights.
1. Magnificent Money Pieces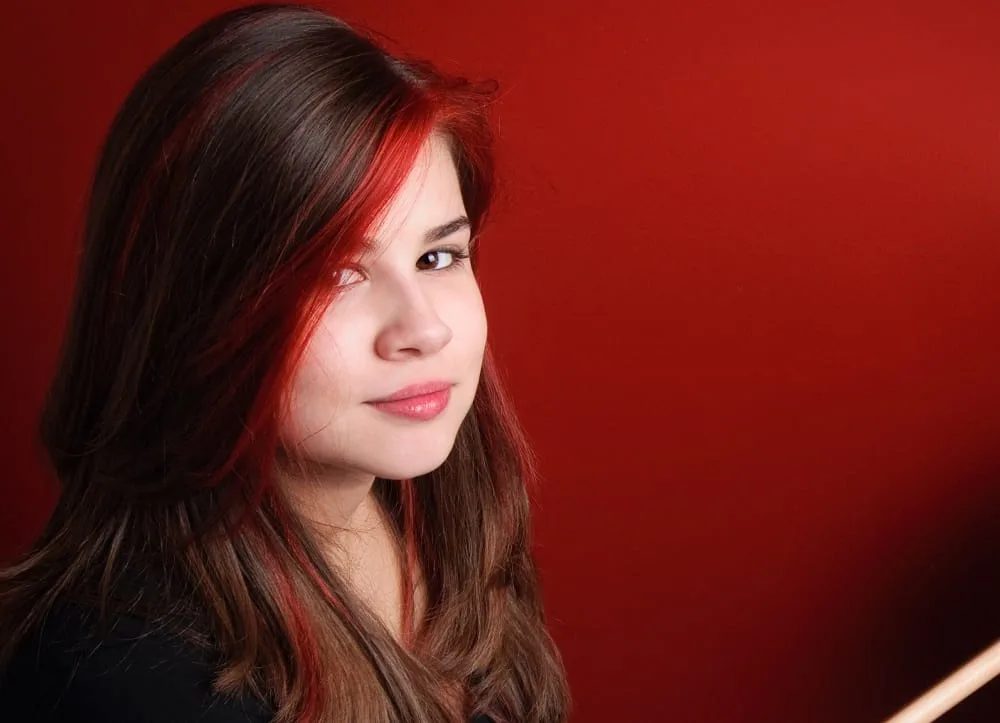 Give yourself a magnificent hair makeover by chopping your luscious brown locks in a layered haircut and chin-length side-swept bangs. Incorporate bright paprika red streaks in between the dark strands with money pieces that add an instant glow to the face.
2. Highlighted Front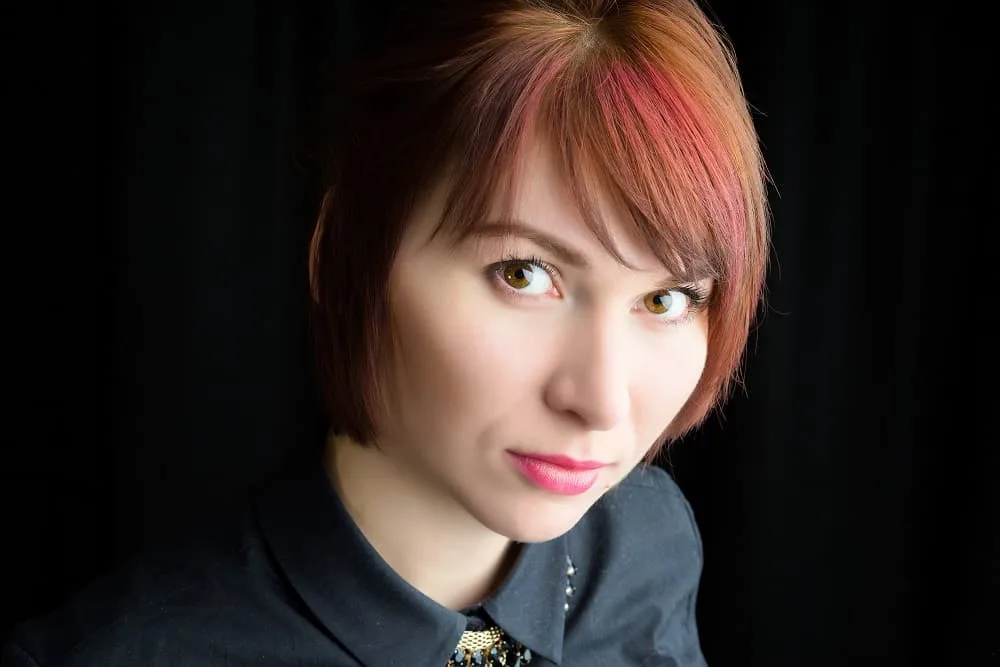 Keep it low-key by combining two contrasting shades of red. The French girl bob is dyed in a red golden-red hue except for the front which is coral red. This style is easy to maintain and won't go unnoticed.
3. Fierce Look
Look fiercely gorgeous with these epic red highlights on brown hair. The base color is a warmer tone of dark brown with rust-red highlights starting a few inches away from the roots and concentrating at mid-length towards the ends. Style the hair in space buns to complete the look.
4. Wine Red Pixie
Level up an edgy pixie haircut by dying the strands in a deep wine red shade and adding lighter red babylights for an upgraded dimension of the style. This look makes fine hair appear fuller and is ideal for women who are hunting for a low-maintenance hairstyle.
5. Vivid Streaks
Flaunt red highlights with a distinctive style by taking chunky strands near the crown and dying them in a vivid blood-red hair shade to contrast with the remaining chocolate locks. The streaks end at mid-length and look glorious when left loose with a middle parting.
6. Vintage-Inspired Hair
There are plenty of ladies out there who love a vintage-inspired hair look. Recreate this style by coloring the hair in an auburn red tinge and adding a subtle touch of sunset red. Secure the hair in an updo with a pin-curled front fringe for a retro finish.
7. Short and Savage
Here is a short side-tousled hair look for the ones wanting to chop off their strands. The sides are neatly trimmed to contrast the longer top with ruffled waves. The deep maroon-red hue melts into a rusty red hair shade adding an instant gleam to the face.
8. Dark to Light Gradient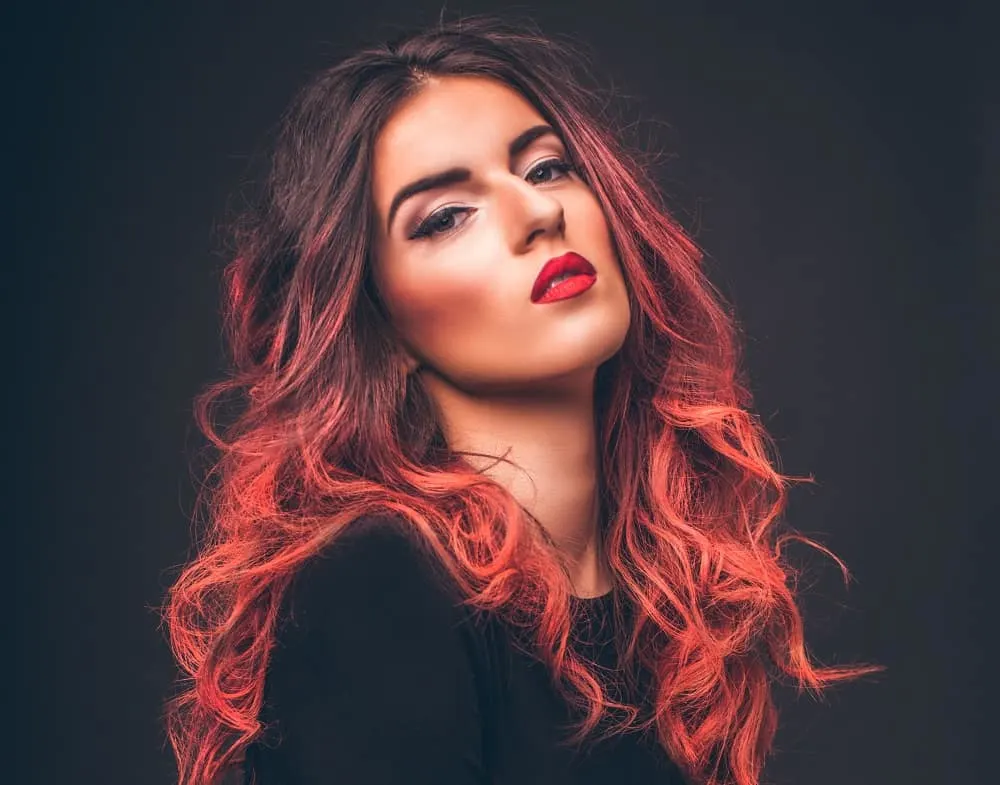 This brown and red gradient style is to die for. The medium-length hair is chopped in layers while the dark brown roots merge into a red and bright orange hue midway to the ends. This look is low-maintenance as the emerging roots will set it off further.
9. Three-Toned Pigtails
Young girls can go for these epic red highlights on their brown hair to look gorgeous this year. The naturally brown strands are mixed with blonde and red streaks and styled in two pigtails with side-swept bangs for a cute and fun finish.
10. Peekaboo Highlights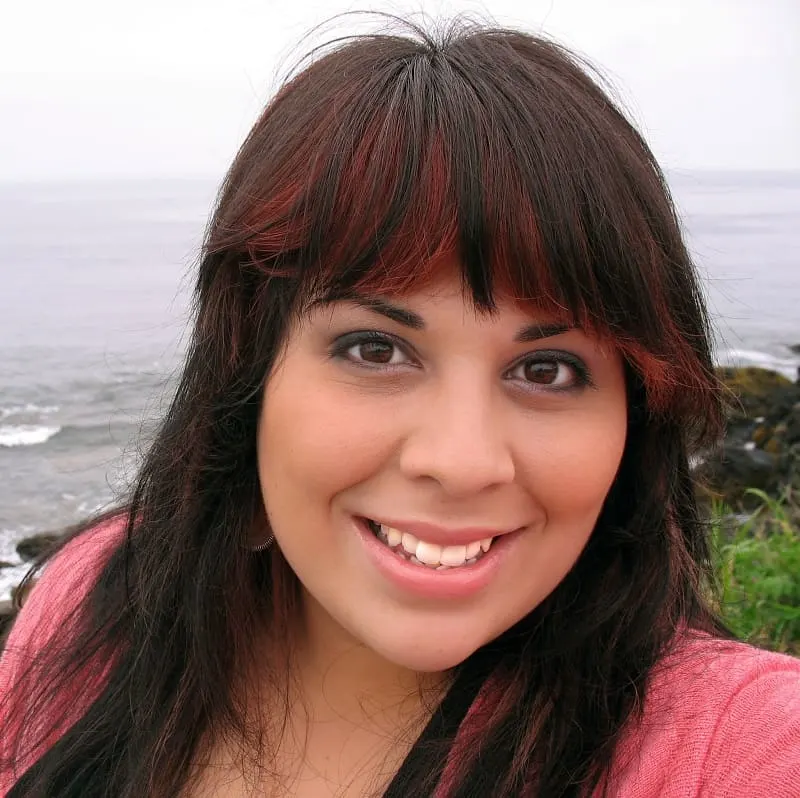 Don't overpower your natural brown hair color while still adding a red tinge to it with this hairstyle. It features a shoulder-length haircut with wispy bangs and subtle red highlights. The bangs are dyed in a way that the red strands peek through the brown ones.
11. Dark red impression
If you've always wanted to achieve the stunning look of your hair, you can try this style. Dark red highlights will make you look bold and bright.
Golden, Ash & Reddish Brown Hair Colors
12. Patchy highlights
Patchy red highlights on brown hair are just what you've been looking for. Consider asking your stylist to follow the example shown at this photo. You will love the way you'll look.
13. Ginger bangs and ends
If you are looking for an interesting way to incorporate ginger highlights into your brown hair, consider dyeing just the bangs and the ends. You will definitely be making a great impression.
14. Magenta highlights
Magenta red highlights look amazing on brown hair regardless of the place you decide to make them. It can either be classical highlights or partial strands or even just the bangs. Whatever works for you.
15. Copper shimmer and brown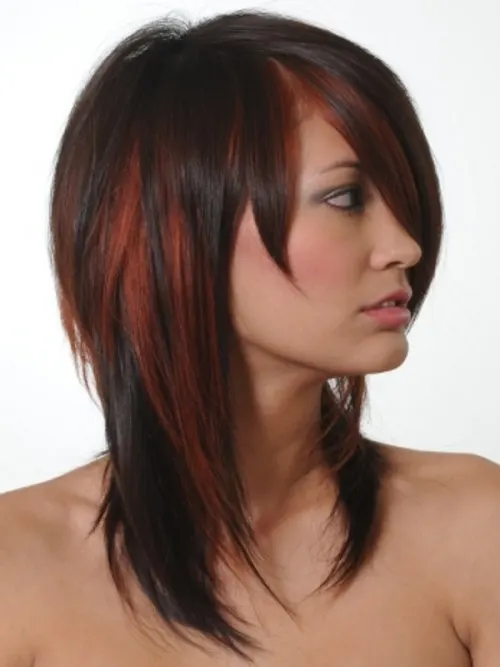 Dark brown hair might not look great with dark red highlights but when mixed with copper red shimmer, the result is stunning. Since both of these colors are natural, their mix is very appealing.
16. Asymmetrical red highlights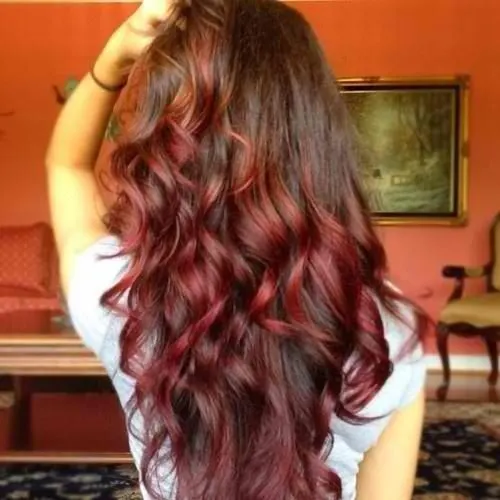 Make asymmetrical red highlights on brown hair to make your image truly unique. Maintain an ombre style with different color levels. Just make them asymmetrical.
17. An impressive mix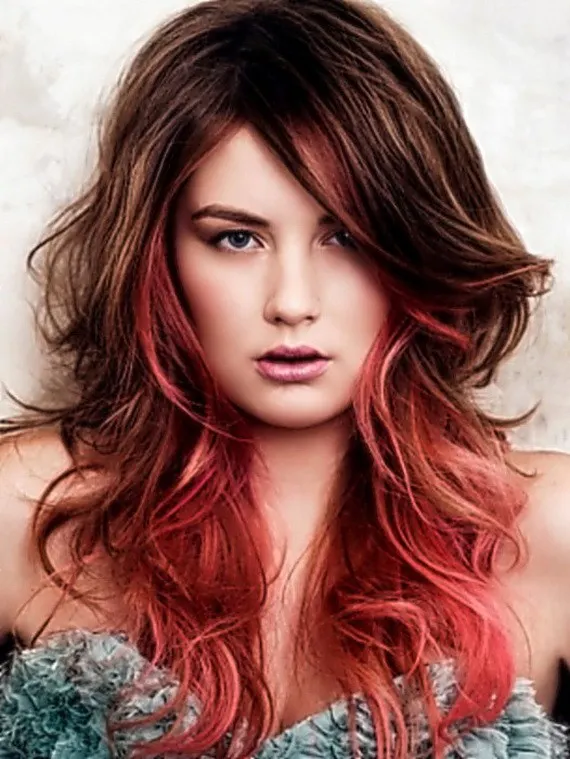 Red highlights on brown hair will look stunning if you add a few more colors. Mix the brown highlights on top and burgundy and rose strands on the bottom. What a unique approach!
18. Ruby fusion
Ruby red strands look great when combined with brown hair and other shades of red, such as ginger, copper or even rose. If you are looking for an opportunity to make a statement, this is it.
19. Shades of red
Red highlights on brown hair look amazing. A mix of different shades of red can become exactly what you need.
20. Short and impressive
Red highlights on brown hair look especially stunning when the hairstyle is short. You can create a spunky and unique impression by incorporating different shades of red into your long bangs.
21. Bubblegum fun
If you want an impressive appearance, consider using such unusual red shades as bubblegum. The rest of your hair can be dyed black, brown or ginger but a few strands should stand out.
22. Soft subtlety
Red highlights on brown hair can look outrageous but can also appear soft and subtle. Consider more natural shades of red to be used with your brown locks as partial or patchy highlights.
23. Amber and ginger
Amber and ginger hues look perfect with brown. All depends on how you decide to place your highlights. You can either opt for an alternating option of use an ombre-like approach for a subtle transition.
24. Work the bangs
If you are considering highlighting short hair, you need to pay special attention to the bangs. Your best bet would be to grow them long enough for the highlighting to be the most obvious.
25. Bubblegum brown
There are many different shades of bubblegum red that can be used with different hair color. This is the hue that can help you to make a statement and give your simple hair color a boost.
26. Soft copper
Soft copper red highlights on brown hair look absolutely natural. Just make sure the red hue you choose is the closest to your natural brown color. The overall result will be stunning.
27. Red and light brown
Natural red locks look awesome with brown. So whatever is your own color is, as long as it's not too dark, you can create this amazing mix and enjoy it.
28. Get creative
There are so many ways to go about making red highlights on brown hair. So why not get creative and come up with something no one has ever tried before. Go for it!
Playing around with red highlights on different hair colors is fun. Depending on what shade you are starting with, you can pick an amazing red hue to use for highlights. Don't stop at just one color. Experiment with many!