As many women know, sew in weaves are a great way to switch up your style. Whether you're looking to add some color, length, or even rock a short cut, weaves offer a limitless amount of variety. Sew-ins are the most popular weaving option, as it offers a great deal of protection for your actual hair underneath since the weave will be sewn in as opposed to glued or fused to the hair.
So whether you're looking for a new style without the damage or commitment, or you're looking to let your hair rest for a while, here are 60 great sew-in hairstyles to consider.
Short Cuts and Bob Sew-Ins
If you've wanted to see how you'd look with short hair or bob without having to commit to actually cutting your hair, installing a sew-in is a great option. Although most weaves are done in order to accomplish additional length or body, some women opt to turn to them for the exact opposite. If you're thinking of trying a shorter style, here are a few sew-ins to consider.
1. The Pixie Cut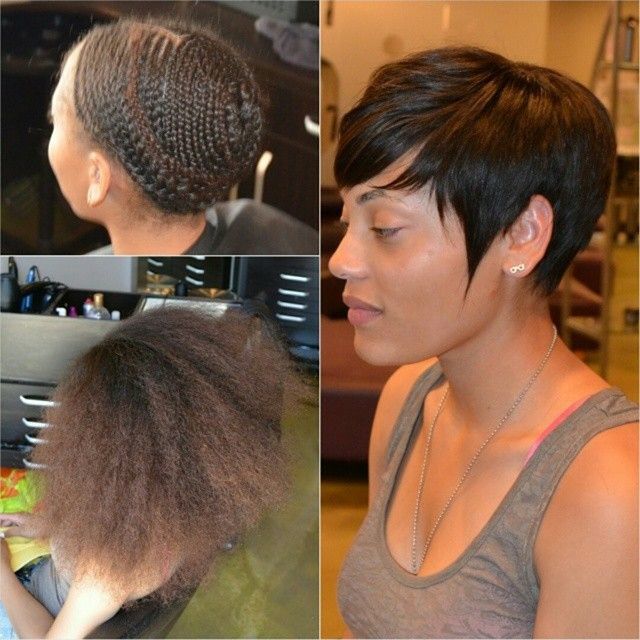 Here's a sew-in hairstyle that has absolutely no hair left out. The hair has been beautifully styled into this chic pixie cut with bangs.
2. Fill It In
Here's a partial sew-in, where hair has only been added to the crown of the head, leaving the middle and nape completely free. This is a great option for women who are looking to add a little more fullness to the crown area.
Most popular braided hairstyles for black girls
3. Natural Bob
This sew-in bob hairstyle is a medium length bob that maintains a very natural look. The hair has been cut asymmetrically and the bang is cut diagonally in order to achieve the side-swept look.
4. Shoulder Length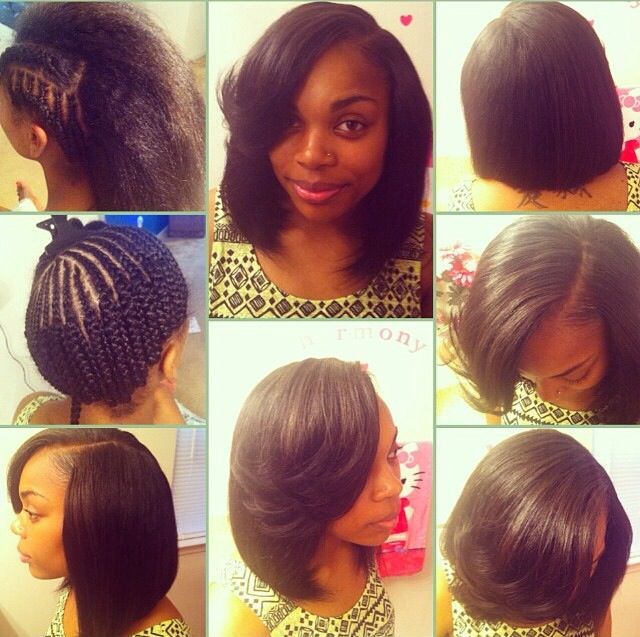 This is a partial sew-in that has been cut to medium length in order to maintain a more natural look. Hair is left out and blended into the weave so that the parted area is the client's actual hair.
5. Asymmetrical Bob
Here's a bob hairstyle that has been sewn in and cut asymmetrically. This look gave the client additional length and body and allows her to achieve a chic style without having to cause any additional damage to her hair.
Sew-In Hairstyles With a Little Pop of Color
A lot of women get sew-in weaves in order to experiment with different hair colors without risking the damage to their actual hair. This gives them the freedom to switch colors without much effort, stress or maintenance. If you're interested in trying out different coloring with your styles, here are few looks to consider.
6. Purple Rapunzel
Here's an ombre look featuring various shades of purple. This look can be achieved with either a full or partial sew-in if your hair can easily be blended with the weave.
7. Mermaid
There's been a surge of mermaid-ques, gorgeous green and blue hombre looks such as this one. If you're looking to channel your inner mermaid, this would be the perfect style for you.
Cute baby girls haircuts to look cuter
8. Short and Purple
This ombre look features hints of purple and pink. Cutting the sew-in hair to a medium length would be a great way to either switch up looks or achieve a more natural looking style.
9. Grey Goddess
Grey is no longer for the elderly. This daring color option is a great way to add some variety and edge to your sew-in.
10. Contrast
Bleaching the crown of your sew-in blonde will give it great contrast and dimension. Set the weave on perm rods or flex rods, dip them into boiled water, unravel and let them dry before sewing the hair in if you're looking to achieve this style.