Black women with curly hair are often faced with a choice between long and short hairstyles. Curly hair is very hard to take care of. If you don't spend tons of time on it, it tends to look messy.
Long curly locks can be real trouble for their owner. That's why many black women opt for getting a short curly hairstyle. Short manes are usually much easier to maintain while looking quite fantastic.
There are wonderful pixies and stylish bobs awaiting any black woman who wants to get the most stunning hairstyle without too much hassle. Remember, curly hair can be flaunted regardless of its length. All you have to do is learn how to style it.
So if you are looking to have your cake and eat it too, take a look at some interesting options for African American black girls with short curly hair.
Short Curly Hairstyles for Black Women
When you make a decision to get a short hairstyle, don't rush to the hair salon. You need to take some time and browse the options you like most. Don't rely just on your stylist's advice. There are so many different haircuts out there that your hairstylist might forget to offer you the perfect one.
We have prepared a list of short and curly hairstyles for black Afro-American women to consider. All of them are very stylish and most of them are easy to make and maintain.
Making a choice is never easy, especially when it comes to cutting your locks. If you are not sure you are making the right decision, just browse through the options one more time.
1. Short Natural Black Curly Hairstyle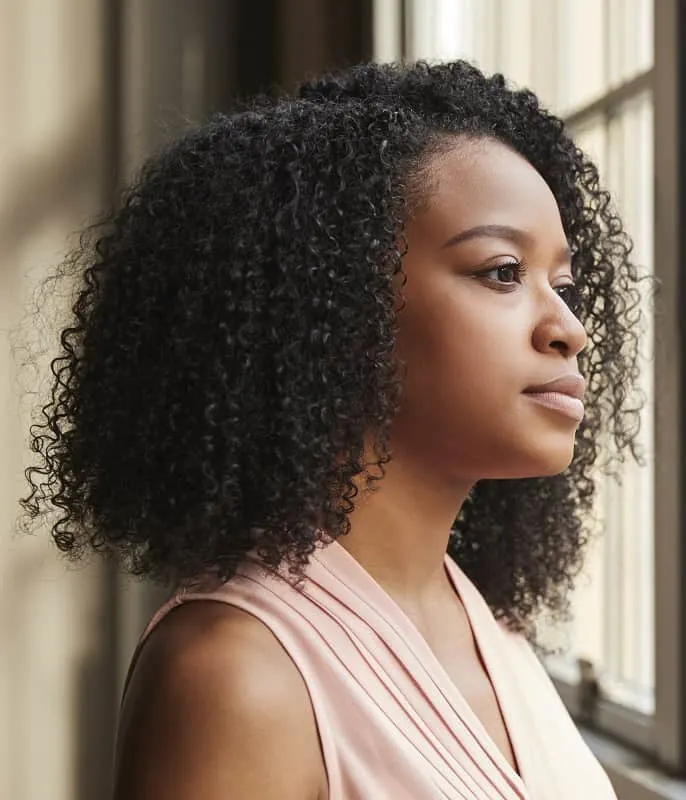 If simple style is your speed, you'll love that all it takes to style your black curly hair like this is a side part. Go for shorter pieces around the face for shape.
2. Very Short Curly Haircut for Black Women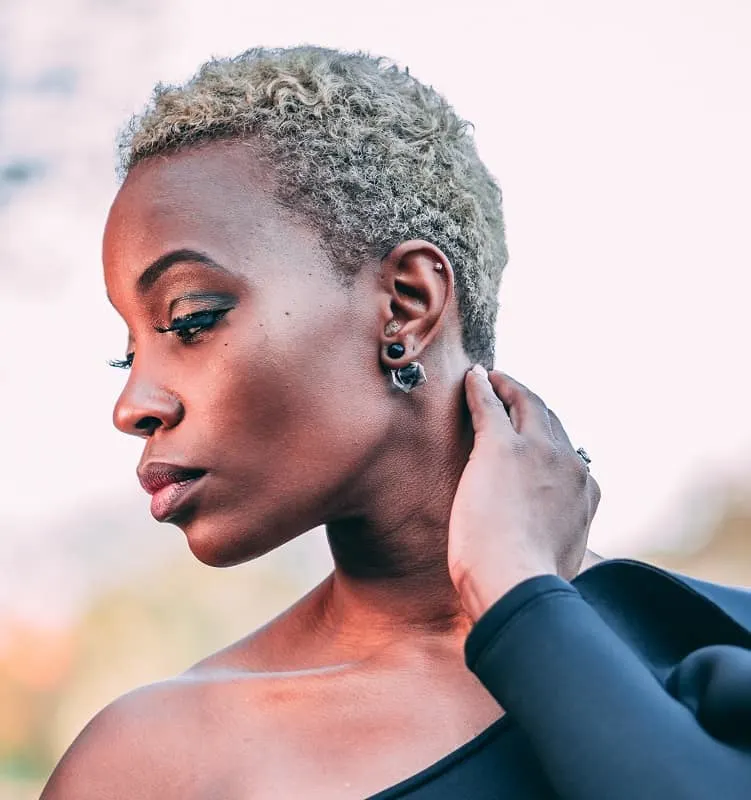 If you like light hair colors, choose a medium to dark blonde for flattering color against your dark skin. Add it to a short curly pixie so your hairstyle is simple but not too simple!
3. Short Curly Mohawk for Black Hair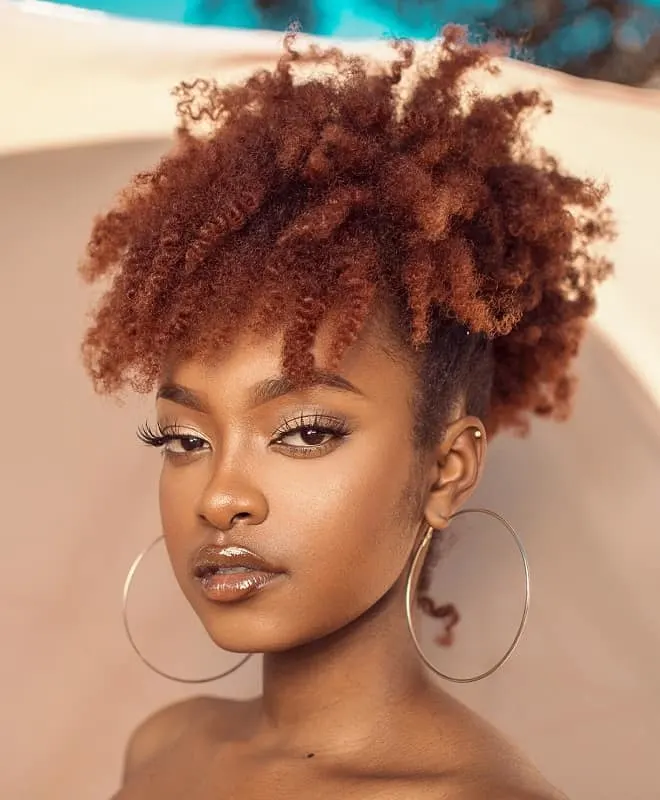 To get the mohawk shape but retain your lovely long curly locks, shave the sides or cut them very short. Use a bit of product to encourage curl shape or cornrow braid hair and brush out.
4. Short Curly Hairstyle for Black Women with Round Faces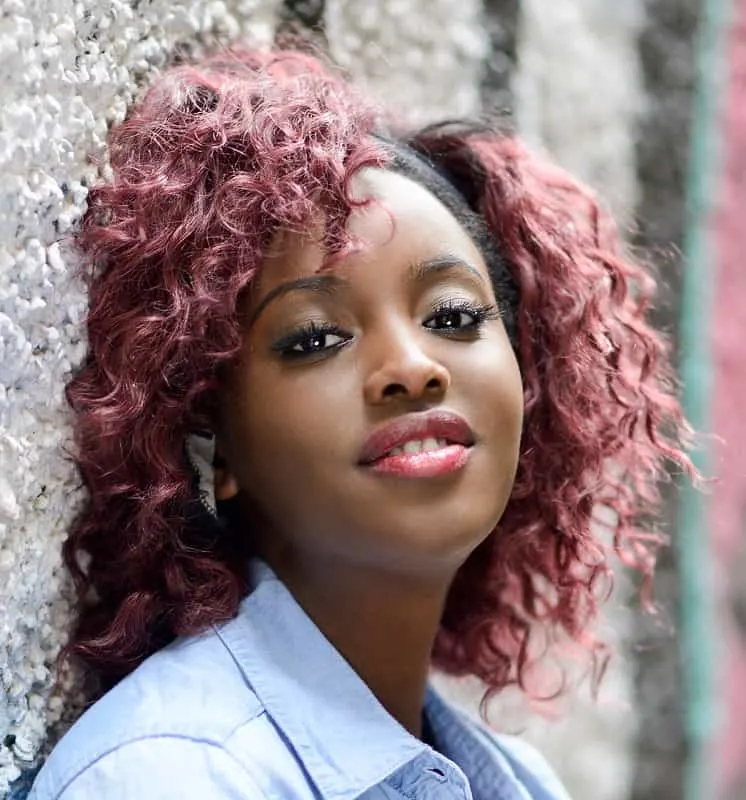 A round face needs shape to prevent a hairstyle from making it too round. Ask your stylist for layers, then part hair off center and slide a printed headband over the hair.
5. Short Black Curly Hair with Highlights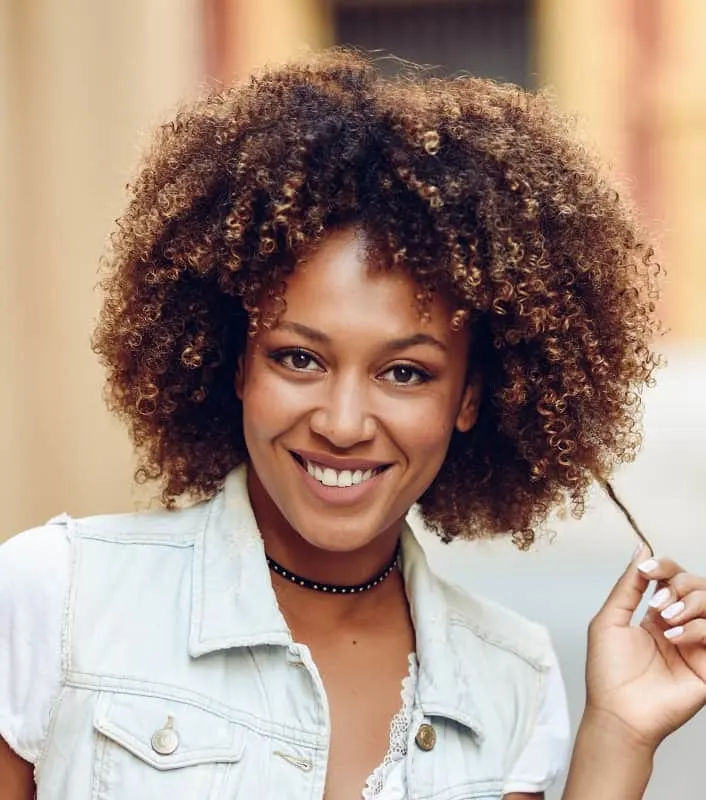 This curly highlighted hairstyle features short bangs to draw attention to brown eyes while the rest of the hair is loose and free-flowing with fewer layers but all the voluminous body you want.
6. Short Curly Weave for Black Women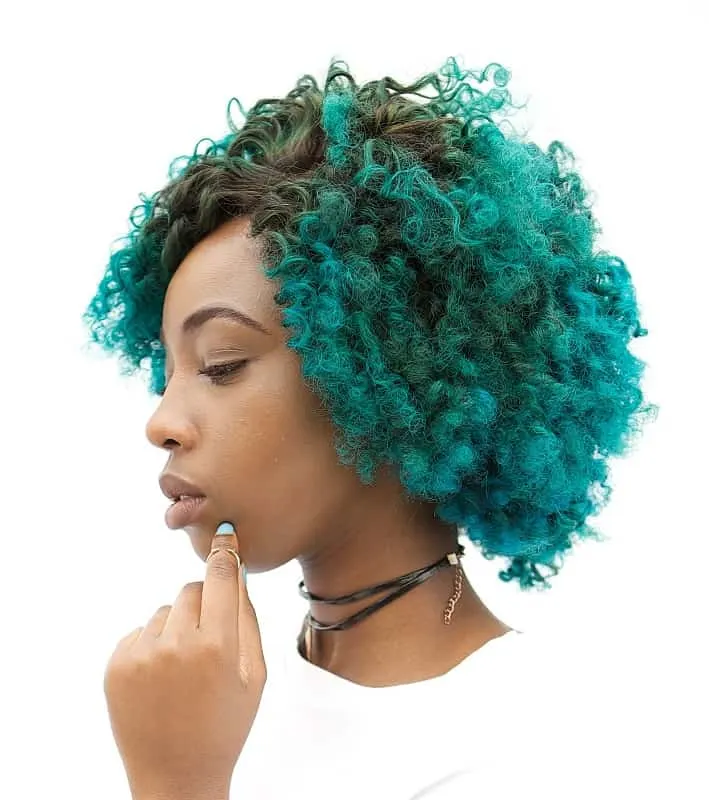 Weaves are great for women trying to grow out their hair or wanting to quickly switch up their hairstyle. With kinky curls in light blue shades, you're sure to feel unique.
7. Short Black Curly Ponytail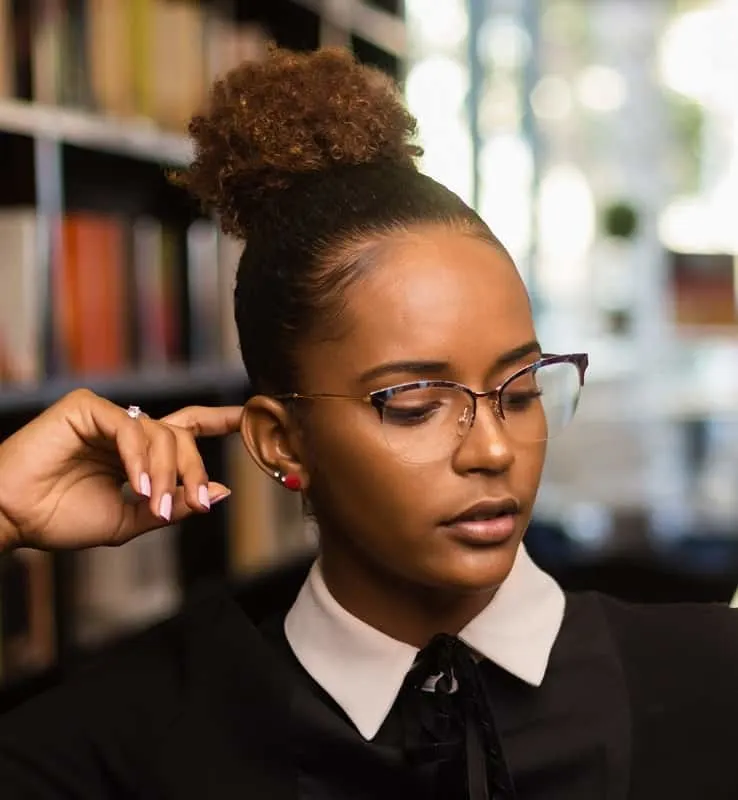 You can still show off the curls in your hair while keeping it contained in a high ponytail. Smooth back fly-aways and bumps before securing it at the crown of your head.
8. Short Blonde Curly Hair for Black Women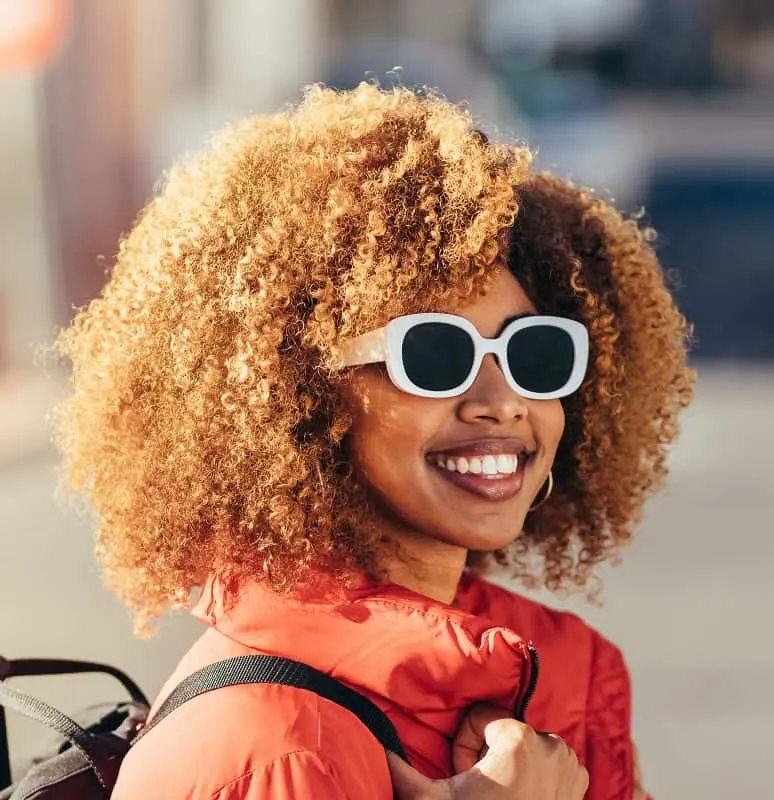 Just because your natural color is black, that doesn't mean you have to stick with it! Experiment with a lighter color like blonde which looks gorgeous against dark skin.
9. Short Curly Braided Hairstyle for Black Women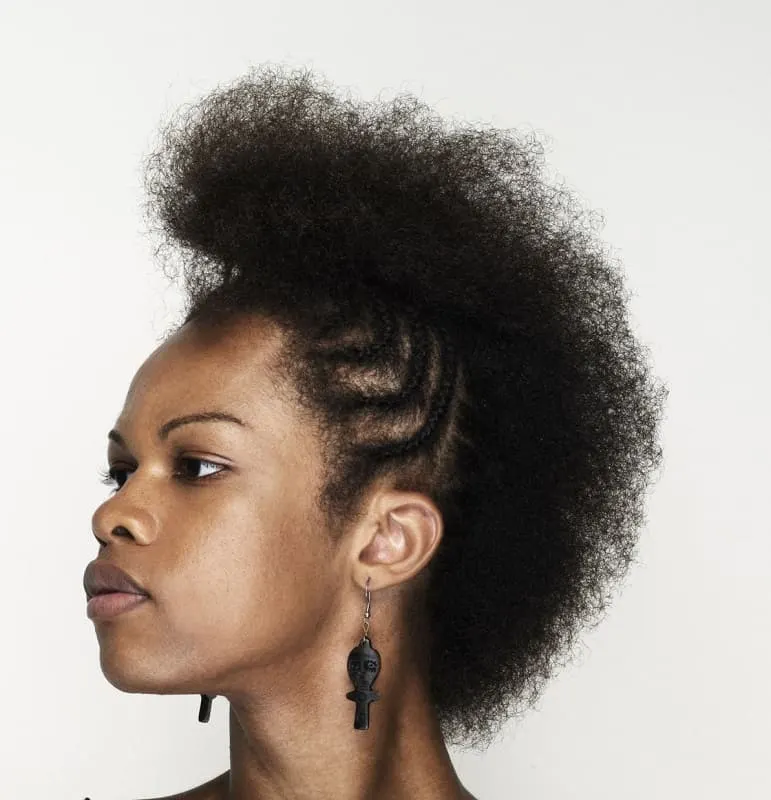 Tiny curved braids detail the sides of this hairstyle while the middle is a bit more wild with thick, poofy texture that extends from the hairline to the nape of the neck.
10. Short Black Curly Bob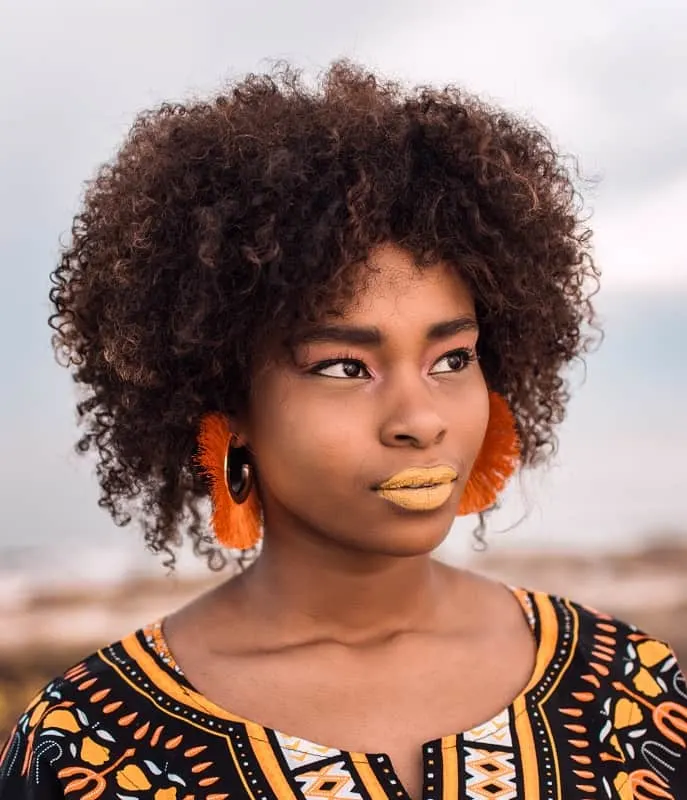 The longest hairs on this short hairstyle come to just above the neck, but layers get shorter and shorter to create beautiful shape and add to the springiness of curls. Bangs are subtle but noticeable.
11. Off Center Short Curly Black Hair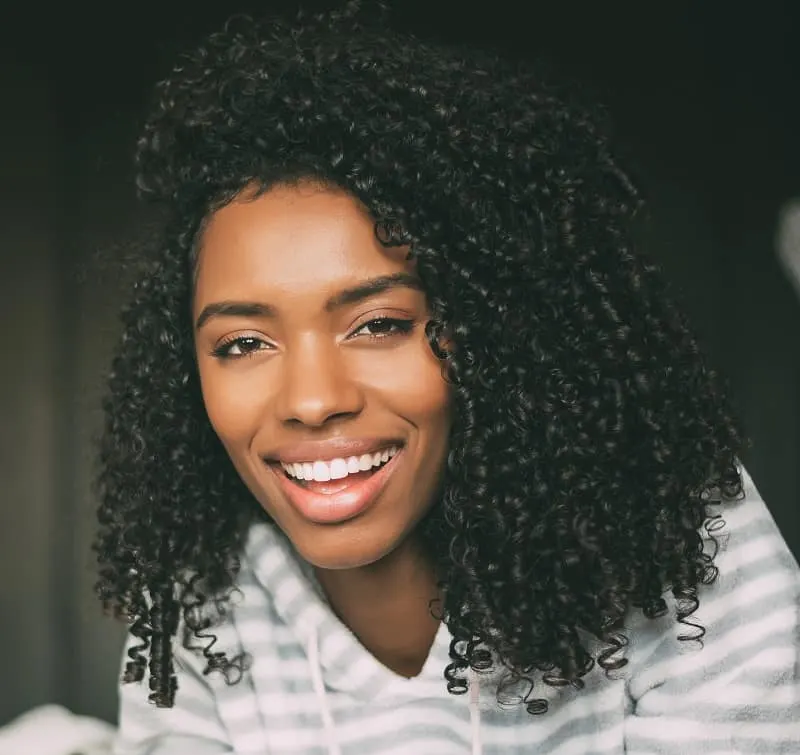 The easiest way to switch up the dimension on your short curly black hairstyle is by parting hair off center to create a heavy lift and the illusion of lots of body.
12. Short Curly Hair with Shaved Part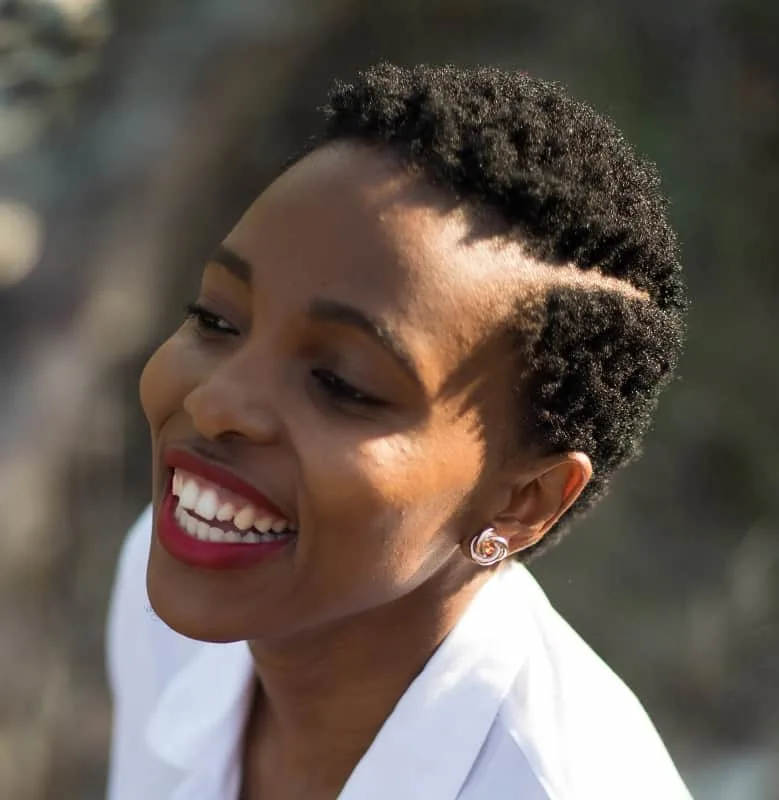 For low maintenance and classy style, keep your hair to less than an inch long. With a shaved in off center part, your style will be set apart from all other short hairstyles.
13. Long Top Curly Short Hairstyle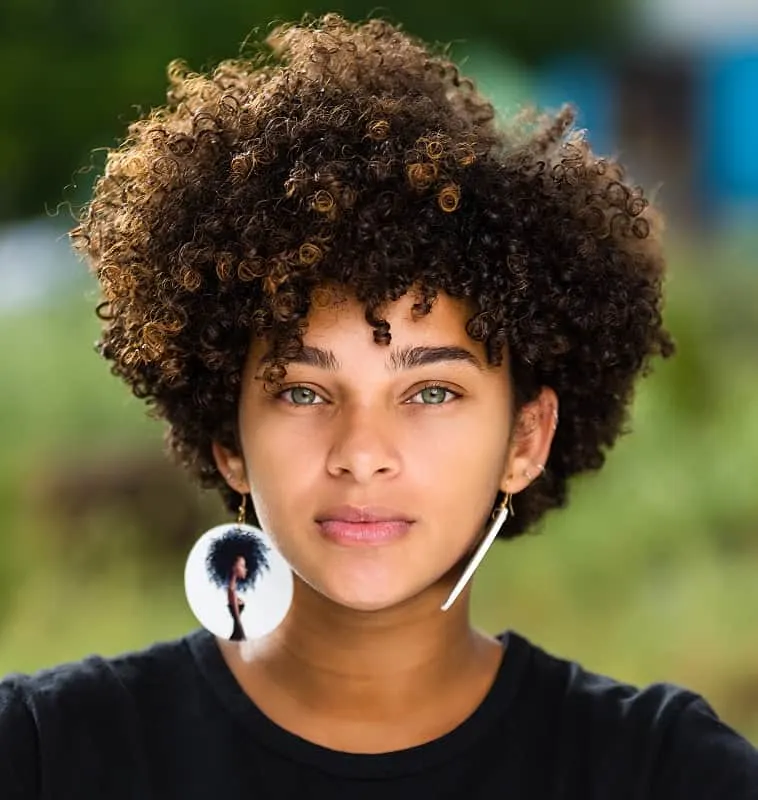 On pretty much any face shape, you can make your face appear narrower with shorter sides that accentuate a long top. Again, an off center part creates lift and volume.
14. Short Curly Hair with Bandana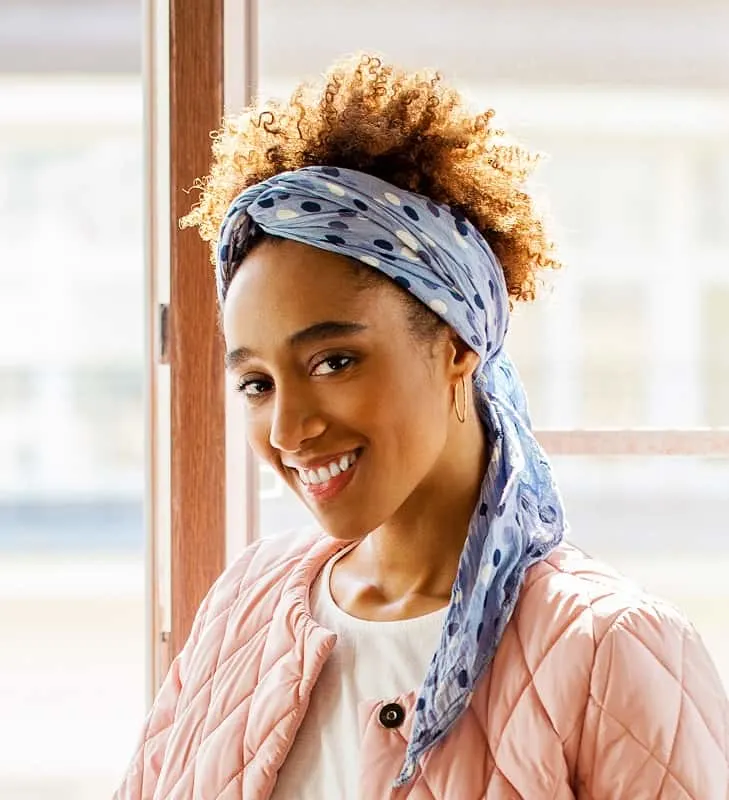 Whether you're heading to a workout sesh or just want a cute style for the weekend, a printed or colored bandana is the best way to tie back your hair while still showing off curls.
15. Black Short Curly Hairstyle for Oval Face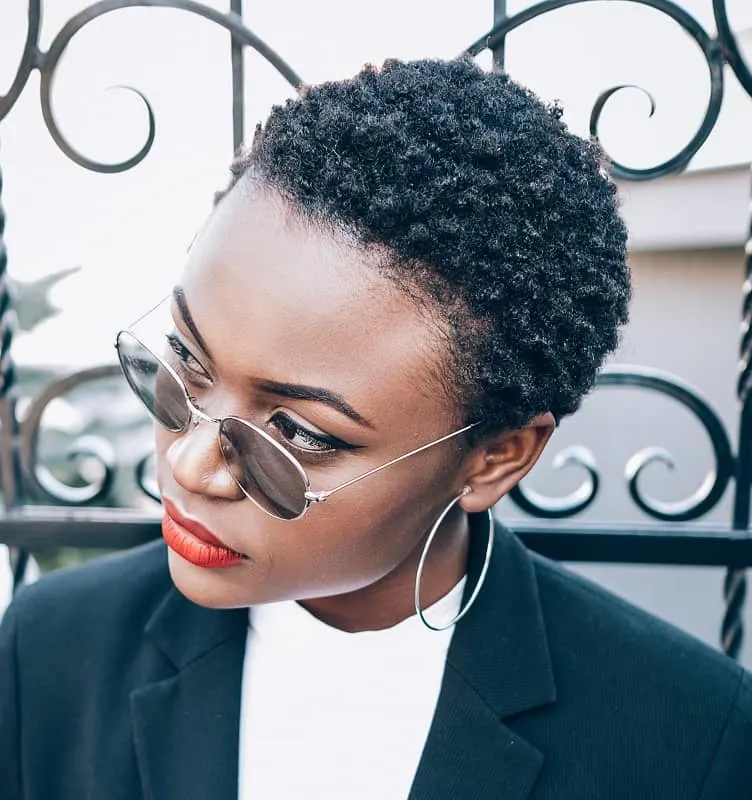 A super short curly hairstyle like this doesn't take anything other than a few minutes in the morning to make it look its best. Use curl cream to add moisture and shine which will keep your locks healthy.
16. Updo for Short Curly Black Hair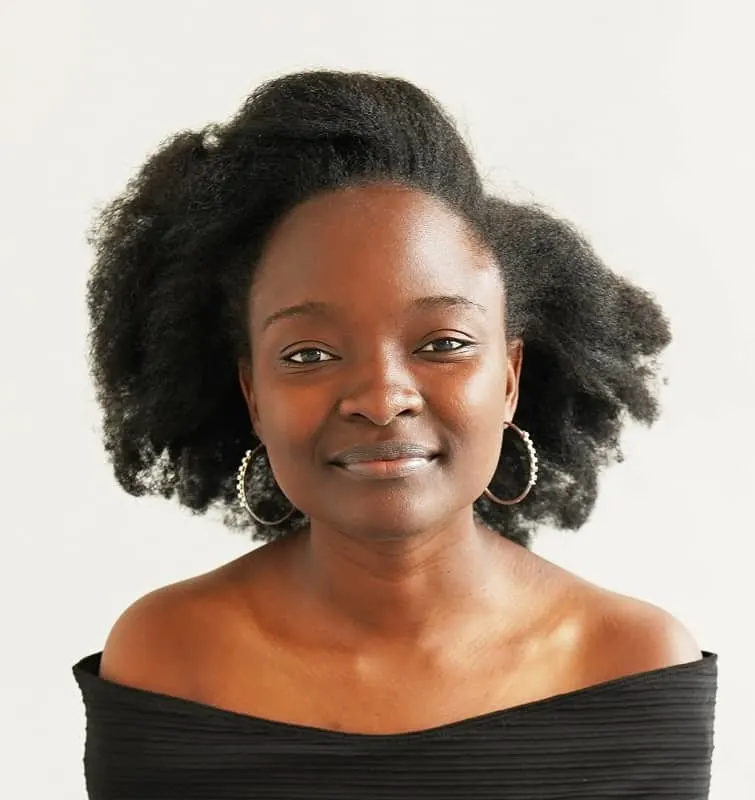 While letting your short curly hair hang down above shoulders is beautiful, you can get a cute updo just by parting hair off center, then gathering it in a small side ponytail.
17. Short Curly Hairstyle for Thick Hair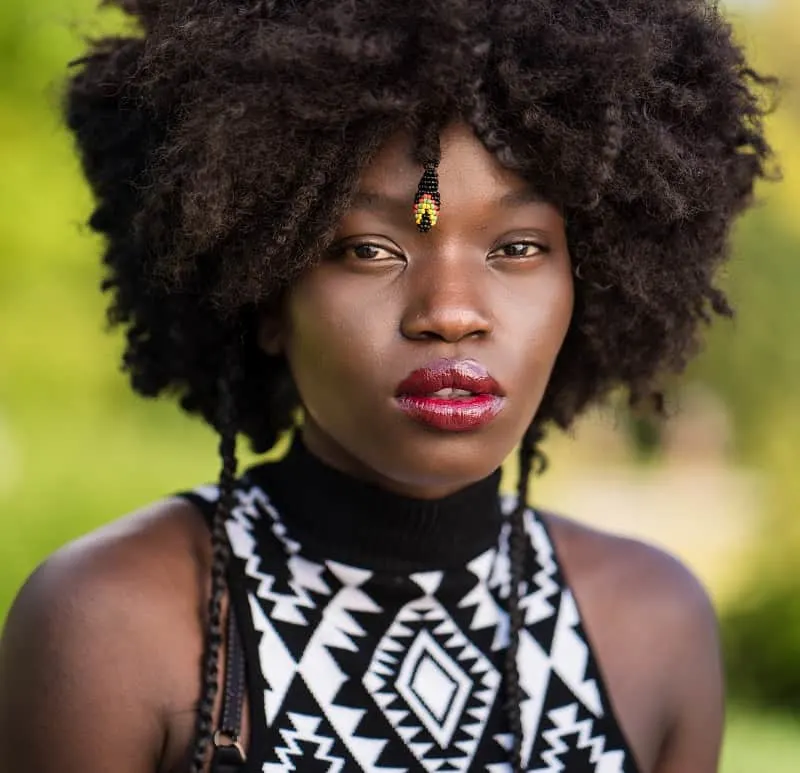 For thick hair, sometimes it's best to do short layers to avoid having it look like a big blob. It's the long braided sections of hair that add something different to this style.
18. Blonde Short Curly Hairstyle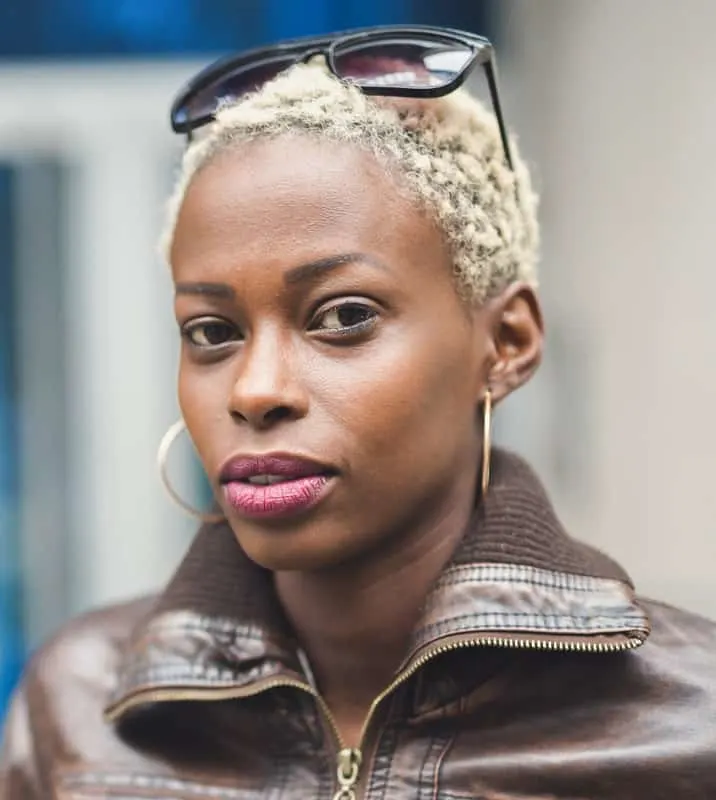 Why blend in when you can stand out with blonde curly hair? Against dark skin, hair this color is a great complement and the hair itself is easy to maintain.
19. Caramel Colored Short Curly Hair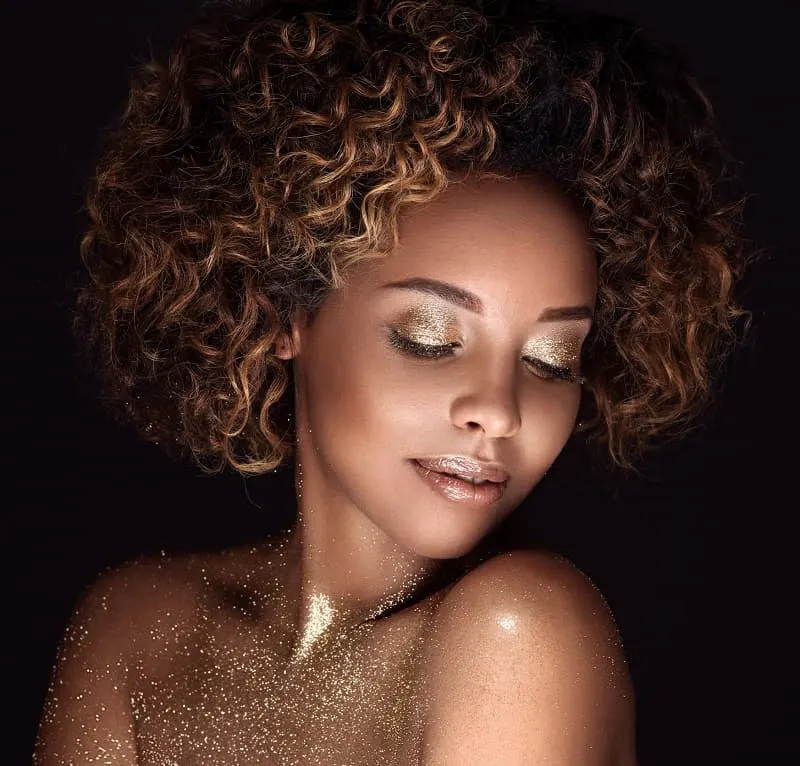 If blonde is too light for you, consider caramel highlights on chocolate brown hair. Keep hair at the jawline to draw attention to your best angles.
20. Messy Short Curly Hairstyle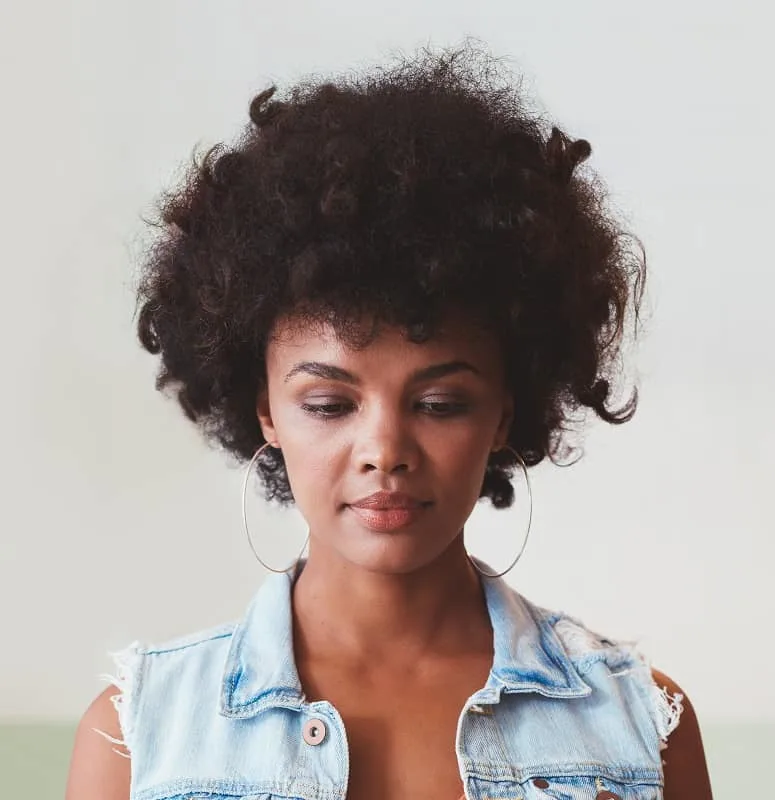 The messy look is totally in for women with naturally curly black hair. To get it, just run a comb sporadically throughout hair to stretch out curls.
21. Blond cap
A simple yet stylish black short curly hairstyle that can be worn by women of all ages. Most black women know how hard it is to turn their dark locks blond. That's why there is a way out.
Color just the top strands with blond dye and leave the rest of your hair natural. It will make an impression of a blond cap which is considered very stylish nowadays.
22. A-line bob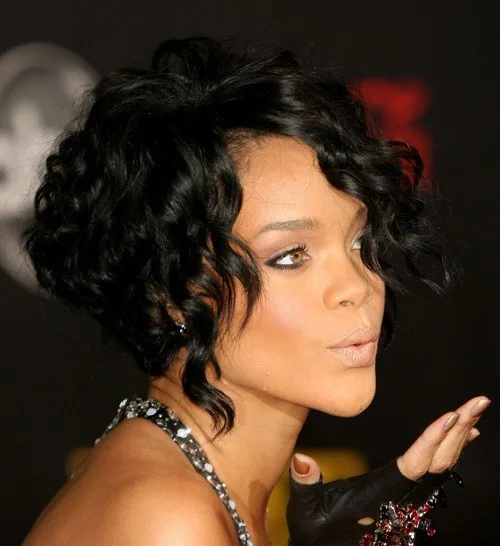 Black women can create an amazing a-line bob out of their curly hair. Make the back part stacked by cutting it as short as possible. Straighten the frontal strands to make them wavy and not too curly. Your stylish bob is ready!
Magical Short Natural Hairstyle Ideas for Black Women
23. Long bangs with curls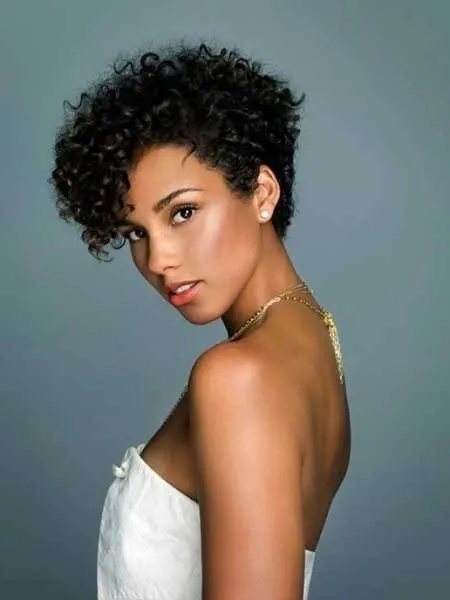 If you like your hair short but don't want your hairstyle to look too boyish, consider adding some long bangs to your short pixie. Long curly bangs look amazing with any short haircut. Even though they will need some extra maintenance, try to give them a chance.
24. Undercut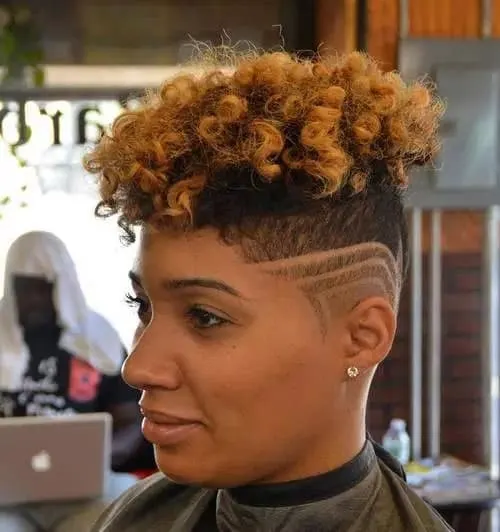 This is one of the most outrageous short curly hairstyles for brave black women. The hair on the sides is cut very short. It can be even shaved. The hair on top stays long as it would in a fohawk. You can add some extra flavor by highlighting the top part.
Top Picks: Best Undercut Hairstyles for Women to Rock
25. Wild colors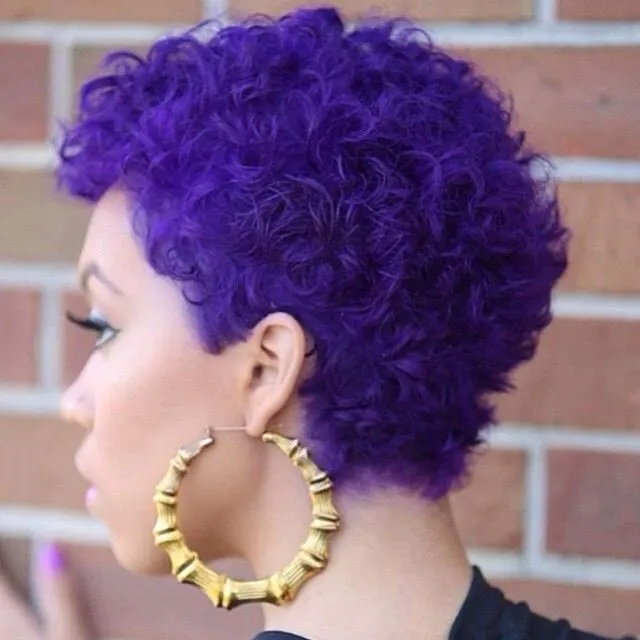 If you want to make a real statement but your hairstyle is already short then you can go further by dyeing your locks some interesting colors. Black women prefer all kinds of different shades, including blue, green and violet.
26. Brown bob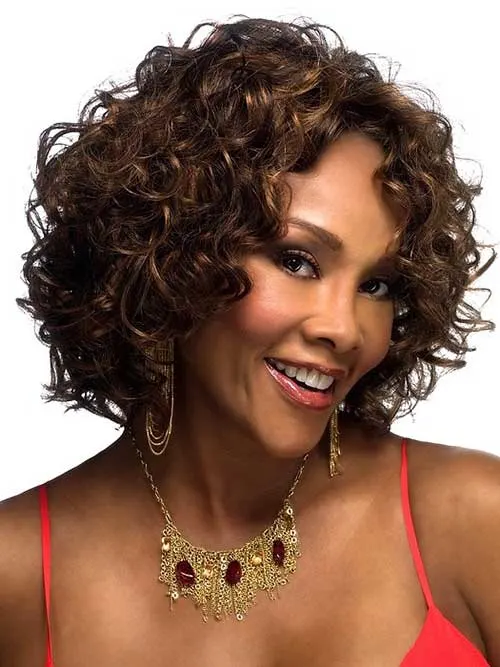 Always wanted to change your hair color but blond is too far-fetched? Go brown. Light brown shades look amazing on black women and add their image some softness and romance. Going brown won't take a lot of effort but will bring great results.
27. Highlighted blowout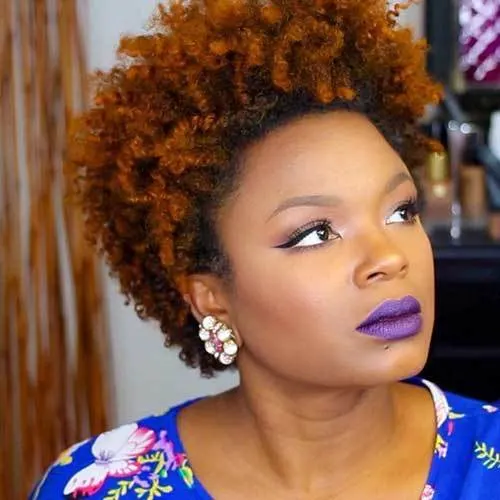 Did you think only men were allowed to sport amazing blowouts? Not at all! Black women will also appreciate this very stylish short curly haircut that will allow them to show off their curls. You can even dye the top part a different color. This way the hairstyle will look shaped up.
28. Thick pixie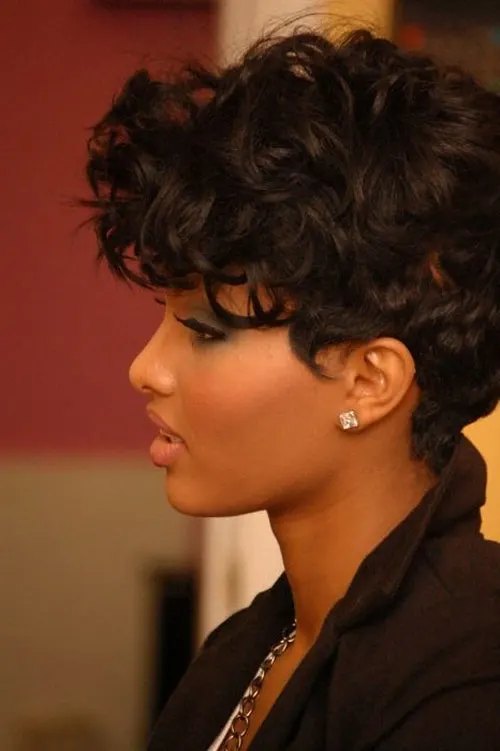 If your hair is long and thick, it is not necessary to cut it off to make a great pixie. You can leave your long and thick locks on top to create a great hairstyle. Allow some strands to fall down your forehead and create amazing bangs.
Black Hair: Curls on Short Natural Hair
29. Shaggy bob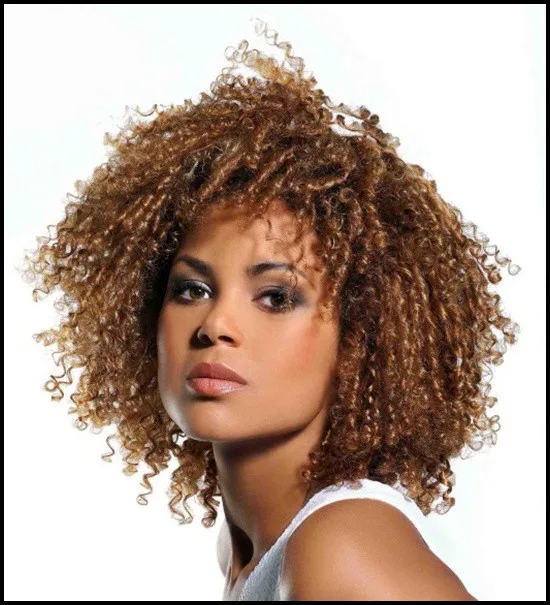 Black women with very curly hair will love this hairstyle. It allows them to flaunt their tight coils while looking very stylish. Unfortunately, this hairstyle will require some maintenance to look neat and windblown at the same time.
30. Go blond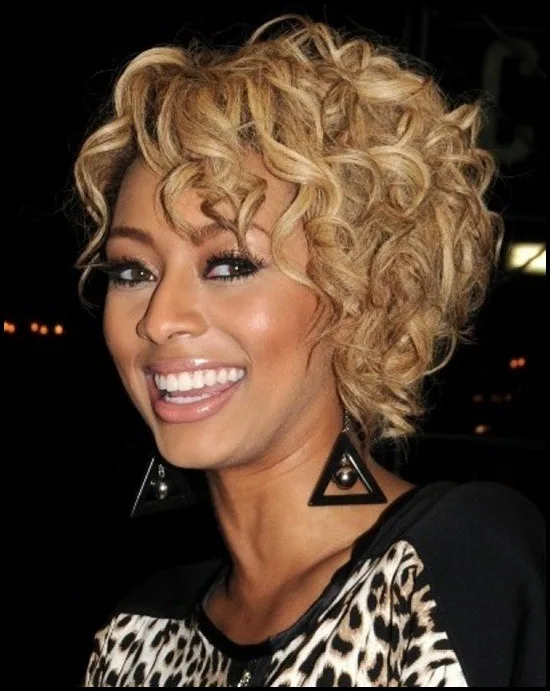 One of the most awesome ways for a black girl to wear a short hairstyle is to go blond. Since black women usually have very dark hair, such a drastic change will definitely turn some heads your way. However, blond hair needs constant touch ups.
31. 1990's hairstyle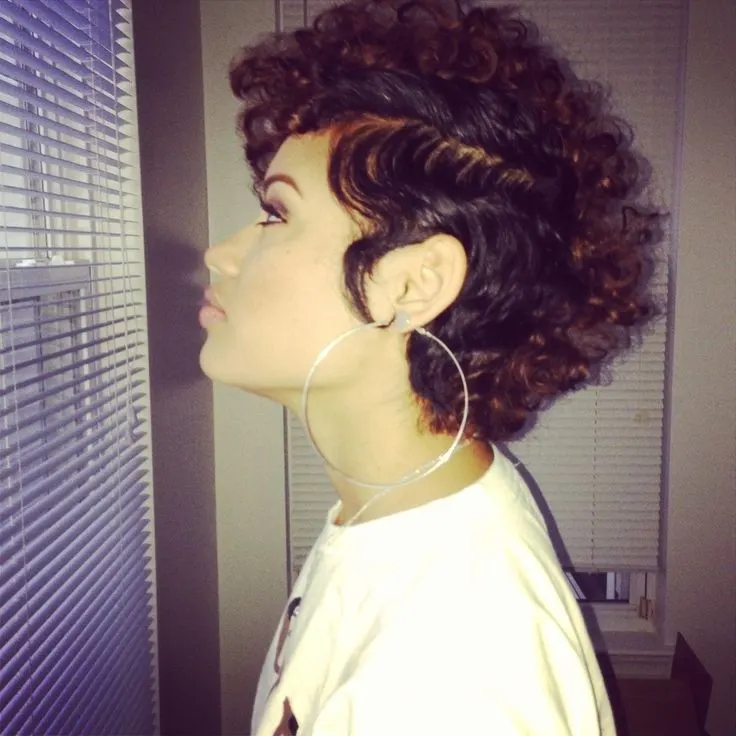 This amazing 1990's hairstyle will take you back to the past. And there is nothing terrible about it! This fohawk will make you stylish in the new century, just as it did for many women in the past. Keep the sides short and the top long and curly. Add some large earrings and your new image is ready.
32. Partial undercut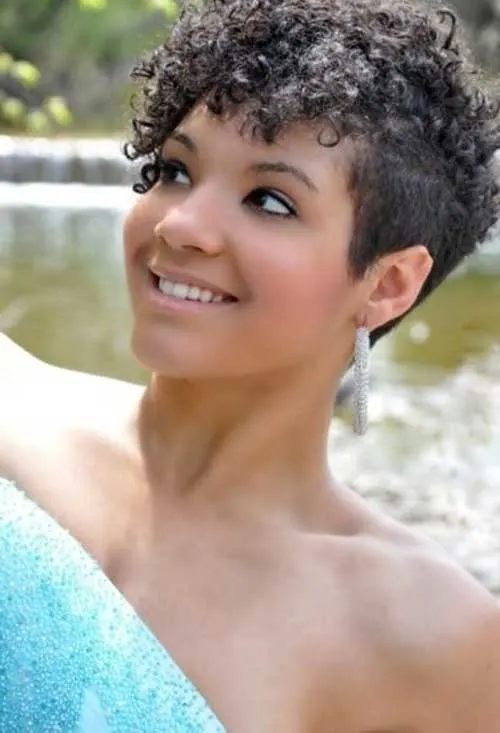 This partial undercut is a great idea for women who are not brave enough for something outrageous but still want to dip their toes into the unknown waters. Cut just the front part of the sides first and leave the rest of the pixie intact. Add some long bangs to look even more fantastic.
33. Wild afro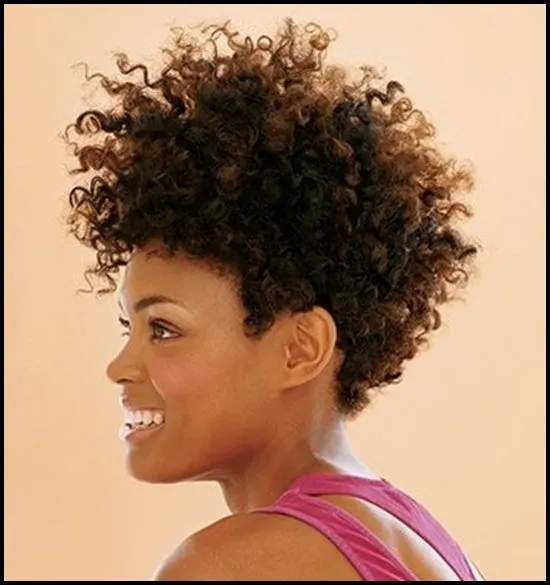 Afros come in all shapes and sizes and will make any woman look very unique. Go for a wild afro by leaving your hair long on top and spiking it up. This hairstyle can also be called a blowout. The downside of this afro is a lot of maintenance.
34. Modern afro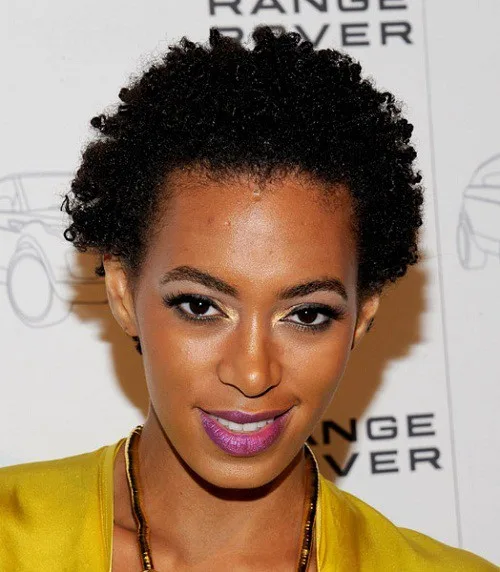 Another way to go about an afro is to make it very short. This is a great option for girls who hate hair care but still want something stylish created on their heads. Keep your locks about 5 inches long and brush them backward. Secure the hair with some hair gel.
35. Short Curly pixie with bangs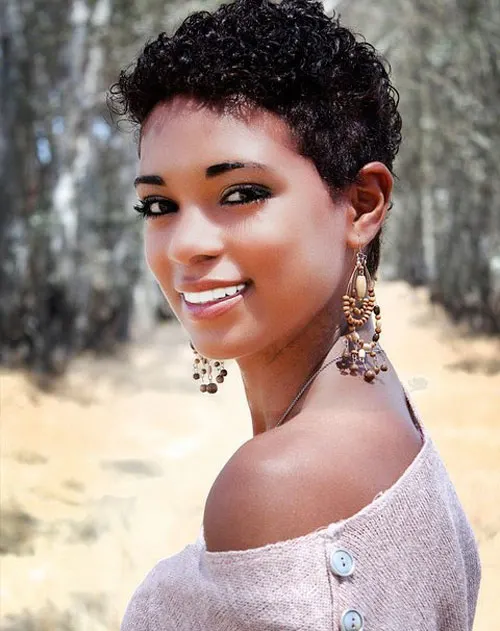 A short pixie is a great choice for girls who are terribly tired of tending to their unruly locks. Keep your pixie as short as possible. You can even get rid of the curls altogether. Just leave a little hair on top to make short and spiky bangs.
36. High pixie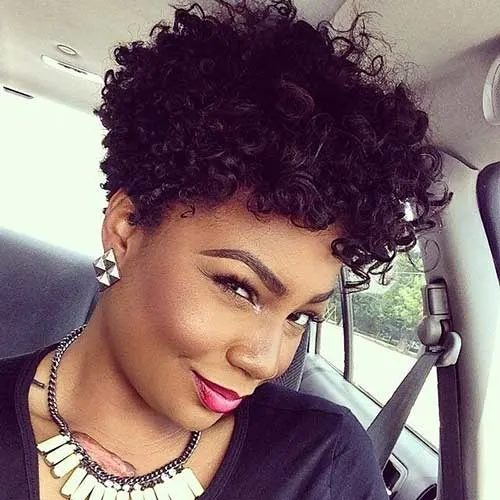 If you have a round face, you will love this short hairstyle for curly hair. Make a pixie but leave the top part long enough to make a voluminous style. Such haircut will help elongate your face while allowing you to flaunt your curls.
37. Afro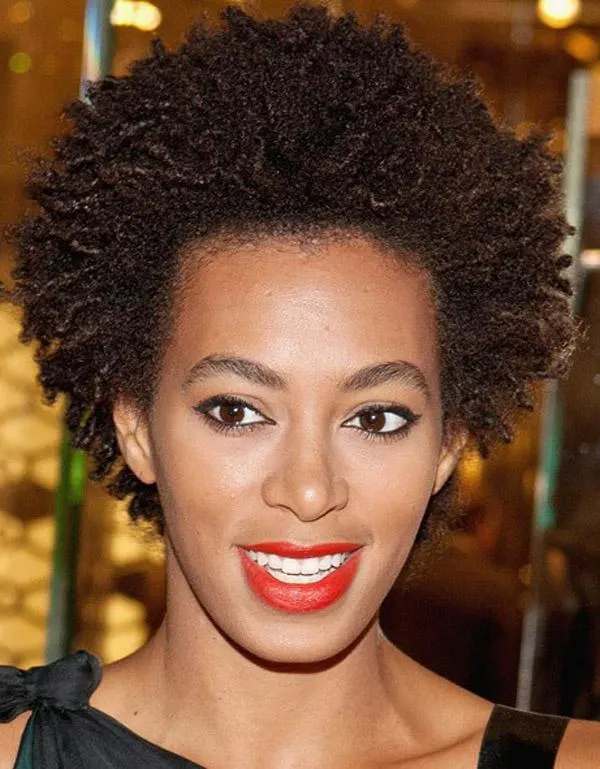 Did you think that afro is a long hairstyle? It's not. There is a short variation of afro that doesn't make it look any less special. Spend some time considering this haircut. If you are brave enough to try it, you will love the result.
38. Stacked bob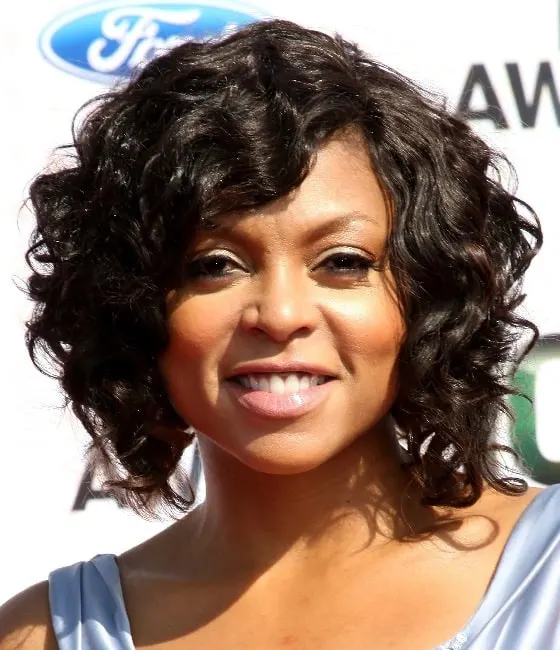 A very short stacked bob is a great alternative to a short pixie. The amount of maintenance is reduced while curls are still there to show off. Create long bangs to make this curly hairstyle even more impressive.
39. Simple pixie
If you are not into complicated black short curly hairstyles and just want to look amazing without any extra hassle, you can go for a simple pixie. Such a hairstyle will suit women of any age or occupation. It will need frequent touch-ups to stay neat.
40. Short highlighted bob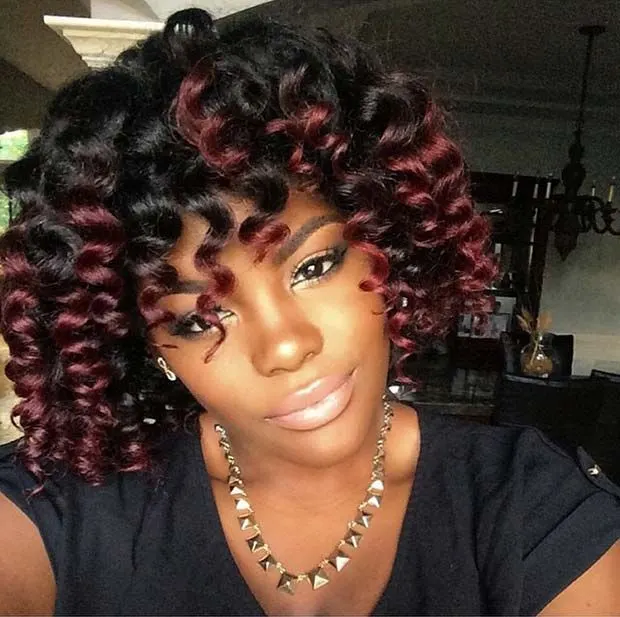 If your curls are soft, you can go for this neat short hairstyle. Leave your hair all the same length and allow it to be about 2 inches above your chin. Dye several strands with any color you choose and you simple bob will turn into an amazing hairstyle.
41. Cute shag
Shag is always a great choice for girls who want to look cute. This curly haircut requires little maintenance and looks very cute. The hair is layered to make the top a little more voluminous than the bottom. You can add some bangs if you wish.
42. Short undercut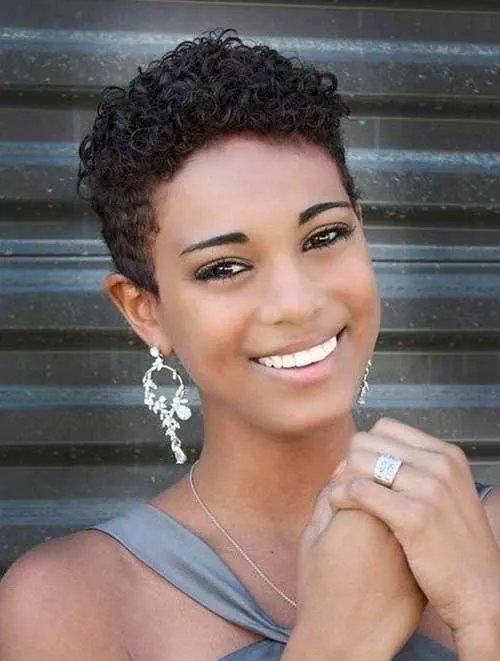 This very short undercut will cause you absolutely no hassle. The sides are cut short and the top is left about 1 -2 inches long. This is a great hairstyle for girls with long faces. It opens up the facial features so make sure to use the right makeup.
43. Neat and professional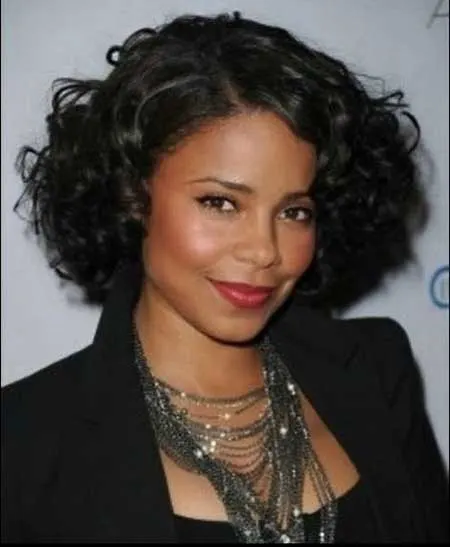 This neat curly short haircut is great for black women who need to sport a professional image. While going to the office with a fohawk might be a bad idea, this neat hairstyle is absolutely perfect for it. Consider getting this cut if you need to look solid.
44. A weave
If you are a bit tired or your short and curly hairstyle, you can consider getting a longer weave. There are many different curly hair extensions for black women out there. In order not to make the hair too long, you can focus on the top part.
45. Highlighted short curly bob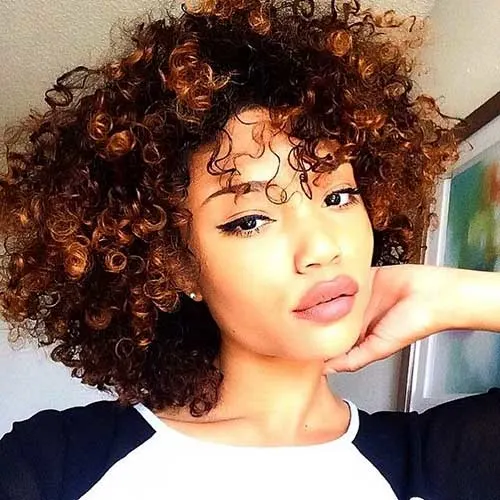 Bob is one of the most popular hairstyles out there. It will look amazing on women with very curly hair. If you want to add some zest to your curly bob, consider highlighting the tips. Use a lighter shade to do it.
46. Short coils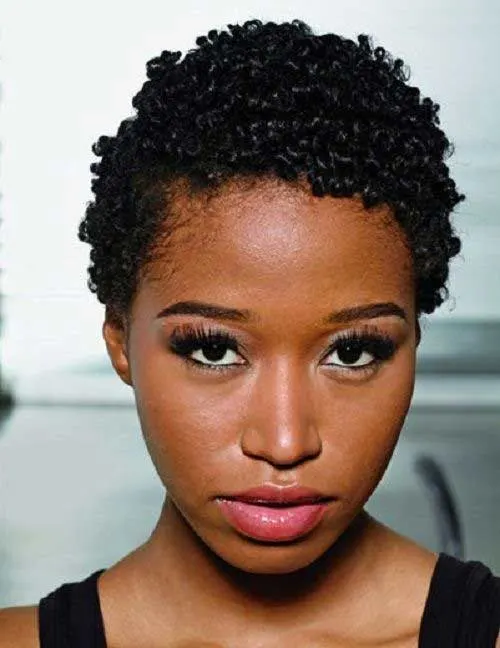 If your hair is very curly then it will be easy to create a short coiled haircut. You need to leave your locks only about 1 inch long. This way your hair will be able to coil only once and the result will be really neat.
47. Waves on top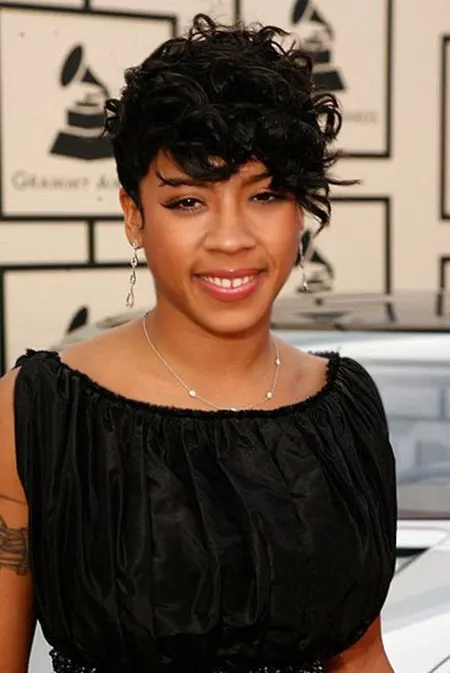 If you are tired of curly hairstyles then this wavy pixie is for you. Leave the top part long enough to create wavy bangs. The rest of the hair can be cut very short in order not to deal with it on a regular basis. Let your bangs become curled up and windblown.
48. Raven black pixie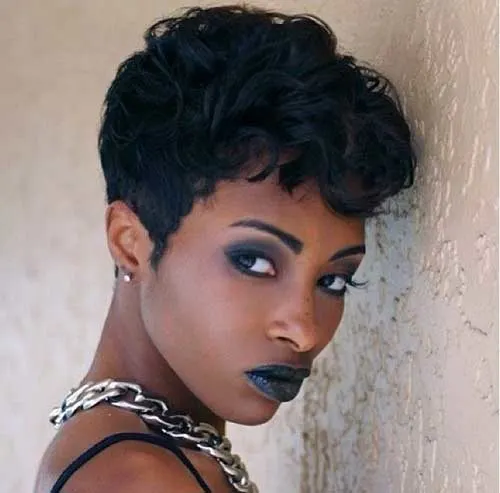 Black women usually have pretty dark hair. But if you think that it is not dark enough, you can go for a raven black shade. This short hairstyle is perfect for girls who want to make a statement. You can add dark eye make-up and black lipstick.
49. Asymmetrical bob with curls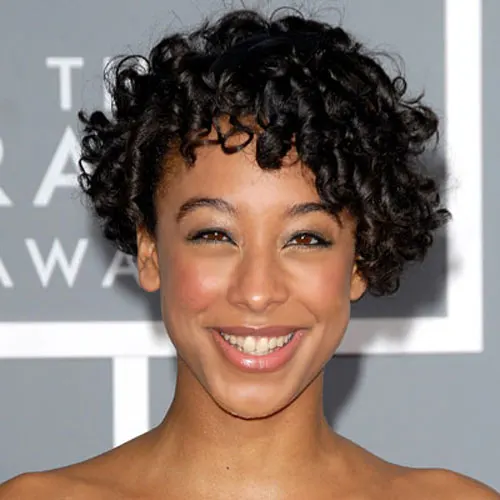 This is a great hairstyle for women who have nice curls and want to show them off. It is also perfect for girls with long faces since it visually makes the face more round. Let the hair on one side cover your ears and leave the other one just above the ear tip.
50. High bangs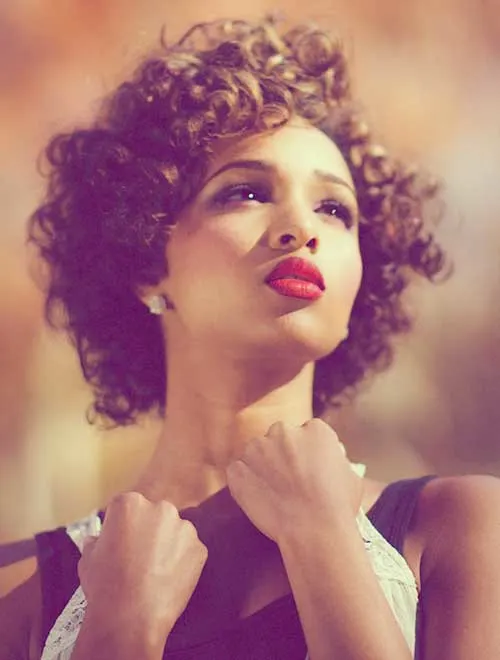 High bangs are easy to make when you have curly hair. Make your hairstyle more voluminous by side sweeping your curly bangs to create a side part and a high fringe. Style the rest of your hair into a short bob. You will love this simple yet fashionable look.
51. The short black buzz curl
A very short but classy short curly hairstyle for black women to try. There are a few women out there that look terrific with a buzz. Mostly it is true for girls with oval face shape. So if you are bold enough to try this very short haircut, spend some time considering your face type. Otherwise, you might regret it.
52. Color burst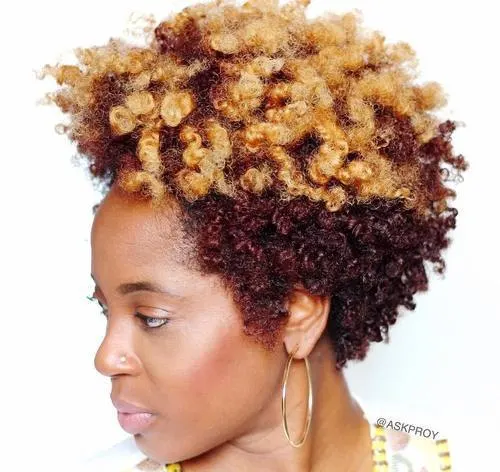 Experimenting with colors is always a lot of fun. So if you are one of those women who grow tired with their haircuts pretty fast, you can try changing the color. Consider highlighting your curly pixie with several different shades.
53. Long pixie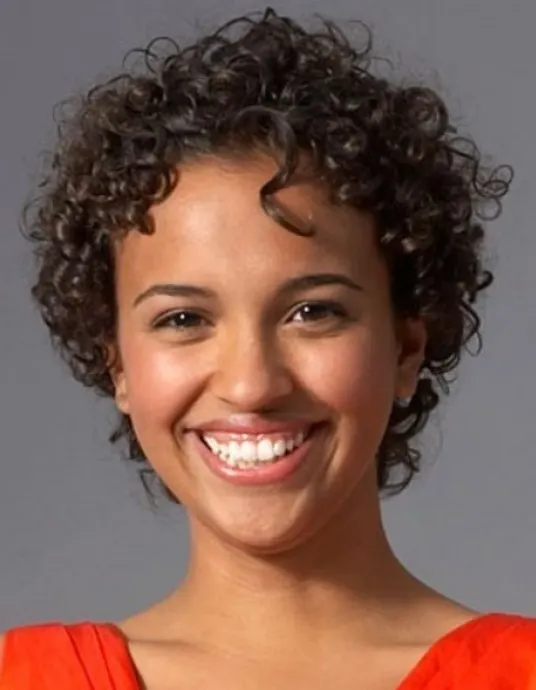 This cute hairstyle will make any black woman look younger. Leave some strands in front to create short and wild bangs and leave your hair falling down your neck. This boyish cut will add a lot of youthful zest to your image.
54. Blond fohawk
If you are thinking about an impressive fohawk, consider dyeing the top part blond. The sides are cut short as they would be for an undercut. The top curls are colored a lighter shade than the sides. This look is very impressive and can be suitable for any occasion.
55. Side parted curly bob for black girls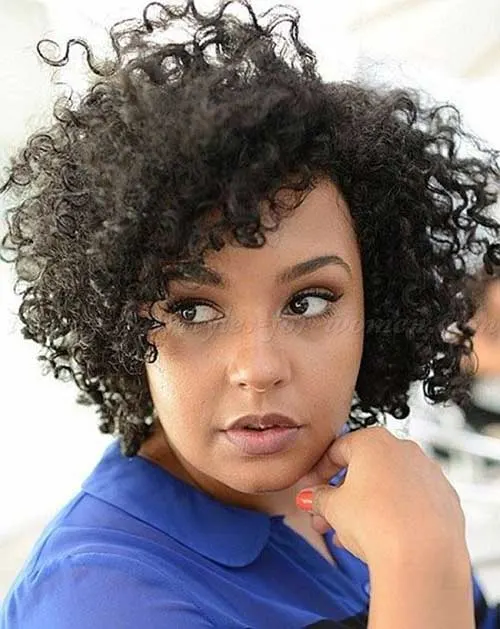 This side-parted bob will make you look truly fantastic. Don't forget to make layers. They will do the trick. The volume stays on top and the bottom looks neat. This short hairstyle will save you some time in the morning.
56. Long fohawk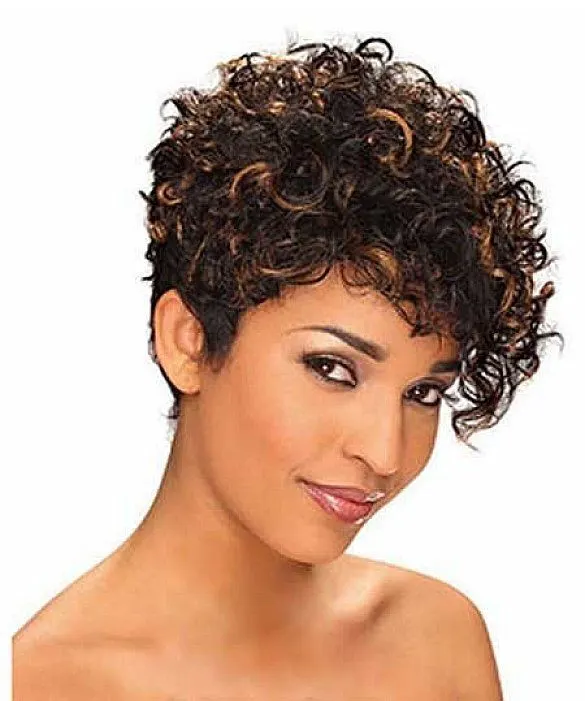 You will be amazed at how stunning a well-made fohawk can look on a black girl. Keep the sides short and the top long enough to produce long bangs. Add some highlights if you wish. This hairstyle will make any woman look incredible.
57. Short and thick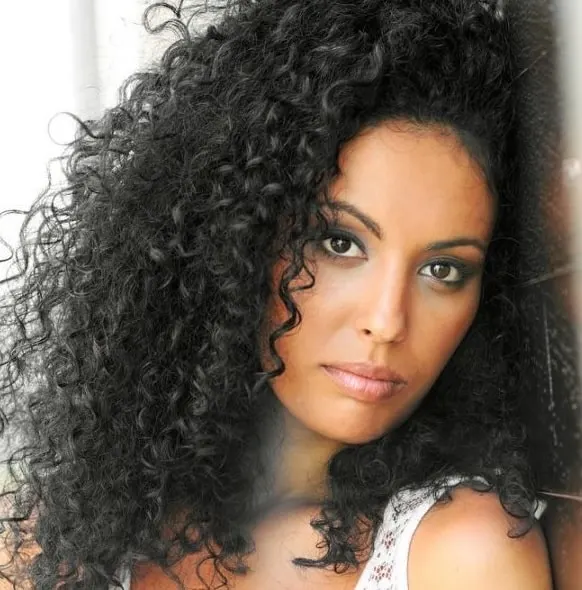 Black girls with unruly hair will love this amazing hairstyle since it will take all the hair maintenance out of their lives. This short curly black hairstyle is great for women with oval faces.
58. Short Curly spikes for Afro-American women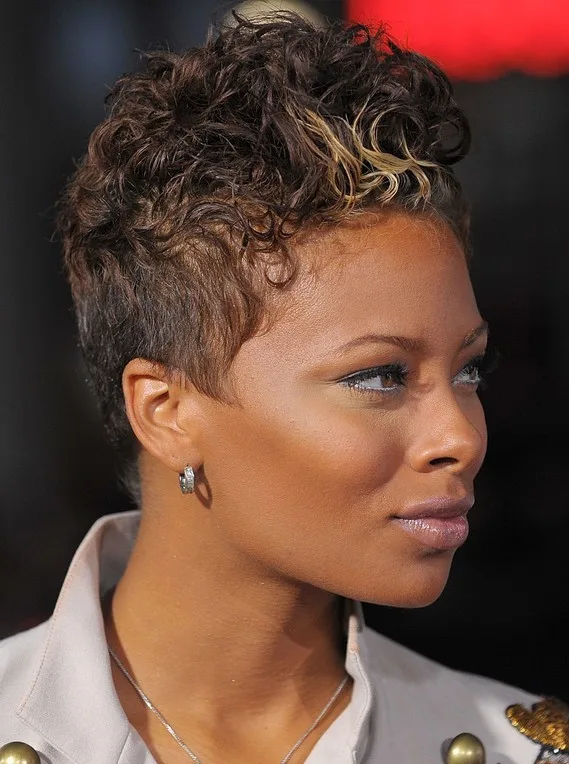 Short curly spikes are considered to be very stylish nowadays. If you are opting for a short pixie, leave the top part long enough to make some spikes. Apply some hair gel to your fingers and pull the strands upwards to create stunning spikes.
59. Soft curls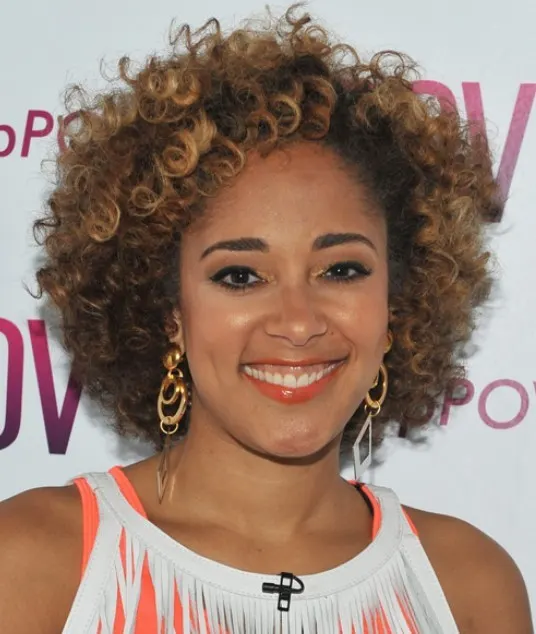 If your curls are soft then you can go for this voluminous hairstyle. Consider highlighting the top strands of your hair a lighter color. Then this haircut will truly look impressive. Make sure to apply some frizz removing cosmetics to keep it neat.
60. Flaunt the volume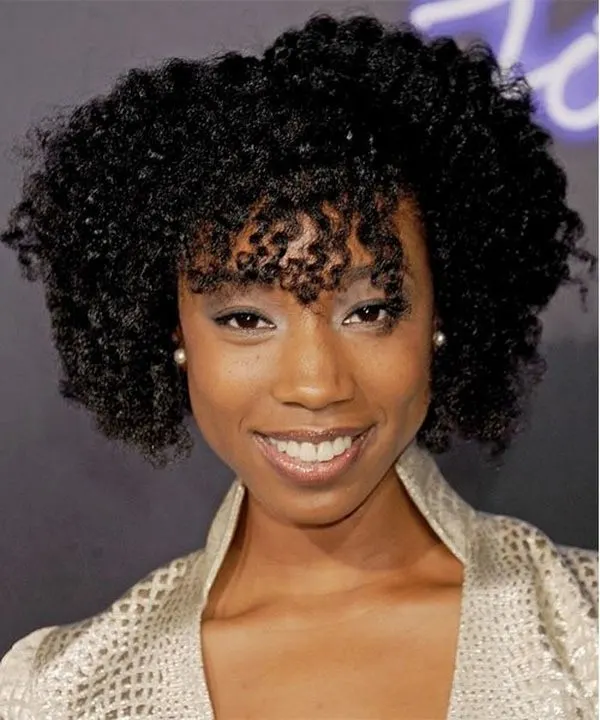 If you've got a long face shape then you can easily go for flaunting the volume of your curly hairstyle. Consider making the haircut you see on the picture. It might seem outrageous at first. But it will help you stand out of the crowd while making the face seem more oval.
61. Side swept bangs
Many women with fine hair know about using the side part and side-swept bangs to create more volume. Black women with curly hair don't need any extra volume but well-made side swept bangs can add their haircut a lot of styles.
Note: If you are looking to straighten short curly hair watch the tutorial below.
Tutorial: How to Straighten Short, Curly Hair
62. Voluminous pixie
Pixie is a great short curly hairstyle for black women. However, only a very short pixie will allow you to forget about maintenance. If you are not afraid of the hassle, allow your hair to be from 5 to 7 inches long. You'll get a great result.
63. Short pixie
If you are tired of unruly locks but still want to keep a curly hairstyle, we are offering you this short pixie. The hair on the sides is cut really short while some curls are left on top to make you look very feminine.
64. Long bob with coils
Do you love the way tight coils look? Flaunt them! Make a long bob and short bangs. You will need to spare some time for the daily maintenance of this short curly hairstyle. Coils will look neat only with some help from hair cosmetics. Otherwise, the hair will be frizzy.
65. Line pixie
Want to make your haircut even more stylish? Add a line! Hair design is very popular nowadays and lines are the easiest way to do it. You can create a line anywhere you wish. Just make sure it is not too long. Otherwise, if your hair is more than half an inch long, it will remind of a balding spot.
66. A palm
Want a palm on your head? Some people do. In fact, this hairstyle looks very impressive and can be a great choice for a special occasion. The hair on the sides is cut short and then top part is left long to create spikes.
67. Asymmetrical pixie
This stylish asymmetrical pixie is easily created by leaving all the volume on one side. It will look as if you created voluminous side-swept bangs. The result will be truly stunning. Just make sure to style your fringe daily.
68. Blond bangs
If you want to diversify your pixie, make blonde bangs. Light hair shades look especially well on black women. However, going fully blond is a tough and often unnecessary job. Blond fringe will do the trick of brightening up your image.
69. Straight pixie
One of the most impressive short hairstyles for black women is a straight pixie. Since your hair is already pretty short, it won't take too much effort to straighten it. Side sweep the long straight bangs and you will surely stand out of the crowd.
70. Blond and curly fohawk
Any black woman will look amazing with this blond and curly mohawk. Keep the sides very short and the top long enough to have the strands fall down your forehead. They can be arranged into neat waves and become impressive bangs.
These short and curly hairstyles will make any black woman look truly amazing. Pick the one you like best but don't forget to consider your face type. If you want to change your color dramatically, start with something simple. In any case, you will end up with an impressive look.