Black women with curly hair are often faced with a choice between long and short hairstyles. Curly hair is very hard to take care of. If you don't spend tons of time on it, it tends to look messy. Long curly locks can be a real trouble for their owner. That's why many black women opt for getting a short curly hairstyle. Short manes are usually much easier to maintain while looking quite fantastic.
There are wonderful pixies and stylish bobs awaiting any black woman who wants to get the most stunning hairstyle without too much hassle. Remember, curly hair can be flaunted regardless of its length. All you have to do is learn how to style it. So if you are looking to have your cake and eat it too, take a look at some interesting options for African American black girls with short curly hair.
Short Curly Hairstyle Ideas for African American Women
When you make a decision to get a short hairstyle, don't rush to the hair salon. You need to take some time and browse the options you like most. Don't rely just on your stylist's advice. There are so many different haircuts out there that your hairstylist might forget to offer you the perfect one.
We have prepared a list of short and curly hairstyles for black Afro-American women to consider. All of them are very stylish and most of them are easy to make and maintain. Making a choice is never easy, especially when it comes to cutting your locks. If you are not sure you are making the right decision, just browse through the options one more time.
1. Blond cap
A simple yet stylish black short curly hairstyle that can be worn by women of all ages. Most black women know how hard it is to turn their dark locks blond. That's why there is a way out. Color just the top strands with blond dye and leave the rest of your hair natural. It will make an impression of a blond cap which is considered very stylish nowadays.
2. A-line bob
Black women can create an amazing a-line bob out of their curly hair. Make the back part stacked by cutting it as short as possible. Straighten the frontal strands to make them wavy and not too curly. Your stylish bob is ready!
Magical Short Natural Hairstyle Ideas for Black Women
3. Long bangs with curls
If you like your hair short but don't want your hairstyle to look too boyish, consider adding some long bangs to your short pixie. Long curly bangs look amazing with any short haircut. Even though they will need some extra maintenance, try to give them a chance.
4. Undercut
This is one of the most outrageous short curly hairstyles for brave black women. The hair on the sides is cut very short. It can be even shaved. The hair on top stays long as it would in a fohawk. You can add some extra flavor by highlighting the top part.
Top Picks: Best Undercut Hairstyles for Women to Rock
5. Wild colors
If you want to make a real statement but your hairstyle is already short then you can go further by dyeing your locks some interesting colors. Black women prefer all kinds of different shades, including blue, green and violet.
6. Brown bob
Always wanted to change your hair color but blond is too far-fetched? Go brown. Light brown shades look amazing on black women and add their image some softness and romance. Going brown won't take a lot of effort but will bring great results.
7. Highlighted blowout
Did you think only men were allowed to sport amazing blowouts? Not at all! Black women will also appreciate this very stylish short curly haircut that will allow them to show off their curls. You can even dye the top part a different color. This way the hairstyle will look shaped up.
8. Thick pixie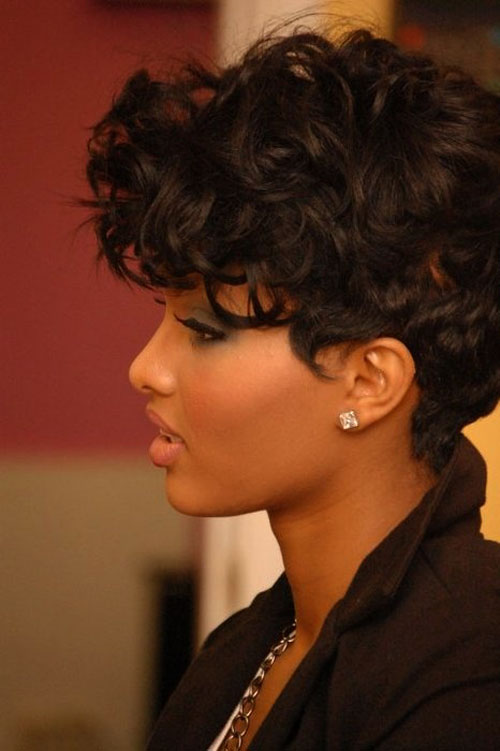 If your hair is long and thick, it is not necessary to cut it off to make a great pixie. You can leave your long and thick locks on top to create a great hairstyle. Allow some strands to fall down your forehead and create amazing bangs.
Black Hair: Curls on Short Natural Hair
9. Shaggy bob
Black women with very curly hair will love this hairstyle. It allows them to flaunt their tight coils while looking very stylish. Unfortunately, this hairstyle will require some maintenance to look neat and windblown at the same time.
10. Go blond
One of the most awesome ways for a black girl to wear a short hairstyle is to go blond. Since black women usually have very dark hair, such a drastic change will definitely turn some heads your way. However, blond hair needs constant touch ups.