Having a warm skin tone (a.k.a. your wrist veins look more green than blue in natural light) means you get to achieve the perfect tan and have that coveted sunkissed glow effortlessly. Unfortunately, the wrong hair color will prevent you from enjoying all these amazing perks.
Choosing the right hair color for your skin tone is quite easy. Here's the rule of thumb that you should follow: warm hair colors best complement warm skin tones.
So which hair colors are considered warm shades? Well, just imagine hues with gold, peach, yellow, or orange tinges.
Or you can just continue reading because we've shared some of the best warm hair color ideas below.
Flattering Hair Colors for Warm Skin Tone
Here are some of the best hair colors that are perfect for warm skin tones.
1. Brunette + Caramel Balayage
Earth tones are always an excellent idea when it comes to choosing hair colors for warm skin tones, and a deep shade of brunette is at the top of our list.
If you want to make it stand out, adding a light caramel balayage is the way to go. It brightens the dark brown shade and gives it an eye-catching, sunkissed look.
2. Plum Middle-parted Hair
Not everyone can pull off plum hair but women with warm undertones certainly can. But of course, you have to be careful when choosing the plum shade that you use.
In your case, you should shy away from brighter shades and go for deeper and richer plum shades like this gorgeous purple plum hair color. The purple-red tinge that it has will give your warm skin tone a gorgeous glow.
3. Salt and Pepper Curly Hair
Graying hair is something that you should be proud of. Unfortunately, the wrong shade of gray can make your warm skin tone look washed up. You can fix this issue by adding a few strands in neutral gray shades like platinum silver or gunmetal gray.
4. Green Pixie Cut
Green hair may look intimidating, but it's actually a shade that goes well with both warm and cool skin tones. As a rule of thumb, a warm skin tone would look amazing on a green shade that's closer to yellow, so you can go for either this bright olive green shade or a neon one.
5. Brunette Layered Hair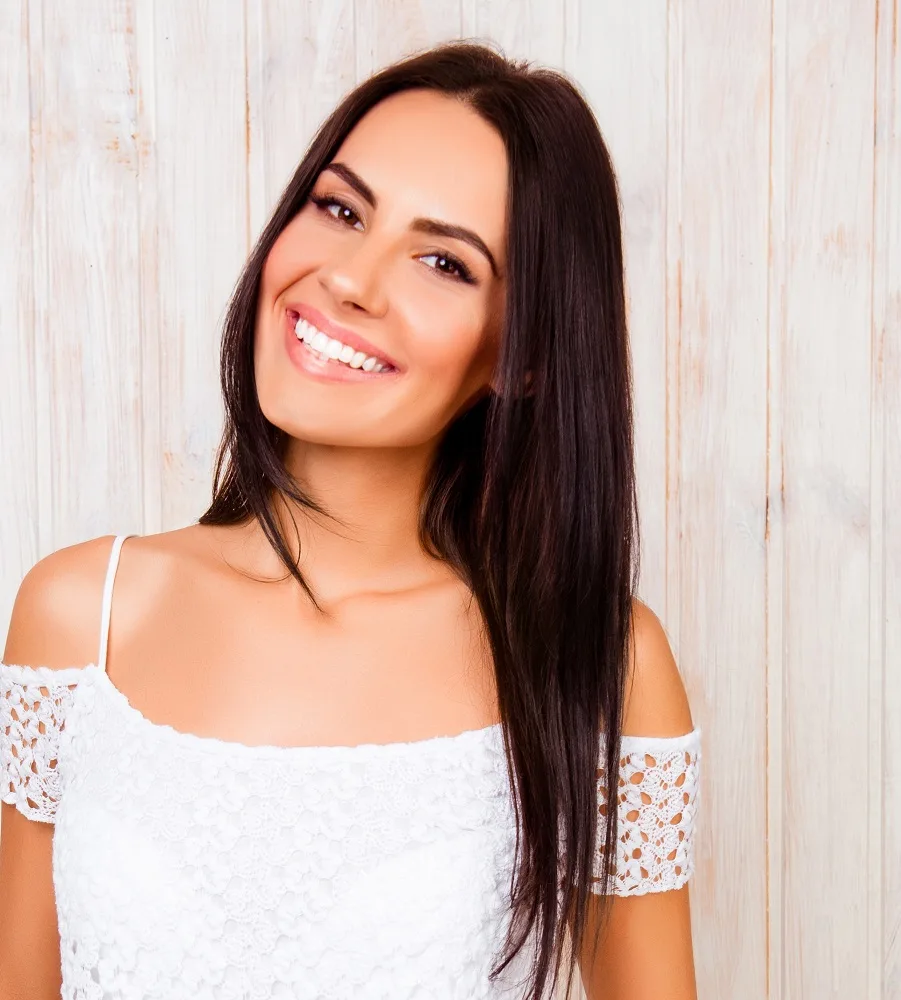 Any brown shade with hints of reddish tones will look amazing on a warm skin tone because the red shade complements the skin's warmth.
Instead of settling for a solid brunette color, spice it up by adding a few strands in darker shades to give it a more dimensional look.
6. Light Golden Blonde Face-framing Layers
Golden blonde is one of the best hair colors for warm skin tones because of its natural warmth and that sunkissed glow. But if you're looking for something subtle, we highly recommend a light golden blonde shade since it can make a warm skin tone look fairer.
7. Chestnut Double Half-up Pigtails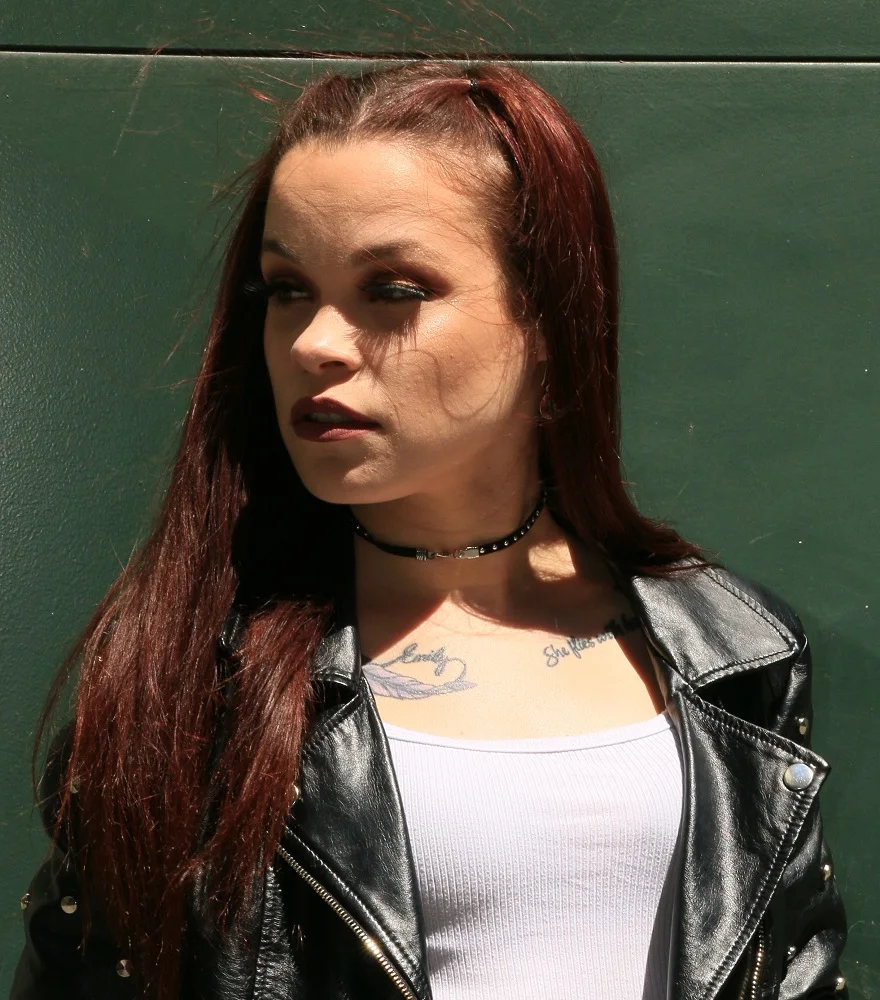 Chestnut is a deep brown shade with reddish tinges. It's considered a universally flattering hair color, so it suits both warm and cool skin tones pretty well.
When choosing a chestnut shade for warm skin tone, it's best that you go for a richer and deeper hue that can bring out the rosiness in your cheeks.
8. Purple Lob + Black Roots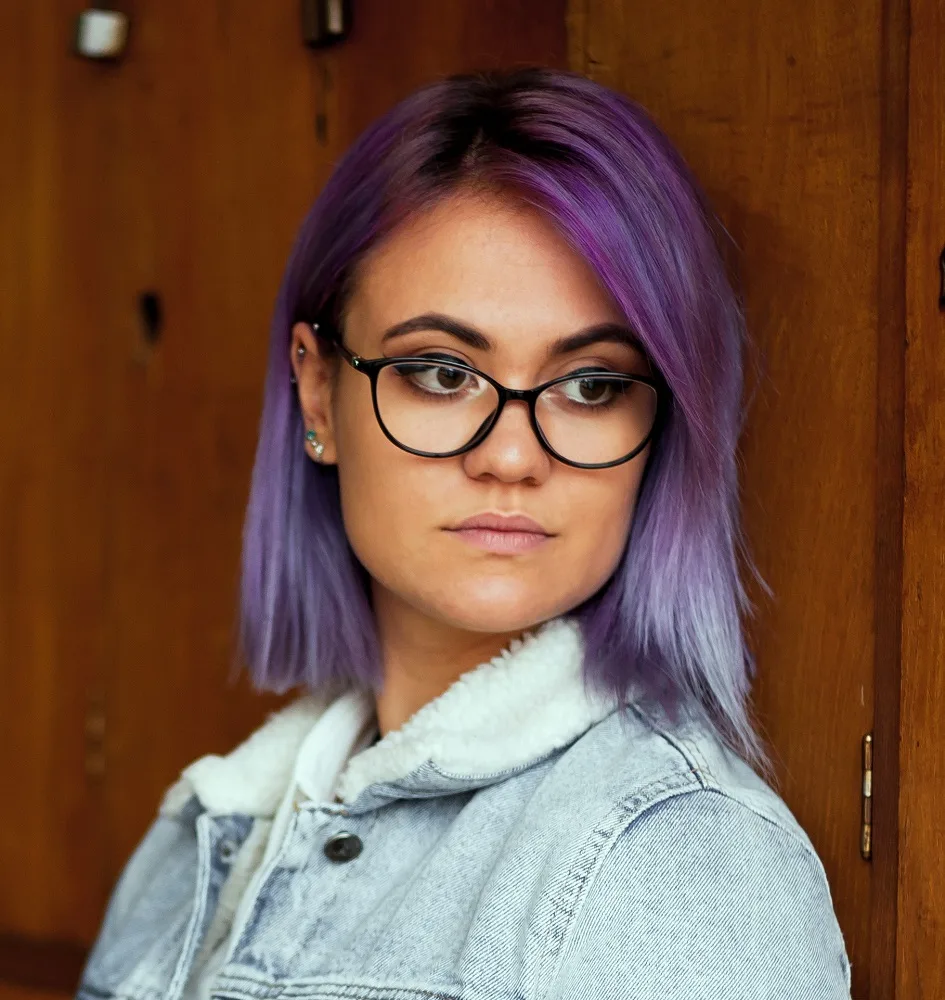 If you want to try a shade from the purple spectrum, you may want to check out violet. This is a rich shade with a few red hints that go well with a warm skin tone.
Keep your roots in a darker shade to balance your brightly colored hair and give it a natural touch.
9. Blonde and Brown Medley
With regards to warm hair colors, blonde and brown are at the top of the list. And if you want to wear a hair color that will stand out, we suggest playing with different shades of brown and blonde.
The contrast between the lighter and darker colors will give your hair more texture, boost your wave's movement, and create the illusion of volume and thickness.
10. Ginger Waves
Nothing is brighter and warmer than the orange and red shades regarding hair colors. So if you want to bring out the maximum warmth from your skin tone, a combination of these shades is your best bet.
Since the ginger hair color is a reddish brown hue with orange tints, it's a combination of these beautiful shades plus more, so it's one of the best options for hair colors for warm skin tone that you have.
11. Golden Blonde Full Highlights + Balayage
Let's make your look extra golden with a golden blonde shade. If you're going for a more natural look, choose a full highlights and balayage combination instead of dyeing your hair gold all over.
With full highlights, your natural hair color peeks through, creating great contrast and better dimension to the hair.
12. Blue Side-Pinned Hairstyle
To be honest, blue is not actually one of the best hair colors for warm skin tone as it's a cool shade that can make your skin look pale and washed out.
But if you really want to give this color a try, make sure to opt for a blue shade with purple hues that can cancel out your gold and yellow undertones.
13. Bright Red Blunt Lob
With a warm skin tone, you have the license to wear all kind of red hair shades and rock it. So if you want to go for an attention-grabbing bright red hue, then go for it by all means.
Make the most out of this unique look by pairing it with an edgy blunt lob. Add in micro bangs for that voguish vibe.
14. Copper Top Half-bun
If you find bright red to be a bit too much, then you can settle for a muted red shade like copper red. This hue has more brown notes than red hues, so it's a lot easier to wear and style. The alluring coppery tinge will also brighten your complexion and give your look a touch of mystery.
15. Pinks and Purples
Opt for pinks and purples if you want something more unique and creative. But of course, go for deeper and darker colors so you can unleash the full warmth of your skin tone.
16. Golden Copper Beach Waves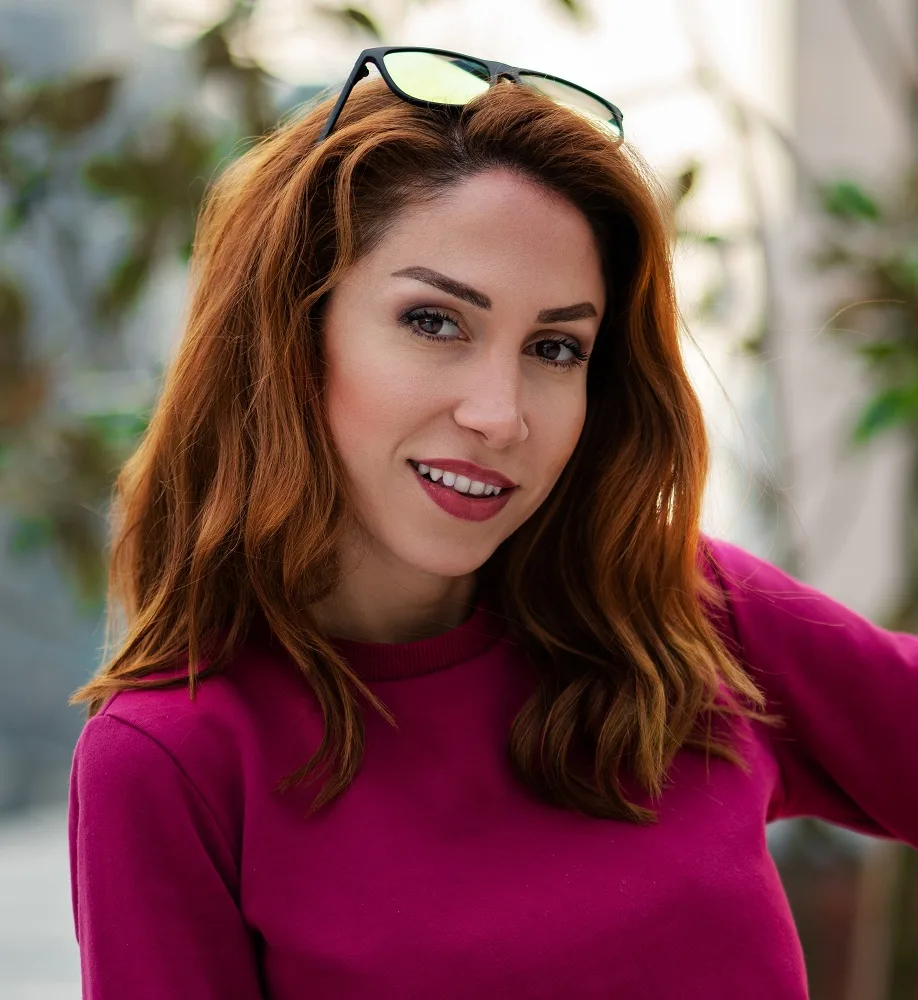 If you have a dark complexion and a warm skin tone, a deeper copper shade is just the perfect color for you. This reddish hue is quite flattering and is the ideal transition color if you're looking to switch from being a blonde to a redhead.
17. Hot Pink Curls
For those who want an eye-catching pink shade, choose one that has a warm orange tint instead of a cool blue base. A deeper pink shade can make your cheeks look extra rosy and your skin more vibrant.
Finding the right hair color for a warm skin tone is easy for professionals. Fortunately, you have this list to help you out.
So what are you waiting for? Go over the list one more time and choose the shade that would suit not just your complexion but your personal style as well.
Trending Topics