Twist braids or Senegalese braids are gorgeous hairstyles, and black women adore them because they protect the mane and provide hair growth. Every time you pull off these knits, you need to make sure that the braiding is not too tight at the scalp; otherwise, you will get the opposite effect: hair breakage.
Twist Braids
To pull off this look, you will need a wide comb, moisturizers, 4-8 packs of hair extensions, depending on your hair density and hair clips.
Before selecting a strand of hair from your package, make sure you slightly feather the Jumbo hair. The strands are cut blunt, and you don't want to use it as it is because when braiding, it will suddenly end, making the braid to unravel.
Take a small section and divide it into two parts, place the extensions and start twisting and overlapping. You will see that the braid will not loosen up; by the contrary, it gets tighter.
Use a scissor to cut the threads that got out around the edges, and you're good to go.
Now that you know how to make the twist braids on your own scroll down to discover more marvelous hairstyling ideas for the Senegalese twists.
1. Small Twist Braids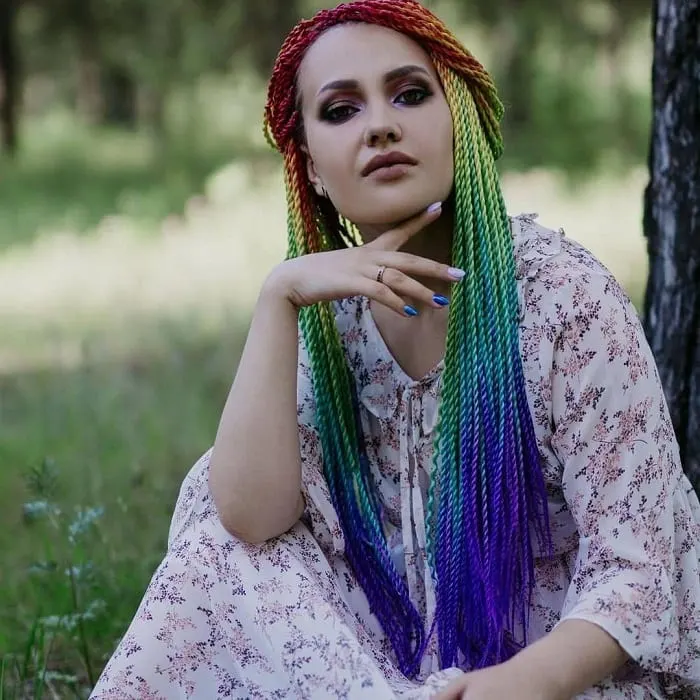 To recreate this astonishing rainbow look, search for Jumbo hair that offers a fabulous palette of colors. Once you are done braiding, take the bangs and pin them in a low ponytail at the back.
2. Medium Twist Braids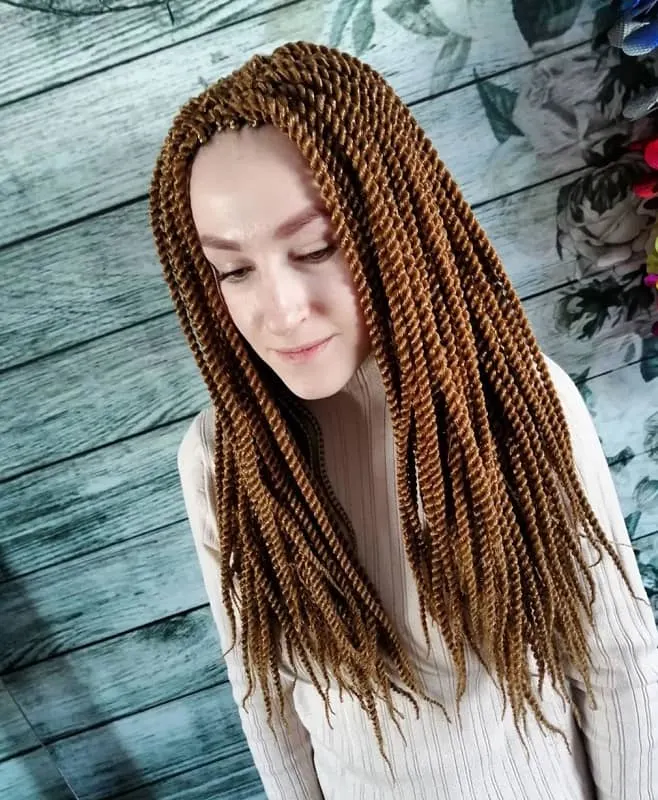 Your twist braids don't have to be small, make them chunky and long, reaching your waist. Opt for an auburn shade and part them in the middle.
3. Crochet Twist Braids
If you want a more romantic touch for the twist braids, mix your blonde shade color with Jumbo brown hair. To create that curly effect for the tips, use rods to wrap the hair. Dip them into hot water for a few seconds and gently take the rod off.
4. Twist Box Braids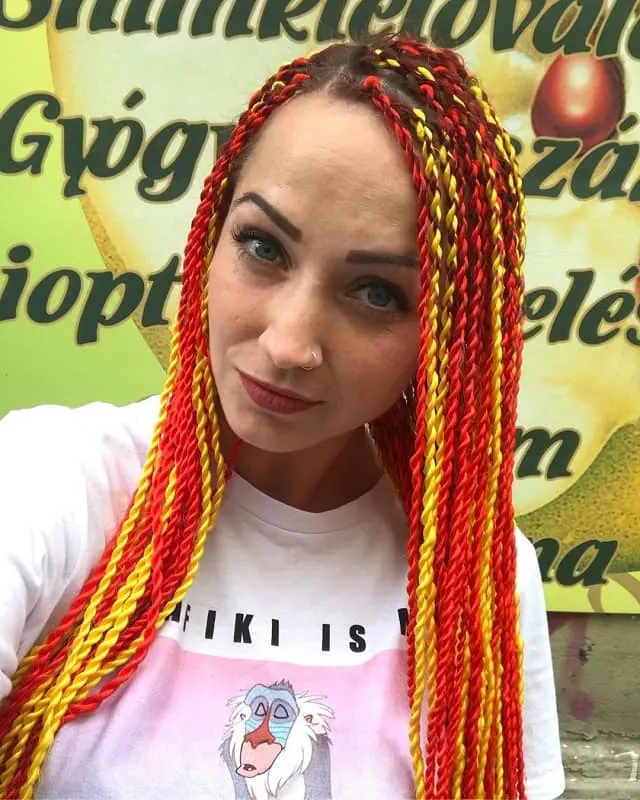 To obtain a vivid electric look, opt for colored Jumbo hair. Mix yellow and red and do the twists. After finishing the procedure, make sure you can rotate the twist without creating a hair bump at the base.
5. Rope Twist Braids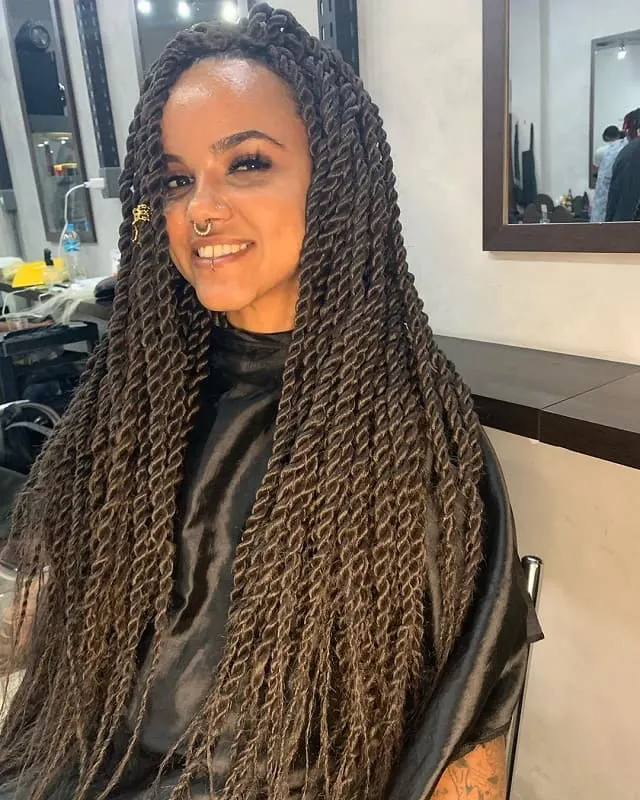 Rope twist braids can make your mane look full and voluminous. They will last up to 8-12 weeks if you provide proper care and will protect your strands and your hair will fabulously grow.
6. Nubian Twist Braids
For these twist braids, you need to buy Nubian hair. To attach the extensions, take a small strand of hair, braid it, and using jam and a cricket, attach the curly hair. Start wrapping, and you will get this beautiful look.
7. French Twist Braid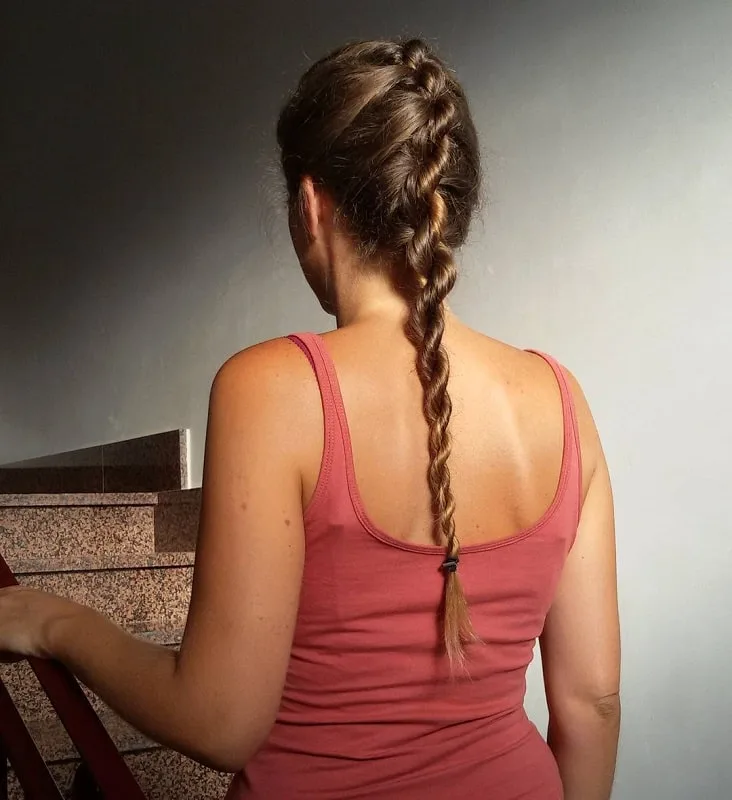 The French twist braid starts from the top of the head and creates a gorgeous hair rope. You will use two strands of hair and twist them separately, then turn them again, together. Secure at the bottom with an elastic.
8. Two Strand Twist Braids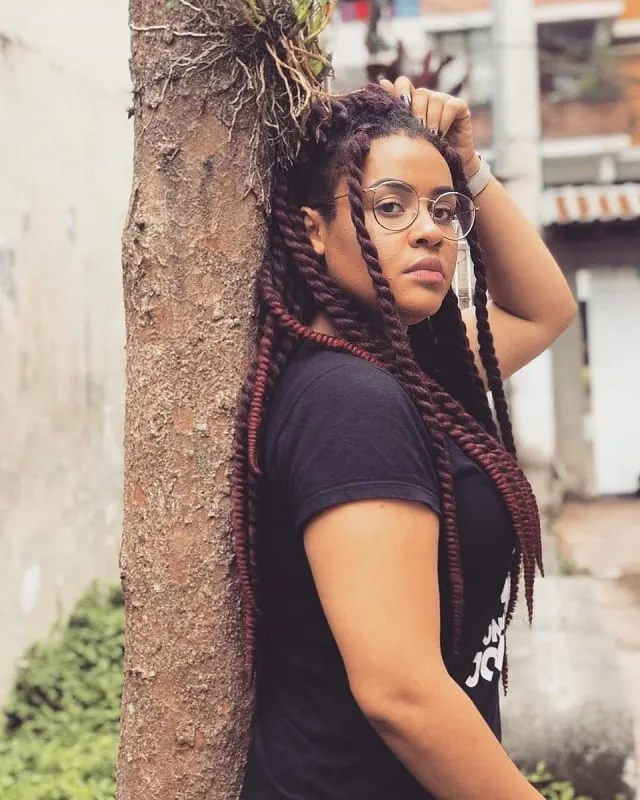 Style your gorgeous twist braids using burgundy Jumbo hair and gather all the top braids in a high half pony. Spare two strands and let them fall on the forehead.
9. Marley Twist Braids
To recreate this astonishing look, you will need a few packs of Marley hair. Braids the twists and, in the end, decorate your hair with cuffed beads. Take the top hair and pin it into a big bun on top of your head.
10. Jumbo Twist Braids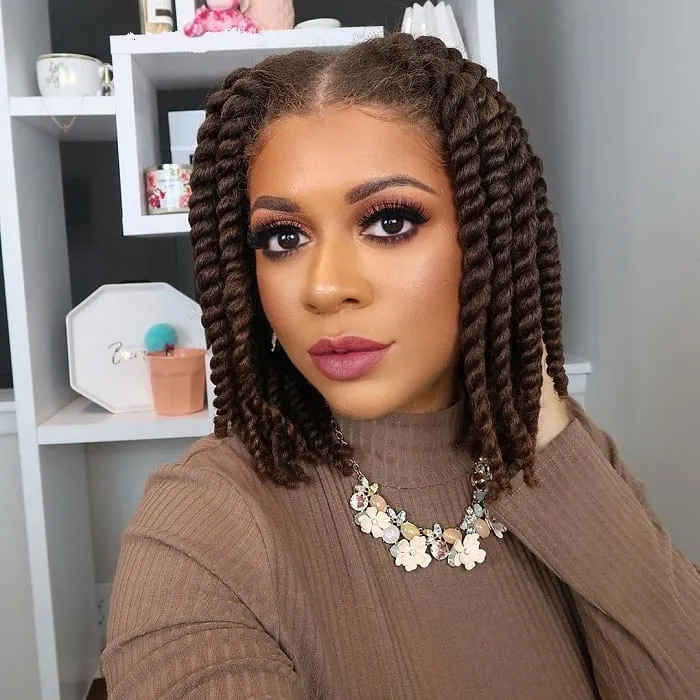 If you want a uniquely gorgeous look, you can use twist braids to style a marvelous bob hairdo. Opt for jumbo brown hair to make the twists and part the hair in the middle to get that astonishing face-framing.
11. Single Twist Braid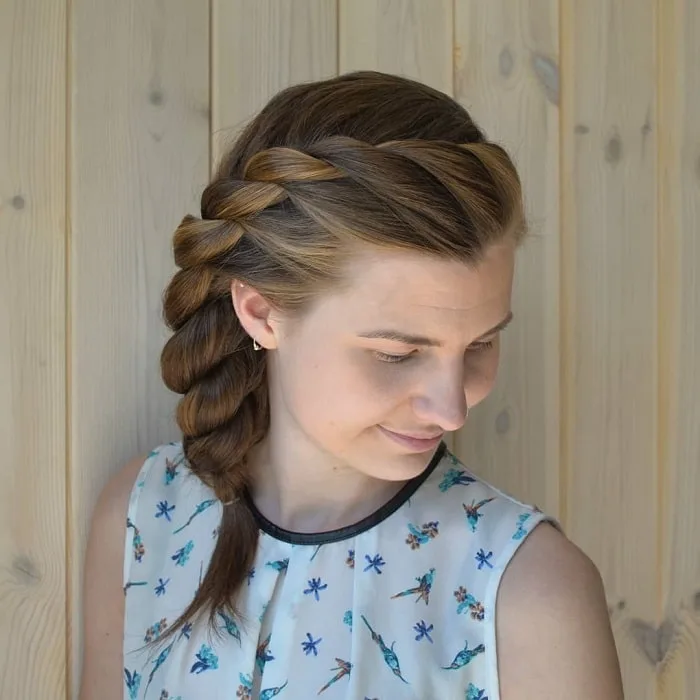 You can use the twisting techniques to create a single braided hairstyle that goes only on one side. Use your bangs and as you go down with the braid, add more hair. The knit will have a lot of volume, and you'll get a gorgeous hairstyle for any fancy event.
12. Micro Twist Braids
Anytime you want a voluminous mane, opt for micro twist braids. Use black-blue ombre Jumbo hair, and the final effect will be mind-blowing. They will take more time to style, but if you properly care for them, they will last an extended period.
13. Twisted Crown Braid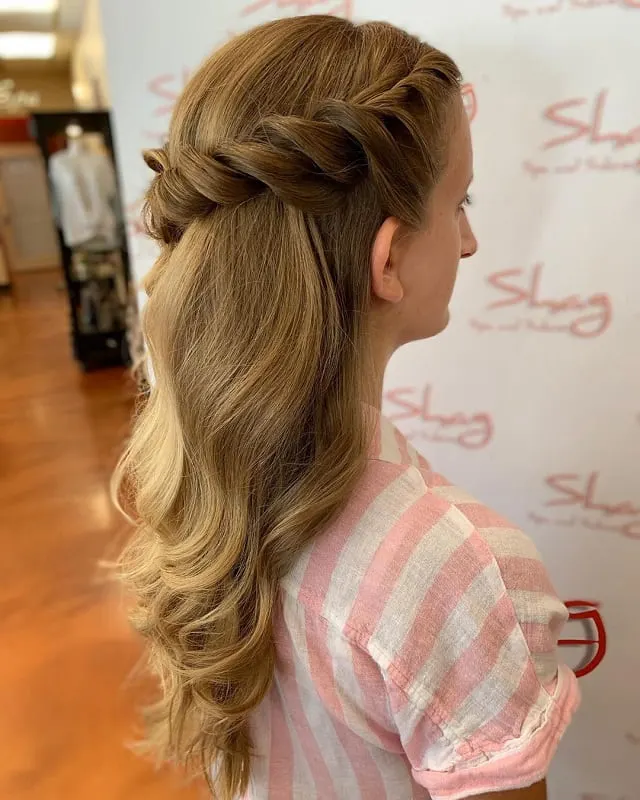 This twisted braid is ideal for weddings and other events and will provide a romantic, gorgeous look. Take the top hair and use it to create the crown braid. Let the rest of the hair fall on your back and style some waves and curls.
14. Flat Twist Braids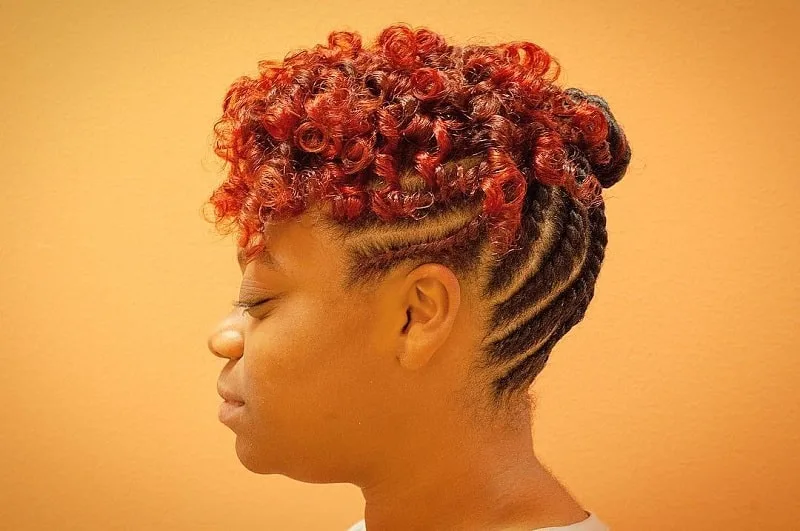 Use jumbo red hair and make cornrow twisted braids starting from the hairline and going up towards the top of the hair. Style a small bun and curl the remaining hair to obtain that faux hawk.
15. Lemonade Twist Braids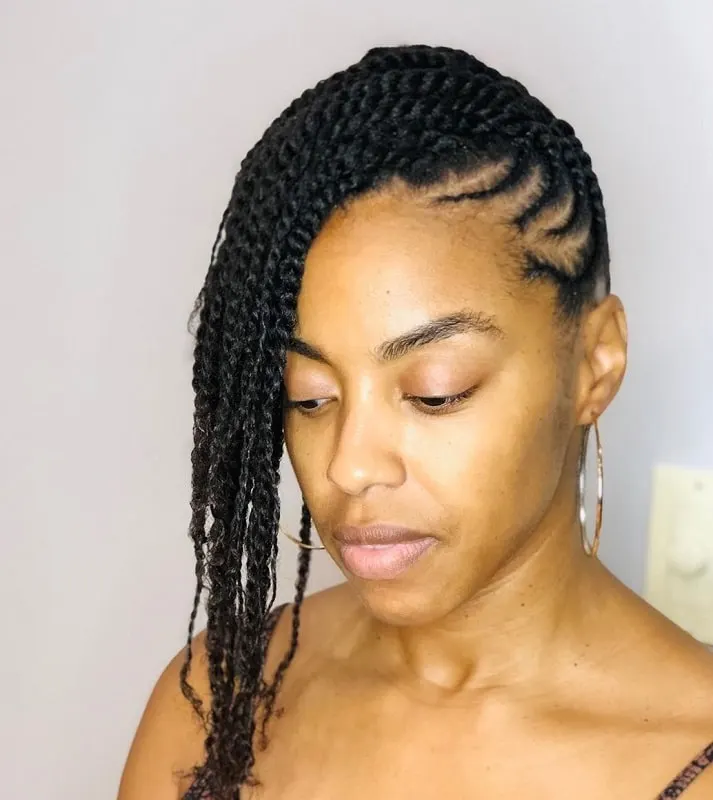 Beyonce inspired women all over the world to get these Lemonade braids. They are easy to style, and if you want a look inspired by the famous singer, this is the hairstyle for you.
16. Thin twists
Thin twists are a wonderful choice for girls who want the most natural hairstyle without the volume hair extensions usually brings. You'll need to spend a substantially longer time creating the hairstyle but you can enjoy it much more.
17. Brown volume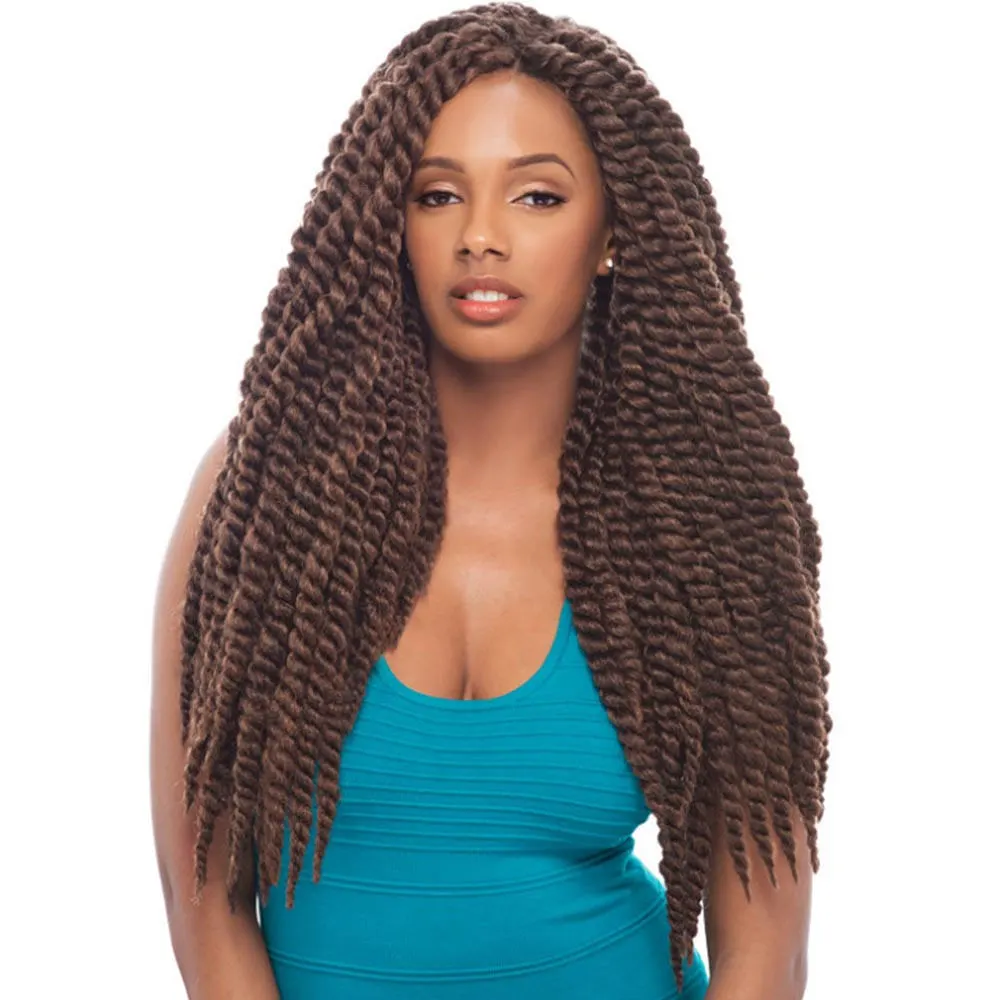 If your natural hair is black, you can experiment with various colors when you make your twist braids. For example, you can start with brownish shades, which look perfect on girls with dark skin.
18. Long and purple
Hair extensions allow you to play around with the color of your mane. If you've always wanted to see how purple looks with your skin and suits your style, the time has come to give it a try. Outrageous colors look amazing!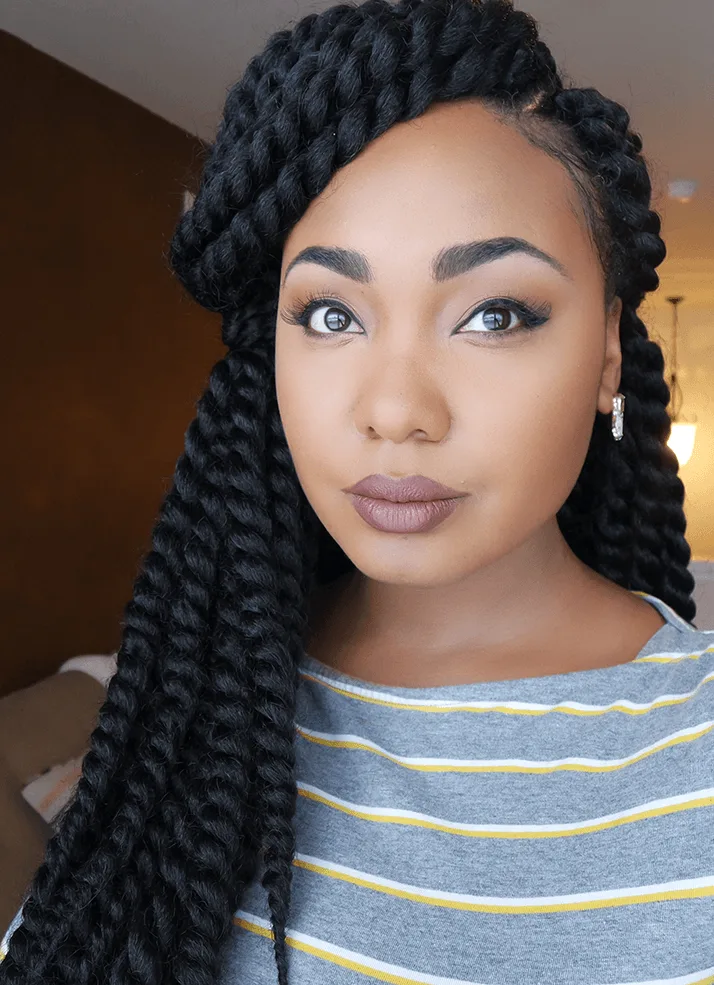 The Senegalese twists are a wonderful way to arrange your beautiful hair extensions. While this style is rather voluminous, there are plenty of ways you can lift your hair up or keep it out of your face.
Best Two Strand Twists for Any Women
20. Twist
Your pretty twist braids can look even more stunning if you twist them into a large twisted braid. Take a look at how amazing this "twisted twist" hairstyle appears. Add some highlights to complete the image.
21. Keep it high
Now you finally hair enough hair to create a high hairstyle and keep some locks down as well. Lift your twists up to create a delicate bun and leave the rest of your hair flowing down your shoulders.
Related Hairstyles:
22. Curl them
When thinking about twist braids, you might want to consider curly hairstyle. You can either twist the hair first and then curl it or avoid the twisting altogether. Hair extensions can make your curls neat and attractive.
Nubian Twist Hairstyles You'll Instantly Fall For
23. Large twists
Large twists are for women who've always dreamed about the neat and voluminous mane. They don't have to be too long to create a wonderful impression. Consider experimenting with lighter colors as well.
24. Bright blue
Bright blue hair is one of the best ways to make a statement. Hair extensions can allow you to create an image change painlessly and effortlessly. So don't waste your time on classic braids, get bright blue ones.
If you are not patient enough to create dreads on your own, you can use the hair extensions. The job is already done for you. All you need to do is attach them and arrange them in the way you always wanted.
26. Burgundy twists
Burgundy is a respectable color and looks perfect on a dark-skinned girl. If you are planning twist braids, consider at least a few burgundy strands. It looks so amazing when coupled with your natural black hair.
27. The classics
If you are still wondering which way to go about the twists, consider the classic style. Simple medium-sized hair extensions braided into your cornrows. You'll be amazed at how stunning you can look with long hair.
28. Partial highlights
If you don't want to settle for one hair color, take into consideration highlights. All you need to do is buy a few differently colored hair extensions and attach them any way you wish. It can be classic, patchy or partial highlights.
Alluring Blonde Highlights on Dark Brown and Red Hair
29. Comb over
Since twists and braids can be rather large and voluminous, you need to come up with various hairstyles to feel comfortable. You can sweep the hair backward and clip it so your forehead is open.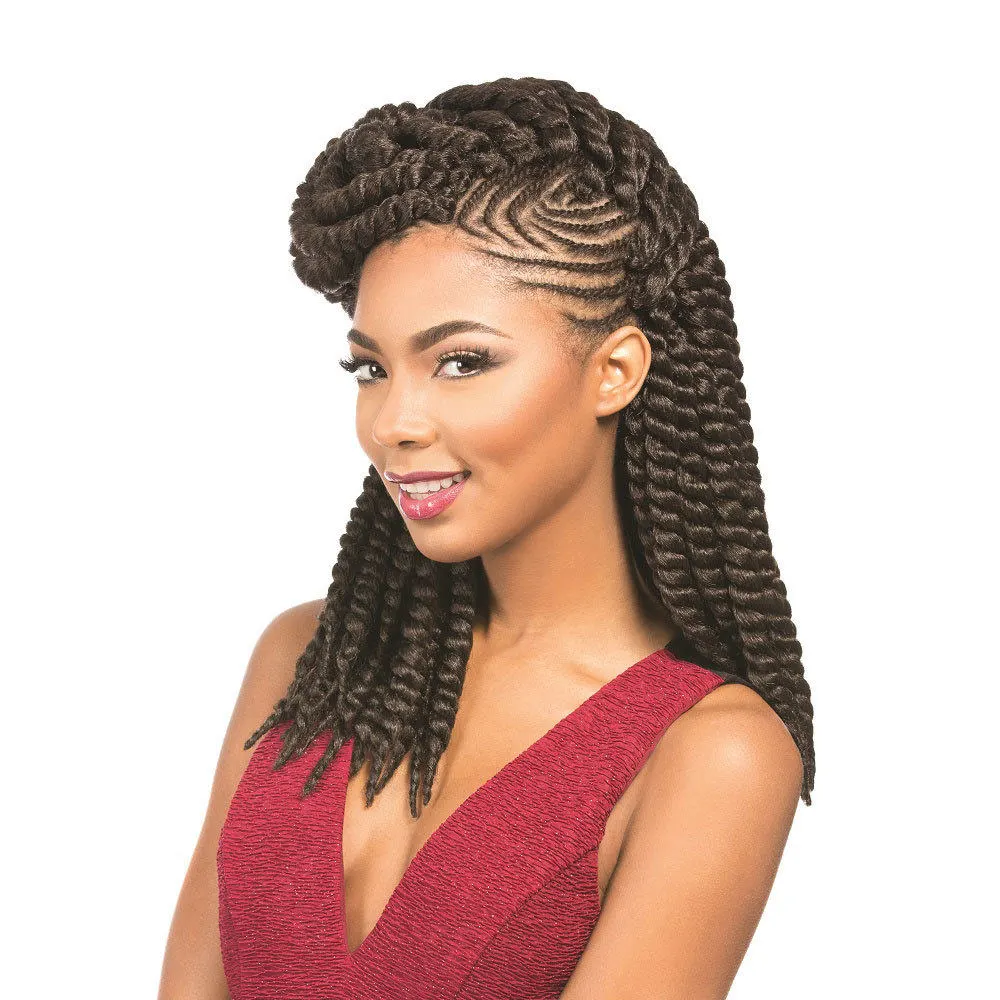 It's not a surprise that cornrows can help you create various hairstyles that usually require a shaved part of the head. You can start making the cornrows on the sides and attach the extensions on top and back.
31. Less volume
You can control the amount of volume you create on your head with hair extensions. All depends on the size of the weave and the way you make the twist braids. The thinner you make them, the less volume you get.
32. High hair
Use hair extensions to create high hair you always dreamed about. It can be done by attaching the twists a certain way. Complicated hairstyles should better be done by a professional since attaching this hair on your own is time-consuming and tiring.
33. Synthetic hair
Many girls prefer using natural hair for their twist braids but synthetic locks are wonderful as well. They might not look very realistic but they are much easier to maintain and they can last longer.
Boldest Short Curly Hairstyles for Black Women
34. Frizzy extravaganza
If all you've ever wanted was extravagant volume, these hair extensions can do the trick. Twisting them might not be necessary in order not to reduce the natural frizzy volume they create on your head.
35. Side Swept
These twist braids look fabulous when arranged asymmetrically to one side. One of the main advantages of this hairstyle is that it's easier to maintain than classic looks. It appears extremely stylish as well.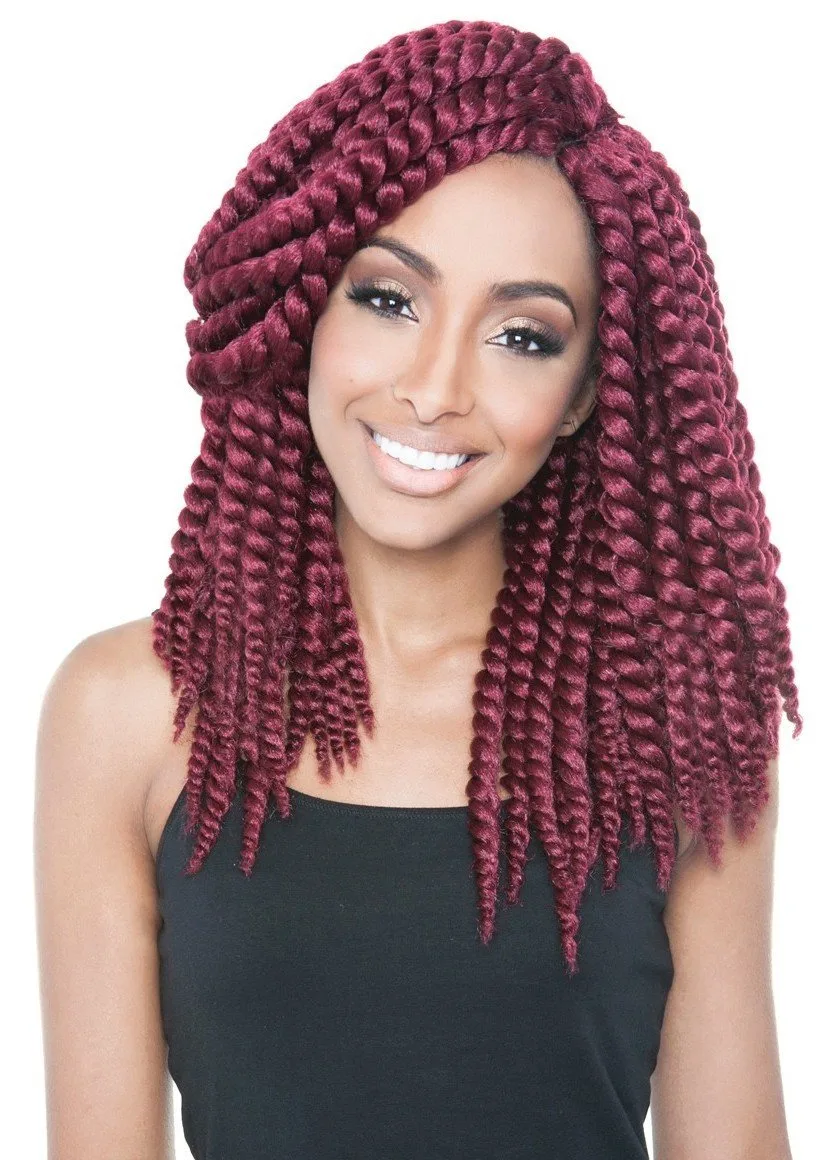 When women dream about twist braids, they often think about very long hair. However, long locks are hard to maintain and they often weigh down on your neck, making you feel uncomfortable Try shoulder-length braids instead.
37. Spirals
This spiral approach to the hair extensions is a wonderful way to flaunt your hair. However, it's not always easy to create on your own. Ask your hairstylist for some tips or allow them to do the job for you.
38. Highlighted twists
Use strands of different colors to create the twists. The result can surely conquer your heart. You can try any shades you'd like but anything, which is dark red is a fail-safe option since it suits the black color.
Use hair extensions to create the hairstyle you always dreamed about but were afraid to make with your own hair. Make the cornrows on the sides and attach hair extensions on top to make a mohawk-like volume.
Twist braids don't need to be long to look beautiful. You can either braid your own locks to make the twists or attach hair extensions to create a wonderful short bob, which is easy to maintain and pleasant to look at.
41. Long and black
This hairstyle is a lot in the Senegalese twist category, which is exactly why they are so voluminous. These striking twist braids are a great way to have hair that doesn't need too much styling once weaved in.
The reason behind minimal styling is because these braids on their own are a significant fashion statement.
If you do find yourself wanting a little more than just letting your hair down, you can add gold accents to your hair. These minimalistic accents are the perfect gentle touch that you need to spice the lookup.
42. Pin it up
Pining twisted braids up is extremely easy and requires little to no effort for the entire process. If you feel like the braids are starting to overpower your features, you can simply pin it towards the back of the crown area.
This will allow the look to attain a feminine aura, and at the same time, you will have to not worry about your hair being in your face. If a clean sweep back isn't something you are comfortable with, you can take a few strands out to shape your face.
43. Ombre brown
Since you have a weave in your hair, coloring it becomes less daunting. This is because you know that you won't have to worry about aftercare damage.
This very factor also gives you the freedom to play around a little more, which is why ombre hair is something you should try. The colors here are natural and hence will suit any skin tone, and also, the roots remain as your natural color.
44. Blue updo
If you indulge in edgier hairstyles and colors, this hairstyle is right up your ally. The electric blue color stands out perfectly against the dark hair, really bringing the hairstyle to life.
The updo is bold, and unlike any other, the focus is more on the front than towards the back, which makes it stand out even more. This hairstyle is stunning out of the box style to go for this season.
45. Grey twist
You have probably already noticed ice grey, and grey hair has been slowly yet steadily been taking over the fashion industry. What better way to try it than on your twist braids? You won't have to worry about the color suiting your skin tone or not.
Because multiple dark-skinned women have tried and tested this color, and the results have been nothing but ravishing. It's a great opportunity to take your daily hairstyle and just turn in around into something more fun, current and trendier.
46. Brown lowlights
Caramel-brown is an astonishing color that can never look bad no matter how you choose to style it. Here caramel brown lowlights bring the hairstyle to life.
Even though it's a subtle color, it is significant enough to highlight and compliment dark skin. If you are freshly dipping your toes into hair color, this simple hairstyle is perfect for you.
47. Hard part
Hard parts are a great idea for women who have always been parting their hair to one or the other side. For this hairstyle a hard part has been made and then the weave has been attached much lower than the natural roots.
This is a great way to create an illusion as to your hair been pinned behind. To add a little more oomph, silver accents have been spread around the hair.
48. Dark red highlights
If you are looking to add just a minimal amount of pop in term of color, this hairstyle is just exquisite. The hard part and the color on the twist braids complement each other to create an easy yet elegant hairstyle.
49. Thin twist
These twists are comparatively much thinner than the others mentioned before. If you have a small face, thin twists are something you should opt for. To style, it just simply part it down towards one side.
50. Bright pink queen
Bright pink hair color with the undertone of black is a great color to play around with. It's fun, and it doesn't fade as easily as some colors would. If you love or don't mind being the center of attention these alluring twist braids are great to try out.
Twist braids are a perfect choice for any woman who wants an image change without damaging her hair. They come in all shapes, sizes, and colors. These braids can make your life much more enjoyable.