Ombré hair has been a trend since the turn of the century. While many Hair Trends rise and fall within just a few years, this hair coloring is steady. Why? It is a versatile hairstyle that can range from subtle and sun-kissed to bold and vibrant.
Plus, ombré is effortless to maintain and can last weeks without any additional treatment. It can also be very inexpensive if you decide to do it yourself. Continue reading to learn the ins and outs of this hair coloring.
What Is Ombré Hair?
Also known as a gradient hair color, ombré hair is usually characterized by darker roots are lighter ends. In French, ombré means shadow or shade, which gives this impression of a gradual change of hair color.
How To Do Ombré Hair
It is possible to do ombré on hair yourself, but it can be tricky. Most people choose a lighter shade of brown, a red or auburn shade, or a shade of blonde for the ends of their hair.
Remember that this color should blend nicely with your natural hair. The shade should be only one or two shades lighter than your natural hair color. Sticking close to your natural color will reduce the number of touch-ups required.
Next, you will need to decide where to begin coloring your hair. The middle of your hair is typically a good starting point. Here, you don't risk the appearance of grown-out roots.
You will need an application tool. Most bleach or dye kits will include this tool, but an applicator brush or similar soft and small brush will work.
To finish preparing, brush your hair, cover your shoulders and upper body with an old t-shirt or something similar, and put on gloves.
Dramatic Color Change
If your hair is turning gray, or if you want to create an ombré effect with a different hair color than your natural color, do the following:
Divide your hair into four sections.
Fully saturate your roots, but do not color any further down than an inch above where your hair begins to lighten.
Comb the coloring down the length of your hair using a wide-tooth comb.
Re-touch any gray areas.
Allow the dye to set based on the instructions included with your dye. Add 10 minutes if your gray hairs are stubborn.
Shampoo and dry your hair.
Ombré Hair DIY
Then, it is time to begin. Follow these steps to bleach the ends of your hair:
Mix the Bleach
Be sure to mix the bleach in a well-ventilated area. You can purchase a developer with a volume of 10 or 20. You can also create your bleach with 2 ounces of 20 volume peroxide and 2 ounces of powdered bleach.
Section Off Your Hair
Those with thick hair should divide their hair into multiple sections, while those with thin hair can divide it in half. Pin, tie, or clip the sections, but never use metal clips while bleaching your hair.
Tease Up Your Hair
A distinct line between your natural color and the start of the ombré may appear if you don't tease up the hair in this area.
Apply Bleach to All Strands of Your Hair
Begin bleaching at the ends of your hair and move upward to the predetermined bleach line. Be sure to apply the bleach evenly for maximum blending.
Wait for the Bleach to Set
10 to 20 minutes should be plenty for a slight color change, but bolder changes will require 40 to 45 minutes of setting. You can check the progress by removing the bleach from a small section of your hair and observing the color. Keep in mind that the longer the bleach sets, the less likely you will find orange or brassy tones.
Wash Out the Bleach
Use a sulfate-free shampoo, warm water, and gloves to wash your hair meticulously. Any bleach that isn't washed out will continue to lighten your hair.
Dyeing
Once your hair is dry, you can begin the highlighting process:
Divide your hair like you did when bleaching it.
Put on new gloves. Rubber, vinyl, or latex will work if your dying kit does not include any.
Mix your dye as instructed.
Apply the dye as instructed. Begin just above the bleached sections and continue downward. Saturate your hair evenly.
Wait for the color to set based on the dye instructions. Ten minutes or less should be enough.
Wash your hair with sulfate-free shampoo and deep conditioner.
Once your hair is dry, inspect it for any areas to be touched up.
Watch the Following Tutorial to Learn how To DIY Ombre Hair Coloring at Home
Ombre Hair Color Ideas
Choose from these 60 ombre hair color ideas and feel confident you'll look amazing!
1. Half Up Half Down
You will certainly love this creamy marvelous look if you want stunning ombre hair! It creates a wonderful gradient with the natural dark brown hair. Do a middle part, and the crown hair in the back for a romantic look. Loosely wave the blonde caramel section of your hair.
2. High Ponytail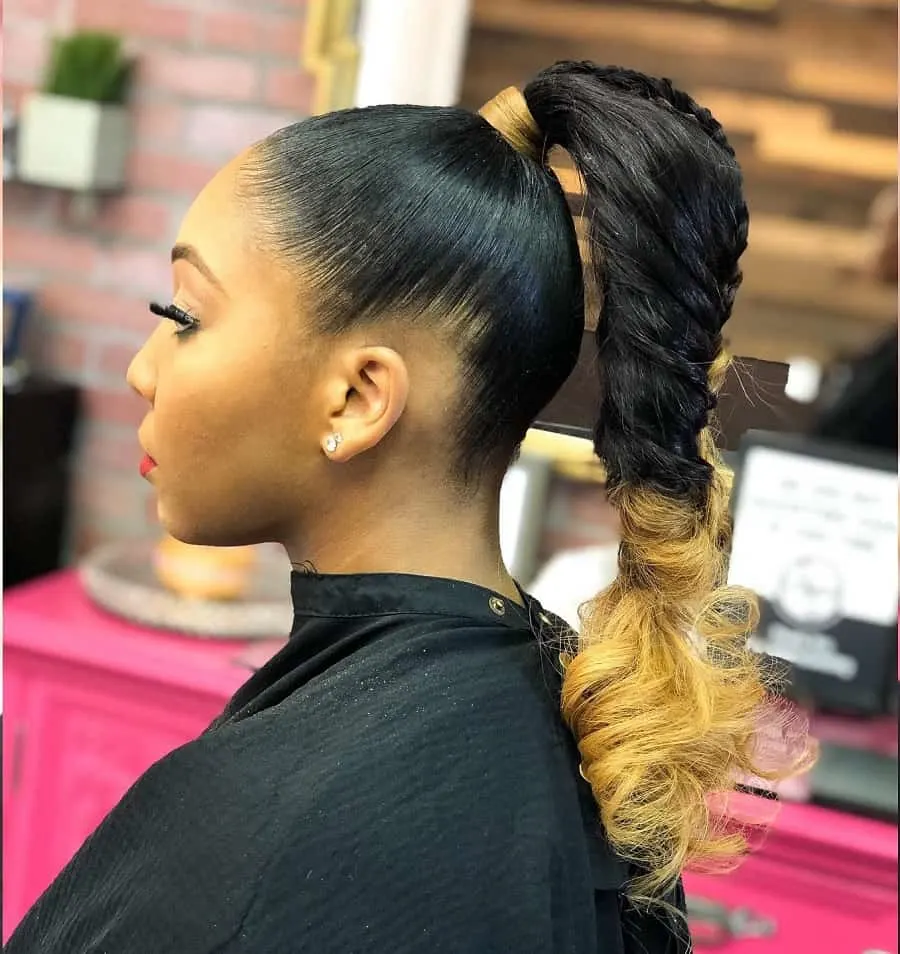 To build this amazing ponytail, you can as well use hair extensions. Use a comb with thin bristles or even a toothbrush to create that flawless appearance. Once you pinned the hair in a pony, combine different types of braiding techniques to highlight the gradient.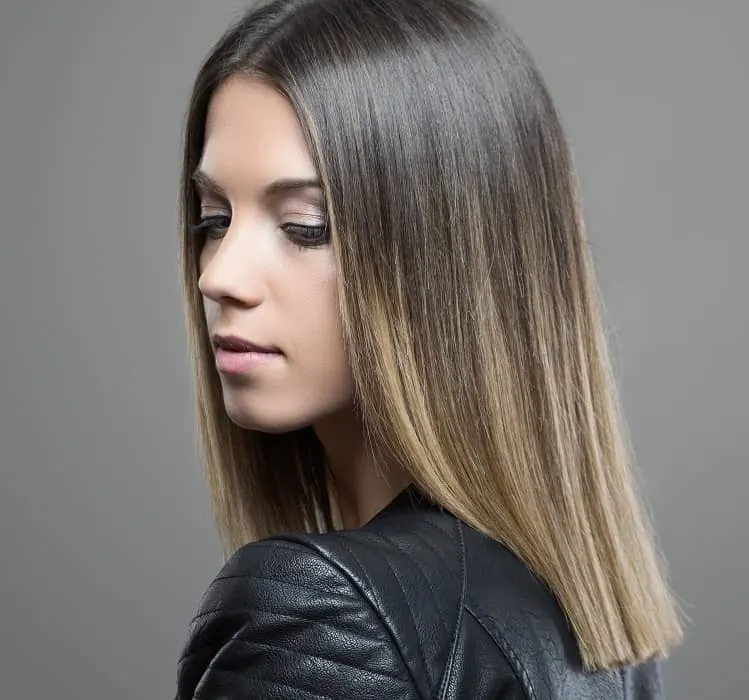 When you choose an gradient ombre, you can feel confident with your dark straight hair, as it will have a sun-kissed glow, even if it's not summer!
4. Braided Buns
When you add light-colored ombre to dark hair color, any hairstyle you go with will look that much better. These braided buns, for example, look even better with blonde to make them pop.
5. Strawberry Blonde Ombre
Think you can't pull off an ombre on your red hair? Try a light blonde and you'll be surprised at the beautiful strawberry blonde that results. You'll still see your natural red color but the blonde will give you a gorgeous lightened look.
6. Elegant Golden Updo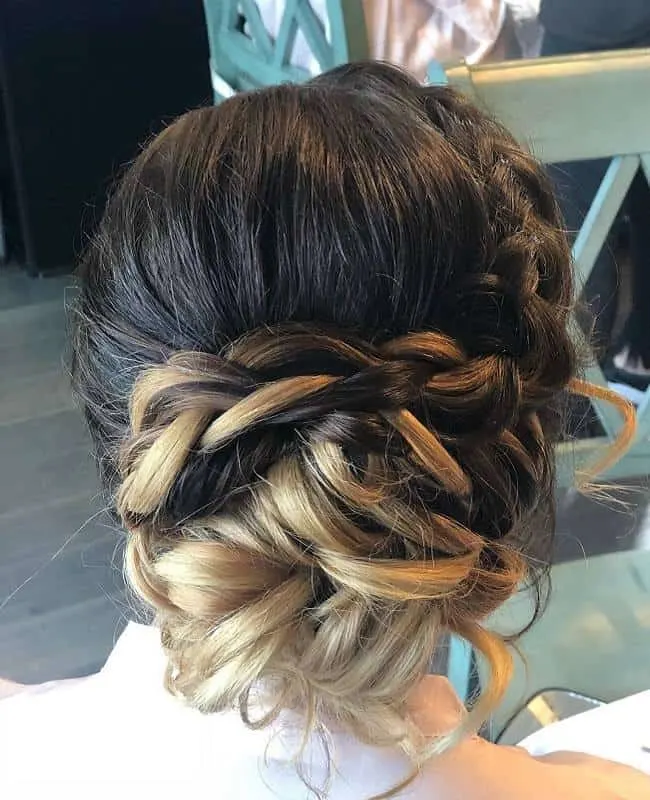 This romantic updo is surely a stunning choice to wear for weddings or other formal occasions. The golden blonde tips on black hair provide a non-trivial and harmonious impact to your hairdo.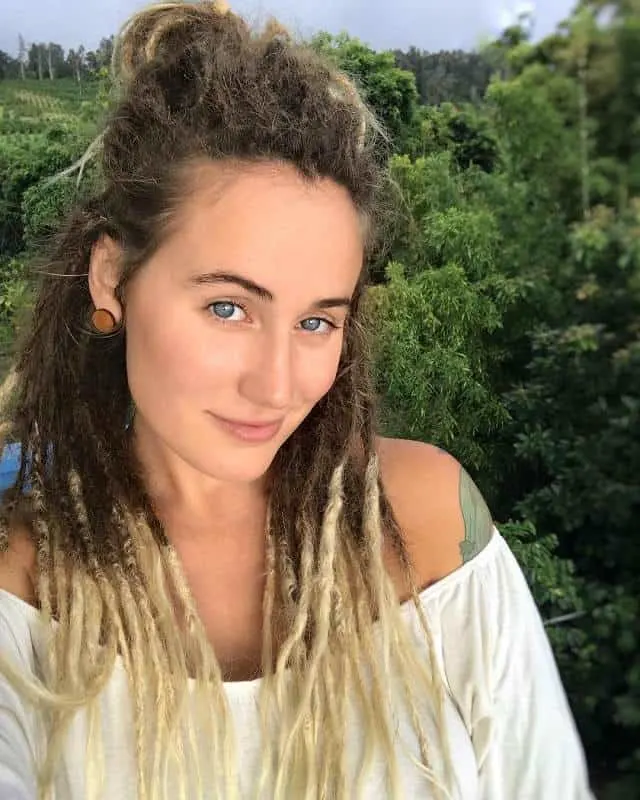 Blonde is one of the most loveable preferences amongst girls with black hair. This Ombre shade is easy to achieve on darker hair and involves less use of the bleaching process. Girls with a light skin tone can opt for this color to add warmness to their complexion.
8. Natural Blonde Ombre
Afro hair updo looks awesome with blonde Ombre as it provides natural and subtle features to hair texture. Embrace your natural afro texture by pairing it up with dirty blonde tips to add depth to each hair coils.
9. Silver Blue Hair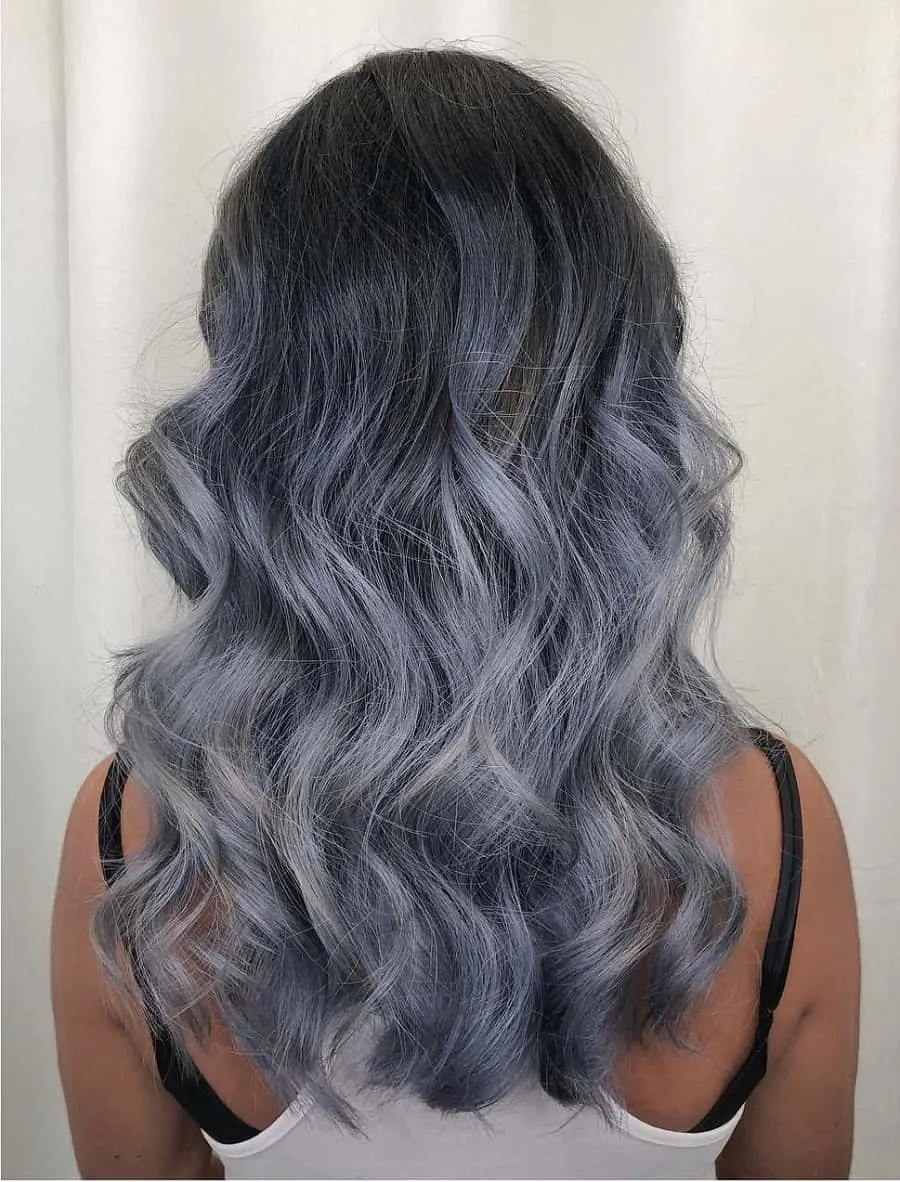 We recommend you go to a salon if you want your transition from dark roots to a silver indigo color to look this spectacular. Creating this amazing nuance requires bleach, and you don't wot to take any risks. Once you have your color, go for loose curls that provide more texture and volume.
10. Icy Ombre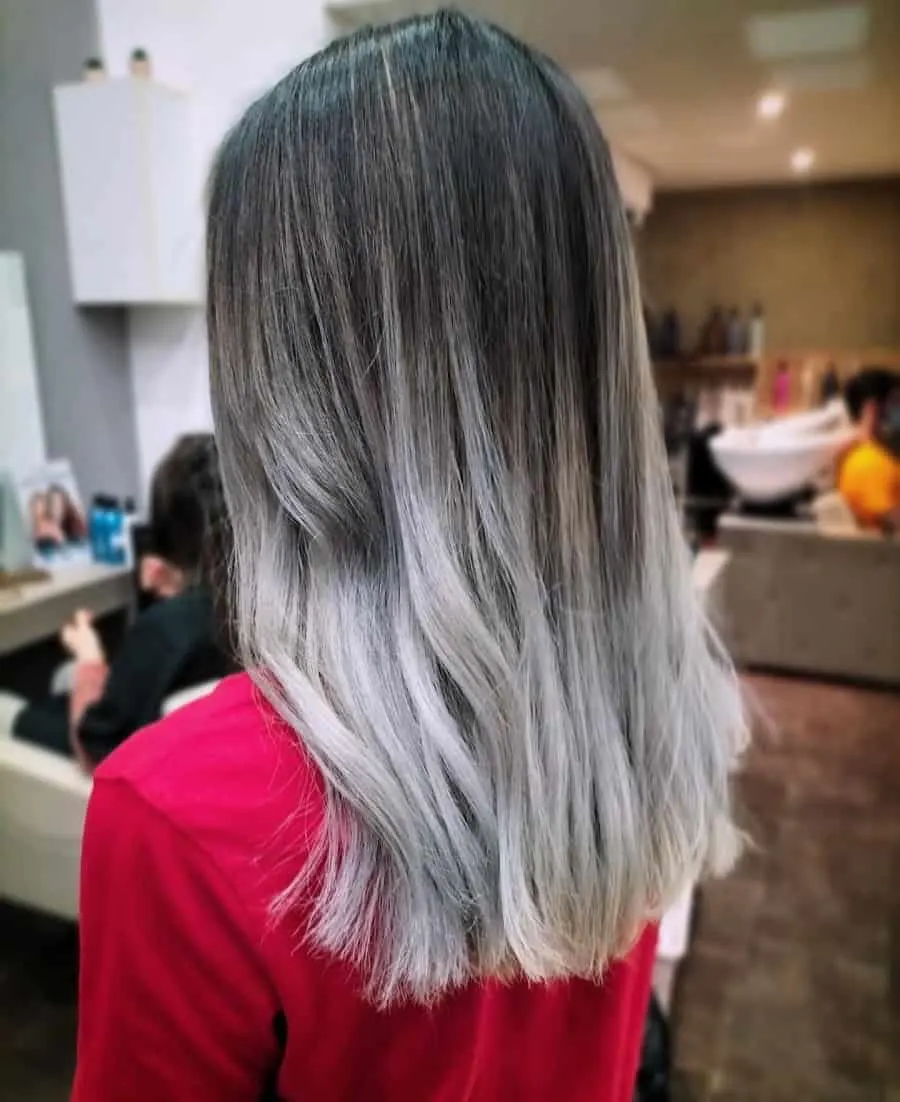 Icy blonde shades are extremely popular but before going on this route, you need to know that the color will need frequent touch-ups and hair salon appointments. Also, using orange shampoo is necessary because it will better maintain the icy nuance.
11. Brunette to Blonde Ombre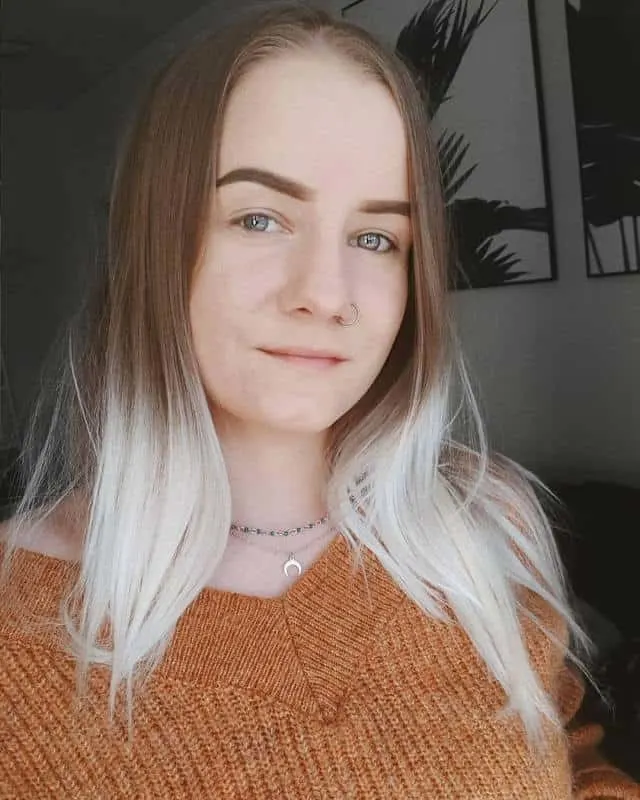 These sleek locks feature light brown roots with light and white hair ends. If you want to keep it simple with a little dramatic touch, you can go for this ombre coloring with your natural brown base.
12. Icy Blonde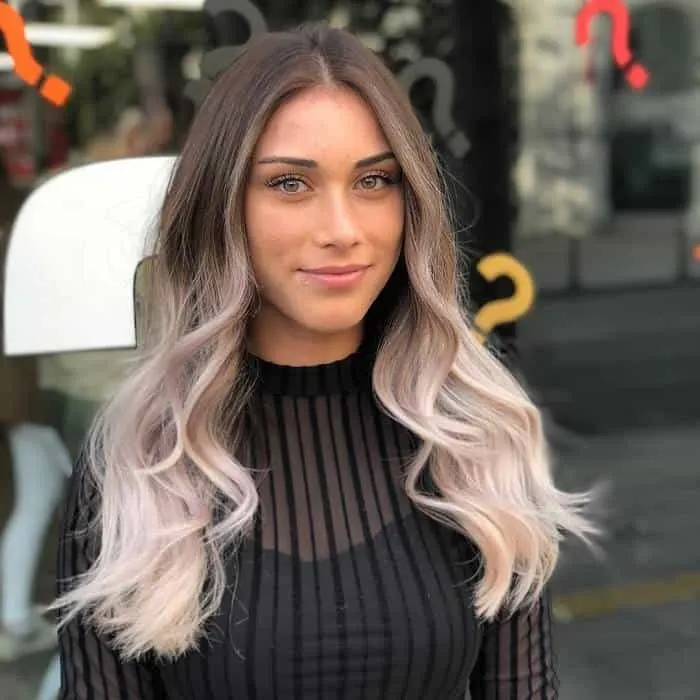 What can be so romantic than the loose wavy hair and chic blonde ombre hair! To achieve this lightness, you must have the patience to go through several hair dye sessions. Always consider choosing two shades darker or lighter than your natural hair color.
13. Platinum Ombre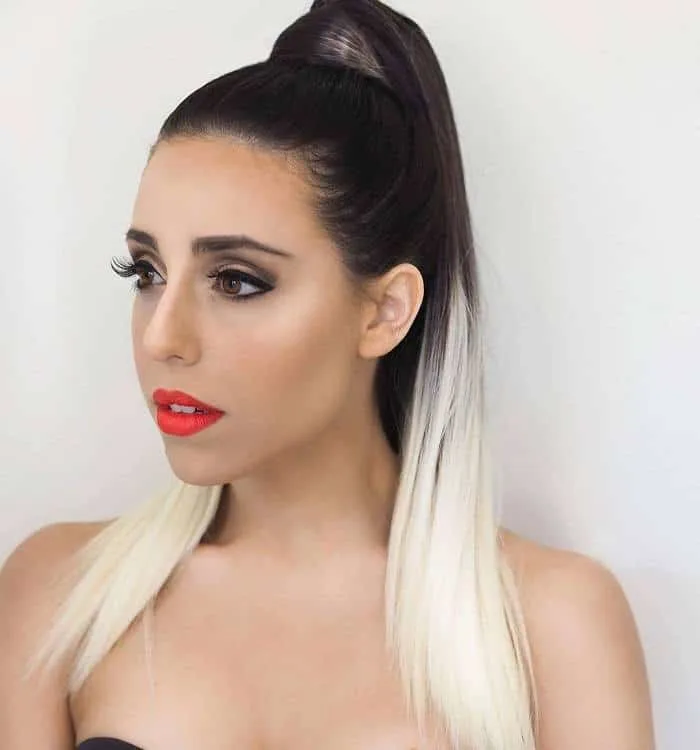 Platinum blonde color has the capacity to take the Ombre hair game to the next level. This icy blonde looks cool and relaxing to the eyes. It can be a perfect choice to wear for winters and summer as well because of its bright look. The high invisible ponytail will compliment this hair color.
14. Auburn, Blonde, and Black

Dark auburn is a great way to go about the top part of your hair color. It's a wonderful hue that looks great with the blonde while covering up the black roots that grow at a fast pace.
15. Butterscotch and Light Blonde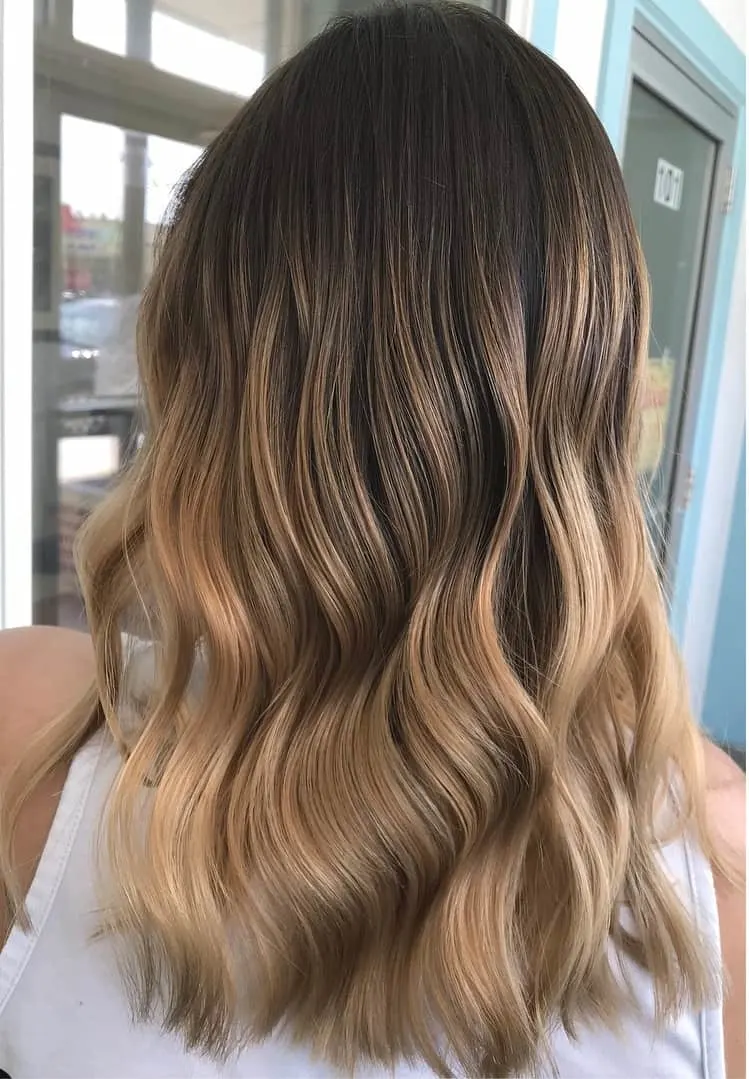 Different shades of blonde look amazing together. If you have natural black or dark brown locks, then you need to choose the darkest shade of blonde to use on top. Butterscotch will do.
Ombres look amazing when you use three absolutely different colors. Consider using black or dark brown on top, Auburn or red in the middle and sandy or light blonde on the bottom.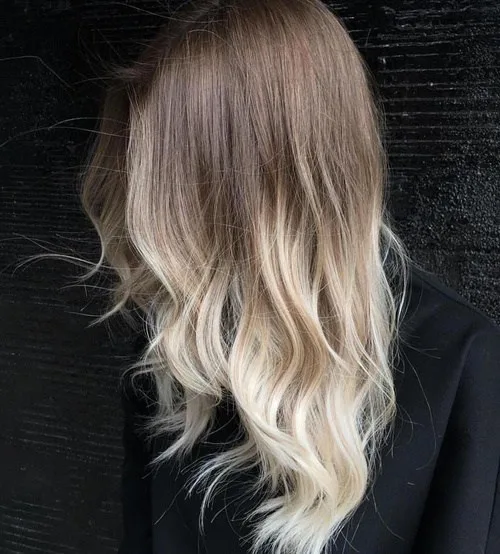 If you are naturally a dark blond, you can make a truly impressive hair color by lightening up just the bottom part of your hair. Shades of blonde such as ash and walnut mist look wonderful together.
18. Three Levels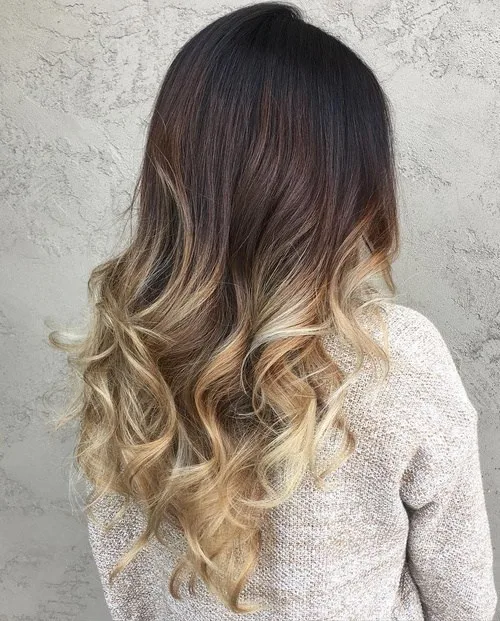 Who said that an ombre should only mix two colors? You can go ahead and experiment with as many as you wish. Consider making the darkest level on top, then go on to a lighter middle level and complete the image with blonde ends.
19. White Hair
White ombre is quite hot and this is one trend you need to try. This color shows up best on hair that is already a couple of shades darker than white, so avoid using it on light blonde hair.
Asian women will appreciate how great blonde looks on their dark hair. Choose a medium or light blonde for best results and start the ombre a bit above the middle of the hair.
21. Black with Blonde Ombre
Light blonde is a stark yet stunning contrast against black hair. Use it to liven up an asymmetrical bob and enjoy the different looks you can create wearing it up or down.
22. Magenta Pixie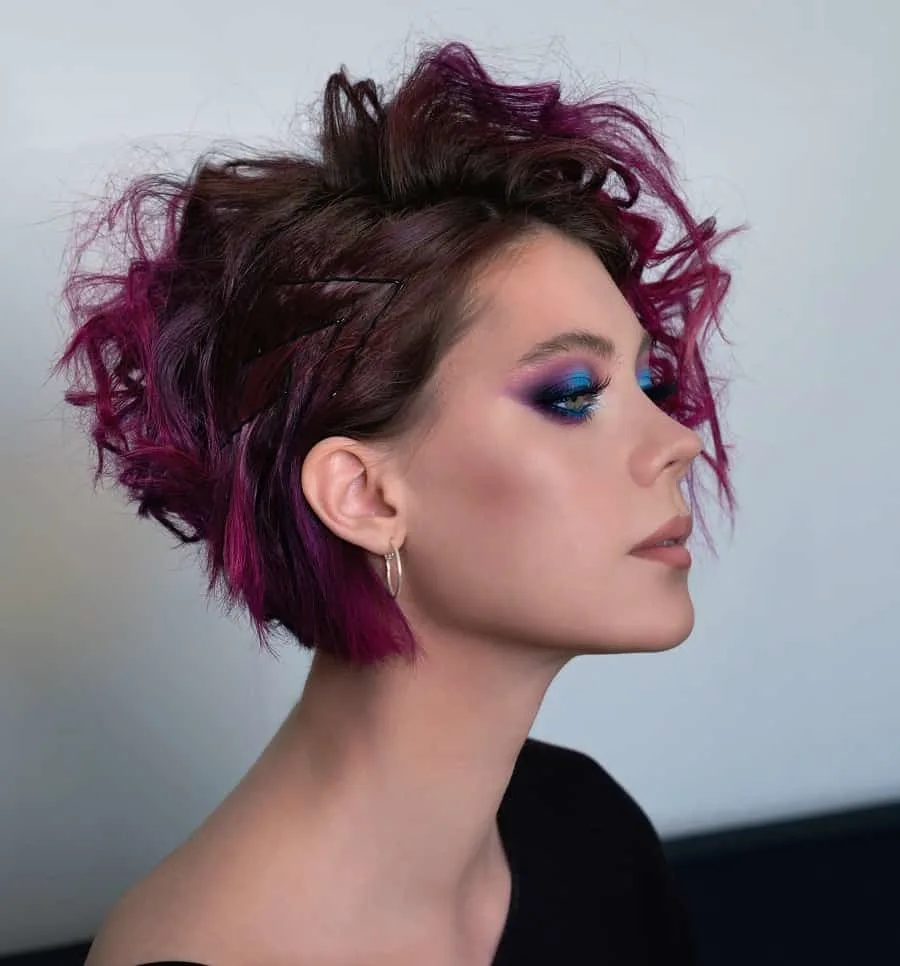 You can get ombre hair even if you have short tresses and it will still look mesmerizing. Get a pixie bob haircut and style a gradient that uses brown hair with magenta hues and transits to a more electric nuance. Use bobby pins to secure one side and curl the hair to build more volume and a modern look.
23. Blonde and Pink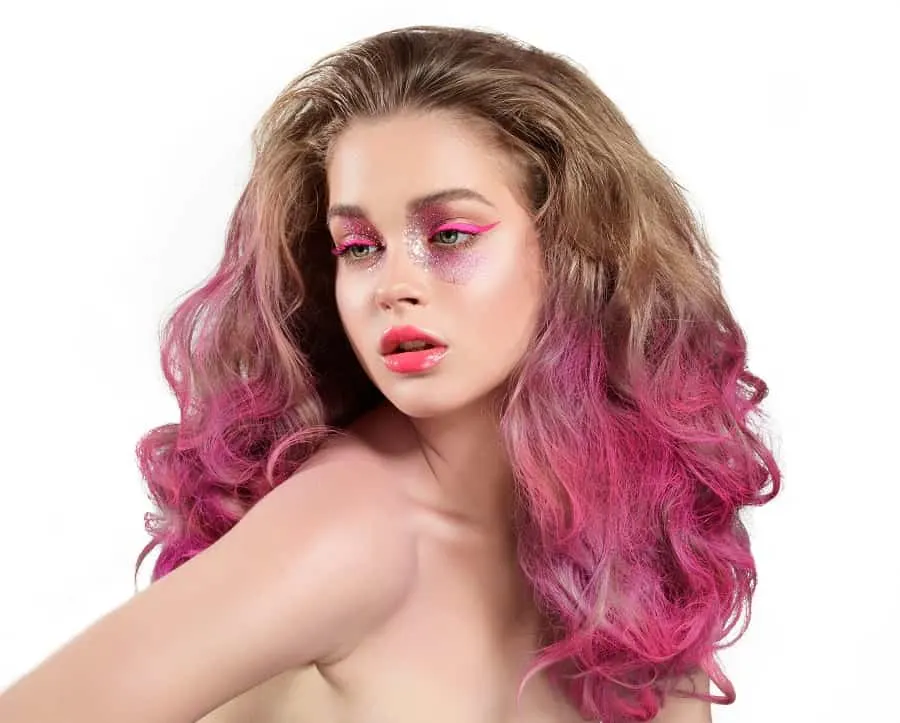 If you have fair skin with pink undertones, a pink gradient is the way to go. You can use semipermanent dye or even a colored hairspray if you don't want the paint to preserve for a long time. Style curls and comb them to obtain that frizz.
24. Creamy Dark Purple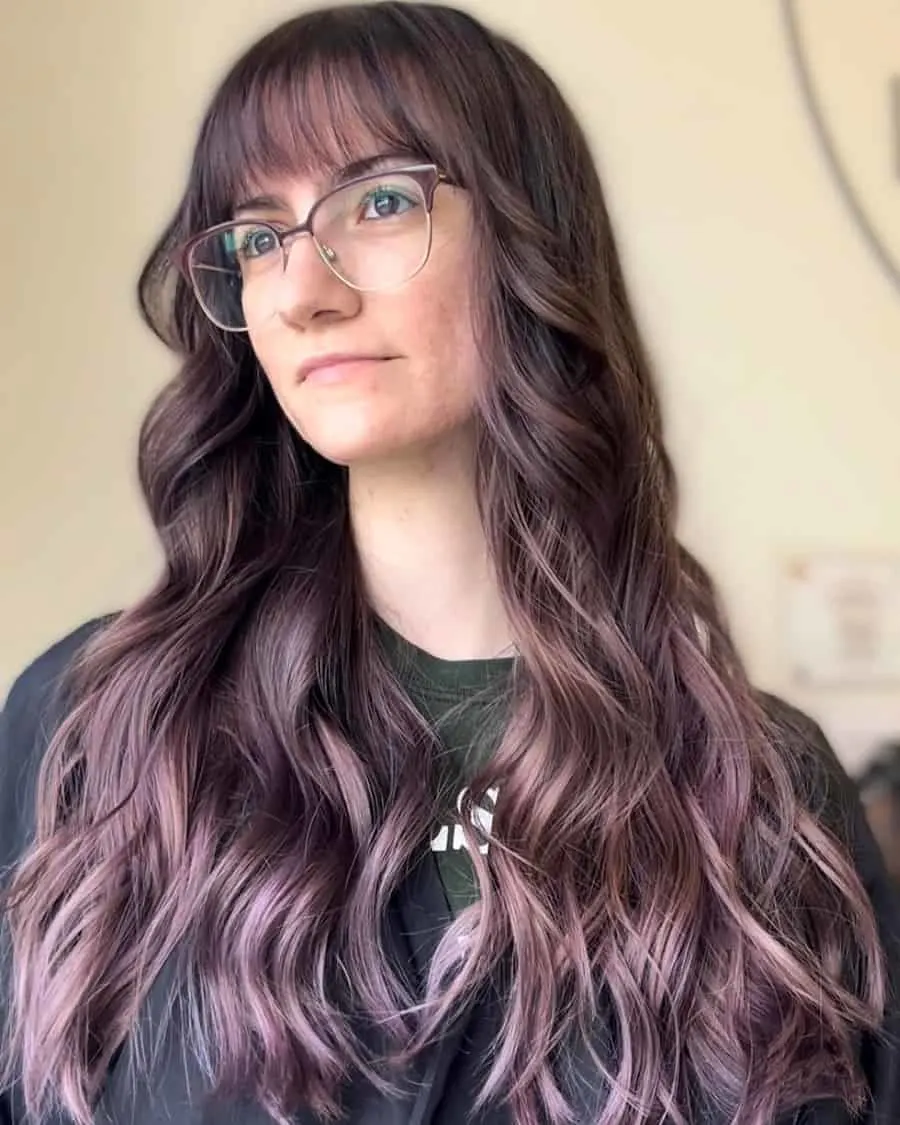 One thing is certain, dark purple hues look marvelous when combined with natural dark brown roots. You must do the transition between the color gradually. Go for straight bangs that cover the eyebrows and slightly wave your long hair.
25. Lavender Hair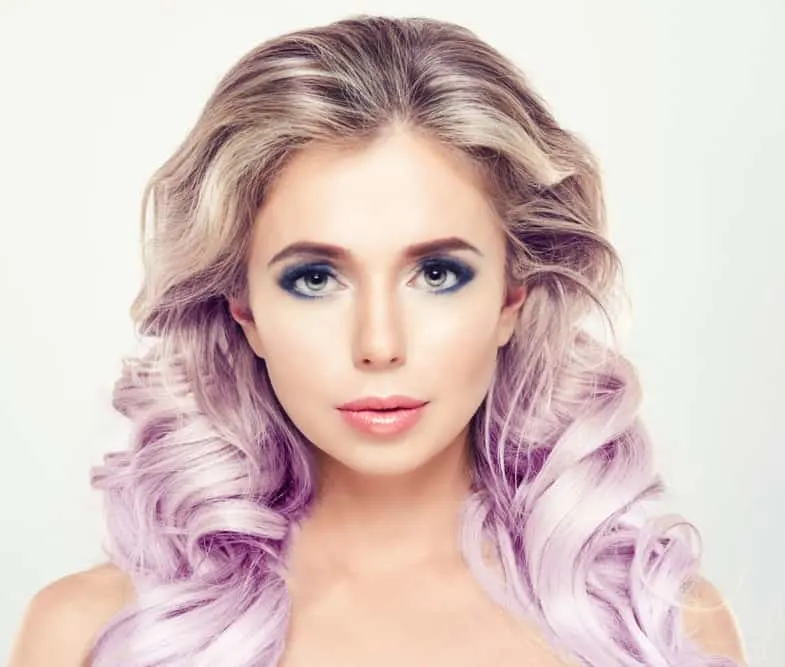 Lavender is one of the softest colors you could choose for hair color. It pairs perfectly with blonde hair and stuns as an ombre on waves.
26. Short Ombre Hair
For both children and adults, this cute short haircut with ombre is a fun way to bring out your adventurous side. A sea-green blends with purple and pink for a creative clash of colors.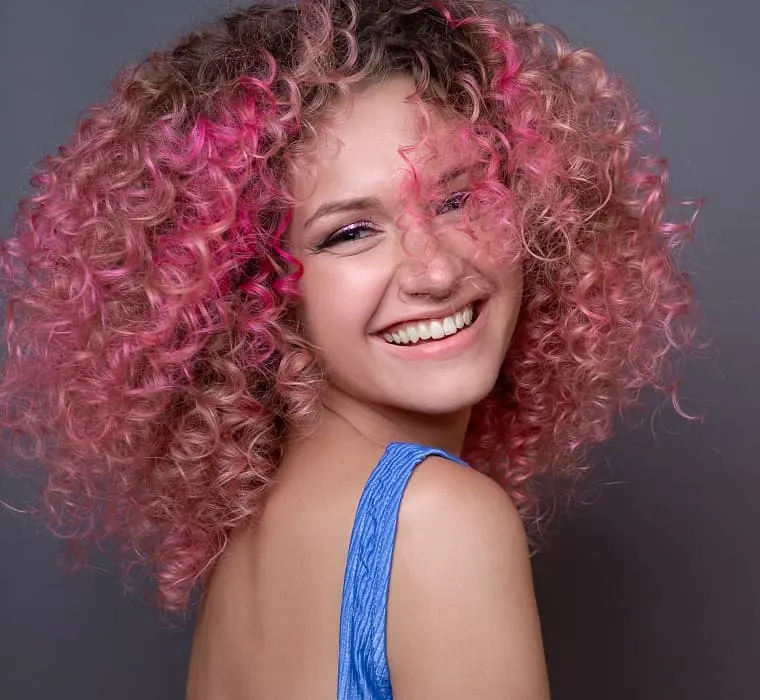 There's no reason your curls shouldn't stand out when they're this full and luscious! Give them a pop of pink for a flirty, feminine twist.
28. Bob with Undercut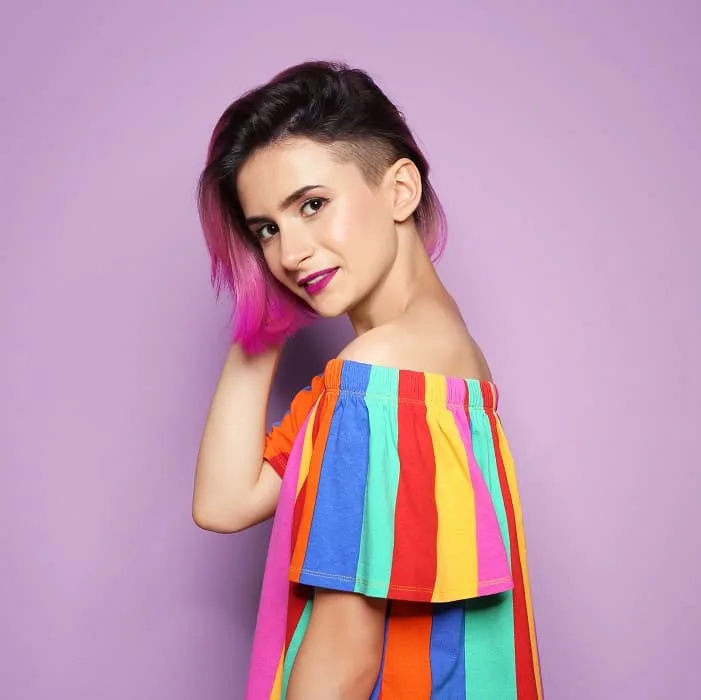 This light pink ombre is unexpected but works amazingly well on an edgy undercut bob. This color is artistic yet remains professional enough to sport to the office.
29. Rose Blonde Ombre
Searching for a more feminine, runway-inspired hairstyle? Give your blonde locks a rose ombre. The deep blend of pink and red creates a gorgeous rose color that pops beautifully on light blonde hair.
30. Pink and Purple Ombre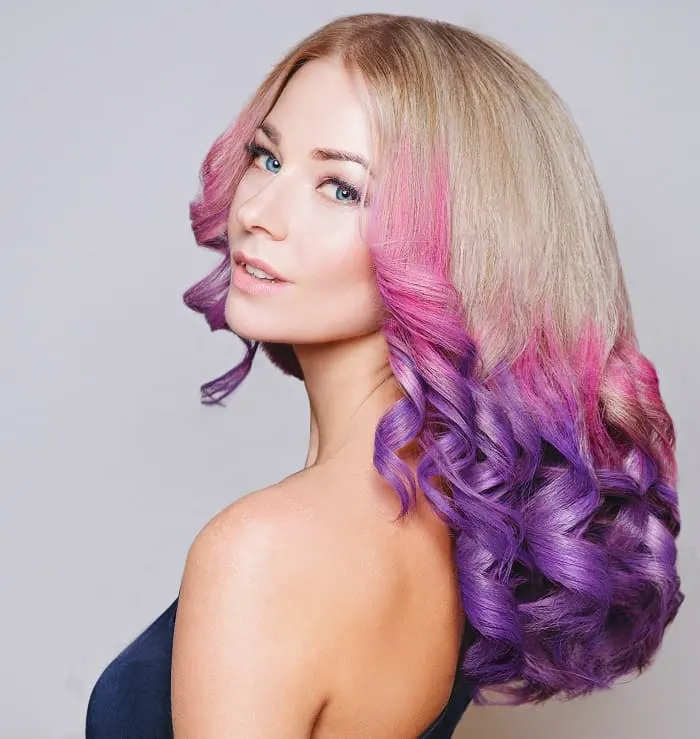 Longing for the days of Lisa Frank? Take that childhood nostalgia and apply it to your hair! Large ringlets of pink and purple ombre top off this long hairstyle, making a statement look you'll love showing off.
31. Black And Purple
If your locks are naturally black, you can enjoy the black and purple combination. Go for dark shades of purple to create a very interesting yet not too extravagant look that you'll love.
A sweet and elegant hair color that involves a dark brown base that turns into a delightful pink hue at the ends. The pink hue on the muddled hair swirls is providing depth to the whole combo.
This cool-toned, pastel Ombre offers imposing features when adorned with space buns and braids. The incorporation of silver into pastel purple hue looks fantastical on the black base.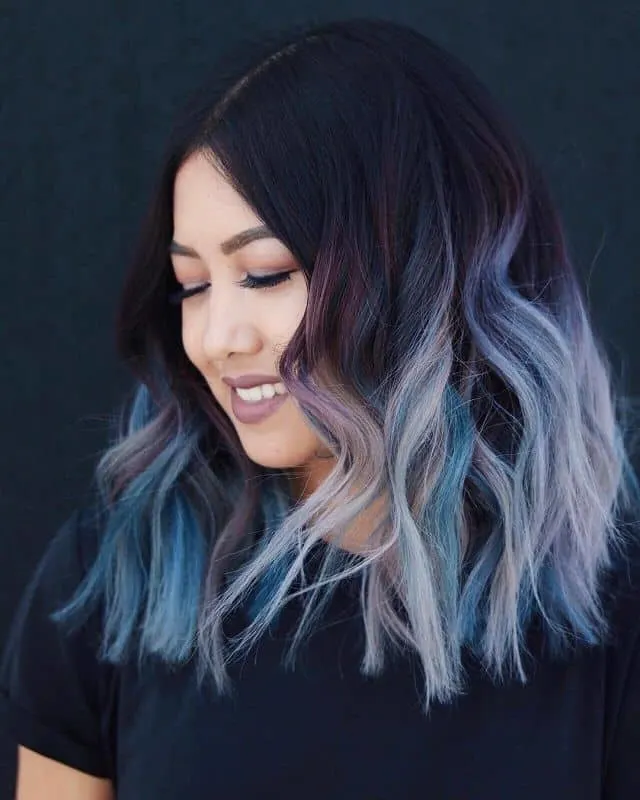 If we talk about the fashion-forward solution that will fulfill your desire to achieve a versatile look then, Ombre coloring would be our immediate answer. Having black hair can provide you the limitless color options to try. This particular combo includes the gradual transition of black color into a silver hue. It also features the plum highlights and pastel blue hair.
The soft pink lowlights and the golden blonde top is such a polished and artistic way to give yourself a graceful appearance with the light and warm ombre color combo. Sure, this soft wavy hair texture shows off the color's dimension artfully.
36. Ombre Box Braids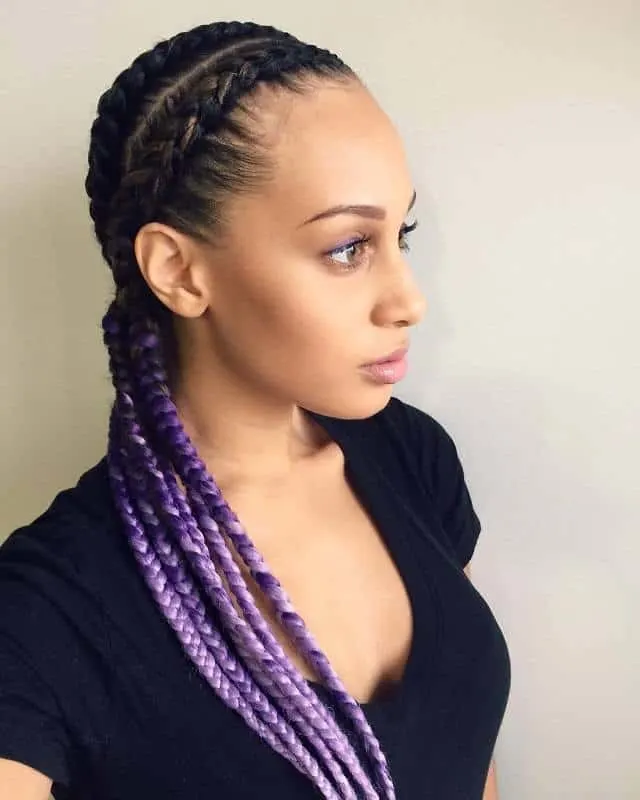 You can experiment any darker base with any lighter shade to achieve a variety of Ombre ideas that everyone would love to adopt for a chic look. Here, the lavender hue along with the incorporation of caramel balayage in black hair provides striking and edgy features with a micro braided hairstyle.
37. Glossy Brown
Using a great conditioner and a nourishing mask will make your hair look soft and silky. Also, it is important to regularly trim the ends so they won't get that frizzy aspect. This way, a chocolate gradient will look just like a shot from a shampoo commercial.
38. Bron Copper Hair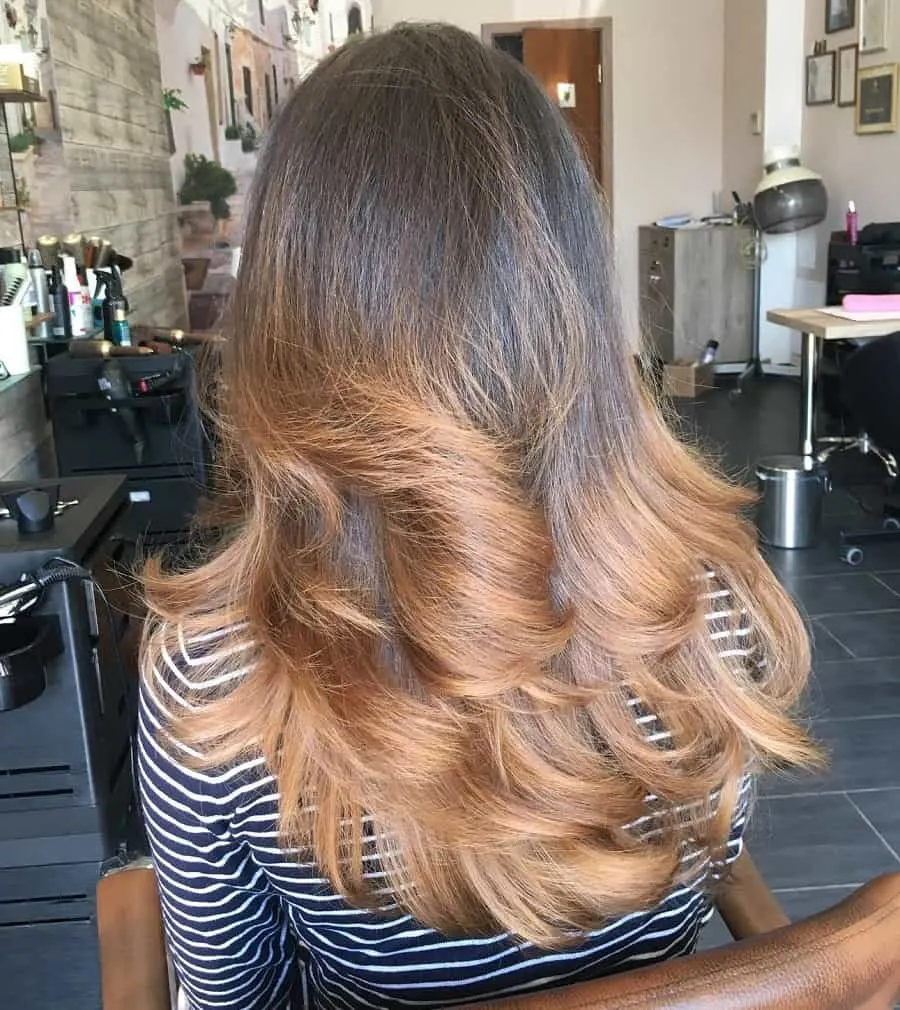 Create a stunning brown ombre with copper hues and layer that long mane. Getting such a haircut will help you build more volume when styling the tresses. Use a wide rotative brush to create those gorgeous waves.
39. Black Ombre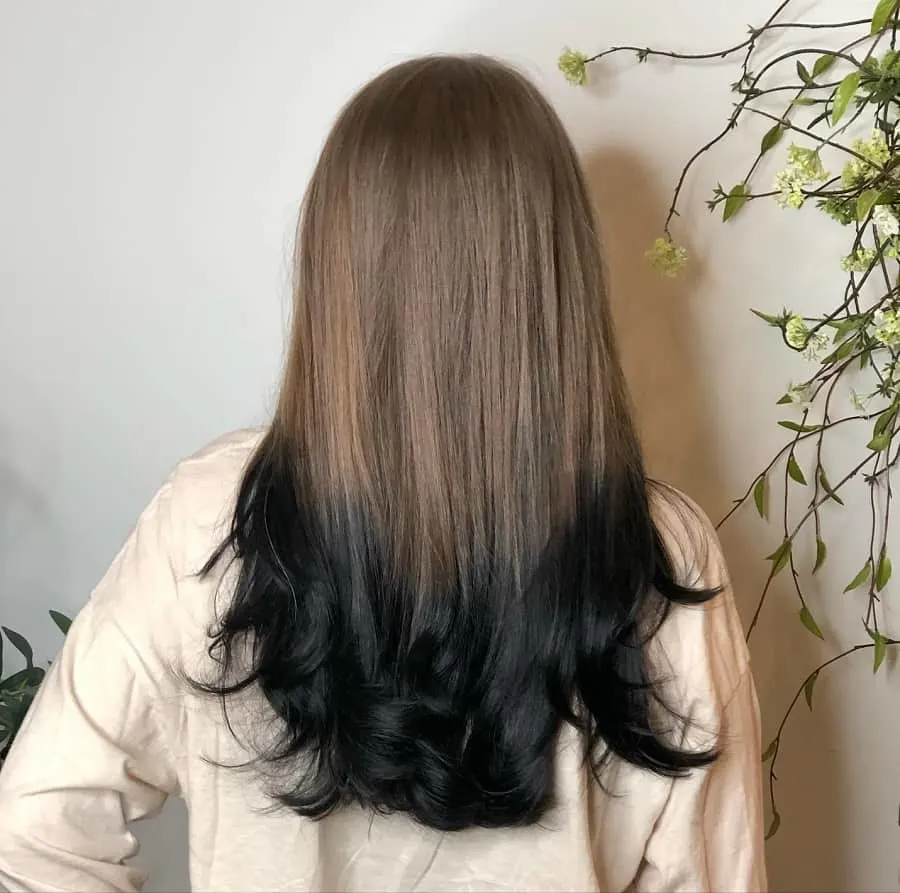 Most women love to enlighten their hair towards the ends but if you love less common looks and want to be innovative, opting for a jet black color is certainly an idea you must try. So keep your natural nuance and transit to a dark hair color towards the ends.
40. Sombre
A sombre is a transition from a hair color to another similar nuance. It is a more natural approach to the regular ombre. So if you're aiming for a romantic look, simply enlighten the tips and wave them to build more texture.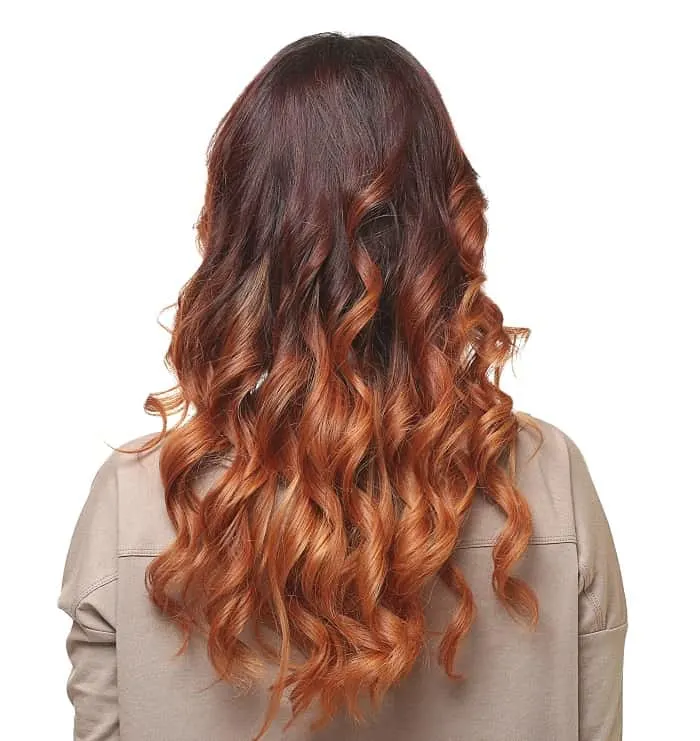 When you prefer to stick to more neutral hair colors, choose copper. On dark hair, copper is a great complement; where the hair starts to blend, you'll see a gorgeous light brown.
42. Natural Hair Ombre
Show off your gorgeous natural curls by trying a light brown ombre. This color looks super natural on black hair like you've been laying out in the sun and just happened to get gorgeous color.
Chestnut Brown Hair Color Ideas
43. Dark Brown and Rosy Caramel
The dark brown or black top can be diversified by caramel ends. But you can add a special zest by creating subtle rosy red highlights. This unique image will definitely turn some heads your way.
When you are thinking about a way to go about ombre hair color, don't forget that bangs play a huge role. Just by dyeing the bangs, you can completely change your image.
45. Cherry and Light Auburn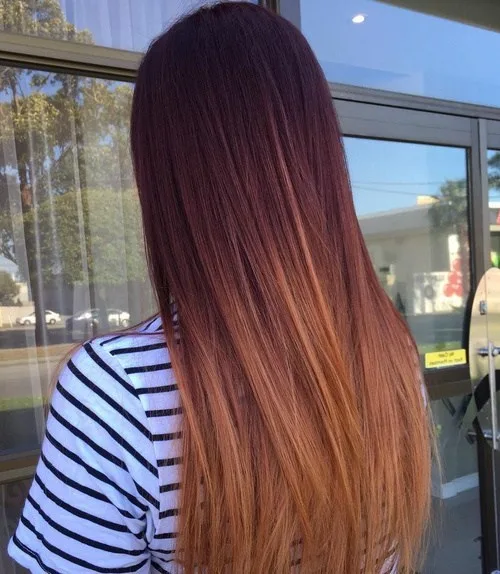 This is another beautiful combination of red colors. Dark burgundy on top looks almost black while light auburn on the bottom is close to blonde. The combination has an extra oomph the classic ombre might be lacking.
46. Brown, Red and Rose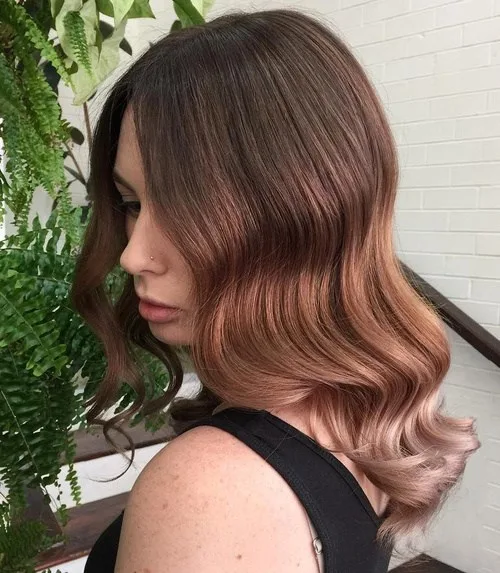 Brown, Auburn, and red are popular color combinations for girls who like Ombres. Make your hair even more unique by adding an unexpected color on the very bottom. Rosy red is a good choice.
47. Black, Auburn, and Blonde
If your hair is naturally black and you want to make it lighter, create a three-level ombre hair color transition with Auburn and blonde shades. Start coloring your locks auburn at the eye level and go down to make blonde ends.
Unique Caramel, Violet & Cinnamon Colors for Your Hair
48. Black and Light Brown
There are many outrageous ombre hair color ideas out there but if you want something subtle, there are also a few to choose from. Natural black on top and light brown on the bottom look stunning.
49. Fierce Red
Go for a deep red color that turns into a blonde copper nuance. Create wide curls for a glamorous touch. Also, remember that you will need special shampoo and conditioner for dyed hair and a mask that preserves this fierce red hue.
50. Red Ombre Crochet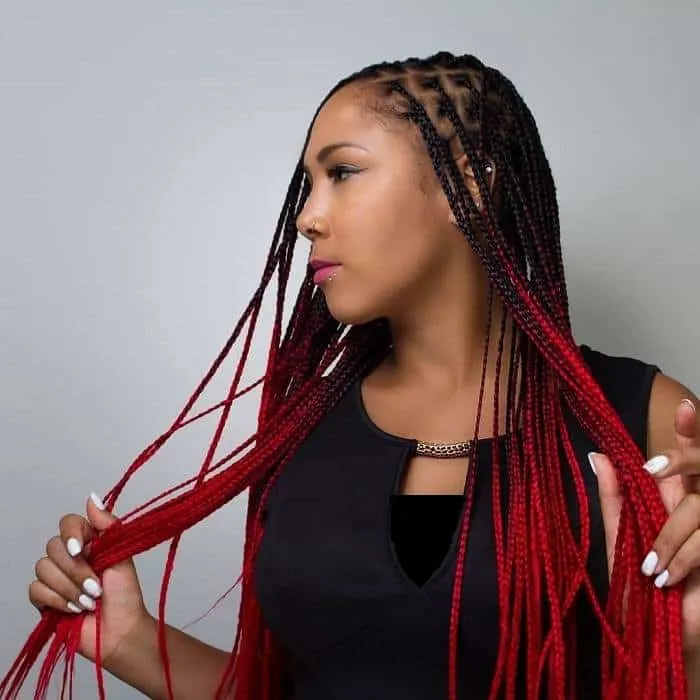 Sometimes having simple long hair without any dimension looks dull and lifeless. So, if you want to add life to your tresses and attire, you can choose micro braid crochet for an effortlessly glamorous appearance. A bleeding red Ombre will complement the black micro braided base even more.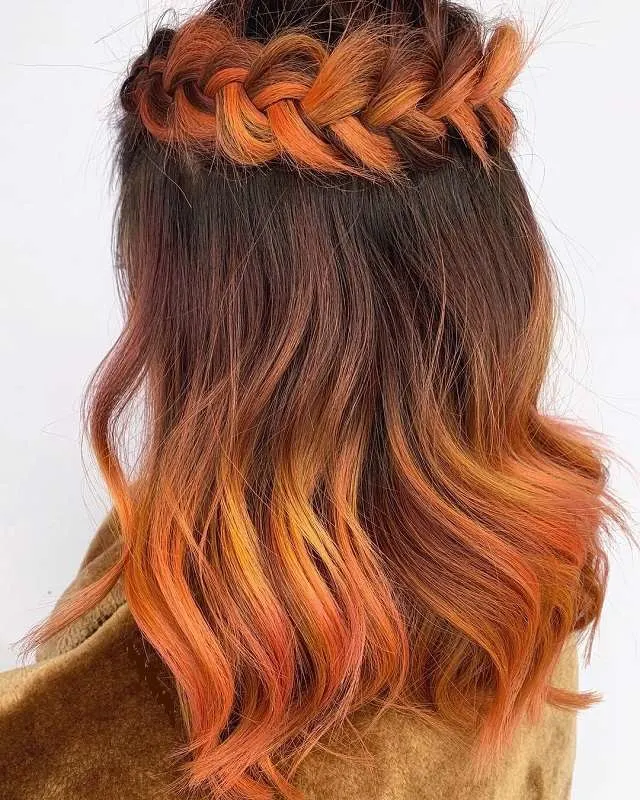 In this look, the dark brown hair blends into a fiery orange gradient, classily. The choppy layers give this flaming color more movement. Exaggerate your looks by a copper highlighted head crown for queenly vibes.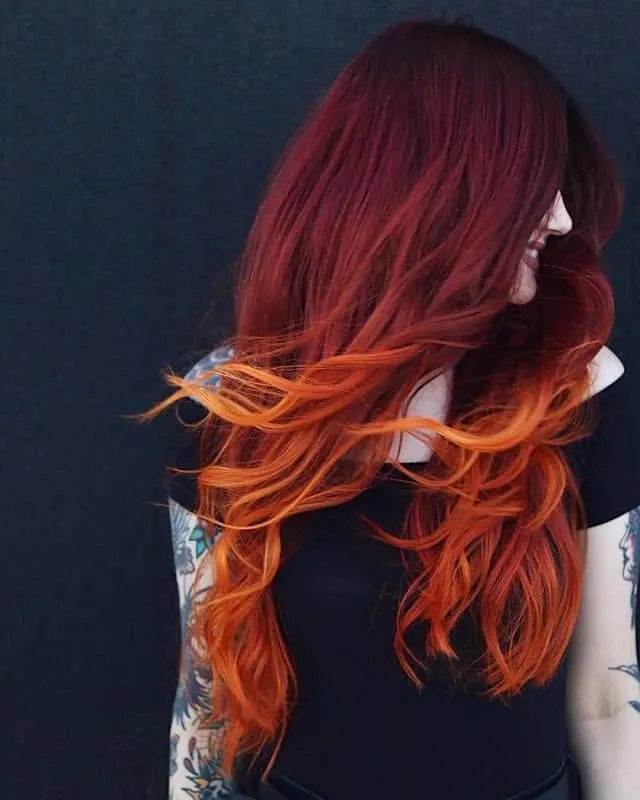 Neon red and orange hair maintain the vibrancy of your appearance. Both colors will freshen up the hair look because of the sparkling features. To prevent the dullness in these lively ombre colors, use organic hair care products to hold the glossy texture.
53. Red-Copper and Blonde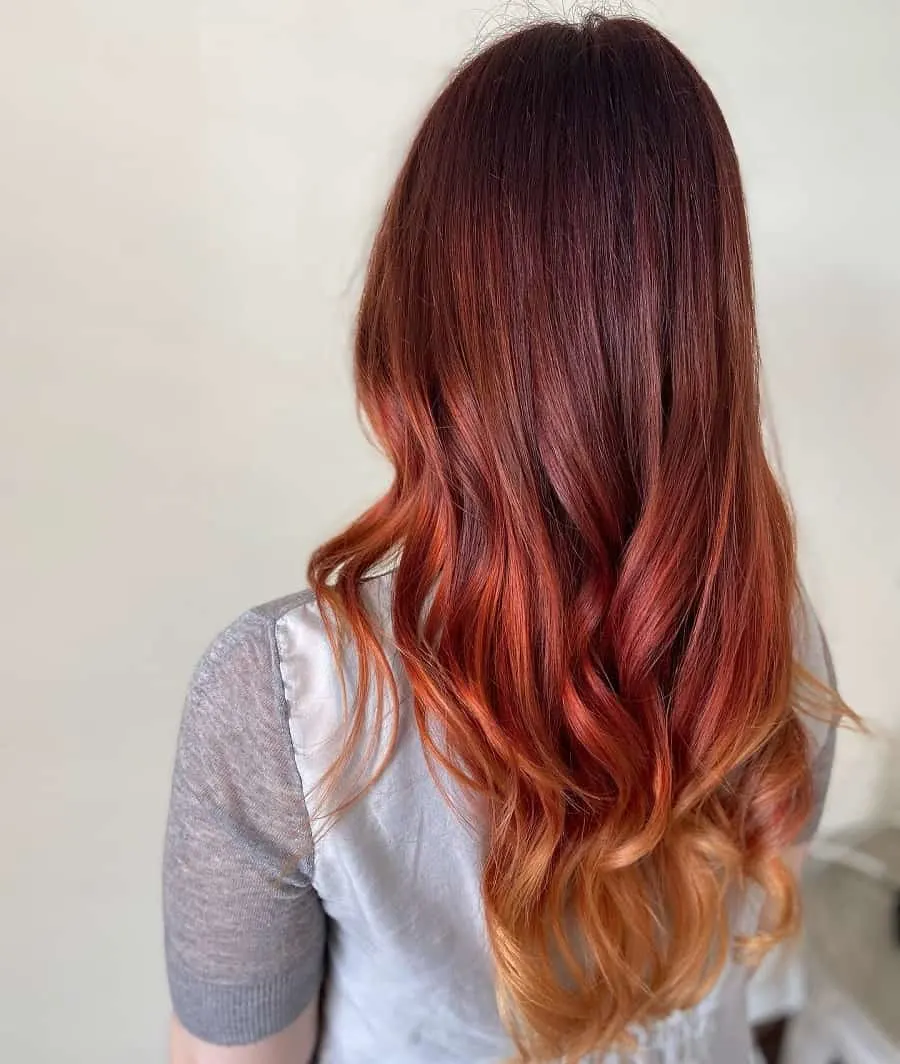 If you are ready to go for a red color mix, there is nothing that can stop you. Start with simple blonde on the bottom and go up to explore such appealing shades as red or copper.
54. Cherry and Ginger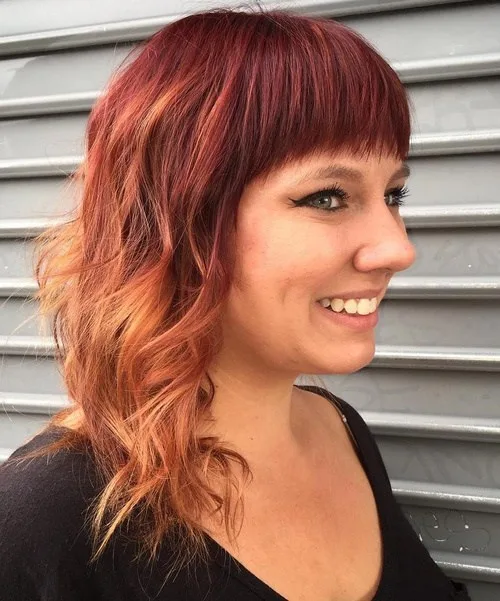 Cherry and ginger hair mix is a wonderful way to outline your facial features. Keep the cherry on top and just above the ears and then apply fiery ginger on the rest of your locks for amazing contrast.
55. Luscious Yellow Ombre
Are you looking for something funkier than the usual red, brown or blonde Ombre hair color? This vibrant yellow color idea is particularly for you. The yellow color looks awesome with black hair base.
56. Lemon Green
If you love standing out at any event or party, mix earthy colors like lemon and green when you are styling your ombre. The two shades work together fabulously and will make you fall in love with this look.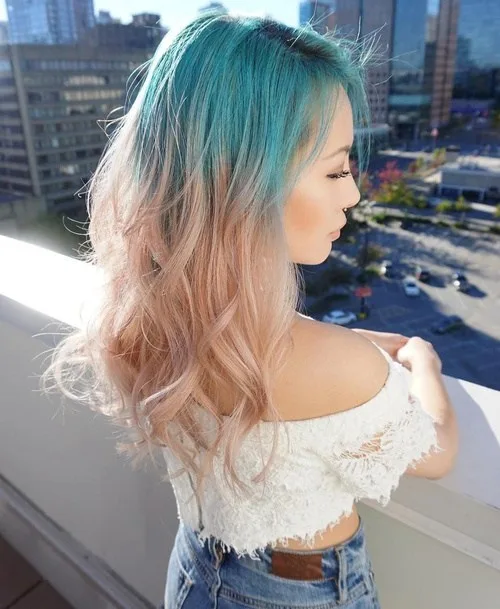 Enjoy an image change with a hair color that features outrageous hues. There is no limit to where your imagination can go when choosing the shades for the top or bottom of your amazing ombre.
58. Black to Bluish
While blue hair color might seem outrageous at first, a closer look can reveal an innovative solution. If you are afraid of drastic changes, use a temporary hair dye to enjoy the effect.
Light Brown Highlights on Dark Brown Hair
Express your love for green color by opting for regal emerald green hair color with black roots. Show the hidden darker roots by styling your hair into a half up and half down hairstyle.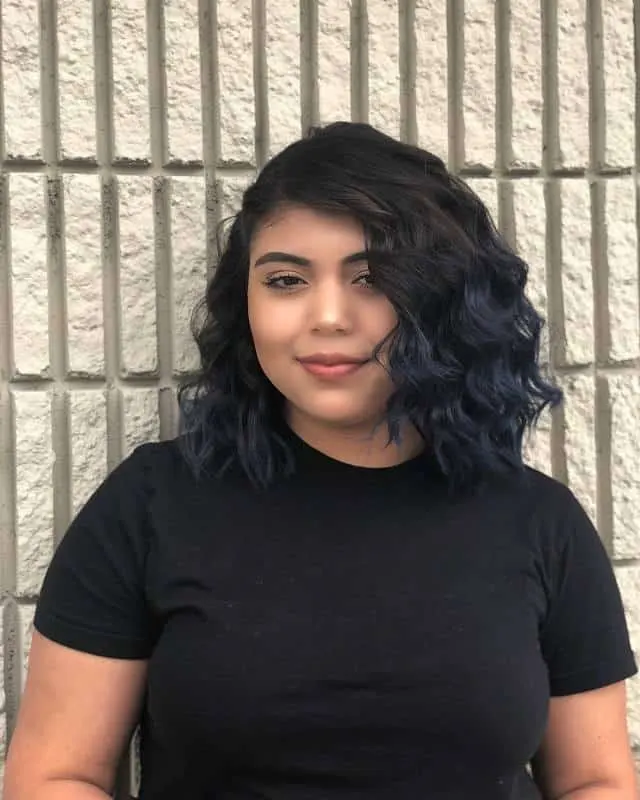 Those girls who want to keep their hair look understated and pretty natural can opt for a color that completely blends into darker roots. You can choose a black violet shade to get it to blend smoothly into black hair. Girls with short hair can pull off this ombre bob combo very easily than girls with long hair.
Hair Color Maintenance
Now that you have a gorgeous new look, how can you keep it fresh? Like with any hair dyeing technique, you'll want to wash your hair less often. When you do wash, use color-protecting shampoos and conditioners. It's also wise to limit how often you curl or straighten your hair, as this can cause the color to fade faster.
Ombré vs Sombré
Sombré is a more muted or softer version of ombré. Both looks are created by the same technique, known as balayage. However, sombré encompasses more shades than ombré. The lightened ends of a sombré hairstyle blend more smoothly with the roots.
The goal of softer one is to have a sun-kissed look with texture and dimension.
FAQs
Are you ready to learn more about ombré hair? Find the answers to some frequently asked questions below.
How much does it cost to do Ombré hair?
It can cost as little as $10 if you are creating the look yourself. However, most hairstylists will charge between $80 and $500. The length of your hair will likely factor into the cost.
How long does Ombré hair last?
Although it depends on your specific highlights and the amount of root you want to show, most ombré color lasts about four to six months.

You can stretch the length of time by visiting your hairstylist every two to three months.
What is the difference between Ombré and Highlights?
Ombre hair is lighter toward the ends. While ombré is classified by lightening the middle of the hair strands to the end, highlighting lightens hair strands from top to bottom.
Can I DIY Ombré hair color?
Yes! it is much less expensive to do at home. Follow the steps in the section above labeled 'How To Do Ombré Hair'.

Naturally, it will be more difficult for you to do it yourself than for a hairstylist. Hairstylists will likely provide better results, but you can improve your skills at home with some practice.
Does Ombré hair coloring damage hair?
Unfortunately, this hair coloring can damage your hair. By using a sulfate-free shampoo, you can extend the life of your hair color and avoid excess colorings that will continue to damage your hair.
How often to touch up your Ombré hair?
The hairstylist will walk you through basic maintenance if you go to a hair salon. Ombré looks that begin closer to the roots will need to be retouched every four to six weeks.

Those that begin in the middle of the hair can stretch to being touched up every six to eight weeks. and the one which is primarily on the ends of the hair will require a touch-up every eight to ten weeks.
Who started the Ombré hair trend?
The American singer, dancer, actress, and model Aaliyah started the ombré hair trend. It was first popularized in 2000. Over time, many celebrities have continued to popularize the trend.

Britney Spears, Vanessa Hudgens, and Beyoncé modeled it more than ten years later. The hair trend gave birth to the ombré nail trend, which Katy Perry modeled.
Is there natural Ombré hair?
You can attain natural ombré hair by dying your ends a lighter shade of your natural hair color. This will seem very natural, especially if you only lighten your hair by one shade.

Some natural-looking colors to try include:
● Ash brown
● Blonde
● Golden brown
● Warm brown
● Light brown
● Orange
● Platinum blonde
● Reddish-brown
● Auburn-hinted
● Warm chocolate brown
● Mustard
Does Ombré hair need bleaching?
In most cases, this hair coloring technique works best when you use bleach. However, some methods do not require bleach. For example, you can darken the color of your roots to achieve color contrast without extreme lightening.

There are also natural home remedies for creating the ombré effect, but it is difficult to achieve noticeable results using these methods.
Is Ombré hair high maintenance?
It is very low maintenance. The lighter color usually begins around the middle of the hair, allowing it to grow out for a long period before you have to cut the entire colored section.

Also, the relatively subtle color change can fade over time without looking 'wrong.' After all, ombré hair is supposed to appear somewhat faded.
Does Ombré coloring make my hair look thicker?
Yes, ombré coloring can make your hair look thicker. When there is a contrast between light and dark hair, the hair appears thicker.

Additionally, permanent coloring thickens hair by adding color to the cuticle layer.
Can I use purple shampoo on Ombré hair?
Yes, you can use purple shampoo. It can even help to eliminate brassy tones in brown and blonde ombré hairstyles. Blonde areas will fade to ashy streaks.
The effortless beauty of ombré hair has captivated women worldwide and has even reached some men. You can style your hair in a fancy up-do, or ponytail, or let it fall naturally. You can wear it with curls, waves, or straight hair.
With little maintenance required, it is no wonder why so many people have hung onto this trend for decades. The stunning contrast of gradient ombré has certainly left its mark in the 2000s.
You May Also Like