If you haven't tried ombre hair color, you're missing out. The technique, which involves adding color to the middle of your hair and down to the ends, is a subtle way of giving your natural hair a beautiful new glow.
For example, add blonde to black or brown hair to keep your hairstyle professional, or play with bold colors like purple and pink by adding them to light blonde hair.
Ombre works on all hair lengths and textures, whether you have afro-textured hair or opt for a sew-in.
Ombre Hair Color Ideas
Choose from these 85 ombre hair color ideas and feel confident you'll look amazing!
1. Lavender Ombre Hair
Lavender is one of the softest colors you could choose for hair color. It pairs perfectly with blonde hair and stuns as an ombre on waves.
2. Copper Ombre
When you prefer to stick to more neutral hair colors, choose copper. On dark hair, copper is a great complement; where the hair starts to blend, you'll see a gorgeous light brown.
3. Medium Ombre
When you choose medium blonde ombre, you can feel confident your dark blonde hair will have a sun-kissed glow, even if it's not summer!
4. Short Ombre Hair
For both children and adults, this cute short haircut with ombre is a fun way to bring out your adventurous side. A sea green blends with purple and pink for a creative clash of colors.
5. Ombre Curls
There's no reason your curls shouldn't stand out when they're this full and luscious! Give them a pop of pink ombre for a flirty, feminine twist.
6. White Ombre Hair
White ombre is quite hot and this is one trend you need to try. This color shows up best on hair that is already a couple of shades darker than white, so avoid using it on light blonde hair.
7. Asian Ombre Hair
Asian women will appreciate how great blonde looks on their dark hair. Choose a medium or light blonde for best results and start the ombre a bit above the middle of the hair.
8. Natural Hair Ombre
Show off your gorgeous natural curls by trying a light brown ombre. This color looks super natural on black hair like you've been laying out in the sun and just happened to get gorgeous color.
9. Purple Ombre
This light purple ombre is unexpected but works amazingly well on an edgy faded short pixie. This color is artistic yet remains professional enough to sport to the office.
10. Light Blonde Ombre
This shade of light blonde is nearly white but not quite. Have fun playing up the best shades of blonde with a mix of dark and light. Hair looks gorgeous when left down or pulled into this cute updo.
11. Black with Blonde Ombre
Light blonde is a stark yet stunning contrast against black hair. Use it as an ombre to liven up an asymmetrical pixie and enjoy the different looks you can create wearing it up or down.
12. Rose Blonde Ombre
Searching for a more feminine, runway-inspired hairstyle? Give your blonde locks a rose ombre. The deep blend of pink and red creates a gorgeous rose color that pops beautifully on light blonde hair.
13. Pink and Purple Ombre
Longing for the days of Lisa Frank? Take that childhood nostalgia and apply it to your hair! Large ringlets of pink and purple ombre top off this long hairstyle, making a statement look you'll love showing off.
14. Strawberry Blonde Ombre
Think you can't pull of an ombre on your red hair? Try a light blonde and you'll be surprised at the beautiful strawberry blonde that results. You'll still see your natural red color but the blonde will give you a gorgeous lightened look.
15. Blonde Ombre Buns
When you add blonde ombre to dark hair color, any hairstyle you go with will look that much better. These braided buns, for example, look even better with blonde to make them pop.
16. Subtle Blonde Ombre
This subtle blonde ombre is created by mixing sandy blonde and sun-kissed blonde hues. Take a look at how most of the hair is dyed one color and less than half of the bottom part features a different shade.
Chestnut Brown Hair Color Ideas
Creating an ombre on a stacked bob is a hard task since the gradual transformation from one color to another can take some time. But the overall result will be truly impressive no matter which colors you pick.
18. Ombre with Highlights
If you choose the classic ombre hair colors such as dark brown and blonde, you can make your image even more unique by making a few blond highlights on the dark part of your ombre.
Dark auburn hair color looks especially wonderful with light blonde hues. If you have long locks, you can make the Auburn part end near your neckline and make the rest of your tresses blonde.
20. Redhead experiment
Red ombre hair color is just what you are looking for when it comes to making an impression. Use darker burgundy, cherry, and ginger shades on top and light red or fiery ginger on the bottom.
21. Cherry and Light Auburn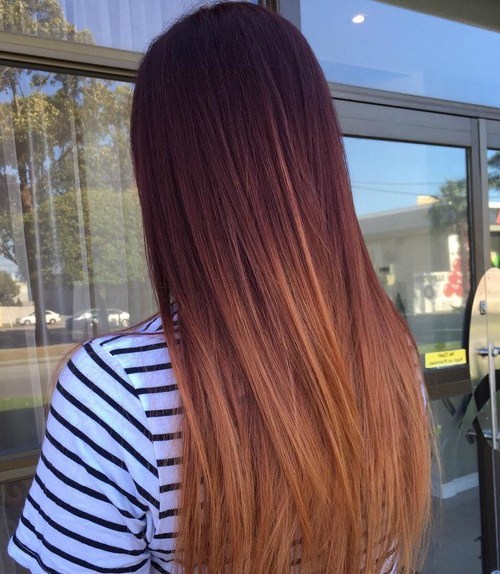 This is another beautiful combination of red colors. Dark burgundy on top looks almost black while light auburn on the bottom is close to blonde. The combination has an extra oomph the classic ombre might be lacking.
When you are creating an ombre, there is no need to follow some strict rules. For example, you can extend the top hair color a little down your locks to make an impression of exquisite highlights.
23. Three Levels
Who said that an ombre should only mix two colors? You can go ahead and experiment with as many as you wish. Consider making the darkest level on top, then go on to lighter middle level and complete the image with blonde ends.
Enjoy an image change with an ombre hair color that features outrageous hues. There is no limit to where your imagination can go when choosing the shades for the top or bottom of your amazing ombre.
25. Caramel with Blonde Hues
Caramel hues act as a great transition color for three level ombres. The top can be brown or auburn, the middle is caramel and the bottom is light blonde. The result is amazing!
Unique Caramel, Violet & Cinnamon Colors for Your Hair
26. Highlighted Ombre
This ombre hair color looks amazing on girls with dark tresses. The highlights are created to make an impression of dark locks inside and blonde hair on the outside. The dark strands are visible on top only.
Ombres look amazing when you use three absolutely different colors. Consider using black or dark brown on top, Auburn or red in the middle and sandy or light blonde on the bottom.
28. Partial Ombre
If you want to keep as much of your natural color as you can, you can go for a partial ombre. Just like the partial highlights, only the bottom parts of the front strands are color. The rest of the hair stays natural.
29. Black, Blonde, and Auburn
Black, blonde, and Auburn are the ombre hair colors that always look great together no matter what length your hair is. Experiment with the way you arrange the levels and enjoy the results.
30. Burgundy and Sun-kissed Blonde
Burgundy and sun-kissed blonde are a great combination for an ombre. You can experiment with the length of the top part even if your hair is not too long. You can resort to coloring just the ends if you wish.
31. Dark-brown and Butterscotch Blonde
Mix dark brown hair color and butterscotch blonde shade to create a stunning ombre. If your hair is short, then you can color just the top and add some highlights. You will look fabulous!
32. Extravagant Approach
If you have a short pixie, it doesn't mean you should forget about ombre hair color. Consider dyeing the very top part and the bangs any color you choose. Go for extravagant shades to make a statement.
If you are naturally a dark blond, you can make a truly impressive ombre by lightening up just the bottom part of your hair. Shades of blonde such as ash and walnut mist look wonderful together.
34. Brown, Red and Rose
Brown, Auburn and red are a popular color combination for girls who like Ombres. Make your hair even more unique by adding an unexpected color on the very bottom. Rosy red is a good choice.
35. Black, Auburn, and Blonde
If your hair is naturally black and you want to make it lighter, create a three-level ombre hair color transition with Auburn and blonde shades. Start coloring your locks auburn at the eye level and go down to make blonde ends.
36. Just the Top
High ombres start with growing roots. It's actually one of the easiest ways to create a natural ombre but it takes some time to do it. Don't be afraid of just letting the roots grow. You'll get a great result.
37. Cherry and Ginger
Cherry and ginger hair mix is a wonderful way to outline your facial features. Keep the cherry on top and just above the ears and then apply fiery ginger on the rest of your locks for amazing contrast.
38. Black and Light Brown
There are many outrageous ombre hair color ideas out there but if you want something subtle, there are also a few to choose from. Natural black on top and light brown on the bottom look stunning.
39. Chocolate and Caramel
This tasty color mix will make your hair look fabulous. Use chocolate brown or auburn on top and caramel blonde on the bottom. If your hair is long enough, let the chocolate hue end near your chin.
40. Caramel and Blonde
If your natural tresses are light, you can take full advantage of the caramel and light blonde mix. This combination looks very natural and some people won't even see and ombre here.
41. Black, Brown and Blonde
The gradual color change is one of the main advantages of an ombre. If you are going for 3 colors, make sure that the transition is soft. Going from black to blonde is bold but you can do it.
Every girl with dark hair who always wanted to be a blond knows all about the fast-growing roots. Thankfully, the ombre style allows you to let your roots grow without constant touch-ups
43. Brown, Auburn, and Blonde
Brown, auburn, and blonde are a wonderful color combination for women with light skin tones. Use a darker auburn hue to outline your facial features and then change to blonde near the ends.
44. Black and Bluish Ombre
While blue ombre hair color might seem outrageous at first, a closer look can reveal an innovative solution. If you are afraid of drastic changes, use a temporary hair dye to enjoy the effect.
45. Brown and Sparkling Amber
Sparkling amber blonde is a great way to make your brown mane looks special. You don't need to make a high ombre, coloring just the tips will do. Perhaps you'll like to add some highlights too.
46. Brown, Hot toffee and Blonde
Brown and blonde are the classic colors for an ombre. But inserting the third shade in the middle will make your hair shine even brighter. Consider such an interesting color as hot toffee.
47. Burgundy, Ginger, Violet and Blonde
If you are ready to go for a red color mix, there is nothing that can stop you. Start with simple blonde on the bottom and go up to explore such appealing shades as burgundy, violet, and ginger.
48. Brown Bangs – the Brilliant Ombre Style
When you are thinking about a way to go about ombre hair color, don't forget that bangs play a huge role. Just by dyeing the bangs, you can completely change your image.
49. Butterscotch and Light Blonde
Different shades of blonde look amazing in an ombre. If you have natural black or dark brown locks, then you need to choose the darkest shade of blonde to use on top. Butterscotch will do.
50. Black and Caramel Ombre
While black and caramel might not seem like a great combination, in reality they can make you look fabulous. Try this mix and you will see the new and improved look your hair will get.
51. Flaming Front
Girls with black or dark red hair can turn to flaming bangs. It's a smart way to go about an ombre without dyeing too much of your locks. You can even use highlights to make the bangs look more impressive.
52. Ash Hues
Ash-blonde hair hues look great coupled with sun-kissed blonde colors. Start with ash blonde on the very top and then quickly change to sun-kissed blond near your chin level.
53. Dark Brown and Rosy Caramel
The dark brown or black top can be diversified by caramel ends. But you can add a special zest by creating subtle rosy red highlights. This unique image will definitely turn some heads your way.

Dark chocolate hues are another way to go about creating a classic ombre hair color. Allow your imagination to run wild with the top dark hues and the bottom blonde ends will complete the picture.
55. Auburn, Blonde, and Black

Dark auburn is a great way to go about the top part of your ombre. It's a wonderful hue that looks great with blonde while covering up the black roots that grow at a fast pace.
56. Brown and Beeline Honey
Brown and beeline honey look great together. You can experiment with different interesting shades of blonde to use with brown. Blonde and brown is always a great combination.
Light Brown Highlights on Dark Brown Hair
In most cases, the top ombre hair color ends near the chin level or even higher. But if you've got long tresses, you can experiment with a long ombre and start the second level near your shoulders.
58. Black and purple
If your locks are naturally black, you can enjoy the black and purple combination. Go for dark shades of purple to create a very interesting yet not too extravagant look that you'll love.
59. Golden Rose Hues
Golden rose hues are perfect for a light ombre. You can start with light auburn, go on to blonde ends and add some golden rose highlights.
60. Silvery tresses
Silver is the shade not many women are brave enough to try. But if you made a decision to stand out of the crowd, you can go further to create this amazing ombre. Give it a try!
61. Black to Ash Blonde Ombre
Go crazy with ash-blonde color! Here, the dark base blends into golden ash blonde highlight very naturally. Turn your locks into soft curls through iron curler to add an extra dimension to Ombre color. This color will shine ever more under the sun.
Add more dimension and depth to your A-line sleek bob cut by dying your hair gray and then, combining it with dirty blonde Ombre blending into barely visible dusty pink hue.
63. Luscious Yellow Ombre
Are you looking for something funkier than the usual red, brown or blonde Ombre hair color? This vibrant yellow color idea is particularly for you. The yellow color looks awesome with black hair base.
Neon red and orange hair ombre maintain the vibrancy of your appearance. Both colors will freshen up the hair look because of the sparkling features. To prevent the dullness in these lively color dyes, use organic hair care products to hold the glossy texture.
This look basically includes three colors; icy platinum blonde, ash blonde, and black roots. The incorporation of ash blonde provides your tresses natural aesthetics. This dark black root to bright tips transition is so smooth that it provides your locks an undeniably subtle texture.
Express your love for green color by opting for regal emerald green Ombre hair color with black roots. Show the hidden darker roots by styling your hair into a half up and half down hairstyle.
If we talk about the fashion-forward solution that will fulfill your desire to achieve a versatile look then, Ombre coloring would be our immediate answer. Having black hair can provide you the limitless color options to try. This particular combo includes the gradual transition of black color into a silver hue. It also features the plum highlights and pastel blue hair.
The soft pink lowlights and the golden blonde top is such a polished and artistic way to give yourself a graceful appearance with the light and warm Ombre color combo. Sure, this soft wavy hair texture shows off the color's dimension artfully.
69. Platinum Ombre
Platinum blonde color has the capacity to take the Ombre hair game to the next level. This icy blonde looks cool and relaxing to the eyes. It can be a perfect choice to wear for winters and summer as well because of its bright look. The high invisible ponytail will compliment this Ombre color.
You can experiment any darker base with any lighter shade to achieve a variety of Ombre ideas that everyone would love to adopt for a chic look. Here, the lavender hue along with the incorporation of caramel balayage in black hair provides striking and edgy features with micro braided hairstyle.
71. Multicolored Ombre
This gorgeous pastel multicolored Ombre looks incredibly innocent and voguish at the same time when executed on stylish blunt bangs and layered long hair. These vivacious multi hues of blue and purple emerging from black layered hair literally exhibit an appealing outlook.
For those who do not know the technique behind underneath Ombre hair; It is a technique in which the hair got separated into two sections where the upper half hair section is dyed into a darker color while the lower half hair section is dyed into lighter color tone.
To give prominence to hidden Ombre, go for a half up double bun hairstyle or wear two mini buns to add cuteness to your appearance.
Those girls who want to keep their hair look understated and pretty natural can opt for a color that completely blends into darker roots. You can choose a black violet shade to get it to blend smoothly into black hair. Girls with short hair can pull off this ombre bob combo very easily than the girls with long hair.
Glossy curls, red and brown Ombre with black roots is a head-turning game for those girls who are looking for bold and chic attire. You can call it an official punk look which involves some extra styling fun.
75. Brunette to Blonde Ombre
These sleek locks feature light brown roots with light and white Ombre hair ends. If you want to keep it simple with a little dramatic touch, you can go for this Ombre coloring with your natural brown base.
76. Ash to Platinum Blonde Ombre
Isn't it a cool-toned Ombre to carry for short hair? Yes, absolutely it is. The black roots provide extra-definition to blondish lowlights. This looks can suits well on anyone, but the hairstyle can put a huge impact. You can achieve this color after three sessions.
77. Icy Platinum Blonde Ombre
What can be so romantic than the loose wavy hair and chic blonde Ombre hair! To achieve this lightness, you must have the patience to go through several hair dye sessions. Always consider choosing two shades darker or lighter than your natural hair color.
This cool-toned, pastel purple Ombre offers the Ombre hairstyles imposing features when adorned with space buns and braids. The incorporation of silver into pastel purple hue looks fantastical on the black base.
79. Rosy Brown and Blonde Ombre
The transition from dark base to rosy brown to platinum blonde tips is just remarkable! Give it a more refined look by styling the hair into a low bun. It will add a fun pop to a sophisticated hairdo.
80. Red Ombre Crochet
Sometimes having simple long hair without any dimension looks dull and lifeless. So, if you want to add life to your tresses and attire, you can choose micro braid crochet for an effortlessly glamorous appearance. A bleeding red Ombre will complement the black micro braided base even more.
81. Elegant Golden Ombre Updo
This romantic updo is surely a stunning choice to wear for weddings or other formal occasions. The golden blonde tips on black hair provide a non-trivial and harmonious impact to your hairdo.
82. Natural Blonde Ombre
Afro hair updo looks awesome with blonde Ombre as it provides natural and subtle features to hair texture. Embrace your natural afro texture by pairing it up with dirty blonde tips to add depth to each hair coils.
In this look, the dark brown hair blends into a fiery orange Ombre, classily. The choppy layers give this flaming color more movement. Exaggerate your looks by a copper highlighted head crown for queenly vibes.
Blonde Ombre is one of the most loveable preferences amongst girls with black hair as this Ombre shade is easy to achieve on darker hair and involves less use of the bleaching process. Girls with a light skin tone can opt for this color to add warmness to their complexion.
A sweet and elegant Ombre hair color that involves the dark brown base which turns into a delightful pink hue at the tresses ends. The pink hue on the muddled hair swirls is providing a depth to the whole combo.