While braids are popular among women worldwide, African American girls are mostly known to wear the most beautiful and intricate braids. There are many different types of braids for black hair that it's easy to get lost.
Women use a variety of hair extensions to make prominent braids. However, their thick and curly locks are sufficient to make natural braids. Braiding hair has been popular for many centuries. Long hair is an indication of health and beauty. That's why prominent braids are still so widespread.
Popular Types of Braids for Black Hair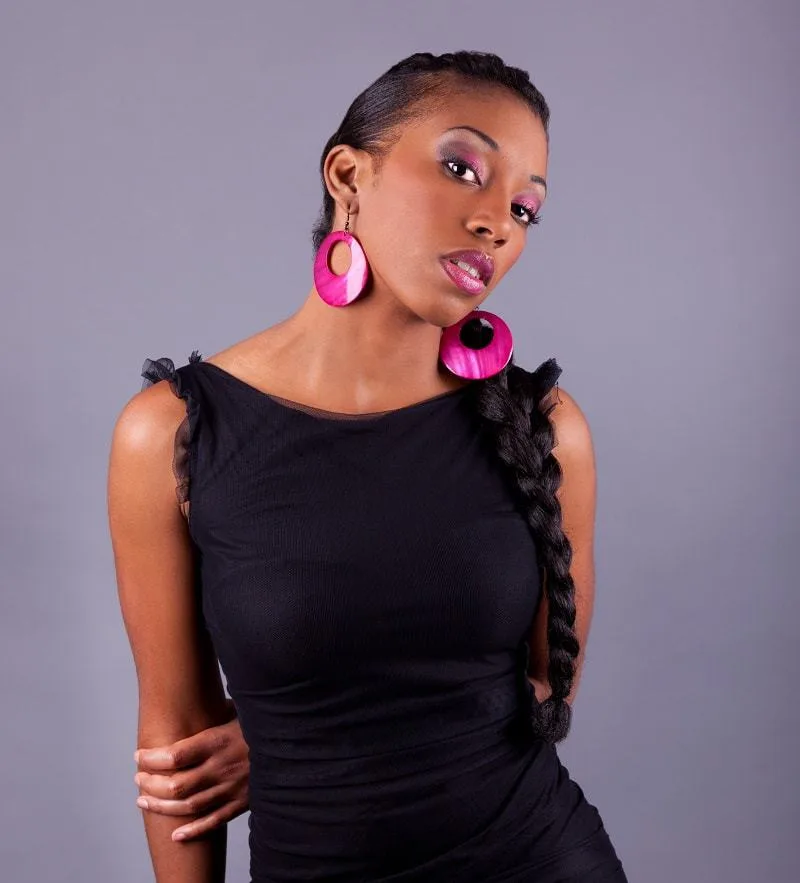 Each woman chooses to make braids at least once in her lifetime. Most of the types of braids for black hair were invented to keep the wild and unruly hair at bay. Besides creating a neat hairstyle that can last for days, braids for black hair keep the locks from breaking. Black women often braid their kids' hair to keep it healthy. So, most probably, it's not new to you too. With some experience, you can create virtually any type of braids for black hair. We have collected the most popular styles for you to consider.
1. Chunky Box Braids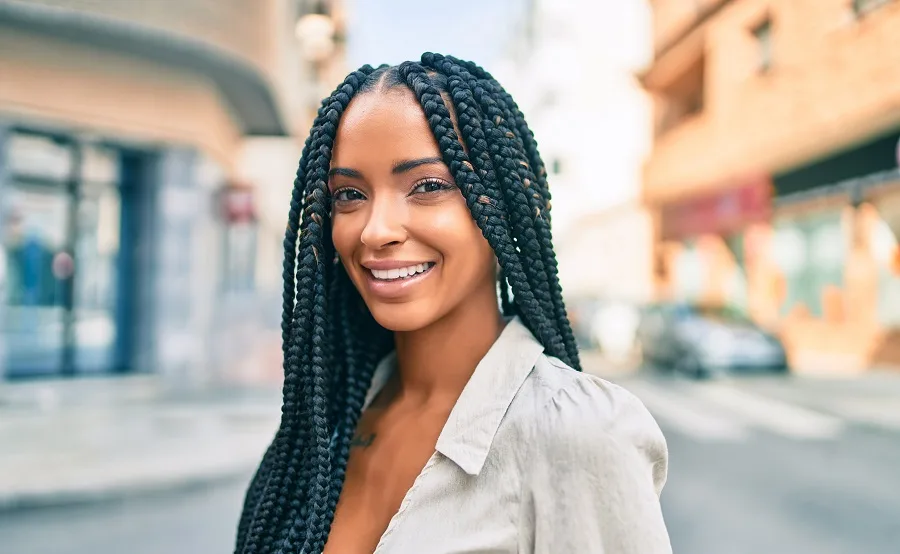 Box braids are done in the classic three-strand braid style and attached to the hair at the scalp. This chunky style looks great with a center part to elegantly frame the face on a long hairstyle. The width of your braids is important when considering the weight on the scalp. Larger braids do tend to create tension, so keep that in mind.
2. Elegant Ombre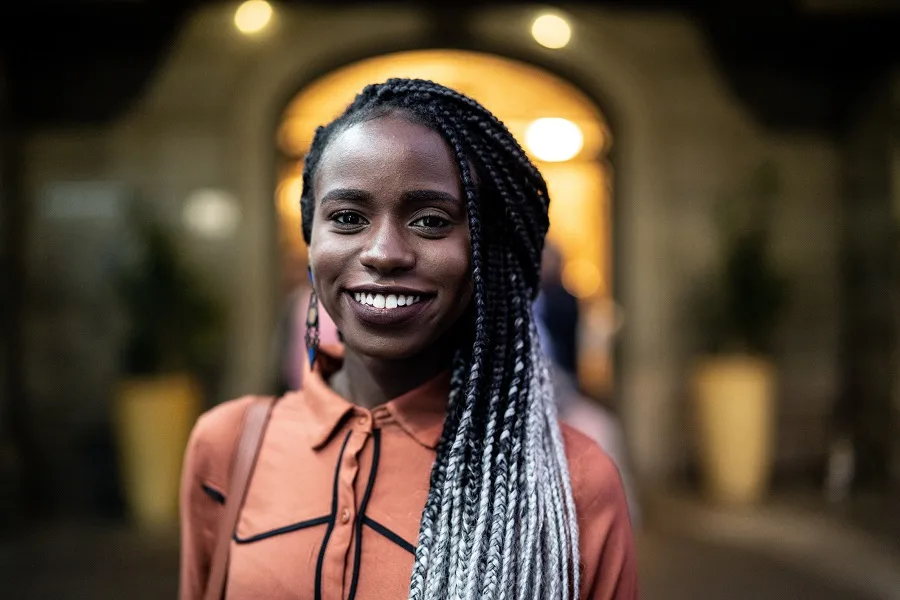 Want to incorporate an additional color into your usual braided hairstyle? Try an ombre look so that the hair transition feels natural. Typically, an ombre style begins about halfway down the hair and is added in a blended fashion for a natural feel. You should begin adding colored braids at this point.
3. Mini Box Braids with Loose Ends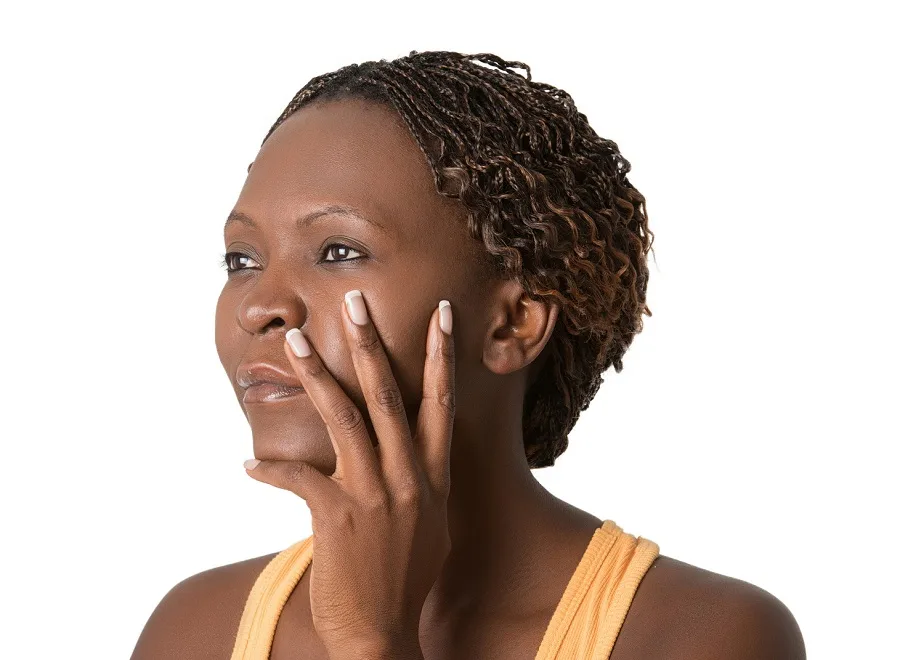 These super tiny braids add such an interesting texture to hair. If you want a crimped style, consider letting the braids loose about midway down the scalp. This will create a partially braided, partially loose look that will set you apart from the rest.
4. Box Braids Bob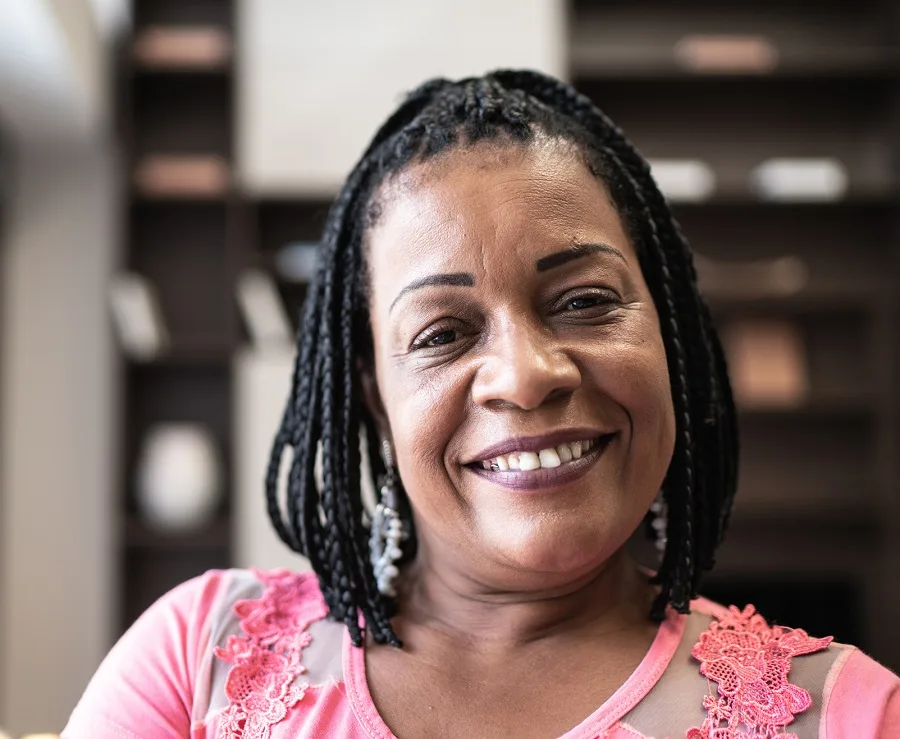 Older women typically choose shorter hairstyles, so why not try a braided bob style? First, try box braids or feed-in braids to get your desired look. Then, add perpendicular braids down the center of the head to create a part and add a little height.
5. Thick Braid For Natural Hair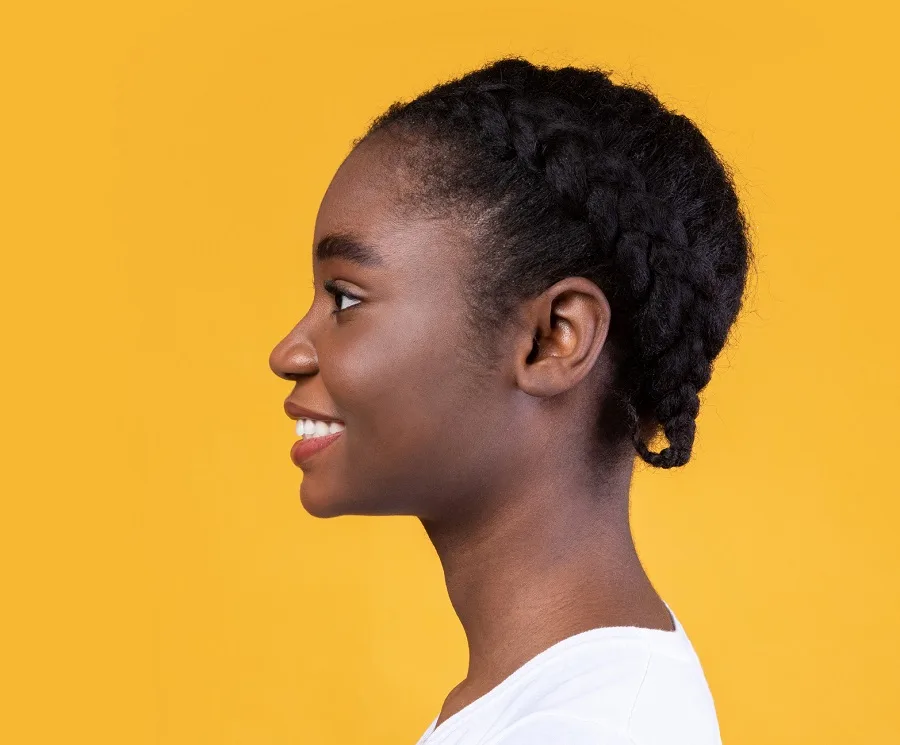 Many of these styles are intended to protect hair and make it last, and this simple side braid is no exception. However, you may have to redo it more often than the other braids on this list because of its looser feel. Its chunky style is meant to show off your hair's natural texture in a simple, great style for younger girls.
6. Bubble Ponytail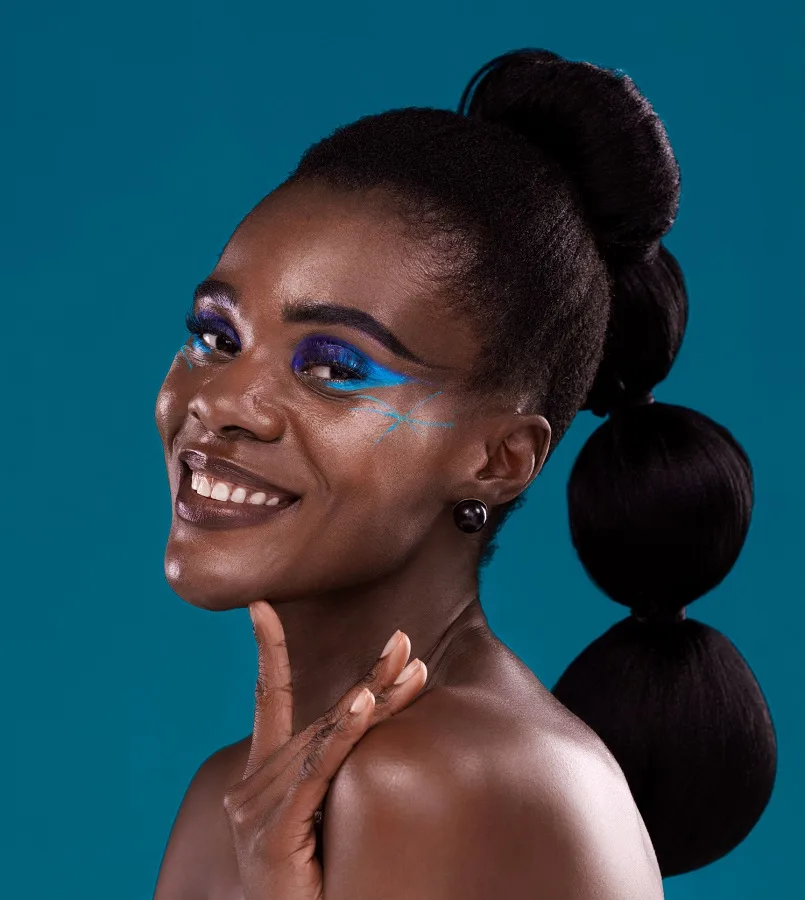 Give yourself a Disney princess style and try a fun, bubbly ponytail. Easier to achieve and less time-consuming than braids, a bubble ponytail requires that you section hair off every few inches and pull to create a bubbly, voluminous effect. The longer your hair, the better with this one!
7. Undercut Braids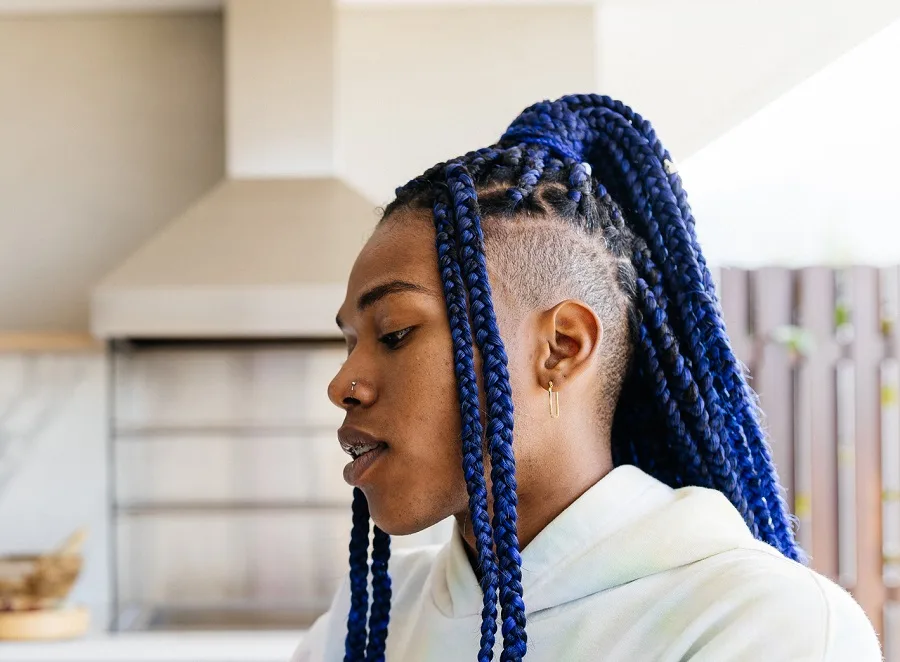 For instant style, an undercut look should become your go-to. These shave details are often focused on the sides of the head, typically around the temples, and may sweep back behind the head. This is great for a sporty look and keeping yourself cool in the warmer months.
8. Mohawk Braids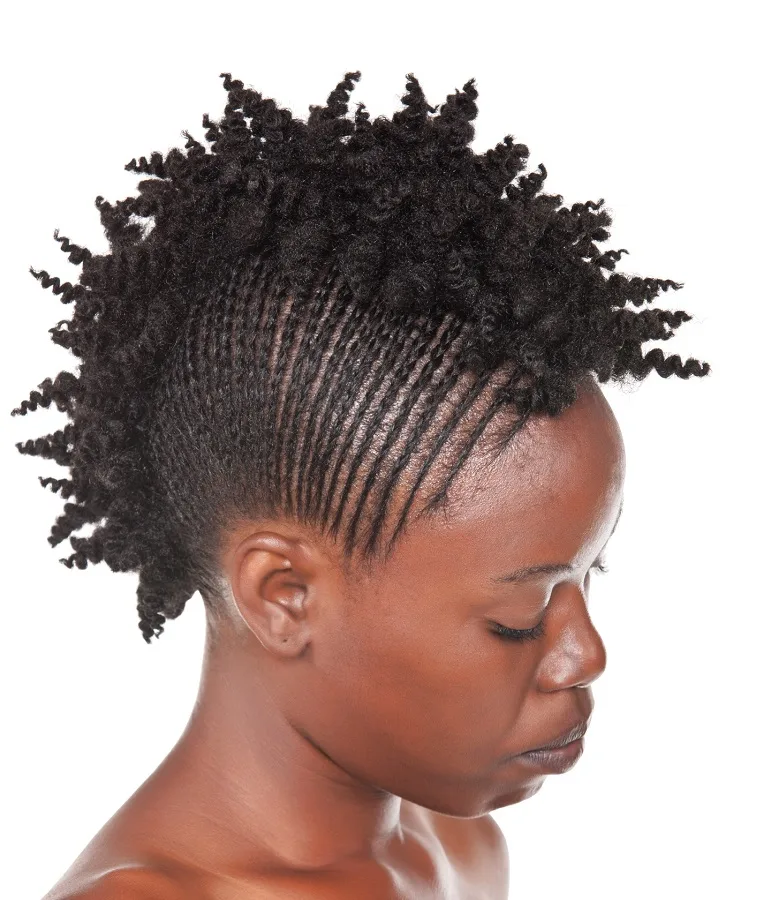 A gorgeous mohawk may be just the style you need. If you prefer short hair but want a look that will show your individuality, try tiny braids that feed into a mohawk style. This look is not only cool but protective, too.
9. Mini Spaced Braids Ponytail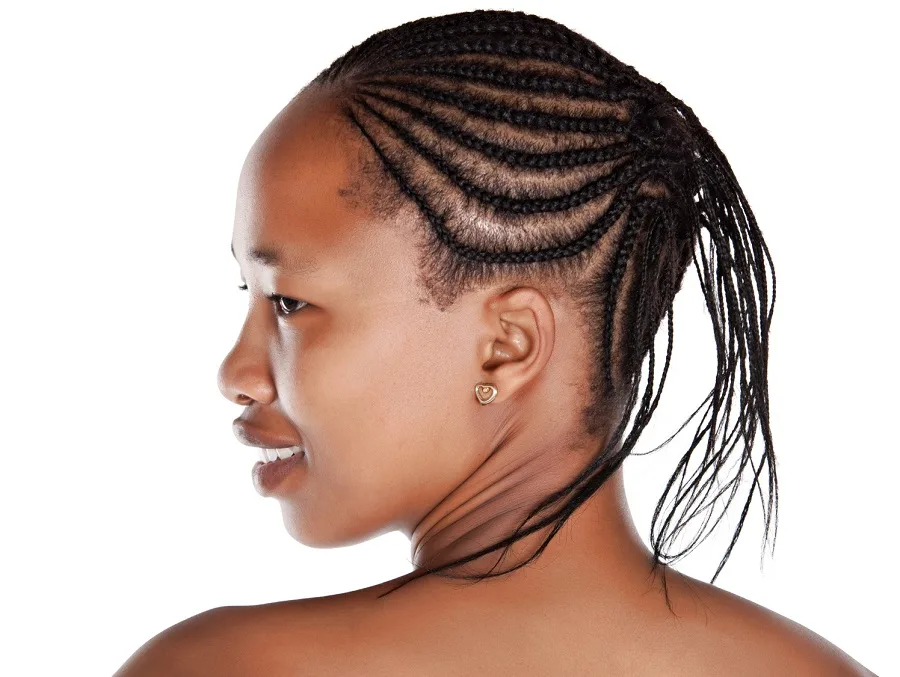 Ideal for thin hair, tiny braids spaced far apart create a sense of thickness and fullness where it's naturally lacking. This style uses braids to create a natural ponytail without the holder. Braids should sweep the scalp naturally, from the top the sides to the under portion of the hair to gather at the back of the head.
10. Fulani braids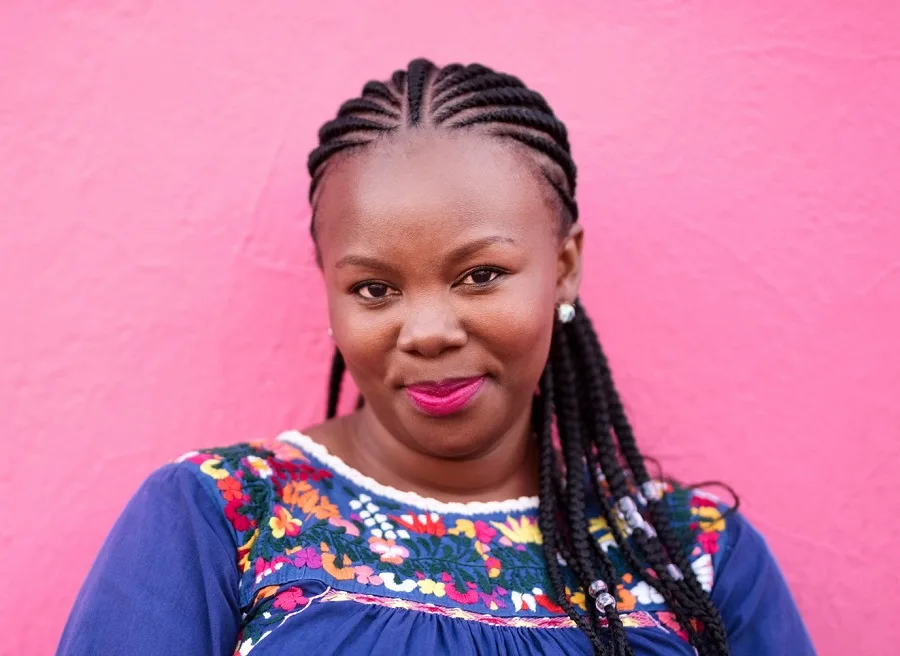 Fulani braids are an ancient African tradition that symbolizes wealth. Today, they are known for their center part and braids feeding out on the sides of the head in that direction before going down the back. To personalize the look, leave one braid braided straight down the back of the head as a unique part detail.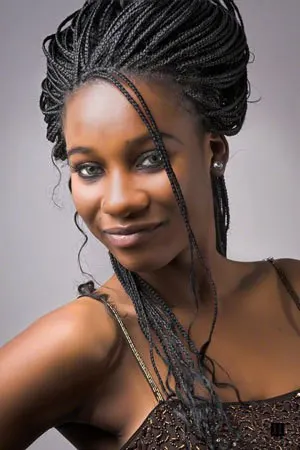 Dreadlocks are the most complicated type of braids for black hair. They require special attention and plenty of patience. The best part about dreadlocks is that they stay intact for weeks and don't require much maintenance. The worst part is that when you decide you don't want dreadlocks anymore, you have to cut them off. There is no way to restore your original hairstyle.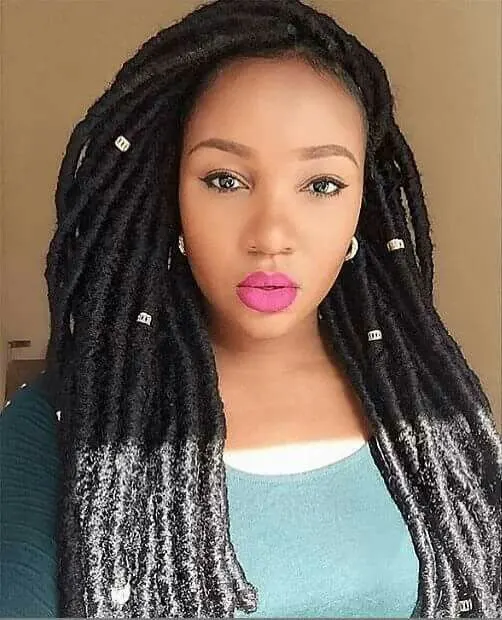 If you love dreadlocks and similar hairstyles but don't want to be too dramatic, you can use faux locs. They appear very similar to natural dreadlocks, but they are made with hair extensions. You use cornrows to braid the hair extensions into your natural locks. You can make them as long as you wish. Faux locs can last a long time.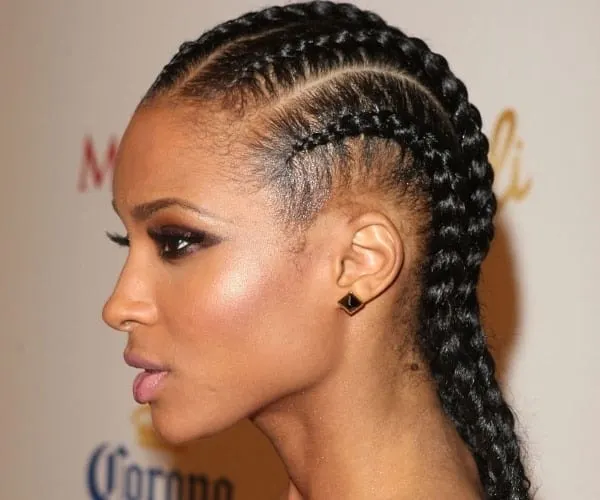 These braids gained popularity in the 1990s and 2000s but slowly fading away. These braids are mostly used for braiding in hair extensions in the modern world. However, this braiding method is becoming more popular among women of all races. The best part about them is that you don't need very thick hair to make them.
In the above photo, you see another type of braids for black hair that has been popular since the 20th century. These are simply tight three-strand braids. You can make unique natural box braids if your hair is thick enough. In the modern days, girls use hair extensions to make the braids look thicker and longer. This is a classic way to make black braids. These braids can last for several weeks without rebraiding.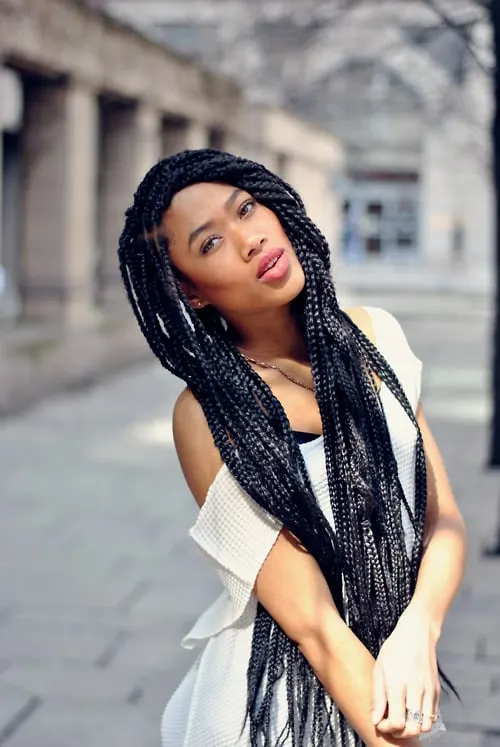 Remember Bob Marley's hair. It might have looked too much on a guy, but it can be an excellent addition to a girl's style. Havana twists are loose twists that are made from two hair strands. This twisting/braiding method reminds the dreadlocks while looking softer and neater. Havana twists are almost the same as Marley twists, but they are thicker. These twists can last up to 2 months.
Unless you know how to distinguish between braids for black hair types, it might be hard for you to tell the Senegalese twists from Havana twists. Senegalese twists are made of silkier materials, so the end result looks neater and softer. Most of the time, Senegalese twists are not as thick and voluminous as Havana and Marley twists.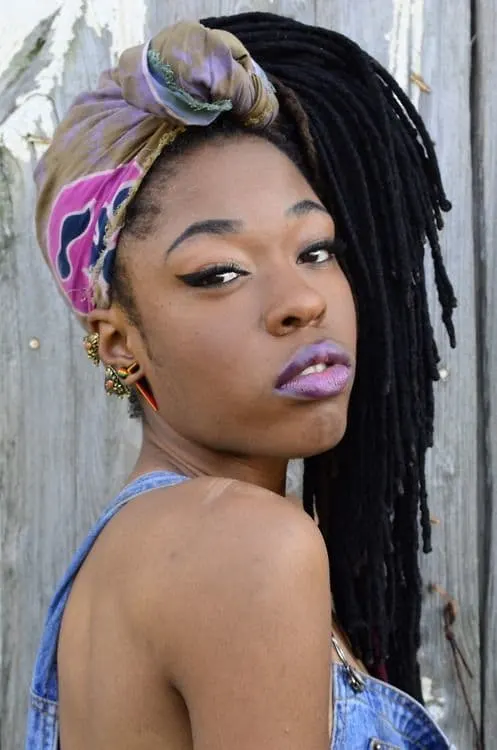 This is another type of braid created with just two strands. They are popular among women with short hair. Nubian twists don't require too much maintenance besides regular moisturizing. They are popular in the wintertime. To get Nubian twists, you have to buy Nubian hair extensions. The material is pretty light and soft. Nubian twists are not long, rarely long enough to reach the shoulders.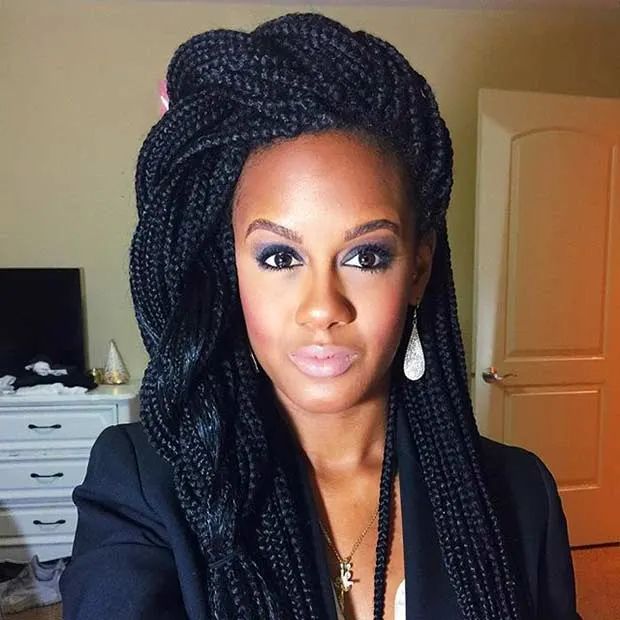 Yarn braids are the solution for people who enjoy unique braid textures. Most of the materials used for various types of braids for black hair are soft and silky. Such as not the case with yarn braids. They look and feel artificial and add plenty of faux volume to your hairstyle. Such braids are perfect for men and women who want to make a statement with their hair. Yarn braids are mostly made of natural yarn and look great when mixed with natural hair.
Micro braids take an awful amount of time, but they look truly stunning. They are the same as regular box braids. The only difference is the thickness of each strand taken to make the braids. Since spending the whole day in a barber's chair is not an option for most people, the micro braiding is done at the roots. The rest of the hair or hair extensions are left hanging freely.
Tree braids are a natural way to add volume to your hair. They don't require too much hair cosmetics or time to make them. To make tree braids, you have to make regular French braids at the base of your scalp and use the extensions as one of the three strands. Such braids can last as long as eight weeks.
Crochet braids blend in with your hair so well that it's hard to tell they are there. This type of braid for black hair adds volume by braiding the hair extensions to the braids near the scalp. A professional hairstylist attaches the braids using a special crochet needle. Then the hair extensions are curled using perm rods and boiling water. Crochet braids allow you to make impressive afros.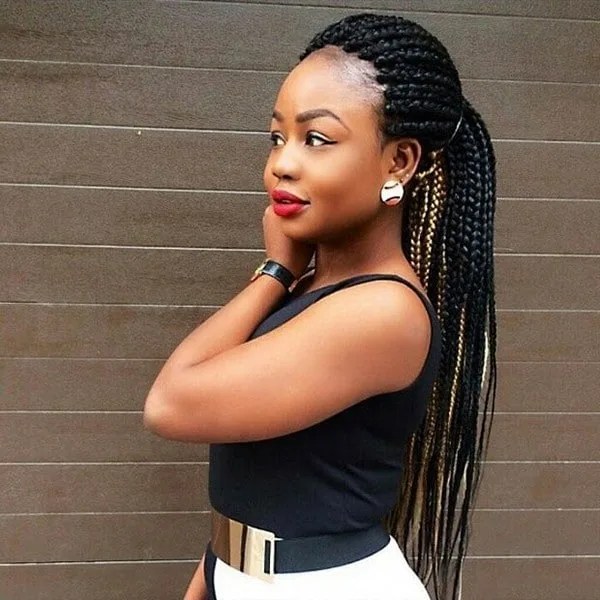 Ghana braids are similar to cornrows; however, the braiding technique is different. Ghana braids are harder to make, but they can look stunning. You can call Ghana braids a level up from cornrow braids. The variety of hairstyles you can make with such braids is awe-inspiring. Your scalp with the magnificent braid patterns can look like an absolute masterpiece.
Rope braids are similar to Havana twists. The only difference is that they are mostly done using your natural hair. Therefore, you should trust the professionals for rope braids since keeping them intact can be a hassle. Meanwhile, they are a better choice than French braid because they add your hair some volume.
And the last but not the least type of braids for black hair is the most straightforward French braid. No matter how wild and unruly your hair is, you can create truly unique neat French braids without professional assistance. French braids make great extensions for cornrows while looking just fine on their own.
Best Braided Hairstyle Ideas for Black Women
25. Faux Locs Twisted Half-up
You will surely love this idea if you look for a black braided hairstyle for a special event to look glamorous. Twist the upper half faux locs and tie them into a big bun while letting the remaining hair loose.
26. Mini Copper Braids
Boity Thulo is a South African celebrity who always leaves her fans in awe due to her incredible fashion sense. This pic of her is giving serious braid hairstyle goals to women with black hair. The copper rose hair color adds more life to the whole style.
27. Cornrows with Intricate Designs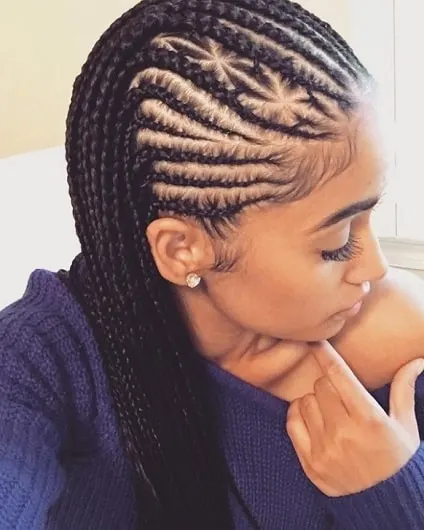 When executed carefully in consideration with the right proportion, Cornrows can intriguingly change the women's appearance. It is the simplest braided pattern with a twist of creative design that only a professional hairdresser can do flawlessly.
28. Artistic Braided Bun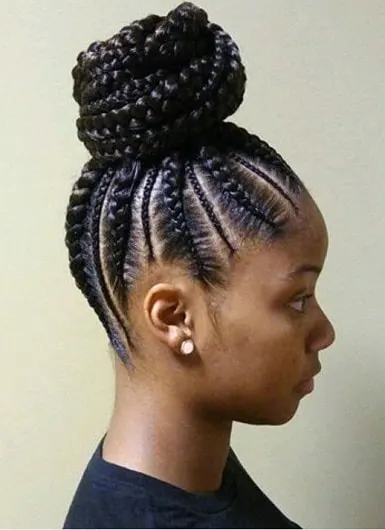 It is an ultimate savior for women with black hair to wear for any event because of its astound versatility and creative appearance. This bun requires low maintenance. It fits on any face shape incredibly.
29. Twisted Top Braids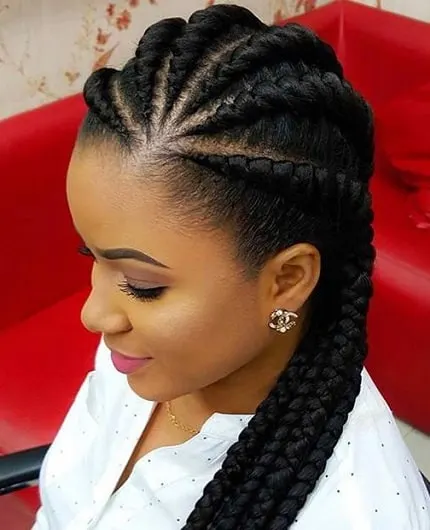 It is one of the best braid hairstyle choices for women with black hair to opt for wedding ceremonies. First, divide hair into several sections and incorporate the twisted extension into each section after applying hair wax. Then, sweep all the braids at one side of the shoulder.
30. Criss-Cross Black Braid Hairstyle
The advantage of this braid is that it takes less time and struggle in styling than the other braids for African women. It features three to four braids tied into criss-cross patterns for a modish look. It can last for several days without being messy if you take special care while sleeping, such as covering your head with a scarf .e.t.c.
31. Lemonade Braid Style for Black Hair
It resembles the spiral braid style a lot because of its swirling patterns. Lemonade braids are equally popular in kids as it is amongst women. If you want to make the style more modish, you can add vibrant colored highlights.
32. Inclusive Black Braided Ponytail
Sure, an admiring way to show off the beauty of long black hair in the form of a braided ponytail hairstyle. However, do not braid the top hair only, but give a playful feature to back hair. Now, unite the braids in the form of a high ponytail to complete the look.
33. Ombre Blue Braid Hairstyle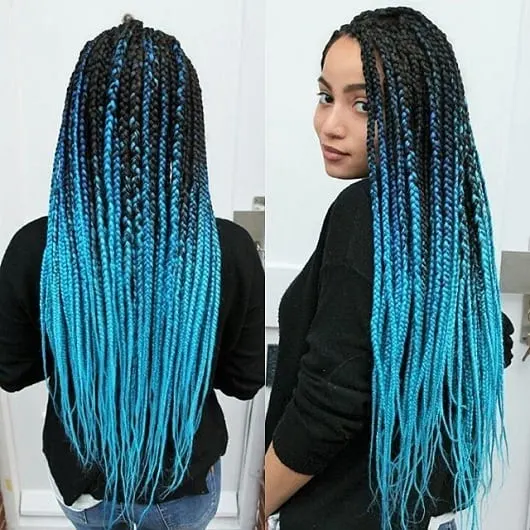 An Ombre blue shade works wonder on women with a black braid hairstyle. It is an excellent way to add a chic and feminine element to your entire attire.
34. Big and Mini Braids Combo
Keep your braids fresh and lively by incorporating an exciting combo of big and mini braids. You can achieve this look by braiding the hair in an asymmetrical pattern. Then, adorn the braids with stylish hair beads.
35. Giant Cornrows with Skinny Braids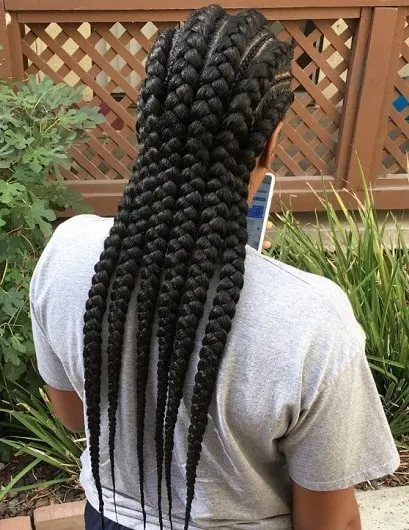 A voguish braid solution to the problems related to styling fine black hair. It looks not only uber-stylish but makes your hair look voluminous.
36. Intricate Cornrows and Halo Braid
After putting in a lot of effort and time, you get this masterwork as a reward. The top of the head is adorned with stylish and intricate cornrows design, further embellished by wrapping a long simple braid around the head like a crown.
37. Sleek Burgundy Braid Hairstyle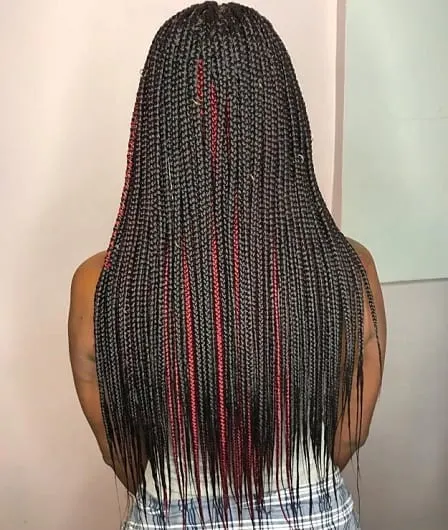 If you are among those who are being afraid of dying hair as it can damage the mane, you can go for colored braided hair extensions. Then, incorporate the burgundy extensions into your natural hair for a fun element.
38. Braided Mohawk for Black Hair
When braiding the hair, be playful and creative to get a unique look. If punk hairstyles inspire you, give this Mohawk a big shout-out. Keep the top hair as puffy as a pompadour hairstyle and turn the side hair into several braids or cornrows.
39. Curls and Colored Crochet Braid
Curly crochet braid styles are one of the trendiest hairstyles for black hair. The top of the head contains several tiny braids, while the back has loose curls embellished with red highlights, making the whole hairstyle more attractive.
40. Dutch Braid and Bun
It is one of the simplest yet classic braid hairstyles for black hair. First, divide the hair into two sections through curvy side parting to achieve this look. Then, start braiding these two sections from the hairline and unite these two braids at the back of the head in the form of a twisted bun. If you have short hair, you can use hair extension for the required length to get this look.
41. Chic Two Braided Hairstyle
It is just like the abovementioned braid style but has slight differences such as; hair looks mid-parted, and the two Dutch braids are swept at the front instead of tied into a bun. So, you see how a simple twist can change women's appearance from a sophisticated, matured look to a glamorous chic style.
42. Braided Bob Cut with Highlights
Golden highlights always make an alluring combo with a black braid hairstyle, and when you have a super-chic braided bob cut, what else do you want to make you appear stunning! Box braids give your hairstyle a voluminous look as well.
43. Braids with Weave+ Cornrows
It is one of the best examples of how versatile the braid hairstyles can be for women with black hair! It features the cornrows at the sides of the head, double plaits, and colored weaves, making this hairstyle "universal" altogether. You can carry this look for any casual or formal ceremony.
44. Purple and Black Faux Locs Crochet
Does it not have a striking appearance? The super-shiny faux locs with dynamic purple colors will add extra bling to women's appearances.
Braiding Tips for Beginners
Creating a simple braid can be fast and fun. After you master a few techniques, you can try more advanced styles.
Tip 1: Brush Your Hair.
Begin by brushing your hair until it's completely free of tangles. Comb out the ends of your hair and then work your way up to the roots. Consider adding a little smoothing cream or hair oil to help frizzy hair stay tamed.
Tip 2: Divide Your Hair Into Sections and Braid.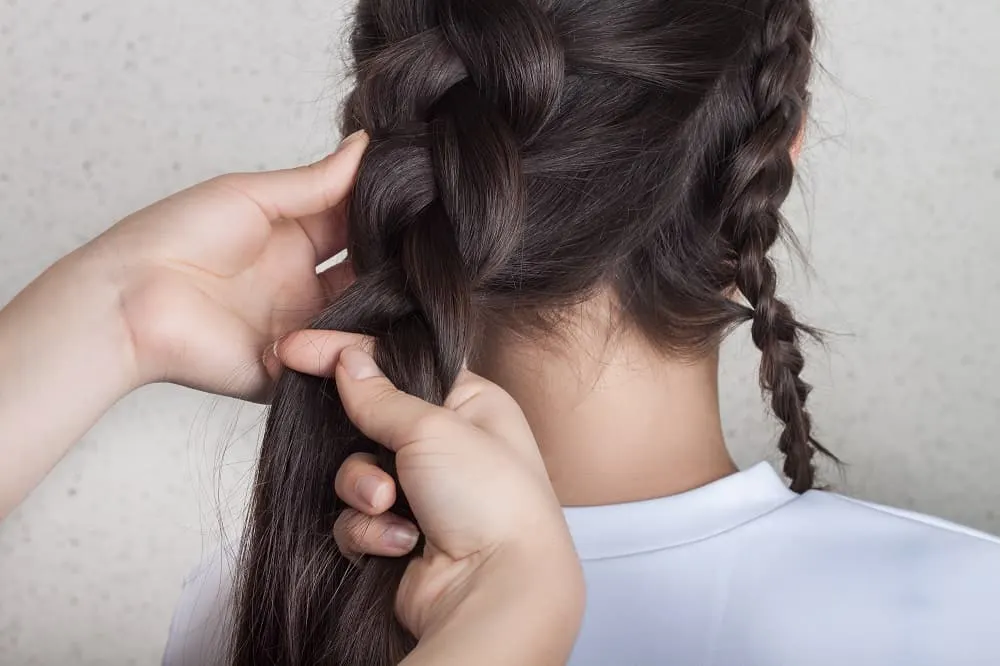 Create three equal sections of hair – a right, center, and left section.
Your left hand will hold the left section of hair, and your right hand will hold the right section.
Next, follow these steps:
The right section of hair will cross over the middle section of hair. Now the right section and middle section have traded places.
The left section of hair will cross over the middle section. Now the left and middle sections have traded places.
Continue this pattern, alternating between right and left sides. The outer section will always change places with the middle section.
After making the braid your preferred length, use a hair tie to keep your braid secure.
Tip 3: Don't Look in a Mirror.
This method is often referred to as "practicing blind." Braiding your hair without seeing will help you get a feel for what your hands should be doing to produce the best results.
Once you have mastered basic braids, you are ready to try something a little more complicated.
Now that you know all the types of braids for black hair, you have plenty of experimenting ahead of you. Don't hesitate to try all of these styles. Each one of them is special and can make you look truly remarkable.