Pompadour may seem a modern haircut but this style dates back to the eighteenth century. This hairstyle takes its name from Madame de Pompadour, the mistress of King Louis XV, who popularized this style. The pompadour remained a female style until the King of Rock and Roll, Elvis Presley, made pompadour his signature style in the 1950's.
Different Pompadour Haircuts and Styles for Men
Presley's connection with pompadour associates this hairstyle with rockabilly but it doesn't mean that this style is just for rock n rollers. It's a versatile haircut that can be made suitable for every wearer's age, face shape, and personality style just by varying the extremity of the cut. Scroll down to have a glimpse of some most stylish and modern pompadour haircuts for men.
#1: Pompadour Fade Haircut
This haircut is a blend of pompadour and fade haircut. The fading temples and the classy square forehead line give a neat look. The back of the head is also shaved to highlight the middle area hair with pompadour.
#2: Shaved Sides Pompadour
For this pompadour, the haircut should leave hair on the top for about 4 inches. The side hairs are shaved in a way that they gradually fade and completely disappear over the ear. The back hairs are also faded up to the nape.
#3: Classic Pompadour
This pompadour is very much similar to Presley's style. The hair on top are about 6 inches in length and the side and back hair are less than one inch in length. For giving your hairstyle a shine and texture, you can use hair spray or handy hair lotions.
#4: Urbane Pompadour
This pompadour style is an upgradation of the classic style, and is very according to the modern hairstyles. Instead of slicking back middle hair, this pompadour is set by slicking hair forward.
#5: Blonde Pompadour With Highlights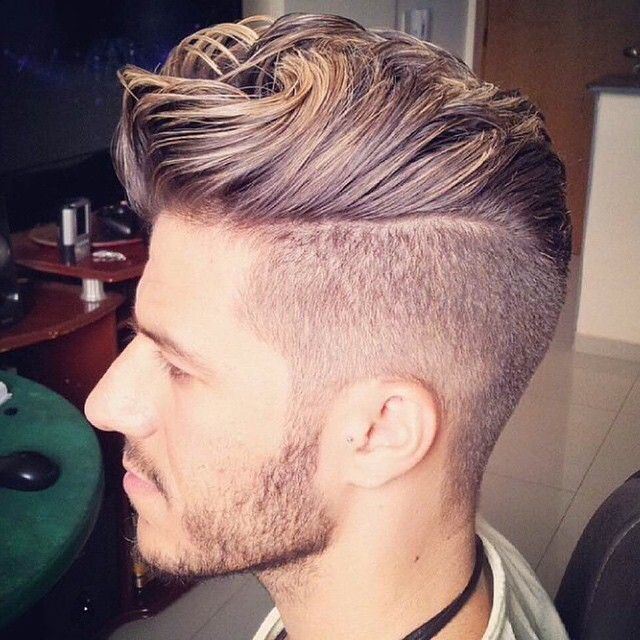 This blonde pompadour with copper highlights gives you an instant party-ready look. Amazingly, this hairstyle works best for both formal and informal occasions. So, why to wait? Just grab this look!