Blowout haircuts became popular in the 1990s. They were most often called a taper fade. Later they became very famous thanks to Pauly-D from MTV reality show Shore Fame. He came up with a variation of the taper fade and called it "blowout." So, thanks to Pauly-D this style got a second life in the 2000s.
There were even special blowout-style parties. Pauly-D made public appearances specifically to show people how to create a blowout hairstyle. The style became very popular among Italian Americans, South Asian Americans, and Mexican Americans. However, any man will look great with this haircut if it is created the right way.
How to Give a Blowout Haircut
To make a perfect blowout haircut you will need professional clippers, a trimmer with T-blade, combs, shears, hairdryer and some good hair gel and hairspray.
Use hair clippers to create the fade on the first 2 inches of length of hairline at the nape and sides. The top of the hair should stay medium length (about 6 inches).
In the end, you will get a 2-inch band of faded short hair around your head (across the back and the sides). At the same time, the hair on top will be medium-length. This is the first step to the blowout hairstyle.
After you are done the cutting, wash your hair and dry it with a towel. Then brush the hair up with a comb and pull it up and back. While holding the hair in this position with a comb, start blow drying.
Take some hair gel and lift the hair, which is left and style it up and back. The hair inside the perimeter covered in gel should just stay blow-dried. Spray some hairspray on your blowout hairstyle and blow dry it again.
While you are doing that, correct any stray hairs to stand up and angle. If your hair is curly, you can use a flat-iron to straighten it out before starting the procedure. However, there a curly blowout variation as well.
Modish Blowout Haircut Ideas
Now you know how to make a classical blowout hairstyle and you can go further. Men have been experimenting with this hairstyle for over 25 years, so they have come up with interesting options for any hair and face type.
Take a look at the 70 interesting blowout haircuts for men we have chosen to give you an idea of what a great blowout style looks like. Take some time to consider your hair type and choose the style you like best. If you are not sure that you can do this at home, any barber will easily make this hairstyle for you.
1. Spikes
This blowout haircut is perfect for men with curly hair. There is no need to straighten them. All you need to do is add some hair gel to the middle part and not use any hairspray. Style the hair with your fingers to make some spikes. You can also try these popular undercut hairstyles to get a unique look.
2. Brushed Up blowout Fades
This hairstyle is achieved without too much shaving. In fact, it is an imitation of the blowout fade hairstyle. The look is achieved by styling the hair with a lot of hair gel. Style the beard as you prefer and just push the hair upwards. You're done!
3. Afro blowout
African American men are lucky to have hair which doesn't need almost any hair gel to look perfect in a blowout hairstyle. All that needs to be done is proper shaving of the lower hairline to create a blowout impression.
Check these coolest Faux Hawk Hairstyles for Men
4. Short blowout
This short hairstyle is more of an undercut, but still can be considered a blowout, since the hair is shaved the way it would be in a classical blowout fade hairstyle. The advantage of this cut is that it requires absolutely no maintenance.
5. Straight blowout
This type of blowout hairstyle could be considered a classic if not for the little amount of hair gel used. This will fit men with no love for the hair products. However, some hairspray will still need to be used to keep the style intact.
6. Blowout fade haircut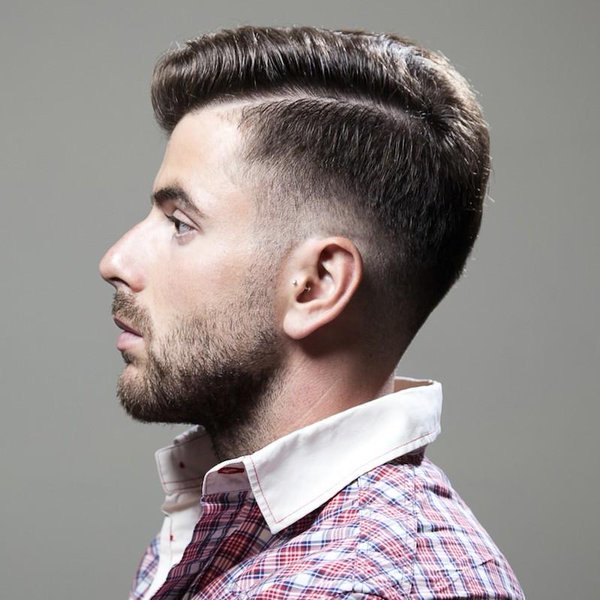 If you don't want to make a straight out blowout, there is a more conservative way to go about it. Make a fade to surround the hair on top and then style the top part to be as much of a blowout as possible.
7. The modern blowout
One of the modern ways to style your blowout is to forget about the gel at all. Keep the hair on top short so it is standing up all on its own. This way you'll be free from using any hair products. In the end, the result is still pretty good.
8. The classics
This is what the classical African American blowout hairstyle looks like. The hair is properly shaved to create a circle around the head which outlines the top part. The hair on top is left about 5-6 inches long and styled with the use of some hair gel.
9. Blowout art
When you are shaving some hair off, regardless the style you are making, there is always room for art. So when the shaving is done for the blowout, there is a lot of room for creativity. Go for lines or geometrical shapes to make your blowout haircut look even more amazing.
10. Long blowout
A blowout look can be achieved without shaving. All you need to do is keep the hair on the sides short and style the top part on the blowout way. Since you are being a little lazy with the shaved part, make sure to do your best with the top part styling.