Today's comb over haircuts isn't the same as they were in the 1980s or 1990s. If you're thinking of that signature middle-aged look that involves plastering a few strands of hair over a thinning patch or a bald spot, you're barking up the wrong tree.
Comb Over Haircuts
The key to choosing a complementary comb over hairstyle is to make sure that it works with the angles of your face and highlights your features. There's nothing to hide behind with a cut like this, plus the look requires styling and upkeep. Bearing that in mind, here are some of the hottest examples of the comb over trend. Which one's going to become your new signature 'do?
1. Tapered and Tidy
Not all comb over haircuts is over-the-top. This style is an excellent example of a neat, tapered comb over. Actually, it's more of a comb up. In styling this cut, you use the same technique that you do for a faux hawk by finger-combing the hair up and slightly forward. Instead of a pompadour in the front, the hair is slightly spiked.
2. Chic and to the Side
This haircut doesn't have quite as much height. It's more of a preppy-inspired 'do, making it an ideal corporate cut. The sides aren't nearly as short. To get that chic final touch, you simply comb your hair with the hint of a part.
3. Subtly Slicked Back
Any man will look as handsome as a Hemsworth with this subtle take on the combed over crop. The different lengths blend together seamlessly. This is a great comb-and-go cut. It requires very little product and maybe a puff of hairspray—that's it.
4. Close Cropped Sides
The men's undercut is one of the sexiest looks a guy can ask for at the moment. It gets women swooning like nothing else. Not only is it one of the most popular comb over haircuts, but it's also one of the most universally flattering. Ask the barber to keep the top long enough. The idea is to wear it just like this, softly brushed back from the face.
5. Shades of American Psycho
Fans of Patrick Bateman already know this combed back aesthetic. Sophisticated preppy meets Wall Street wealth in a sleek, timeless cut that never goes out of style. Avoid the cropped sides with this version. It's all about length.
6. The Vintage Take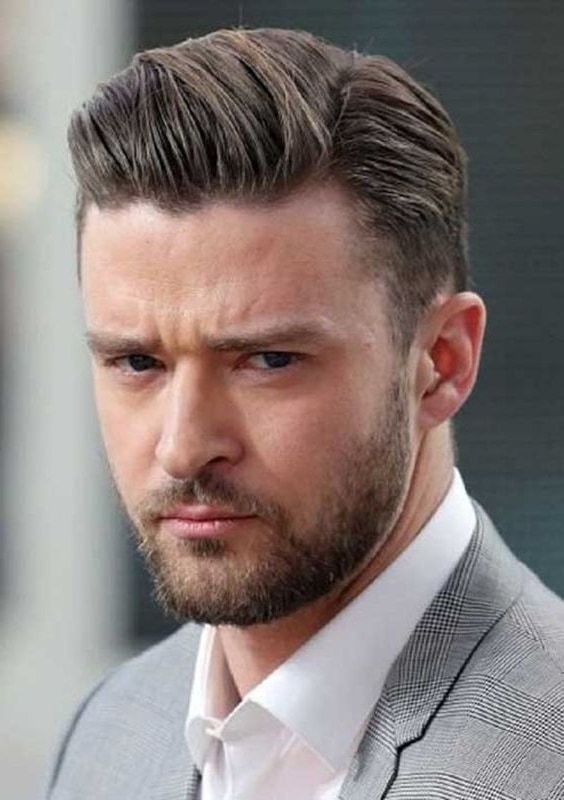 Now that Justin Timberlake no longer has an oodles of noodles 'do, he defines #hairgoals for quite a lot of guys, and rightly so. Learn how to do a comb over with short hair by stealing JT's look. Notice how the sheared sides transition into a longer length closer to the crown. That clean part is an important detail, too.
7. Up and Over
To achieve a comb over like this, you have to focus on volume and height. That high spike requires a product to keep its shape. At the very least, you have to spend some quality time with your blow dryer to perfect this style. Don't worry, though. It's as easy as combing your hair up and to the side.
8. Fade into Curls
There's a lot going on here, but all of it's on-point. Men with naturally curly or wavy hair bring a new dimension to the combed over undercut. Notice how his hair is shortest around the temples and the nape of his neck. The fade is crucial. You also need to ask the barber or stylist to create a clear line of delineation at the part.
9. Combed Over with a Sleek Side Part
Everything about this comb over hairstyle is sleek, polished, and put together. This is a cut that easily carries you from the office to the club, from the classroom to the bar, or from the gym to the movies. It always looks good, it's easy to style, and because it doesn't require much shaving, the upkeep is fairly minimal.
10. Back Combed Undercut
A simple undercut can take you far. There's no fade to deal with here, just a simple shave. Styling is just as effortless—all you have to do is slick back your hair, make sure it stays put, and off you go. Look for flexible hold products, though. You don't want a hairdo that looks like a helmet.
11. The Flawless Fade
You're looking at the perfect fade here. It's more like a work of art than a hairstyle. Notice how blended everything is, including the swoop and shape of the longer hair on top.
12. A Casual Swoop
This classic combed overlook is easy to style and maintain. The sides can be a bit longer with this variation. It helps to create a slightly shaggy aesthetic, which is irresistible, especially when accompanied by that soft side swoop.
13. Softly Spiked
Spikes work well with comb-overs and undercuts, as you can see. You don't have to go crazy. Place a small dollop of gel or styling wax in your palm, rub it into both hands, then comb your fingers through your hair, always directing it upward. Voila! It's that simple.
14. Spiked to the Side
Here's another example of subtle spikes. Actually, with this comb over a haircut, the spiking effect almost creates a pompadour. It's not quite there, but that's what leads this look to its casual, devil-may-care appeal. You can check other spiky hairstyle ideas for men here.
15. Pompadour and Circumstance
Look at the shaping of this combed up pompadour. It's perfect. The key here is to finger-comb your hair from the sides, pushing it toward the middle. If you're careful and patient, you'll end up with the same subtle, swooping pattern seen here.
16. The Comb-Hawk
This haircut takes the classic comb over hairstyle and then goes crazy with it. It's more than a faux hawk but less than a mohawk. It's a punk rock take on the undercut, with just enough tousling to look charming.
17. Sharp Edges
If you want a sharp style, this is your end goal. Not only is the fade flawless, but the etched edges create sharp contrasts that keep people staring at your daring 'do. Those swoopy spikes are a must, as well, but you might want to skip the frosted tips.
Amazing Comb Over Hairstyles with Low Fade
18. Effortlessly Elegant
The next time you need a hairstyle for a formal function, look no further. Everyone loves the guy who looks like he's not even trying to look like a million dollars. Wear your comb over like this, and you'll look red carpet ready even if you're just going to the office Christmas party.
19. Scruffy but Sleek
The easiest way to ask for a comb over haircut is to describe a style like this. There's nothing complicated about it. Styling takes seconds, if that. Best of all, it goes well with a beard. Can't beat that.
20. Platinum Fade
To pull off a bold look, you have to exude confidence—and nothing says confidence like bleaching your hair platinum. Even if you're not ready to go that far, the style itself is on fire—literally, he looks like his hair's going up in white hot flames.
Comb Over Hairstyles for Short Hair
Men have been gifted with a whole lot of variety of hairstyles this year, to begin with. From short combovers to sleek undercuts, it just makes one want to stop and admire the art going on in their hair and how perfectly it suits their face cuts.
If you have a neatly-trimmed hairline that gives just the right angles to your face, then you should go for a short slick back comb-over like this one.
Undercut hairstyle has been trending for quite some time which is the very reason why it blends in with any kind of hairstyle being demanded. Combining an undercut with a short comb over would make one look classy as ever.
If one has light-weighted hair, then they should opt for this look. The hair is super bouncy which attracts more attention towards them. One should get short layers in their hair with some highlights to make each layer stand out on its own.
24. 3-In-1 Comb Over Hairstyle
This hairstyle is for those men who are a fan of trying something new and adventurous. Carrying 3 hairstyles at once can seem to be a tough job which it actually is, but with practice, everything becomes perfect.
This hard part comb over hairstyle for short hair is high maintenance, so if you're up for giving your hair some extra time and effort, then go for this look.
25. Messy Combed Hair
Not every time does a neat haircut look good and defines the term classy. Sometimes it's just okay to have a "just got out of the bed" look which seems even sexier if one is daring enough to wear it outside the house all day long.
If you already have tried a short comb over, then you can upgrade your style by dying your top hair into a color tone that you have never had before. One can also opt for just bleached hair, but if you're dying your hair for the first time, then this would be the right thing to do so.
If you're living in a country where it gets super-hot and humid most of the time, then having a faded undercut on comb over would be the right thing. The hair is short, requires lesser products to tame them in place and needs combing over once only.
If you have a beard, then the faded look can continue with your beard which gives a nice symmetrical continuation of the hair onto the face.
The majority of the men think that if they have curly hair then they have no options to go for when it comes to hairstyling. This is wrong because it's actually a blessing to have curly hair as it's natural and looks super-cute on them. To style curly strands, go for a side-parting for short hair comb over style with a nice faded side undercut.
29. Wavy Comb Over
Just like curly hair, wavy short hair can also be styled in a comb over. In fact, it looks even better if you have natural waves forming, making the hair look like a sea of waves. This look is extremely classy and makes one look like they've stepped out of a magazine cover.
30. Undercut Sidelines Comb Over
The last one on the list is an addition to the short undercut hairstyle. If you're bored of a plain undercut on a comb over for short hair, then add some sidelines to really accentuate the partition of the top and side hair.
Not every man can pull off comb over hairstyles, but many of them can. The cut's a universal pleaser, and because there's such an array of variations, it's not difficult to find a cut that suits you.