What is it about the classic men's side part? It's a seemingly simple hairstyle. If you have a comb and decent eyesight, you can easily create an even part. There's a polished appearance to it, that's the thing. It's evocative of the 1950s and early 1960s, back when men wore hats and got their hair trimmed once a week. Who doesn't love the Don Draper aesthetic?
At the same time, however, the side part is versatile because it works with almost any length of hair, and even though it's unquestionably office-appropriate, it also makes for a stellar date night hairstyle, as well as a solid everyday 'do.
Men's Best Side Part Hairstyles
It's fun to experiment with the latest hair trends every once in a while, but there are reasons side part hairstyles for men always make a comeback. It's because they've never really gone away.
Side parts fade into the background while fresh hairstyles take center stage for a season or two, but everyone from fashion insiders and men's style magazines to regular guys keeps returning to the simple side part. It's timeless now—a classic. It always looks good, even if it isn't in vogue at the moment. The fact that it sprinkles your appearance with the faintest hint of retro flair is just a bonus.
1. Lifted Top
Most of these short hairstyles with a side part feature low, mid, or high fades. In some cases, like the one above, the transition is not made gradually. Do the same if you want to highlight the styling for the top better.
2. Ultra Long Hair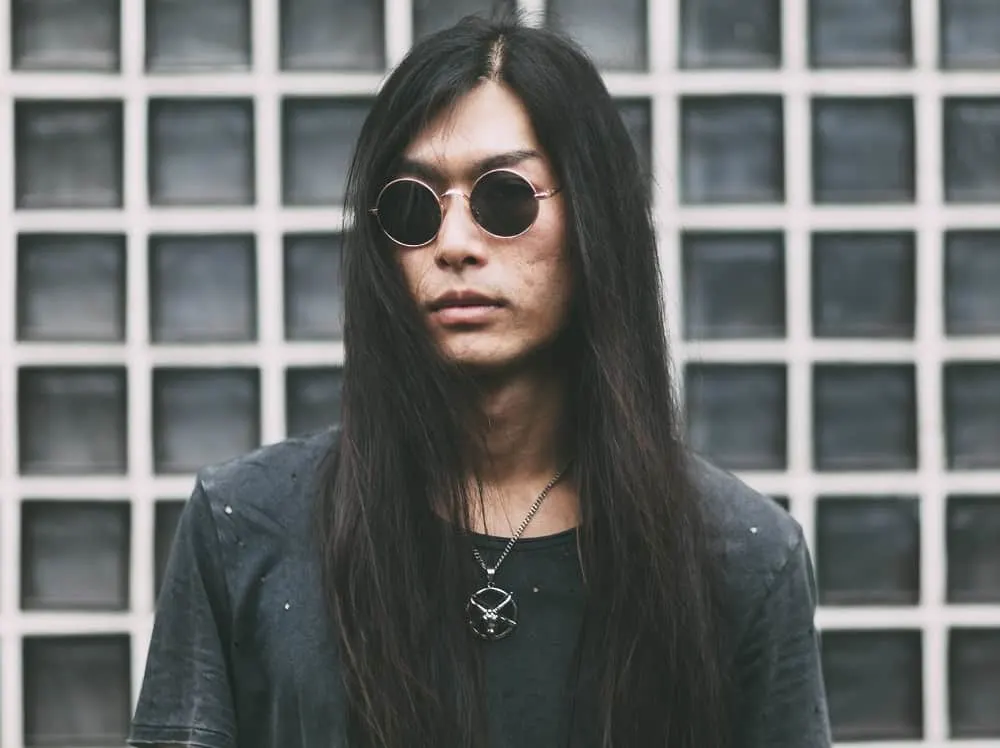 When you have such long hair, you have plenty of options when it comes to styling. Create a one-sided part and wear the mane split in the middle on your shoulders. To match your overall look, keep the styling messy, and don't forget to grab a cool pair of glasses.
3. Side Part with Curls
This gorgeous look draws your attention in a matter of seconds. The first thing that gets the eye is that fabulous top curly section with a slightly diagonal part. The ringlets have volume, and the overall hairstyle shows height and dimension.
4. Businessman Look
As a businessman or a guy who always wants to look professional, even with longer hair, the side part is literally on your side. Part the hair like in the image above and use pomade. Comb the hair to the back. This way, your face features will be beautifully highlighted.
5. Comb Over
A comb-over is a great way to style your hair when you possess a longer top. Style the part on the lateral and messily flip the hair towards the back. If you want a more interesting touch, you can go for a mustache and a goatee.
6. Straight Blonde Side Part
Teenager side parts are always more dramatic. In this case, there is a huge difference between the laterals and the longer top. So swoop those long tresses to the side and use a straightening iron to make them look flawless. To boost the look, style a few thick highlights.
7. Curly Hairstyle
Having such curly hair can be a bit of a struggle for any man. But it would be best if you found the right haircut and a way to style those ringlets fast and easily. So keep the hair in medium length and do a side part.
8. Asian Waves
With or without undercuts, block cuts are very popular among Asian men, especially teenagers. Do a side part and flip your hair towards the ear. Use a strong hair fixer and use your hands to lift the roots.
9. Salt and Pepper Hairdo
Embracing your white threads can give your look a new vibe. Coolness, wisdom, and a little bit of casual can live under the same roof. So opt for medium hair that covers your ears, a long beard, and a mustache.
10. Lifted Roots
When you want more dimension and volume for your side part, you need to work on your roots. So grab a product that holds hair and lift that hair using your fingers as a comb. Get a beard and a mustache that frames your mouth.
11. Ginger Swoop To the Side
Such hair colors are really rare and there are many out there that would trade anything to have such a fabulous hair shade. So don't keep your tresses shortly trimmed, but find a medium hairstyle that allows you to brag about your nuance.
12. Messy Long Hair
If your hair is wavy, you should consider getting a layered hairstyle with a side part. You will pass the vibe check and will look absolutely stunning. It will have more dimension and volume and will certainly boost your confidence.
13. Long Top
Go for a mid-high fade with a rough transition. For the top, use a pomade and comb your hair slightly on one side and to the back. Keep a clean face for a sharp, neat look.
14. Side Swept Dreadlocks
Dreadlocks are fun, cool, and a great way to express your personality. No matter their length, size, or thickness, you can wear them side-swept, in a big bun, or tied up. The whole hairstyle is so low-maintenance, so you won't have to worry everyday about your hairdo.
15. High Top
High-top hairstyles can be both formal, casual, or elegant, depending on how you choose to style them. So if you're going for a professional look, make sure the crown hair has a prominent look. And it looks gorgeous with a fine suit!
16. 80's Hairstyle
Mullets are such old-school hairstyles that men in the 80's used to wear. Even if teenagers nowadays adapted the hairdo to modern times, there are a few men out there who love sticking with this look.
17. One-Sided Hairstyle for Older Men
At a certain age, your hair starts falling off and you'll find yourself with large bald sections around the forehead. A medium hairstyle with side-swept bangs will certainly improve the situation.
18. Hairstyle with Long Sideburns
Sideburns and 80's looks are back in trend, but they suffered a modern reinterpretation. So if you want to impress with your new hairstyling choice, include a mustache and make those sideburns transform into a small beard.
19. Messy Long Bangs
The focus point of this hairstyle is certainly given by those long one-sided bangs that reach the cheekbones. The hairstyle is asymmetric and an amazing option for those who have a slightly rounded face.
20. Sleek Look
Sleek looks will make any man look professional and elegant. Start by creating the part and while your hair is still damp, apply the pomade. Use a regular comb to make that flawless appearance. If you want to look more experienced, get a short mustache.
21. A Wave Runs Through It
Thinking that all side part hairstyles for men are flat and one-dimensional? Think again. Whether you have a natural curl or if you have to create the volume yourself, adding some height to your part also adds more depth and dimension.
22. Back and to the Side
Side parts are surprisingly versatile because there's no one way to part your hair. Take a page from JT's book. Opt for an unconventional take on the part by dividing your hair at a slight angle and combing it back as well as to the side.
Best Soccer Player Haircuts for Men
23. Timeless and Tempting Gentleman
A simple side part is swoon-worthy. It gives off the faintest hint of preppy charm. To make it your own, you can always add a little swoop or a small pompadour, like Francisco here.
Undercuts are hot when you part them to the side. This isn't a buzzed undercut; it's a closely cropped men's side part that's actually ideal for the office—and for off-duty activities, as well. The height creates eye-catching volume.
25. Slicked Back
Now that Clooney no longer has Caesar bangs, we can go back to admiring his polished style and movie star good looks. If you, too, have a thick head of hair, a traditional side part might cause your hair to flop over your forehead. Let a lock or two fall, but slick back the rest of it—light touch of gel or pomade should hold it.
26. Long Side Part
Short hair isn't a requirement for a side part. An asymmetric haircut like this looks smoldering and dramatic when parted to one side. It's not a bad idea to ask for layers if you're interested in a similar style. That takes away some of the weight so the part falls evenly and stays in place. If you're confused about whether to part on the right or left side, read this research.
27. Gentlemen's Straight Edge
This is almost a regulation haircut, it's so precise and clean cut. It's technically just an undercut, but the close buzz and slicked down part turn it into something else entirely. See? Versatility.
There's enough lift here to qualify this as a men's side part with a pompadour. It adds an eye-catching pop to this handsome man's profile. The fade along the sides is masterful, especially toward the top.
29. Preppy Goes Edgy
The preppy look is clean cut but just careless enough to give off an air of indifference. The variation you see here is actually hiding a little edge, however. Take a look at the asymmetric sides. That's a minor, subtle detail, but not one you expect to see with a style like this.
30. Swooped to the Side
A little swoop is an eye-popping detail that sprinkles vintage style over your look. This is just an undercut with faded, closely cropped sides. The top is rather long, but you can mimic this side part hairstyle for men with nearly any length.
31. Outwards Top
32. Side Flip
33. Thick Side Hairstyle
34. Elvis Look
35. Classis to the Side Hairstyle
36. Casual Curly
37. Lifted Roots

38. Metallic Aquamarine
39. Messy Top with High Fade
40. Medium Long Hair
41. High Top Hairstyle
42. Smooth Fade
43. Pink Frizz
44. Casual Ringlets
45. High Fade with Upwards Top
46. Hard Part and Fade
47. Asian Hairstyle
48. Continuous Look
49. Student's Cut
50. Business High Top
51. Hairstyle for V Hairline
52. Razored Design
53. Hard Part with Height
54. Rounded Hard Part
55. Sleek Blonde Trim
56. Multicolored High Top with Fade
57. Hairstyle for Fine Hair
58. Men's Thick Hair Sided Hairstyle
59. Hairstyle for Rounded Faces
60. Medium Surfer Look
Side parts are sexy, provided you style them in a way that flatters your hair and face. As you can see, it's not that hard to find a cut that works. Are you ready to practice your part?