In case you haven't noticed, short blunt cuts are trending in 2022. These straight-across cuts make hair appear thicker whether you've chosen the style for a bob, lob, or pixie cut. Blunt cuts are typically worn in straight styles to emphasize that clean chop, but you can easily incorporate texture into your look.
The Very Best Short Blunt Haircuts
We've pulled together the top 10 short blunt cuts that suit pixies and bobs alike.
1. Short and Round Blunt Cut
You can blend roundness into the straight lines that usually accompany a short blunt bob. If your face shape is oval or particularly long, these rounded ends will help to fill out your hollow cheeks with style.
2. Blunt Cut for Black Hair
Chemically straightening natural hair can be damaging, but a short blunt cut for Black girl will encourage healthy hair growth. Chin-length is trendiest as it frames a gorgeous face!
3. Edgy Bowl Cut
This blunt bob with bangs is a modern take on the bowl cut style. Multiple layers of blunt cuts take a previously simple style and make it truly interesting. Cut bangs bluntly across the eyebrows and in another section, over the ears.
4. Blunt Cut Pixie Bob
This blonde short blunt cut takes the best aspects of both a pixie and a bob to create edgy appeal. For this look, the ends of hair should skim the cheekbones. As much as we love this middle part, hair can easily be swept over to one side for a feminine touch.
5. Deep Side Part
Choose a short blunt haircut with side part if you have an oval or round face shape. Most of this hair is bluntly cut, but shorter pieces at the front add softness and dimension to this look.
6. Blunt Cut for Thin Hair
The best way to conceal fine locks is with a short blunt haircut for thin hair. Cut it all one length to give hair a full, thick feeling. Choosing a middle or side part is all up to you and your face shape.
7. Short Blunt Cut for Mature Women
We love a short blunt haircut for older women because it's stylish and never dowdy. Hair with body looks great when blow dried and ends are slightly flicked out.
8. Sleek Center Part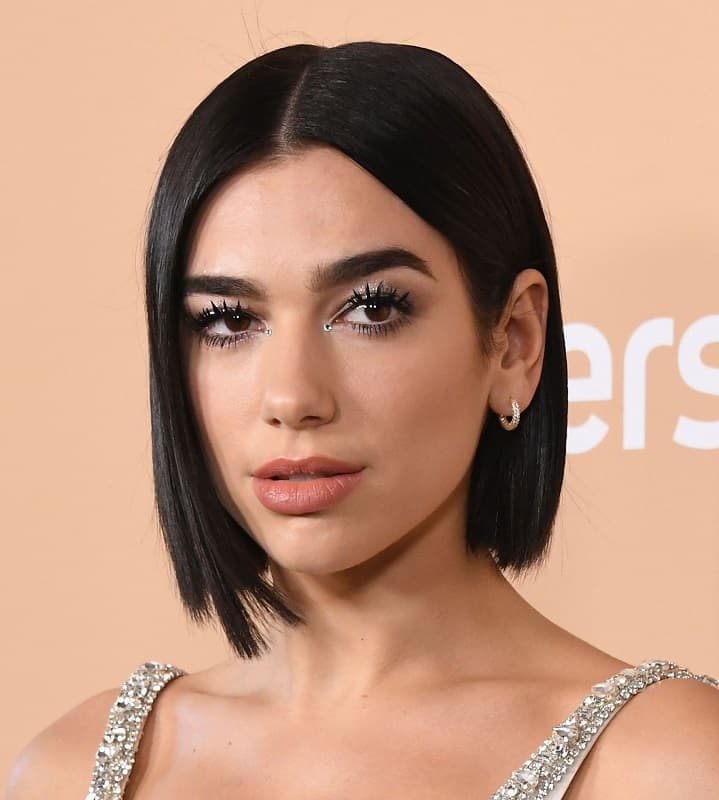 You know a short natural blunt haircut is cool if Dua Lipa rocks it! Sleek chin-length bobs are very trendy today, especially when paired with a center part that effectively frames the face.
9. Blunt Cut with Flipped Out Ends
Add a conservative touch to your bob by flipping out the ends of hair. A center or side part will do, but this center part look is all about pushing the hair forward and sweeping it back over the ears for a gorgeously polished style.
10. Blunt Cut with Texture

Believe it or not, texture works wonders on straight ends. The overall effect is modern and fresh, and what girl doesn't want that? Add a few bends and give hair a tousle. This cut is ever so slightly a-line, so hair is a bit longer on the pieces surrounding the face.
It's easy to see how a blunt cut not only polishes your short hair, but gives it a healthy glow. Add a bit of texture or leave it stick straight according to your preference of style.