A curly hair bob is the solution to all your struggles with having curly hair. With shapely styles that keep curls contained yet defined, and looks that flatter any face shape, it's a must.
New Ideas for Curly Hair Bobs
Curly bobs are fairly easy to manage, requiring only a trim every couple of months and maybe a little curl creme to keep them enhanced. Here are 50 gorgeous options for curly hair bobs.
#1. Short and Curly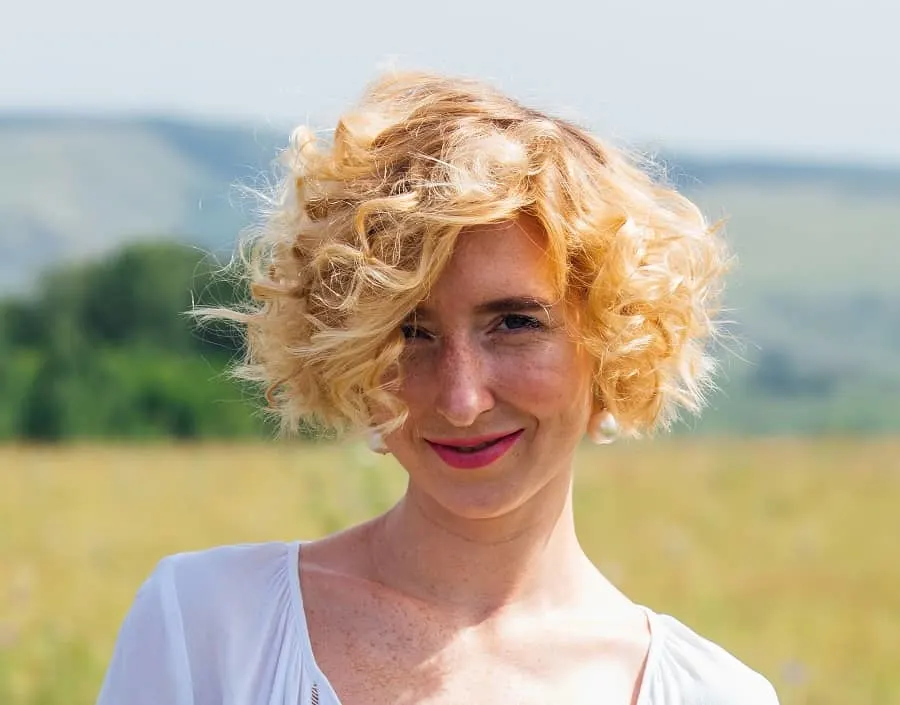 Keep it short with this blonde bob hairstyle. Remove bulk off the back and keep the front gorgeous with some curly side-swept bangs to cover a part of the eye. This hair look merely requires a hand tousle and gives a sun-kissed look.
#2. Curly Layered Bob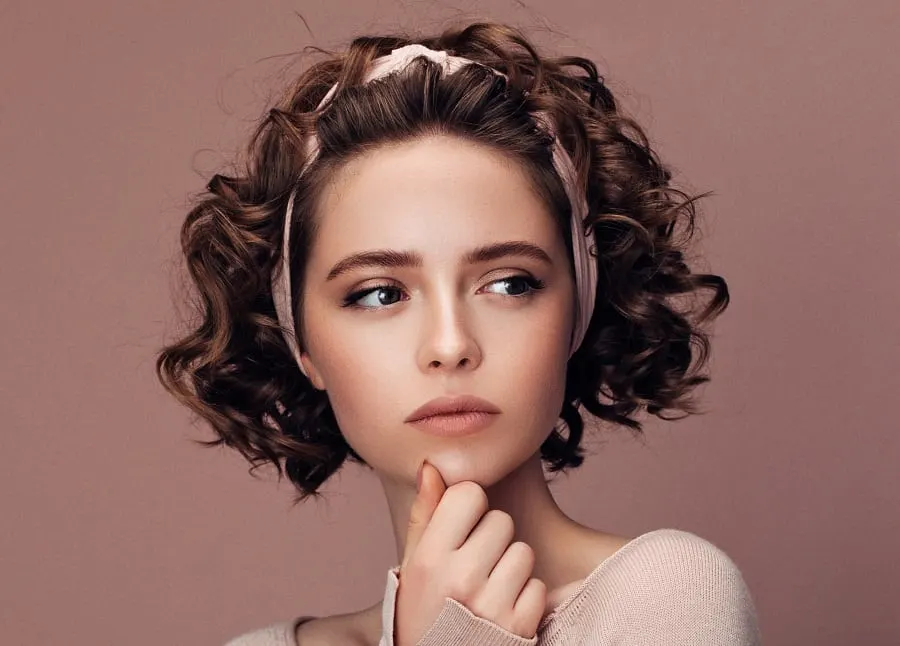 Flaunt your chocolate brown curls by getting a naturally layered bob cut. It is short at the back and longer at the front with the curls beautifully framing the face and creating a mystic look. The headband accentuates the style.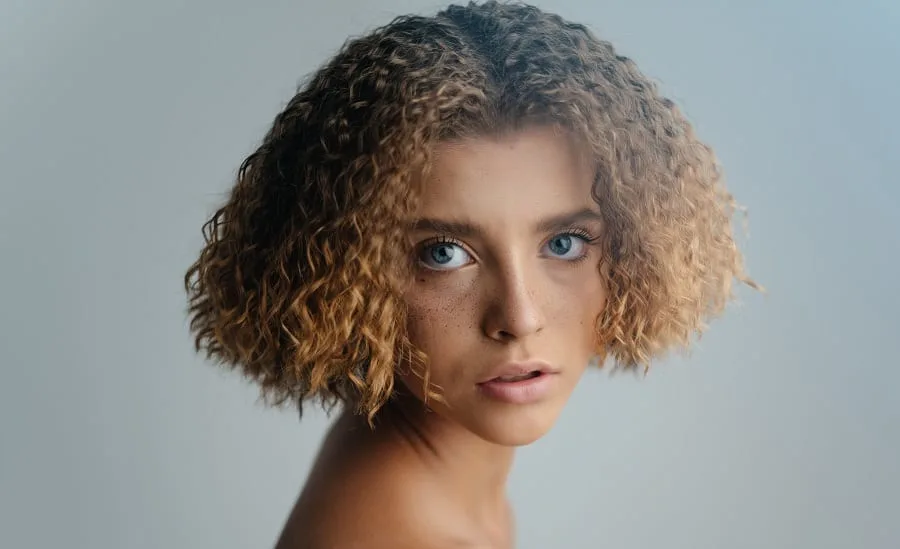 A blunt bob slightly above the chin creates a classy look. Keep the style simple with a middle part and the natural curls on both sides will do the rest. A blonde balayage further polishes this look.
#4. Cropped Bob with Bangs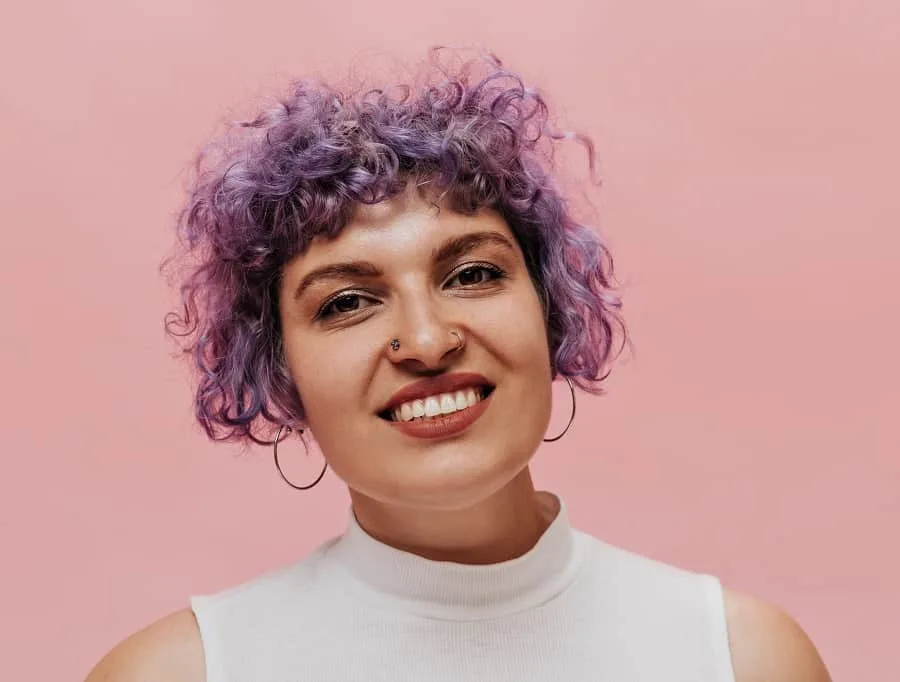 This hairstyle is for women who want to keep it low-maintenance. The curly strands are cut short enough to just cover the ears. The front is covered with curly micro bangs that are tousled to create a carefree look. The purple hue makes this hairstyle stand out.
#5. Go Green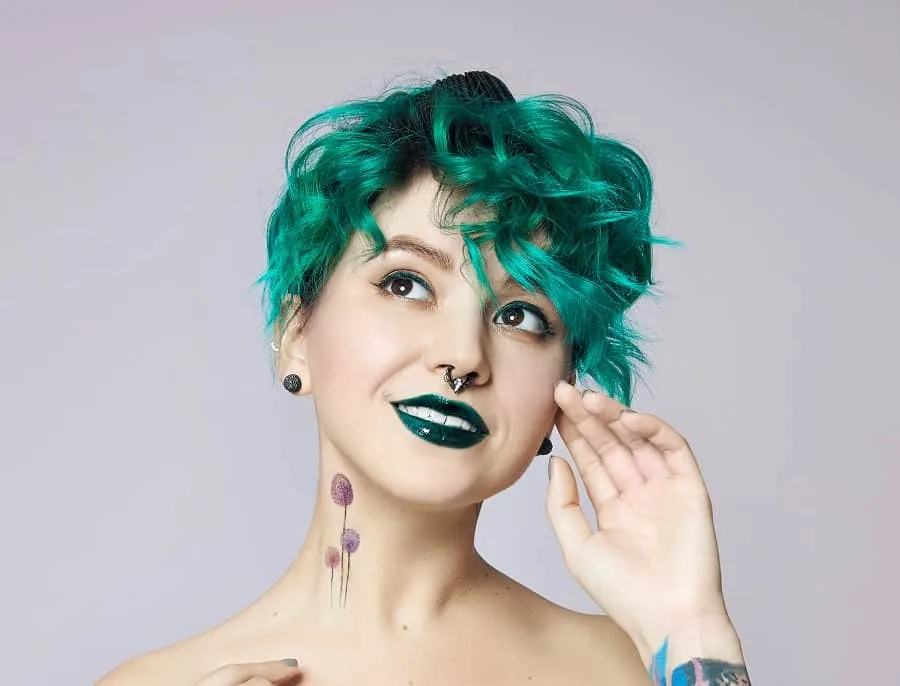 Grow out a short pixie cut into this messy curly bob hairstyle. The curls are dyed in shades of green and turquoise to create this magical hue. Cover the forehead with curly strands or keep them away with a headband to style this chic look.
#6. Short Afro Curls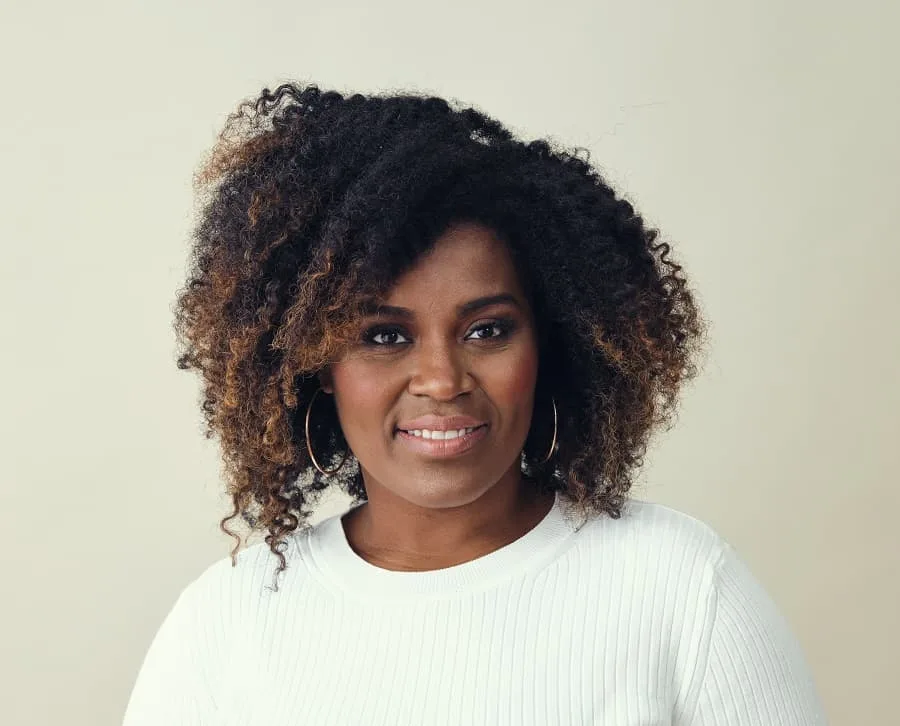 Afro curls can be styled into a bob too. The strands are naturally layered to create this style with a side part. Dye the tips of your hair in a blonde hue to complete this two-toned look.
#7. Classic Vintage Bob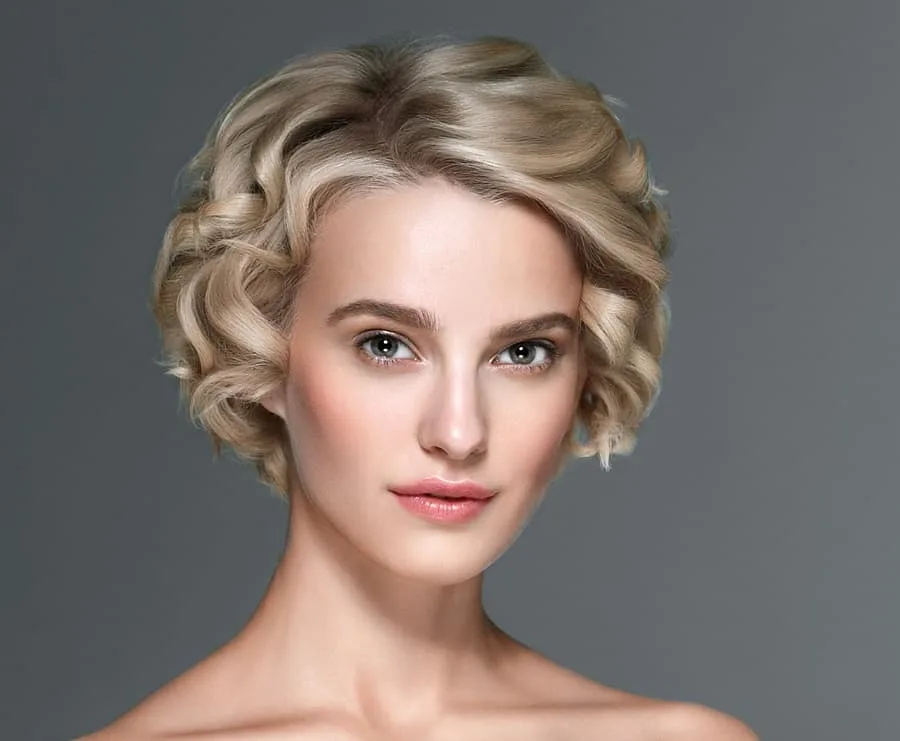 Somewhat between a pixie cut and a short bob, this hairstyle gives a classic vintage-inspired look. The back is kept short and the strands are wrapped in rollers overnight to get these chic feminine spirals. A simple side part completes this look.
#8. Deva Cut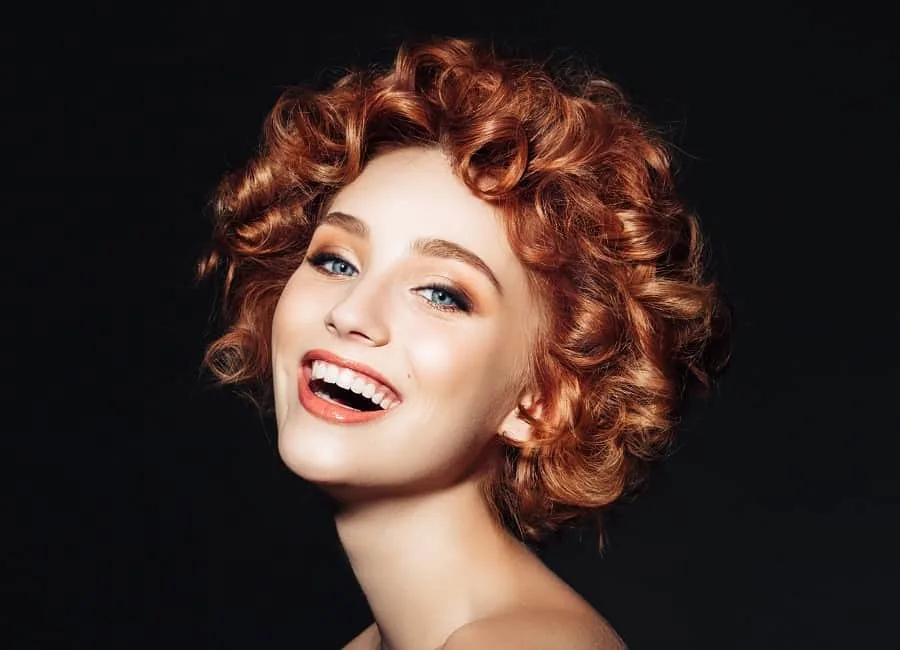 Nothing can beat this deva cut if you have curly hair. It is suitable for medium to tight curl patterns. The shorter pieces frame the face all along. This hairstyle is also ideal for the ginger heads out there who want to rock a short curly bob.
#9. Shoulder-Length Bob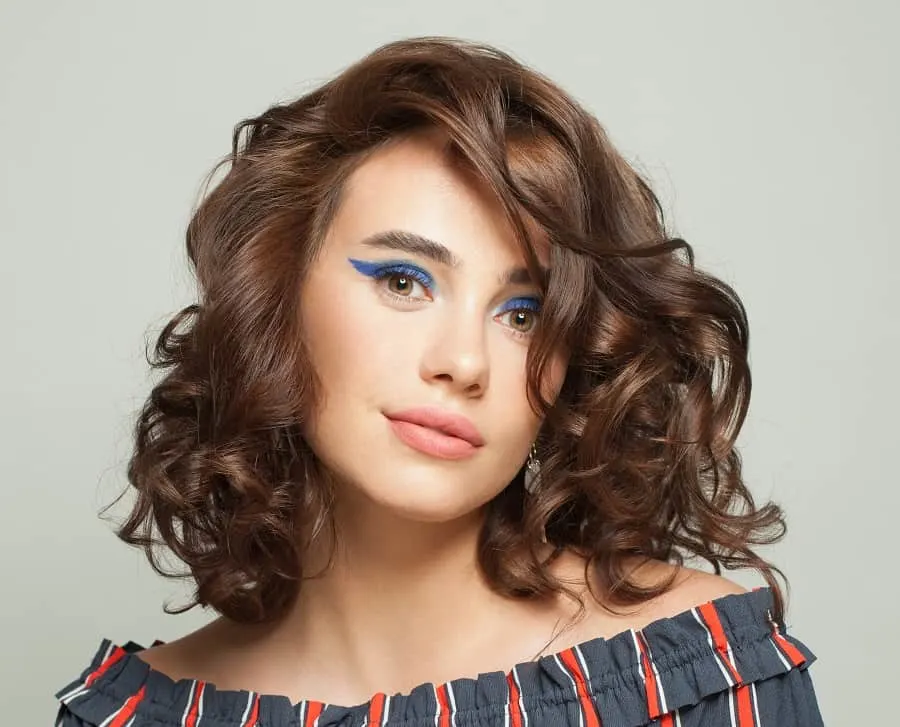 Glossy chocolate brown curls can be proudly flaunted with this shoulder-length lob haircut. The shorter pieces in the front frame the face with a side part. It is ideal for those who want to go short but not too short.
#10. Chin-Length Curls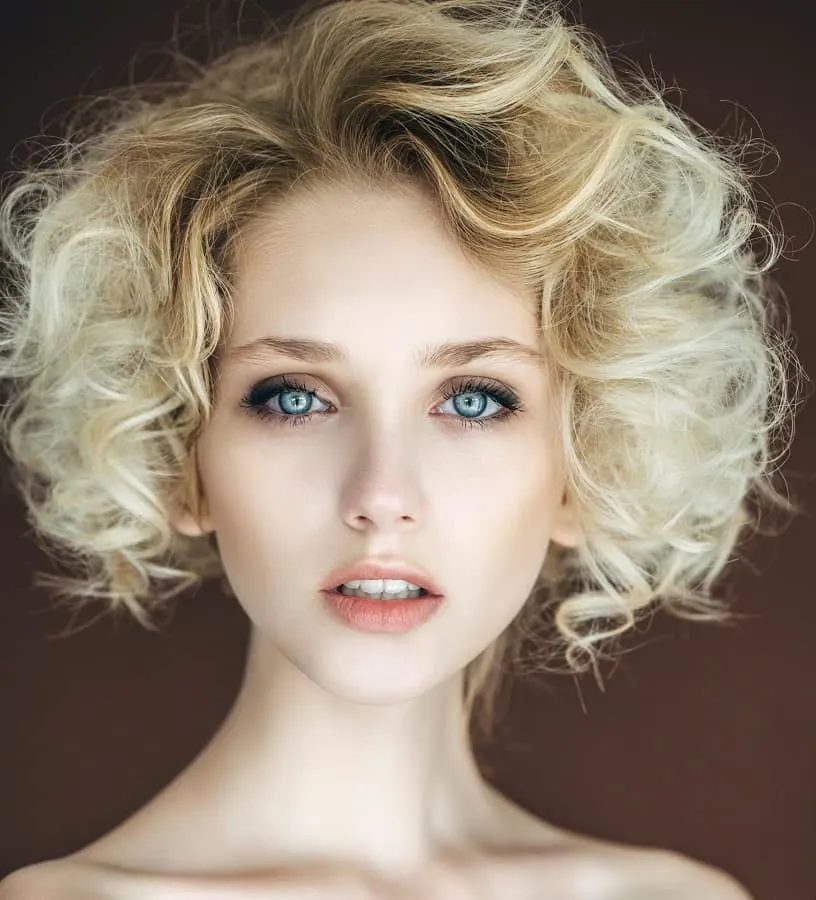 This tousled hairstyle is achieved with artful layers and a bit of teasing on a chin-length bob haircut. To get this three-toned look, keep the roots dark and add a blonde shade midway. End it with an icy blonde hue to complete the look.
With the right product, your curls will no longer be frizzy. They'll be the focal point of your style fashioned as a curly bob.
#12. Medium Curly Bob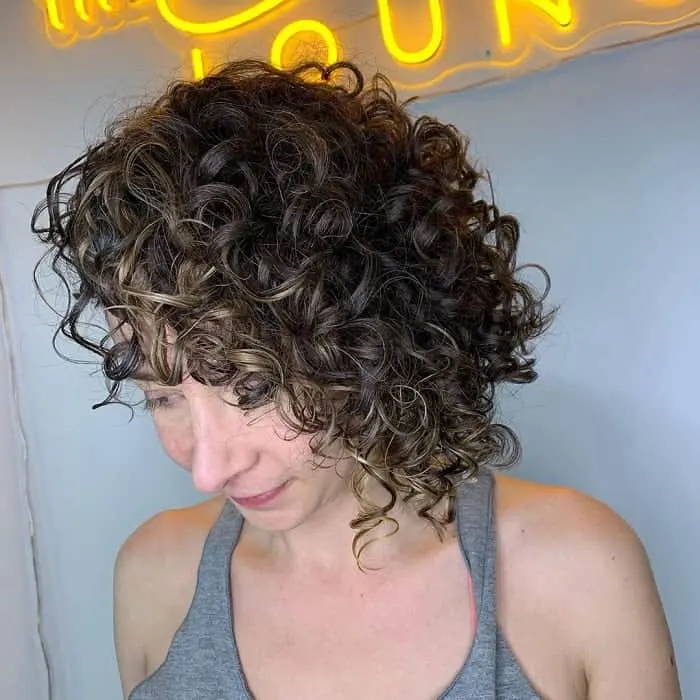 If you want to see what your hair would look like short but not pixie-short, a medium bob is for you. Here, one side is shorter than the other, creating an attractive uneven dimension.
#13. Curly Bob with Layers
Layering kinky-curly hair is the quickest and easiest way to make your thick hair tameable. From the front, it also makes hair appear square instead of round, great for round and oval faces.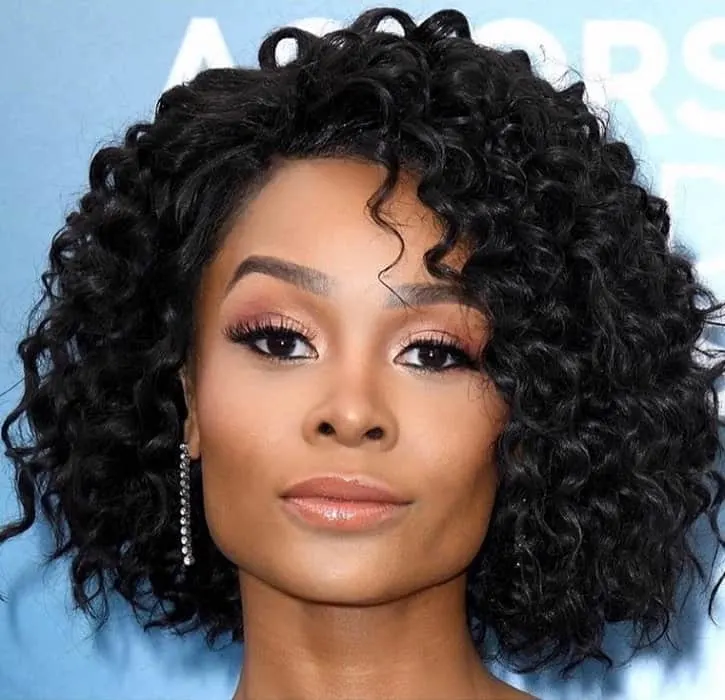 One of our favorite curly hair bob haircuts. A weave for curly hair will take the work out of adding curls. Get ready to wake up with textured hair minus the frizz. You'll only need to part the hair in the middle or side to be ready for the day.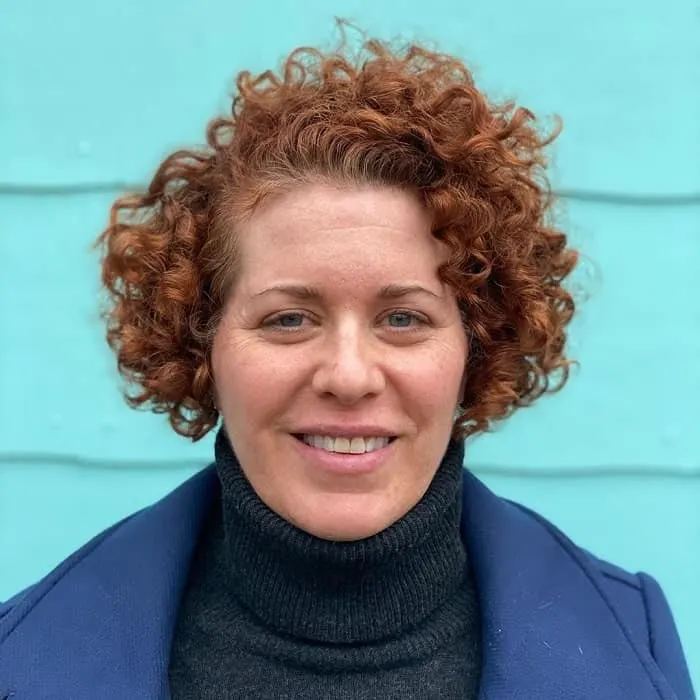 Fall in love with your hair all over again when you see how great it looks as a curly bob. Create short layers up top for height and texture. A rich red or another color will make curls look more luscious.
#16. Inverted Bob for Curly Hair
Inverted bobs bring the focus to the back of the hairstyle. Your springy curls will be the envy of everyone with the way this style has long locks framing the face.
#17. Stacked Curly Bob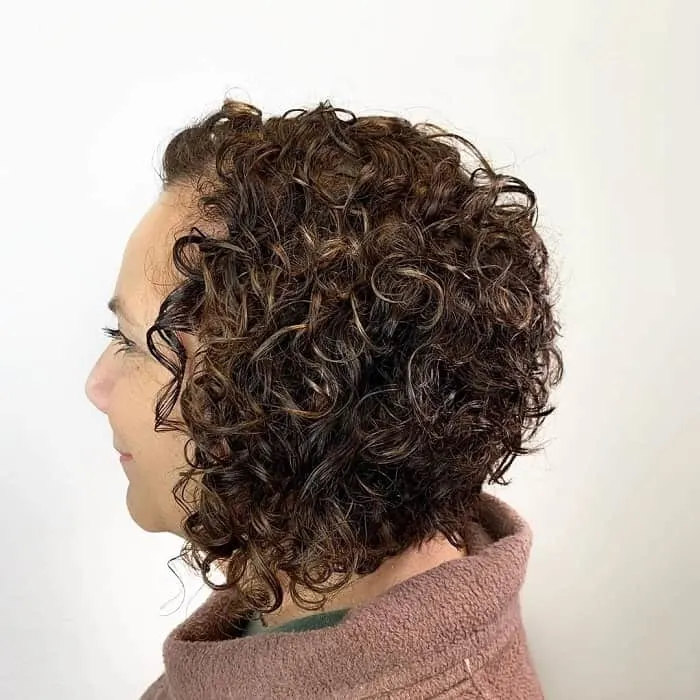 Stacked bobs also focus on layering above the nape of the neck. While there are longer sections of hair near the face, you can cut a few shorter pieces to create curtain bangs.
#18. Curly A-Line Bob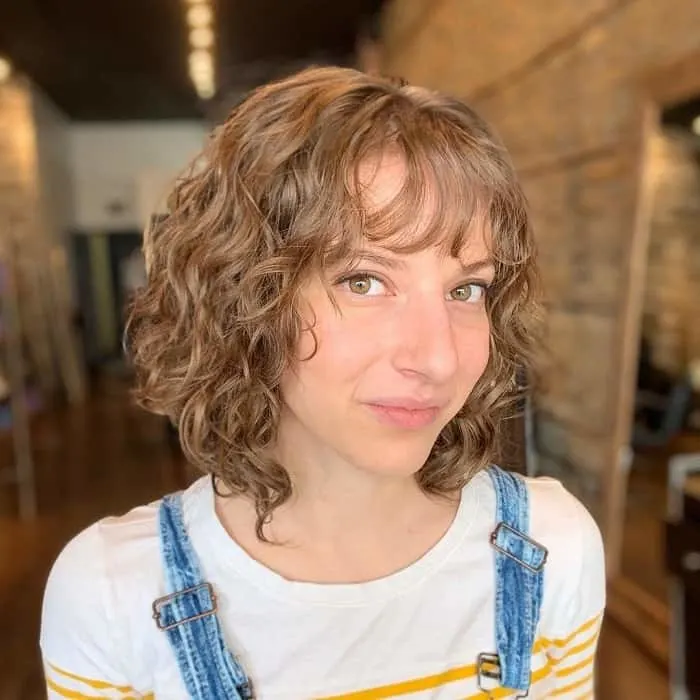 An A-line bob with straight bangs is a very girl-next-door hairstyle. A-line bobs look great on any face shape but will definitely appeal to women with large foreheads who wish to cover them up.
#19. Thick Curly Hair Bob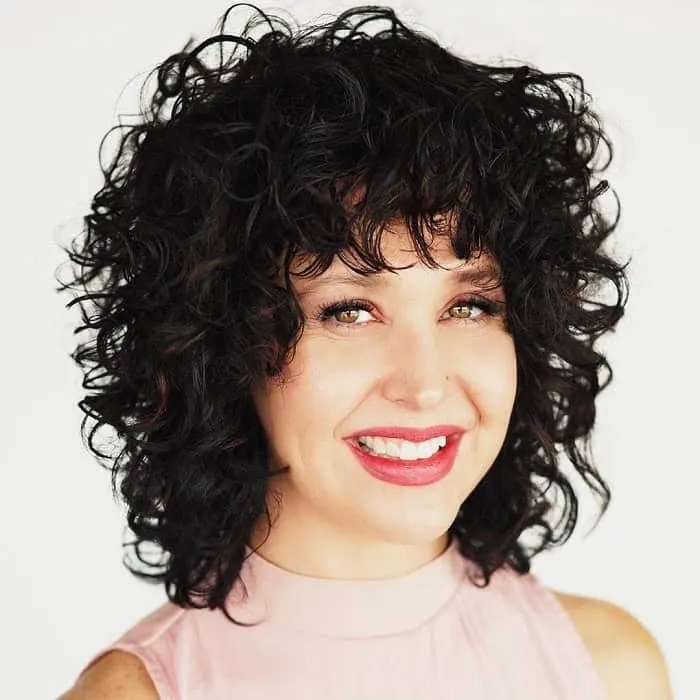 To add height to a curly thick bob, layers should be added. The shorter they are up top, the more volume will be added. Short bangs above eyes round out the style.
#20. Bob Cut for Thin Curls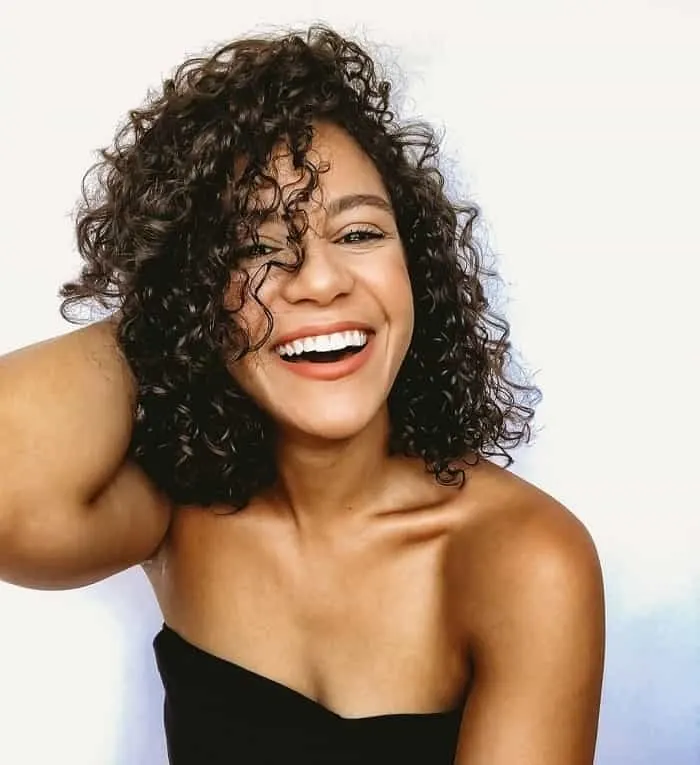 Thin curls are luckily very easy to style. They won't need many layers because hair isn't thick, however, a bob with a choppy cut on the bottom will assist with shape. To create a side bang long enough to pin back, focus layers near the front.
#21. Sew in Curly Bob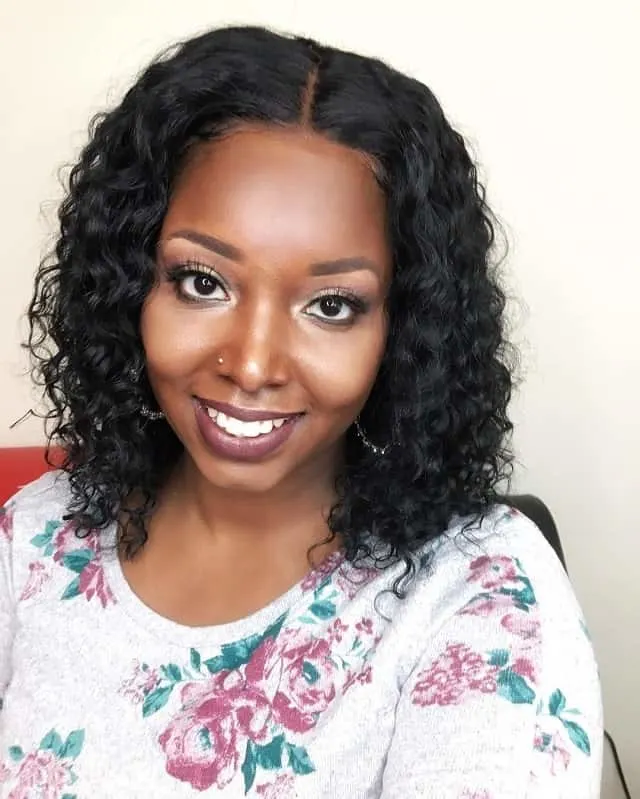 In the process of growing your hair out? A sew-in bob is your ticket to a gorgeous bob that will last for several weeks. These soft curls are serene and compatible for both office or home.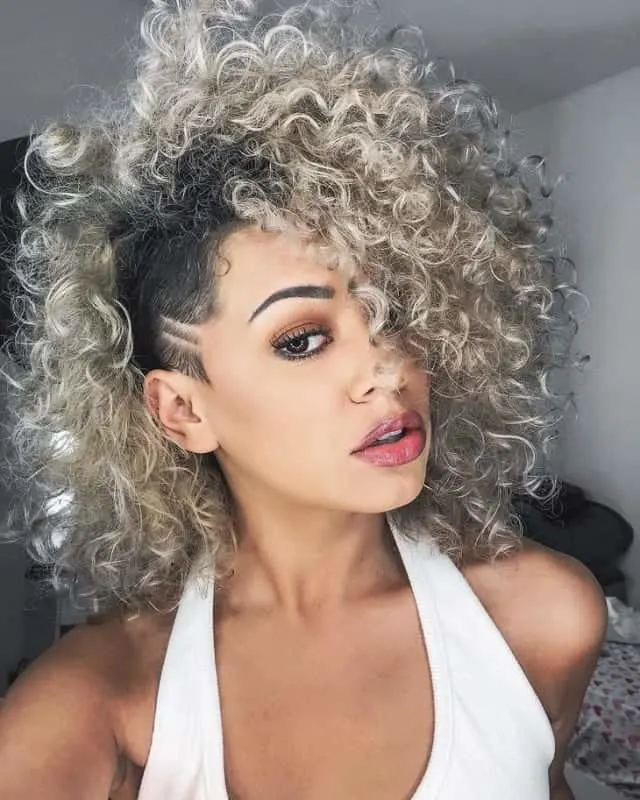 The short layers at the top of a curly bob show off beautifully highlighted curls. A small shaved area near the face makes for cool detail. Add two shaved lines or another design to make it edgy.
#23. 3b Bob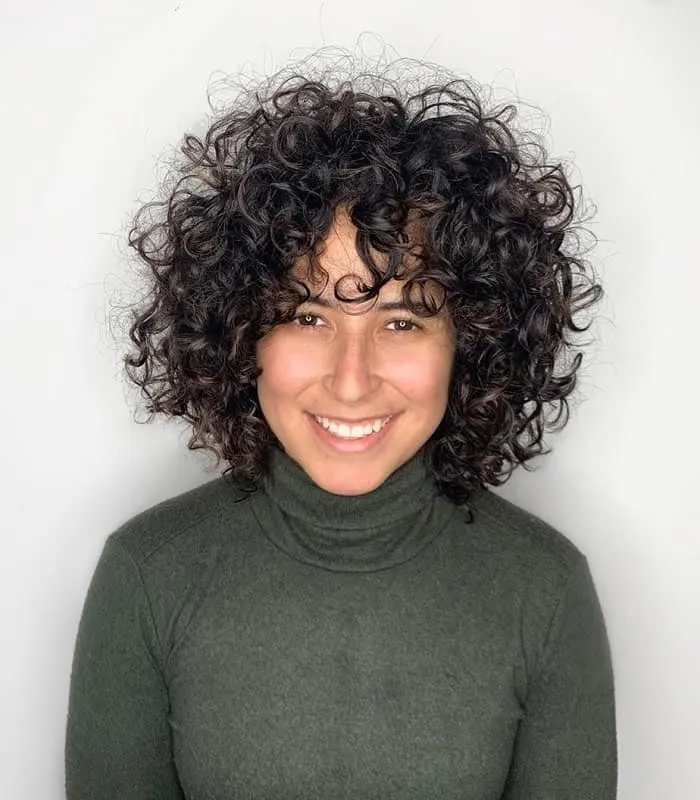 3b curls are spiral-shaped and bouncy. Since your curls won't need any help with volume, you can instead help their shape with a shoulder-length bob. Mousse and leave-in conditioners will control any frizz.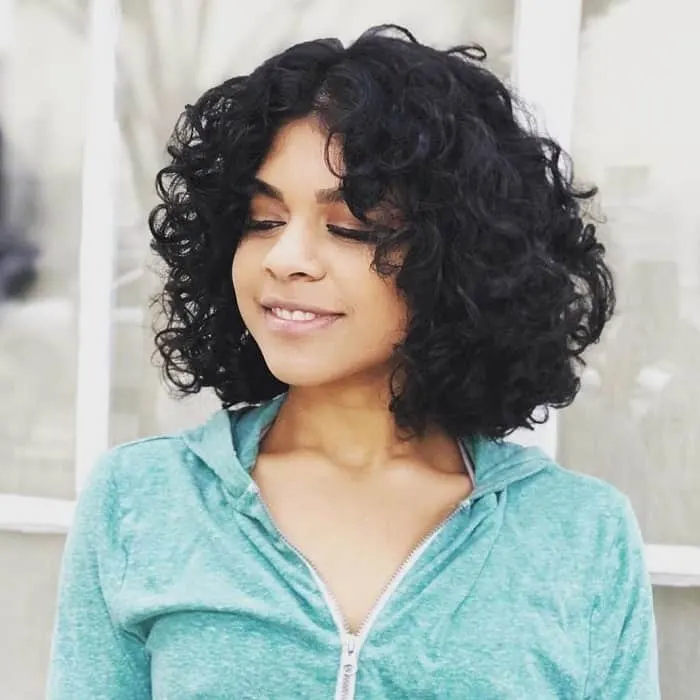 Center parts create symmetry on round faces. Layers that start close to the forehead will fall beautifully along the sides of the face so you can feel comfortable wearing your curly bob down.
#25. Curly Pixie Bob
Be bold and try a pixie bob whose locks are only a couple of inches long all over. Fringe is minimal if any but you can straighten it to easily create some. This is one low-maintenance hairstyle.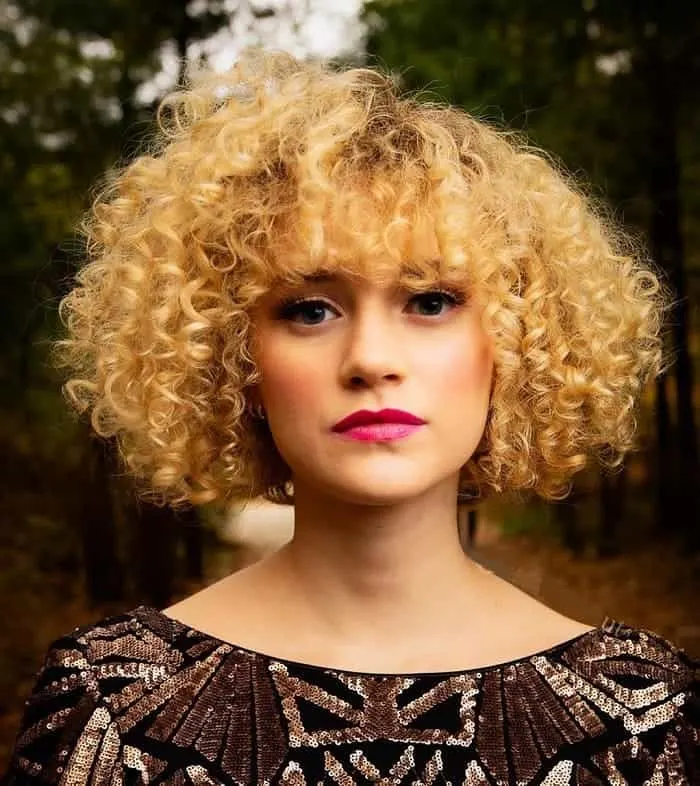 Take your bob back to the 70s with blonde color and messy curls all over; long bangs can be worn over the forehead or pinned back. The key to this hairstyle is avoiding making it too neat.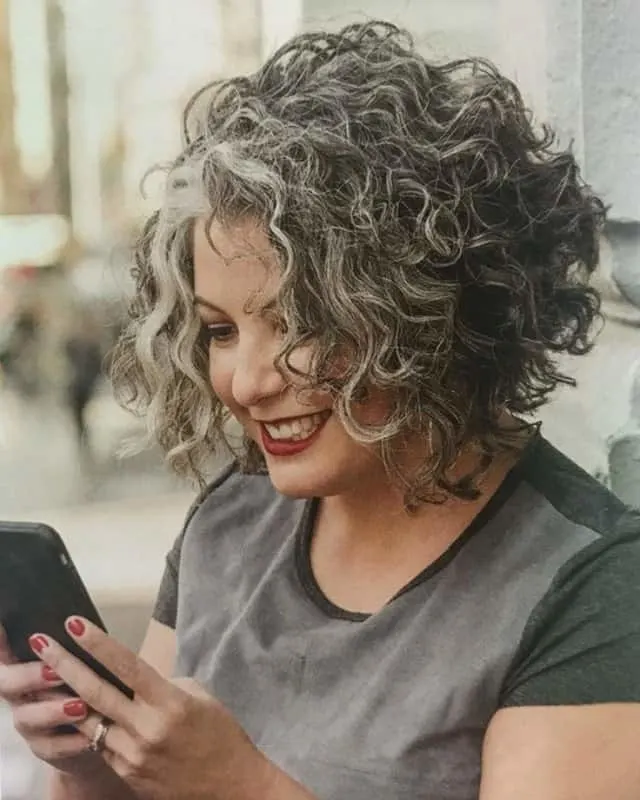 Older women will appreciate how a swing bob takes grey curly hair and makes it look youthful. Lots of teasing and layering at the crown and back creates a fun shape you can style simply with fingers.
#28. Full and Rounded Curly Bob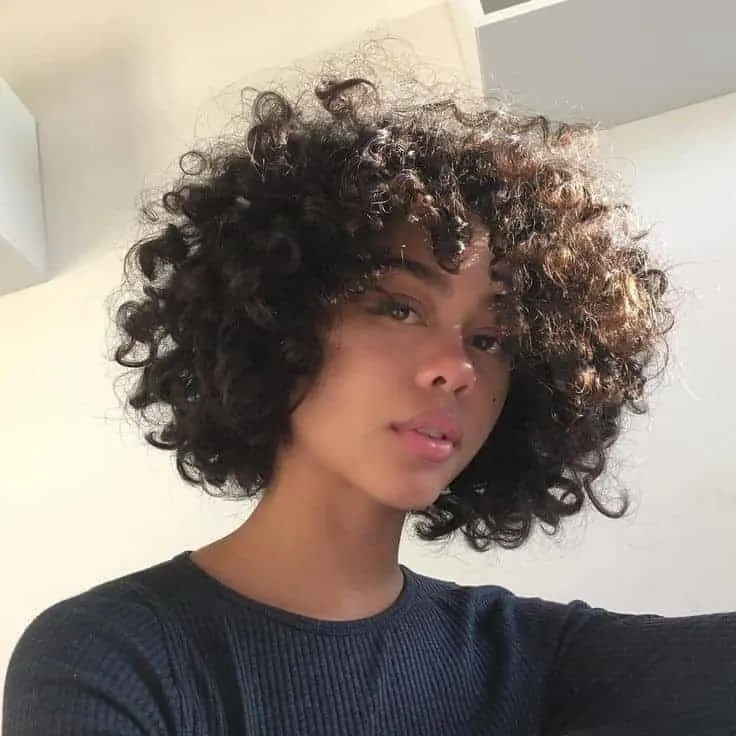 Straightened, this curly hair bob might look like a pageboy with bangs, perhaps with a few layers. That's why bobs are different when you have curls. The full roundness almost belies the bob tag altogether, but within all this lovely lushness, there's definitely a bob.
Layered Curly Hair Styles for Women
#29. Curly Bob With Waves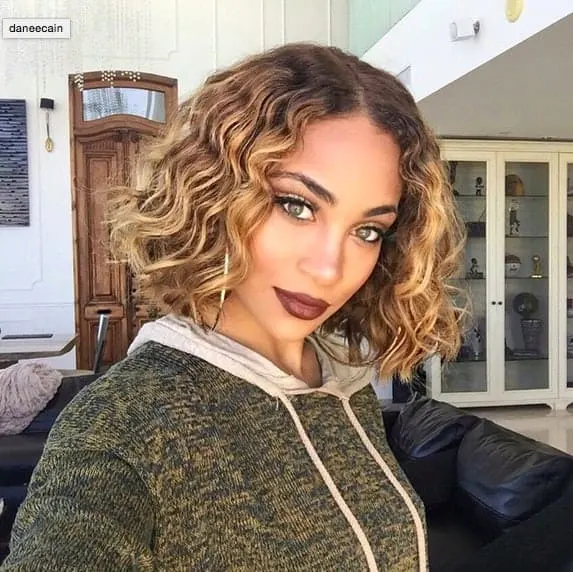 A long curly bob will pull some of the shapes out of your curls. The extra weight stretches the spirals and creates waves in their place. A shoulder-length bob thus results in a head full of messy, tousled waves and random curls. Do you love it?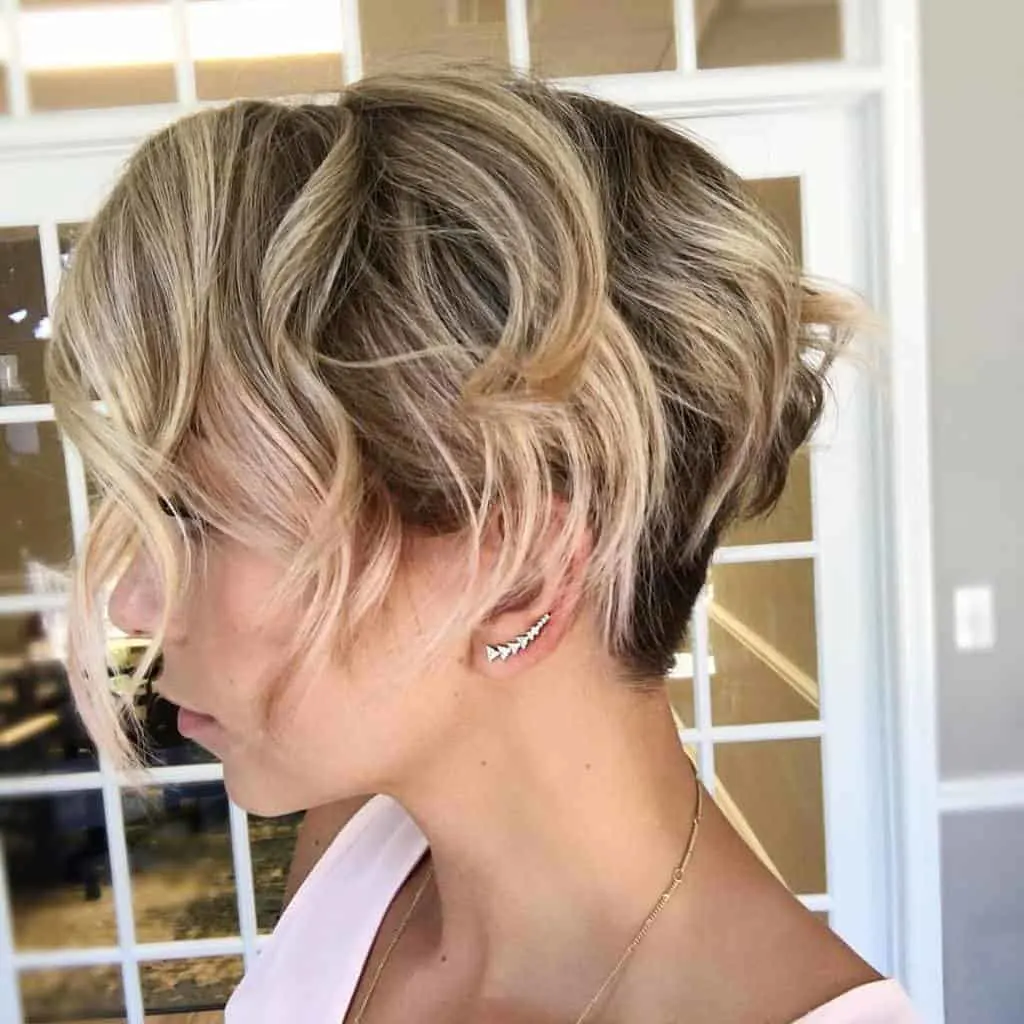 You might not think you can classify a haircut this short as a bob, but you can. It's an extreme variation, but extremism is appealing for a reason. The spirals are longer in the front and get much shorter toward the back, where they layer over a shorter undercut.
#31. Curly Bob for Black Hair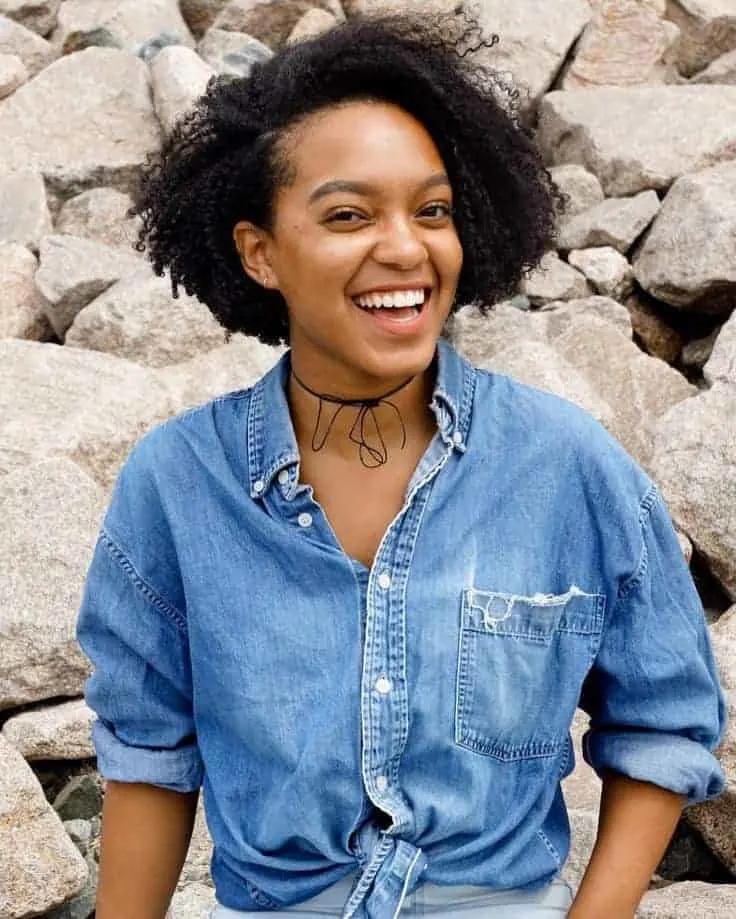 We love this simple short bob cut for black hair. While giving your hair a rest—and nourishing and pampering it in the interim, of course—you can still splash out with a fun, flattering coiffure. I adore the curls in this Afro bob and the inverted angle that makes it longer in the back.
#32. Spirals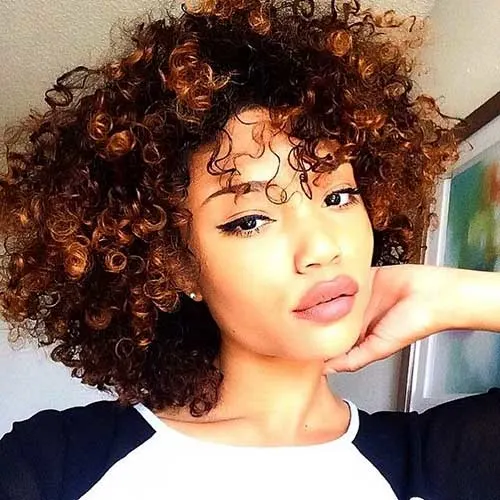 The retro edge in this hairstyle is sustaining me. This whole look makes me think of San Junipero. What you see here is what you get when you nurture and celebrate your curls rather than straightening them into oblivion. Give them space to be themselves.
#33. Short Curly Bob With Blunt Bangs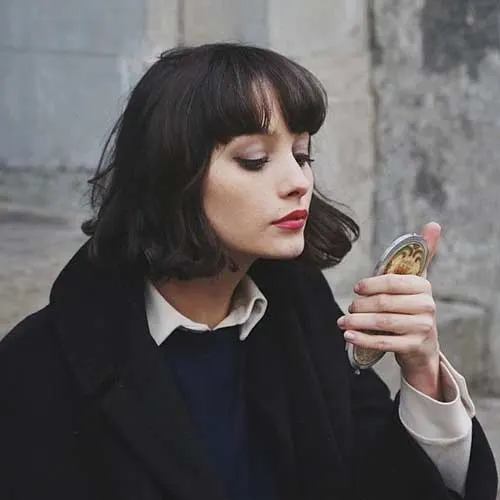 The bangs are blunt, the bob itself is blunt, and the timeless stylishness of this cut is blunt, too—it's all up in your face. A coif like this genuinely never goes out of style. You can see variations of it all throughout the 20th century. You can also try curly bob with bangs styles.
#34. Curly Angled Bob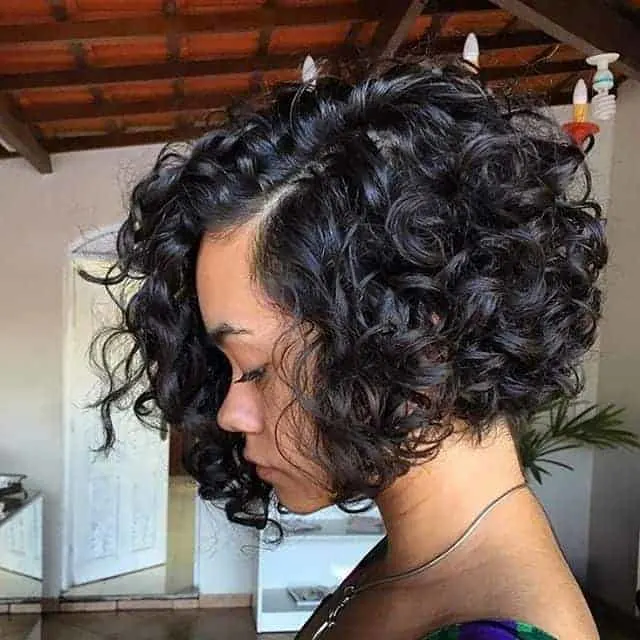 Angled bobs are my favorite, and curly bobs with an angle are just as edgy as their straighter counterparts. The line from front to back is subtler, sure, but it's unmistakable. Check out how shiny her hair is, too. Totally crushing.
Make The Head Turn with Short Stacked Bobs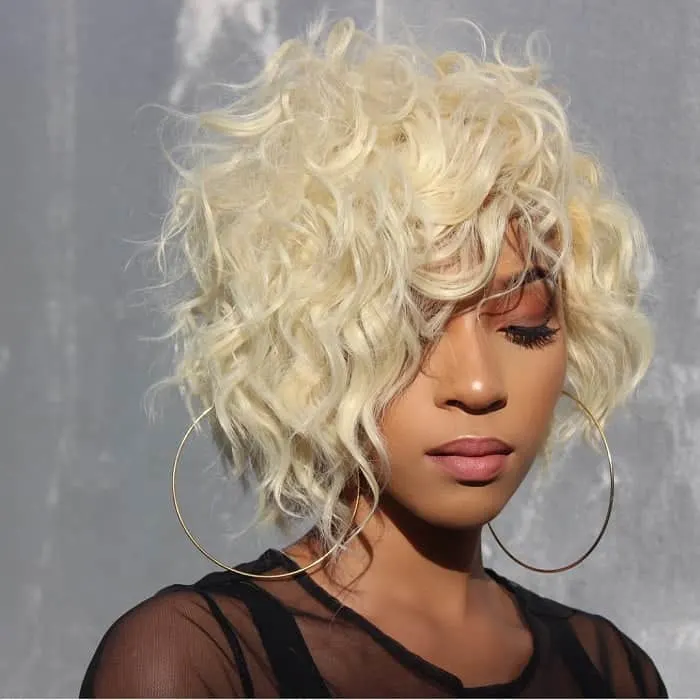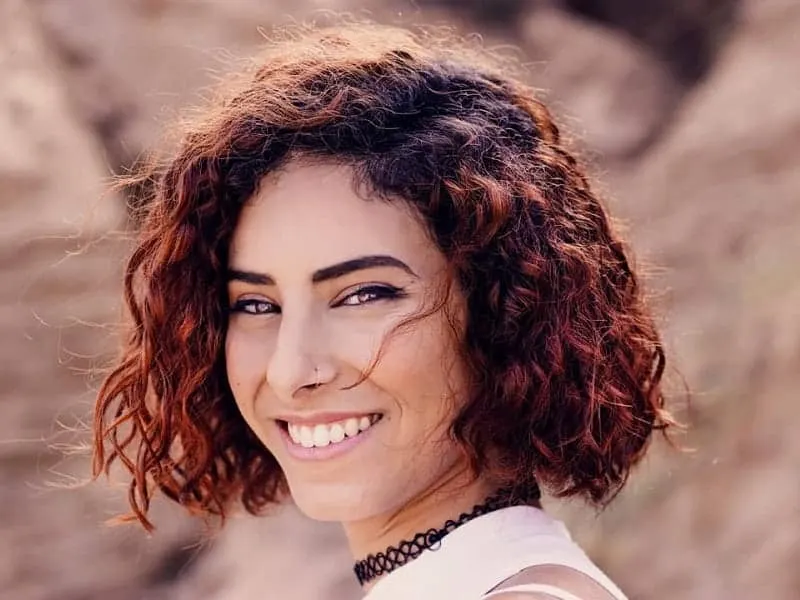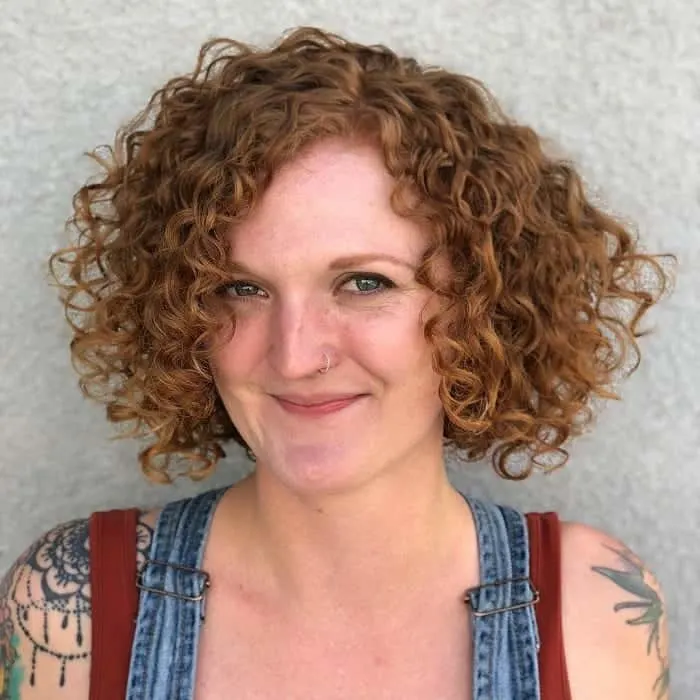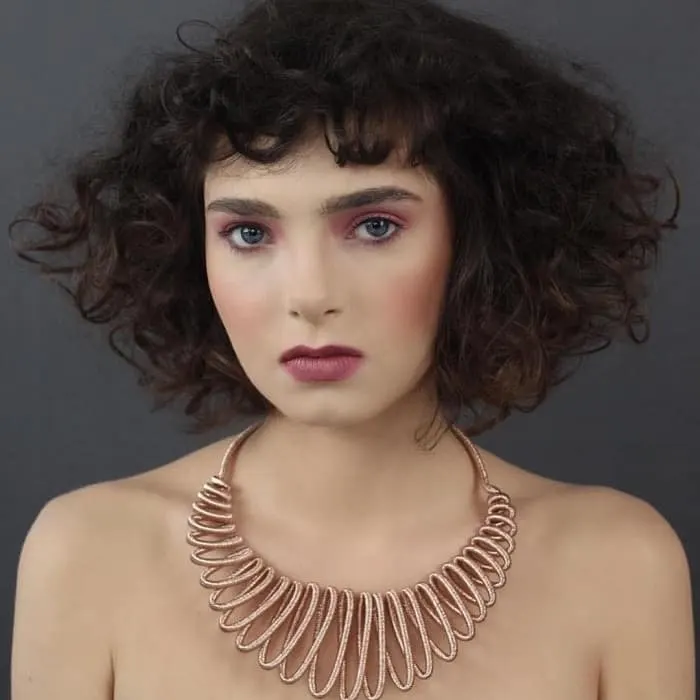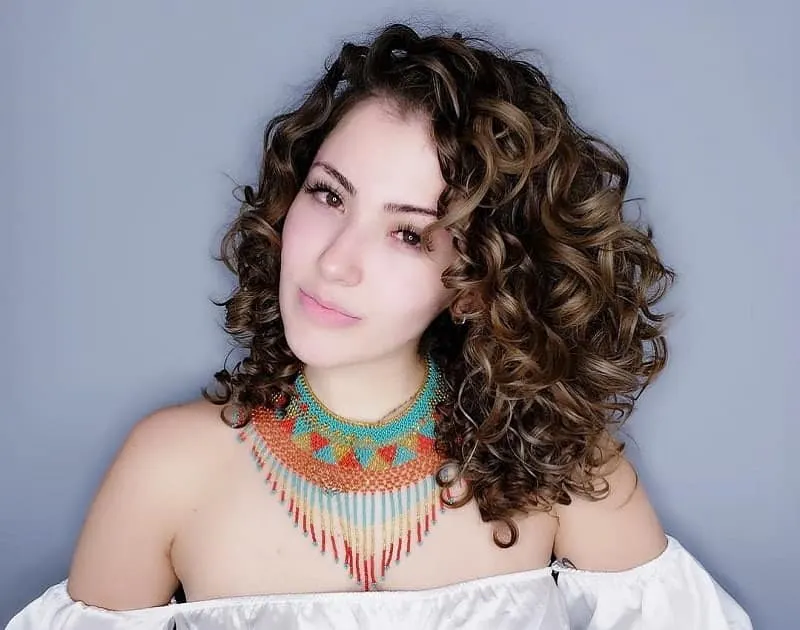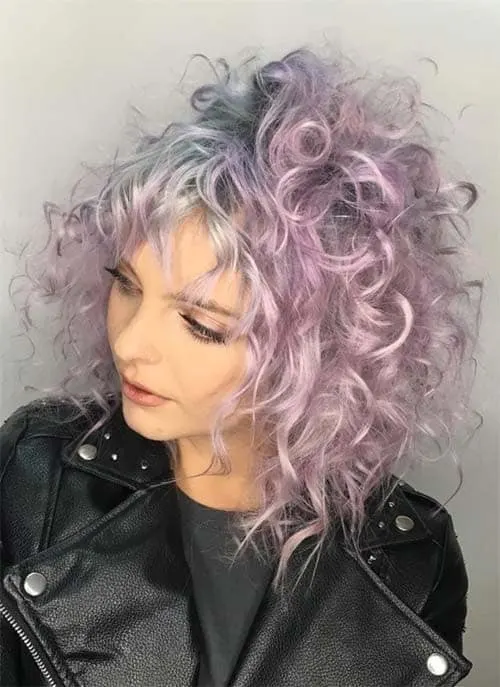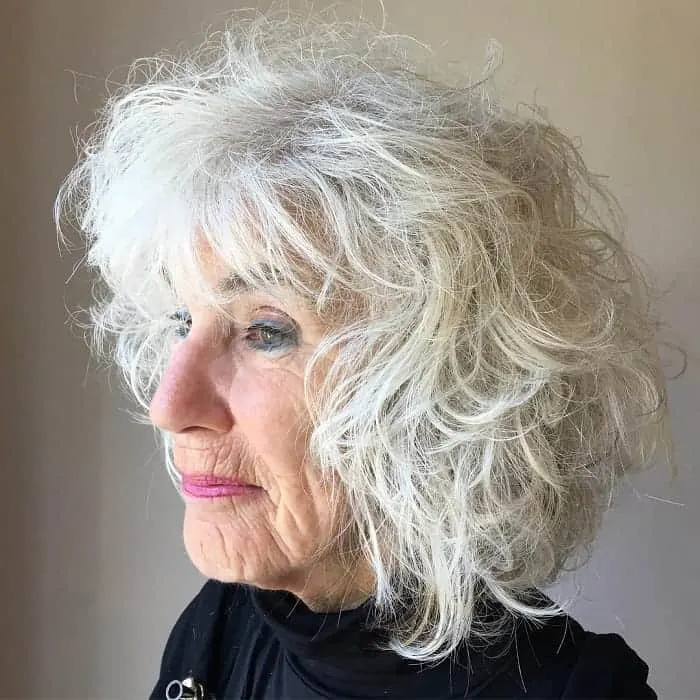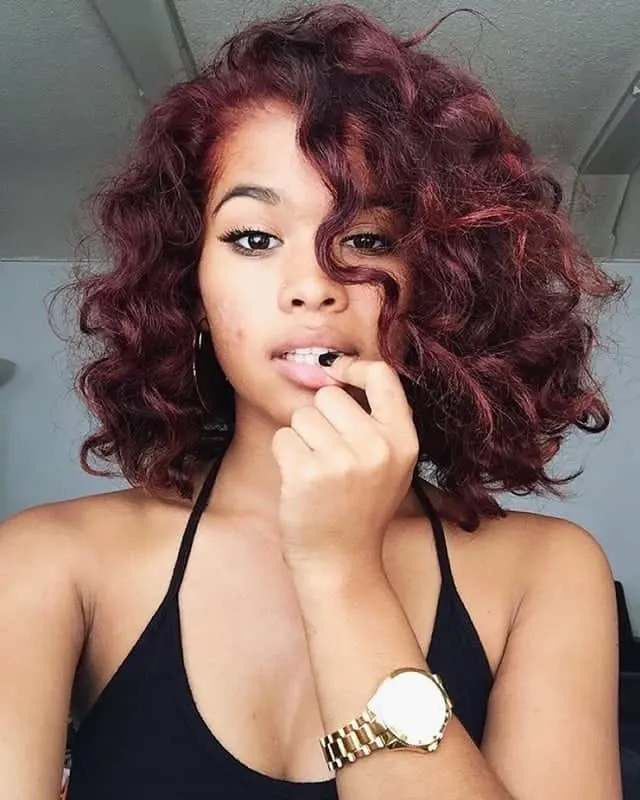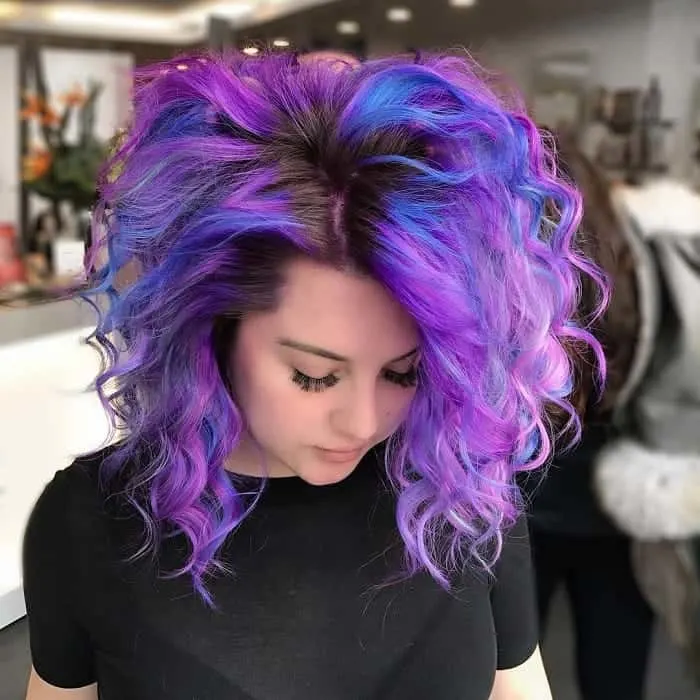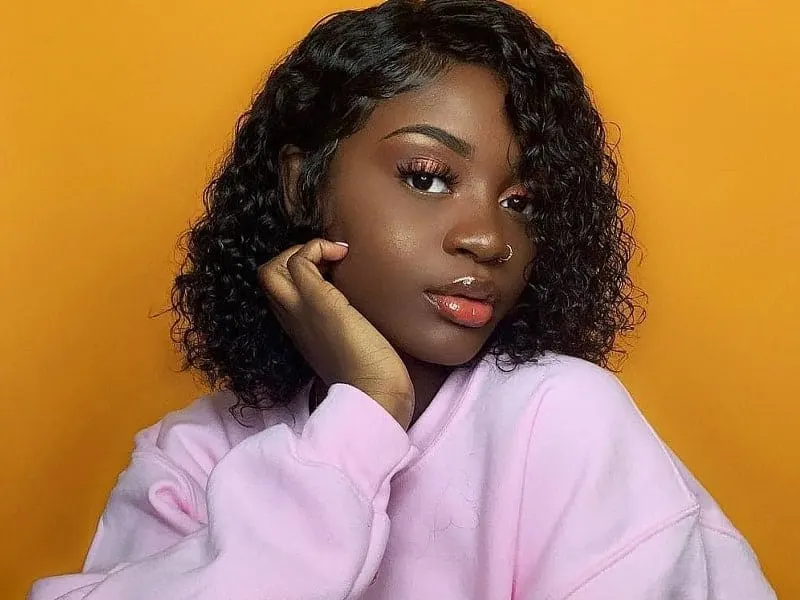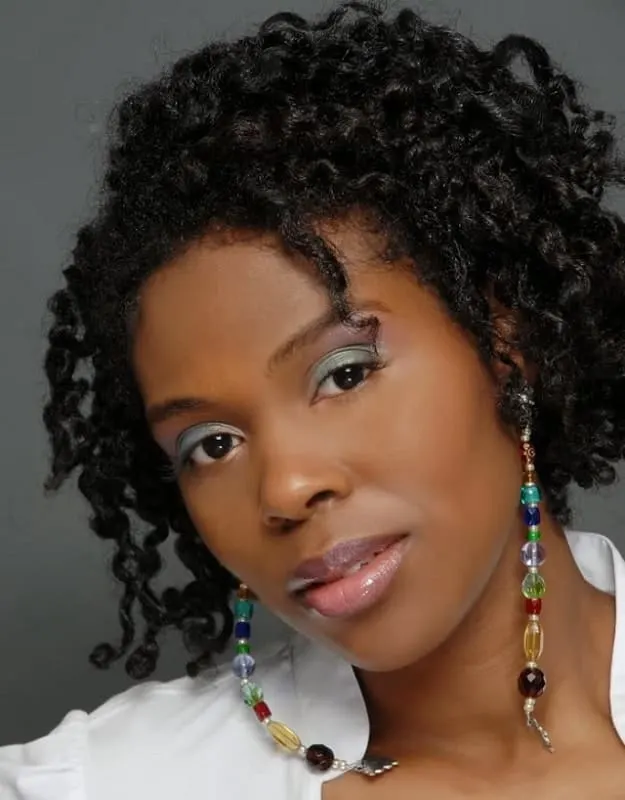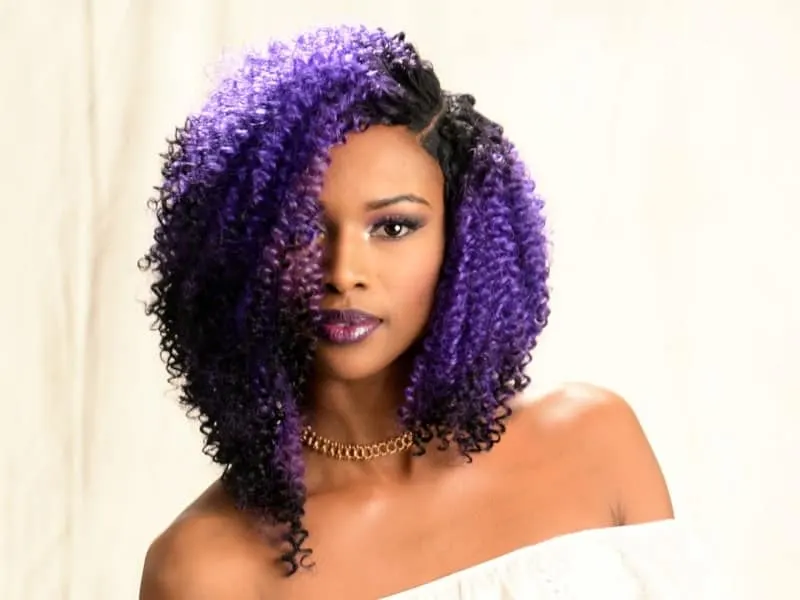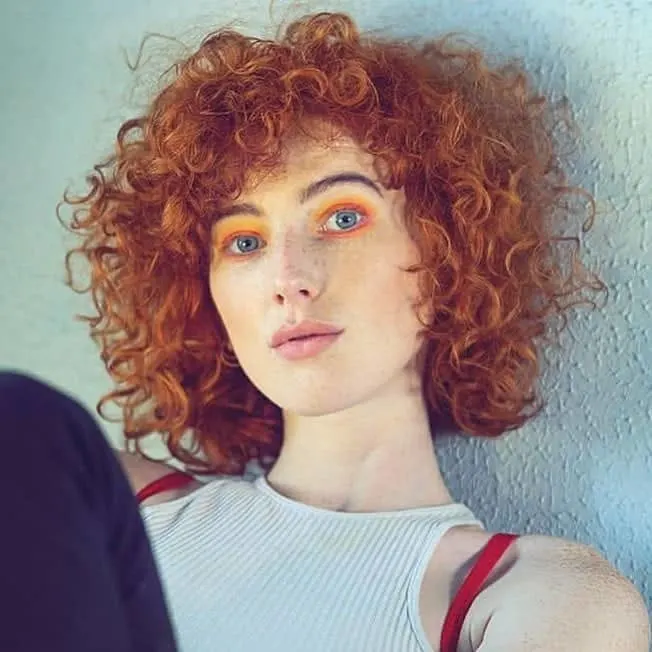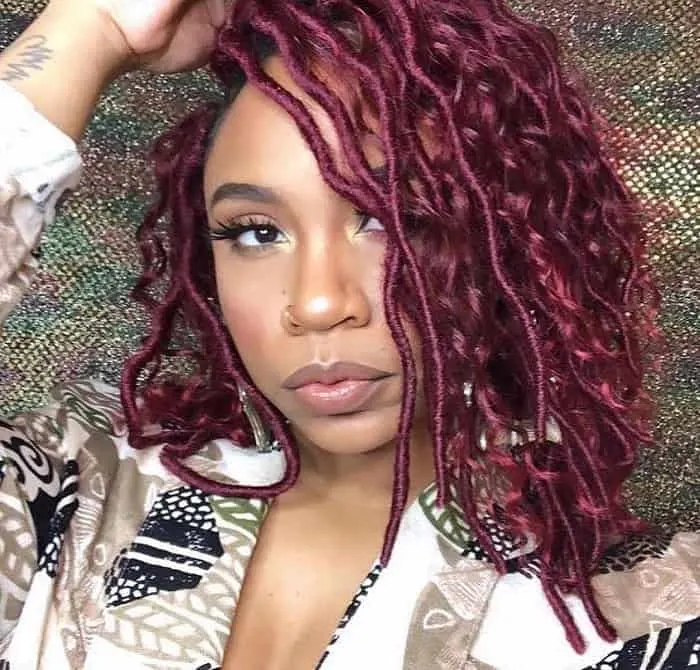 FAQs
Here is a list of the most commonly asked questions regarding curly hair bobs.
Is a bob a bad choice for curly hair?
A bob is not a poor choice for curly hair. Loose, thin hair often needs a lot of work to get shape. Curly hair already has its own shape, and bobs give curls a shape to conform to. Bobs can highlight your bouncy curls, and keep them short enough to limit the need for maintenance.
Should I add layers to a curly bob?
Yes. For curly hair, layers are necessary to achieve the desired aesthetic. Without layers, your hair will fluff outward, which causes it to look asymmetrical and unintentional.

Some people may hesitate to go with layers on their already shortened hair. But layers help keep your hair lightweight and easy to maintain.
Which bob cut is the best for curly hair?
A-line bobs are a popular choice for curly hair. A-lines have a nice face-framing effect that compliments curly hair. That said, A-lines are not the only bob choice for curly hair. Your stylist will know how to help you choose the best bob hairstyle for your type of curly hair.
Is a curly bob suitable for round faces?
Yes, round faces can benefit from a well-defined curly bob. When cutting a bob for a client with a round face, stylists must ensure that the layers create angles that accentuate the features rather than blend in.
Are curly bobs high maintenance?
Curly bobs are often low-maintenance looks. With a product on hand to keep curls fresh, many with bobs find they can roll out of bed in the morning, scrunch in some mousse, and are ready to face the day.
Should I get a lob or a bob with curly hair?
Choose a bob over a lob if you have curly hair. Curly hair has character and volume, which makes short hair an eye-catching look.

Plus, a bob is the best choice for those with curly hair looking to reduce the need for regular maintenance while still looking cute and professional.
Crop your coils into a curly hair bob, and you'll never look back. It might become your favorite haircut. Have you thought about showing off your curls while adopting a new signature style?