No one can deny that curly hair bobs are bold, bouncy, and beautiful. Curls turn the timeless bob into something fresh and unexpected.
The cut goes from a sleek style into a coif with volume, dimension, and shape. Curly, kinky, and coily girls, stop trying to straighten out those pretty spirals. Embrace them instead! A shorter snip might be just what you need to enjoy the benefits of life and movement.
New Ideas of Curly Hair Bobs
A curly bob is sassy, saucy, sexy, and sophisticated—often all at the same time. The change of a part, the flip of a spiral, and the angle of the cut, all small details, can nevertheless change the entire vibe of this versatile 'do.
Without some wave or texture, traditional bobs are somewhat limited. They're gorgeous, don't get me wrong, but speaking as someone who's frequently rocked a straight bob in the past, you can only style them in so many ways. It's entirely different with curly bob haircuts—but you don't have to blindly believe me. I got receipts.
#1. Curly Long Bob
#2. Medium Curly Bob
#3. Curly Bob with Layers
#4. Curly Weave Bob
#5. Curly Bob for Woman Over 50
#6. Inverted Bob for Curly Hair
#7. Stacked Curly Bob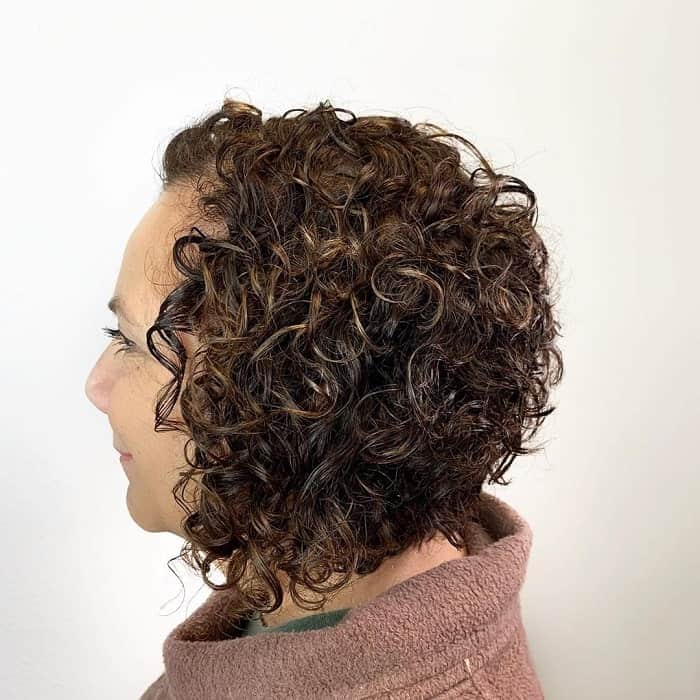 #8. Curly A-Line Bob
#9. Thick Curly Hair Bob
#10. Bob Cut for Thin Curls
#11. Sew in Curly Bob
#12. Curly Undercut Bob
#13. 3b Curly Hair Bob
#14. Middle Part Curly Bob
#15. Curly Pixie Bob
#16. Blonde Curly Bob
#17. Swing Bob on Curly Hair
#18. Full and Rounded Curly Bob
Straightened, this curly hair bob might look like a pageboy with bangs, perhaps with a few layers. That's why bobs are different when you have curls. The full roundness almost belies the bob tag altogether, but within all this lovely lushness, there's definitely a bob.
Layered Curly Hair Styles for Women
#19. Curly Bob With Waves
A long curly bob will pull some of the shapes out of your curls. The extra weight stretches the spirals and creates waves in their place. A shoulder-length bob thus results in a head full of messy, tousled waves and random curls. Do you love it?
You might not think you can classify a haircut this short as a bob, but you can. It's an extreme variation, but extremism is appealing for a reason. The spirals are longer in the front and get much shorter toward the back, where they layer over a shorter undercut.
#21. Curly Bob for Black Hair
We love this simple short bob cut for black hair. While giving your hair a rest—and nourishing and pampering it in the interim, of course—you can still splash out with a fun, flattering coiffure. I adore the curls in this Afro bob and the inverted angle that makes it longer in the back.
#22. Spirals
The retro edge in this hairstyle is sustaining me. This whole look makes me think of San Junipero. What you see here is what you get when you nurture and celebrate your curls rather than straightening them into oblivion. Give them space to be themselves.
#23. Short Curly Bob With Blunt Bangs
The bangs are blunt, the bob itself is blunt, and the timeless stylishness of this cut is blunt, too—it's all up in your face. A coif like this genuinely never goes out of style. You can see variations of it all throughout the 20th century. You can also try curly bob with bangs styles.
#24. Curly Angled Bob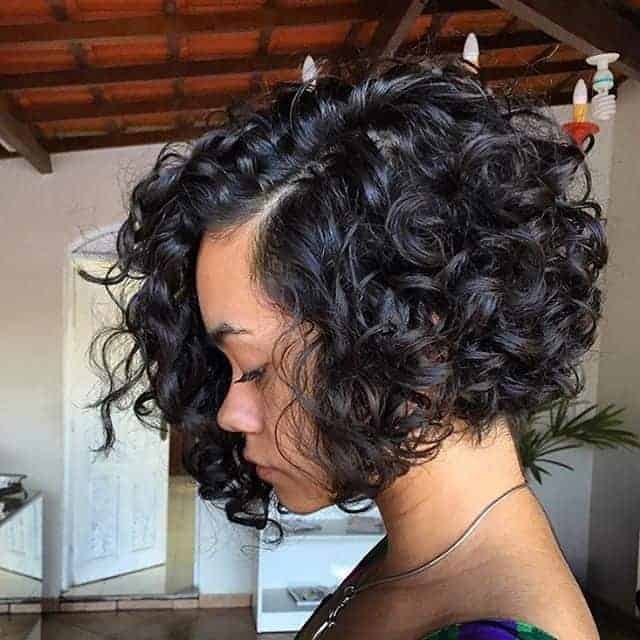 Angled bobs are my favorite, and curly bobs with an angle are just as edgy as their straighter counterparts. The line from front to back is subtler, sure, but it's unmistakable. Check out how shiny her hair is, too. Totally crushing.
Make The Head Turn with Short Stacked Bobs
Crop your coils into a curly hair bob, and you'll never look back. It might become your favorite haircut. Have you thought about showing off your curls while adopting a new signature style?