When we are talking about bangs, it's all about illusion. If you know how to use that to your advantage, you won't be afraid to make the cut that will dramatically change your appearance. It's so easy to get a hairstyle that makes you look stunning!
When searching for the best fringe option, consider wispy or blunt bangs. They are highly popular at the moment and work with an infinite number of hairdos such as space buns, ponytails, they complete bobs and are a fabulous match for waves.
Who Should Try Straight Bangs?
Straight bangs can make real miracles for women with oval faces. If you are one of them, don't think twice and get yourself a beautiful fringe. They will completely play up your features, making your face look smaller and rounder.
Blunt bangs are such a fabulous option and can look even better if you cut two long hairpieces on each side, to help the framing.
Discover below the best ways to wear your bangs and tell us about how it went in the comments!
1. Blunt Straight Bangs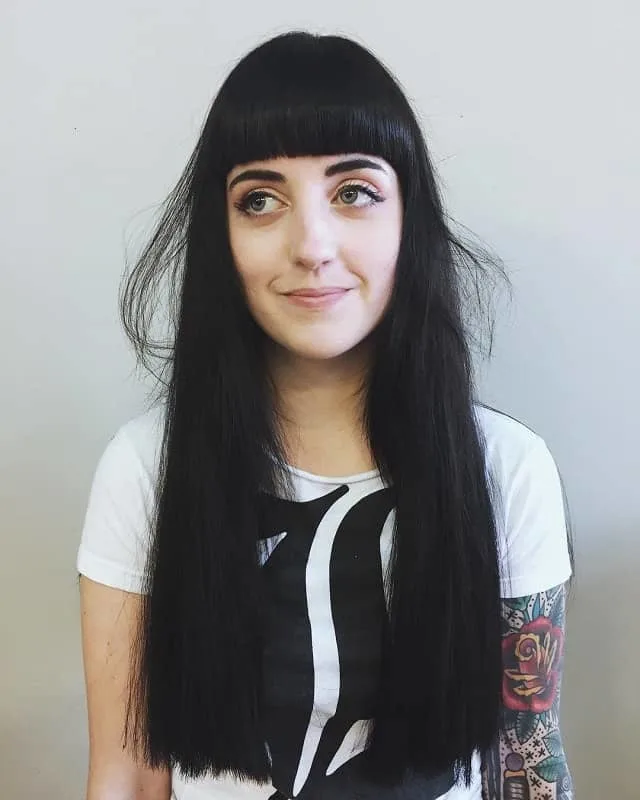 One of the most fabulous combos when it comes to face-framing is the straight bangs and black hair. If you have green or blue eyes, be sure the color will stand out thanks to your hairstyle. Also, to make your long locks look fabulous, use a straightening iron. Your mane will be flawless!
2. Medium Straight Hair with Bangs
An oval face can certainly look rounder if you opt for blunt bangs. Style layers and a red ombre for the rest of the mane and keep the fringe just above the eyebrow level. For the bangs, create some dark red highlights.
3. Blonde Straight Bangs
A stunning face-framing can be achieved with slightly wispy bangs and keep them just above your eyebrows. Create a flawless hairdo by straightening your hair with an iron. Also, pay attention to the color you are wearing and opt for a bright blonde shade.
4. Thin Straight Bangs
Unfortunately, not every woman has thick hair, and if you are on the thin hair side, don't worry, you can still get bangs. Maybe they won't fully cover your forehead, but wispy bangs can make real miracles for your look. To achieve that flawless look, use a straightening iron or one of those heated brushes to make your mane look neat.
5. Choppy Hair with Straight Bangs
Use your imagination and choose your favorite colors to obtain an eye-popping look that will be in the center of attention! Opt for an inverted choppy bob and blunt bangs, start from a purple shade at the base, and gradually transit to green, gray, and ultimately black, for the tips. Also, to give the hair dimension, style some smooth waves, and tousle your hair a little.
6. Deep Side Parting
Recreate this mystic appeal by going for bangs cut straight across the forehead and dying the hair in a light blonde shade with the frosty platinum babylights taking this look to another level. Finish off by styling the bangs with a deep side parting.
7. Red Beauty
Turn around some heads by coloring the hair in a fiery red hue and styling it in a top knot bun creating a sexy hairstyle with straight bangs covering the forehead. This look however is high maintenance requiring a root touch-up every few weeks.
8. Choppy Layers
This look is ideal for ladies with thin straight hair. Grow the chestnut brown mane to shoulder length and ask the hairstylist for choppy layers with side-parted wispy bangs adding some volume to the head. A hand tousle is enough to style the haircut.
9. Contrasting Look
Straight bangs with curly hair create an exceptional hairstyle. This look is ideal for blonde ladies with a thick fringe covering the forehead that is slightly shorter in the middle as compared to the sides. Add bouncy curls to the remaining tresses creating a contrasting appeal.
10. Middle-Parted Fringe
Consider this romantic look for a special event to keep all the eyes on you. The long chestnut brown mane is subtly layered and coupled with a bluntly cut middle-parted fringe at the front. Top off by adding curls midway to the ends.
11. Piecey Bangs
Piecey bangs are choppy and feathered with well-defined separate strands falling on the forehead. Couple these bangs with a layered bob dangling above the shoulders and dye the hair in a cool platinum blonde hue to complete the look.
12. Simply Chic
Those who want to keep it simple yet chic can consider this girly look. The hair is dyed in a light sandy blonde shade and separated from the bluntly cut fringe grazing the eyebrows with a bow hairband. Secure the remaining locks in a hair clip to create the half-up hairstyle.
13. Keep It Bold
Asian women can express their bold personalities by flaunting straight-cut bangs grazing their eyes with a funky pixie bob haircut. Curl the jaw-length strands inwards to expose the earlobes creating a bubbly look that stands against the sleek front fringe.
14. Highlighted Front
This stunning look will certainly drop jaws wherever you go. Combine a jaw-length inverted bob haircut with thick textured bangs that transition from a pumpkin orange shade into a vivid yellow hue reaching the tips while the remaining hair is dyed in a coppery tinge giving off sunset vibes.
15. Wispy Straight Bangs
Thin hair is no longer a problem for women who crave for bangs. A wispy fringe can complete the look and also make your face appear rounder. For the long locks, style red highlights, and your appearance will be breathtaking.
This is a perfect hairstyle for all the bob hairstyle lovers who are more on the edgier side. Make your bob stand out with these gorgeous bangs with straight hair.
Ideal for: Oval and square-shaped faces.
How to style: Use a hair straightener to straighten the bob and the bangs, but don't forget heat protecting and nurturing products.
17. Straight Bangs with a Classic Bun
A classical hairstyle can look elegant even with short bangs if you have a bit of creativity and skill to create it. The only difference is that these bangs will make a boring hairstyle pop.
Ideal for: Heart and oval-shaped faces.
How to style: Make a classical slick medium-high bun. Be very precise with parting your hair and use hair wax to make the hairstyle neat. Then style these adorable short straight bangs using a styling brush.
Bangs don't always require constant maintaining. If they are naturally straight, just tie a simple low ponytail and go through the bangs with a styling brush, and you will be good to go.
Ideal for: Square and round shaped faces.
How to style: Tie a low side ponytail and use a styling brush to style the straight hair bangs.
19. Double Bun with Bangs
A double bun hairstyle is so chic and adorable. Even more so with the stylish straight bangs hairstyle.
Ideal for: Oval and heart-shaped faces.
How to style: Tie a high, messy double bun. Straighten the bangs with a hair straightener.
20. Bangs with a Wavy Bob
Straight bangs look great even with wavy hair, and this wavy lob is a great example of that.
Ideal for: Heart and round-shaped faces.
How to style: Part your lob in the middle and use rollers to curl it very gently. Wear bangs as natural as possible.
Taylor Swift's bangs are so iconic and recognizable. She's worn the classical, thick, straight hair bangs both with short bobs, as well as with longer hairstyles. And all of those hairstyles show how effortlessly cool these bangs look.
Ideal for: Heart and oval-shaped faces.
How to style: Curl the ends of your hair gently and use a styling brush to style the bangs.
This is one of the most common hairstyles when it comes to thick straight bangs. It's pretty geometrical so not everyone can pull it off, but if you like it, go for it!
Ideal for: Square and round-shaped faces.
How to style: Use a hair straightener to straighten both the hair and the bangs. Use a styling product for the ends to look fresher and for the bangs to look less harsh.
Straight thick bangs are great even on short hairstyles. Especially if you want to cover a wider forehead.
Ideal for: Oval and square-shaped faces.
How to style: Style the hairstyle with a simple blowout.
24. 1920's Hairstyle with Bangs
The 1920's were a great era for hair and fashion. Bubbly, fun and interesting, just like this hairstyle.
Ideal for: Heart and square-shaped faces.
How to style: Make the hairstyle wavy and go through the hair with your fingers with a little bit of hair wax on your fingertips.
25. Pinup Bangs
Pinup bangs are always so bold, but so stylish as well. If you are daring enough to try this hairstyle, all eyes will most certainly be on you.
Ideal for: Heart and round-shaped faces.
How to style: This hairstyle requires constant maintenance of your angular bangs, both in terms of trimming and in terms of nurturing. Otherwise, use a styling brush to curl the ends of your hair and straighten your bangs.
26. Straight Bangs with Braids
Braids are adorable and sexy in a way. They will match your stylish summer and fall outfits perfectly. And they go great with straight haired bangs.
Ideal for: Heart and oval-shaped faces.
How to style: Part your hair in the middle and braid it. Make sure you leave some volume on the top. As far as the bangs go, style them in this cute messy way using a little bit of product.
Genie ponytails are so trendy right now. And they look even cooler with the gorgeous bangs style on straight hair. Plus, the hairstyle is so quick and easy to make that you will be amazed.
Ideal for: Square and round shaped faces.
How to style: If your hair is not naturally wavy, use a styling brush or a hair straightener to curl it slightly for the ponytail to have dimension. Then straighten the bangs as well and tie a high ponytail.
Another great way to make a space bun hairstyle is to style it into a half updo. Make the rest of the hair wavy and straighten the bangs. The look is so incredibly modern!
Ideal for: Round and heart-shaped faces.
How to style: One great way to make the hair wavy is to braid it and leave it like that throughout the night. You will have gorgeous waves the next morning.
Rihanna is a queen of style. She always manages to cover all imperfections and look flawless. This look shows how great bangs are to cover a wider forehead and also be elegant, but not too strict.
Ideal for: Square and round-shaped faces.
How to style: The hair on the sides should be very sleek, while the bun itself is teased, messy, and voluminous. The bangs are straightened with a hair straightener.
30. Short Bangs with a Wavy Hairstyle
Short straight bangs look great on girls brave enough to wear them!
Ideal for: Oval and heart-shaped faces.
How to style: Straighten your bangs and curl the waves with a hair straightener. Use a bit of product and mess the hairstyle out.
Best Straight Bangs According to Face Shape
Straight hair with bangs can go well with any kind of face shape. But if you want which bangs style suits best to your face shape. check out the following styles:
Oval Face
This is the most versatile face shape, so if you are lucky enough to have an oval face shape, you can choose any style for your bangs.
Round Face
Finding the right hairstyle that includes straight bangs might be tricky for girls with round faces. Below you can find some interesting ideas, but maybe a better idea would be to go for thick, side swept bangs that will make your face look more asymmetrical and angular instead of emphasizing its fullness.
Square Face
One thing to avoid is short bangs. They will visually pull your face downwards. Go for longer bangs and style them in whichever way you prefer.
Heart Face
Don't go for thick straight hair bangs, as they will accentuate a wider forehead. Choose layered, even side-swept bangs, as those will probably suit you better.
How to Straighten Curly Bangs
The easiest way to straighten curly bangs is to blowdry your hair after washing it. Use a styling brush to straighten the bangs as much as possible. Then, if they are still not as straight as you'd want them to be, use a hair straightener. You can use some hair products to achieve the desired texture, or even a bit of hairspray to keep them firm. Of course, you should try to avoid humid surroundings.
If you are thinking about cutting your bangs, hopefully, this article was enough to convince you, and if you're already rocking bangs, then these 21 amazing straight bangs hairstyles were probably enough to get you inspired to try something new that you will easily achieve if you follow the tips we've provided above.