Asymmetrical bob cuts are one of the best styles for women who like short hair. If you're new to the idea of having short hair, an asymmetrical bob is a safe yet beautiful choice to start out with. The layers are great for both thin hair, to thicken it up, and for thick hair to thin it out.
Asymmetrical Bob Haircut Ideas
For 75 original asymmetrical bob cuts that will all make you look gorgeous, scroll on!
#1: Wavy with Fade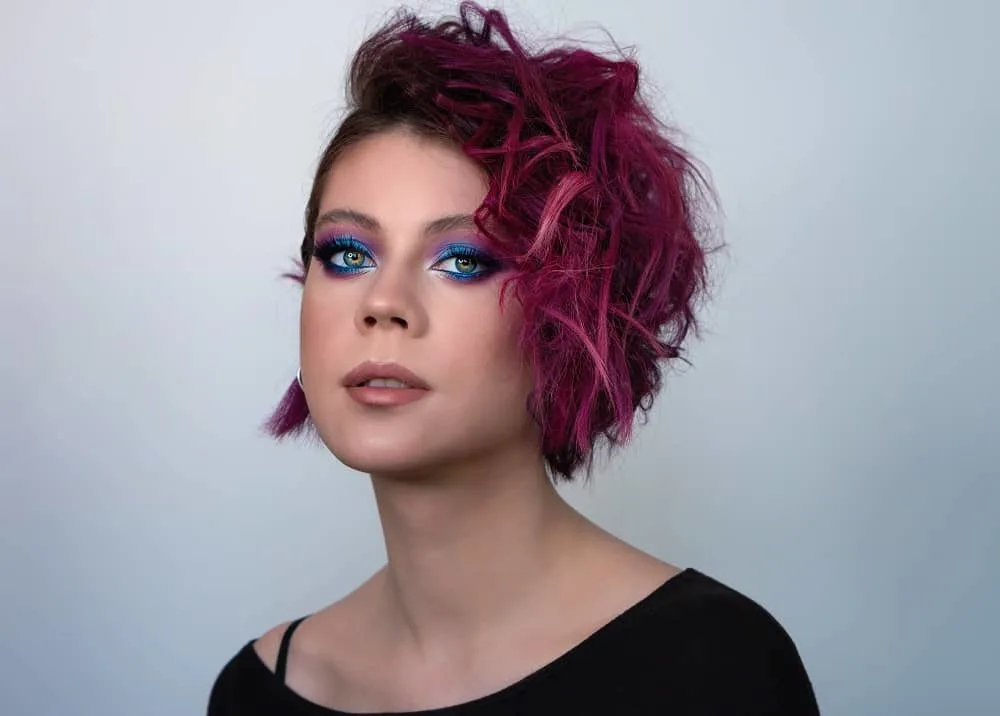 Your asymmetrical bob can be both edgy and feminine. Shave in a fade on one side, then fill the rest of the hair with large, luscious waves and a bright magenta color. If you have a little more time, try straightening the ends of some of the hair to play on contrast.
#2: Smooth Red
If sleek and smooth is your speed, opt for a straightened asymmetrical bob parted off center. For ladies with pale or light skin tones, you can easily pull off a daring color like two shades of red!
#3: Blonde Peekaboo Highlights
This haircut isn't anything if it's not artistic! From the extra long length on one side to the light blonde peekaboo highlights that pop on brunette hair. This color combination will stun on dark-haired women.
#4: Crimped Platinum Bob
If it weren't for the leather jacket in this photo, the platinum bob with its crimped texture would be very flirty and innocent. This shows how versatile the asymmetrical bob can truly be! On platinum, light highlights in pastel will look lovely.
#5: Thick Red Waves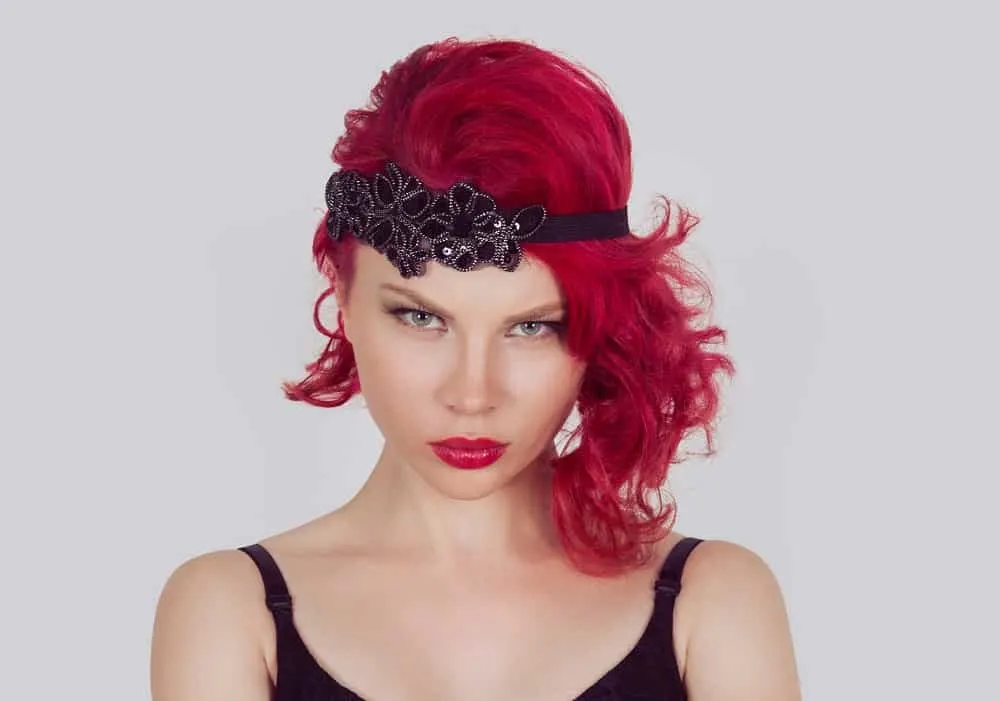 Give your new look a flapper vibe with a funky, flowered or sequined headband. Get voluminous texture by teasing the hair, then brushing out waves. A bright color like pinkish red is a beautiful choice for women with pale skin.
#6: Asymmetrical Bob with Chopped Sideburn
Put a unique spin on your asymmetrical bob by clipping or buzzing one or both of your sideburns. On this straightened style, the clippered chunk is an unexpected peak of punk.
#7: Pretty in Purple
For women who love bold, colorful haircuts, treat your locks to this pretty purple! Keep it all one dark color, or use lighter shades for highlights.
#8: Platinum Bob with Fade
When you first see this platinum asymmetrical bob, your eye is drawn to the straightened, smooth locks. But a tiny peekaboo fade pulls you in and gives this girly look an edgy touch. You can also opt for an undercut if you want a more noticeable detail.
#9: Heavy Side Bang
Combining red, yellow, and orange on your bob haircut will make it both electric and eclectic. A heavy side bang will leave more room for the color to work its magic.
#10: Layered Asymmetrical Bob
Rihanna's straightened asymmetrical bob uses layers to bring more shape to the hair. Having layers will also make any texture you add, like curls or waves, stand out even more.
#11: Asymmetrical Undercut Bob
To get an artistic asymmetrical bob, shave half of one side and tease the crown of the hair for height. Be bold with yellow highlights and leave a feathered side bang to swoop out.
#12: Asymmetrical Weave Bob
Weave bobs look amazing on black women. You can play with almost any color, but this dark blue is one to covet. With black streaks peeking through, your asymmetrical bob will be envied by everyone.
#13: Asymmetrical Black Bob
Prefer more simple bob haircuts? Be daytime or nighttime ready with a straight, smooth, and side-parted look. The asymmetrical shape brings long locks to the forefront while a micro-braided part is a pretty detail.
#14: Asymmetrical Sew In Bob
When you're growing out your hair and want a protective style in the meantime, opt for a sew-in bob with asymmetrical shape. The blunt-cut ends and smooth strands make it chic.
#15: Layered Asymmetrical Bob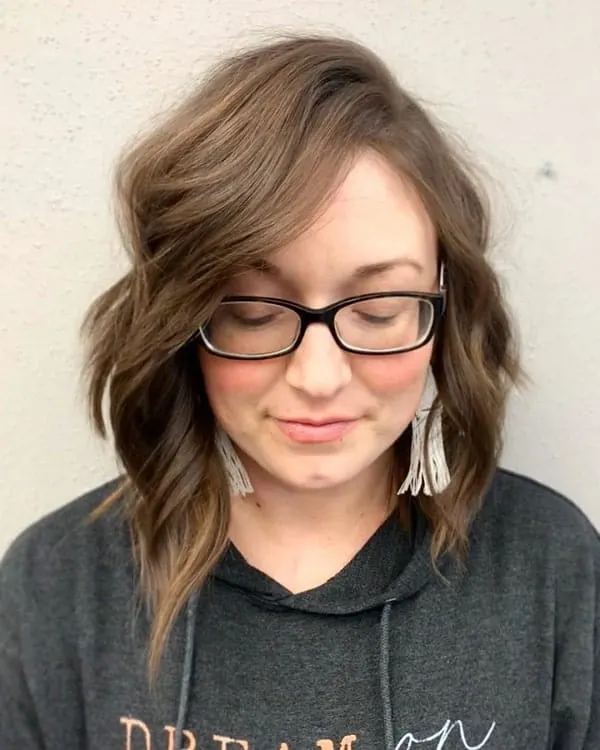 Lots of long layers help wavy locks stand out, making this a great option for a formal occasion. Part the bob at the side to help hair have a lift.
#16: Asymmetrical Stacked Bob
Stacked layers on a bob are an easy way to distract from a round or oval face. But if you want to accentuate the shape, part hair in the middle. The platinum color complements pale and lighter skin tones.
#17: Asymmetrical Bob for Round Face
Trying to find the best haircut for your round face? A bob with asymmetrical shape and long pieces surrounding the face is very flattering. With or without bangs that are piecey and brushed to the side make it flirty.
#18: Asymmetrical Medium Bob
Throw of the balance of your face in a pretty way by choosing a medium bob featuring long hair on one side and shorter locks on the other. Wear it straight for a neat, sophisticated look.
#19: Inverted Bob
Bright colors like sea green and golden yellow are a beautiful combination to put together on an asymmetrical bob. Add waves to the body and ask for choppy ends for extra detail, not that you need it!
#20: Asymmetric Bob with Shaved Side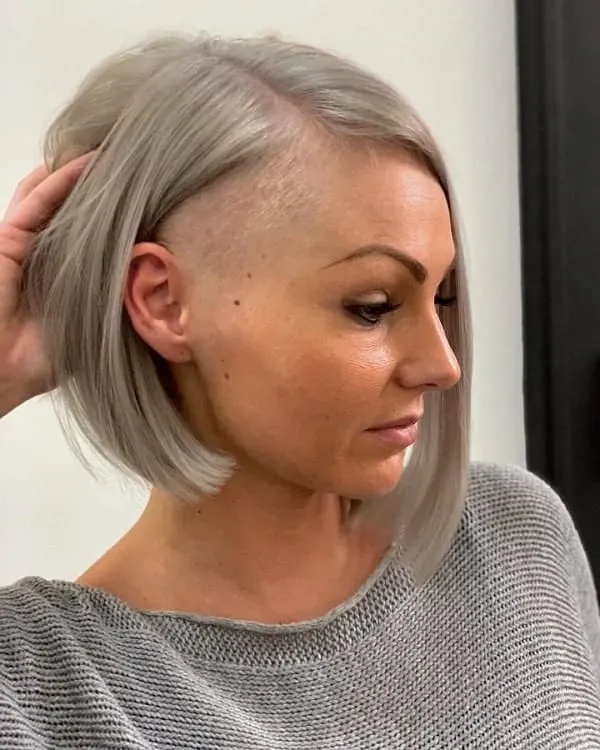 While one side has longer hair on this bob, the other is short and covers up a shaved fade. Pull the hair into a cute updo to show off the style. Silver hair color works for both young and older women.
#21: Blonde Asymmetrical Bob
Short hair can still be feminine and flirty, just choose an asymmetrical wavy bob with blonde color. With the sides being different lengths, the cut really flatters oval faces.
#22: Asymmetrical Bob Braids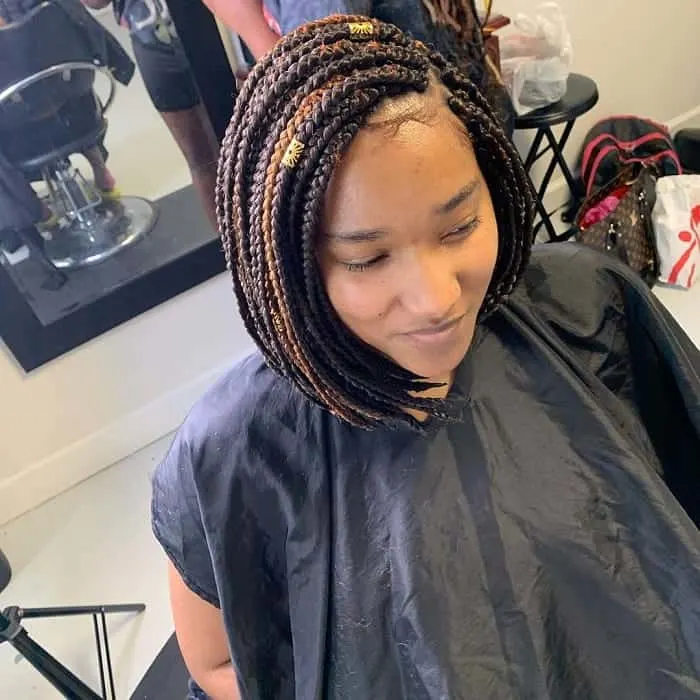 Want a short style but like how your braids look? Show them off on an asymmetrical bob and complete the look by decorating strands with beaded accessories or experiment with caramel color.
#23: Asymmetric Thick Bob Cut
Is your thick hair feeling a little lifeless? Give it a pick-me-up with a layered asymmetrical bob. The layers create a soft side bang while the silvery hair color is hip and fresh.
#24: A-Line Bob
If Posh was your favorite Spice Girl, you can emulate her look by getting an asymmetrical bob of your own! Keep it smooth and straight to always look sophisticated.
#25: Asymmetrical Red Bob
Bright red hair color is a dramatic statement to make with your asymmetric bob. Tame frizz by straightening hair and wear it long and loose to show off your new look.
#26: Bob and A Half
This asymmetrical bob haircut is a twist on the classic jaw-length bob look. Keeping one side a much longer length and teaming it up with a side fringe helps to give this style a contemporary look.
#27: Heavy Fringe from the Crown
The heavy fringe consists of hair that comes all the way from the crown of the head. The asymmetry of this style looks great on women who have high strong cheekbones.
#28: Tapered Short Bob
This tapered bob is a really cool modern twist on a 60's style. The top of the cut has been razored through to give the hair a light but shaggy texture.
#29: Extreme Asymmetrical Cut
This cut is much longer on one side than it is on the other. The stylist has also kept the hair much longer at the front than it is at the back.
#30: Straight hair with a sweeping fringe
A sweeping side fringe creates an asymmetrical style without doing anything too extreme. This style is low maintenance because all that you need to do is brush your fringe over from one side to the other.
#31: Asymmetrical Style with Volume
You can create a lot of volume for your style by combing your hair over from the roots. Comb up from the roots and pull as much hair as you want across from one side to the other.
#32: Asymmetrical Bob and Side Fringe
An extreme side fringe with large soft curls is an amazingly striking look. Sweep all of your hair over to one side and team it up with strong eye makeup for a standout look.
#33: Tousled Locks
Tousled waves are an amazing casual style which can be worn when you are about and about. To get loose waves like these, scrunch curling product through your hair whilst you are blow drying it. Run your fingers lightly through your waves to create a tousled look.
#34: Shaggy Sweepover
A shaggy sweep-over is a good choice if you want some "just got out of bed" hair or "haven't tried to hard" hair. Its also great if you only want temporary asymmetry.
#35: Fine curls
If your hair is not naturally curly, you can achieve this look with a curling iron. If you curl larger sections of your hair, you can separate them out into smaller portions before you apply setting spray. Be careful not to pull your curls apart too many times, or you will lose them.
#36: Side Ponytail with Sweeping Fringe
Side ponytails have been in fashion for decades. Give your side ponytail a modern look by teaming it up with a sweeping asymmetrical fringe.
#37: The Blue Inspired Bob
A midnight blue color is a striking choice for an asymmetrical bob. Team the color up with an extreme fringe for an amazing emo look.
Use a curling iron to put loose curls in your hair if this is not your natural style. A side fringe can help to draw attention to your eyes and cheekbones.
#39: Short Tousled Hair with Light Waves
Light waves are an excellent choice for anyone who has thick hair. If you have it cut to a bob length, tousled waves will help to give your hair a pleasant texture.
Very short bob styles like this one are very easy to maintain. Keep your hair cropped to above the ears and cut in an asymmetrical fringe.
#41: Bouffant Bob
This sixties-inspired style is modernized with an asymmetrical twist. A bouffant hairstyle is all about creating volume near to the crown of the head.
#42: Heavy Straight Bob
If you have thicker hair, a heavier bob is a great choice. Use a ceramic straightener to make sure that you don't have a hair out of place.
#43: Show your roots
Leave your roots and the under layer of your hair as their natural color. Dye the upper layers of your hair so that they are a contrasting lighter shade. Sweep your hair over into an asymmetrical style so that both colors of your hair are visible.
#44: Short Asymmetrical Bob
Give your thin hair volume from the crown by blow drying your hair upside down. Sweep most of your hair in the same direction as your fringe to give the illusion of even more volume.
#45: Diagonal Parting with Highlights
Highlights and low lights give the illusion of extra volume and texture in thinner hair. A diagonally parting is a funky choice if your roots are starting to show because this style makes your roots into a feature.
#46: Flyaway Waves
These wonderful soft waves give a beautiful feminine look which draws the eye to your lips. Styling this hair in an asymmetrical fashion will give you an edgy look.
#47: One-Sided Bob
Use an extreme side parting to give yourself a completely one-sided bob. Sweeping your hair over like this means that you can restyle your hair again by shifting your parting.
Trim your hair so that it is chin length at the front but shorter at the back. This will frame your face. Cut heavy bangs into your hair to draw attention to your eyes.
#49: Red Streak
Rebel a little bit by adding a colored streak to your hair. Red is a fiery and passionate hairstyle which suits all skin tones. It looks great as a contrast to darker hair.
#50: Long Asymmetric Bob
A long bob (or "lob) is a great style for anyone whose hair is starting to grow a bit longer. It is also a good style for people whose hair is caught between a short and a long style.
#51: Choppy Bangs
Choppy bangs give a less severe look than heavy straight bangs do. They help to draw attention to your eyes whilst also giving your face a beautiful softness.
#52: Copper Tones
Put copper highlights in black or dark brown hair to give your hair more depth and texture. The team highlights up with a choppy cut for the best look.
#53: Asymmetrical Bob with Side Part
Straighten your hair with ceramic straightening irons to give your hair a straight and sleek look. Sweep your hair over from one side to the other to give yourself an asymmetrical hairstyle.
#54: Wispy Bangs
Cut wispy bangs into your hair. These help to draw attention to your eyes, but your hair will not look too heavy or severe. This look is a great choice if you have thinner hair.
#55: Tousled Short Bob
To give your hair a stylish and modern tousled look, you should run a little bit of styling product through your hair whilst you are blow drying it.
#56: Choppy Asymmetric Bob + Loose Waves
Starting from the crown of your hair, cut in lots of choppy layers. Scrunch product through your hair whilst you are blow-drying it to give it a light wave. Add highlights and lowlights for extra texture.
#57: Two Tone
Intentionally show your roots by creating a bold two-tone look. Contrasting colours are best for this style because they stand out more in an asymmetrical hairstyle.
#58: Extreme Fringe

Use an extreme side parting to style in a heavy sweeping fringe that covers one of your eyes. Make sure that your hair is shiny, sleek and poker straight for a seriously high fashion hairstyle.
#59: Tapered Long Bob with Side Parting
Trim your hair so that it tapers at the ends. Keep your hair straight and sleek by straightening it with ceramic straightening irons and heat protect serum.
#60: Loose Waves with Side Parting
Give your hair a blunt cut to about chin length. Blow dry it whilst scrunching your hair in your fists as you do so. Use a comb to brush in an asymmetrical parting.
Vintage hairstyles for beautiful women
#61: Short Bob with Highlights
Complimentary highlights can help to give a short bob more depth. If you want to frame your face, leave some sections longer at the front so that they curve around your face.
#62: Light Curls with a Side Swept Bob
Beautiful light curls such as these can be achieved by rag-rolling your hair. Sweep your hair over so that all of it sits on one side of your head.
#63: Bob with Headband
Keep your asymmetrical bob under control by using a headband. A thick color block headband is a simple but stylish hair accessory which looks great on a contrasting color of hair.
#64: Sweep Over
Sweep all of your hair over from one side of your head to the other. Get a little volume into your hair by lifting from the roots as you brush from one side to the other.
#65: Purple Reign
This amazing purple ombre style looks fantastic on black hair. The color gradient works perfectly when it is done by a skilled color stylist.
#66: Straight Asymmetrical Bob with Volume
Straight hair does not have to be flat and lifeless. Create volume in straighter hair by brushing from the roots with your brush underneath your hair rather than above it.
#67: Scruffy Curls
Use a comb to separate sections of your hair out at the crown. Move these strands so that they all go off in different directions to produce a fun, scruffy look.
#68: Pixie Bob
A pixie bob looks stylish on both older people and on younger people. Put in a few highlight or lowlights to give your pixie bob more depth and texture.
#69: Mid-length side fringe
This is a good style if you are trying to grow your fringe out a bit. You might have to pin the fringe back at times with a bobby pin to help to keep it out of your eyes.
#70: Asymmetric Wavy Bob
A lovely choppy wavy bob like this one can be created by scrunching product through your hair with your hands whilst you blow dry it. Run your fingers through your hair a few times to give a tousled look to your style.
#71: Big Bold Bangs
Big bangs can help to draw attention to your facial features. Cut your bangs so that they stop just above your eyeline. Volumize the rest of your hair so that it frames your face perfectly.
#72: Turquoise Blue
A very asymmetrical bob looks fantastic when your hair is dyed a bold color like turquoise. Team this hair color up with bold eye or lip make-up for the most eye-catching look.
#73: Rainbow Stripes
If you can't decide on just one color for your hair, then go for these "rainbow" stripes. Although you do not need to use every color in the rainbow, you can really make an impression by using a few different shades.
#74: Asymmetrical Bob and Asymmetrical Fringe
Create a jarring high fashion look by cutting in a slanting fringe with a longer length at the side where your bob is shorter. This look is truly striking.
#75: Wavy Sweeping Fringe
Sweeping fringes don't always have to be poker straight. This sweeping fringe looks great with some heavy waves.
The most wonderful thing about an asymmetrical bob is that these styles are designed to be a little bit unusual and different. This means that you will be turning heads as soon as you walk into a room. If you want your hair to be noticed, an asymmetrical style is a perfect choice for your next haircut.