Asymmetrical styles are not for the faint-hearted. These asymmetrical bob hairstyles are eye-catching and head-turning hairstyles which are designed to get you noticed for all of the right reasons. Make sure that you are ready for the change before you ask your hairdresser to cut your hair into an asymmetrical style because there is no turning back with some of the styles that you could choose. That being said, some asymmetrical bobs are perfect for people with slightly asymmetrical features, because they can help to balance your face out.
Magical Asymmetrical Bob Haircut Ideas
If you don't feel as though you are quite ready to take the plunge and get a full asymmetrical style, you may want to think about styling your hair in such a way that you can gain perfect symmetry again by making a few simple changes. Giving yourself an extreme side parting by sweeping all of your hair over from one side of your head to the other is a perfect way of giving yourself a temporary asymmetric bob. If you want to change back, all you need to do is pull your parting back to the middle again.
#1: Bob and A Half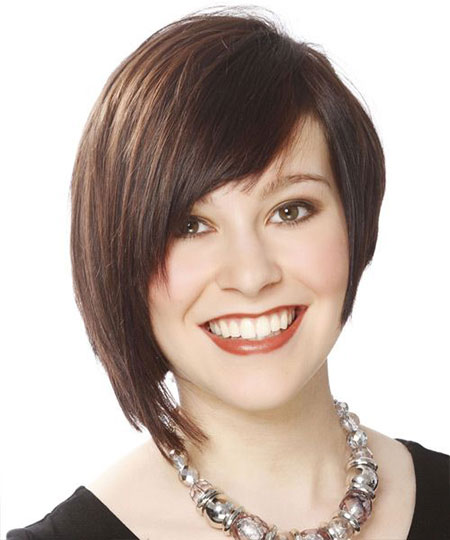 This asymmetrical bob haircut is a twist on the classic jaw length bob look. Keeping one side a much longer length and teaming it up with a side fringe helps to give this style a contemporary look.
#2: Heavy Fringe from the Crown
The heavy fringe consists of hair which comes all the way from the crown of the head. The asymmetry of this style looks great on women who have high strong cheekbones.
#3: Tapered Short Bob
This tapered bob is a really cool modern twist on a 60's style. The top of the cut has been razored through to give the hair a light but shaggy texture.
#4: Extreme Asymmetrical Cut
This cut is much longer on one side than it is on the other. The stylist has also kept the hair much longer at the front than it is at the back.
#5: Straight hair with a sweeping fringe
A sweeping side fringe creates an asymmetrical style without doing anything too extreme. This style is low maintenance because all that you need to do is brush your fringe over from one side to the other.
#6: Asymmetrical Style with Volume
You can create a lot of volume for your style by combing your hair over from the roots. Comb up from the roots and pull as much hair as you want across from one side to the other.
#7: Asymmetrical bob and Side Fringe with Curls
An extreme side fringe with large soft curls is an amazingly striking look. Sweep all of your hair over to one side and team it up with strong eye makeup for a standout look.
#8: Tousled Locks
Tousled waves are an amazing casual style which can be worn when you are about and about. To get loose waves like these, scrunch curling product through your hair whilst you are blow drying it. Run your fingers lightly through your waves to create a tousled look.
#9: Shaggy Sleepover
A shaggy sweep-over is a good choice if you want some "just got out of bed" hair or "haven't tried to hard" hair. Its also great if you only want temporary asymmetry.
#10: Fine curls
If your hair is not naturally curly, you can achieve this look with a curling iron. If you curl larger sections of your hair, you can separate them out into smaller portions before you apply setting spray. Be careful not to pull your curls apart too many times, or you will lose them.