Having fine hair is a real constant struggle for women. We all want luxurious locks that are easy to style, but not many of us are that lucky. However, when fighting back this annoying problem, the real styling deal is in the layers that pile one over each other and create that stacked look. If you are searching for the haircut that does that, you are in the right place because the answer is: bobs for fine hair.
To obtain that luster, volume and hair richness we all crave for, you must find the hairstyle that suits your face shape. So, layers are a must, this way your strands won't fall flat.
Unfortunately, if you are a long hair lover, you'll need to reorientate because long locks don't suit your hair type. It's all about creating an illusion and thick bangs, blunt cuts or lobs can help you create the best bob hairstyle for fine hair.
Suitable Bobs for Thin Hair
Inverted bobs, stacked bobs, or blunt bobs are ideal in case of thin hair. While inverted bobs provide length in front, stacked bobs offer dimension for the backs. If you are wondering why you should choose a blunt bob, keep in mind that this type of cut gives the impression of thicker hair.
Now that you know what type of cut you should get, discover below the best bobs for fine hair!
1. Stacked Bob for Thin Hair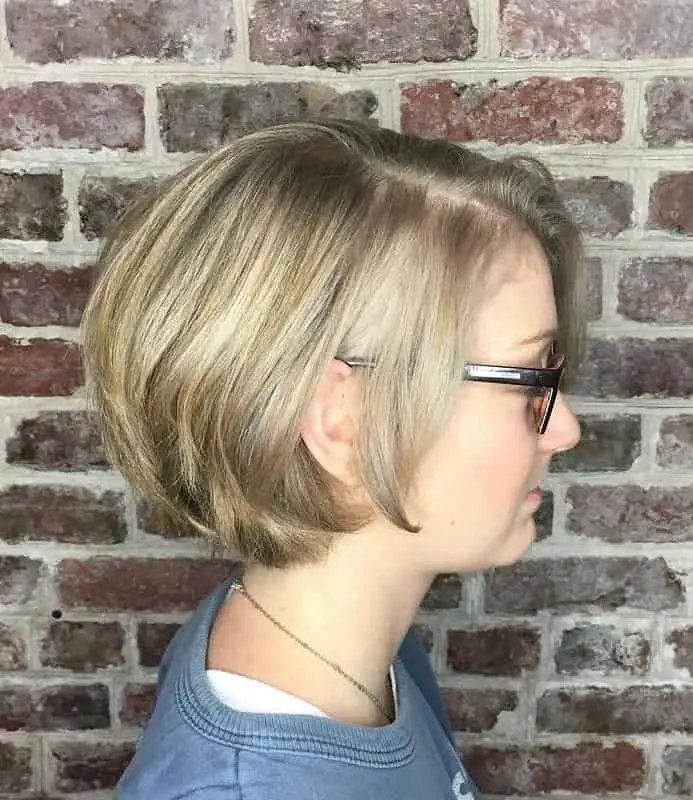 A stacked bob for thin hair creates a lot of dimensions, while the layers fall one over each. You would love to get this hairstyle because it has a voluminous finish, and it's quite low maintenance.
2. Fine Hair Bob for Round Face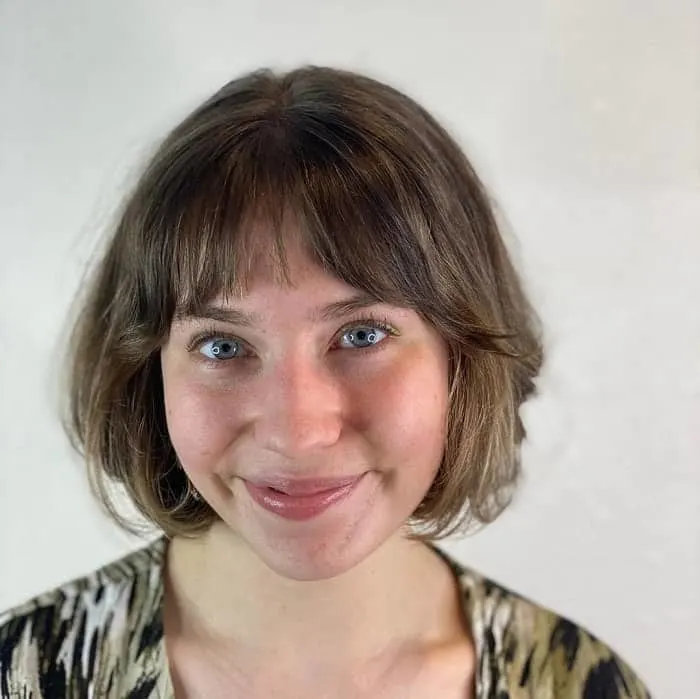 When you have fine hair, a bob haircut is all that you need to fix this problem. Style blonde highlights on a brown shade and opt for rounded bangs that are longer in the corners. You can even tousle the hair a little to obtain that smooth, relaxed look.
3. Undercut Bob for Thin Hair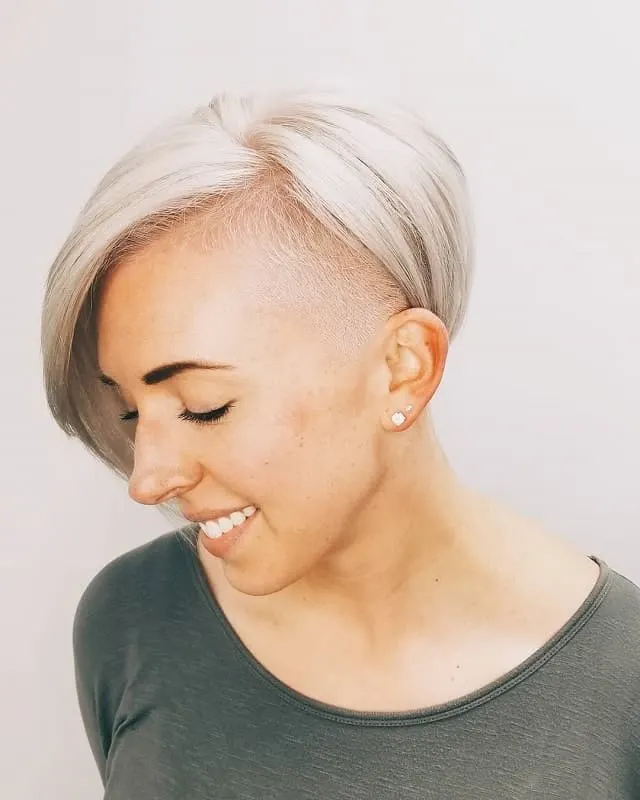 A blonde platinum color for this short pixie bob haircut is undoubtedly very modern. On one side, create an undercut and toss the bangs on one side.
4. Bob for Woman Over 50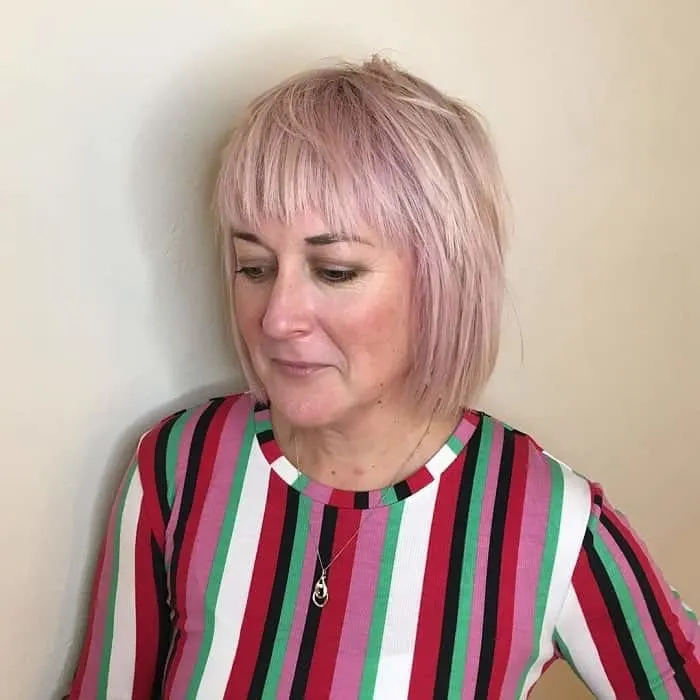 If you are a woman over 50 but crave for a modern look, opt for a choppy bob haircut. Apply the same technique for the bangs and opt for a gorgeous pale pink shade.
5. A Line Bob for Thin Hair
An A-line bob is ideal for thin hair because it provides length for the front strands and builds stacked layers in the back. You can also opt for see-throw bangs that cover the forehead and the eyebrows. Also, a mild blonde will offer you a romantic touch.
6. Shaggy Thin Bob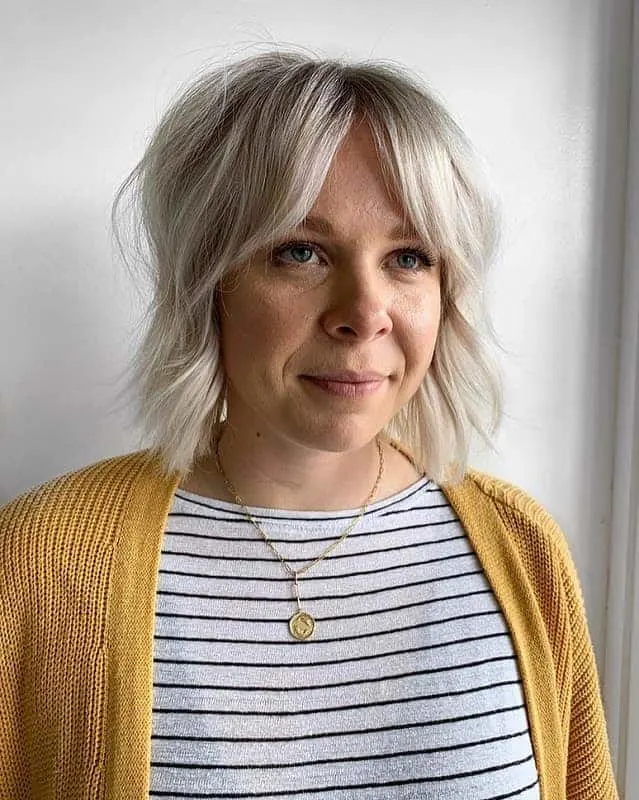 To recreate this full gorgeous look, style choppy bangs and opt for curtain bangs. Keep your natural roots and pick a silver-blonde hair color. Style waves and lift the hair a little bit to achieve more volume.
7. Thin Pixie Bob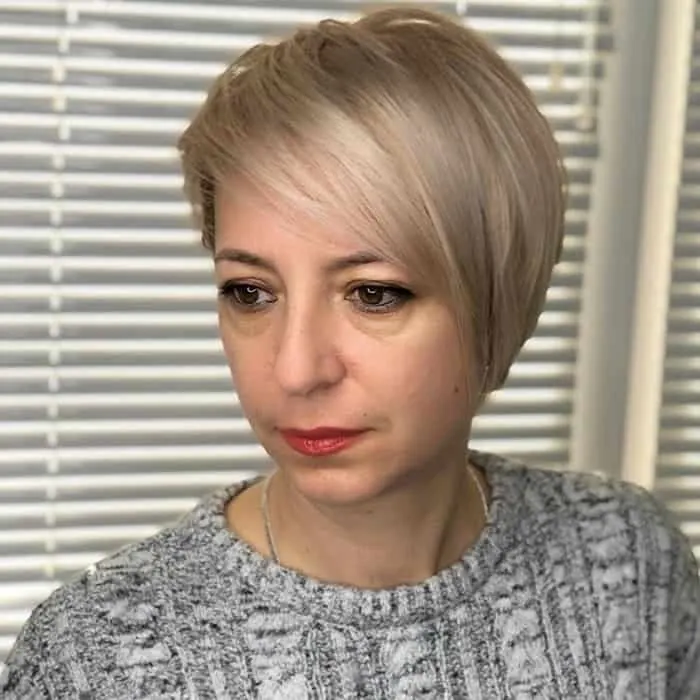 Thin hair always looks better when cut short, and this pixie bob is a real statement. Style bangs that go on one side and opt for a blonde shade. Layer the hair to obtain more volume, and you'll get a low maintenance hairstyle that will look astonishing on your thin hair.
8. Textured Bob for Fine Hair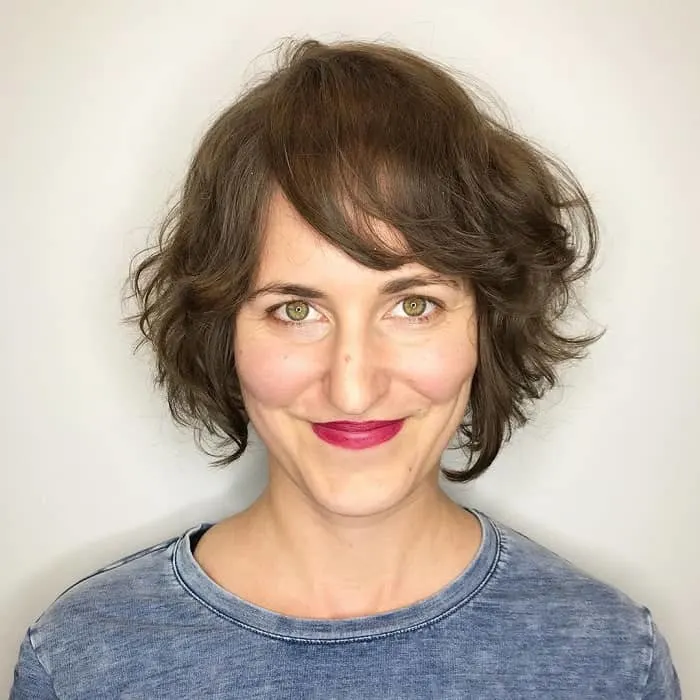 Layers and textured hair go hand in hand when you need a solution for thin hair. If you also style some waves and tousle the strands, you will forget about all those thin hair problems.
9. Chin Length Thin Bob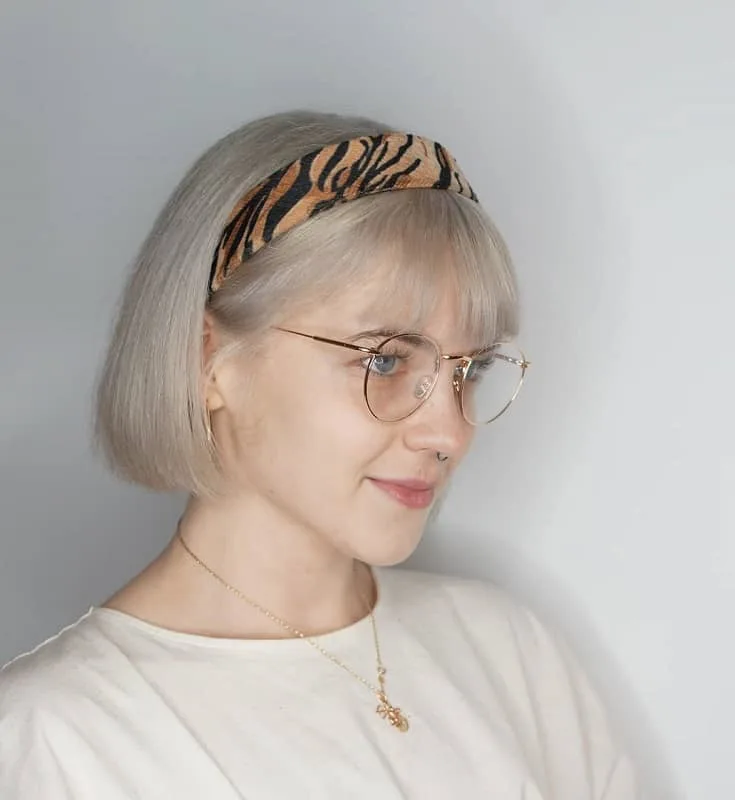 As we previously mentioned, thin hair looks good when cut short and blunt. It makes the strands look thicker, and a blonde silver shade will undoubtedly provide a beautiful color for your skin tone. Accessorize the hairstyle with an animal print headband.
10. Blunt Bob for Fine Hair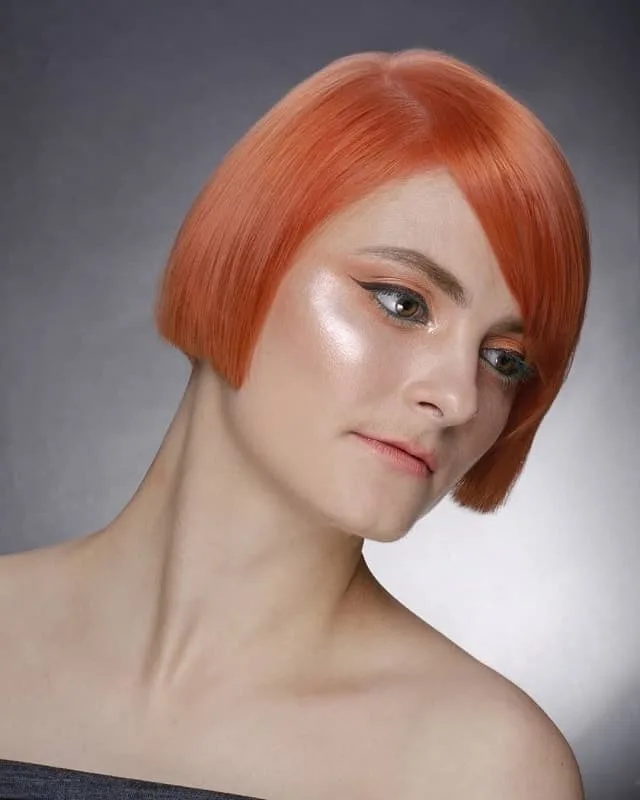 A blunt bob hairstyle makes thin hair look fuller, as you can see in the image above. Maintain the hair short, covering the ears and swipe the bangs on one side. Also, you can go for a vivid color such as red if you want a look that stands out.
11. Very Short Thin Bob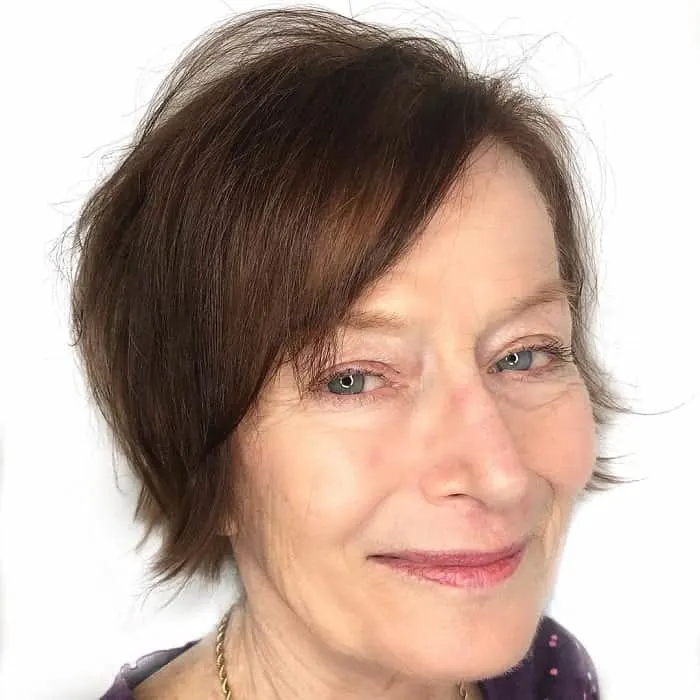 This very short, thin bob hairstyle for women over 50 will suit you like a glove! Go for a delicious auburn shade and style layers. Wear the bangs on one side to obtain that modern chic touch.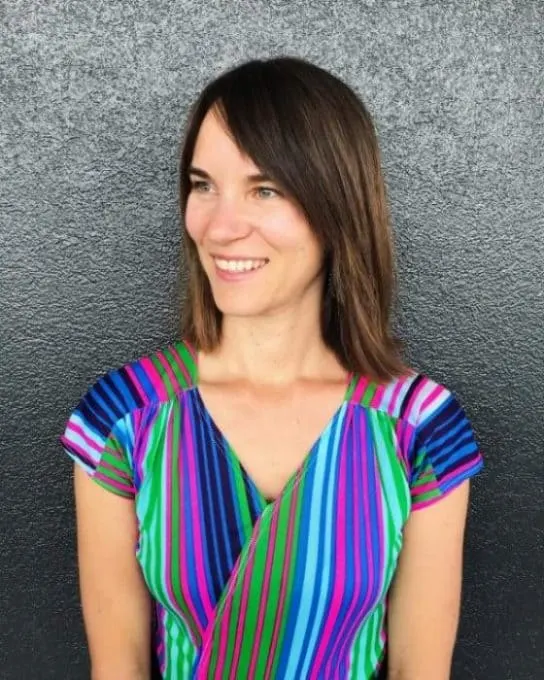 Having black hair is a blessing, as one can always add texture and different gradients to the hair to give a trendy effect. Women with black hair can opt for this style long bob with bangs.
The bob cut can be adorned by blondes too by adding different streaks to the chunky blonds to give off a chic look. So try out this cute bob hairstyle and enjoy sufficient volume and depth to your fine hair.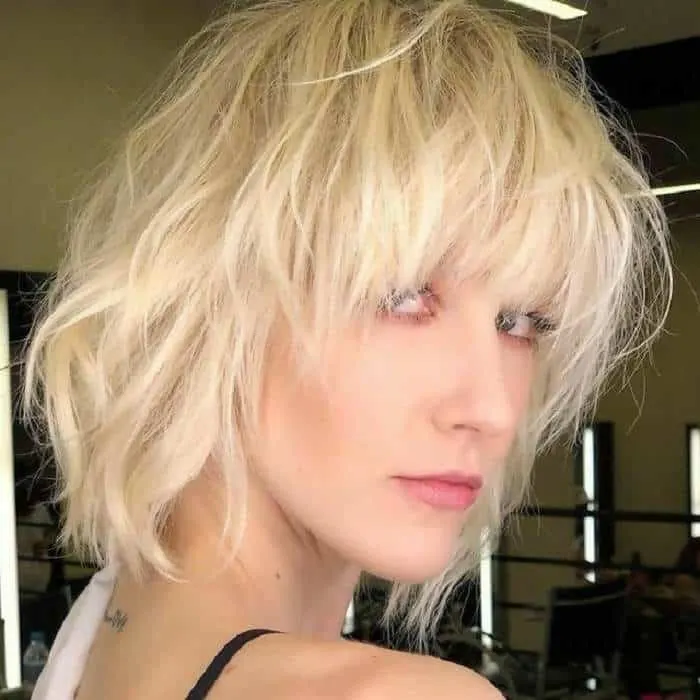 This bob haircut for fine hair literally goes with every face type plus women over 40 and their 50's will definitely rock this choppy layered bob. Add a little funkiness to your fine hair with this style at the same time you will get to enjoy a new volume to the hair if styled right. We prefer to have this cut styled in a messy manner in order to get maximum volume and a chic look.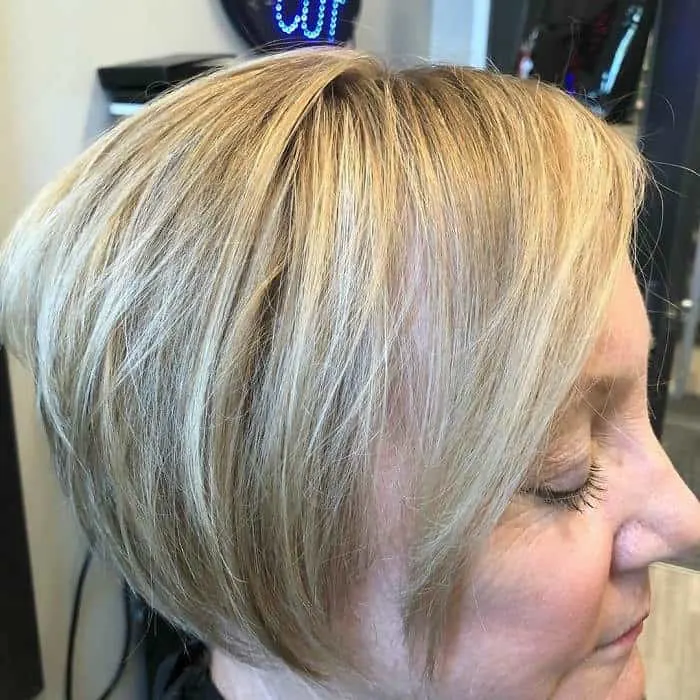 Fine tresses can be a struggle to deal with. But worry not; this cute bob hairstyles for fine hair over 50 on the list will make your entire thin hair problems poof away. A short stacked bob is all you need and again this style looks super cute for women of all age especially those in their 60s.
So what's the wait, get your dresser to shape your thin tresses into this gorgeous hairstyle and so that you can hit the roads in style.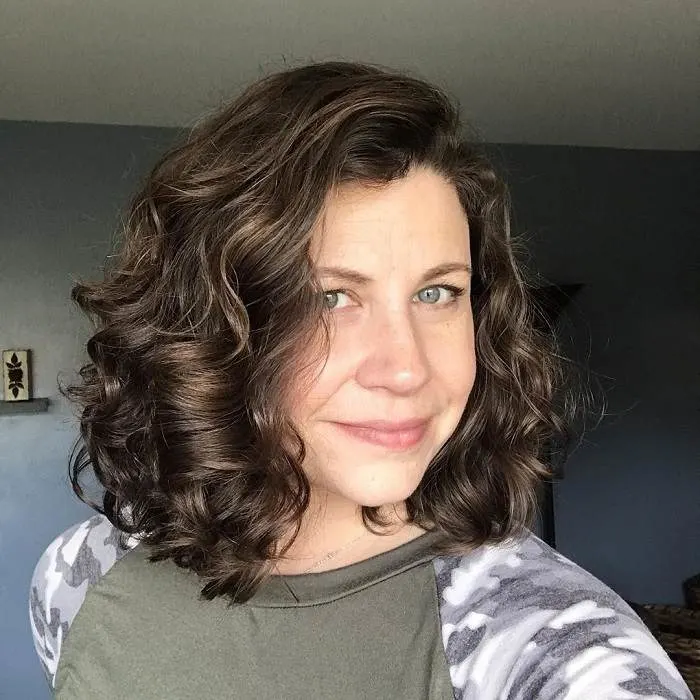 Look glamorous and cute all at the same time with this low maintenance hairstyle! This fine hair bob style is perfect for the women over 40 having naturally wavy hair, but those with the straight ones can always do a little styling to achieve this cute look.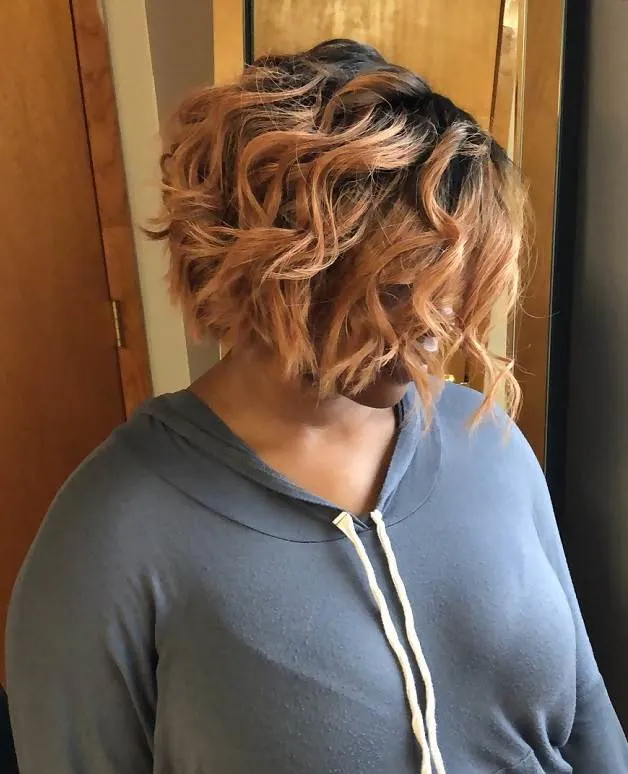 This bob hairstyle for fine hair looks great for all skin types and color. Especially for black women out there, this style is something they are born to rock naturally. A versatile style aiming to make a bold style statement it is a perfect solution to fine hair and thin tresses issue you might be facing.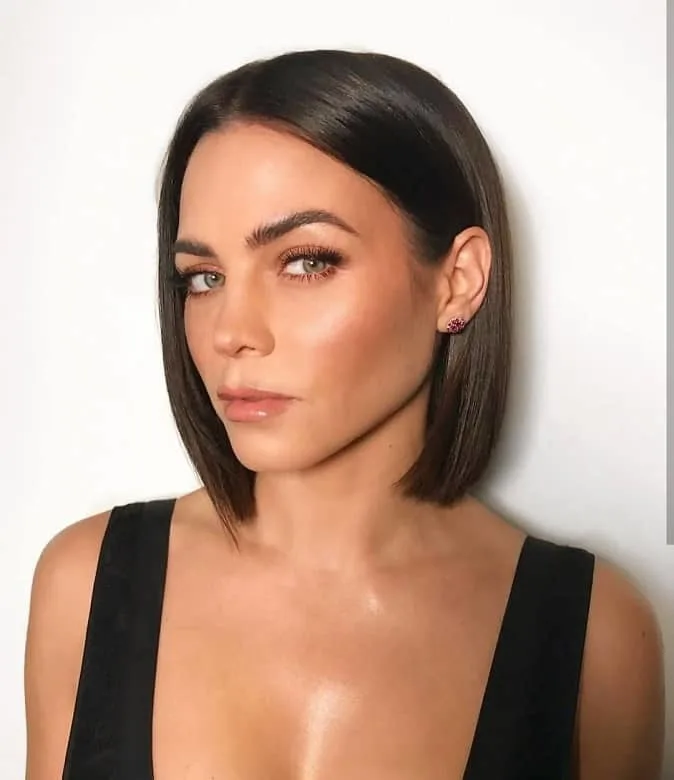 Keep it simple with this bob haircut. The style suits a long face and are extremely elegant in a simple way. In order to add something to the simplicity, curl in the ends to give off an attitude and you are good to go.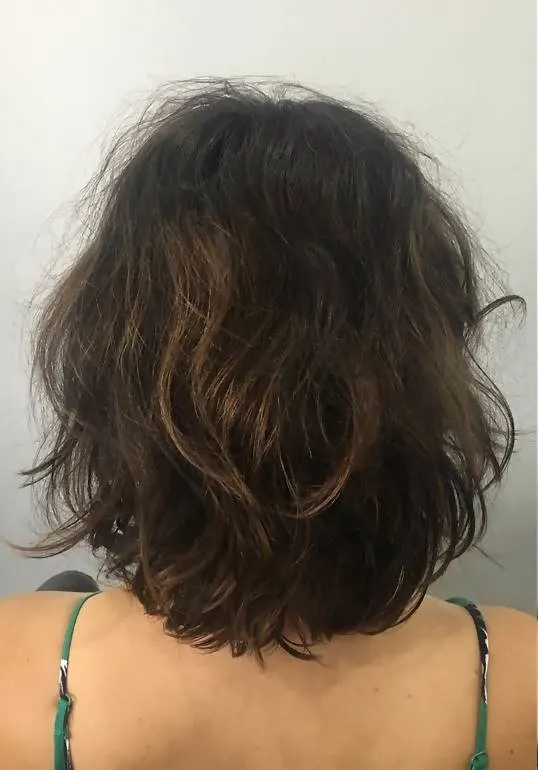 This bob for fine hair is perfect for a vacation on the coast. Light and subtle at the same time trendy and chic to add volume to the fine hair you have. Try this on this summer and add a bit of color to make the style stand out further.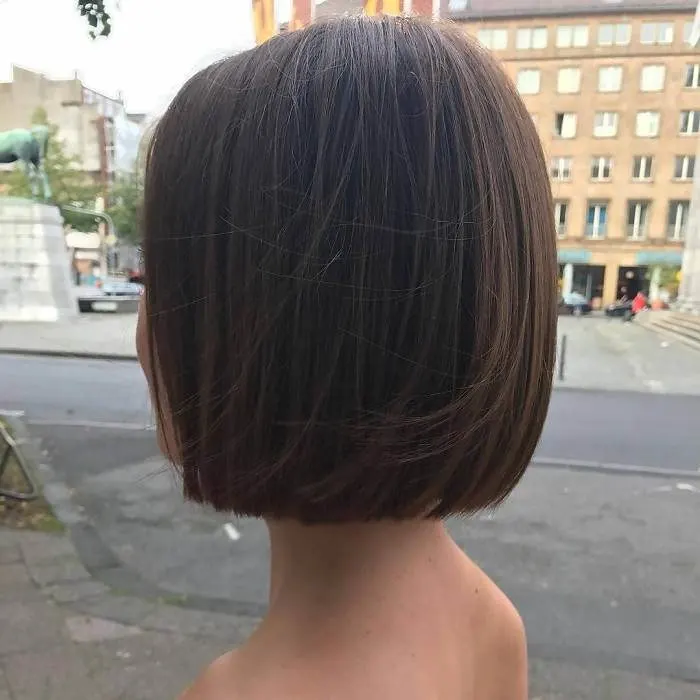 Another simple hairstyle for fine-haired women on the list is the straight flowing bob. This timeless haircut just never gets old. Style them with a bit of wax to show the flow and add texture to the thin hair.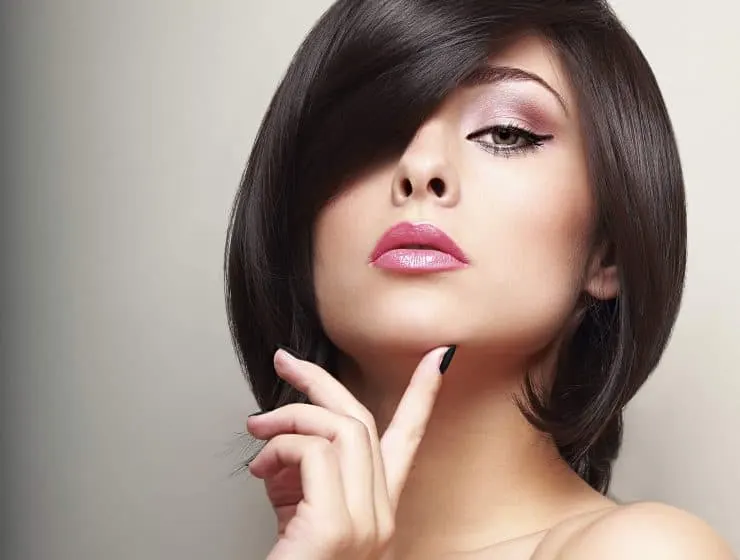 This unique style in the bob is definitely for those willing to make a bold style statement. The side wept adds an exotic edge to the style and frames the face. It may look like a pixie bob cut at first glance due to its short length, but this bob cut definitely is a style worth trying for women having fine hair.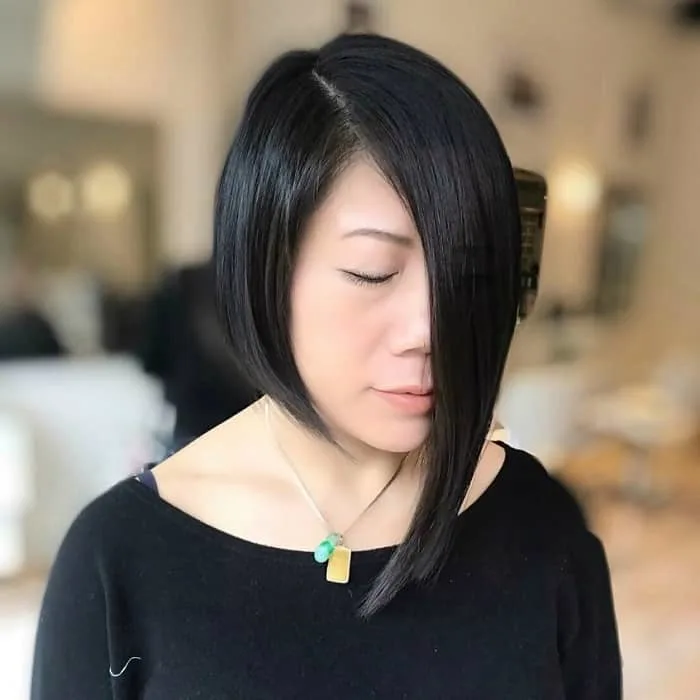 A big hit amongst the celebrities, this bob haircut for fine hair is optimum for the ladies on the go. Requiring minimum maintenance due to its short length, it tends to add flair to the hair giving volume and texture. It's easy to maintain, wash and style and definitely worth a try.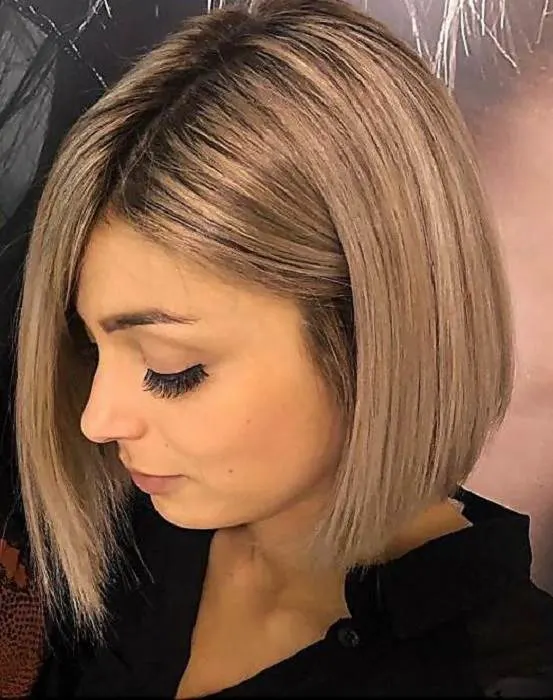 Short thin hair always tends to keep up the volume. And the best way to retain this is to go for a champagne blonde hairstyle. This style is sleek and stylish plus solves your problem of volume. It can be styled with a little amount of wax and you can go with it the entire length of the day.
23. Fluffed Up & Fabulous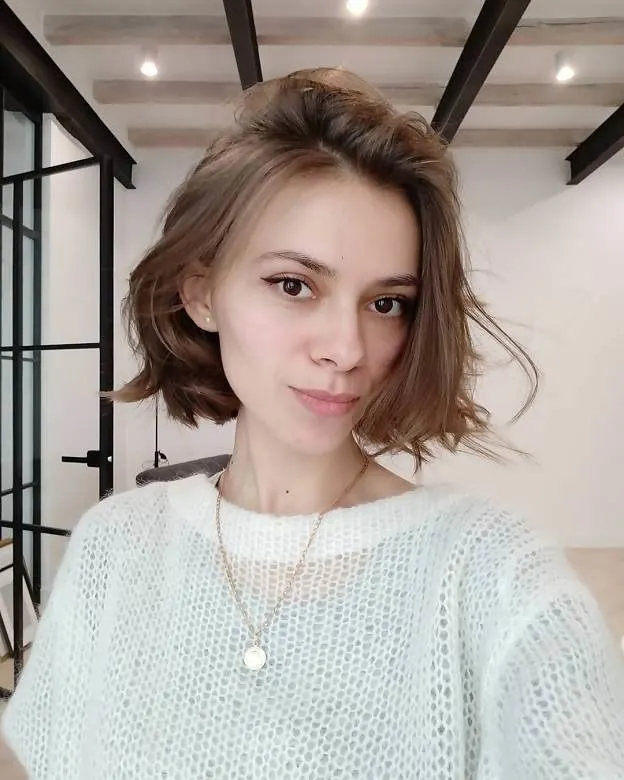 This style on our list is especially for the teenage girls looking for some funk in their hairstyle. Fluffed up bob for thin hair is something of bold and sprightly nature and perfectly complements the lively and bouncy nature of the teenage girls out there. Add different colors to the style to make it look more cool and chic.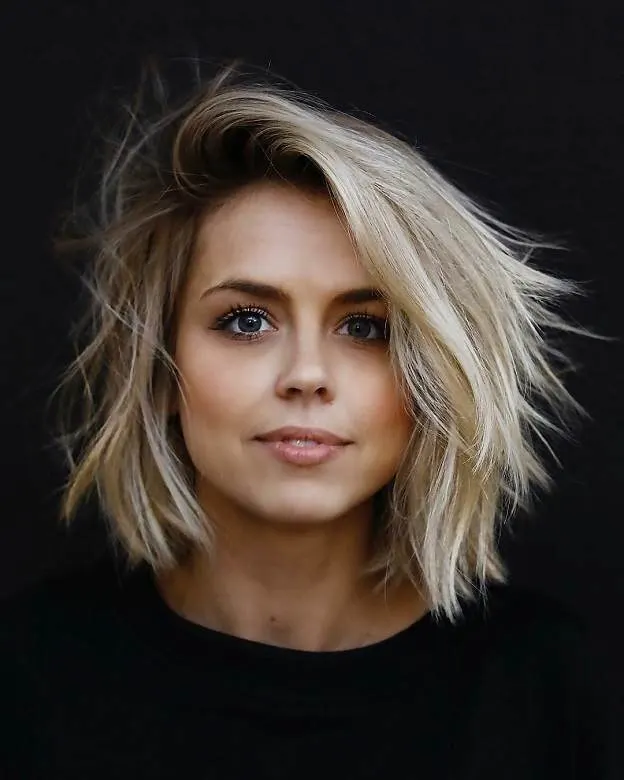 A long bob will also come out nicely in this context and for that, you need to opt for this fine hair bob style in the list. Grow out your short bobs into the lob and rock the streets in style. A little wave to the style like that in the picture only adds to give more volume and style to your locks.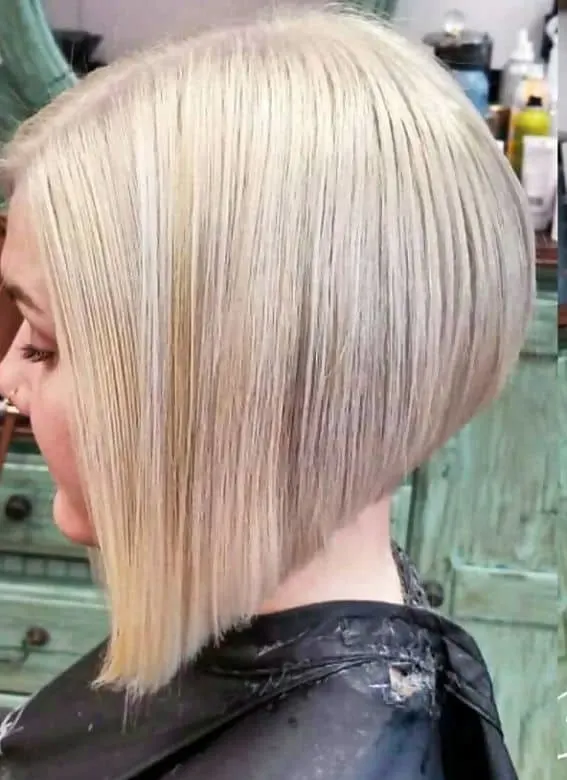 The next style on the list for fine haired women is our personal favorite; the layered inverted bob with a classic touch. This hairstyle tends to suit every face cut and goes along with all the age ranges. Plus those who don't like to spend much time on their hair, this style is a must have for them.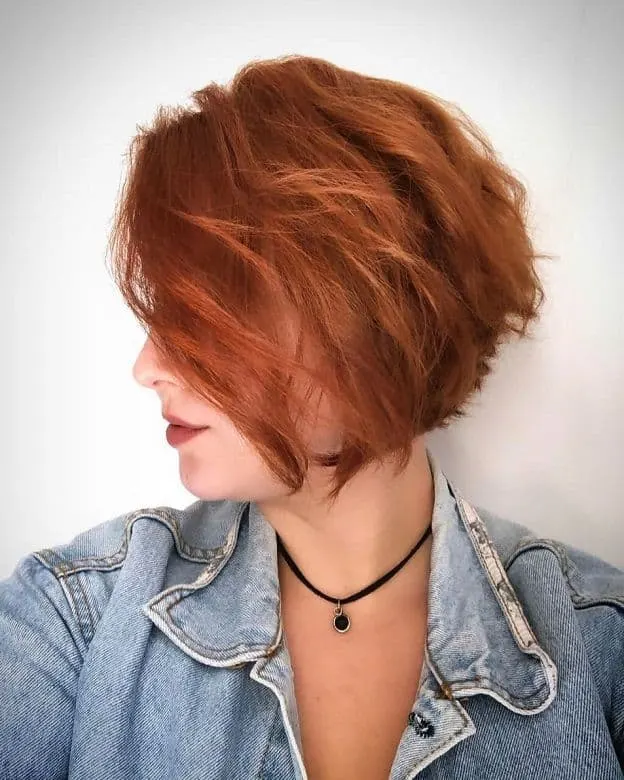 Add dimension to your hair by having the razored layers added to your bob. This bob hairstyle for fine hair gives off a cute messy look and tends to add volume due to the layers. You can add on to the cut by having the highlights to the end to add dimension to your hair.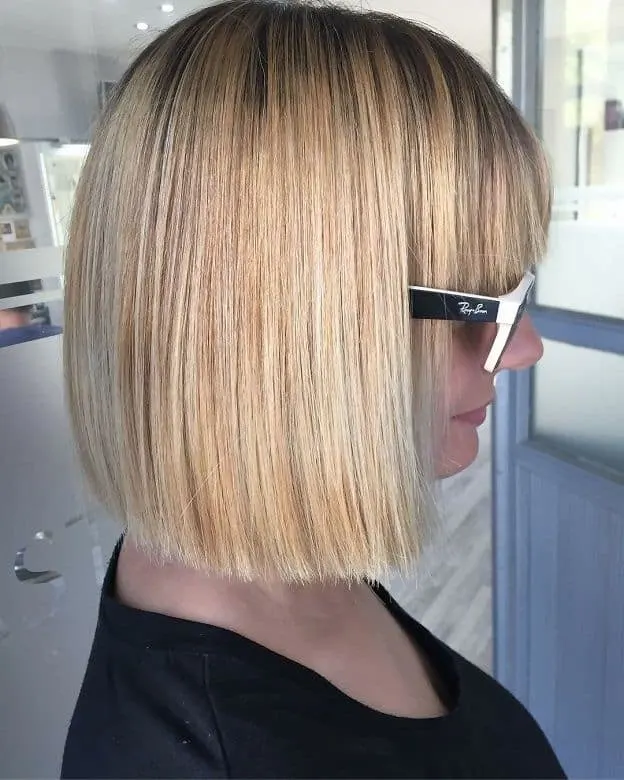 Get a polished sleek look with the geometric medium thin hair. This bob with bangs for thin hair demands great precision when it's being cut but the outcome is totally cute and chic. However, the style requires maintenance and frequent visit to the salon to have the ends cut to complete geometry.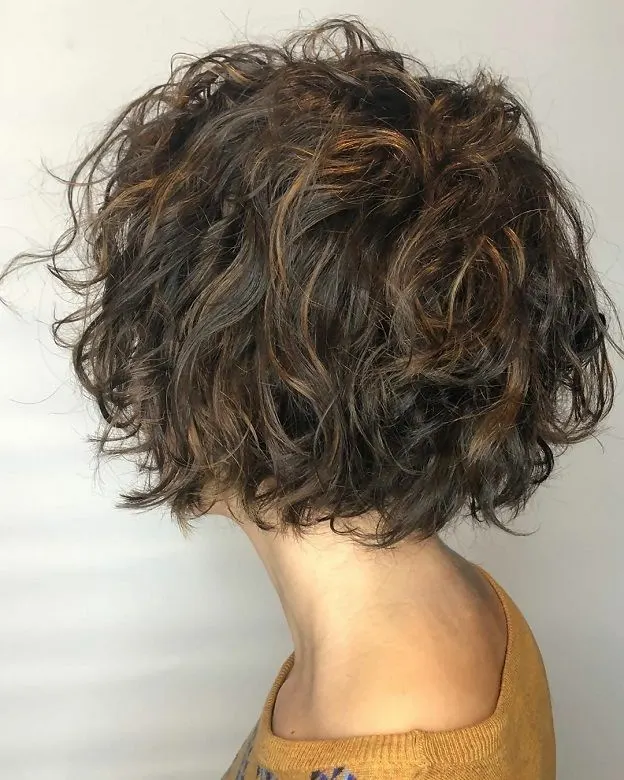 The perfect hairstyle for wavy hair this is something that will require the least maintenance at your part. A style is a desirable option even for those not having the natural waves. It's trendy and adds volume to the hair owing to the short length.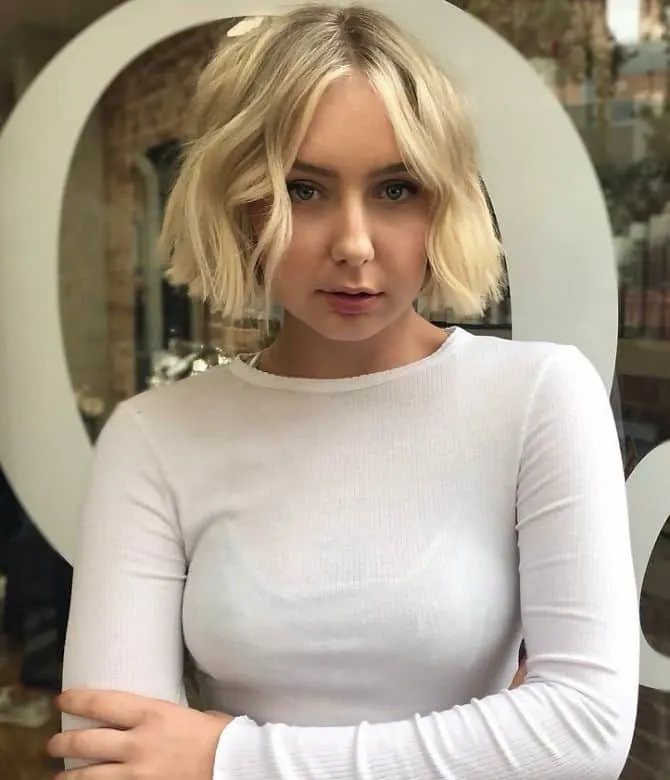 Add on several styling options to your mirror table by having a chin length bob on fine hair. This length is perfect to experiment and have on a number of styles. May it be sleek straight or some gentle waves, it's your call.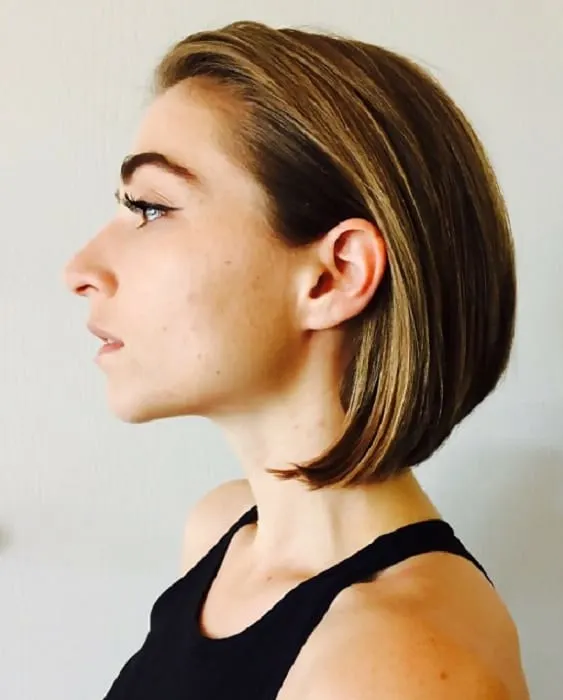 The slicked back is bold style and the girls will not shy away from borrowing this from the guys. This bob haircut for fine hair requires some styling at your part. Some amount of gel to set and comb back the locks to get the perfect slicked back look.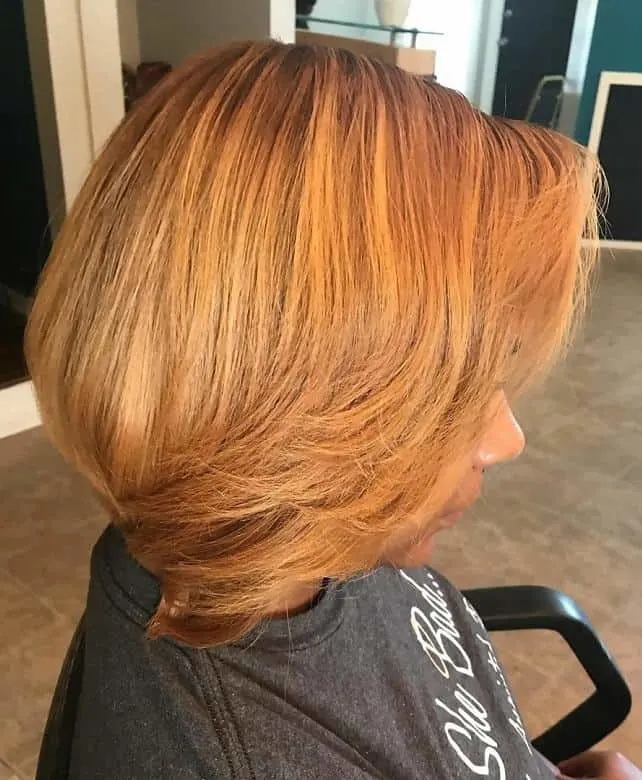 Adding layers to the bob just adds more style and volume to the thin hair. The long layers accompany by the asymmetric cut will boost the texture and volume of the fine hair. So style up with this bob for fine hair and add a little twist to your style statement.
How to Style Bobs for Thin Hair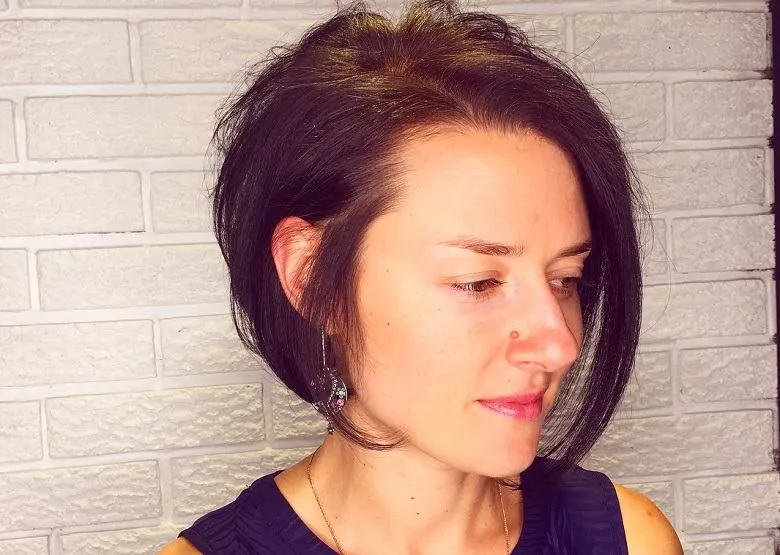 When dealing with fine hair, one is always looking for ways to make it look thicker and style them the right way. With a bob haircut, things just get easier!
In order to have the perfect bob start by blow-drying the hair, and where you blow there it will lie! To determine the direction of the dryer and the way you want your bob to settle. Once done, curl in the ends using a straightener.
In order to fluff and keep them in place a ton of styling products are available. Try opting for the ones that tend to give volume and avoid the ones that weigh heavy. Now that you know the general way to style bobs for fine hair, tag along to discover a number of trendy bob haircuts on the list to carry yourself in style.
The Best short hairstyles for thin hair over 50
With this, we end our list of bob haircuts for women with thin hair. Do try out these to get the best out of your fine hair and to hit the summer with style and class.
Frequently Asked Questions
Here are answers to some of the most frequently asked questions about bobs for fine hair.
Is a bob haircut suitable for fine hair?
Yes, a short bob hairstyle is quite suitable for fine hair. Various bob hairstyles will help add texture and volume to fine hair.
What's the best bob cut for fine hair?
The best bob cut for fine hair is any style that flatters your face shape while making your hair look more voluminous. A sleek, chin-length bob is a popular choice.

If you want to get a bob while still maintaining your length, consider a lob. This will let you have a longer hairstyle without weighing down your hair.
Should a fine hair bob be layered or one length?
Whether or not you should layer your fine hair bob depends on your hair texture. If your hair is straight, cutting it into one length will create a smooth, clean style. If you have textured hair, cutting your hair in layers will help your curls and waves fall into an attractive shape.