Middle part hairstyles are coming back to show their glamour. The slimming, modern, and leading look of a middle part tends to give a clean look with the perfect symmetry to flaunt! It's obvious that long hair has been the preferable choice for middle parting the hair, but now, short and curly hair has also proven to be a gamechanger for the overall look.
Most of the time, when we talk about the current hairstyle trends, we overlook the combing factor. We focus on cuts and styles instead of giving any attention to the way we part our hair! If you are ready to make that split, then read along to find some exciting details and guide about middle part styles.
Who Should Try a Middle Part Hairstyle?
If you have an oval or round face, the center part hairstyle can help to give an illusion of length and symmetry while narrowing and adding the balance to your facial features. Furthermore, center parts will give a proportionate look for your oval face for perfection.
If you have a long face, then the hairstyle with middle part can give you an illusion of roundness. So, if you are ready to pull this trendy style off, there's no one to stop you! Bangs compliment perfectly with middle part hair, and you can achieve a distinct look. Additionally, it even adds a twist to your whole personality with the trendy remark.
In case you have thick and straight hair, there you're in for a treat for mid part hairstyles. You can essentially create a gorgeous look that could frame your whole face. Even medium, thick, and wavy hairs can result in a dazzling look with a center part hairstyle. With medium hair lengths, center parting with waves will give the perfect, graceful look.
How to Part your Hair in the Middle?
If you want to experiment on a middle part hairstyle look, it's extremely easy to create so you'll have no worries. You can even use a blowdryer for a better hair-setting. Essentially, you can set it however you want to with simple steps. So, if you are ready to flaunt the classic look of a middle part style, then you should know how actually to achieve it. You can readily start by:
Grab a rattail comb that comes with a pointy end, and it will help you create the part that you are aiming for.
If you're not sure where to make the middle part, then you can easily follow the bridge of your nose as a guide.
Start by moving toward the front side of your hairline and use the comb to move it back towards the center of your head.
You can use a blow dryer to make sure that your hair stays in the same position.
You can essentially get a straight down center look at first which will suit you in any occasion.
Classic Middle Part Hairstyles
Middle part hairstyles can give you a wider look with its severe accent, which brings out your unique facial features. Read along to find a lot of inspiration to try out a middle part hairdo.
1. Middle Part Hair with Bangs
Just because you have a middle part, that doesn't mean you can't also have bangs. Add a fun touch of pastel purple to make this long straight hairstyle more colorful.
2. Thick Hair with Center Part
You don't need to gather hair in a ponytail or bun to tame it. A simple center part will divide waves gracefully so you can still feel gorgeous.
3. Middle Parted Updo
A small center part is the subtle feature everyone sees before the really dramatic and chic crown braid in the back. This style works best for hair that is at least medium in length.
4. Middle Parted Curly Hairstyle
Long curly hair stuns as a half updo and its small center part at the front. Just a small inch sets this half updo bun or ponytail apart from a traditional one.
5. Long Hair with Middle Parting
To get a dramatic hairstyle like this one, make sure hair is sleek and straight before combing in the center part. Then spray and seal away frizz with a light mist of hair spray.
6. Grown Out Layers for a Middle Part
Gigi Hadid certainly knows how to flaunt a messy middle part hair with grown-out layers that give an amazing look. With hairs pulled back with a semi-tightened look, you can achieve this mid part look to wear it gracefully. The alluring appeal of this hairstyle manages to turn many heads.
A ponytail never fails to shine in any hairstyle and can give a fabulous look! If your hair is long enough, you can easily try this hairstyle as Bella Hadid did here. Rock the pony hairstyle with a middle part and get a sleek look that would be perfect for any occasion.
8. Sleek Medium Hair with a Middle Part
Get this subtle yet amazing look with your tousled hair on your shoulders. This can readily give a relaxed vibe and proves that a middle part can be perfect to achieve an elegant look.
9. Precise Bob with a Middle Part
The beautiful drama that the bob cut creates compliments well with a center part. With the subtle look of the hairstyle, you can easily pull off this trendy look. Straight hair will provide the perfect infusion with the overall look to give amazing results.
10. Center Part with a Sleek Look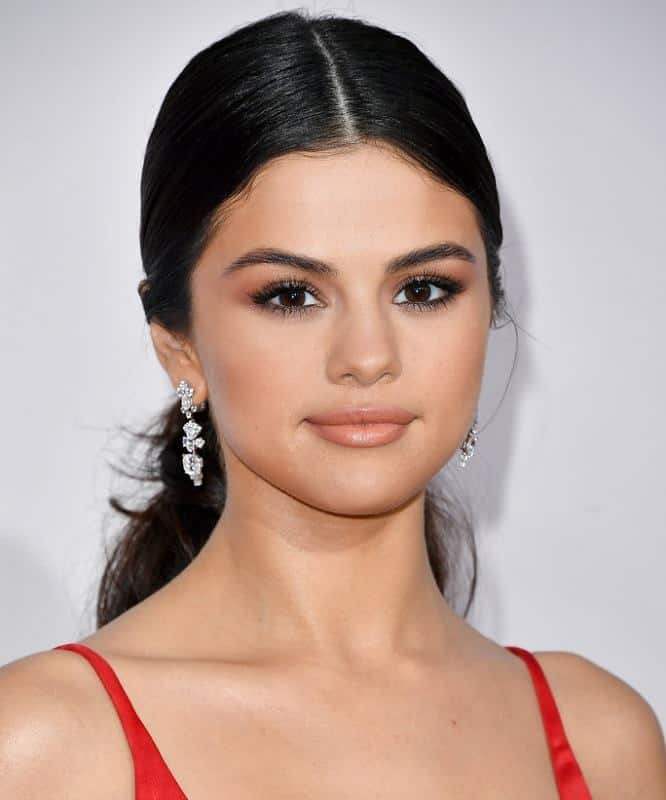 Get this modern and sleek look with minimal effort. Selena Gomez wore this wonderful hairstyle which essentially brings the focus to her unique facial features. All you have to do is part your hair in the middle and bring the front half towards the back, leaving the rest half to fall freely to give an exotic look.
This style is truly an iconic choice and gives an alluring appearance. With this simple, comfortable, and elegant look, you can rock a middle part hairstyle in no time.
11. Wavy Bob
You should do something to make your thin hair look voluminous. Try bob cut this time, and you can convert it into a wavy look by lightly curling your hair. Again, the center partition is going to rock here.
12. Dutch Braids
When discussing middle part hairstyles, it doesn't mean the hair has to be open all the time. Instead, you can tie it or simply braid it.
Dutch braids look beautiful on long hair. Make two with equal halves and leave tendrils to add a layer of beauty.
13. Cute Half Buns
Half buns are another great way to style your hair as it takes less time and looks so cool. You can make two knotted thin half buns and keep the rest of the hair open.
This lets you keep your hair open as well as tie. It's a great look to try in the summer season. Keep the natural color of your hair.
14. Sleek Ponytail
Keep your look subtle but professional this time. A sleek low ponytail is a combination of both. It's the hairdo you can make in your day-to-day life.
You can make a little change like wrapping a layer of hair above the rubber band. Keeping your hair straight will help you get the desired look.
15. Casual Space Buns
Make neat space buns by twisting your hair. It's a comfortable and steady hairdo for dancers, players, and little girls. Just make sure there are enough bobby pins to hold the bun.
Now you jump, dance, or run; these buns will stay in their places. Use hairspray to maintain neatness.
Unarguably, fishtail braids have taken over every hairstyle! Additionally, with a middle part hairdo, a side braid could be perfect to flaunt out. The gentle yet messy tug of hair can create a single mesmerizing finish.
17. Loose Center Part with a Pinned Hair Updo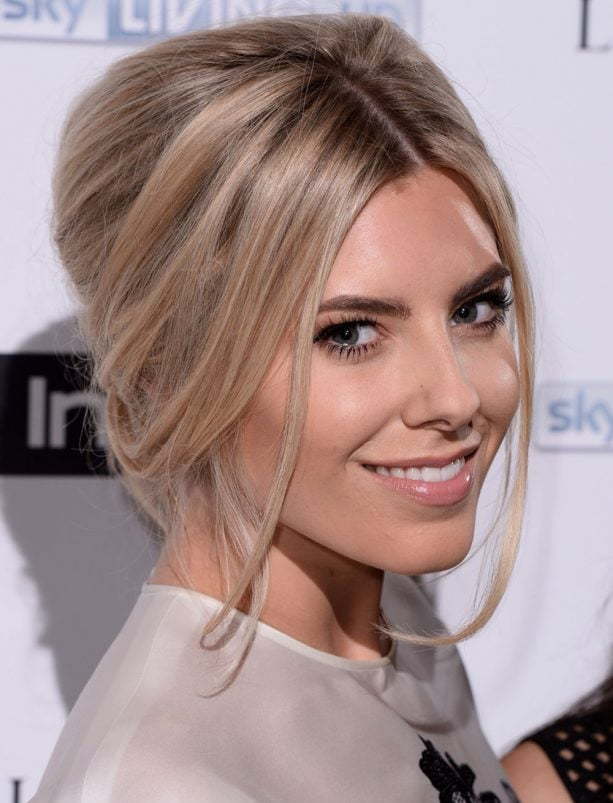 The iconic style of center part hairstyles has been really popular with loose locks. With smooth and long hairs, you can essentially achieve this easy look by just tugging your hair together at the back. Bring out your beautiful facial features with this graceful look.
18. Wavy Touch
Flaunt this mid part style with your loose hair to streamline your facial features. This glamorous look can give you the perfect natural look for your long hair. The wavy locks can fall on the side to give a beautiful finish.
14. Messy Side Braid
Beautiful actress and model, Megan Fox adds a care-free appeal to her outfit courtesy of messy side braid. It is simple to make, leaving a few strands for a soft look. It creates an excellent look worth emulating when you are running out of time.
Having a thick black hair like he always gives that super chic feel when drawn back into some tight hairdo, thus making the middle-parted braids hairstyle which enhances its sophistication. The little tendrils of hair are dropping around the ears augment the reality of your outfit without messing up anything about the sleekness of the messy side braid.
19. Messy Waves with Braids
This simple middle part hairdo can give you a sensational look that is perfect for a pleasant night out! You can pair up your waves by parting them at the center. Give it a messy touch while braiding it on the side in two sections.
21. Center Part with Medium Curly Hair
A mid part can be perfect for curly hairs so don't back away from experimenting with this amazing look! Experience the fabulous hairstyle by just leaving the curls free with a middle part, and there's not much you have to do to get this glamorous look.
22. Soft Curls with Loose Braids
Allow some parts of your soft curls to be while you part your hair in the middle. You can let some hair to fall on the side while the rest will be on the back. If you want the focus to be on your neckline, this hairstyle with mid part could be perfect to give an enchanting look!
23. Down and Pulled Back with a Middle Part
Get this mesmerizing look with some of your hair pulled back along with a center part. If you want to show off your proportionate features, then this is the go-to hairdo. The messy yet beautiful look can be achieved without any essential effort.
24. Middle-Parted Double French Braids
Kim Kardashian appears younger with this middle-parted braids. She is genuinely embracing the double French braids, with school girl-esque twin braids that allow her physique stick out in addition to her lovely blue eyes.
In general, the double French braids take a sporty braided look, but also provides extra essence of youth to outfit whatsoever you decide to wear – It is always a win-win situation.
Embrace this classic look with two simple braids on the front side while leaving the rest of your hair flowing on the side. This mid part hairstyle manages to focus on your facial structure and can be paired up with any outfit.
26. Distinct Mid Parted Short Hair
A bob cut has the capacity to give a younger looking appearance to your face. The classic haircut can fit perfectly with a middle part hair as it never really goes out of style. It can be featured with any length of hair without any hassles, and you can easily manage to flatter anyone.
Wear this beautiful hairstyle to any special occasion with an elegant outlook. You can start with the crown braids on the front side and lead all the way to the back.
This is the perfect style to flaunt at weddings, and you could easily stand to be the center of attraction! It might sound like a complicated look to achieve, but it's surely worth it.
28. Smooth and Straight Hair
This middle part hairstyle was really famous back in the 90's with its proportional look. You can flaunt this simple and subtle look with no effort at all. The center part manages to make straight hair look amazing with its distinct style.
You can try double french plaits to get this amazing look. Sienna Miller really pulled this off with a glamorous look. There's nothing to hold you back from trying this unique hairstyle!
30. Middle Braid Parting
Middle part hairstyles came back with a bang and braids! Try this fun and interesting look with a braid. If you think you can pull this off with your outgoing personality and attitude, it can be the perfect look!
31. Bohemian Loose Braid
Karolina Kurkova's bohemian loose braid is lovely and balances thanks to its beautiful braids with the middle part in front completely.
With bangs falling as ringlets on both face sides provide an extra touch of elegance to the braids, including the central part, which would likely fall on the more casual side.
All it takes for Karolina Kurkova is a little subtle variance to raise a hairdo, beginning with the part.
32. Center Part Loose Side Braid
Rocking the simple side braids does not necessarily imply you ought to side partings on your hair too. Sometimes it could be quite the opposite, and the middle part adds a certain innocence appeal.
With the middle part loose side braid, elegance is not a priority but making a casual, smart, and sporty look. Kendall Jenner undoubtedly shows off how great the center part loose side braid can be!
33. Elegant Puffed Up Hair with a Mid Part
If you want to get this elegant look, all you have to do it gather the front part of your hair to give a puffed-up appearance. This messy yet glamorous up-do looks perfect for any special occasion. Let the rest of your hair fall on one side to get that classy elemental look!
34. Center Part Updo
Center part hairstyles do not require much effort, and that's the best thing about them! You can easily get a messy look which will give you a beautiful look in no time. Bring in your wavy hairs together and just let them be with some locks left on the front side.
35. Mid-Parted Two Braids for Black Hair
The crown braid is a gorgeous middle part braid style in numerous regards. Chanel Iman flourished in accomplishing the benefits of pulled back hair (correctly displaying her face) in addition to the lovely and luxurious appearance of letting loose your long and straight strands.
The tight braids make an interesting pattern on your hair, unveiling your elegant facial features and makeup. Chanel Iman also has her thick black hair arranged beautifully, all thanks to this middle part braids hairstyle.
36. Middle Parted Pin-Up Hairstyle
To get this fun vintage hairstyle, curl up the top two sections of hair towards the center part. Leave the rest of the hair long and tousled with waves at the ends.
37. Black Women's Middle Parted Hair
After cutting your natural black hair short and to chin-length, add some layers to create shape that'll show beautifully after adding the final center part.
38. Middle Parted Layered Haircut
After adding layers to long blonde hair, just comb in a center part for a hairstyle that works great whether you're on the way to date night or simply running out for errands.
39. Middle Part Hairstyle for Older Women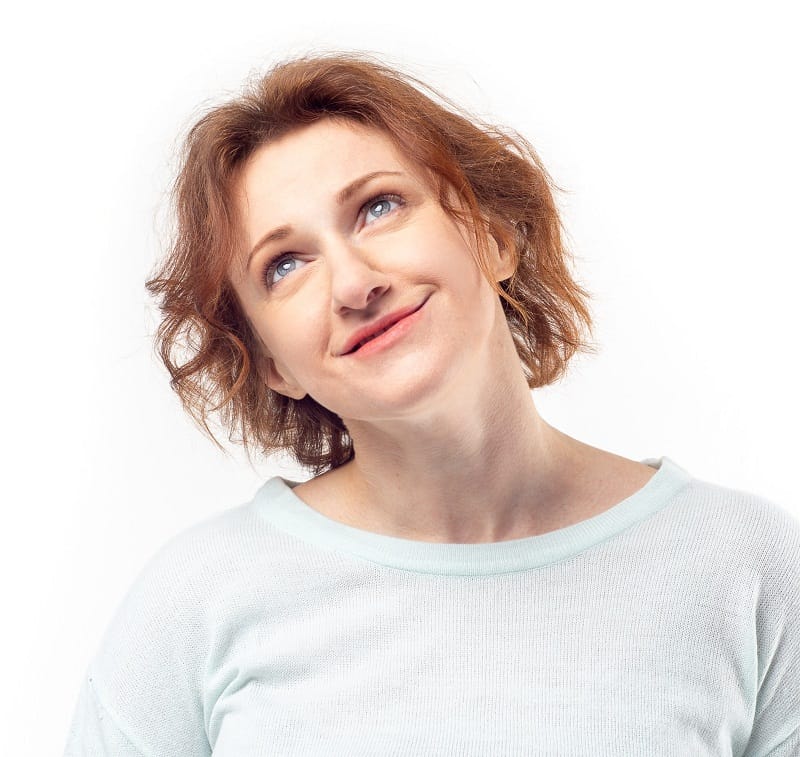 Older women's hair typically gets thinner as they age. You can disguise that by combing in a center part and using hair product to shape soft waves or curls for texture.
40. Box Braids with Mid Parting
If you have naturally black hair, go for long box braids for drama. A center part is all you need to add for statement style and quick styling in general.
41. The Elegant Party Look
You can get this dashing look with your hair pulled back with a middle part. Spilling from the middle gives the perfect frame to the face. It could be the best look to wear to parties or any night out. With this perfect hairstyle, you can bring the focus to your facial features along with the hair texture.
42. The Partially Braided Look
If you have straight hair, then you can certainly pull off this look in the best way. Here, Chanel Iman is seen to flaunt her lovely look with her braids and straight hair. With the interesting pattern of the braids, you can try out this look by letting some part of your hair loose.
Furthermore, this style also brings the focus to the unique features of the face. Wear this gorgeous look out to a fun outing to stay on top of your hair game!
To get this look, you can start by dividing equal parts of your hair in the middle. With the help of box braids by twisting three separate sections, you can achieve this interesting look. In the end, you can make the brains into two buns that will sit on the top. It's a great style to flaunt in the summer!
44. Twisted Bun with Part in Middle
This classic look can give you a glamorous look! The timeless beauty of middle part hairstyles always manages to attract many eyes. Let the wavy hair flow with a sleek and soft bun in the back. The beautiful loose braids can complement perfectly to give a romantic look.
45. Long Wavy Locks with a Center Part
With this successful messy look, you can readily flaunt your long wavy locks. The healthy tresses make a great blend with a large volume of hair to give distinct features to your whole look.
The dynamic nature of middle part hairstyles allows them to stand the test of time. Today, even fashion models do not shy away from rocking that mid-part look. Get started on featuring these amazing and gorgeous looks with a part in the center!