Blunt haircuts are special and instantly give you a gorgeous look. No matter your hair length, a blunt cut on the ends of the hair has a framing effect on your face. A Blunt cut at the ends makes the hair appear thicker and gives a neat, clean feeling that long layers can't.
Blunt Cuts
The gorgeous looks below show how easy it is to find your perfect blunt cut. Blunt haircuts look good on curly locks, fine and straight tresses, and even messy 'dos!
Creating a blunt cut is about working with what you've got and want to achieve. Let's see what is in store!
1. Side Parted Blunt Cut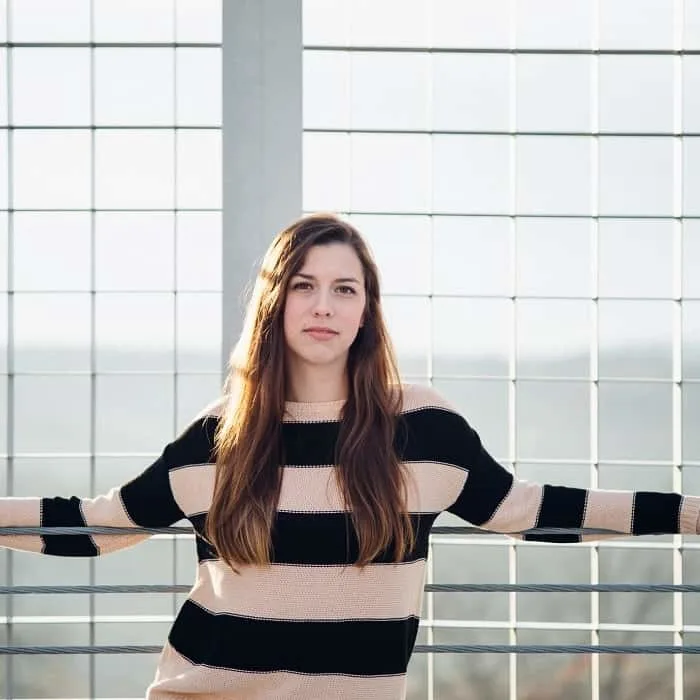 Craving a bit of softness on your blunt cut locks? A side part has a delicate balancing effect that is suitable for all face shapes. Add long, subtle side bangs if your face shape is oval or long.
2. Middle Part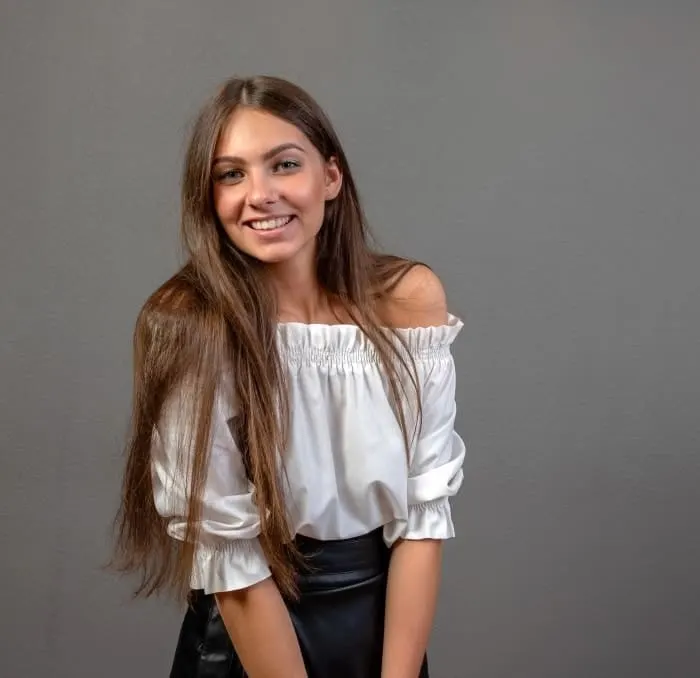 The middle part blunt cut looks beautiful. They mirror the seriousness of the blunt cut hair, especially if your tresses are straight and your face shape is round.
3. Short Blonde Bob Hairstyle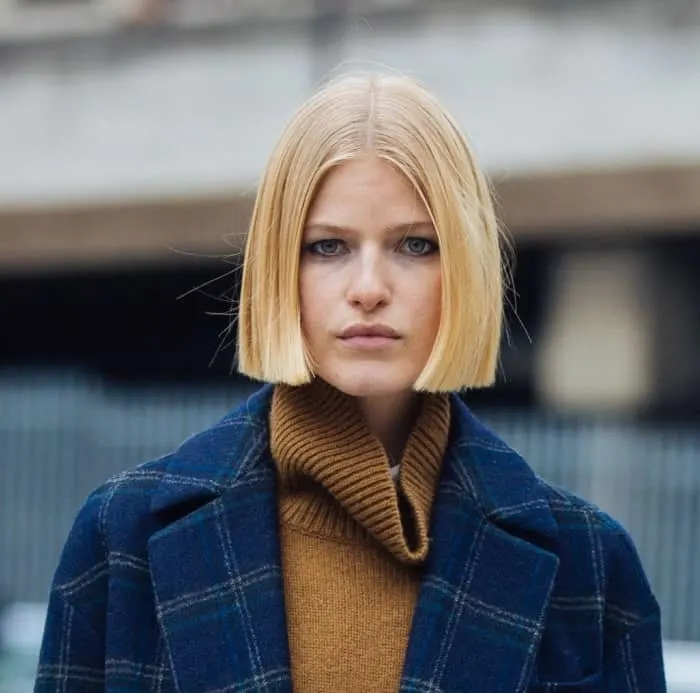 Short blunt cuts work like a charm for women who have fine hair. It will not only create a gorgeous face frame, but you'll also have ends that look thicker and healthier.
4. Blunt Lob with Bangs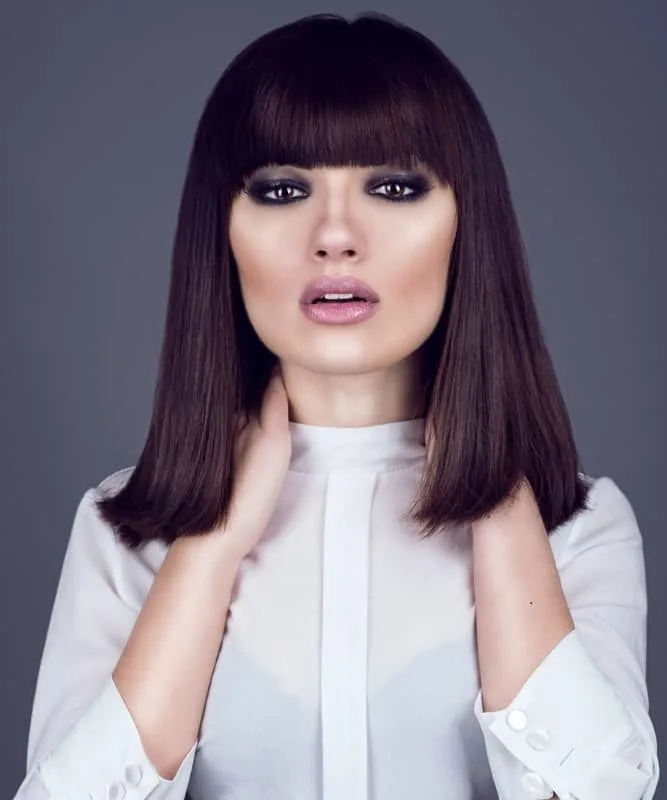 A shoulder-length blunt cut for your tresses can really flatter you if you crave for a look with defined edges. Also, bangs tend to soften your expression, and they can cover a large forehead. In this case, if you have a long face, a blunt fringe will beautifully cover it.
5. Blunt Cut for Thick and Long Hair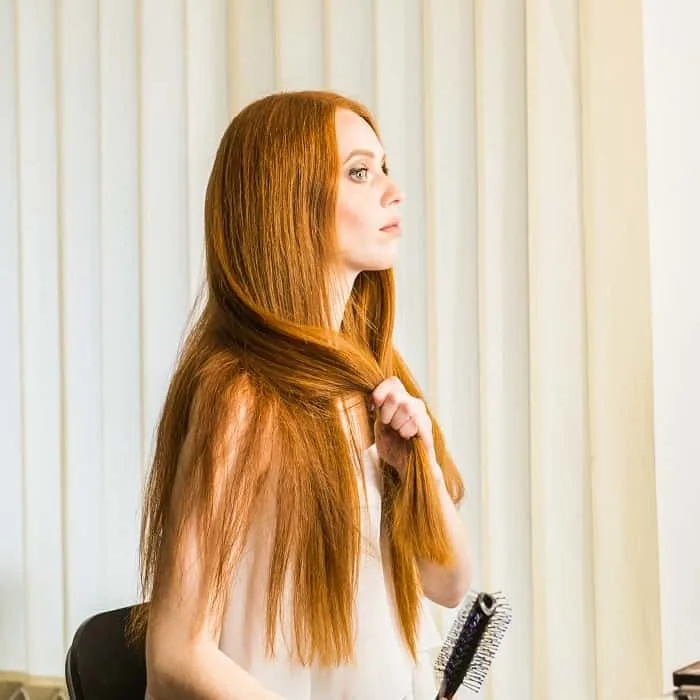 Blunt cuts aren't the best for short, thick hair, but on long locks, we love it. Hair thins as it grows, so blunt cuts help hair appear fuller, even if it's already thick.
6. Blunt Bob with Twisted Braid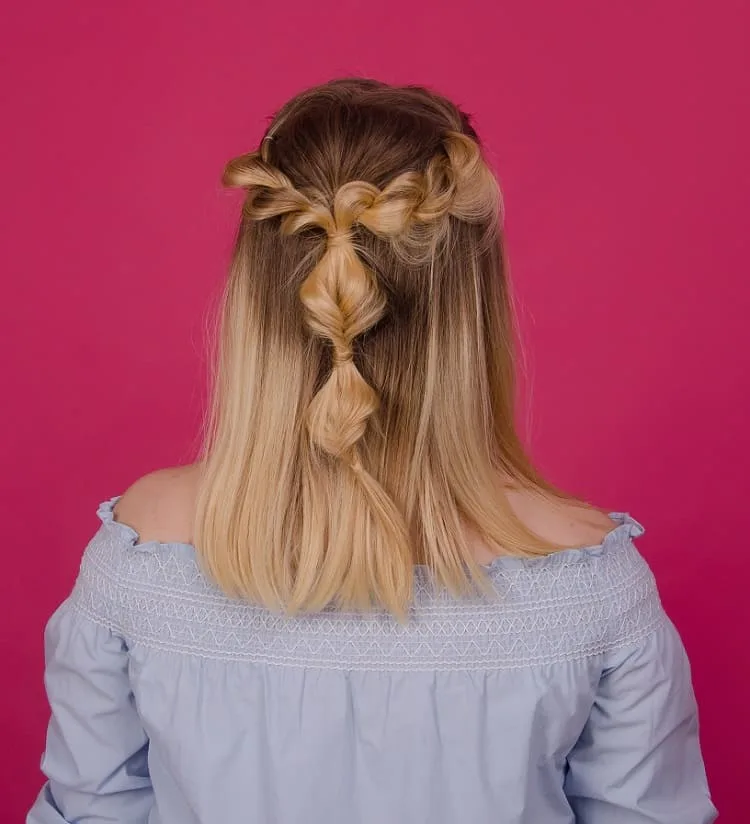 A half up half down hairstyle on a blunt cut lob can make any girl look outstanding. Use the top hair and section it in two pieces to build the twisted braids. Make them loose and tie them in the back, in a pony. Complete the hairdo by braiding the ponytail.
7. Blunt Cut for Fine Hair
Do you want your fine hair to appear thicker? The best way to add bulk to your appearance is with a healthy, blunt cut chop. Sweet bangs parted to each side create extra definition on fine locks.
8. Long Red Blunt Bob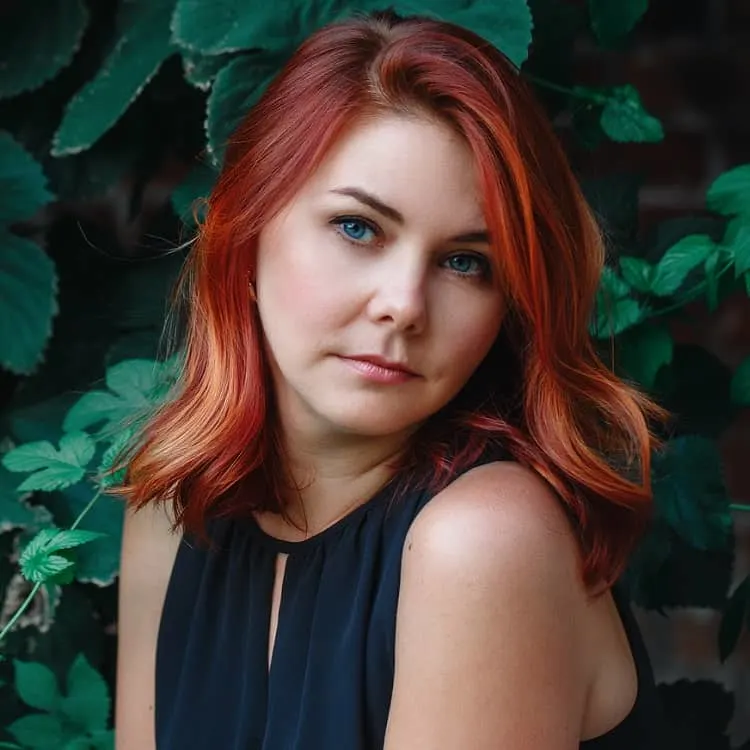 A long blunt bob is ideal for heart-shaped faces, and it can make you shine even more if you opt for a fierce red color dye. Place a few blonde highlights to gain more texture and wear the long bangs on one side.
9. Blunt Cut for Black Girls
A blunt cut for black girls looks so impressive but you need to keep in mind that if you naturally have wavy or curly hair, you will need to straighten your tresses quite often to obtain this flawless hairstyle. So before you take this huge step, make sure you have the necessary commitment for the job.
10. Ginger Red Blunt Cut Hairstyle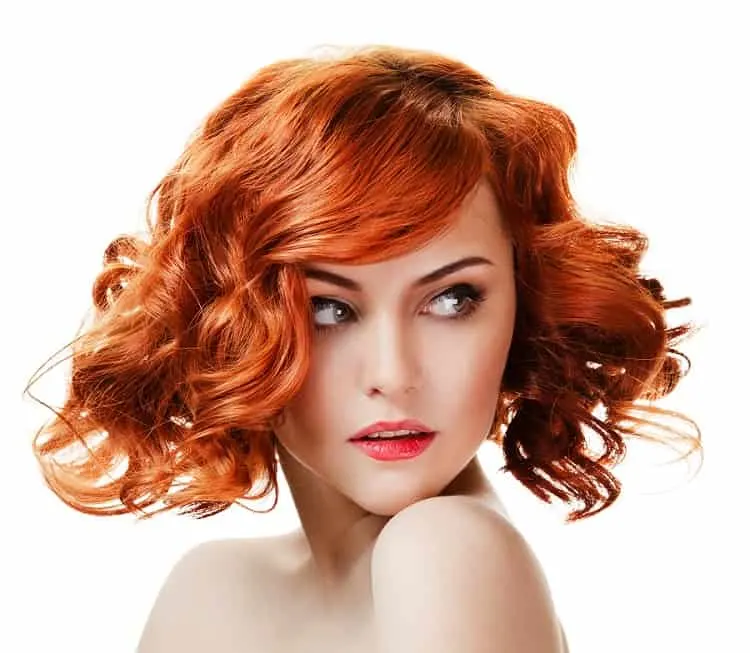 A red blunt cut bob hairstyle is amazingly eye-popping no matter where you are going! Give your tresses de a mesmerizing glow and texture and gain that impressive volume with some waves and curls.
11. Sew In
Craving a blunt haircut but your natural hair just won't do? Use a sew-in weave to create the gorgeous blunt cut you've always wanted.
12. Blunt Cut with Ponytail
When you want a sharp look that is undoubtedly flawless, go for a blunt ponytail. Pin the mane on top of your head and use a thick strand and wrap it at the base of the pony. You can also get a Latino look by using the baby hair to style finger waves.
13. Red Ombre fir Blunt Cut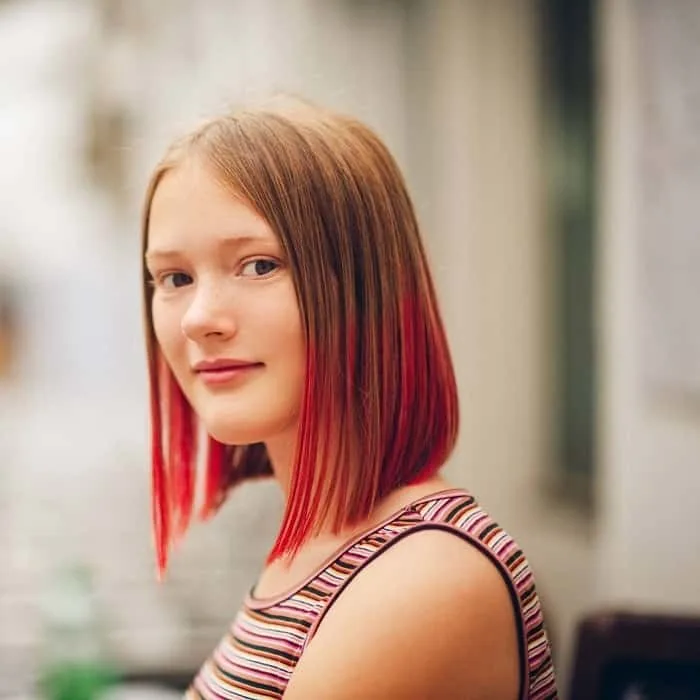 Choose a blunt cut for fine hair if you want to obtain thickness. As for the color, a red ombre will amazingly suit your fair skin and blue eyes. Straighten your mane to get that luscious appearance.
14. Straight Hair + Blunt Cut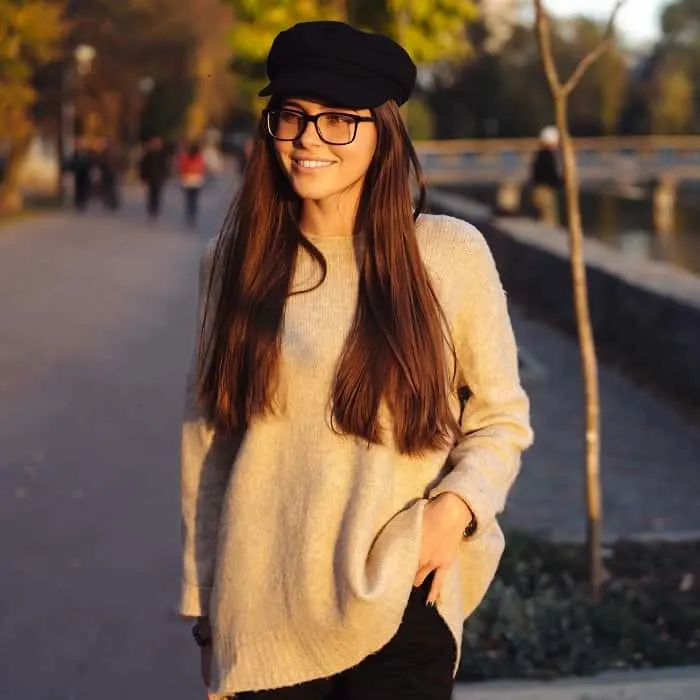 Straight hair is ideal for a long blunt cut, though curls work just as well. Blunt ends bulk up straight hair to give your look more density and effectively frame your chin and jawline.
15. Blunt Cut for Curly Hair
The longer the hair, the more weighed down it becomes. Because of this, we love blunt cuts on very long curly hair! Any bulk that gets lost with locks that hit at your ribcage and beyond can be made up for with a neat blunt cut.
16. Wavy Blunt Hair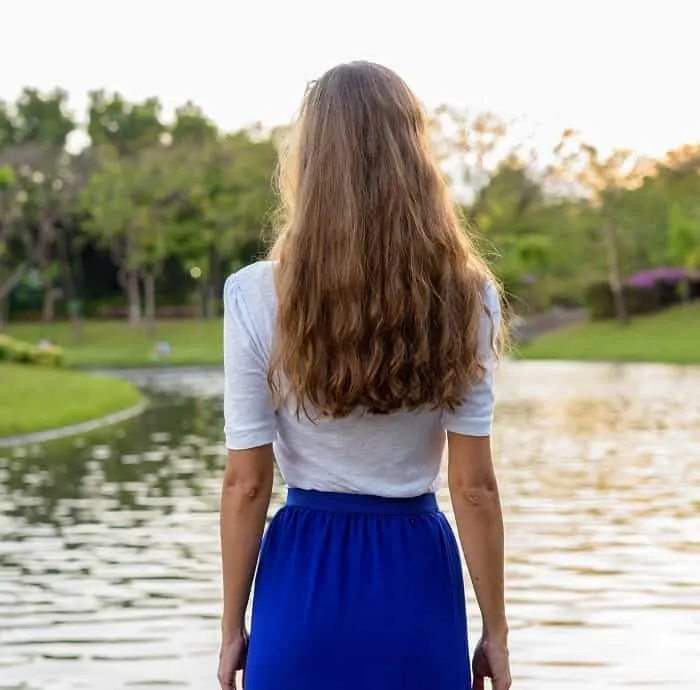 Naturally wavy textured hair looks gorgeous in a long, blunt cut. One length makes hair appear thick, but if your wavy texture is fine, then this style is ideal. If your hair is coarse or frizzy and wavy, you'll need to cut layers.
17. Blunt Lob with Ombre
Ombre hairstyles will not lose their popularity any time sooner, so take advantage of this great way of styling your tresses. Get that texture and thickness with a blunt lob cut, and you'll end up with a state of art hairstyle.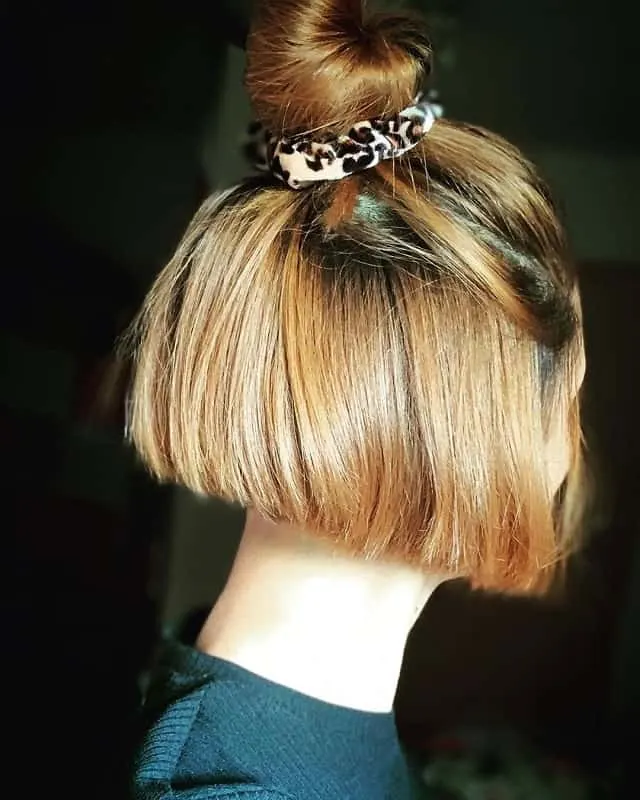 A very short blunt bob will not only frame your face, but it will also give your hair more volume. Create a messy effortless look by pinning your top hair into a bun. Tie it with an animal printed scrunchie.
19. Blunt Cut with Bangs
Straight bangs work as a great compliment to blunt cuts. These bangs are healthy and thick, but their blunt cut ends add necessary balance to this neat and sleek look.
20. Blunt Cut with a Bun
Thin hair has a lack of volume, gets greasy so damn quick, and can be a real downside for your look. To remedy these problems, you need a blunt lob haircut that provides more texture and dimension.
21. Blunt Cut with an Undercut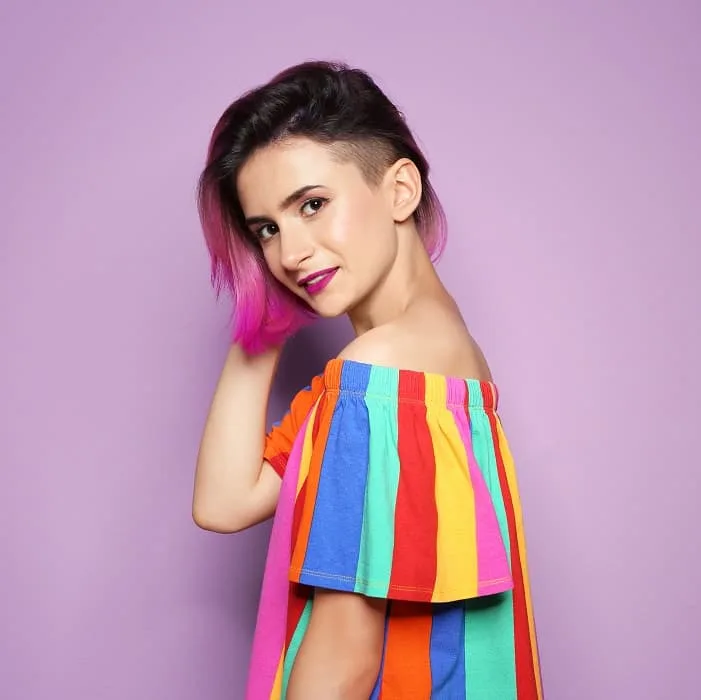 A blunt cut bob can be styled in such a vast amount of ways. For example, you can opt for vivid colors and pair them with an ombre. To get a modern rebel look, wear the mane on one side and, for the other part, get an undercut.
22. Blonde Blunt Cut
Show off your gorgeous, honey-hued locks with a blunt haircut. If you're able to grow out your blonde hair and keep it luxuriously healthy, then you should try this look.
23. Blunt Cut with Layers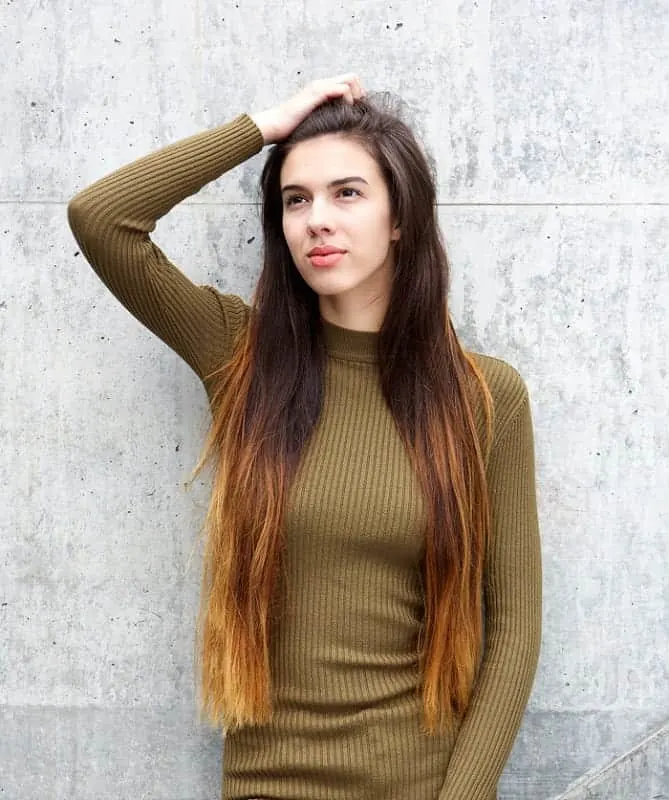 Even if your ends are blunt cut, your hair can still have layers. The look is great for breaking up the bulk on long hair that would lay rather heavily instead.
24. Blunt Cut with Waves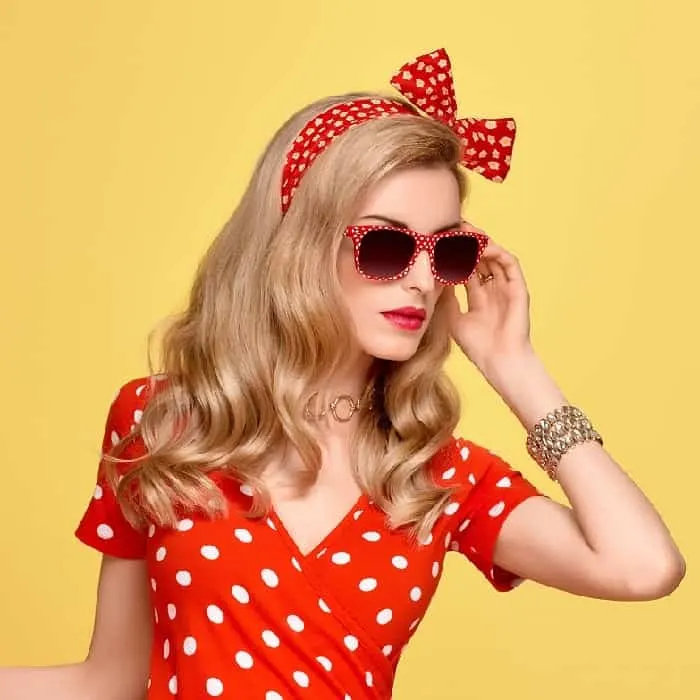 If you adore retro looks, a blunt cut is a perfect option for you. While the trim will give your strands thickness, the waves will add a lot of volume. Use a red dotted scarf and place it like a headband.
25. Blunt Cut with Weave
Weaves are the perfect way to rock the ultra-long hair you've been thinking about without the years it takes to grow it. Go for a center part and silky soft tresses for a glamorous look.
26. Blunt Cut with a Braid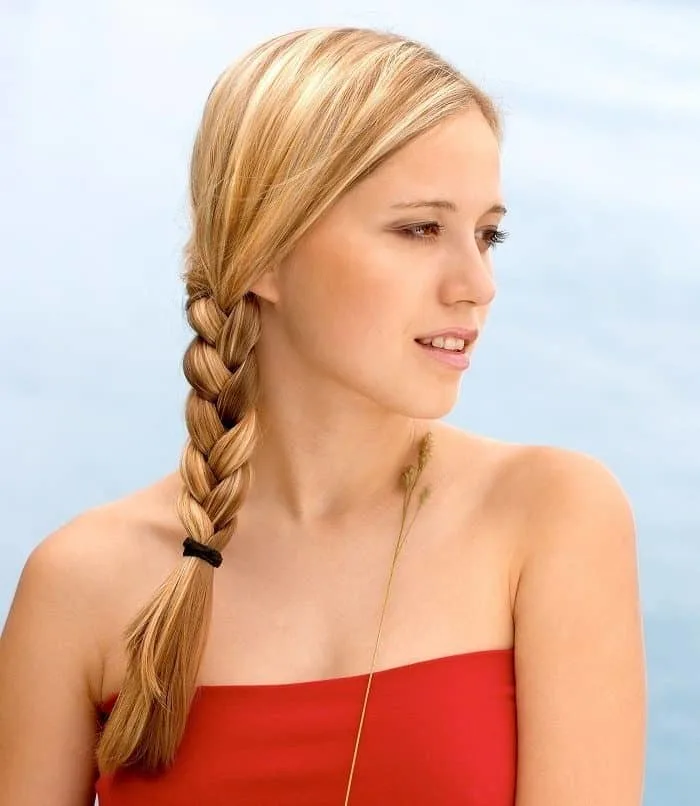 If you have a blunt cut and adore braiding your hair on one side, you need to know one trick that will make the knit flawless. Avoid ending up with bad looking ends by weaving only three-quarters of your hair. This way your threads won't stick up ruining the hairdo.
27. Very Long Hair + Blunt Cut
Very long hair is certainly not for everyone, but it still looks rather neat, thanks to blunt cut ends. If hair down to there is for you, be sure to brush, hydrate, and cut hair regularly.
28. Blunt Balayage Hair
Long blunt bobs are clean, but sometimes the look is rather simple. Beautiful balayage highlights make your hair stand out and gives it the dimensional interest it deserves.
29. Messy Blunt Hair
Many of these blunt haircuts are neat, but you can certainly rock a messy look. In fact, gorgeous texture like this adds life and interest to your straight across, blunt cut hair. Plus, a blunt cut will make your messy hair appear thicker.
The Hottest Blunt Bobs for 2023
30. Blunt Cut with Balayage
Balayage is among our old-time favorites because you can style it however you want. It works on both short and long hairstyles and adds a lot of value to blunt haircuts.
31. Long bangs
Allow yourself to look beautiful with a long blunt bob and extended side swept bangs. This simple looking hairstyle is exactly what you need to become the queen for an evening, a week, or even a month.
32. Long bob with bangs
A-line bobs greatly benefit from the choppy approach. This blunt haircut can give a wonderful impression if you keep them neat. The difference between the layers will be lost in a messy hairstyle.
33. Go blonde
Different shades of blonde look stylish on any haircut you choose. Make your hair color shiny and attractive by mixing several blonde dyes. Yellow blonde combined with platinum is a wonderful choice.
34. Eye-covering bangs
No matter which blunt haircut you choose, you can play around with the bangs. They are usually created to show contrast with the chopped ends, but you can consider choppy fringe as well.
35. Voluminous Blunt Hair
If you have unruly wavy hair, give this blunt cut a try. You don't need to make layers or create special bangs. Just chop the ends and see how it looks.
36. Blunt Cut on Blonde Hair
When it comes to a-line bobs, especially if your hair is wavy, there is no need to make obvious layers. A little asymmetry in the back fortified by striking highlights is all you need to create a unique hairstyle.
37. Choppy Blunt Bob
Long asymmetrical bobs are so stylish, it's hard to keep your eyes off of them. No matter what type of hair you have, you should try a chopped bob. It's truly worth the styling hassle.
38. Sun Kissed Blonde
A short blunt bob haircut that reaches your chin will create a fabulous framing. If you have a rounded face, keep your fringe on one side, and you will become a dazzling beauty.
39. Long Blunt Haircut
Maintain your grain blonde roots in their natural shade and continue by gradually transiting to a platinum blonde hue for the rest of the mane. Straighten your locks with an iron and get a marvelous confident look.
40. Blunt Cut for Curly Hair
Get a blunt cut and dye your hair in a blonde auburn shade. Get that textured hair by using a crimper iron and comb your bangs slightly on the back and sides.
41. Blunt Cut with Highlights
Combine a dark blonde ombre with some lighter highlights to obtain that impressive texture. The blunt ends will give your hair volume, making it look thicker.
42. Unicorn Blunt Bob Hairstyle
Get a medium blunt bob haircut with bangs and create that modern, playful unicorn hair. Combine pastel blue, pink, and purple colors and wear your vivid transformation with pride.
43. Brown Blunt Cut Hairstyle with Highlights
If you have long hair, make it look jaw-dropping by creating a few thin blonde highlights. Wear the bangs on one side and show off your neckline with a strapless top.
44. Blunt Cut for Frizzy Thin Hair
Obtain texture and thickness by getting a blunt trim for your ends. If you have fair skin, opt for purple roots and continue with a pastel mauve hue that will beautifully coat your strands.
45. Dark Blonde Hair with Blunt Cut
Girls with fair skin and blue eyes can look impressive with dark blonde hair color. Give the hairdo a more fancy look by styling a few platinum blonde highlights. Opt for blunt ends for your tresses.
46. Short and Round Blunt Cut
You can blend roundness into the straight lines that usually accompany a short blunt bob. If your face shape is oval or particularly long, these rounded ends will help to fill out your hollow cheeks with style.
47. Blunt Cut for Black Hair
Chemically straightening natural hair can be damaging, but a short blunt cut for a Black girl will encourage healthy hair growth. Chin-length is the trendiest as it frames a gorgeous face!
48. Edgy Bowl Cut
This blunt bob with bangs is a modern take on the bowl cut style. Multiple layers of blunt cuts take a previously simple style and make it truly interesting. Cut bangs bluntly across the eyebrows and in another section, over the ears.
49. Blunt Cut Pixie Bob
This blonde short blunt cut takes the best aspects of both a pixie and a bob to create edgy appeal. For this look, the ends of the hair should skim the cheekbones. As much as we love this middle part, hair can easily be swept over to one side for a feminine touch.
50. Deep Side Part
Choose a short blunt haircut with side part if you have an oval or round face shape. Most of this hair is bluntly cut, but shorter pieces at the front add softness and dimension to this look.
51. Blunt Cut for Thin Hair
The best way to conceal fine locks is with a short blunt haircut for thin hair. Cut it all one length to give hair a full, thick feeling. Choosing a middle or side part is all up to you and your face shape.
52. Short Blunt Cut for Mature Women
We love a short blunt haircut for older women because it's stylish and never dowdy. Hair with body looks great when blow dried and ends are slightly flicked out.
53. Sleek Center Part
You know a short natural blunt haircut is cool if Dua Lipa rocks it! Sleek chin-length bobs are very trendy today, especially when paired with a center part that effectively frames the face.
54. Blunt Cut with Flipped Out Ends
Add a conservative touch to your bob by flipping out the ends of your hair. A center or side part will do, but this center part look is about pushing the hair forward and sweeping it back over the ears for a gorgeously polished style.
55. Blunt Cut with Texture

Believe it or not, texture works wonders on straight ends. The overall effect is modern and fresh, and what girl doesn't want that? Add a few bends and give hair a tousle. This cut is ever so slightly a-line, so hair is a bit longer on the pieces surrounding the face.
Use blunt cut ends to frame your face or give your hair the necessary weight. Whether your hair is straight, wavy, or curly, the blunt haircut is attainable and will definitely look beautiful. In the age of layers, the look is surprisingly refreshing and always looks neat. Will you be rocking this look?