You might have thought scrunchie hairstyles went out of style back in the 90s, but they're making a comeback and the looks are being served!
In the 80s, Rommy Revson gifted women everywhere with a gentle hair tie. Scrunchies (named after Revson's toy poodle Scunci) have shown up everywhere since then, whether it was on women with oversprayed bangs or in the French braids of young girls.
Adorable Scrunchie Hairstyles
From velvet and satin to cotton or tulle, scrunchies come in a variety of textures. They also come in any color or pattern you could think up! Whether you need a sophisticated hair tie to match your work attire, a casual sweat-resistant one for your workout sesh, or a romantic one to pop with your favorite dress – the options for scrunchies are endless and nothing short of fun or gorgeous!
Take a look at the 15 fun looks below to see how you can work the beloved scrunchie into your hairstyle!
1. Half Ponytail Updo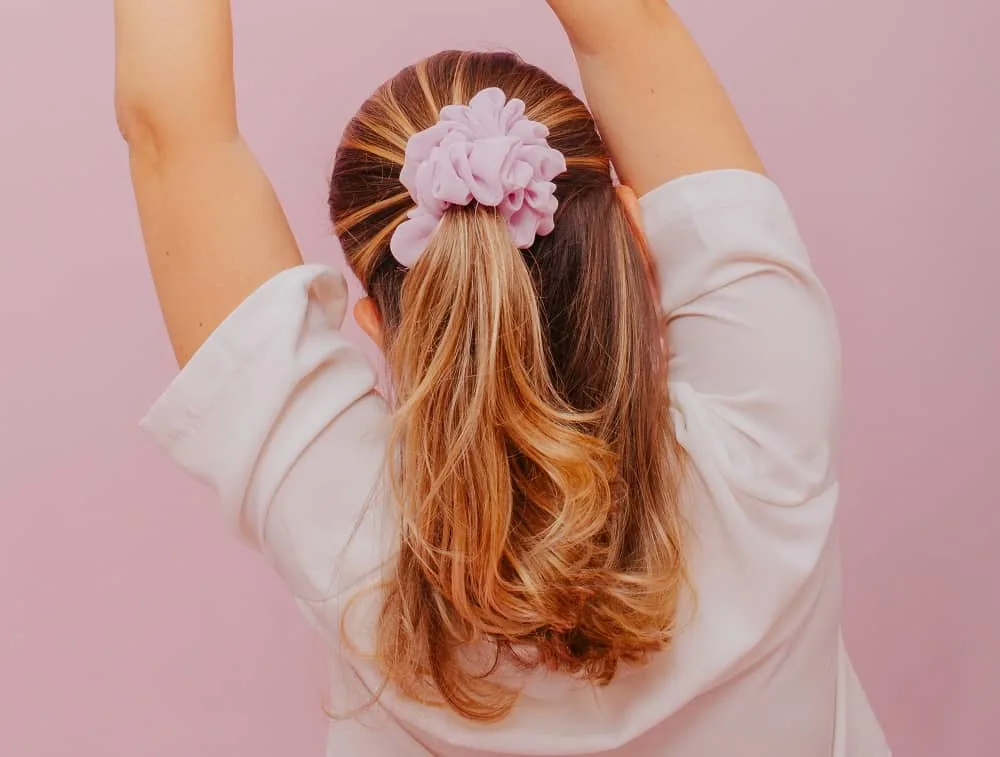 Remember when you wore this half ponytail updo to school every day in 6th grade? Well, it's back in style as a very low maintenance look for the ladies who hate spending too much time styling their hair in the morning!
2. High Bun
A lime green scrunchie is all it takes to take a high bun from formal to fun! Whether you sport a beautifully messy bun at your workout sesh or you comb your hair back into the sleek style, both looks are better with a scrunchie!
Related: Different Types of Headbands for Every Taste
3. Low Side Ponytail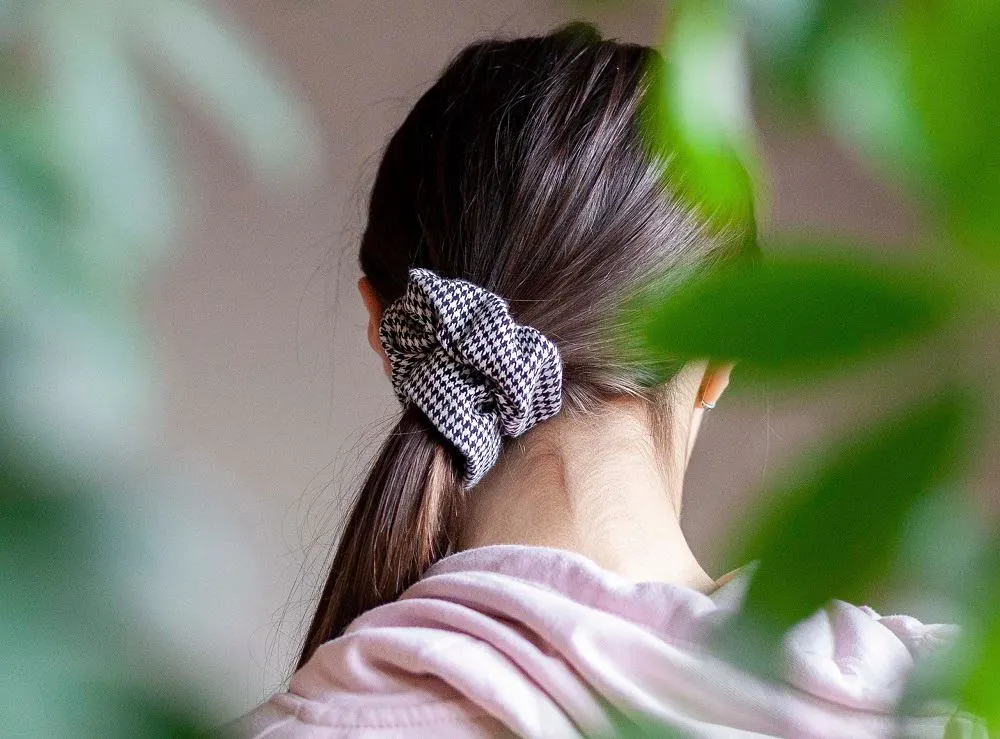 Looking for another low-maintenance look? This black and white patterned scrunchie lives up an easy low side ponytail. Just finger comb the hair into a ponytail and secure it at either side!
4. Blonde Bun
When you have light-colored hair, choose a scrunchie in a contrasting color. The black satin one seen here neatly wraps up a low blonde bun at the nape of the neck. It's the perfect look for the office!
5. Messy Curly Ponytail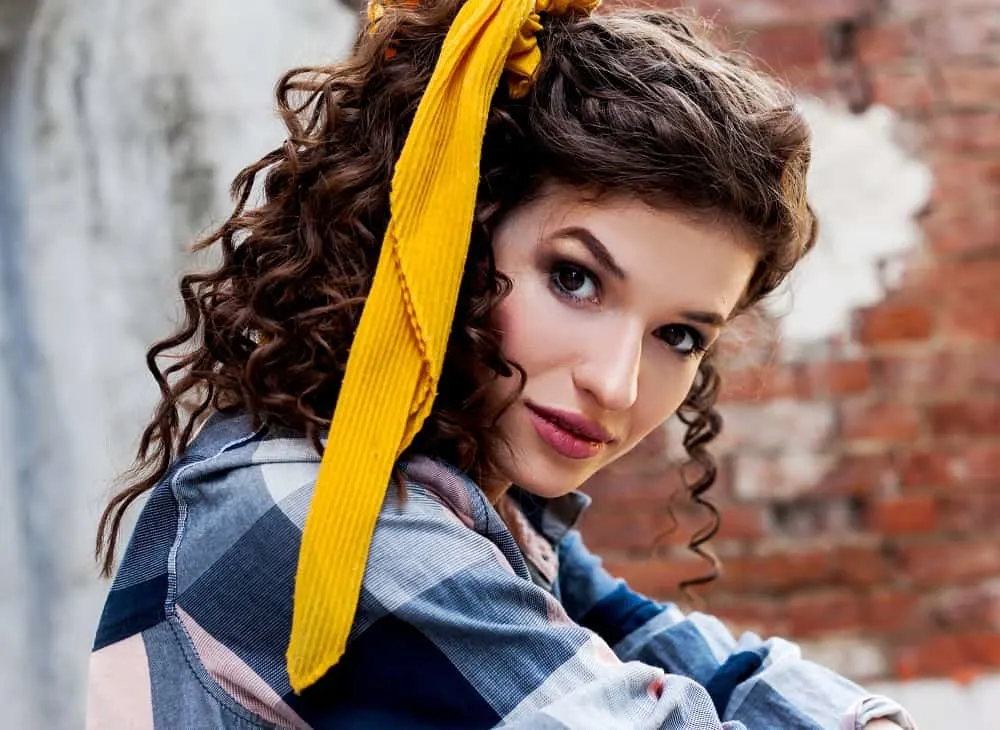 Don't even think about straightening those springy curls when you have a scrunchie to make them look their best! Try a messy side ponytail with a bright yellow that will pop against those brunette curls.
6. Low Half Ponytails
Two low half ponytails or space buns are just the hairstyle you need to bring out your inner child! We love how great these plaid-printed scrunchies look on black hair.
7. Wavy Half Updo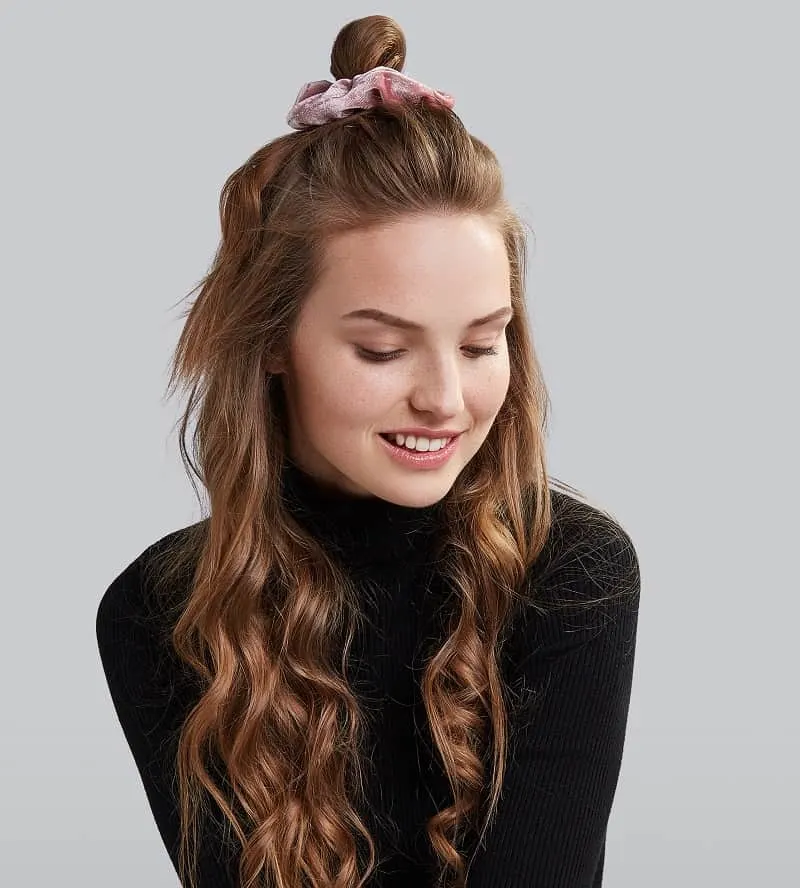 When heading out for a date or other special occasion, use a purple or pink, velvet scrunchie to soften up a half ponytail. Fill the rest of the hair with waves and loosen some tendrils near the face for that romantic look.
8. Messy Fish Braid Bun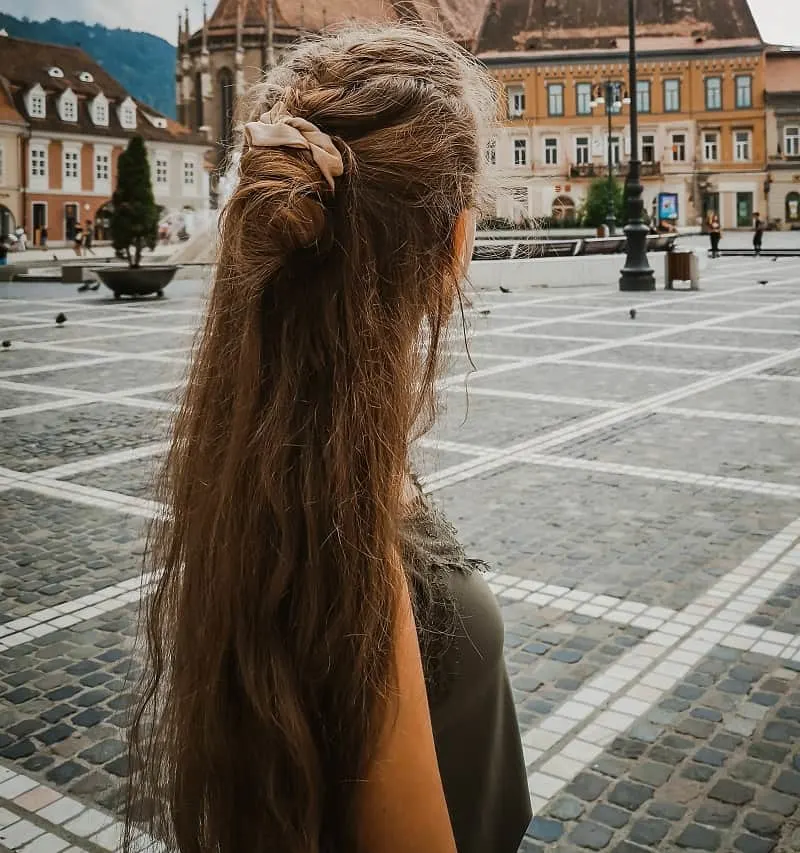 To update any braid, stop halfway and turn it into a bun. This fishtail braid is messy, but the texture it creates only adds to the scrunchie hairstyle.
9. Thick French Braid
For long thick hair, make a voluminous French braid by loosening it after securing it halfway with a scrunchie in your favorite color. This light green patterned one matches a cozy forest green sweater.
10. Festive Short Ponytail
If you have short hair, opt for a loose bun or ponytail accessorized with a brightly colored scrunchie for those festive holiday looks. A bright red one like this is perfect for Christmas or Valentine's Day!
11. Casual Ponytail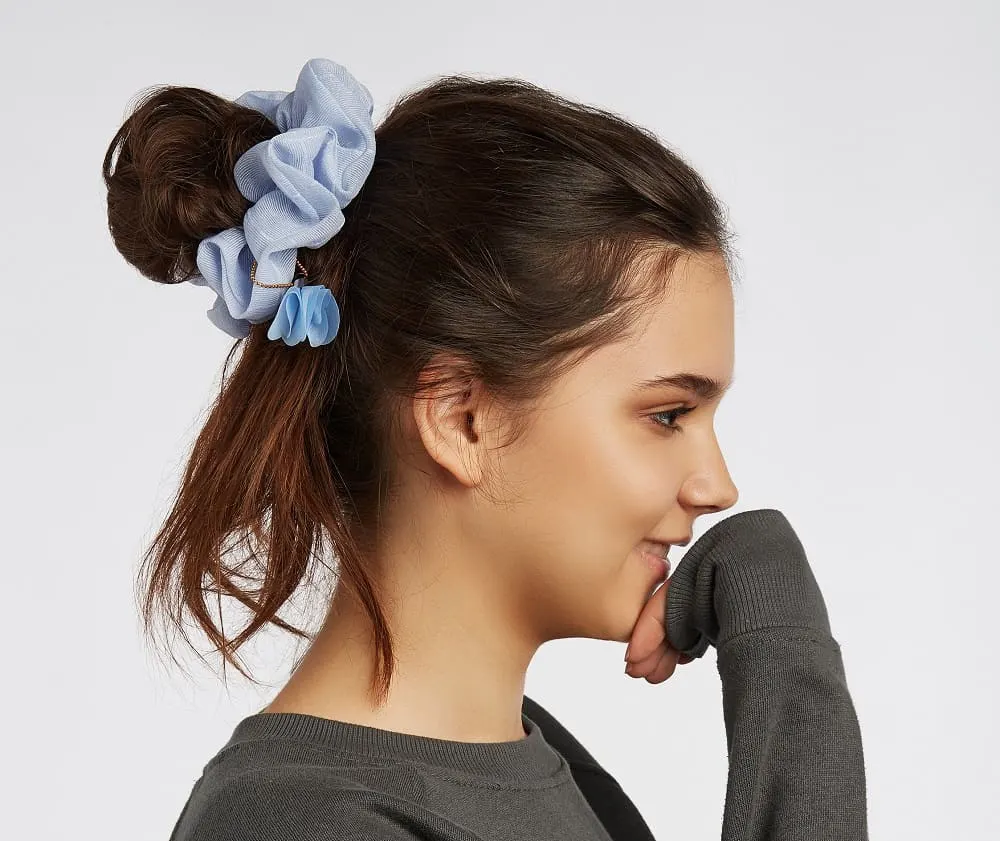 When you're throwing up your hair last minute for errands or the gym, use a pastel hair tie to keep those locks out of your face. Make a ponytail and on the last loop, pull the hair through only halfway to make this cute look!
12. Ribbon Scrunchie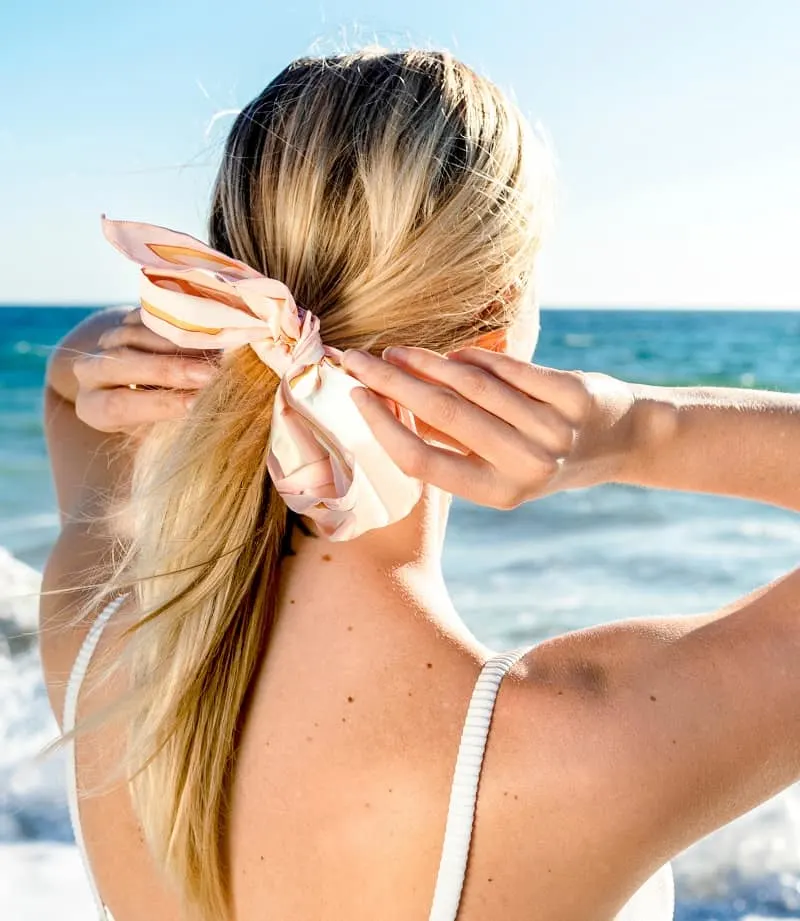 Whether it's a high or low ponytail you're wearing with your favorite dress, making a bow out of a scrunchie is an easy way to make your hairstyle flirty and feminine. A soft pink looks great against blonde hair!
Related: Different Types of Hair Bands You Can Use
13. Long Red Scrunchie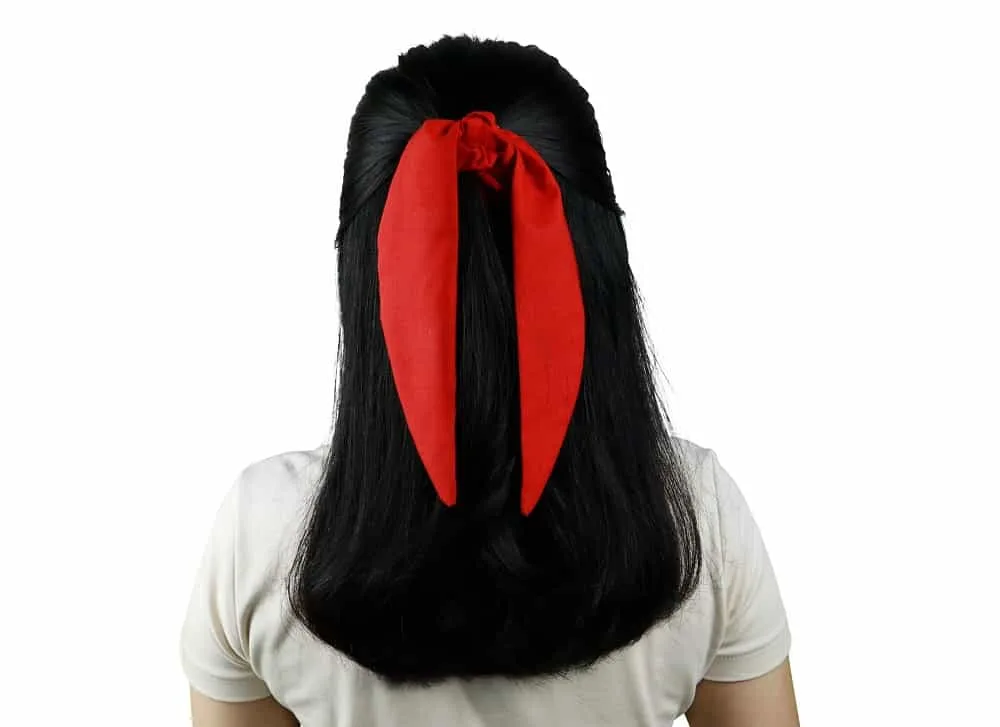 If you choose a neatly combed half updo for work or professional occasion, use a long scrunchie to secure the ponytail. With longer ribbons, you can let the pieces hang loose for emphasis on the color.
14. Side Braid Bun
Some scrunchies have a bow built-in, which makes adding the details to a bun with a side braid super easy! A mustard yellow is an unexpected color and works beautifully on blonde hair!
15. Pull Through Pony
Are you rocking color in your long hair? Consider matching your scrunchie! On this long wavy hairstyle, a pull-through ponytail is even prettier with hot pink and dark purple scrunchies to highlight the hair's multiple colors!
So which scrunchie hairstyle is your favorite? Try one or all, but try the style as soon as possible! The great thing about scrunchies is- not only do they work as hair ties, but when you're not wearing them, they look great as a bracelet! You also won't have to worry about the hair tie leaving too many kinks in your hair since the fabric and elastic isn't as tight as traditional hair ties.
After seeing how many scrunchies there are to choose from, we're betting your Instagram will be filled with a bunch of new looks your friends will be wanting to borrow. You know what they say, imitation is the best form of flattery!
Be sure to share your final look with us!