The most fantastic thing about the blunt bob with bangs hairstyle is that it's suitable for round, oval, and even square faces. The straight cut used for this type of bob can make you look sophisticated, whether you choose to curl and waves your hair or keep it flawlessly straight.
How to Style Blunt Cut Bob with Bangs
A blunt bob with bangs is a pretty versatile haircut that gives you the option to create stunning waves that give your hair volume, amazing curls, or asymmetrical bangs. When it comes to color, ombres are in high demand, and so as perms.
If you want to emphasize your jawline, blunt straight bob is undoubtedly the smartest idea.  Check these ideas below and follow our guidelines regarding your fringe.
If you have got a round face, thin hair and wide forehead, side-swept wavy bangs with blunt bob are a go-to hairstyle for you to complement your face and hair type.
These bangs can be a bit annoying as the hair keeps coming your way, but they look great on round and heart-shaped faces by adding definition and natural contours to the features.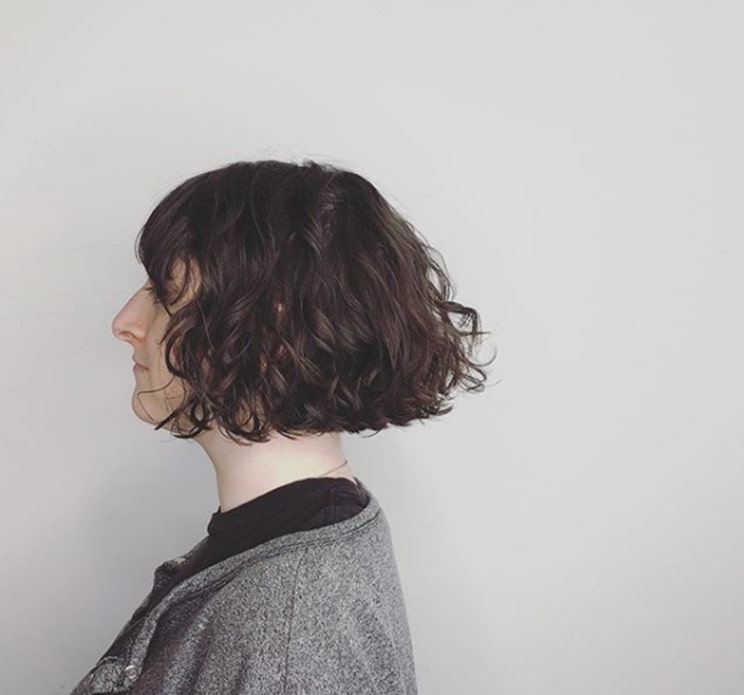 Curly hair is difficult to manage and style but blunt cut curly bob with bangs is a great way to style your curly mane uniquely and looks voguish and a la mode.
Blunt Bob with Bangs
If you're seeking short hairstyle inspirations for your next haircut, we've compiled a list of 18 amazing blunt bob hairstyles with bangs you can choose from.
1. Blunt Bob with Side Bangs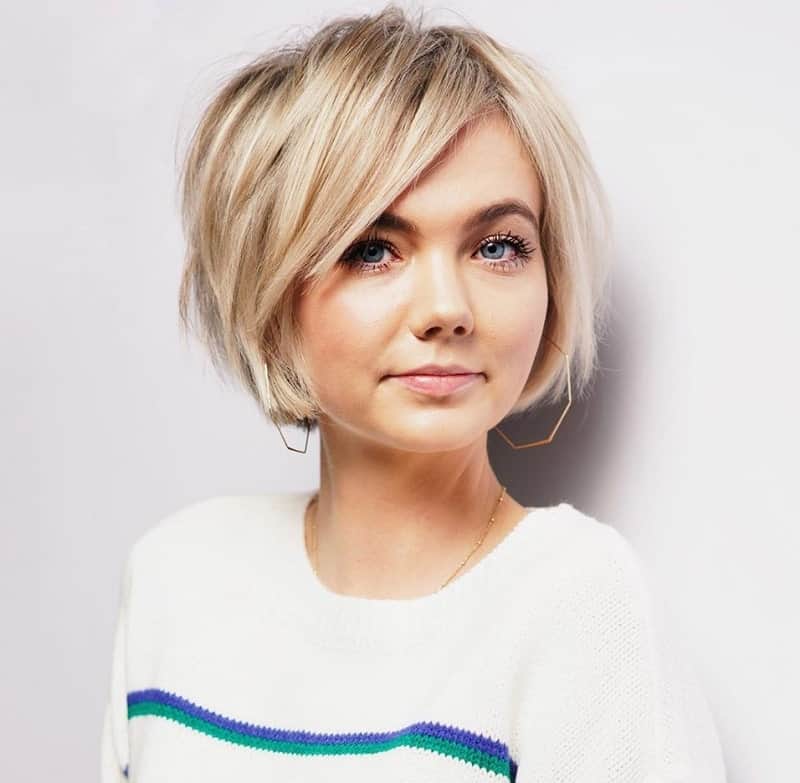 When tousled, a blunt bob can give you a messy relaxed look that is both casual and chic. The medium layered bangs should go on one side, hiding that round face shape and making it look thinner.
2. Blunt Black Bob with Bangs
You can achieve impressive face-framing by choosing a black color for your blunt bob with bangs. Create sort see-throw bangs and spread them on your forehead. The will complete this stunning hairdo and will draw all the attention on your eyes.
3. Short Blunt Bob With Bangs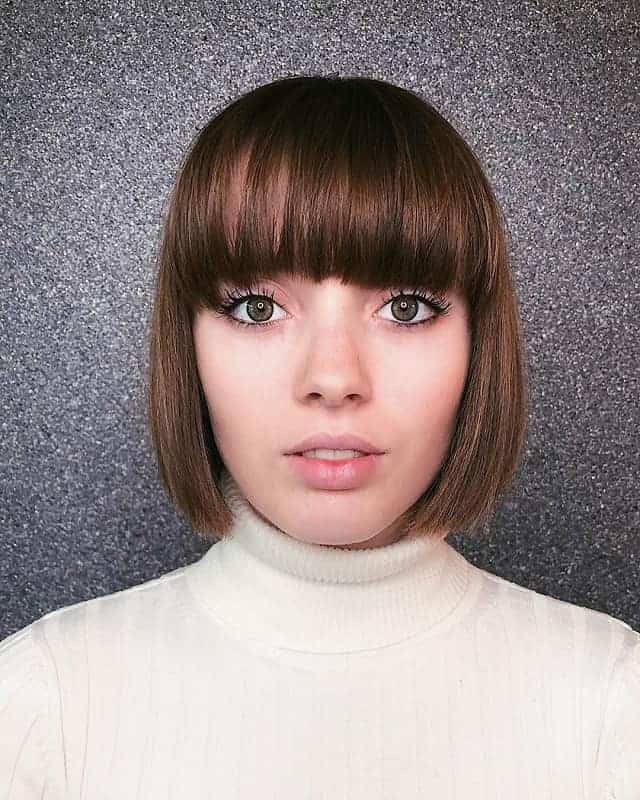 A short blunt bob that reaches your jawline is ideal for pairing with bangs that cover your eyebrows. Style your bangs from the top of your head and create thing blonde highlights to give your strands loads of texture.
4. Medium Blunt Bob with Bangs
If you have a big prominent forehead, this is the best way to hide it. A blonde blunt bob with bangs cut above your eyebrows will offer you a beautiful face frame, and that warm color will amazingly shine in the light.
5. Blunt Lob with Bangs
Lobs are just longer bobs that can look outstanding if you style some short bangs. Also, to give your blunt lob a mesmerizing color, choose a ginger ombre that fades when reaching the ends.
6. Blunt Very Short Bob with Bangs
Create an undercut for the back hair and style a short blunt bob. Trim your bangs just above your eyebrows and choose a dark hair color with thin textured highlights. This contrast will make your strands shine and glow wherever you go.
7. Blunt Weave Bob + Bangs
A blunt bob looks fabulous in any color, especially if you choose a white breathtaking hair dye. If you want to impress and take your style to the next level, dye your eyebrows too. They will make your eyes color pop out.
8. Blunt Curly Bob And Bangs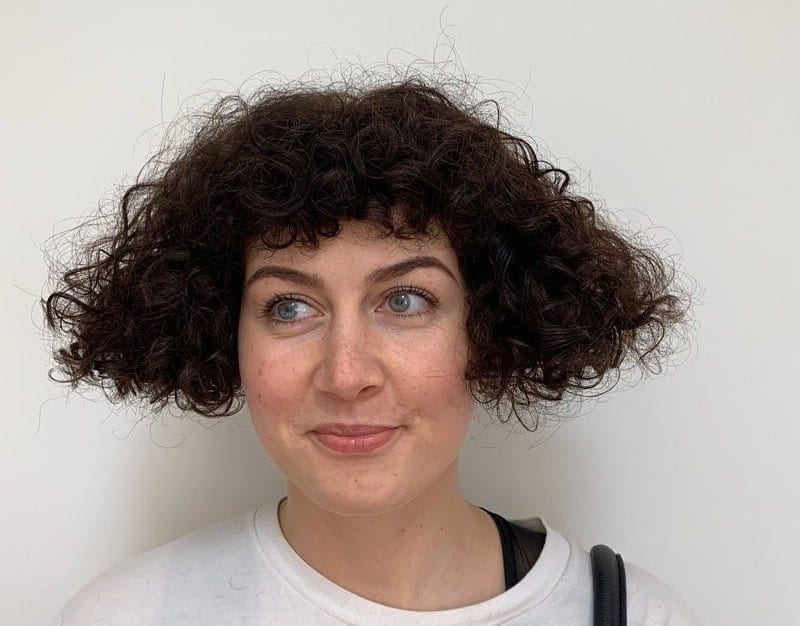 You love your natural curly hair, and you are not afraid to show it? Most people avoid this triangle-shaped hair, but for this blunt bob, it works perfectly. If you have straight hair but still crave for this hairdo, you can recreate it by styling a perm.
If you want to go for a short yet bold hairstyle, blunt platinum bob with bangs add a hint of drama and romance to your everyday look.
10. Bob with Blunt Bangs
The art of styling a bob is to try it with different colors and hues of hair dyes. The blazing, bold and bright hair dyes help to change the appearance to a greater extent like this ginger dyed long blunt bob with bangs that give an extra edgy look and feel to the bob hairstyle.
11. Asymmetrical Bangs
You were wrong if you thought that short haircuts are limited to a few hairstyles. A short blunt bob with pointed V-shaped bangs dyed vivaciously from the tips is ideal if you want to opt for a classy, sassy and unique hairstyle.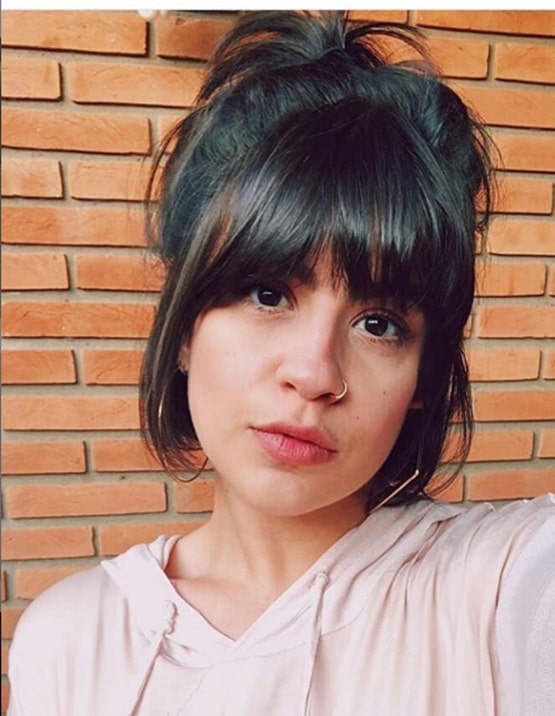 To all the women with wide and prominent foreheads, this thick bangs on blunt cut medium bob is simple, an easy and an absolute classic hairstyle that makes a statement and adds grace to your overall look.
Go an extra mile with this exquisite blunt cut bob with bangs and two-toned tips as it adds a little glitz and appeal to your hairstyle.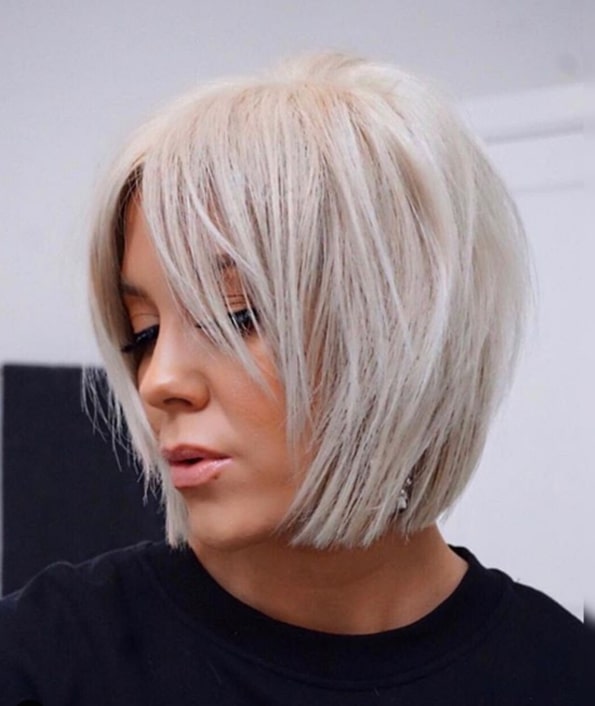 Bardot bangs are fantastic to remove some weight from your hair. The middle parted bangs help to keep your blunt bob neat and in place.
15. Bright Blunt Bob with Baby Bangs
This extra bright and edgy look are for all the bodacious and fierce women out there. The bright, vivid and neon dyed hair is terrific and looks exceptional with the blunt bob haircut and bangs.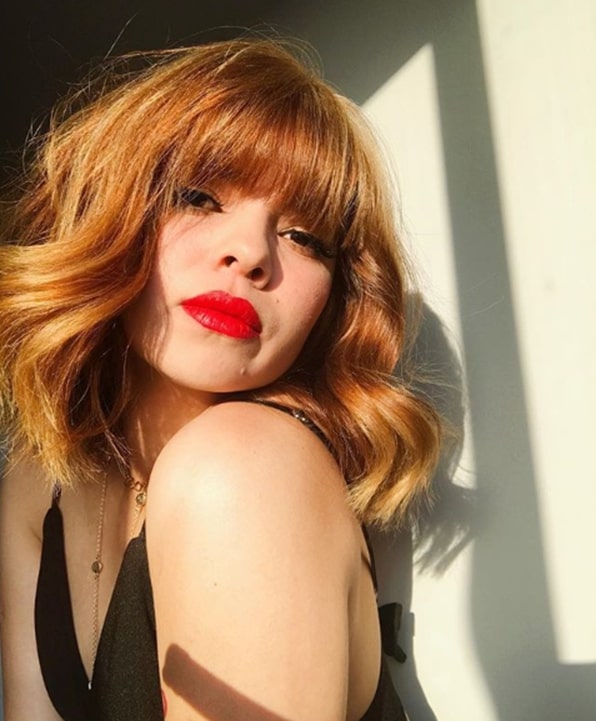 The uneven messy bangs give a natural and light look to your long wavy bob hairstyle. These blunt bangs & bobs are easy to style and maintain zero efforts to freshen things up.
This is not your everyday hairstyle and demands extra attention and maintenance, however, if you want to make a hairstyle statement and can stick to the upkeep it requires, this long bob balayage hairstyle is fashion goals and serves serious style fierceness.
18. Blunt Wavy Bob with Bangs

This hairstyle looks straight out of a summer fairytale. The cool tones with waves give this hairstyle an extra fresh and subtle look and the long wavy bangs are styled as side part bob framing one part of the face. This is absolutely the best summer-friendly blunt cut bob with bangs style on our list.
FAQs on Blunt Bob with Bangs
Are one length bob and blunt bob the same?
Yes, one length bob and blunt bob are the same as they are achieved by cutting the hair to the same length from the natural position of the hair.
Which one goes well with bangs; Blunt bob or Blunt lob?
Blunt lob is the same as blunt bob except for the fact that it is longer and requires less maintenance and care. Blunt bob and lob both go well with bangs, however, blunt bob looks more edgy and alluring with bangs than a blunt lob.