In the mood for a new bob? A blunt bob is a stylish option that'll make you feel like a whole new person.
The shoulder-length locks combined with a blunt cut make for a chic look that doubles as a great low-maintenance hairstyle for women with all different face shapes and hair textures.
Blunt Bob Haircuts
Just check out these 35 beautiful blunt bobs you'll definitely fall in love with.
1. Sleek Brunette Bob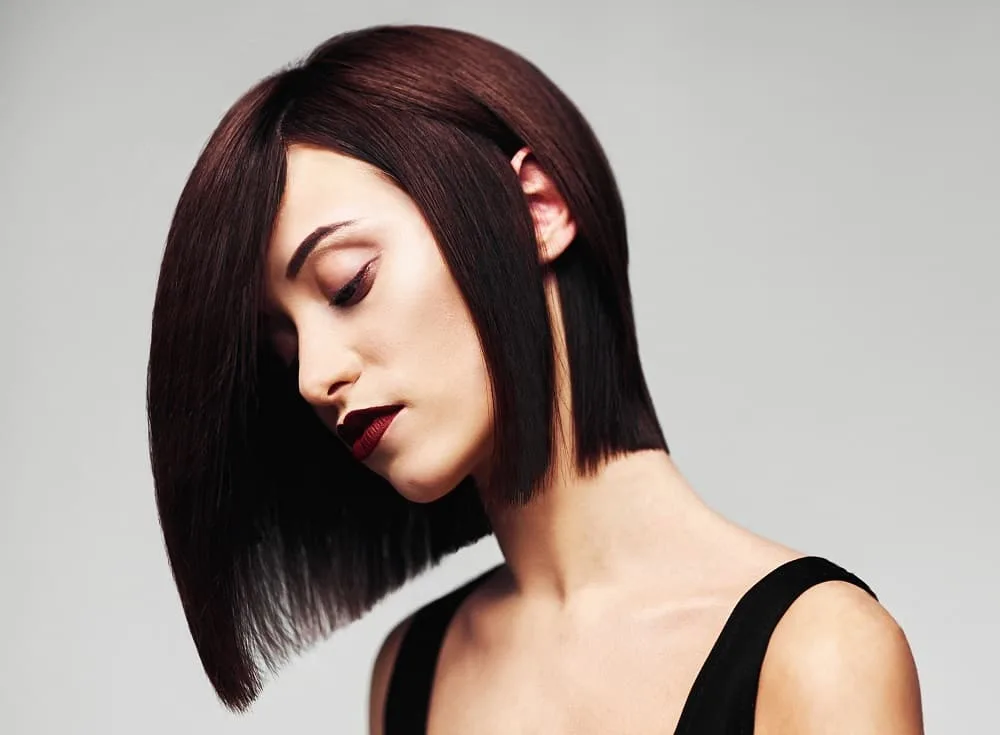 To really make a statement with a blunt bob, cover it in a rich dark color, like dark brown or burgundy. This mane has been straightened for maximum sleek impact.
2. Blunt Bob with Headband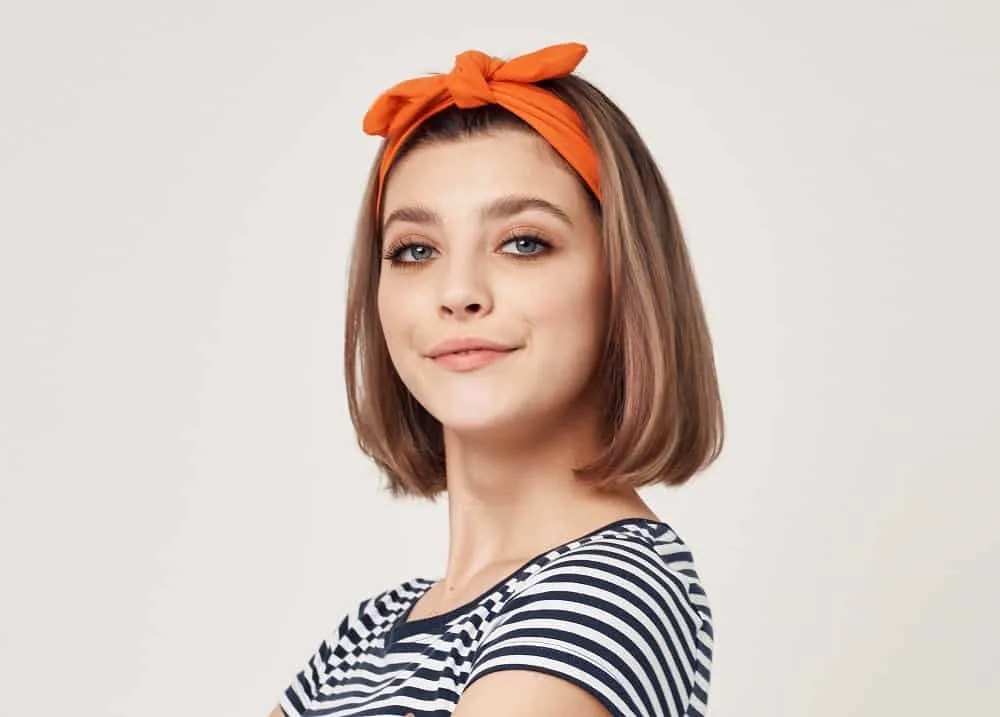 We love a bright, bold hair accessory! To keep your short hair off your face on the weekends or while running errands, tame it with a funky, colorful bandana!
3. Combed Back and Curly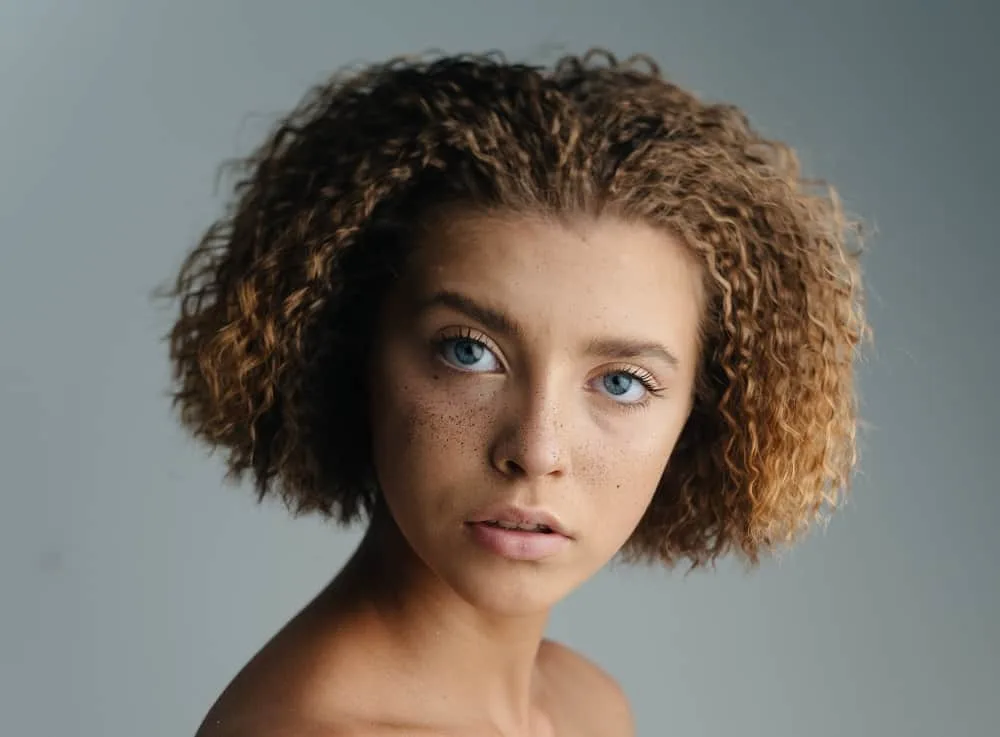 Whether your hair is naturally curly and very thick or you're planning on dressing it up with a hair crimper, your bob will look very elegant when softly combed back off the face.
4. Bright Red Bob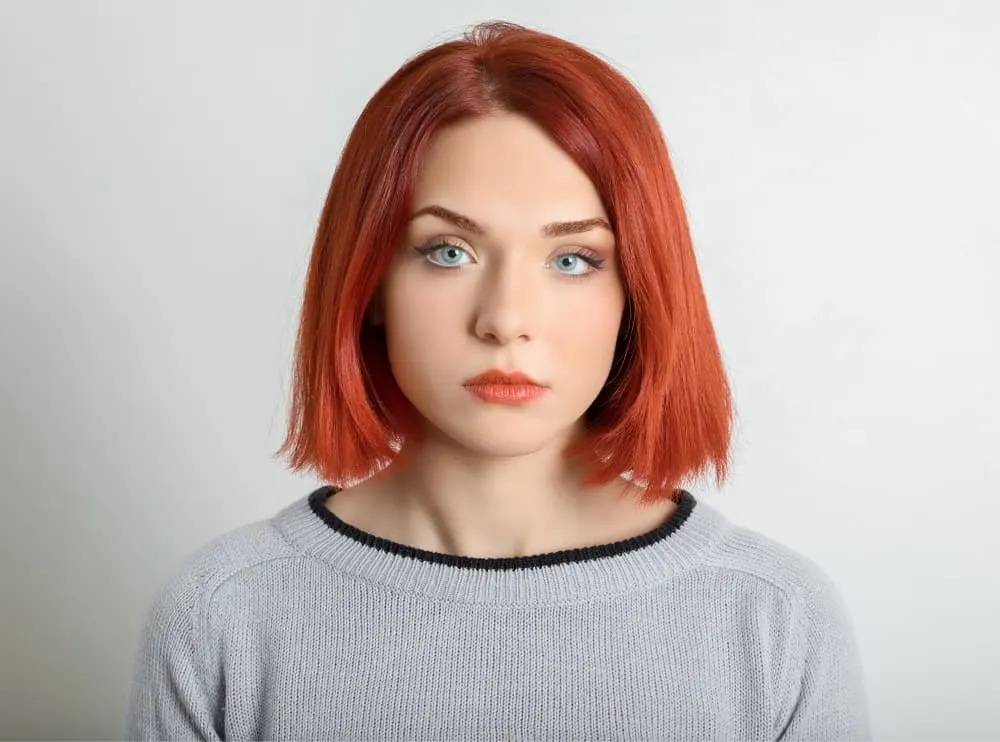 Another way to ensure your blunt bob leaves an impact is by giving it a bright color, like this electric red! Choose one shade of light red or accent it with darker red highlights, then straighten and comb in a center part.
5. Wavy Platinum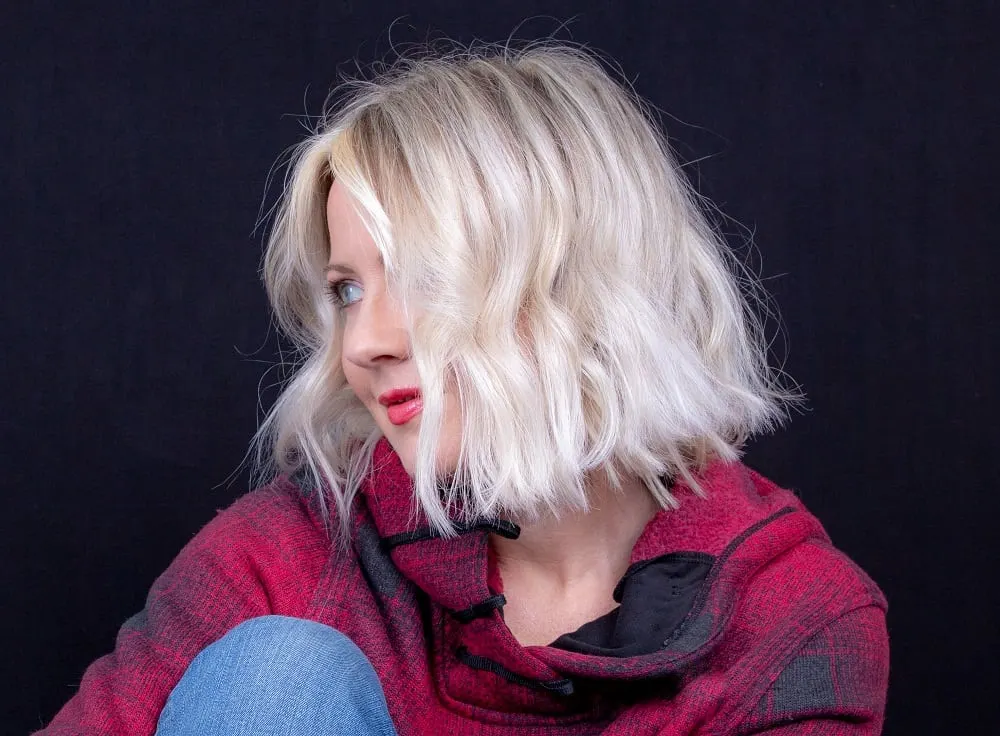 Every girl should go blonde at least once in her life! If you have a fair or light skin tone, opt for a platinum blonde short bob. Adding in large waves halfway down will soften the style.
6. Brown Ombre Blunt Bob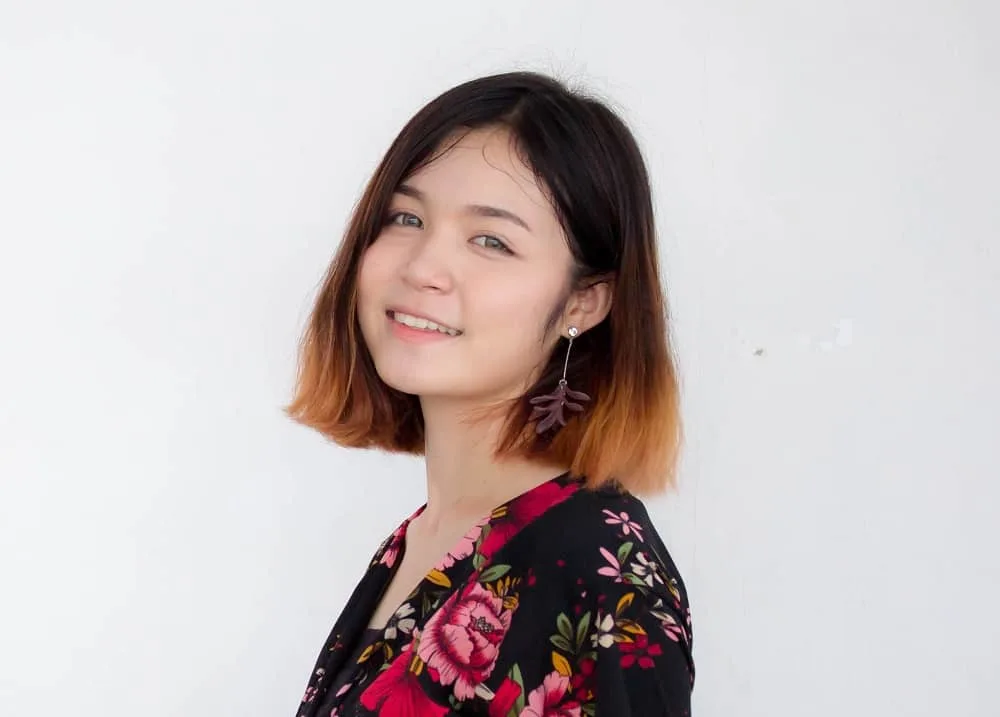 Is your natural hair color dark brown or black? Then you'll look great with a light brown or auburn ombre bob! This style is mostly straight and parted off center.
7. Blunt Bob with Bangs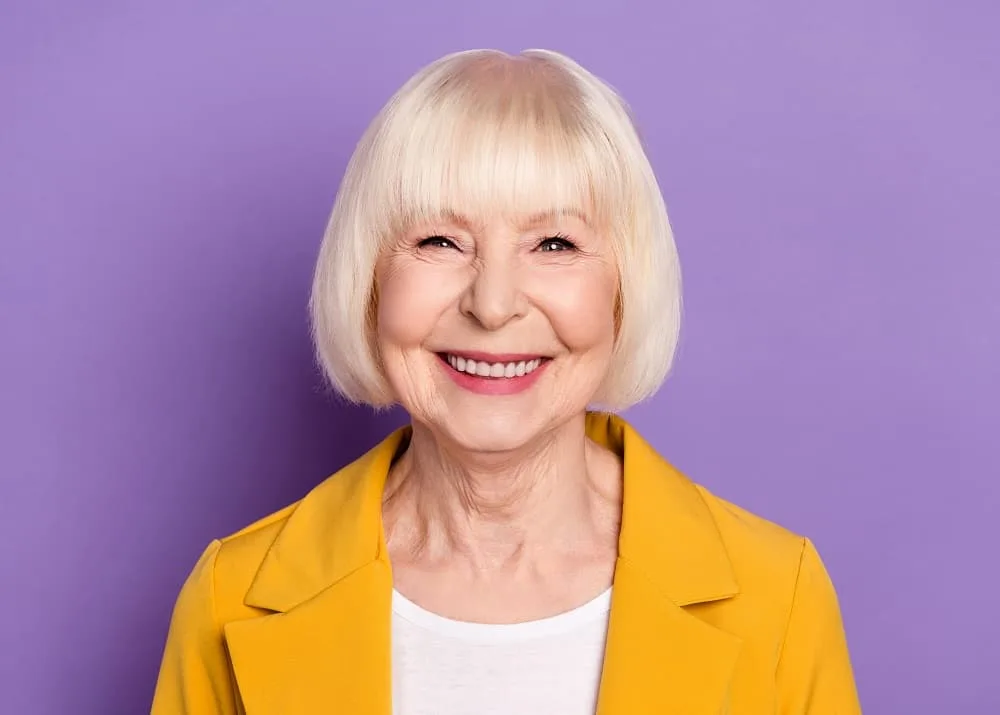 Whether you're an older woman looking for that trendy short haircut or you're younger and love fringe, a pin-straight blunt bob with bangs is a super chic hairstyle choice! Try it in a fierce platinum or ashy gray color.
8. Center Part with Glasses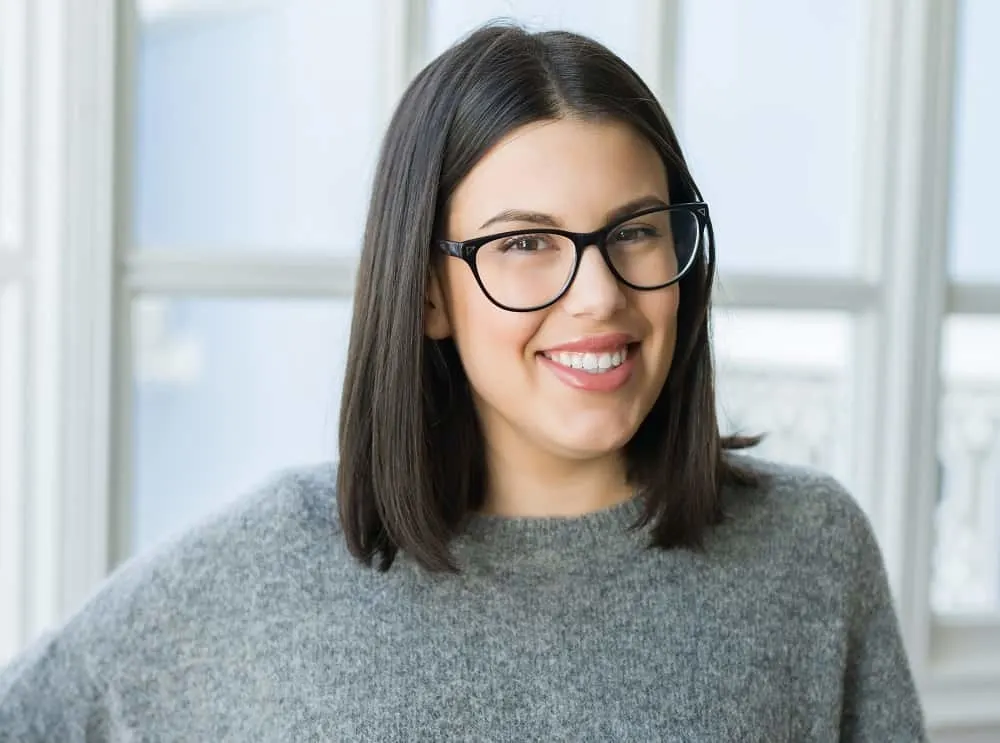 We always say you can never underestimate the power of parting your hair in the center! If you wear glasses, make your specs look even better with a straight medium-length bob. You'll love the low-maintenance styling!
9. Blunt Bob with Blonde Balayage
When it's summertime and the weather is hot, get your locks off your neck and still be cute as ever by going with a blunt bob in blonde balayage! Wear it down for casual vibes or make a cute half ponytail to dress it up!
10. Short Layered
A bob can be styled in many ways, including the above look which features straight hair with lots of short layers. Not only does it take any bulkiness out of your hair, it adds flattering, built-in volume at the crown.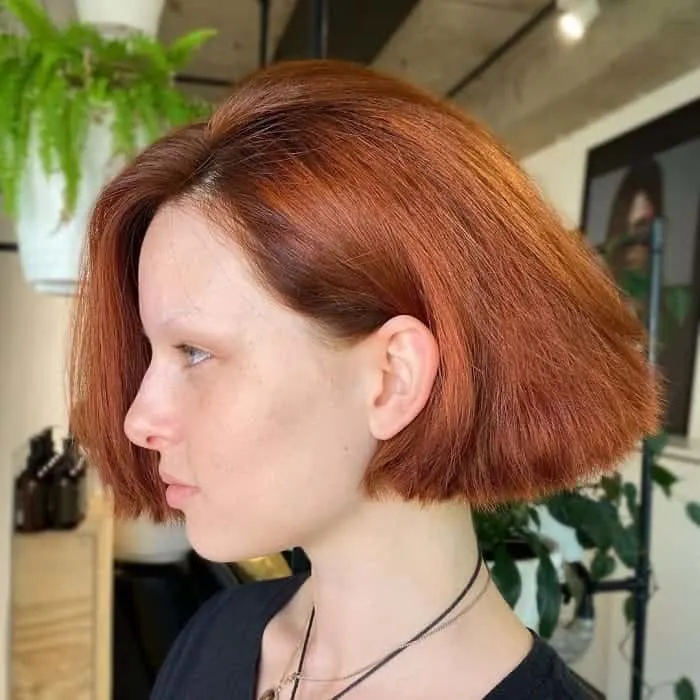 A bob that comes down to the ears is super low maintenance and the blunt cut is unexpected. A bold red and a center part help make this style edgy.
12. Long Blunt Bob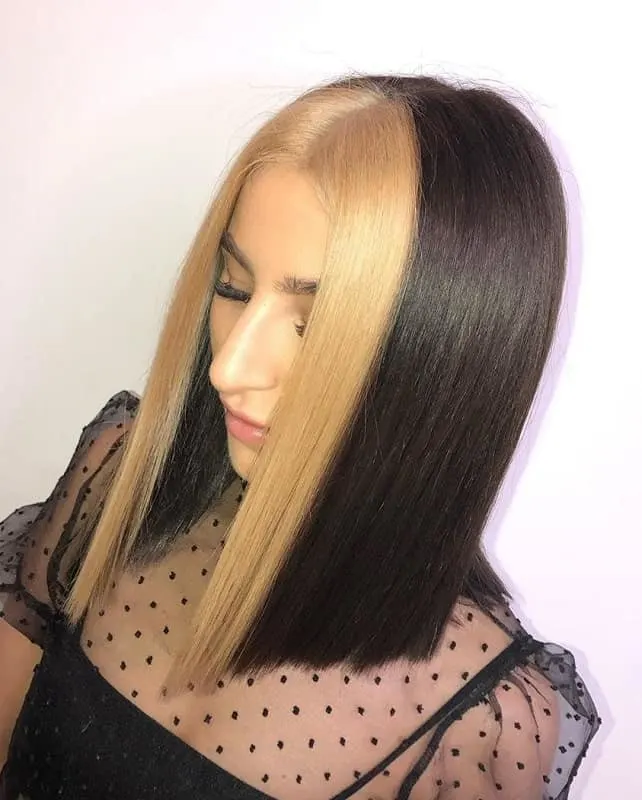 Long bobs that are straightened create touchable locks and emphasize a blunt cut. Color the closest face-framing pieces of hair a caramel blond or platinum blonde and the rest of your hair a darker color for an edgy contrast.
13. Shoulder Length Blunt Bob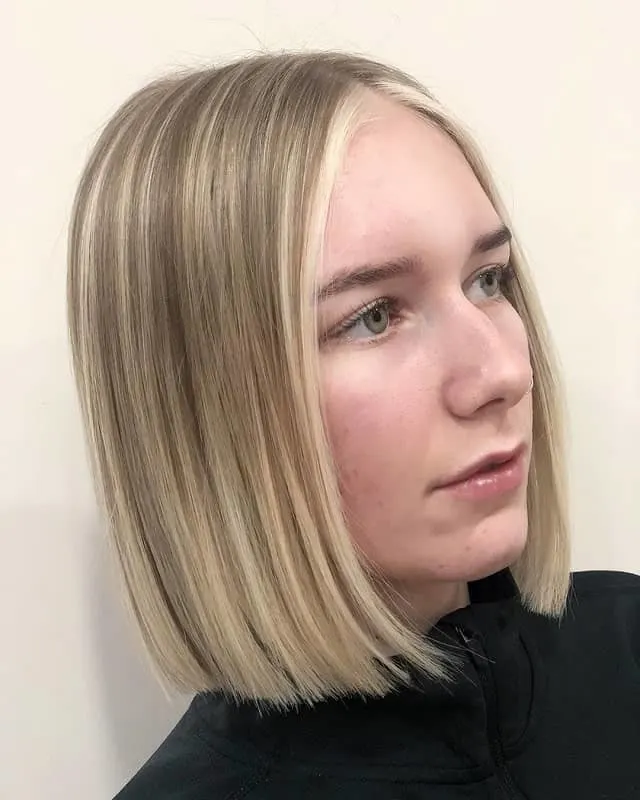 A shoulder-length bob that is cut bluntly will have hair curling in toward the face, creating a small curl of softness.
14. Side Part Blunt Cut Bob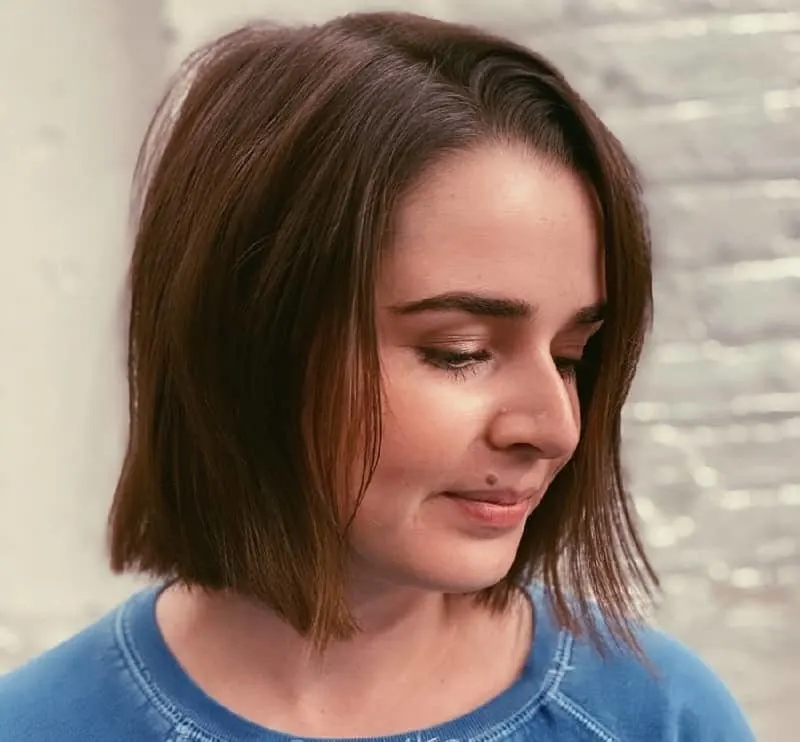 If you have dark eyes, color your blunt bob a dark color to match, such as chocolate brown. A side parted blonde bob will help you get ready quickly in the morning.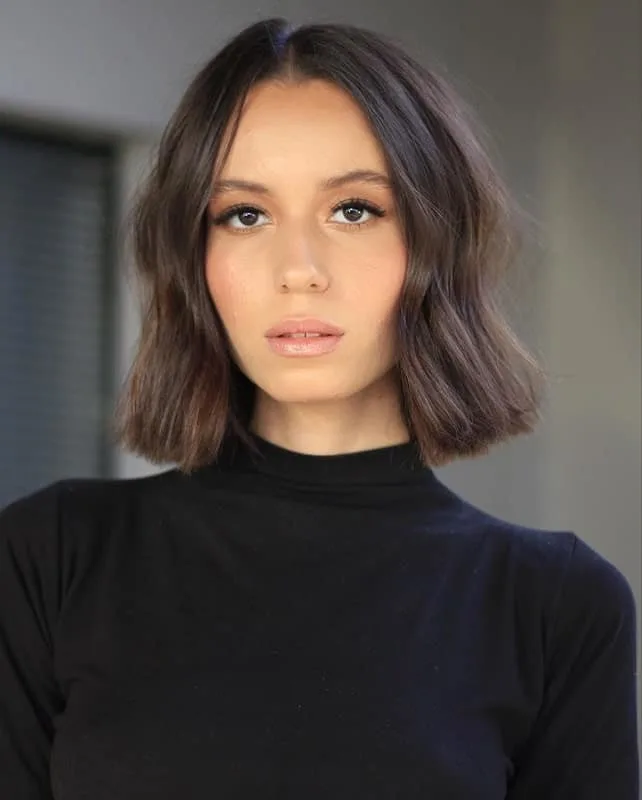 A blunt bob with just a subtle wave from mid-shaft down is all you need to say chic style. Part hair in the center using fingers for a wind-blown and beautifully imperfect look.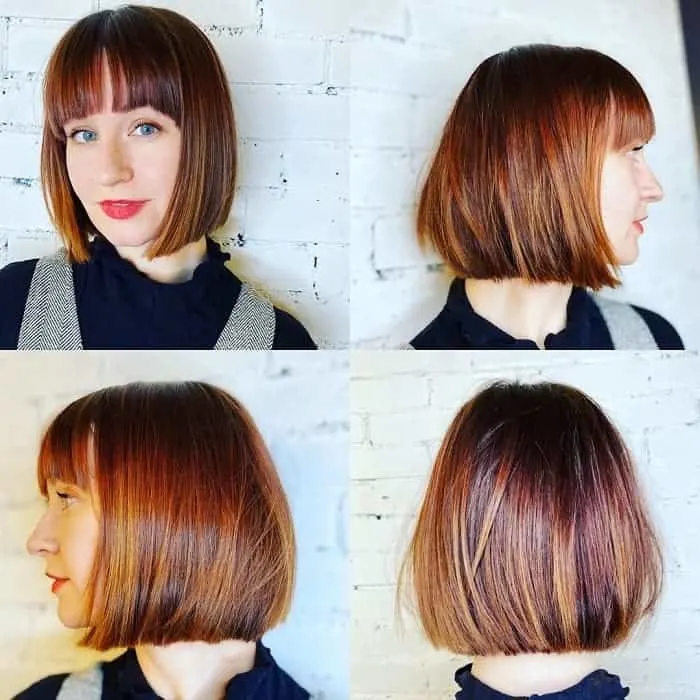 One of the things that go well with a blunt cut bob are bangs that are also bluntly cut. This fringe meets the eyebrows and gives the frame a round face.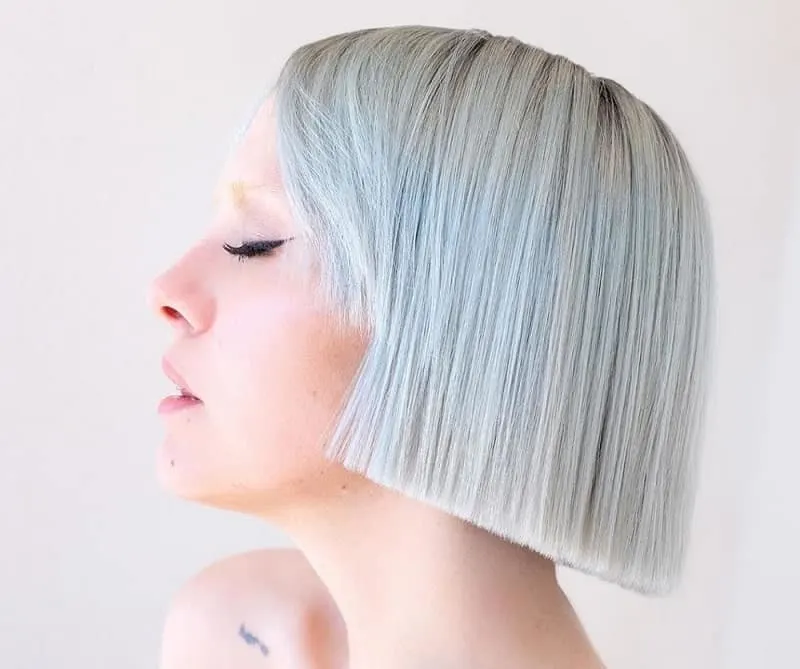 A platinum weave bob stands out the best with a dramatic blunt cut. Curtain bangs that can be arranged across the forehead are a great fringe option for women who don't always want a bang that hangs across the face.
18. Blunt Bob with Layers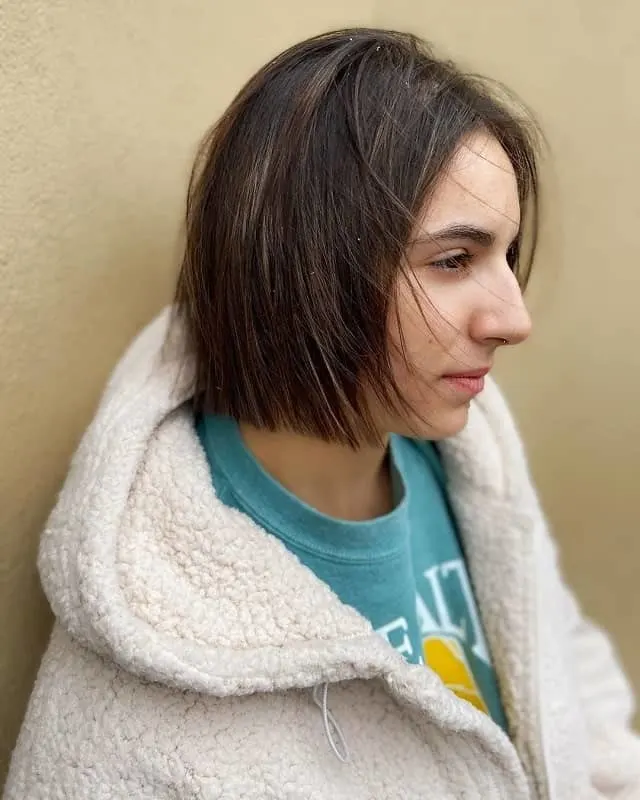 Adding layers to a blunt bob is the best way to give it movement and volume, especially if your hair is thin or fine. For thick hair, it will lighten the weight and take out bulk.
19. Redish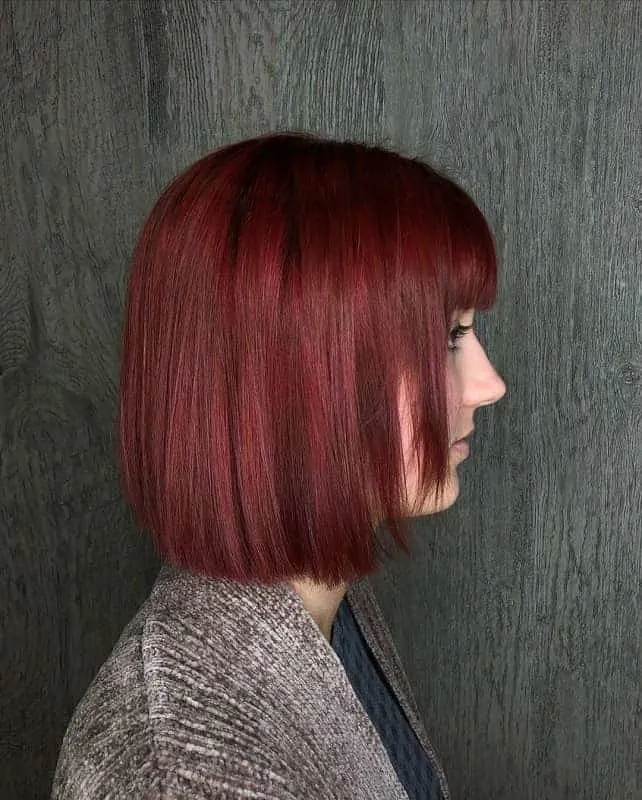 A beautiful rich burgundy is anything but boring for a blunt bob. Layer hair closest to the face for framing and detail.
20. Blonde Blunt Bob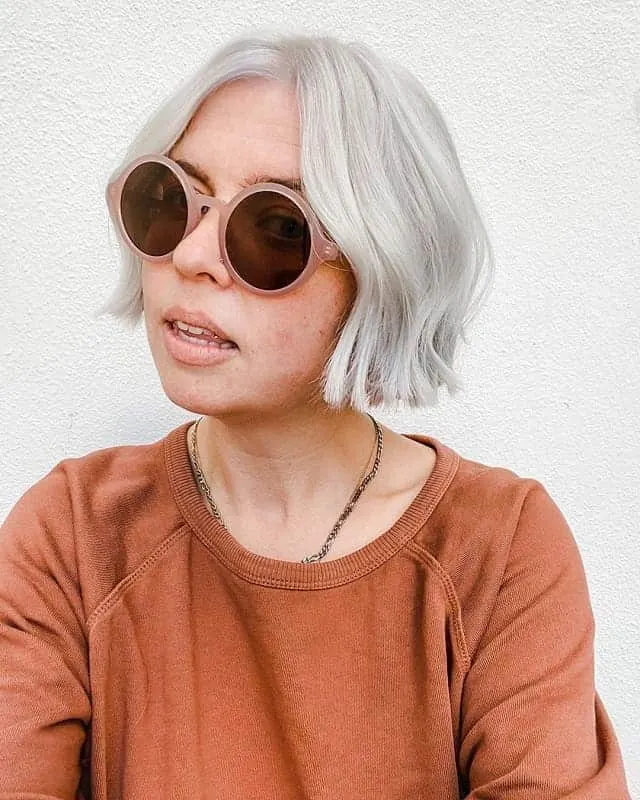 Give Marilyn vibes with platinum soft waves added to a blunt bob. And instead of parting hair directly down the center, a diagonal part is more artsy.
21. Blunt Bob for Black Hair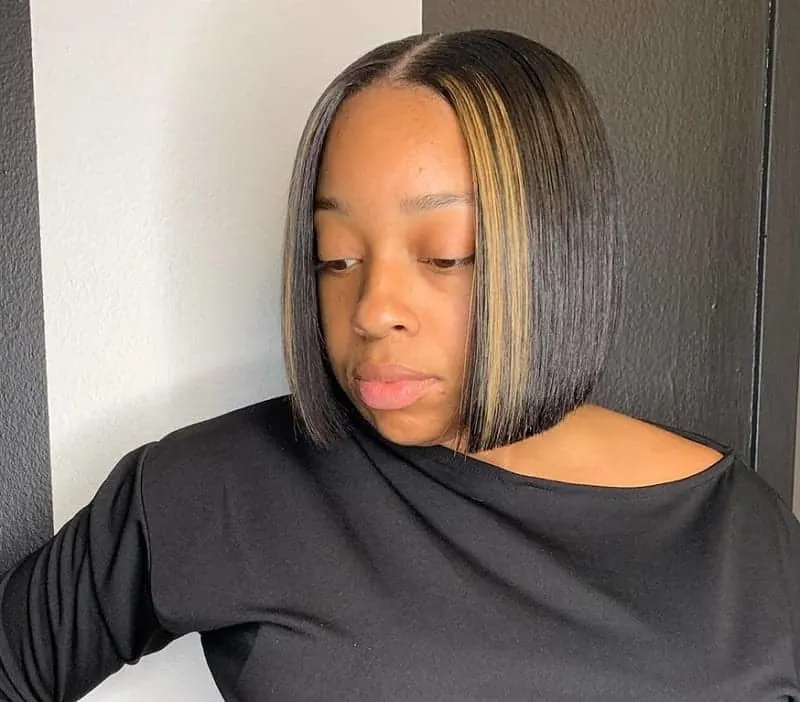 For black hair, blunt bobs parted in the center elongate a round face. Try throwing in a few highlights near the face to brighten up your complexion as well.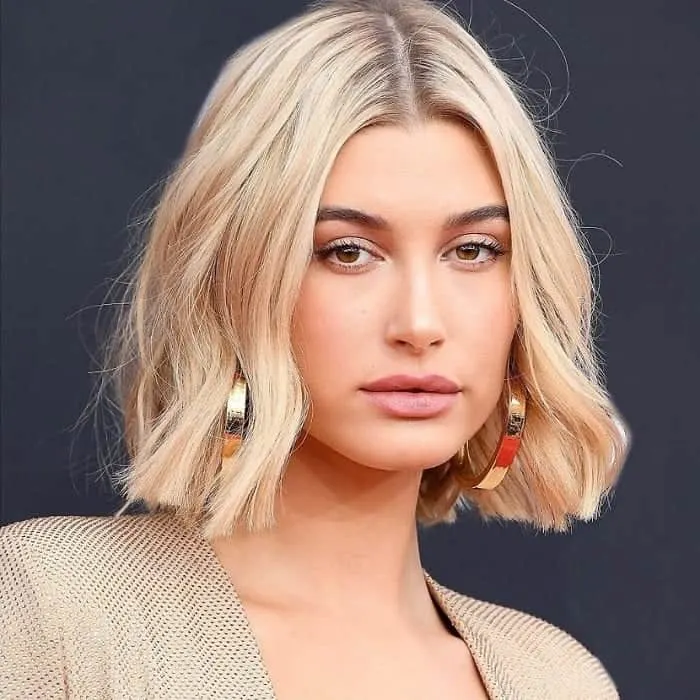 Blunt blonde wavy bobs will have you feeling red carpet-worthy. Start your waves at least an inch down from the root to avoid too much poof and you'll be the star of the show.
23. Straight Blunt Bob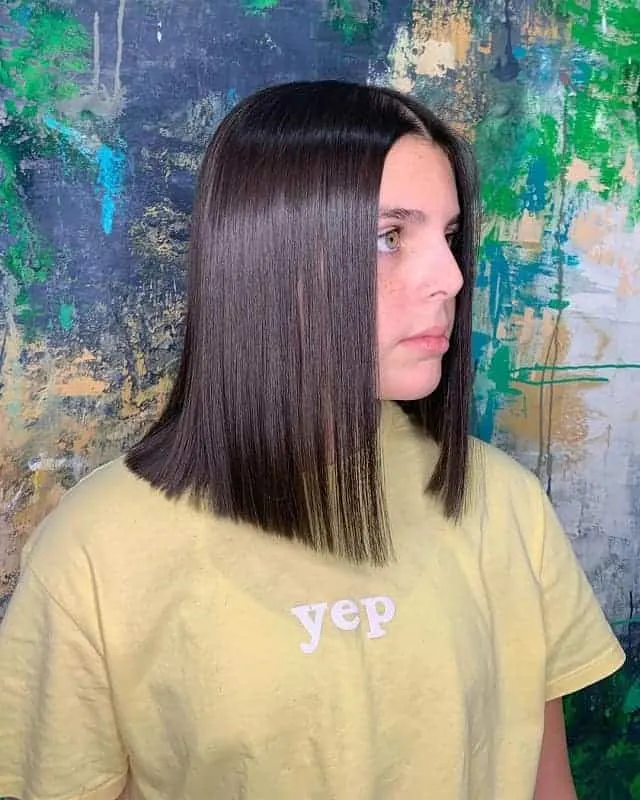 For the woman who prefers a minimalist hairstyle, have your stylist cut your naturally straight hair into a blunt bob and part in the center.
24. Blunt Bob for Curly Hair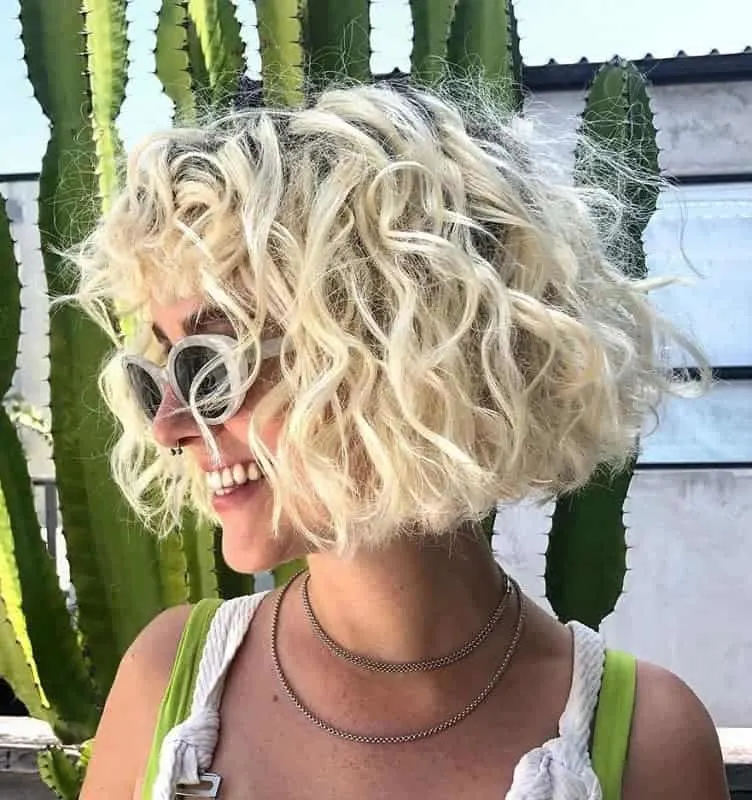 For super curly hair, chopping it off to jawline-length and giving it a blunt cut will emphasize its thickness and its texture. Some shaggy bangs and a platinum or blonde color is all you need to feel summer-ready.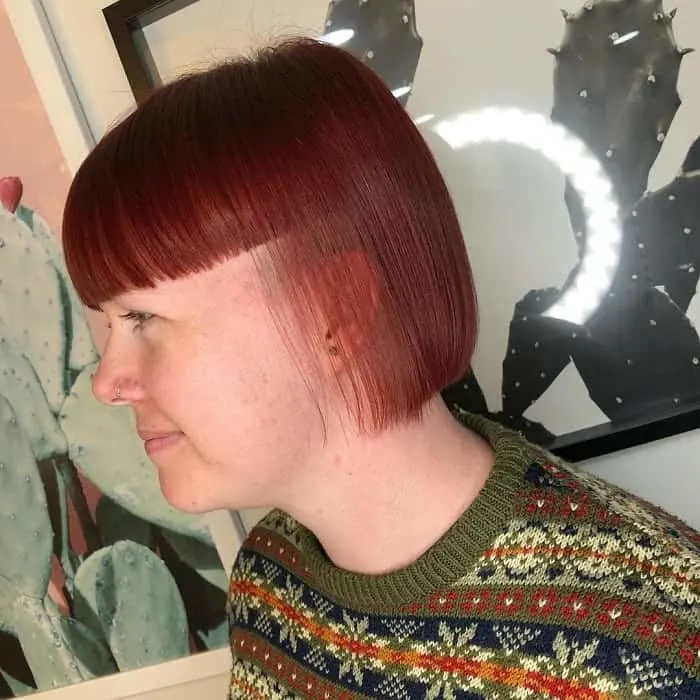 On fine hair, blunt bobs are an edgy choice for a hairstyle. When cutting bangs, instead of stopping the cut right where the eyebrows end at the temples, keep cutting to where your ear is for a modern take. For those who don't mind going extreme, add an undercut where the bangs start.
26. Thick Blunt Bob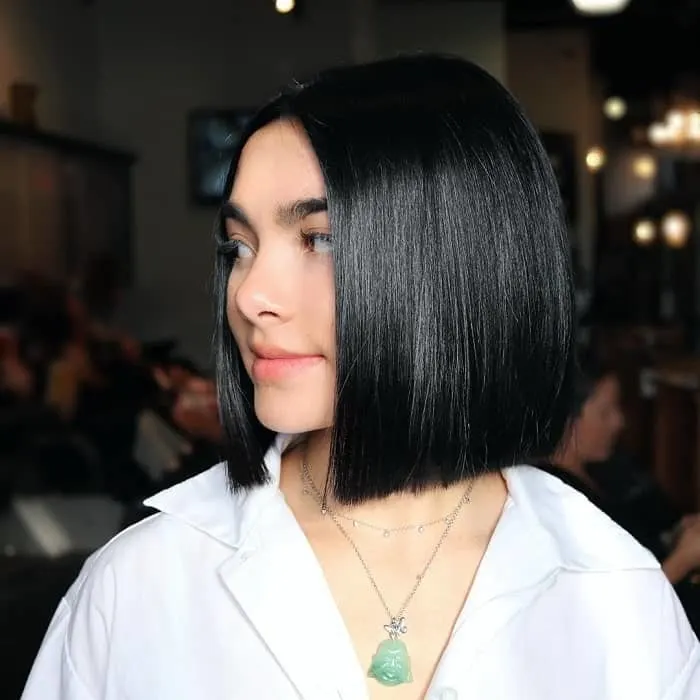 Thick hair can oftentimes feel unruly or overwhelming to style, but the blunt bob should be your first choice for a short haircut. Cut it to collarbone level and part the hair in the middle for a fresh update.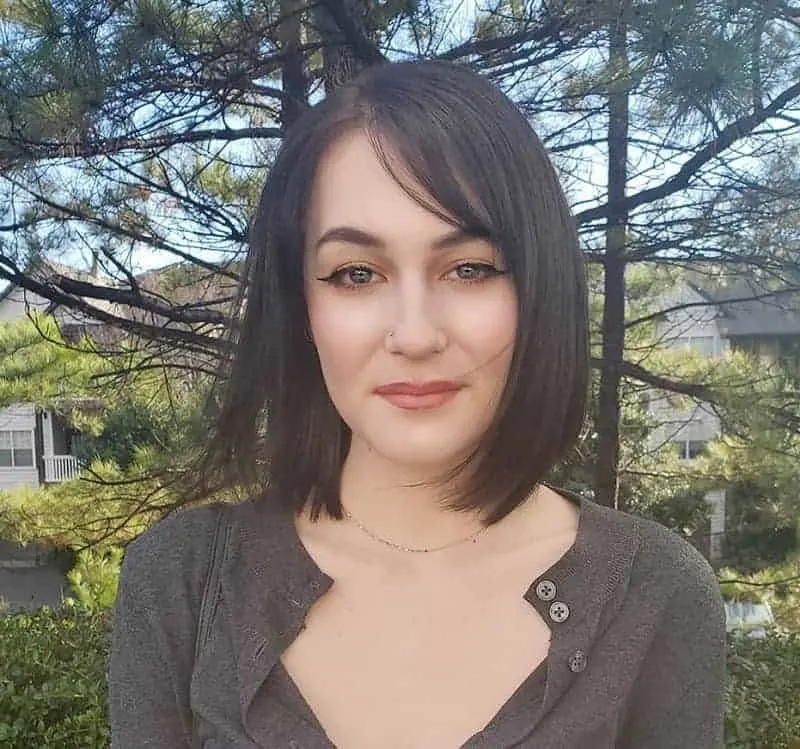 If you look around, you'll notice there are actually many women who already sport the blunt bob with a side bangs. Left loose or pulled up into a half updo or pony, it's the girl next door look everyone wants.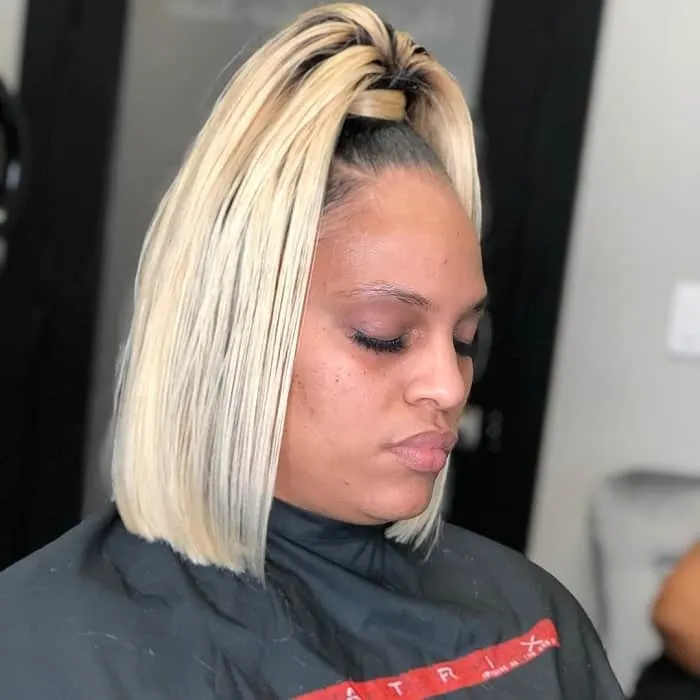 Pulling half your hair into a high ponytail – using your own hair to disguise a boring elastic band to secure it in place – and leaving the rest down to show off the bob's blunt cut is another way to liven up your look.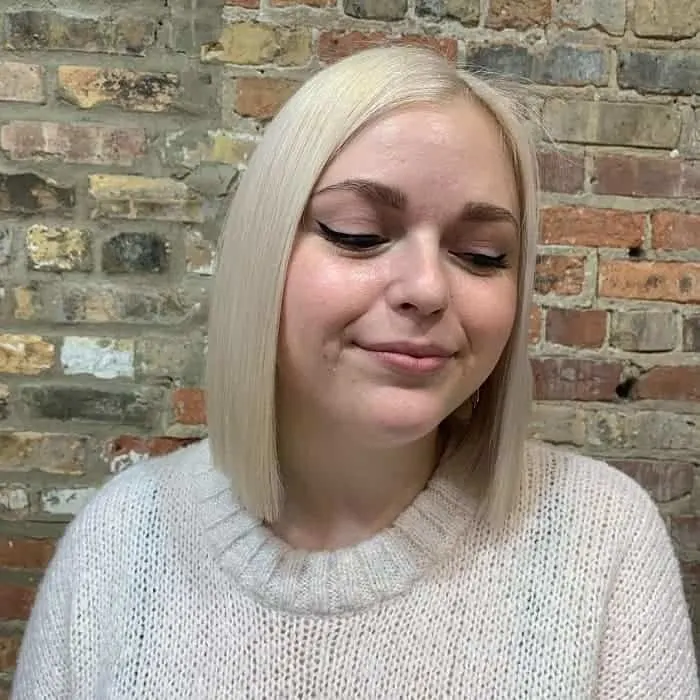 For your round face, any color of blunt bob with a side part will do you favors in being trendy and fashionable. For a sweeter style, pull back pieces close to the face and pin in place with your favorite clips.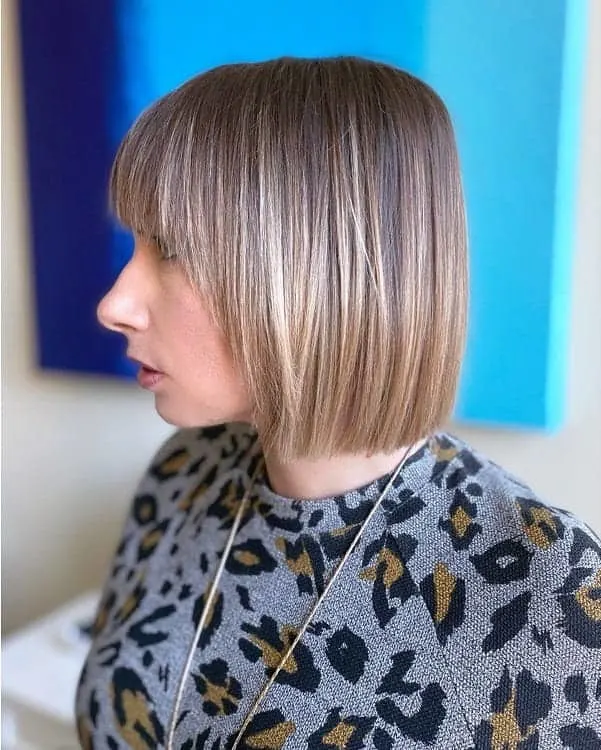 Highlight your blunt bob with medium or light blonde if your base is dark, paying close attention to heavier highlights near the face. The feathered sides and fringe also adds a soft touch to the face.
31. Ombre Blunt Bob
Soften the harshness of a blunt bob that stops at your jawline with a combination of waves and ombre in honey blonde which flatters all skin tones.
32. Balayage Blunt Bob
Warm blonde and espresso hair colors pair beautifully for a balayage color melt on a blunt bob that stops at the shoulders. With a color like this, a simple center part is all you need to style.
33. Messy Blunt Bob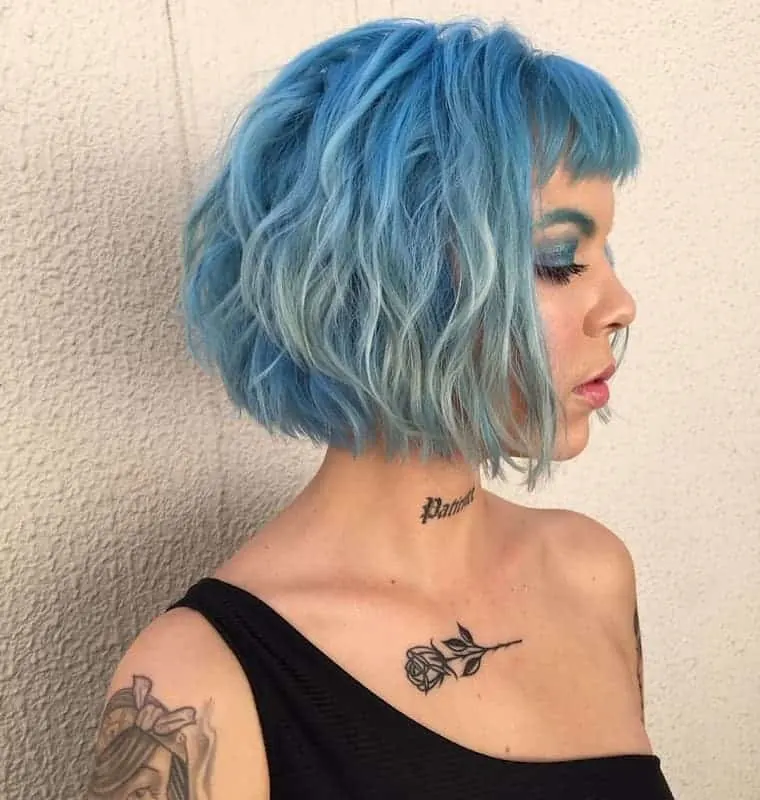 If you like the bedhead look, messy bobs are for you. Because there's so much wave at the ends, the blunt cut isn't as noticeable as it is in bangs, but the shaggy texture is to die for.
34. Brunette Blunt Bob
Chocolate brown makes waves on a blunt bob shiny and appears healthy. It's a classic color for women who need a style that will be professional for work.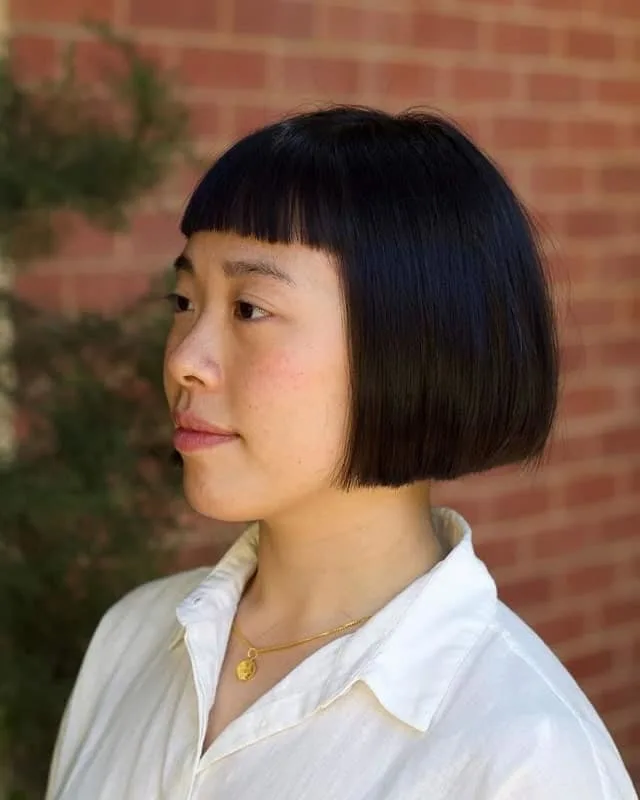 Short blunt bangs are the start of this bob hairstyle. They aren't for everyone but when done right, make your look both sophisticated and edgy.
From bangs to the body, there are many ways to incorporate a blunt cut into your bob. Any of these looks would be a great option for a woman wanting to go shorter, so be brave and enjoy your new blunt bob!