A chin-length bob offers the much-needed ease whenever you choose to deal with much less hair! Nevertheless, the 40 Extraordinary chin-length bob hairstyles for women comes with various styling options that get you stuck with something new every time you believe in a style and do it straight.
Which Face Shape Suits Chin-Length Bob?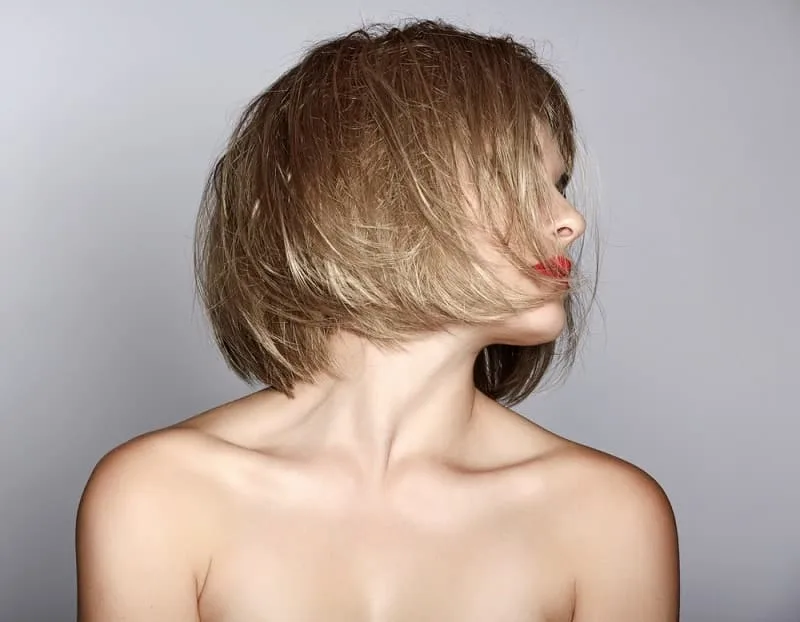 The best face shapes and hair types for chin-length bob hairstyles for women are perfect for every face shape. The chin-length bob works well for every woman with different face shapes, as the curls will soften any face shape. Chin-length bob hairstyles are suitable for women including:
Curly, Thick, And Thin Hair
Popular Chin-Length Bob Hairstyles
Take a look at the 40 unique chin-length bob haircuts for women for more inspiration.
1. Alternative Bob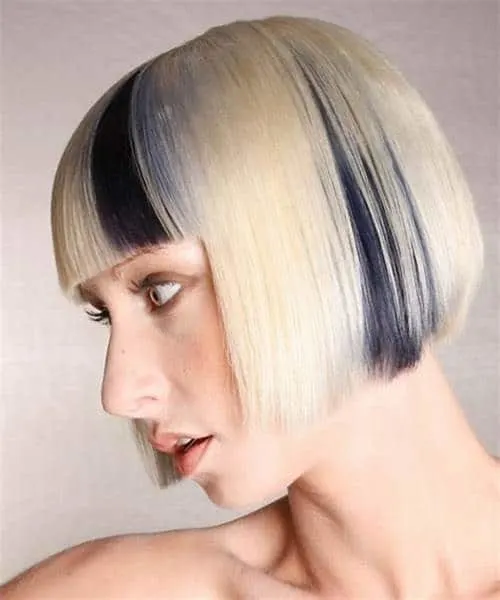 Alternative bob defines your look with an alternative to classic straight bob. By cutting the bob to chin-length and advancing the nape, permits a chic and trendy air. One favorite feature is the broadside look followed by heavy fringe which offers drama to the cut. This bob can be refashioned with all hair textures!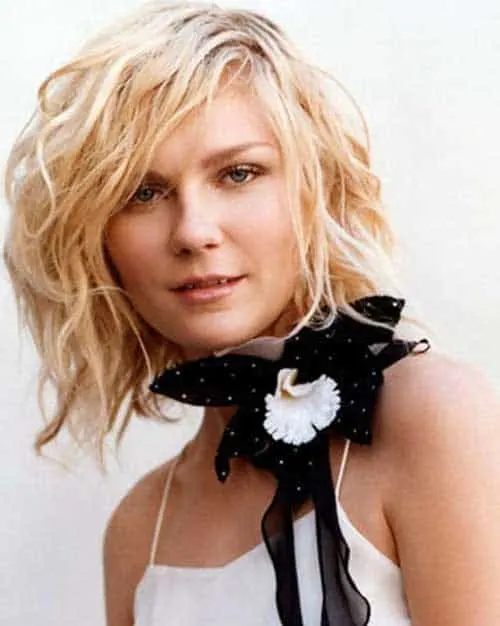 The short light brown chin-length bob starts with clean, dry hair, parted downwards, to the middle or side, whichever you favor. This style is great for all face shapes with styles coming from having fine, straight to wavy hair. The waves soften jawlines and flatter any face as it is easy and quick to create loose waves!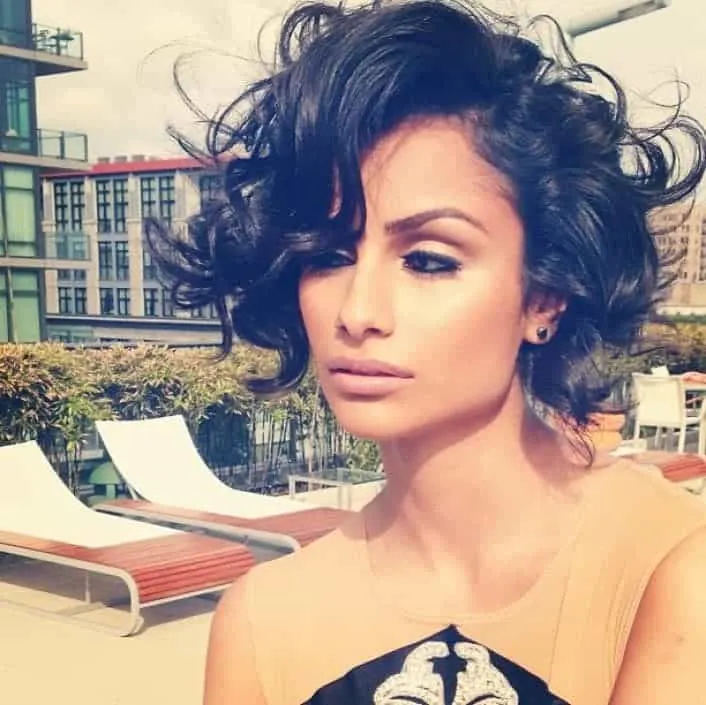 This jaw-length bob haircut can alter any everyday bob into something fancy in no time! This style includes curly bob with bangs. This chin-length bob with bangs style works well for every woman, as the curls will make pliable any face shape. Also, avoid damaging your hair by using the curling iron on a lower heat. Characteristically, the setting of central heat on curling irons works best for most hair types.
4. Blonde Short Bob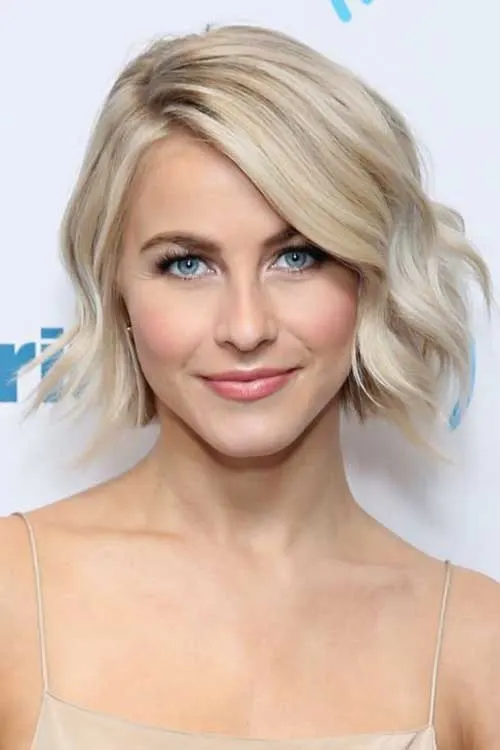 The chin-length bob on short blonde hairstyle that features a great way to add volume. With a short stacked bob cut that goes down to the chin frame, you can select a parting that suits your face shape.
The center parting is aimed at bringing the trendiest look, but only suits women with oval face shape. Nevertheless, your stylist is best suited to selecting the right location for your parting as they are essential in balancing your face shape!
This one takes a blunt chin-length bob alongside a light glow. The flexibility of this look starts straight from the top with the ends texturized enough to match any hair wave for drying and making styles. You would love the color variety that gives any hair incredible shine. This look is great for the heart, inverted triangle, or oval face shapes. You get a broadened chin and jawline for face shapes with a slighter jaw.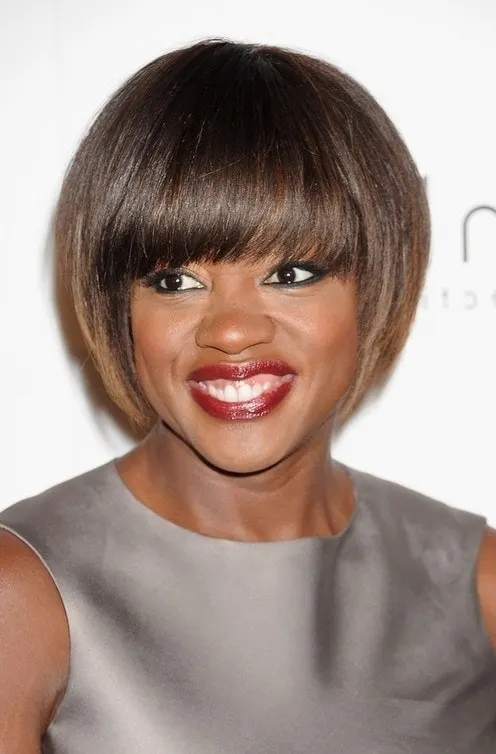 The style describes a blunter cut bob with blunt bangs. One favorite feature is how this cut takes a classy and edgy appearance with little sass. It always stands out and great for showing off a woman's sharp cheekbones and jawline.
The style is favored for round or square face shapes. You may desire shorter bobs than mid-neck to take attention away from the cheeks or jaw. If you choose to consider this style, remember the upkeep requires often cutting and styling daily.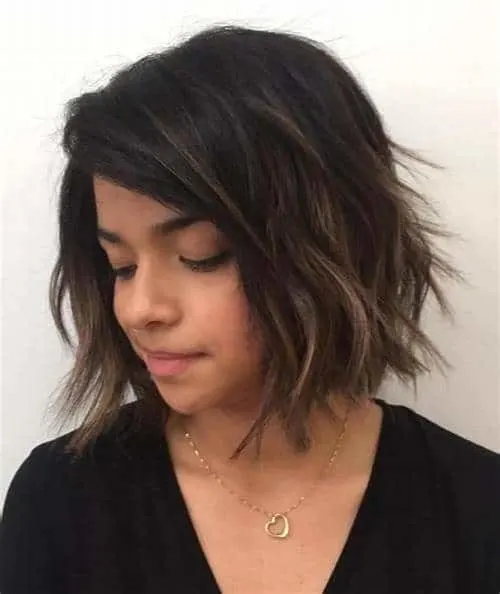 The gorgeous chin-length bob with brow ombre merely is beautiful. It starts with a dark brown blend into lovely blonde at the tips. Thanks to the trendy ombre transition, you would get a beautiful hair filled with shaggy and choppy layers all over, creating a course and full finish.
8. Brown Bob with Red Highlights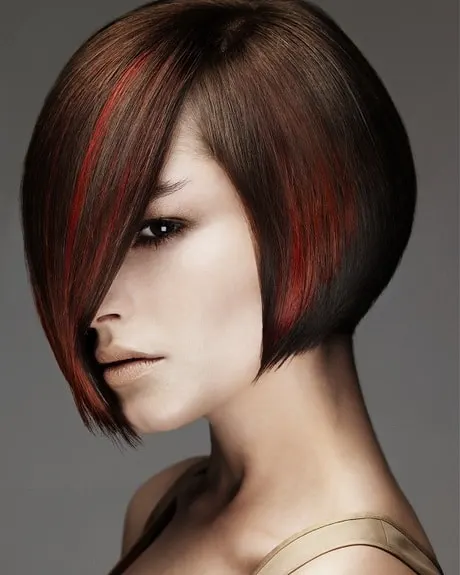 The gorgeous brown stacked bob with chin-length hair is completed around jaw-level, with little longer strands which fall perfectly near the front of your head and face frame. At the root, the hair is dark brown and completed with bright red highlights. The color transition is showed off to create a pleasing shaggy finish.
9. Effortless Chin Length Wavy Bob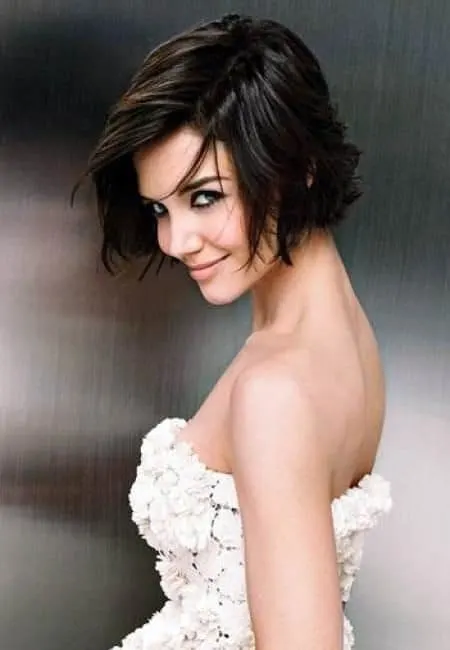 If you own natural waves, this style becomes easy to make extra curls or hair out shake for a messier appearance. Effortless chin-length wavy bob looks straight and very feasible, giving the striking "chic" look. It requires a more fashion-forward appeal that cuts completely as blunt and tremendously beautiful.
Fashion-forward jaw-length bob offers a very chic and fashion-forward look. You would love its sophistication, and classy look as any working woman or mom can rock it. Having naturally curly hair or oval face shape provides the best with a bob.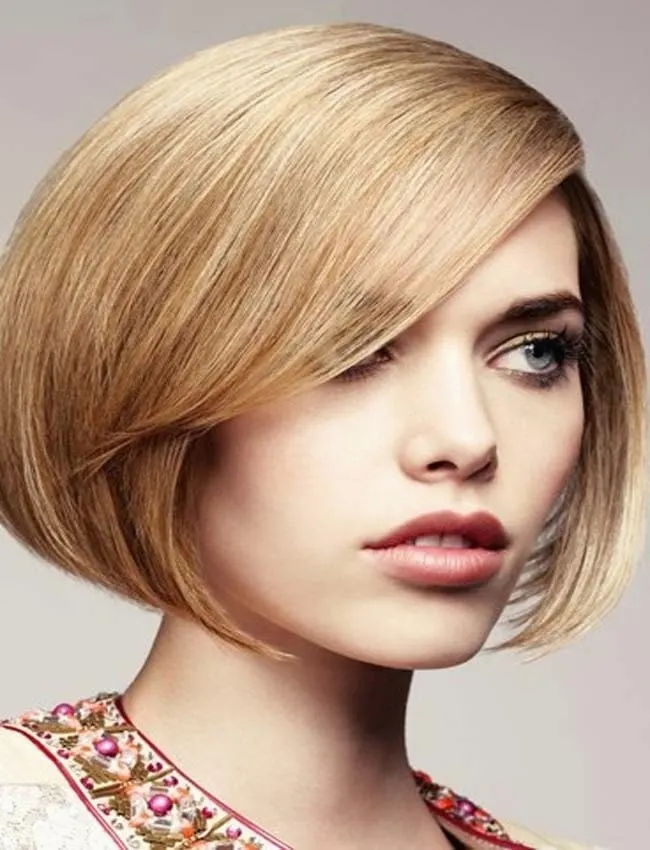 The flawless chin-length A-line bob cut is a contemporary fun bob that comes with an exciting twist. One major highlight is the love of colors and new personality due to its many porosities. If you specifically desire this style, you may want to consider selecting a low commitment color with a temporary tone that fades out.
12. Flipped-Out Bob
This simple to create bob style is perfect for everyday wear, and will give your chin-length hair some instant sass! If your hair has some layers, this style will become an instant favorite.
13. Chin Length Choppy Bob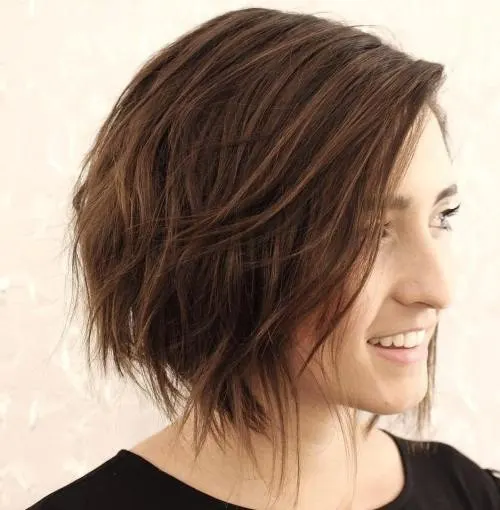 The choppy bob on chin-length hair is practically made using a razor cut. This chin length bob hairstyle permits for much texture and also offers several funky ideas to check out. Who knows, you might get lucky with a new cut and style.
If your hair is coarse and naturally curly, you can try out chic frizz-free short bob. This chin-length layered bob haircut is also a very trendy look where you can add sliced layers to aid curly hairs to become less frizzy and adds a plane and well-defined crisp curls or waves! Wearing your new look adds that sophisticated and no-fringe sleekness that remains fashionable straight-across fringe!
15. Funky-Fun Girl Pixie Bob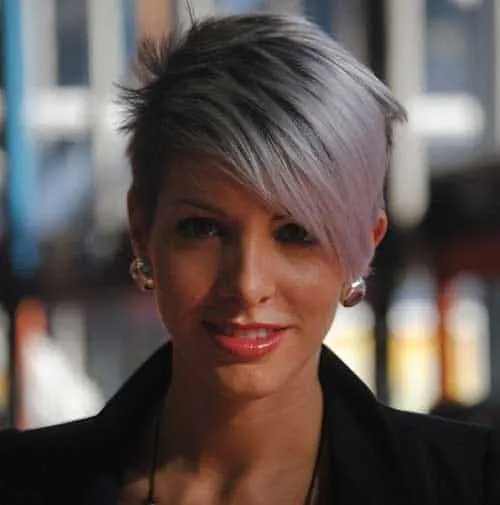 The shorter pixie style bob appears great on hairs that permits one color and fun combined with peek-a-boo hair highlights. This chin-length bob cut gives a lot of spark to any standard bob, and is perfect for any night out!
With parting options to the side or middle, this style works well with thick hairs and a round face. Also, the more layers, the better. A bonus includes having short layered locks through the back, called "graduated" or "stacked" layers.
The full-fringe bob style places emphasis on all front! Even without specific bangs already cut, this style can still work. This chin-length bob style is great if you own fine hair since the focus is more on hits! This style also works well with a variety of color very well. It can slim down longer face shapes along with hiding foreheads.
17. Glossy Brown Curled Bob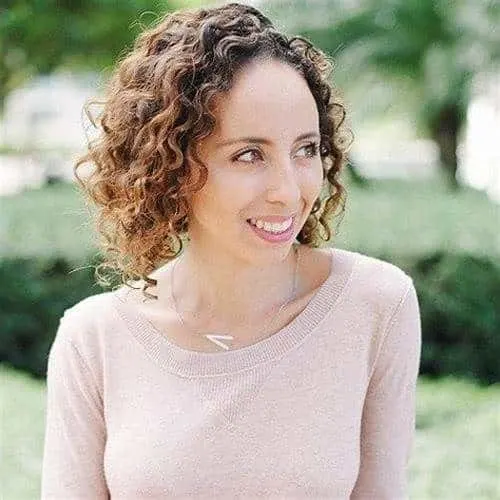 The glossy brown curled bob is completed using an inch or so beneath the jawline, with a slightly graduated line from back to front. The style is achieved with side parting which adds a loose, sweeping fringe effect. This chin-length bob combines short loose curls all over your hair to create a pleasing bouncy finish you would adore.
The bob with undercut is incontestably perfect for any night out event. With astonishingly little work needed, you can transform your day hair to night hair. The style is more suited for women with elongated tiny faces. Also, having a short thick wavy hair works well with chin-length bob. Nevertheless, fine hair will hold too! A good backcombing brush would do wonders for you while making this style.
19. Chin Length Bob for Round Face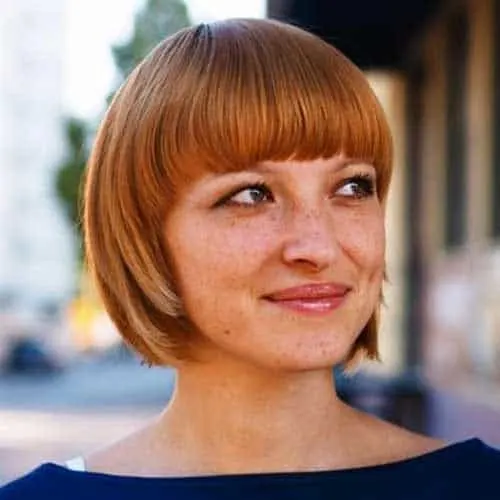 The bob with bangs makes an appearance that uses new wave tactic from a similar blunt cut in the 60s bob. The somewhat classic look throws in a modern touch combined with an undercut shaved round. This chin-length bob hairstyle takes out extra weight from underneath, allowing for thinner hair and complete removal of bluntness attained from the cut.
20. Chin Length Blunt Bob with Short Bangs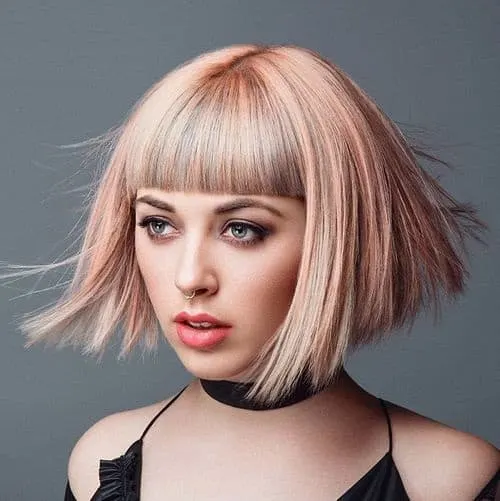 The bob comes with lots more texture. You would love the length and, of course, the color! Having a thick hair tends to give an even better blunt chin-length bob look! Typically, if you have a wavy or thick hair, it means you take less effort and maintenance to style. If you have straight hair, using a full barrel iron would get you nice wave. If you work out, you can get a super cute half up look for those that require it off the face!
21. Playful Yet Professional Bob
This chin-length layered bob haircut integrates the intricacy that characterizes every bob. It is full yet deconstructed, frisky yet professional, and definitive yet artistic. One favorite feature about playful yet professional bob is the wide smile developed once viewed through a mirror. You would always love this style because they always reveal something new.
22. Round-Brushed Bob
The round-brushed bob style fits all women. A deep part and swoopy bangs particularly complement it. The long angled bob with bangs is perfect for women with fine and straight hair. It is so easy to round brush hair. The chin-length bob style is a wavy and kinky hair deprived of posing much challenge as it softens round face shapes.
23. Sci-Fi Bob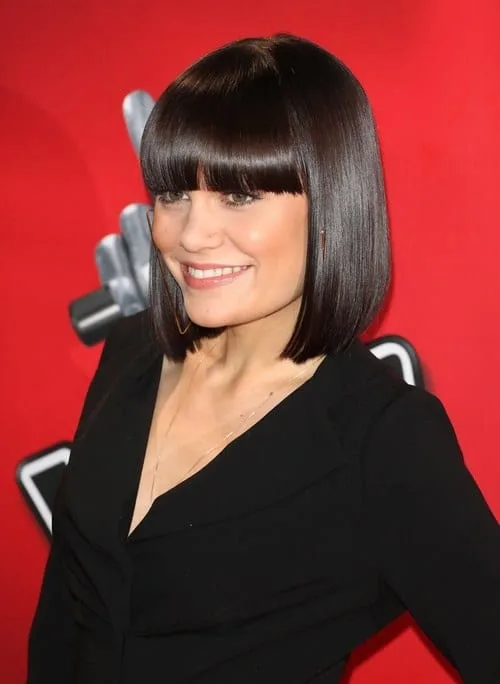 The "Sci-Fi Bob" takes a blunt and sleek bob with the inner layer. You would love how this style brings out a little different for every woman. The method is a wash and wear, thus offers low maintenance styling goals. If you desire something comfortable to recreate, trendy, and require less time for styling, then this style is perfect.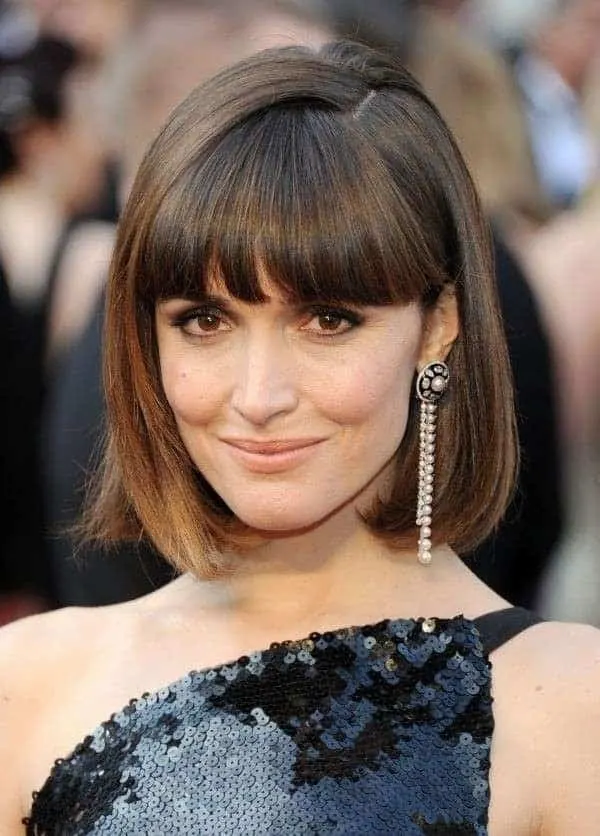 This jaw-length bob also comes with a slight angle. You would love this look because of its sophistication and sex appeal. It's a great look for any woman with thin/fine hair since it looks like fullness. The sophisticated yet sexy bob with chin-length hair gives a fun, chic bob that is easy to style and maintains.
25. Straight-Sassy Girl Bob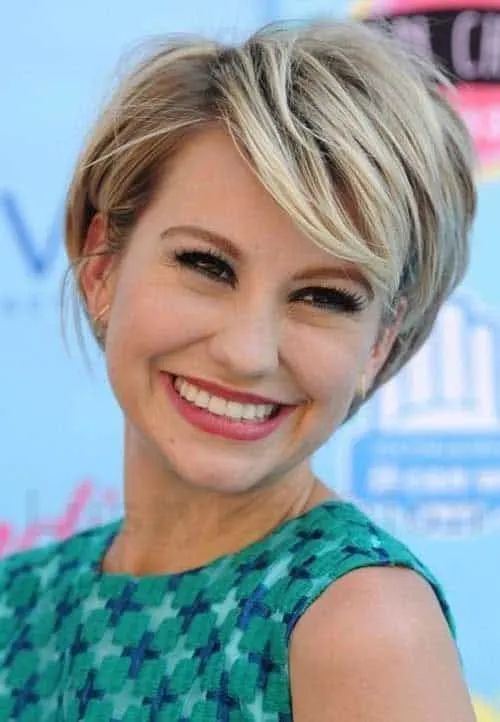 The application of two colors in straight-sassy girl bob complements each other perfectly with straightened outlook. The style is perfect for any occasion, casual or fancy. Simple to create, this style works with all hair type! The best face shapes for chin-length bob cut includes round face shapes and naturally straight hairs.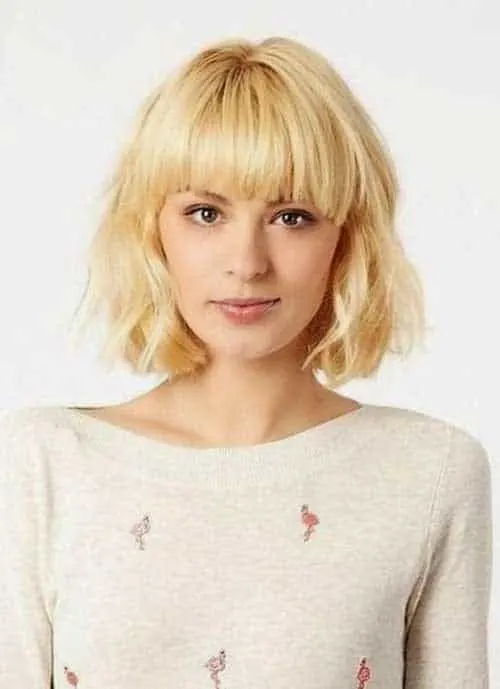 This chin-length bob with bangs is classy with low maintenance and lots of texture but not lots of layering. It does not require too much styling as the look is perfect for women with short curly or wavy hair that wish to embrace their textured hair. It accentuates a more natural texture while still looking playful. The short fringe adds a softer face frame look to balance the bob's square shape. The cut entirely made with a razor, gives it a homier look.
27. Textured Chin Length Bob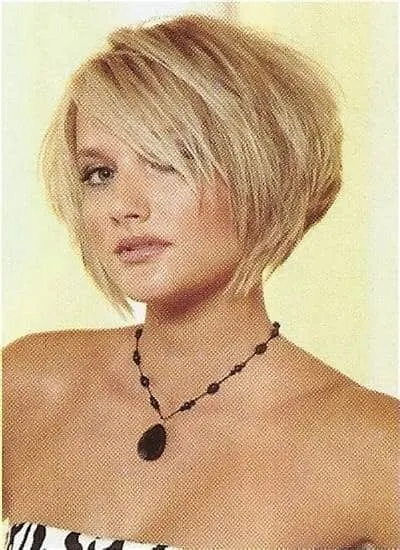 This adorable chin length asymmetrical bob best describe a look with the feeling of a fresh cut. It is perfect for women with coloring history. The bob remains a great example to get rid of those dry ends! Also, if you desire some asymmetric touch, then this chin-length bob style balances that with perfect new colors.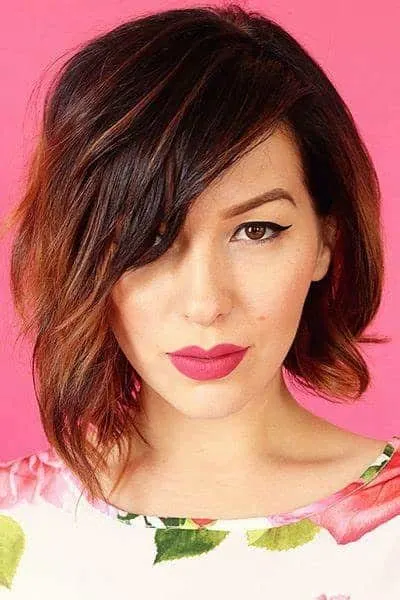 The timeliness, Lived-in chin-length bob haircut is flexible and timeless. This bob offers a sleek and modern touch that is well texturized for a more comfortable look. This style fits any hair type or personality. So, whether you desire something fun or polished and professional and sassy, the hairstyle is easy to maintain for any lifestyle.
29. Luisa Hartema's Chin-Length Bob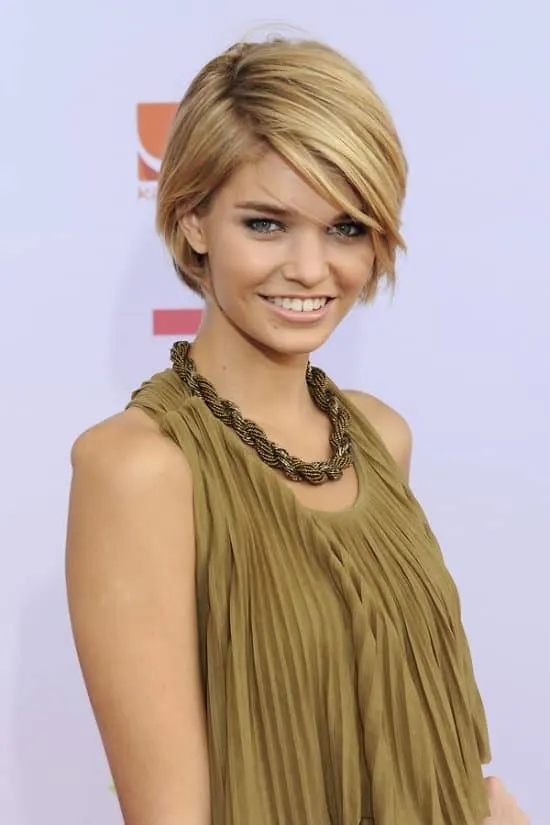 This German model is looking so adorable with her bob hairstyle. Get a chin-length bob hair and sweep your bangs to the side, that's all. Your hair is ready for any party!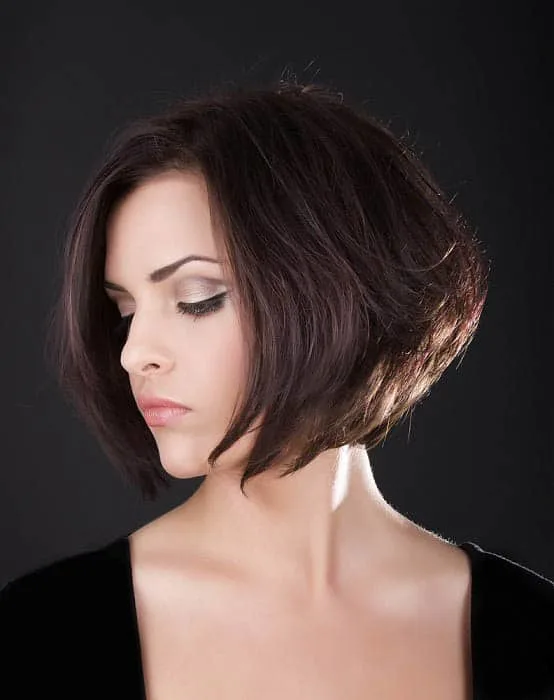 This beautiful graduated chin-length bob hairstyle is versatile and is perfect for the women with thick hair who love short hairstyle.
31. Straight Bob with Short Bangs
A chin-length straight bob with baby bangs is for the quirky girl. It also happens to fill out an oblong face shape in a fresh and youthful way. Don't worry about perfection, however. Ask your stylist to keep the feeling causal by feathering the ends of your bangs.
32. Asymmetrical Cut for Thick Hair
If your hair is rather thick, than an asymmetrical chin-length bob should help distribute weight and do it with style, of course! For approachable, easy to wear hair, ask your stylist to cut each side with about an inch difference in length. For a more dramatic look, feel free to lengthen the distance.
33. Blunt Bob with Soft Side Part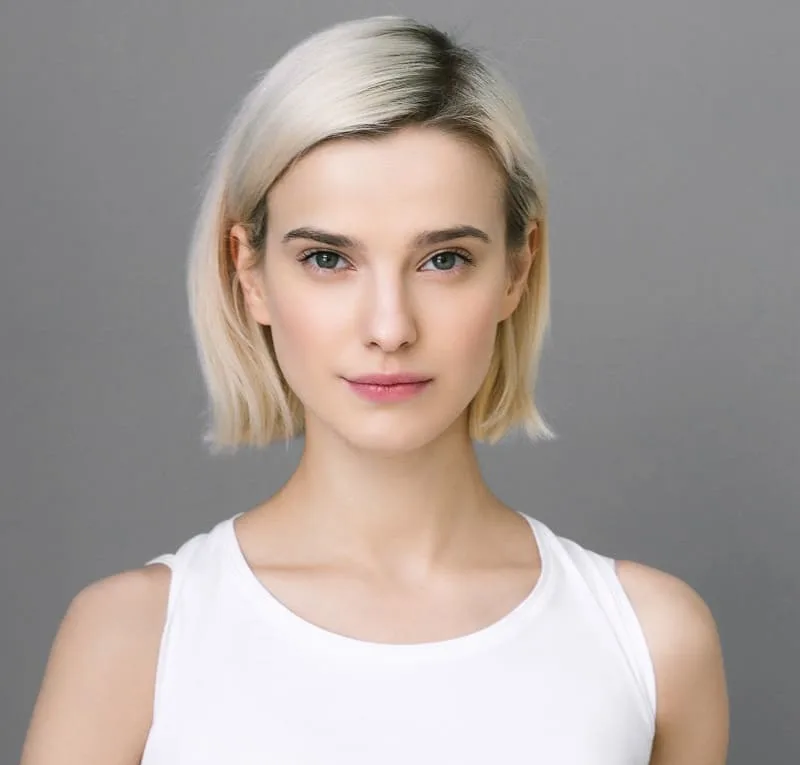 A chin-length blunt bob can look too severe without a side part to soften it. When cutting hair short and all one length, you may want to include warm elements like round lines. This can be achieved by using a round brush to blow out hair.
34. Wispy Bangs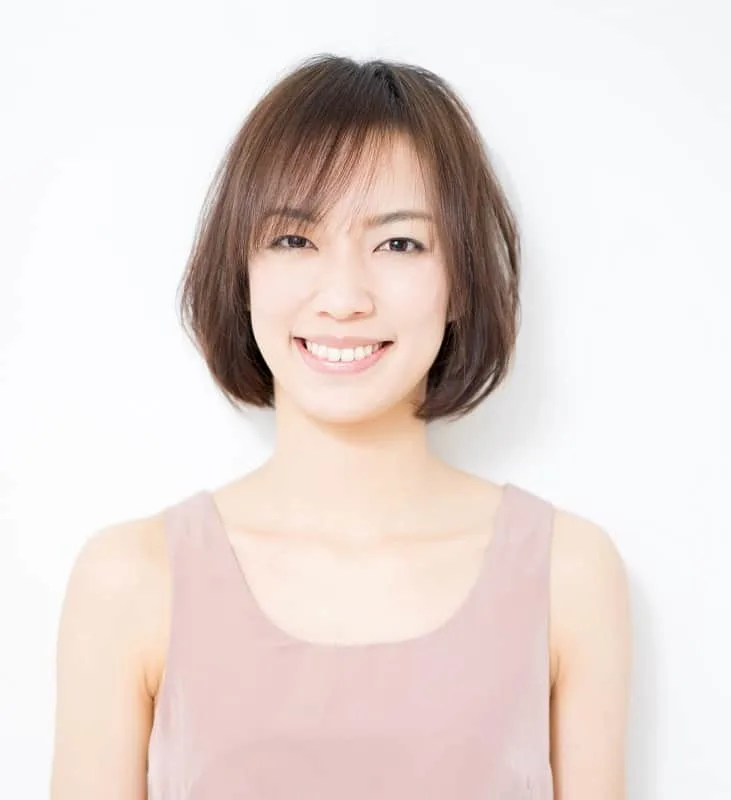 Soft features like side bangs provide a great extra element to a chin-length bob for Asian women. A wispy fringe will round out oval and oblong face shapes. Curled under bobs adds to the same effect.
35. Feathered Ends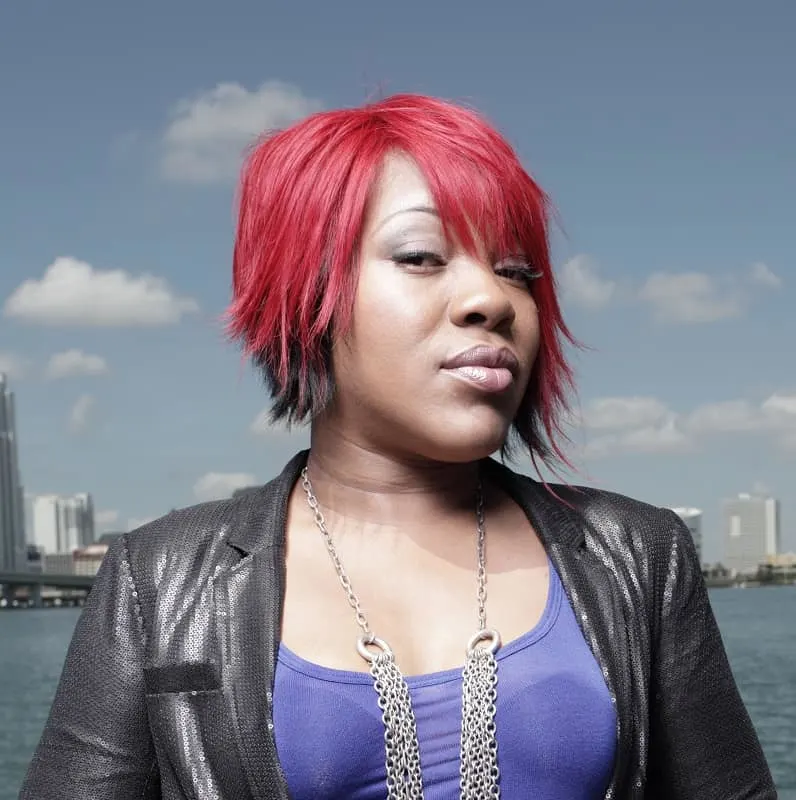 Cut feathery layers and you've got the right amount of flair for a chin-length bob for Black women. This look works especially well if you have fine or thin hair. Focus layers on ends of hair that fall right under the cheekbone to emphasize beautiful bone structure.
36. Deep Side Part for Fine Hair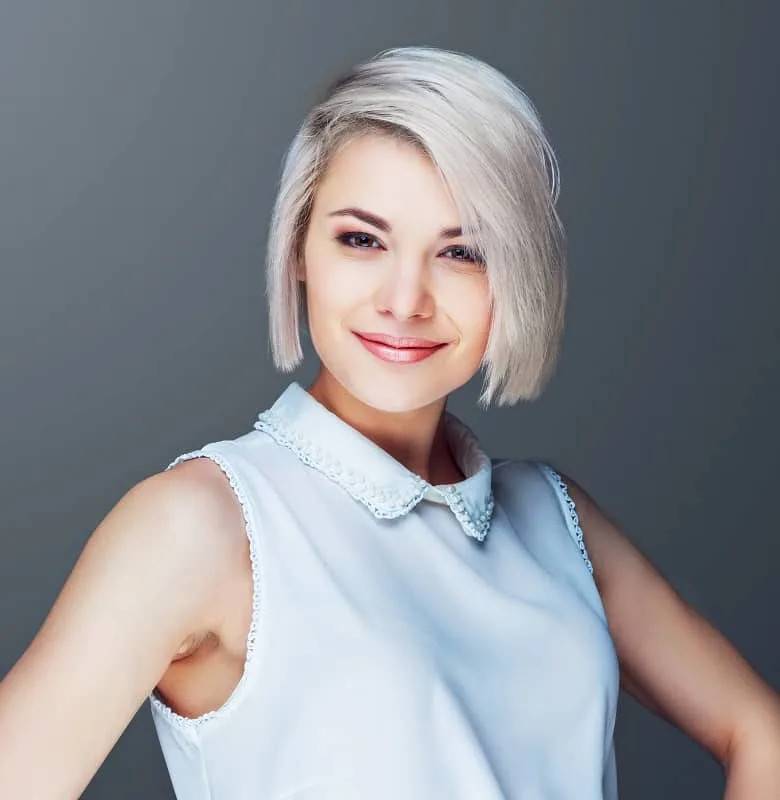 Many blondes struggle with limp or thin textures. So, try a deep part chin-length bob for fine hair to create a sense of fullness. Layers on the longer side of hair will make hair appear thicker than it is.
37. Sporty Bob
An easy chin-length bob with side part is for the no nonsense girl. With minimal details, styling this hair should be as simple as a quick blow dry. It does work best on straight hair, however.
38. Avant Garde Undercut
It's time of you to stand out with an awesome style like this chin-length bob with undercut. Obviously, a look like this isn't for everyone, but it may be just perfect for an artist. At the very least, let an avant garde inspire you to thin outside the box for your next haircut.
39. Perfectly Tousled Bob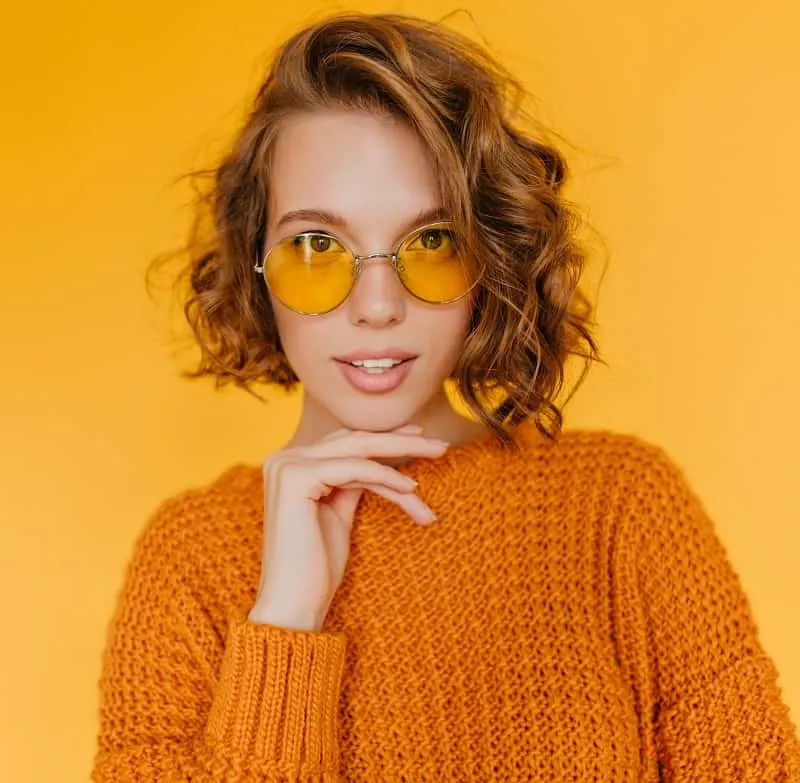 A chin-length choppy bob looks so dreamy with sexy waves. To really soften this look, the hair around the face should be cut slightly longer than the rest of the bob in a subtle A-line fashion.
40. Short Inverted Bob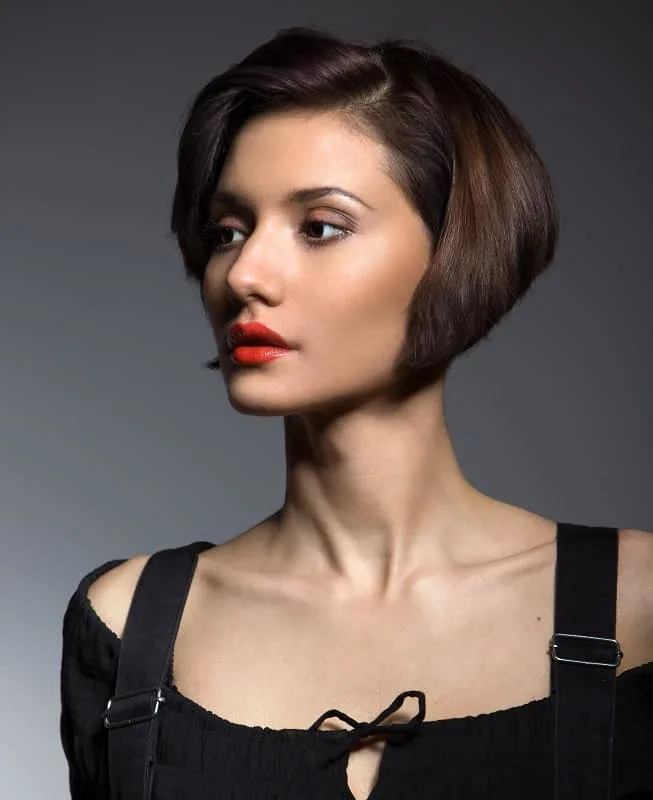 A chin-length inverted bob adds so much emphasis to a beautiful face. This cut is characterized by short layers stacked at the nape of the neck. A side part softens while thick side bangs accentuate the glamour of an inverted bob.
Chin-length bob is all the rage, and with it, you can get all the fun you desire with your hair. These inspiring chin-length hairstyles rock and you should try them out. The color and texture are crucial elements to aid in maintaining your shorter hairstyle fresh and modern.