Women have been loving side part bob hairstyles after seeing celebrities such as Kylie Jenner and Kim Kardashian rocking them.
Who Should Try A Side Part Bob?
Anyone can rock a bob hairstyle, but choosing which part comes down to the outline of your face. If you have a round face shape, a side part will add structure and symmetry all while lengthening your chin and narrowing the appearance of your cheeks.
Angular face shapes, like heart, diamond, and square, can utilize the framing features of a side part by softening jaw and chin lines while smoothing cheekbones.
Oval face shapes have a particular advantage over other face shapes due to their inherent symmetry, so if you want to try a side part on your bob hair style, give it a go.
Amazing Side Part Bob Hairstyles
The following are the 25 ideas to style side part bob, deep side part bob and side part bob sew in that we've handpicked for you.
Super defined short bob hairstyle with side part is ideal for women who are in their 20s. If you prefer bold makeup know that it is going to look bomb with this haircut. Also, don't forget your large hoop earrings to round up the look.
2. Side Part Bob with Bleached Ends
If you have naturally blonde hair and blue eyes know that the side part bob will open up your face, and will give you a beautiful complexion. If you want to focus all the attention to your eyes and your facial features, this is the best way to do a deep side part on bob.
3. Short Bob with Deep Side Part
Even women who are in their 40s can look great with a deep side parted short stacked bob. This style is easy to maintain and will allow you to stay mobile & active during your mom hours.
4. Side Part Bob with Highlights
If you are not into basic options know that a set of highlights will give you that 'pop'. You can get a deep side part bob haircut and enjoy some brighter highlights down the ends of your hair.
5. Platinum Side Part Bob
Don't be afraid of going platinum since it can look this great! This hair color is best for women with lighter skin complexions will look the best with. Also, you can finish off the look with some fierce jewelry, or some bold makeup.
This deep side part bob looks reckless, fearless, and like something that you'd see on the runway. If you are into easy to style hair designs this one will suit you the most! Simply comb it through and leave more hair on one side each morning, spray with some hairspray, and you'll be set!
7. Straight Bob with Highlights
If you are in your 30's and you want a big change how about you get this long angled bob haircut? Once paired up with some silver jewelry, smokey eye, bronzer, and highlights, this look can easily sweep everyone off of their feet!
8. Dark Blue Sew in Bob
If you prefer funky colors you will enjoy this darker blue hair option of side part bob sew in. Although it is a sew in wig, it is still very beautiful & feminine, as well as bold.
If you are off to your prom, graduation party, wedding, or a sweet birthday party heads up and be ready to slay this long blunt bob cut. This wavy and side part bob looks very playful and is ideal for your formal events.
10. Wavy Deep Side Part Bob Sew In
You can get a deep side part bob sew in and look this gorgeous! This is a curly/wavy model which is easy to achieve, as long as you have the right wig, and a good hairdresser.
This actress knows how to match her hair to her makeup, obviously. If you get a deep side part bob cut make sure you always match it with a bolder lipstick since it will make your entire face makeup pop.
12. Sleek & Straight Brown Bob
This dark red lipstick is very attention-seeking, which is exactly what this side part bob cut needs and demands! Women who are in their 20s and who love bolder makeup will look breathtaking with this light brown balayage combo.
13. Natural Bob
If your hair is quite light, thin, brittle, and still virgin hair you are in good luck since you can rock this bob cut easily and fearlessly! It can look great on older women and those who prefer the all-natural vibe. Rock your natural color along with a dewy complexion from Monday-Friday, and enjoy all the compliments that are headed your way.
14. Textured Side Part Bob Hairstyle
If you want to look like a VS angel don't forget to add a lot of hairspray to the roots of your hair. This way you will create an illusion of a fuller bob with side parting, and will enjoy its longevity.
15. Wavy Short Bob with Highlights
Super cute & short curls are always a full hit, simply look at this one! This deep side part bob will accentuate your eyes while seamlessly covering up any wrinkles or fine lines along your forehead.
16. Natural Waves
No reason to make everything crisp & clean since you can definitely enjoy this bob haircut and side parting. It looks effortless, which some of us just might need the moment we wake up.
Light blonde hair, when matched with a dark red lip, is a killer combo! You can wear this makeup look along with your bob with deep side part whenever you go out and enjoy all the compliments, as well as jealous looks.
18. Short & Thin Side Part Bob Haircut
If you have super short & thin hair you can hide it by getting a bit more volume on top of your front part. Get a side-parted bob sew in with bangs and accentuate it by adding a lot of texturizing spray, and create an illusion of a fuller hairline.
19. Textured Side Part Bob Hairstyle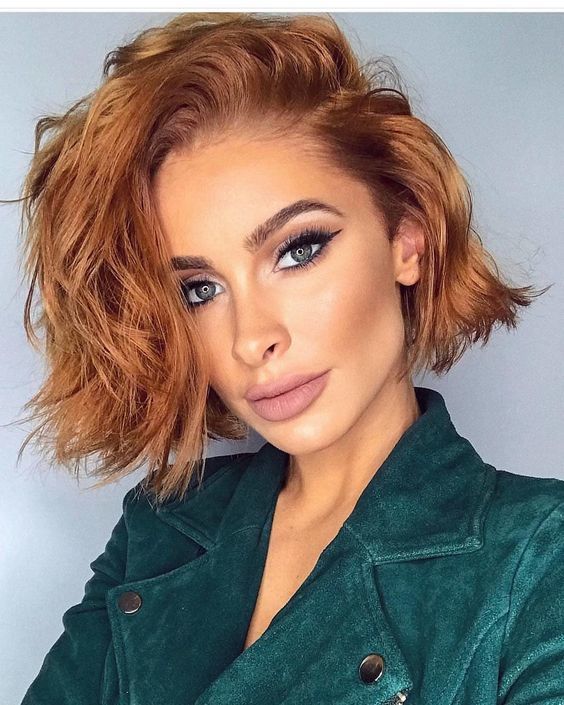 These minimalistic curls are very chic, and runway perfect! If you have burnt orange hair don't forget to emphasize it by rocking this sleek bob side part cut.
20. Natural Deep Side Part Bob Sew In
This side part bob sew in looks so natural, doesn't it? If you are worried about your wig not looking as seamless as you want it to make sure you book the right hairdresser which will take care of you the best way possible! Once done the right way, side part closures and sew-ins can look phenomenal on every lady.
21. Artful Asymmetry
Lengthen your round face shape or add interest to an oval one with an asymmetrical bob with side part. Characterized by one long side and one short one, a disjointed style kicks your basic bob up a notch.
22. Wispy Side Bangs
A straight across fringe won't fit with a side part bob with bangs. Instead, let the hair over your forehead follow the flow set by a side part. Long, wispy bangs are perfectly suited on a longer bob that dips below the chin.
23. Pleated Curls
Taming exceptionally textured hair can be tough, especially if your hair is short. A curly side parted bob will subdue and add structure to boisterous locks.
24. Medium Blunt Cut
Is clean cut sophistication your thing? A side parted blunt bob may be what you're looking for. Hair is all of the same length, but how short or long you wear it is up to you. Short crops look more severe while longer lengths do a better job at framing your face.
25. Cool Undercut
Bobs often look very sweet and pulled together but they can absolutely incorporate a more badass personal style. Try an undercut on the side of your head and let a deep part lead out from there.
How to Install Side Part Bob Sew In
Step 1: Make sure your hair is clean and free of any product. Women who have previously worked with wigs will get this job done in no time. Others, who are new to this, might want to purchase a virgin hair wig and clean it from any dirt or oils.
Step 2: Part your natural hair and comb it by leaving a bit more hair pieces on one side you prefer. The place where you leave it is where you are going to embrace that side part.
Step 3: Braid your hair starting at the back and wrap it at the roots. Make sure that your braids are small and tight. Once you are done with braiding your hair place the hairnet on top and make sure it matches your wigs and natural hairs color.
Step 4: Sew in your wig and its side parts by slowly stitching it and doing back and forth sewing motions. Make sure that all of your units are covered, and make sure you leave a bit more hair on one side where you want your side part to be.
Step 5: Cut your hair in a stylish bob in case the wig is already too long. If it is the exact length simply straighten it and enjoy your new sleek & shiny outcome.
Watch The Following Video to Know about How to Install a Deep Side Part Bob Sew in
Deep Side Part Bob Sew In vs Deep Side Part Closure
A sew in weave hair can cover a lot more of your headspace in a lot shorter period of time but is also a bit more expensive. A lace closure is only around 3 inches long and it can blend and cover up one part of your head flawlessly. You can glue down a side part closure or sew it on top of the wig. Women who already have thick & long hair might benefit from a side lace closure the most, while those with thin & brittle hair will enjoy a full bob sew in.
Closure: If this is your first time experimenting with shorter hair know that side part bob is your best safe-bet. This design is so universal, chic, and it can look great on every woman, no matter her age or hair length. You should slay a deep side part bob if you are into high-end looks, or if you prefer simplicity over inches and inches of long hair.
Try the one out of 25 of our side part bob designs that will probably suit your personal style, so make sure you pick wisely.