Dealing with hair that needs a thickening aspect? In this case, a shoulder-length blunt cut like a bob or lob is the right approach. Moreover, this hairstyle never gets out of fashion so you'll be nailing your new look in no time.
Medium blunt cuts have enough length for you to play around with highlights, multiple colors, or ombres and it also looks amazing with all most bangs like curtain bangs or side swept.
Best Shoulder Length Blunt Cut
Check the examples below to get your shoulder-length blunt cut inspiration!
1. Blunt Cut with Bangs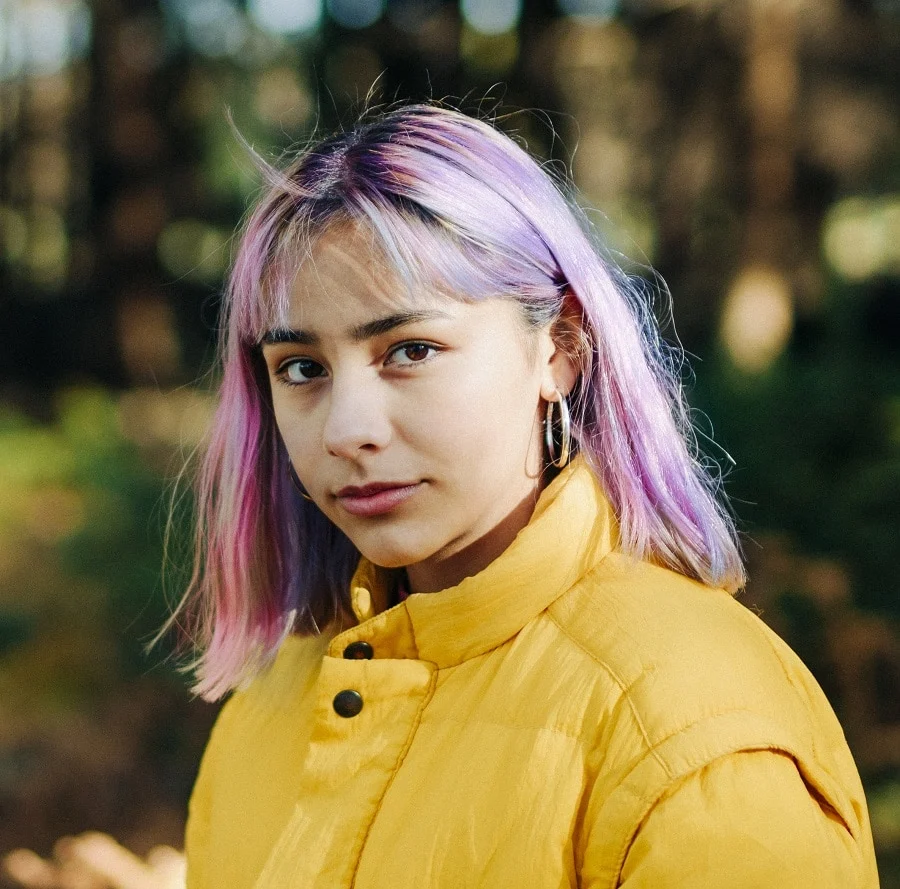 Choose a medium blunt lob and opt for bangs that you will trim just above the eyebrows.
Part the fringe in the middle and for the color, opt for a mix between nuances of purple, mauve, and pink. Make sure they beautifully blend if you love that unicorn hairstyle.
2. Low Pony with Middle Part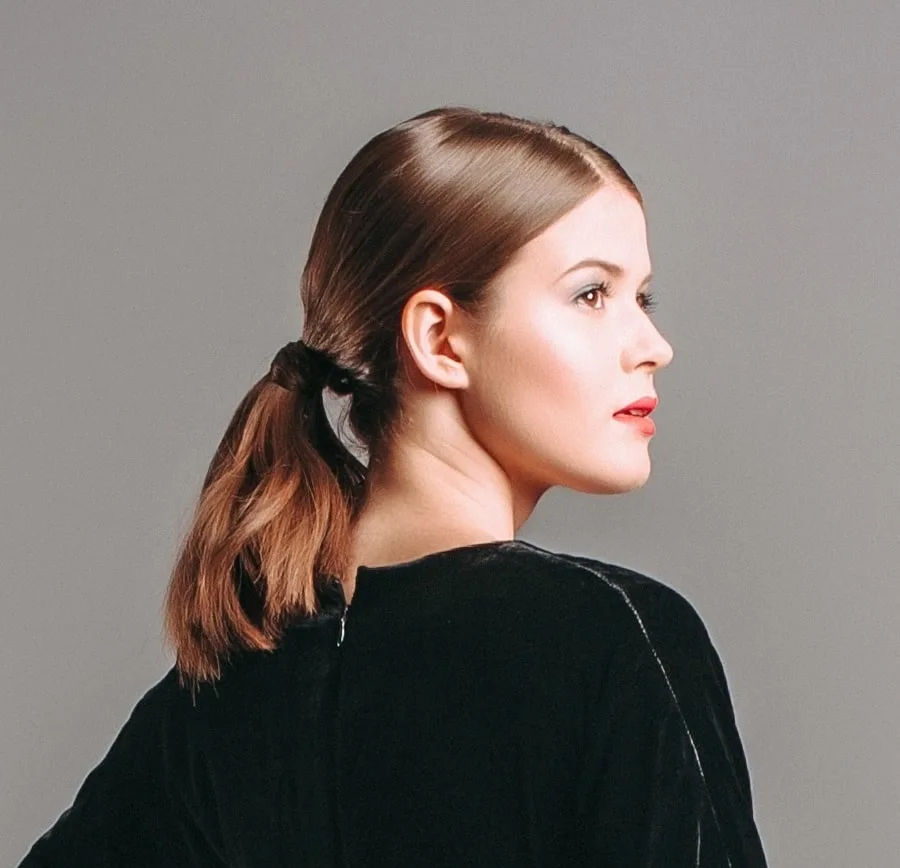 A blunt cut provides a lot of thickness for manes that seem to be dull and flat. Such haircuts are a real upgrade for your ponytail and if you want more volume, create some loose waves. Use a hair strand and warp it around the base.
3. Blunt Bangs
Blunt bangs and a straight cut for your crop will provide an amazing face frame. If you have a bubbly personality and love to spice things up and get all the attention, then you can select two strands from the top of your head and dye them in a vibrant color.
4. Tied Top
If you love flawlessly straightened hair, you might want to use an iron to make your hair look as flat as possible. This way, the blunt cut will be highlighted in the back. Also, to light up your face, pin the top hair in the back.
5. Curly Blunt Hair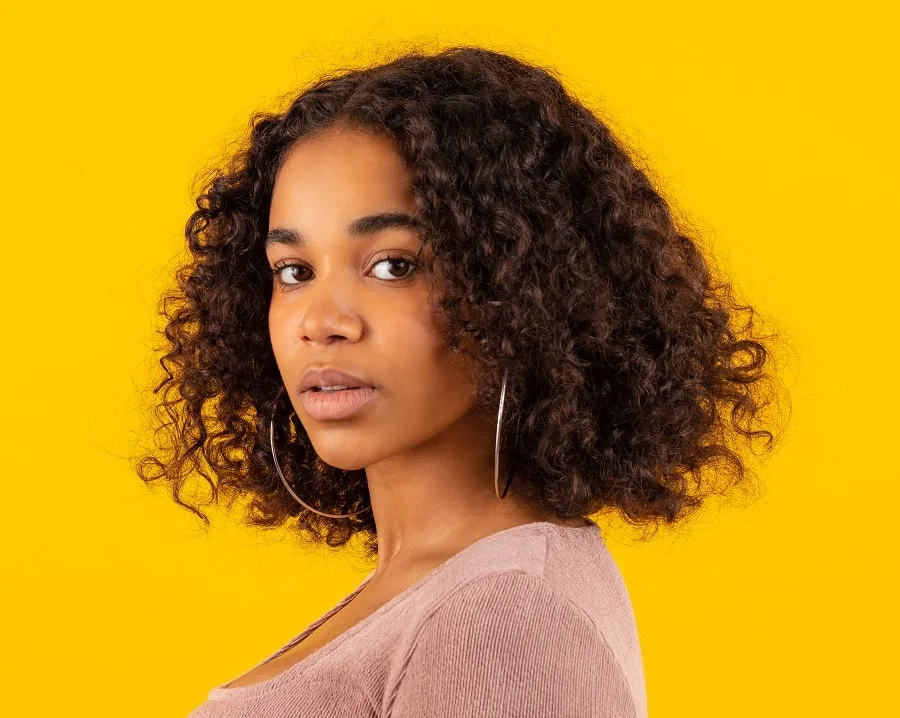 Fully blunt cuts are not recommended for curly hair, but in this case, you can go for a lined cut and a few layers for the top to avoid that triangle shape. Do a middle part, and let those stunning coils shine!
6. Twisted Braids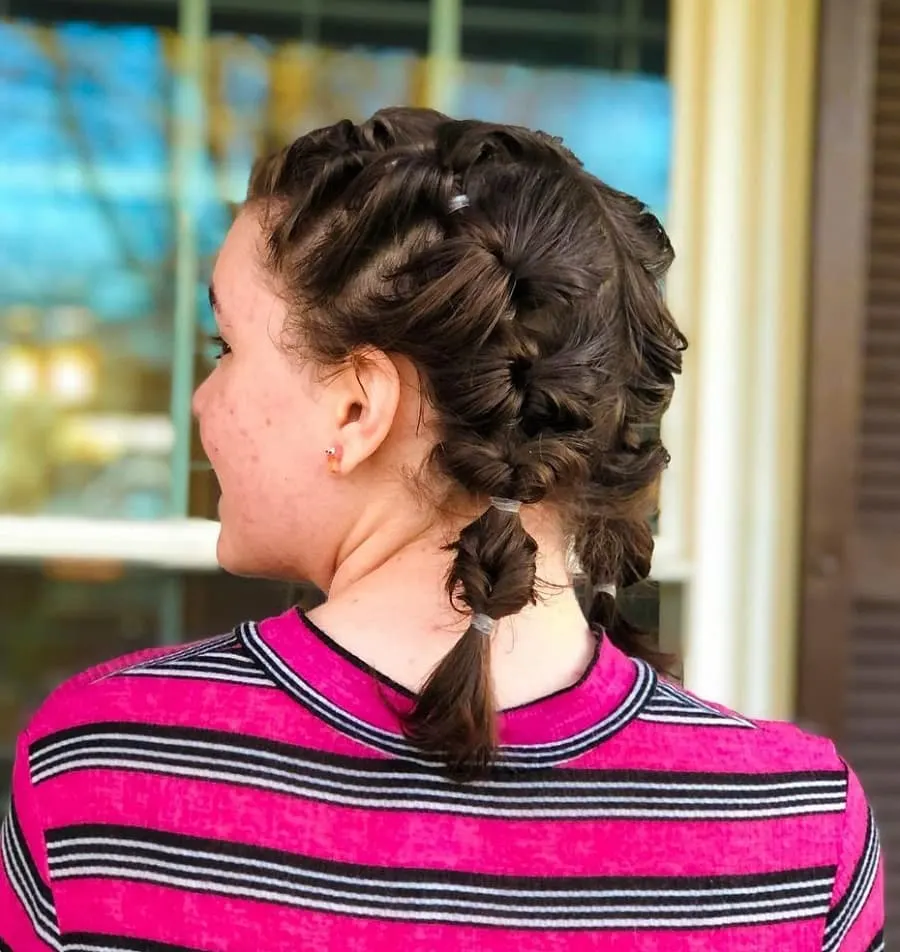 If you have a shoulder-length blunt cut, then it is so easy to create mindblowing hairstyles like this one. Part your hair in two and for each side, select two strands, twist them, and secure them.
Repeat the process until you run out of hair, and the outcome will be a braided hairstyle with a stunning twist. It makes you feel young and channels your inner child!
7. Blunt Lob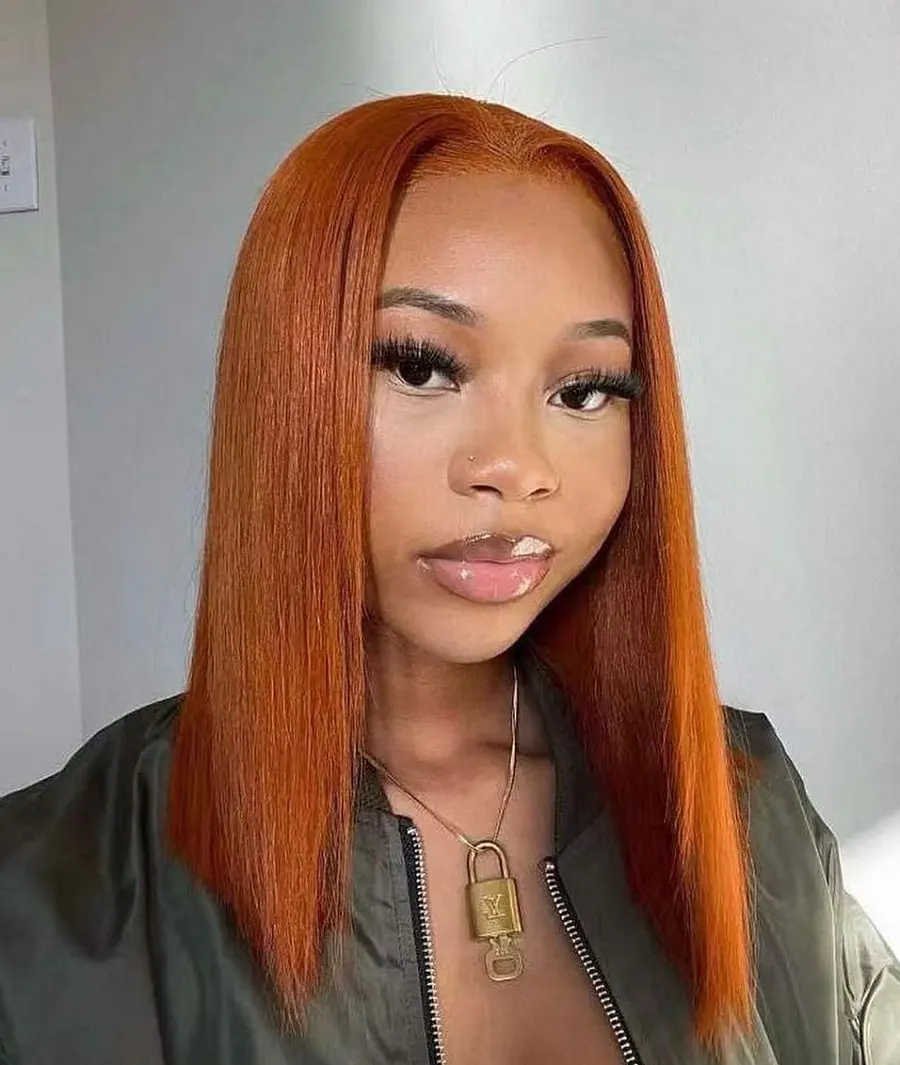 Blunt bobs are fabulous because they will make your face look elongated, especially when you straighten your hair and opt for a middle part. If you love a look that gets all the attention, then you should definitely try a nuance like this bright copper.
8. Wavy Icy Blonde Bob
This platinum blonde color looks just like dripping white chocolate. Because it requires bleach, you will need to use nourishing products for your tresses and a thermal protection spray when using a hot iron.
Also, remember that you can't maintain this fabulous color without washing your mane with a purple shampoo.
9. French Braid
A shoulder-length bob provides enough length to create loose French braids. So if you're going to a wedding or a glamorous event, opt for this hairstyle and decorate it with floral elements. You will look like a fairy and won't pass unnoticed.
10. Blonde Highlights
Thin highlights that are done on a dark natural base will create more depth and more dimension. Do a middle part and wave your tresses to get that elegant glamorous vibe.
11. Long Curtain Bangs
Long curtain bangs with blunt hair work perfectly for oval, oblong, or heart-shaped faces. They have a textured aspect, create great face framing and give you width.
However, that doesn't mean they aren't a great option for other face shapes. You just need to adapt the length to complement your features.
12. Half Cornrows
If you have a shoulder-length blunt cut, section the top hair into two pieces and build two thick cornrows that you will roll up into two even buns placed in the apex area.
This way you can brag about your waves and keep your hair out of the way while still looking cool and hip.
13. Thick Blonde Highlights
Thick blonde highlights will look lovely if you are going for a side part and a blunt haircut. To emphasize that amazing color mix, style some loose waves that provide a lot of volumes.
14. Blunt Lob for Fine Hair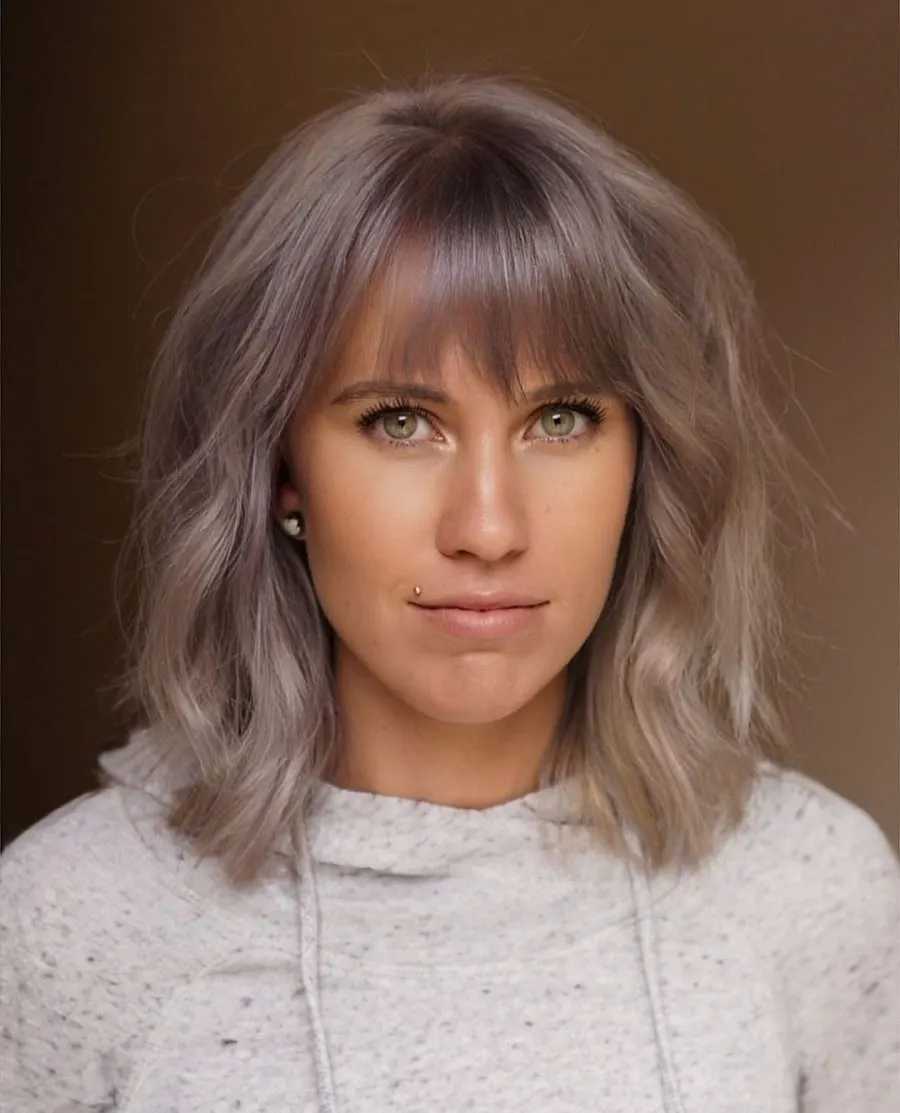 When you have light green eyes and struggle with fine hair, wispy bangs and a straight blunt medium blunt cut will provide all the volume you desire. We recommend you opt for a marvelous dusty mauve color and an ashy tone to match your facial features.
15. Side Part With Waves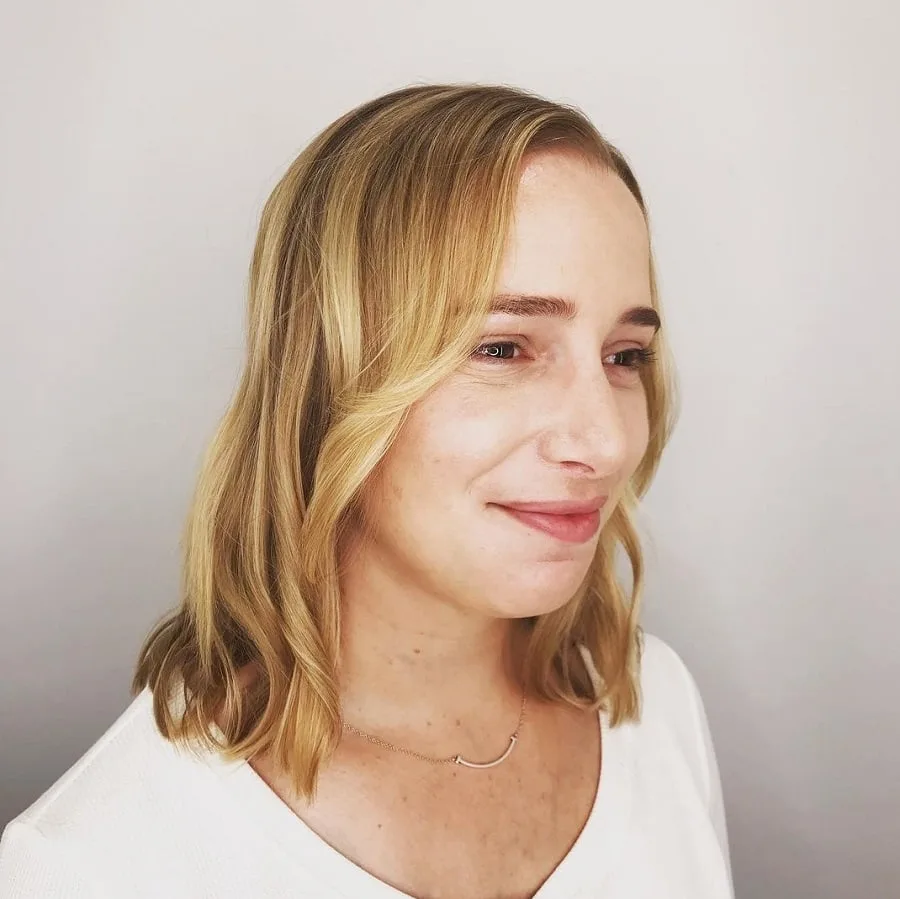 Straight flat hair is not a characteristic you want to define your mane, on the contrary, you aim for volume and dimension.
And when your medium tresses are stubborn and keep looking dull, you need a haircut that works to your advantage. And a blunt cut will do just so!
16. Strawberry Blonde with Top Braid
A shoulder-length blunt cut with light strawberry-blonde highlights will look astonishing each time you choose to braid your hair. So, to recreate this hairdo, section off the top part and do a very loose careless braid. Secure with a hair clip.
Shoulder-length blunt cuts can be a great choice, especially for those with thin or fine hair, as they can provide the desired thickness and upgrade your styling game. Choose the right color, style braids, or go for more dramatic chop-like bangs and you will get the transformation you desired.