Have you ever seen how amazing Chinese bun hair looks? Chinese definitely know everything about making a beautiful hairstyle. A Chinese bun involves twisting and arranging the hair in the back to create different bun varieties. Then a special hair accessory that reminds you of chopsticks but is called hair sticks is put through the hair to create an amazing appearance.
Chinese women have been taking advantage of this hairstyle for centuries. European and American women started copying their style just a few dozen years ago. If you want a unique style today, check out the Chinese buns.
Stunning Chinese Bun Hairstyles
Do you think that making a bun is boring? You haven't tried Chinese bun hair. This is an among way to turn something simple into something stunning without too much effort. In many cases just putting the hair stick through the bun makes it look fabulous.
However, Chinese women don't stop here. They go further to create the most complicated and wonderful buns so they look as striking as possible. Even if you've never made one before, the time has come to try. We have 5 options ready for you to check out.
#1. Double Fun
If you don't have enough hair to create a voluminous Chinese bun, don't worry, you can go for extra accessories. Taking two beautiful hair sticks and inserting them into the bun can save the day and create a wonderful hairstyle.
#2. Lazy Bun
This lazy Chinese bun hairstyle doesn't involve any twisting, braiding or styling. All you have to do is make a high bun and run a hair stick through it. Remember that the bun without twisting might not hold a hair stick well.
#3. Simple Approach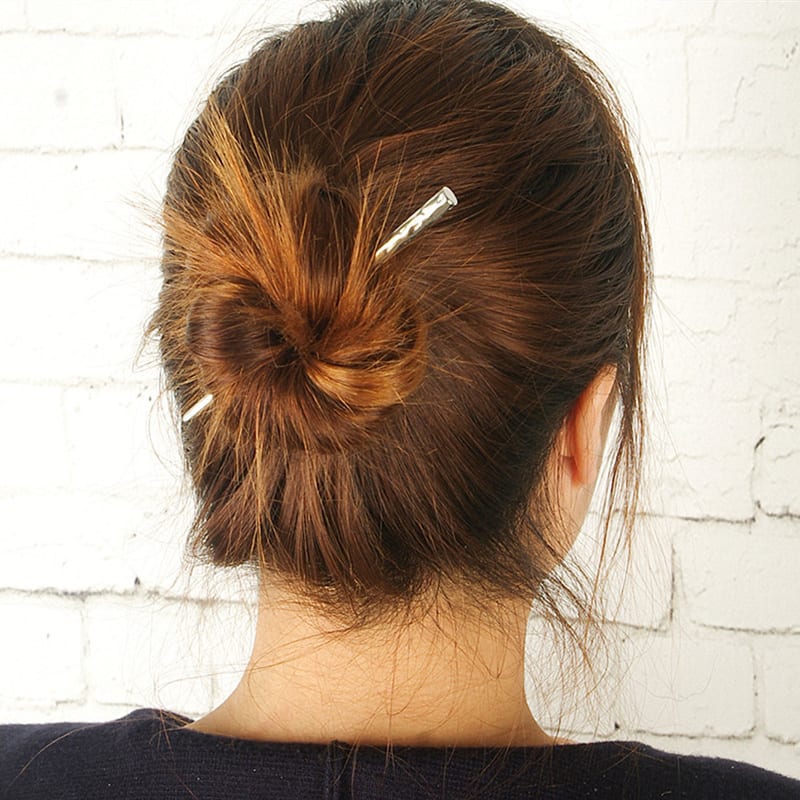 If you want to make a simple bun but make it look Chinese with hair sticks, you have to find a way for the stick to stay in place. Some girls use an elastic band trick. Before making a bun, they start with a ponytail and run the stick through the band.
#4. Infinity Bun
If you have thick hair and plenty of imagination, you can create an infinity sign on the back of your head. The approach is the same as with simple Chinese bun hair. All you have to do is twist the locks and then arrange them in a proper fashion.
#5. Braided Bun
A braided Chinese bun is a fantastic way to create a real masterpiece on top of your head. All you have to do is make a braid and then arrange it in circles. Use pins to keep it in place and a hair stick for decoration.
We hope you had fun looking through these Chinese bun hair options. As you can see, even the girls with thin and not-so-long hair can enjoy this style. All you have to do is buy a pair of beautiful hair sticks.