Are you looking for Asian hairstyles for women that are easy to carry and super stylish at the same time? Well, we have got some suggestions for you! Asian women generally have fine-textured, silky, and smooth hair. If you are confused about which style to pick, we are happy to help!
Beautiful Asian Haircuts for Women
Check out 47 of the most popular Asian female hairstyles that will look amazing on you and make you the center of attraction wherever you go.
1. Wavy Ponytail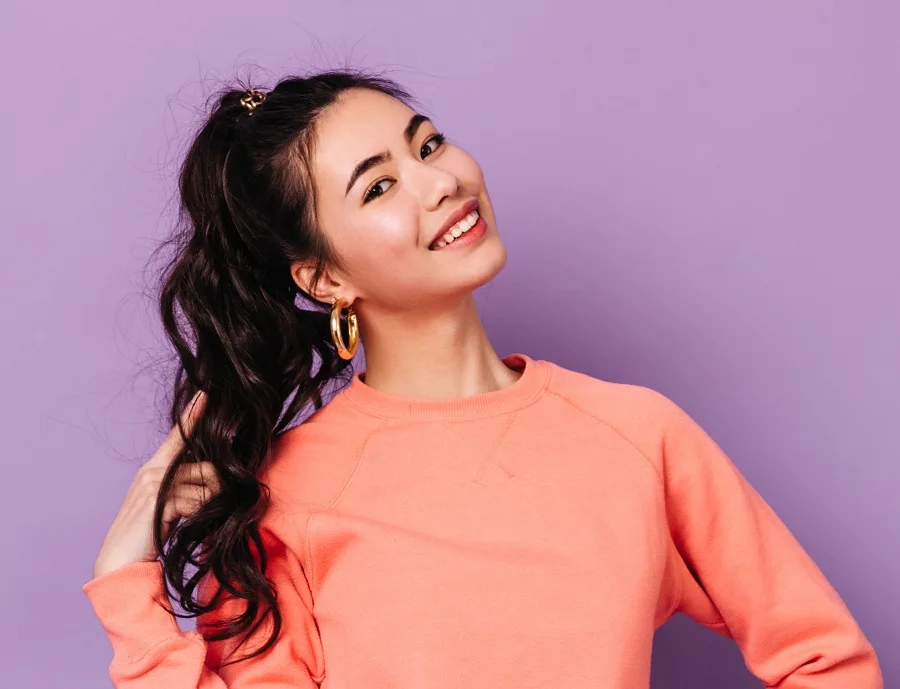 One of the most popular hairstyles for Asian women is ponytails. And what's not to love about a practical cute pony? Gather all the hair on top of the head and pin it with a hair elastic. Use a wand to create such beautiful waves.
2. Asian Bob Hairstyle
This Asian bob hairstyle for women is so cool. First, cut the shape of the bob, but spare the nape hair. Here, you will maintain some longer pieces that will cover the nape. To gain more volume, use a triple curler. You will obtain such wonderful waves.
3. Two Braids and Bangs
When you want a childish look, this Asian hairstyle for women is perfect for you. Create two loose braids and use a small strand of hair to wrap it around the elastic you used to secure the braids. As for the bangs, style them with a rotative or a round brush.
4. Asian Top Bun
This ballerina bun looks gorgeous and it's so easy to style. Gather all the hair up, on top of the head, and style a ponytail. Use a sponge donut and wrap the hair around the donut. This technique will help you create a flawless bun that looks chic and elegant.
5. Braids for White Girls
As a woman with fair skin, it is very important to pick a color that will suit your complexity. Instead of opting for Jumbo hair, you might as well use textile threads. Blend them with your natural hair, extending your tresses. You can even add a few yellow braids or black threads for more color.
6. Short White Pixie
Short haircuts are perfect hairstyles for women who want a low-maintenance cut. Go for a pixie with bangs that you will spread on the forehead. Get loads of layers and wear the sideburns in front of the ears.
7. Braided Space Buns
To create this fresh and modern Asian hairstyle for women you need to section your hair in two. So, draw a middle part and create two ponytails. Braid each pony and wrap the knits around the base. This way you will create two braided buns.
8. French Braid and Low Bun
This gorgeous hairstyle is ideal for numerous occasions, including weddings and fancy parties. Use a crimping iron for the roots. This will give the hair more volume. Style a French braid on one side and create a bun at the base. Decorate this Asian hairstyle for women with your favorite flower.
9. Top Knot
Top knots are very popular Asian hairstyles for women. Create a half up half down hairdo. Use the top section, including bangs, to style a messy bun. Curl the rest of the tresses and leave them falling on the back. If you naturally have curly hair, you can recreate this hairdo in just a couple of minutes.
10. Yellow and Teal Hair
Asian women adore hairstyles that involve colors and if you have fair skin, you can also opt for this amazing blend. Layer the hair and opt for two hair dyes: teal and lemon yellow. Use the brighter nuance to cover a large section of your bangs and the turquoise for the rest of the hair.
11. Side Swept Bob
12. Full Black Pixie Cut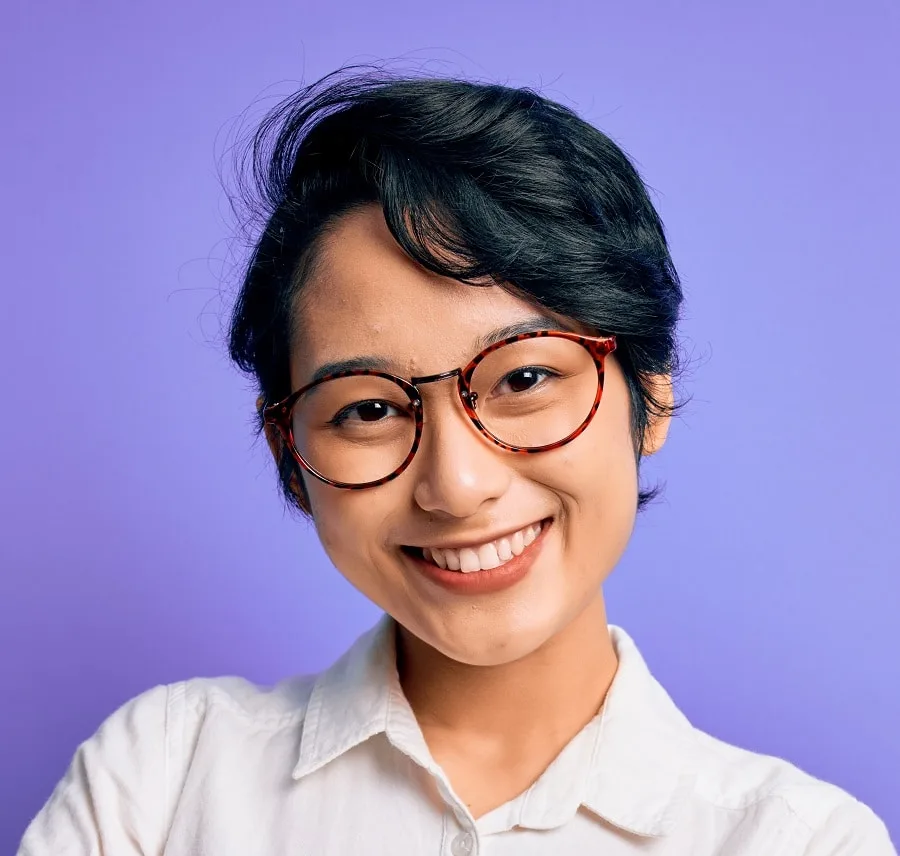 13. Intricate Braided Bun
14. Pale Pink Waves
15. Creamy Blonde
16. One Side Braid
17. Two Pigtails
18. High Top
19. Dreadlocks
20. Multicolored Messy Hair
21. Icy Queen Look
22. Low Rolled Bun
23. Light Auburn Waves
24. Twisted Braids
25. Japanese Haistyle
26. Copper Color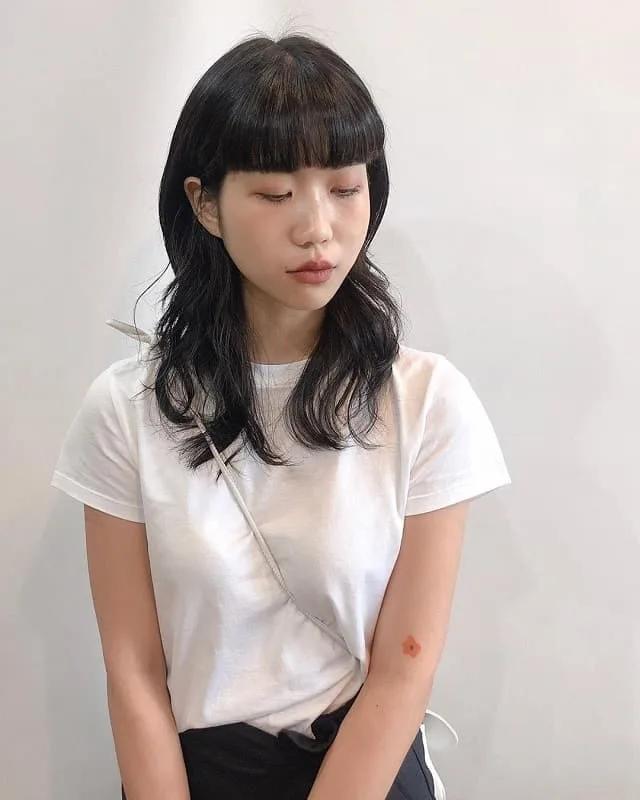 Wispy ends look super casual and playful for medium-length hair. They bring about a carefree look and suit really well on women with heart-shaped faces.
Thicker bangs in the front add more texture to Asian women's hairstyle and give it a fuller effect. There is something about this look that portrays a wild and free feeling.
Layered Asian bobs are perfect for all types of occasions. And, the best part is that they never go out of style. The layers shaped along the face structure give the face a more defined look and make the cheekbones stand out prettily. Keep the first layer above the ear level to give a little volume to the style.
If you wish to keep your hair short and are looking for pretty haircuts for Asian women, this style has to be in your shortlist! A pixie cut is certainly the cutest style to opt for when you like to keep it short and pretty.
The deep side part makes the hair look fluffier and shinier. With the bangs, you will be able to cover your forehead too.
Waves are a perfect pick if your hair is light and fine. Waves add a little more dimension and volume to the hair, making it appear fluffy and thick.
Part the bangs towards the side slightly to give it a little unique texture. And, the bold red ombre on black hair makes the style quirkier and sassy.
Bob haircuts are extremely classy and sophisticated. Opt for a layered blonde bob. But, keep the hair length short for the layers to be more prominent and give a feather cut-like appeal.
With a mid-part, the look becomes even more elegant and professional. If you are in search of Asian hairstyles for women that can be carried in style with formal attire, this one is a good choice.
Charismatic Blonde Hairstyles for Asian Women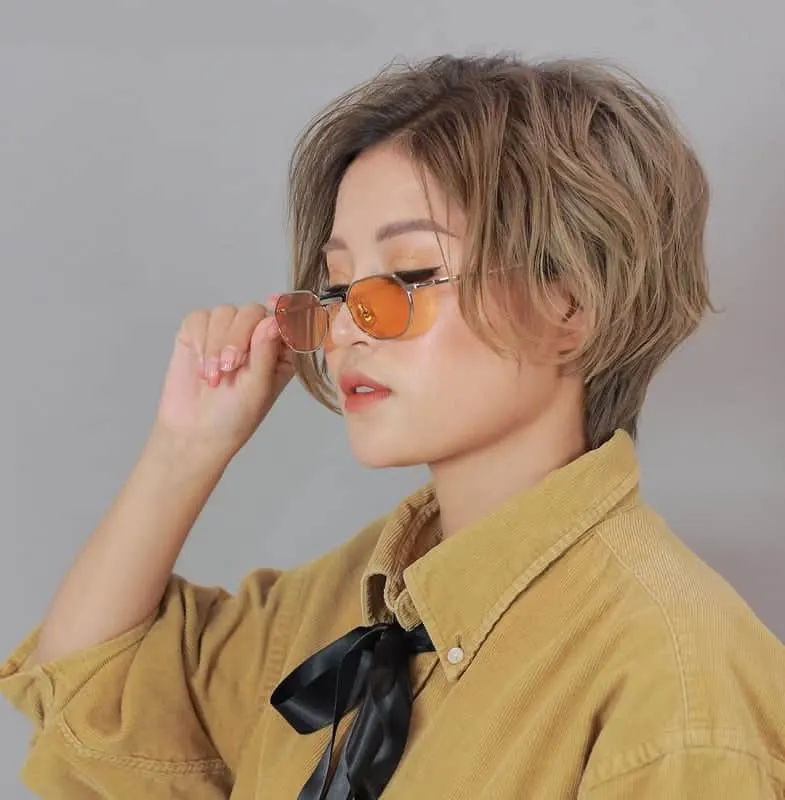 There might be some Asian women who prefer their hairstyle to be messy and wild. This could be the look for you!
If you like your hair cropped short and messy, this frizzy bob cut is an excellent choice. Make a partition slightly away from the middle to make it asymmetrical.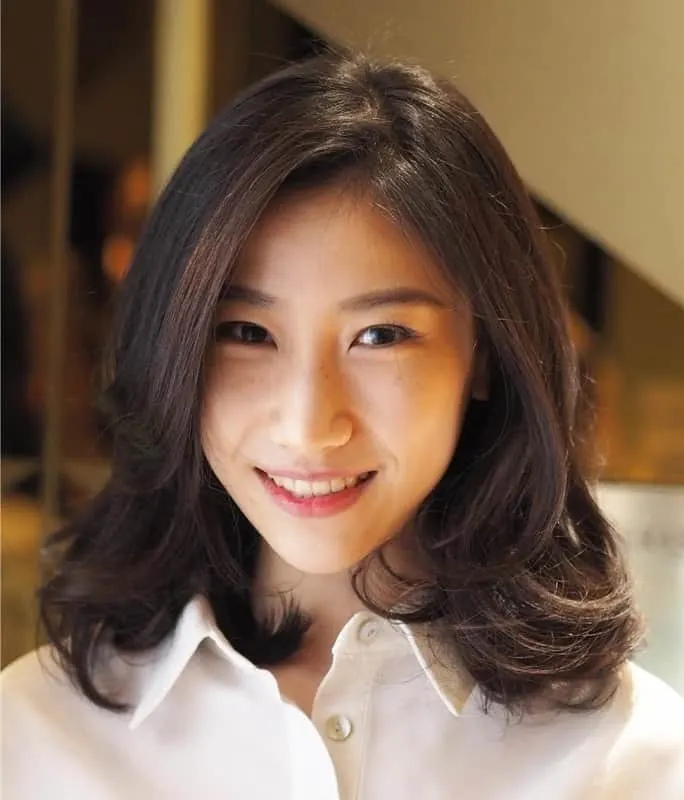 Lobs are a simple variation for classic bob cuts if you have a hair length slightly longer than that of a usual bob. This lob cut with wavy ends is perfect for a date night or any casual affair where you need to look pretty but not over-do anything either.
Women's short shag haircuts are a great choice if you wish to make your hair look untamed. Shag haircuts are becoming a popular choice among Asian women these days. Combine it with front fringes to make the hair appear thicker and voluminous.
Lob cuts with out turns are perfect for you if you like it simple and casual. The delicate strands of hair that turn outwards along the shoulder level look soft, natural, and very pretty.
For adding more style to it, add soft fringes on the top that are not really dense but add a little more texture to the look.
Gorgeous Red Highlights for Asian Women
36. Soft Waves with Highlights
Asian female hairstyles with highlights and waves are really likable. They look easy-going and natural. Most importantly, they look effortless.
So, if your choice is the kind of hairstyle that does not stand out much in the crowd, soft waves are a great choice. Golden/ caramel highlights make the style more elegant.
There is nothing that can beat a classic bob cut! If you like it old school and sophisticated, opt for this short hairdo for Asian women. Light bangs for the front make it appear cuter and more attractive.
38. Medium Length Hair with Soft Bangs
Medium length hair works best if you are not over-enthusiastic about maintaining long hair and are not particularly looking for a short hairstyle either. Opting for a straight cut for this length with bangs for the top is a great idea.
39. Wavy Textured Asian Hair + Fringes
Wild and carefree looks are super pretty and sassy. What do you like about the haircut in the picture? It is sassy, bold, wild, and cute.
Fringes add the final touch to the look while the waves make it look voluminous and classy. This is one of the most youth-oriented Asian haircuts for women with long hair.
If you are someone who likes to stay nature-oriented, color your hair in the hues of green. Next, opt for a really short, pushed-up hairstyle. You can accessorize yourself a little to make this look appear more enhanced.
Blunt lob cuts are one of the most popular trends when it comes to Asian women hairstyles. They are simple, elegant, and easy to carry. The best part is they suit women with any kind of face structure.
To make it look a little more unique and elegant, you could add highlights in a color that goes well with your skin tone.
Unique Hairstyles for Asian Women with Curls
Waves are the kind of hairstyle that will never go out of style. They are evergreen and can be styled for all types of occasions. To spice up the look a little more, add one or two layers around the ear line.
Do you like to showcase some extra feminism and feel all 'pretty in pink' kind of girl? If your answer is a yes, this fine pixie cut with the hair color of vibrant cotton candy is the best pick! It is cute, sexy, pretty, and elegant at the same time.
44. Simple Side Part with Out-Turns
This is one of the simplest Asian hairstyles for women in this list. Keep your hair short and sweet, falling till the mid part of your neck. Out-turn them to form a tidy and clean appearance.
A side part will make the look a little more formal and enhanced. Also, a middle part works just as elegantly if you are not very fond of side parts.
A very short bob haircut suits Asian women with a heart-shaped face structure. Cut your hair into a really short bob, with hair length coming only up till your eye level. A side part will make the look more voluminous and thick.
Wavy bob cuts are sporty, casual and classy. They can be carried off really well with formal as well as casual outfits. If you are someone who prefers Asian hairstyles for women that are not too much but still look different and a little unique, you should opt for this style.
Dreamy Hair Color Ideas for Asian Women
Stand out in the crowd by braiding your hair all along. No, we are not talking about ordinary plaits here. Opt for multiple tight braids for your long hair. This way, you will keep them out of your face and still look super stylish.
FAQs
What is Asian hair type?
Asian hair is usually 1A or 1B, meaning it is straight and flat, or straight with a little volume. The most common type of Asian hair is straight, but there are also many Asians with wavy or curly hair, which is often 2A or 2B.
Is Asian hair textured fine or coarse?
Asian hair can be either fine or coarse, and it is often very thick. Most Asians have fine hair, as straight hair is finer than curlier hair.
Can Asian hair be curly?
Yes, there are many different types of Asian hair, ranging from straight to wavy or curly. The most common type of Asian hair is straight. But there are also a significant number of Asians with wavy or curly hair.
Can I perm my Asian hair?
You can perm Asian hair. Asian hair is often straight and smooth, making it a popular choice for those looking to add body and volume with a perm. Many people of Asian descent choose to perm their hair to achieve a fuller, more voluminous look.
Why does Asian hair grow fast?
Asian hair grows fast because of genetics, but it also depends on health and lifestyle. Asian hair grows about an average of a half-inch per month.
What's the difference between Asian and Caucasian hair?
Asian hair has more cuticle cells per strand. Because of the higher cuticle cell number, Asian hair is shinier and smoother. When under stress, Asian hair cuticles keep their shape, while Caucasian hair does not. Asian hair can handle more stress.
Can I dye Asian hair without bleach?
Yes, you can dye Asian hair without bleach. However, bleaching is often recommended to lighten the hair before dyeing it a different color because it can help the new shade to show up better.

If you choose to dye your hair without bleaching it first, be aware that the results may not be as dramatic or true-to-color as you might like.
Do Asians have body hair?
There is a wide range of body hairiness in Asians, just like any other ethnicity. Some people are quite hairy, while others have hardly any hair at all. The vast majority of Asians fall somewhere in between these two extremes.

One common misconception is that all Asians are born with very little body hair. This idea is false. While it is true that some Asians do have less body hair than others, there is a wide range in the amount of hair that Asians have.
Can Asians have naturally blonde hair?
Yes, Asians can have natural blonde hair. Many people are born with lighter hair colors, but they may darken over time due to genetics or diet. There are also people of Asian descent who have naturally blonde hair due to a mutation in their genes. Blonde hair is not limited to any one race or ethnicity.
Asian female hairstyles are known across the globe as simple and sweet hairstyles done on silky and soft hair with a fine texture. Pick the hairstyle that would go well with your personality and get your hair styled today!