Brunette hairstyles are perfect from so many points of view! It is known that such shades reflect light, and the hair looks glossier than any other hair color.
Also, brunette hair is ideal for damaged hair because it hides all the imperfections. It requires less attention than blonde or red shades, where you constantly need to revive the color.
Best Hairstyles for Brunettes
Light brunette hairstyles can help you fade angular features, while darker shades will provide fabulous framing for your face.
Evey skin tone, whether we're talking about cool or warm colors, works best with certain shades of brunette, and in the article below, you will discover which hues will do their magic for you.
1. French Braid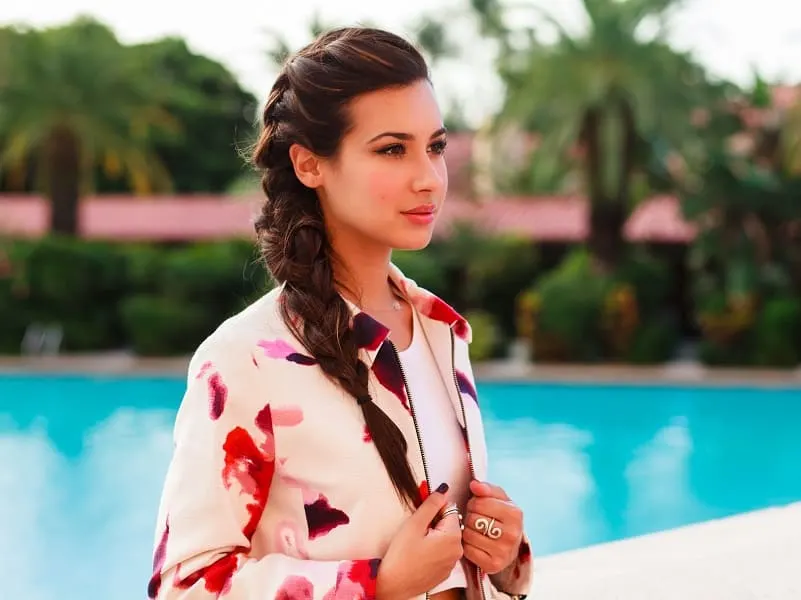 If you are a brunette with long hair, make a few blonde highlights and create a French braid on one side. Pull off the edges to style that messy relaxed look and secure the knit with a hair elastic. Also, this way, you will give the top hair more volume.
2. High Braided Bun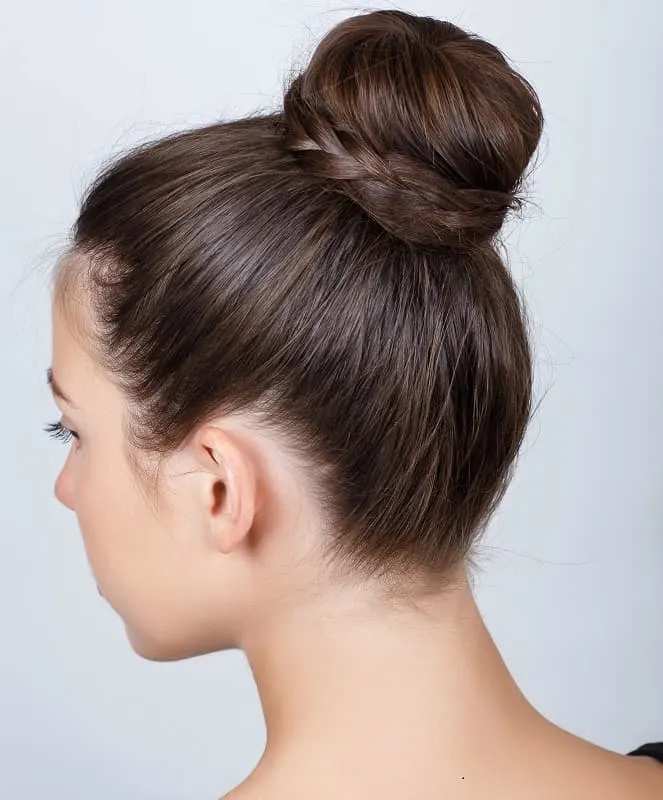 This natural brunette color is fabulous and you can style your mane by building a bun on top of the head. Braid a strand of hair and wrap it around the bun. Consider yourself lucky for having such a fantastic shade.
3. Inverted Bob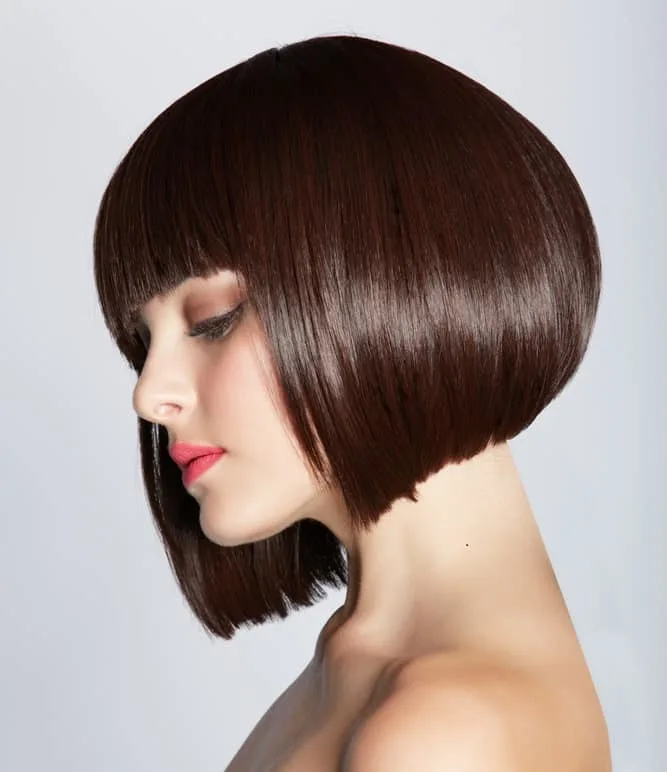 An inverted bob hairstyle with blunt bangs is exactly what you need when you want to gain an excellent face frame. If you're going to maintain that astonishing hair color, periodically apply a hair glaze or hair gloss.
4. Braided Ponytail for Brunettes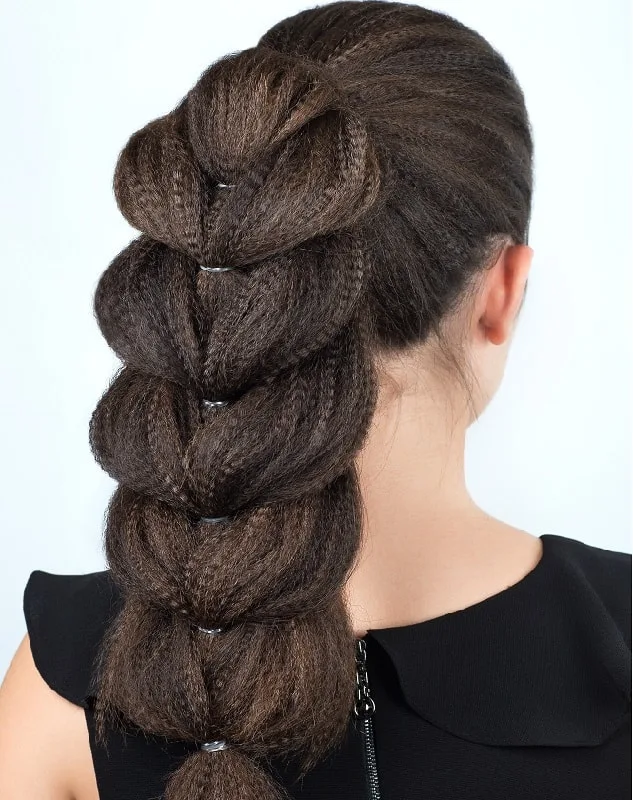 Use a crimping iron to style your hair. It will provide a lot of dimension and you will get a fabulous hairdo. Pin all the hair in a ponytail and create a large braid. Secure it every time you add two new strands of hair.
5. Brunette Wedding Hair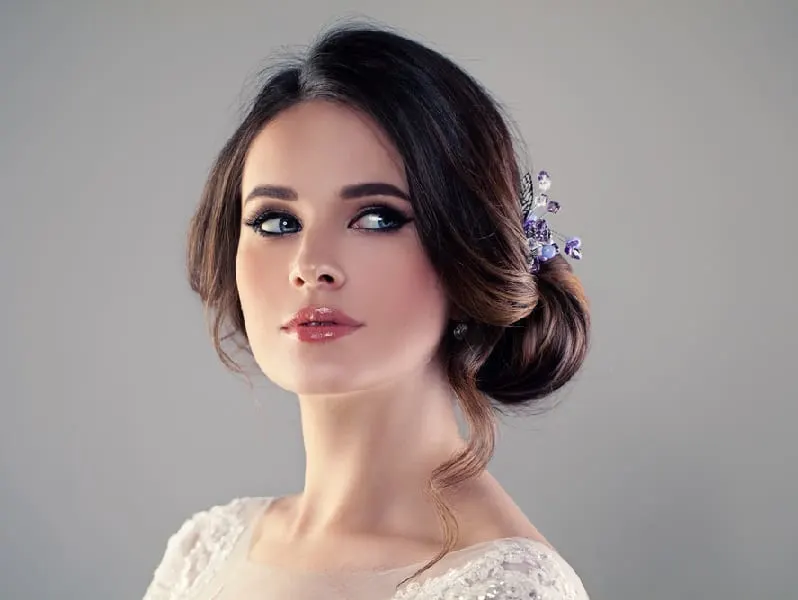 A sombre will beautifully highlight brunette hair. If you are a bride, brown hair will provide exceptional framing and you can style a bun. Decorate it with a purple appliance.
6. Brunette Low Ponytail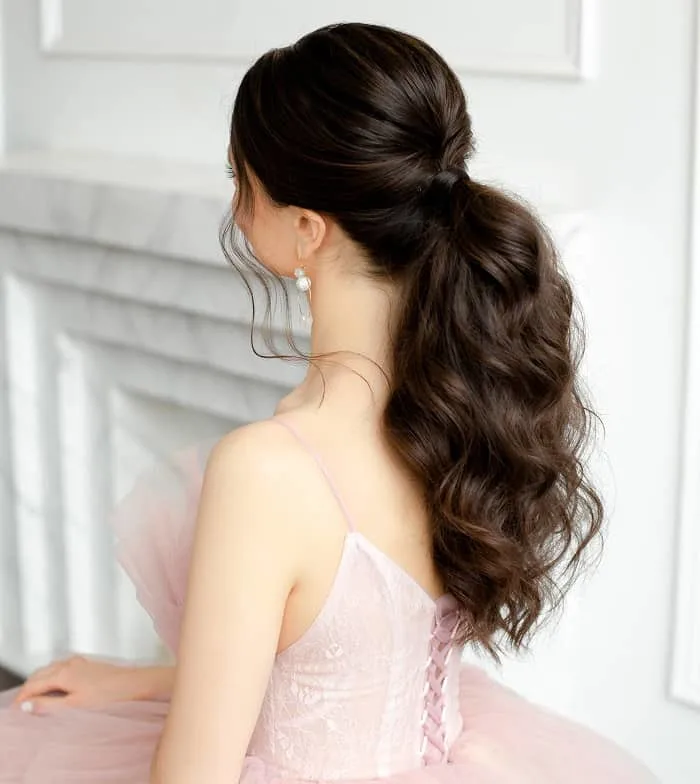 If you have a rich mane, select two thick strands of hair, roll them and pin all the hair in a mid ponytail. Obtain that voluminous look by curling the pony. In the end, comb it with your fingers to separate those ringlets.
7. Light Brunette Hair for Long Hair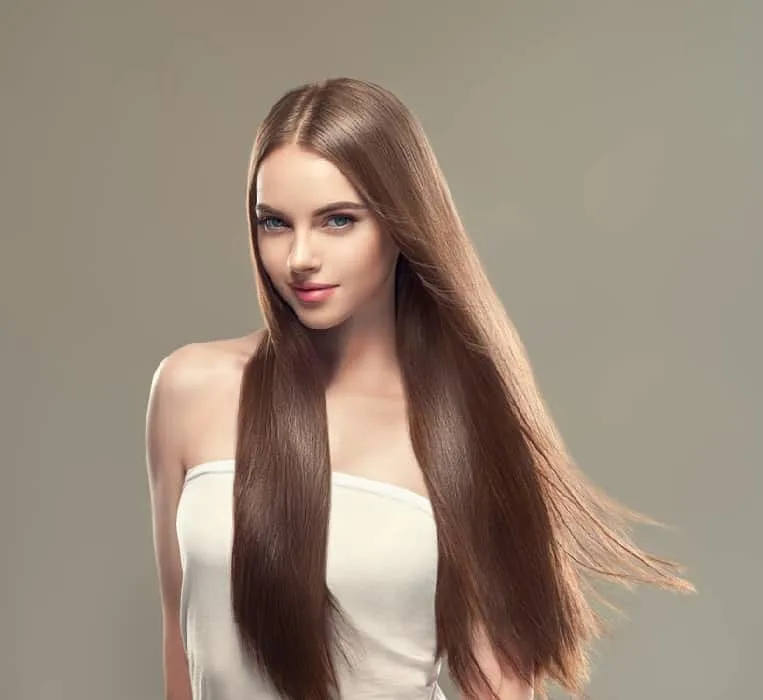 Long brunette hair looks fabulous if it looks healthy, glossy and flawless. Recreate this look by using a blonde, brown shade and straightening your hair with an iron. Style a middle part and let the hair fall on your shoulders.
8. Brunette Blonde Ombre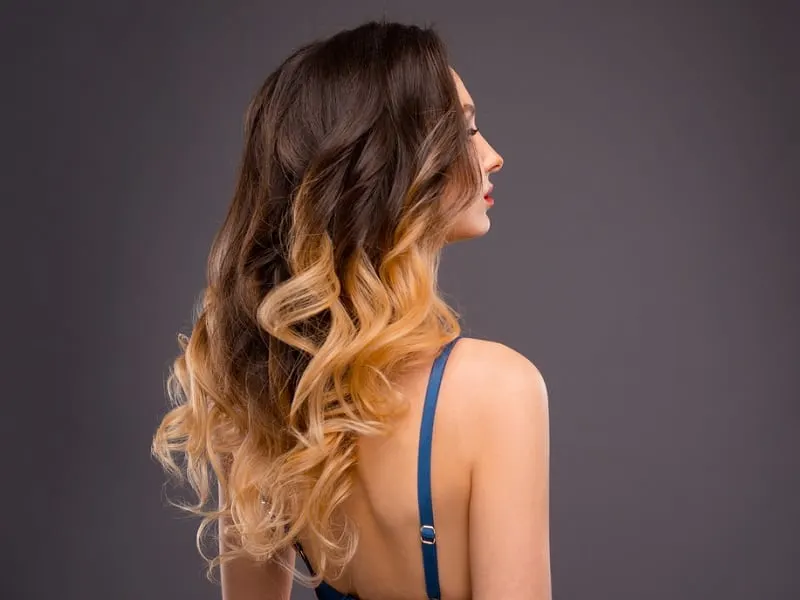 Go for a natural brown shade for the base and using an ombre, get a blonde hue for the tips. Layer the hair, style curls and keep the whole mane on your back. Tousle the hair to obtain more bounce and volume.
9. Brunette Curly Hair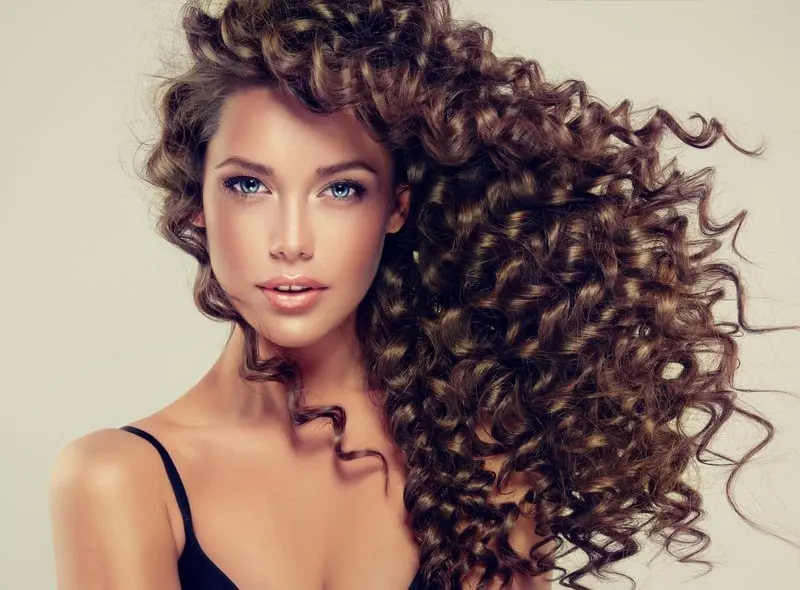 Use a conical curling iron and select thin strands when using it. The effect will be breathtaking and the curls will have a fabulous bounce, texture and movement. Wear the hair on one side and get ready to feel like a true princess.
10. Top Bun for Brunettes
When you have long beautiful hair, opt for a dark brunette color and style layers and light brown highlights at the tips. Get all the top hair and pin it in a bun on top of the head. Also, pink lipstick will make you look fabulous.
11. Brunette Fishtail Braid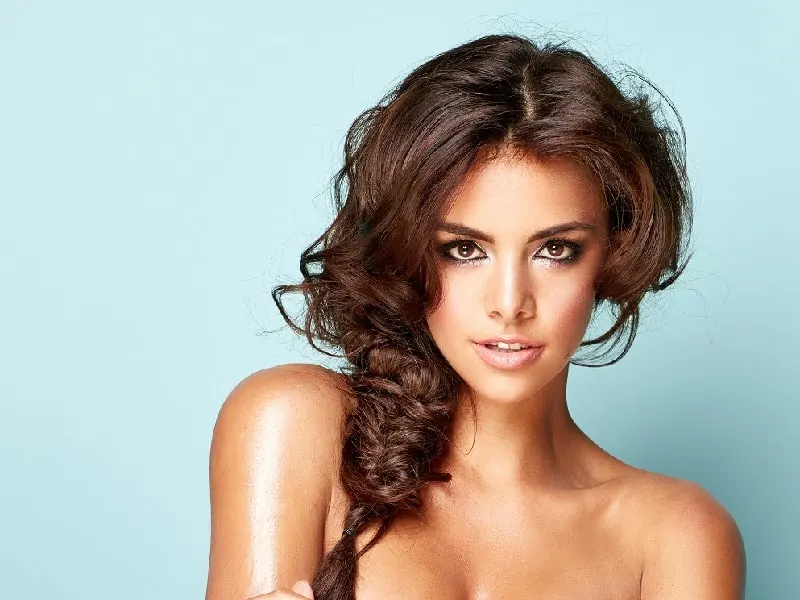 When you have brown curly hair, any type of knitting will have more volume. Create a middle part for the bangs and use all the hair to build a fishtail braid on one side. Keep a few curls loose to obtain a messy hairstyle.
12. Short Hairstyle for Brunette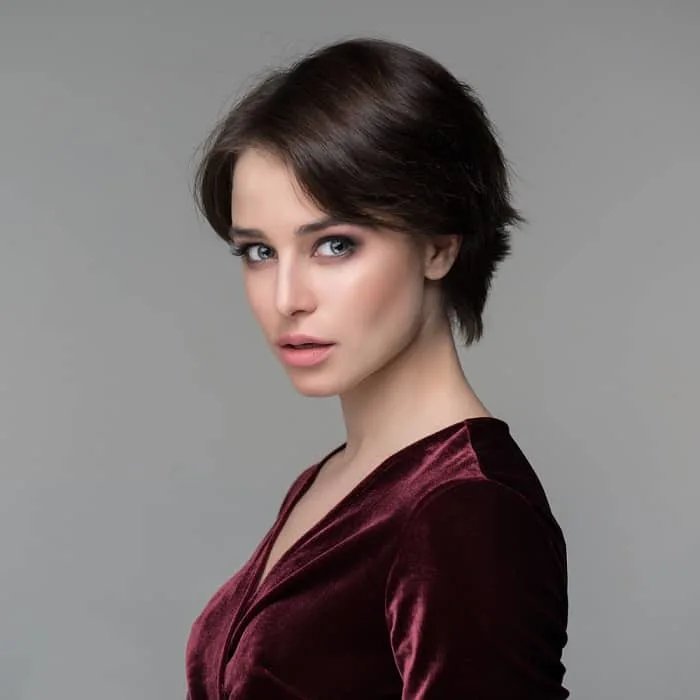 If you want to keep your hair short, consider this short brunette hairstyle. When you are blonde and switches sides to the brunettes team, remember that you will also need to dye the eyebrows. Your features will be more prominent, and you will obtain better face-framing.
13. Long Wavy Brunette Hair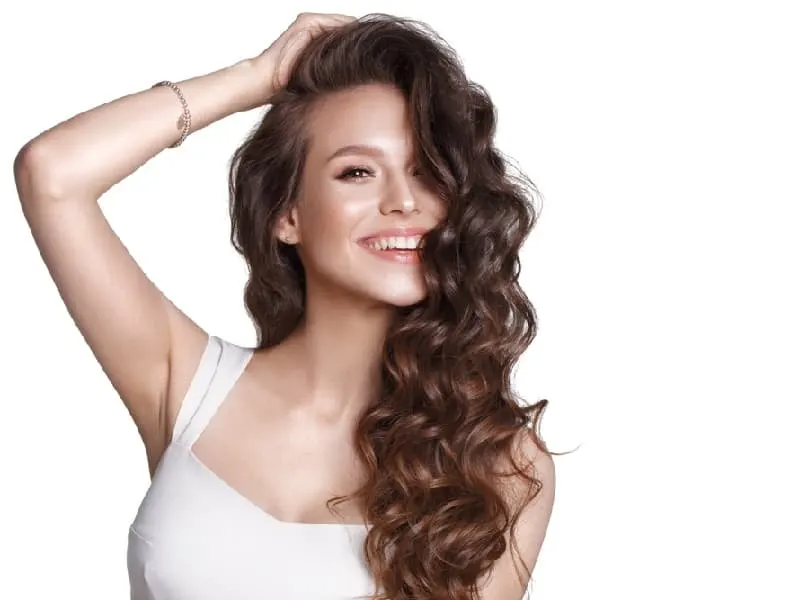 Opt for a dark brown shade for the roots and top hair and use a lighter brown for the tips. Beautifully curl and wave your hair and flip the mane on one side. Lift the roots a little bit if you want to gain more volume.
14. Brunette Hair for Women Over 50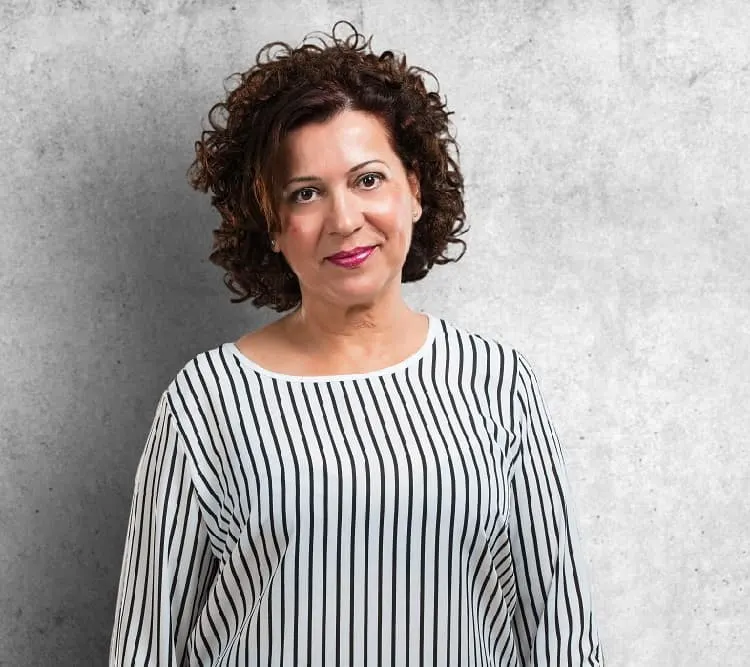 If you are a woman over 50 with curly hair, brunette hairstyles with layers and blonde, brown tips will make a significant transformation for you. Straighten your bangs and wear them on one side.
15. Braided Bun Updo for Brunettes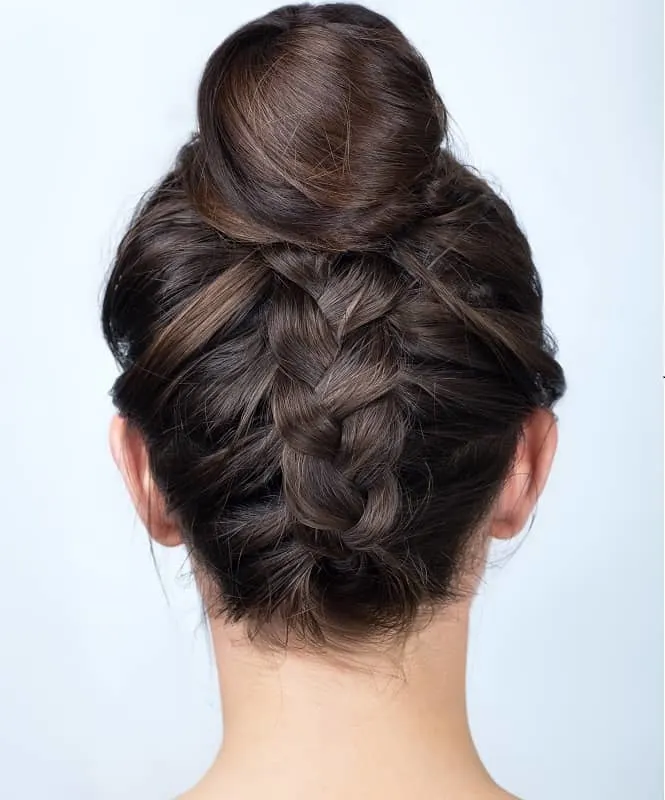 To obtain this mesmerizing braided bun look, start braiding from the nape to the top. Once you reach the center of the head, style a beautiful bun and you will get an exceptional hairstyle for brunettes.
16. Brunette Twisted Ponytail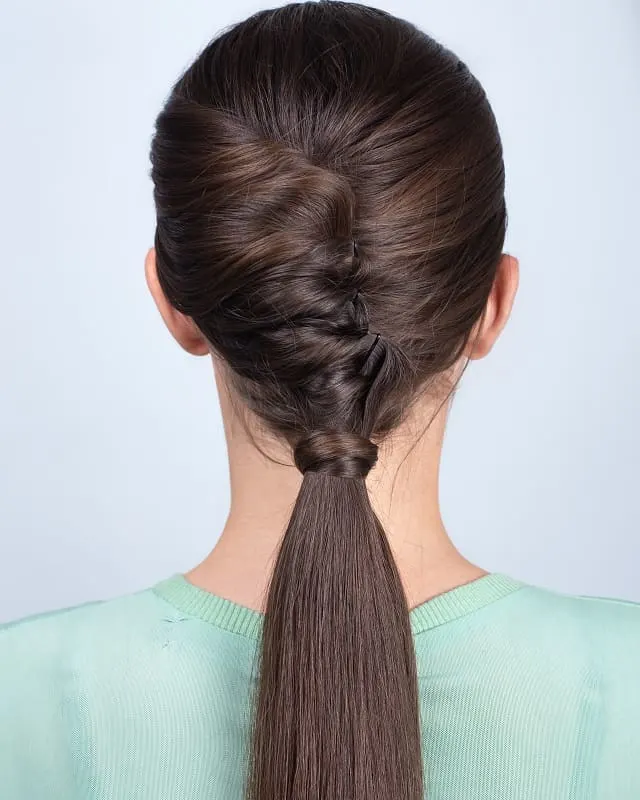 This braided ponytail hairstyle is ideal for brunettes that are preparing for an important meeting, interview, or a coffee with friends. Gather all the hair in the back and roll it. Secure the hairdo with bobby pins and tie it in a ponytail. Take a strand and wrap it around the pony at the base.
17. Braided Hairstyle for Weddings
When you are a bride, all eyes are on you, and that's why you need to look impeccable. Take a thick strand from the forehead and braid it to the back where you will create a big bun. Use a jeweled hair accessory to complete the look and obtain that imperial elegance.
18. Brunette Low Ponytail
Create a low ponytail in the back and use a golden thread to secure it. Split the pony into three sections and use the golden thread to wrap each and every part. Secure the pony again with another thread.
19. Space Buns for Brunettes
If you are a modern girl, you want a trendy hairstyle. Take the top hair and split it in two to create space buns. Select a strand from the bangs and let it fall on the forehead.
20. Wavy Brunette Ombre Hair
If you want a summer beach look, nothing's easier. Style blonde highlights on a brown caramel base. Use an orange scarf with motifs to make a half ponytail. Style messy waves that will glamorously fall on your back.
21. Sun Kissed Brunette Ombre
If you want a summer look that makes your hair look sun-kissed opt for a long layered haircut. Style a marvelous warm blonde, brown ombre. Those fabulous shades will give you a pleasant gorgeous air.
22. Layered Curly Brunette Hair
If you are a curly girl that wants to show off her ringlets, opt for a medium bob haircut with layers that defines each coil. Toss the bangs on one side, and for the tips, opt for a warmer shade.
23. Wavy Long Hair for Brunettes
Make your hair luscious and with a fabulous luster by going for a brown ombre that makes the tips shine. If you want to give your hair movement, use a conical iron and style waves and curls.
24. Brunette Mohawk
When you are a bold, rebellious girl, you certainly adore mohawks. Build your own without shaving the sides. Just take that hair, orient it to the center of the head and secure the hairstyle with bobby pins.
Balayage Hair Color Ideas for Brunettes
25. Long Layered Brunette Hairstyle
Get ready to obtain a look that will rock any party and event. Opt for a dark brown shade and wear your mane on the back. Use a headband or a scarf with an animal print to reveal the forehead.
26. Wavy Long Brunette Hair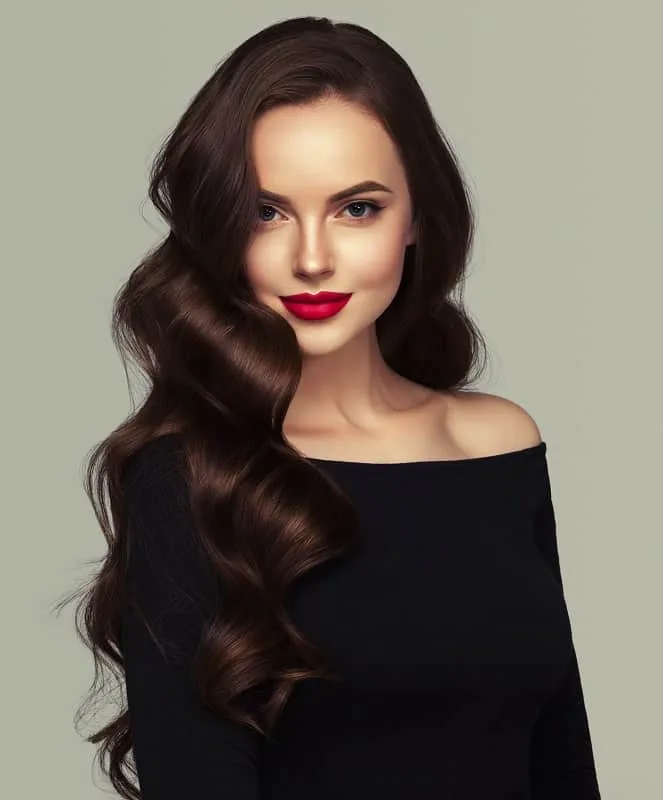 A quarter side part above one of your eyebrows starts this long hairstyle with soft waves. The deep chocolate color complements pale and light skin tones.
27. Long Curly Brunette Hair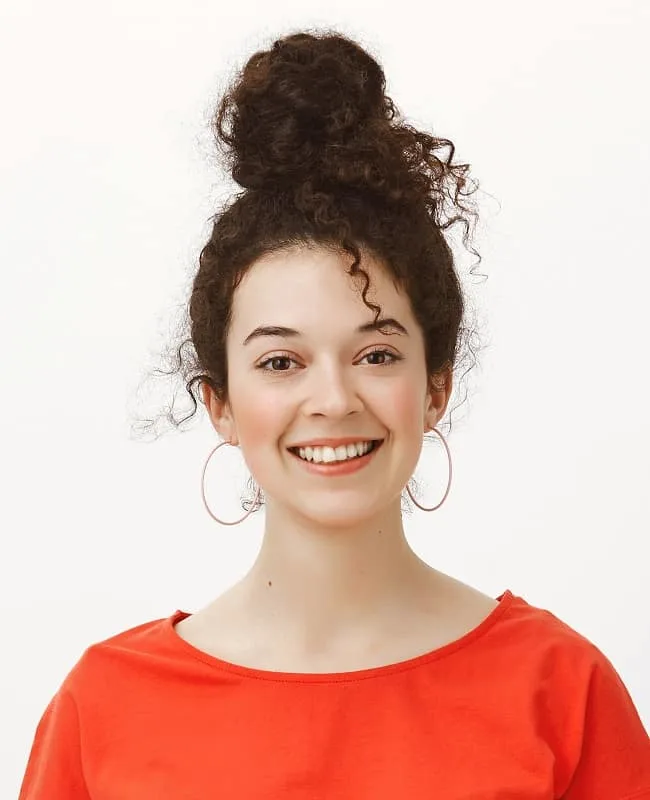 For your curly hair, tame it with this high bun shaped with loose tendrils. It's perfect for a session at the gym, a day at the beach, or even work paired with your favorite suit.
28. Long Brunette Hair with Bangs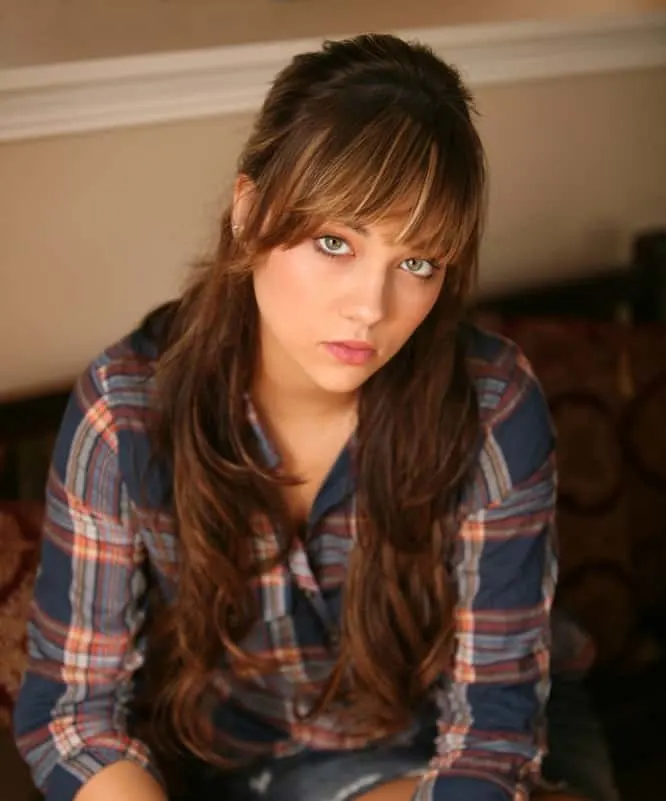 The girl next door look is always in style – get it with a half updo for your long hair. Make sure it's layered to get the bottom feathered style and keep bangs straight and at eyebrow level.
29. Layered with a Light Wave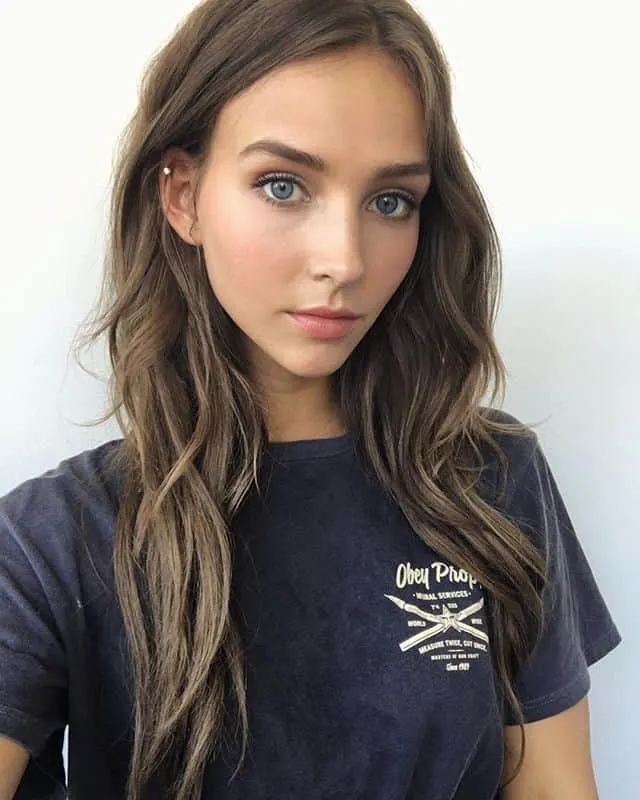 The layered look is great for women wanting something low maintenance yet still feminine. Use a curling iron or a round brush with a blow dryer to get these soft waves. Highlights are a beautiful complement to the color.
30. Long Brunette Balayage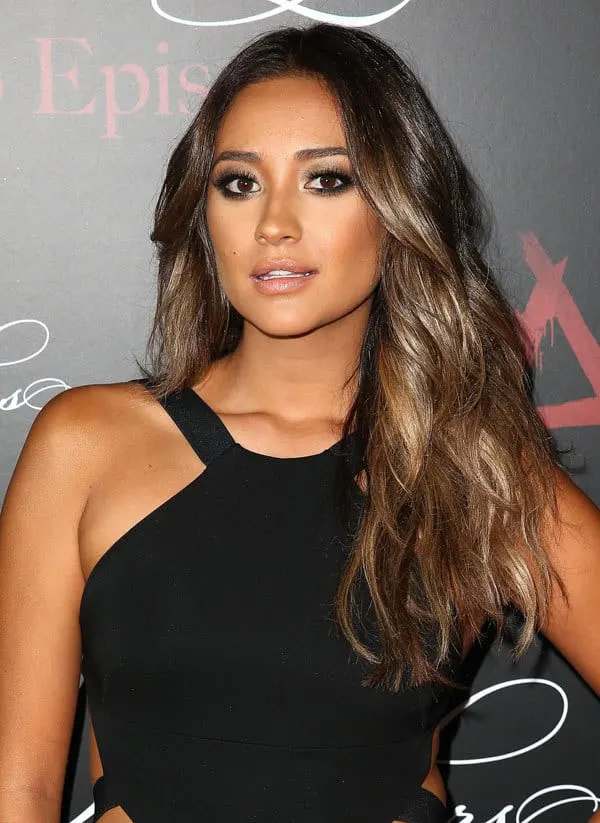 Balayage blends two colors, like the above dark brown and light blonde, for a natural look. Long hair with waves parted in the center doesn't need much else to stand out except your favorite little black dress!
Brunette hairstyles are ideal for women with cool skin tones but also for women with a warm shade. Because brown colors have a specific gloss, your hair will better preserve its luster for a more extended period. With that being said, are you ready to join the brunette team?