Long hairstyles with graduated layers are both feminine and flattering, which is probably why they never go out of fashion. Layers are great for adding texture and dimension to hair, and they can be used to either make thin hair look fuller or thinning out thick and heavy hair.
There are a wide variety of different long layered hairstyles to choose from, and adding layers is a great way to add a new, fashion-forward dimension to long hair without having to lose your length.
Popular Long Layered Hairstyle Ideas
The beauty of long layered hair is that is incredibly versatile and can be styled in a huge variety of different ways, meaning that no matter what your hair color, texture, or face shape, you can find the right style to suit you.
Not sure how to style your long hair, and looking to inject a fresh new feel by adding some subtle layers? Why not take inspiration from our 70 gorgeous long layered hairstyles that are designed to suit everybody:
1. Straight Long Hair With Sharp Layers
Want to add layers and texture to your hair but frightened of losing your long length? Ask your hairdresser to blend subtle longer-length layers from between your chin and your tips, and create the illusion of texture by adding gentle waves to your hair with your straightening irons.
Ultimate Short Hairstyles for Women
2. Long Layered Hair with Bayalage Color
Balayage Highlights are a great way to add extra texture to your hair, and they look great paired with a mixture of long and face framing layers. Ask your hairdresser to blend your color and layers together to create an organic, rich, and full feel.
3. Long Layers with a Side Parting
If you want to define your face shape and create a slick and smooth look then use your hair dryer and a round brush to pull your layers into the shape of your face. This is ideal for drawing attention to your features and minimizing round faces and square jawlines. Add a side parting to further soften angular face shapes and features.
4. Extreme Length with Layers
If you have extremely long hair then layers will be essential from making your hair feel light and manageable, particularly during the summer months. Long thick hair can feel heavy, hot, and hard to style. By adding layers, your hair will feel much more lightweight and easy to style.
5. Off-Center Parting and Curled Ends
Want to make your long layered hair look as healthy as possible? Run a glossy shine serum through your hair and then curl the ends using a curling wand to create bouncy and beautiful waves that will add volume to your ends. Shift your hair into an off-center parting to create a softer style that is flattering for any face shape.
6. Long Layered Hair With Bangs
For a look that is reminiscent of Brigette Bardot in her heyday, combine voluminous layered blonde waves with heavy bangs. Tousle your hair into bed-head style curls for a look that is incredibly sexy and perfect for a girl's night out.
7. Bouncy Layers With Flicked Out Ends
One of the best things about adding layers to long hair is how healthy and bouncy they make your hair look. Emphasize this effect by flicking out your layers to create a fun crisscross effect. Ask your stylist for blunt cut layers in the mid and longest lengths of your hair, and use a texturizing wax at the end of each demi curl you create.
8. Long Hair With Wonderful Waves
One of the most modern ways to wear long hair with layers, sweep your hair into a face-flattering side parting and create exaggerated waves throughout the length of your hair before backcombing the roots to create volume and height. To perfectly replicate this look as your hairdresser to add lighter highlights through the under-layer of your hair, and style so that these can peek out for dramatic effect.
9. Add a Vibrant Colour Injection
Long layered hairstyles don't have to come in natural colors to be stylish and healthy. Inject a pop of candy pink into your layered hair and then curl to inject movement and volume for a look that is sure to attract attention for all the right reasons.
10. Emphasized Layers with Blunt Bangs
Exaggerate your layers without affecting the length of your hair by choosing to have feather-like layers in multiple lengths around your face to create a frame. Pair these emphasized layers with blunt bangs for a timeless style that is universally flattering, particularly if you have a high forehead or oval-shaped face.
11. Two Tone Blonde Long Layered Hair
If you want to create a stark difference between your highlights and your natural hair then ask your hairdresser for a mixture of short layers and long layers, but don't inject any graduated mid-length layers in between. This is a style that will look great both worn up and worn down.
12. Long Layers with Rainbow Ends
Want to make sure every single layer counts? This is a high maintenance layered style that is best achieved with the help of an experienced colorist. Ask for a graduated rainbow style, and for each highlighted strand to be defined by layers of varying lengths. Emphasize your look using curling tongs and hold in place with hairspray.
13. Long Layers Hair with Asymmetric Bangs
If you want to inject a modern and edgy feel into your long layered hairstyle without adding color or losing your length then why not add asymmetric bangs to your style? These will draw the eye, have a face-framing effect, and create a modern and futuristic feel. This is a bold look that definitely isn't for the feint-hearted.
14. Cool Copper Waves
If you have long hair with blunt bangs then why not give your style a modern twist by adding a rich copper color and adding mid and long layers through the length of your hair. Adding curls will help you to define subtle layers, and a bold color such as this one is sure to attract attention.
15. Long and Curly with Subtle Layers
Layers don't have to just be for straight or gently waving hair. If you have a perm or naturally curly hair then you can still give your style definition and structure by adding subtle layers through its length. This will help to pull your style into your body, rather than away from it, creating a polished overall look.
16. Sleek and glossy layers for dark hair
This is the perfect hairstyle for the woman that wants to add body and volume to her long dark hair. Ask your hairdresser to add short layers to frame your face then leave the rest of your layers long before adding a gloss spray to the length of your hair to give it a healthy shine.
17. Long Layers for Thin Hair
If you want to inject movement and body into thinner hair then ask your hairdresser to distribute short, medium, and long-length layers throughout your long hair then blow dry to inject movement and body to your hair. By thinning out your hair in this way you make it lighter, and this will make it easier to create volume at the roots.
18. Long Layers with Extra Volume
Looking for a long-layered style with extra volume? Use a wide barrel brush to curl your hair, and change the direction of the curls to create a mixture of tousled and messy curls. This is a great style for wearing for a day or two, as it just keeps looking better the messier it becomes.
Brilliant Side Swept Bangs Ideas
19. Soft Layers with Long Integrated Bangs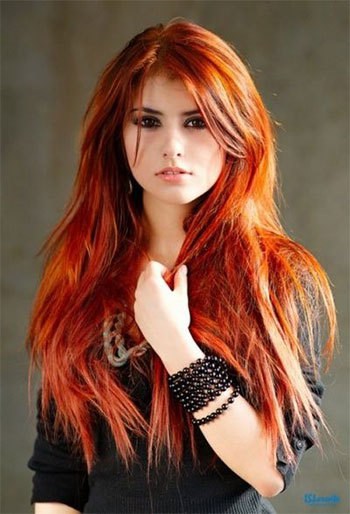 The softer bangs and gentle layers of this style would be perfect for girls with oval or round faces, helping to soften the curves of the face. Add a texturizing spray through the ends of your hair to create a modern separation between your layers.
20. Ultra Long Layers with Highlights
If you're nervous about chopping off any of your long hair then this is a great transitional style, ideal for experimenting with layers without having to lose too much hair. Add blonde highlights to create a rich and glossy style.