Gone are the days when Asian women sport only their perfect long, shiny, and straight hair. Medium hairstyles are trending among Asian women in recent times because of their versatility and ease of maintenance.
While sleek and shiny long hair is still considered one of the best features that Asian women have, they are now breaking norms and choosing to become more experimental with their hairstyles.
In fact, they have become so playful with their hair that they were able to show the women of the world that medium hair doesn't need to be boring!
Fashionable Medium Hairstyles for Asian Women
If you're ready to say goodbye to your boring straight long hair or take your medium length hair to the next level, you should browse through our list of the chicest and most gorgeous medium hairstyles for Asian women: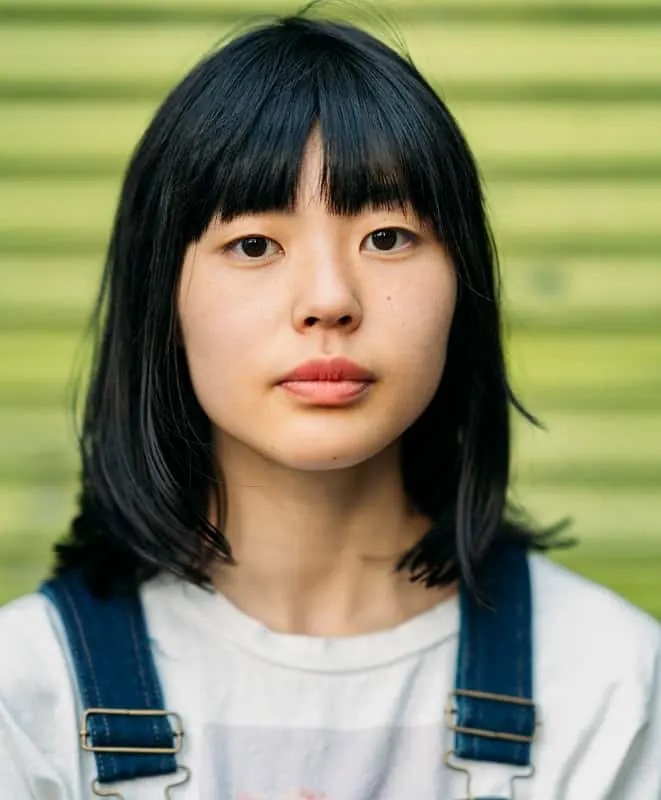 When it comes to choppy bangs, you can rely on Asian women to pull it off. You should go for this hairstyle if you wish to take a few years off your age. The perfect combination of a charming and chic layered lob plus the edginess of choppy bangs will undoubtedly make you look younger and cuter.
2. Half-up half-down Wavy Hair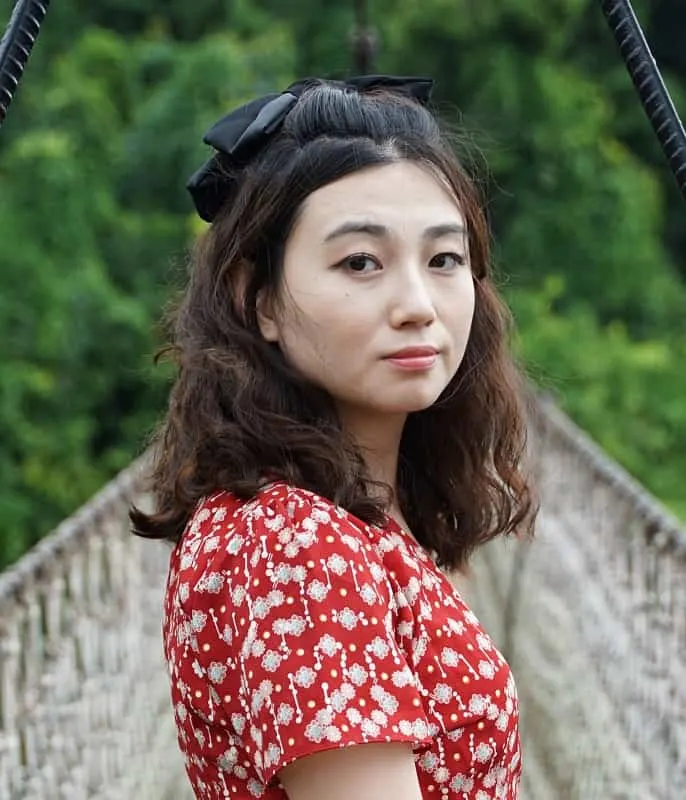 If there's one thing to love about Asian women, it's their carefree attitude, and wavy hair is the best hairstyle to match their devil-may-care attitude. Well, the half-up half-down hairstyle will take your happy-go-lucky attitude and turn it into the perfect girl-next-door look!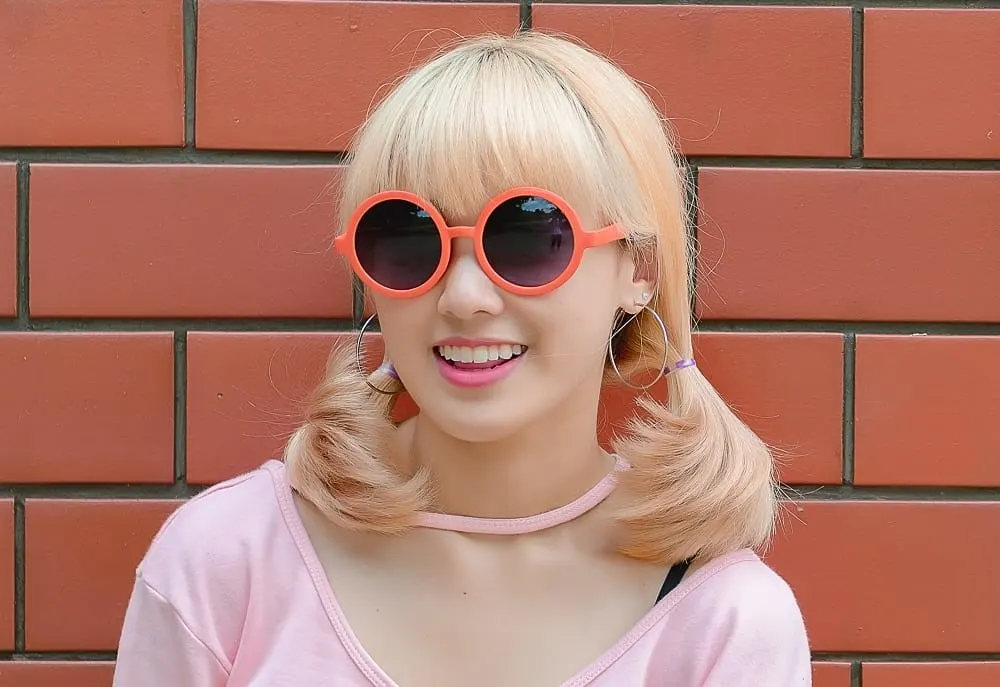 For the ultimate girly look, pigtails are the best way to go. This classic hairstyle will never go out of style and always add a touch of cuteness and charm to your everyday look. The blonde hair color is a modern take on the usual pigtails hairstyle on most Asian women.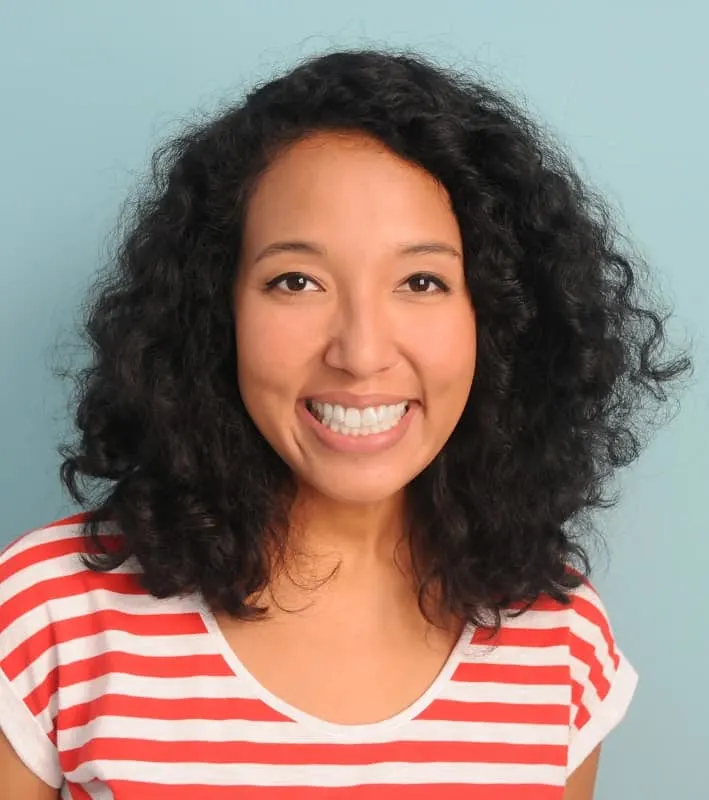 If you think that kinky and curly hair is not for Asian women, think again! It's about time we shy away from the idea that only sleek and straight hair is beautiful!
Thankfully, more and more Asian women are embracing their natural curls, and they look gorgeous, so there's no reason not to try this hairstyle out!
And since bob hairstyle and coils are in, why not combine them both for the perfect summer hairstyle?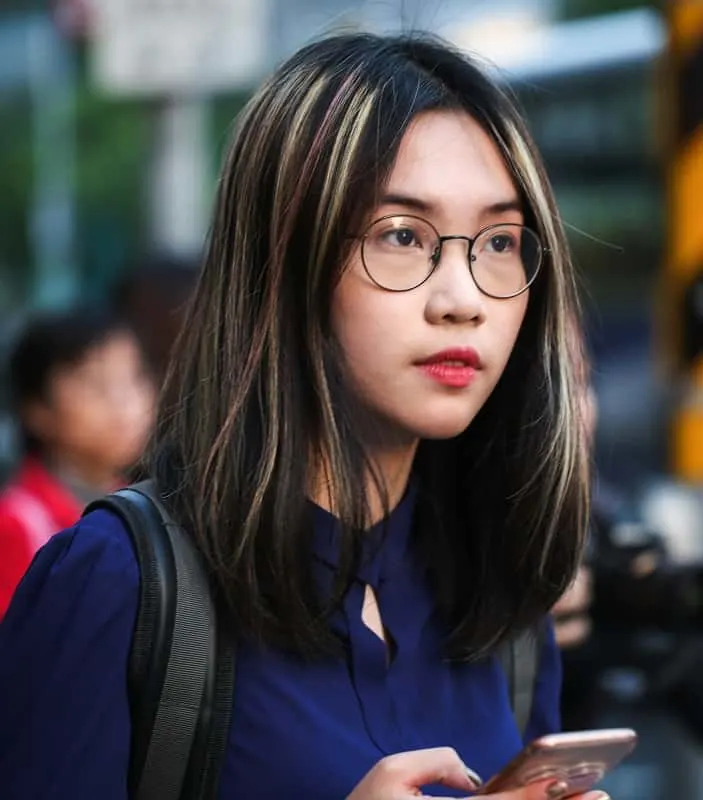 Do you want to change up your look, but you can't commit to specific hair color? Then, highlights would be your best option. With highlights, you can add color to your hair without dealing with much change in your hair maintenance and appearance. Not only that, having lighter colored strands in your hair can help lengthen your face– perfect for women with round faces.
That's not all. Blonde is the only highlight color option that you have. But, as you can see from the gorgeous Asian highlights hairstyle in the picture, you can opt for pastel highlights too!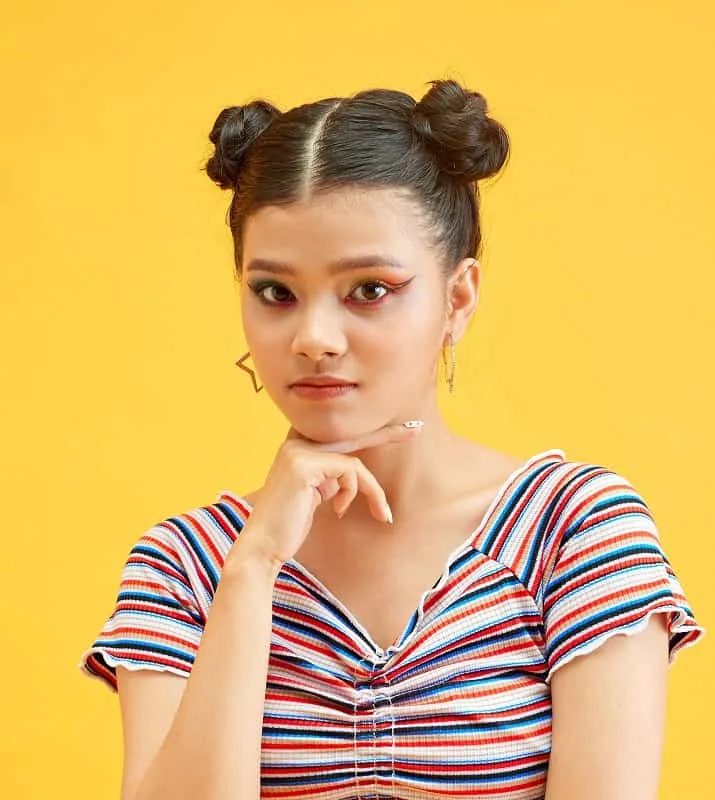 This hairstyle will remind you of Chun Li, the famous Street Fighter character! This hairstyle is super popular with Asian women that they have a lot of names for it– ox horns, kitty buns, Minnie Mouse buns, and many more.
Regardless of what you call it, this hairstyle screams only one thing—fun! That's why this is the best hairstyle if you want to look fantastic and cute.
7. Pastel Colored Hair with Dark Roots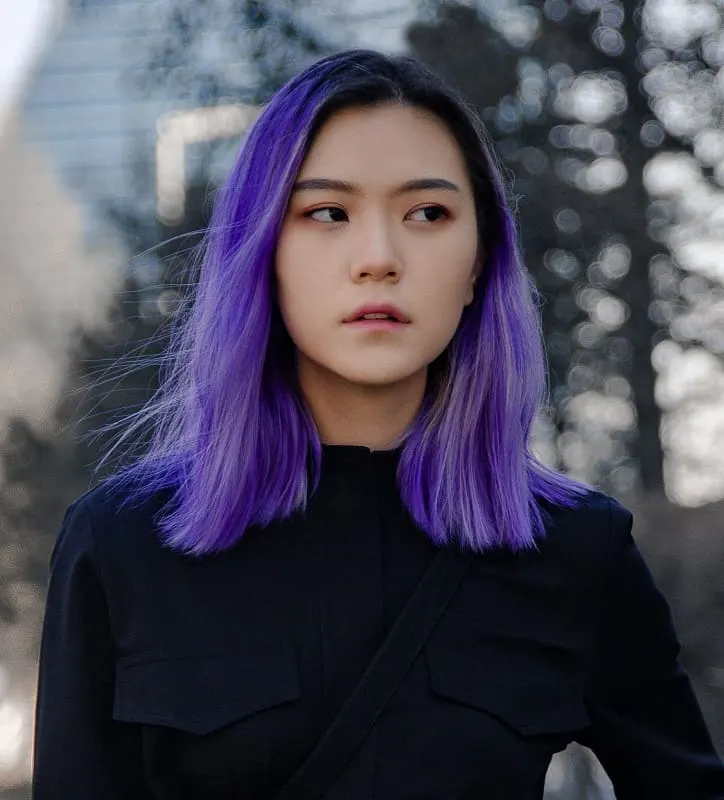 Have you ever wondered why women want to color their hair pastel shades but leave their roots dark?
Well, this simple tweak balances the femininity of pastel shades and makes the entire look more fashion-forward. If you're also not into shades of pink and lavender, this bluish-purple hue is another option you may want to consider.
8. Outward Waves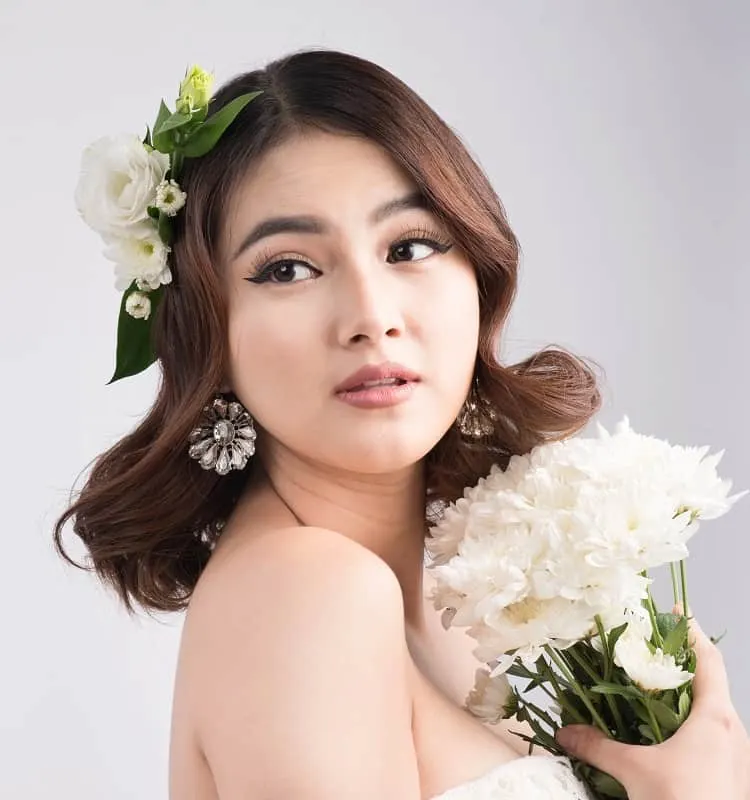 If you want a more elegant hairstyle, try curling your tips outwards. This simple trick will add a touch of sophistication to your regular lob and is the perfect choice for formal affairs or if you just want to dress up for an important date.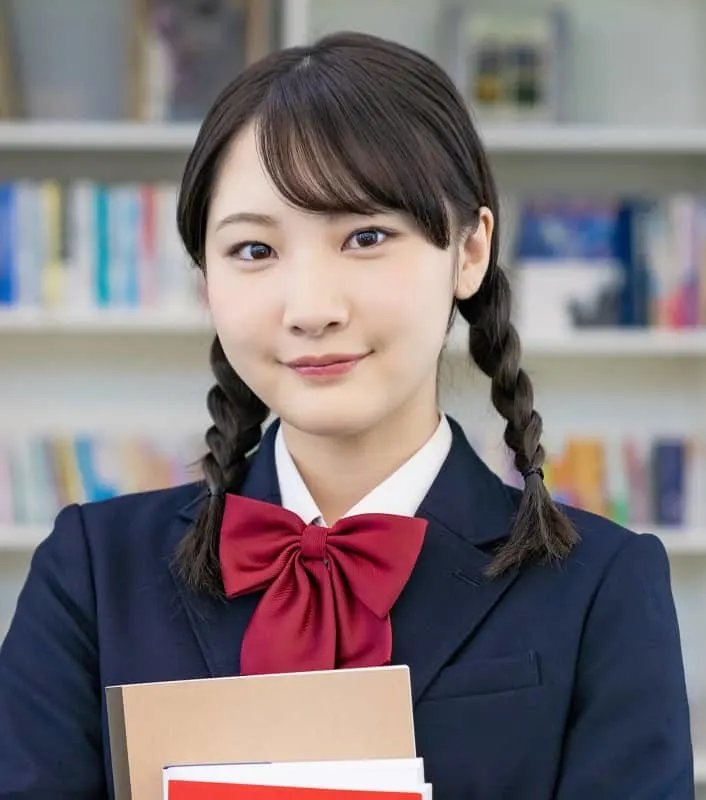 Make your regular pigtails look more playful by adding braids to the mix. Contrary to popular belief, this schoolgirl hairstyle is not only for young people. This one suits all ages as long as you know how to carry it well.
If you're scared to give this a try because of your round face shape, add side-swept bangs. The angle of this type of bangs lengthens the face and creates the illusion of an oval face shape.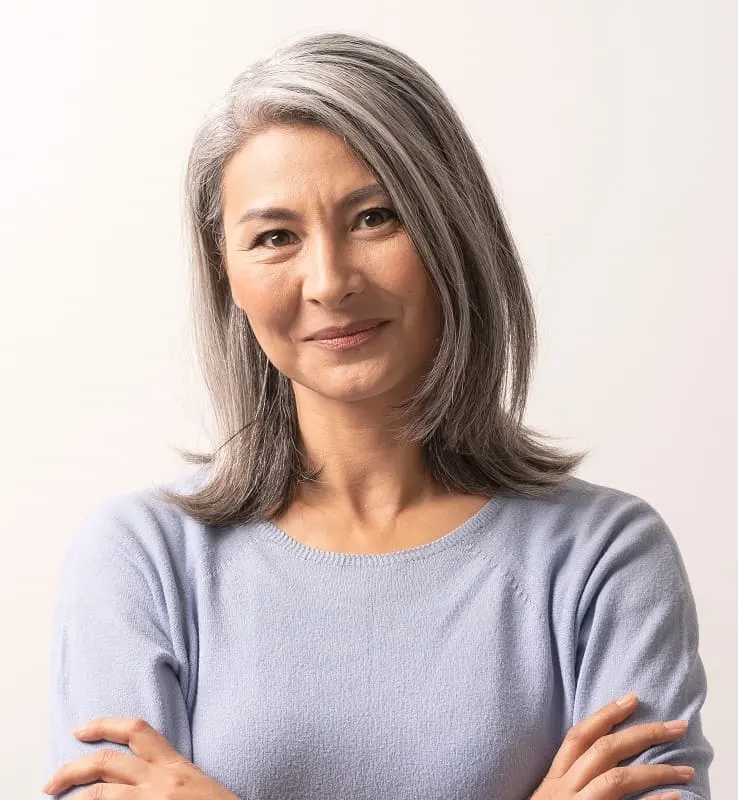 Having gray hair used to be taboo, but now, it's considered stylish and trendy. The good news is Asian women can sport this granny hair trend pretty well. But instead of going all out gray, try leaving a few hair strands black, which will give you a more natural ombre look.
That's not all. The gray and black combination of your hair color also looks amazing under the sun!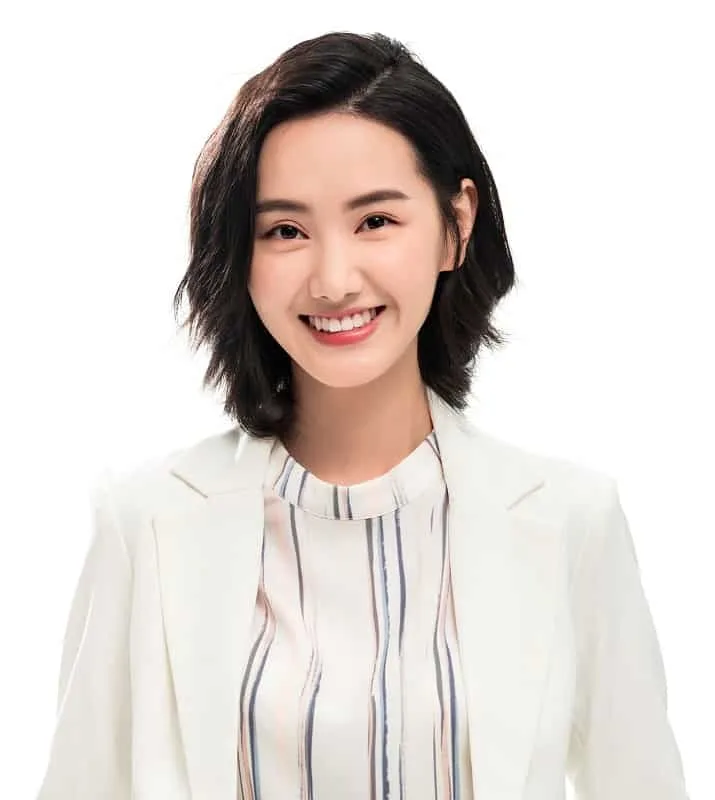 Did you cut your hair short and now growing it longer. This one is perfect for you! The choppy bob is the opposite of the layered hairstyle since it consists mainly of shorter layers of hair instead of longer ones.
Aside from adding texture to the usual bob, this cut is designed to boost the volume fullness to thin hair. Therefore, it can be an excellent option for people who want to add extra body to their ultra-thin hair.
12. Textured Beach Waves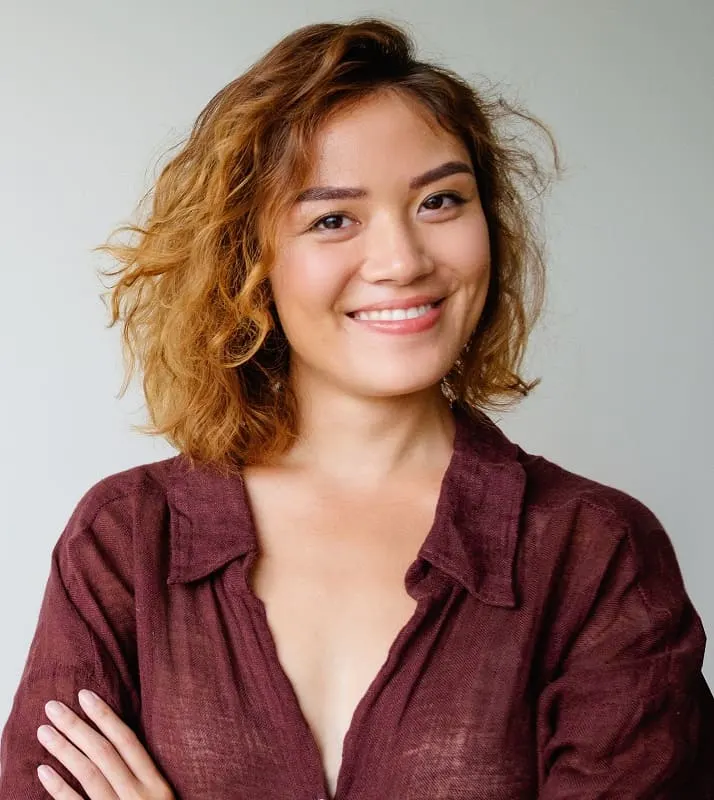 It's challenging to create textured medium beach waves on Asian hair because it's soft and silky, so the curls won't last long. But once you nail this look, it's worth the effort! The key to achieving this look is to use a curling iron with a small barrel, avoid putting too much hairspray, and using a lower heat setting to prevent hair damage.
13. Half-up Half-down with Side-swept Bangs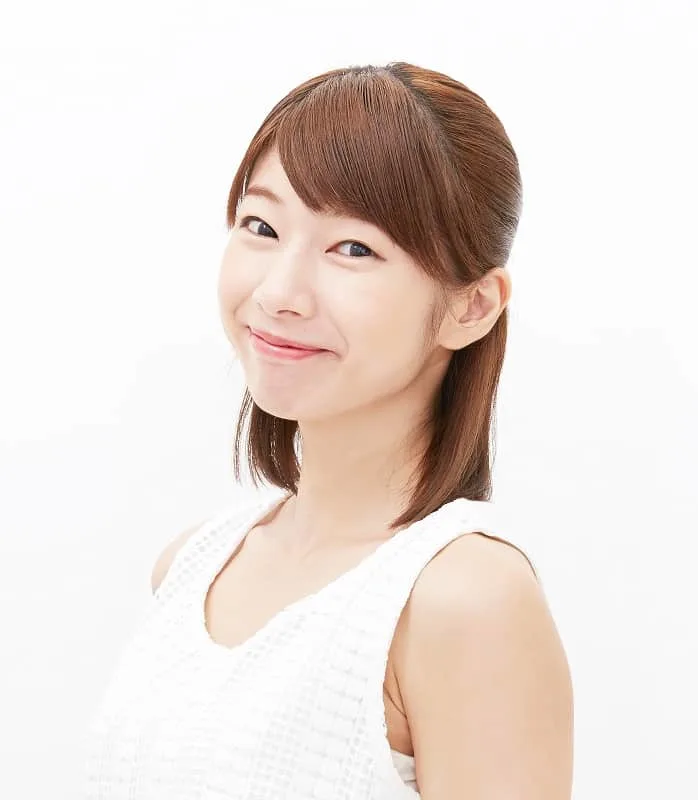 For a sweet and dainty hairstyle, try the half-up and half-down hairstyle but with a twist- side-swept bangs. The thick side bangs that extend mid-cheek are the go-to bangs for round faces as it incorporates an angular length to your face and elongate your jawline. Indeed, it's the best option if you wish to make your face look a lot slimmer!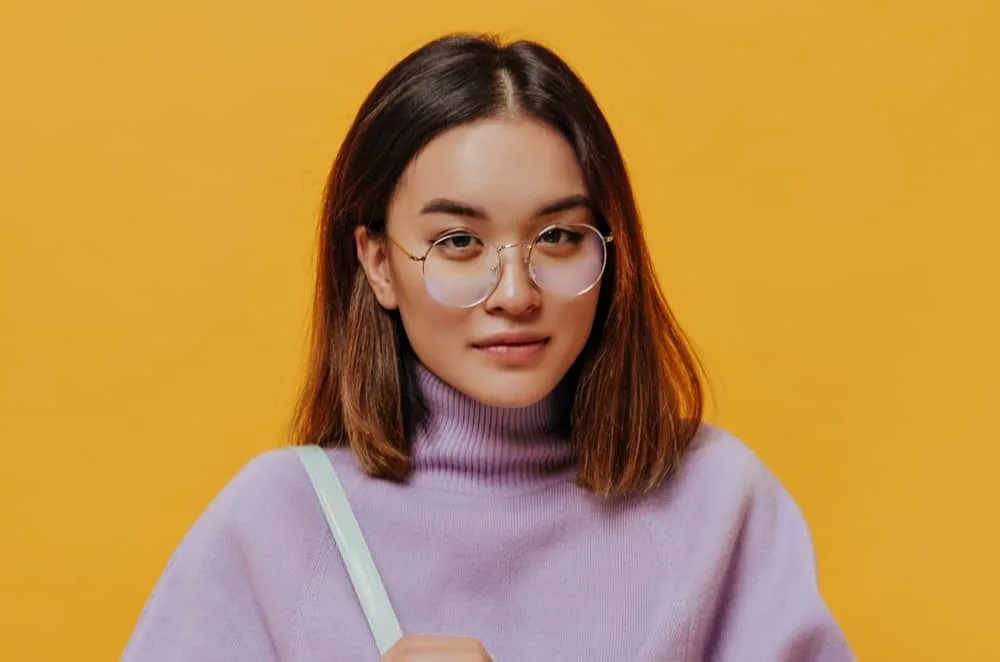 Lobs don't have to be boring! You can make any lob hairstyle look more beautiful and chic by going for an ombre hair color, which is an excellent move for women with round faces and chubby cheeks since this hair color pulls the hair downwards and makes it look slimmer.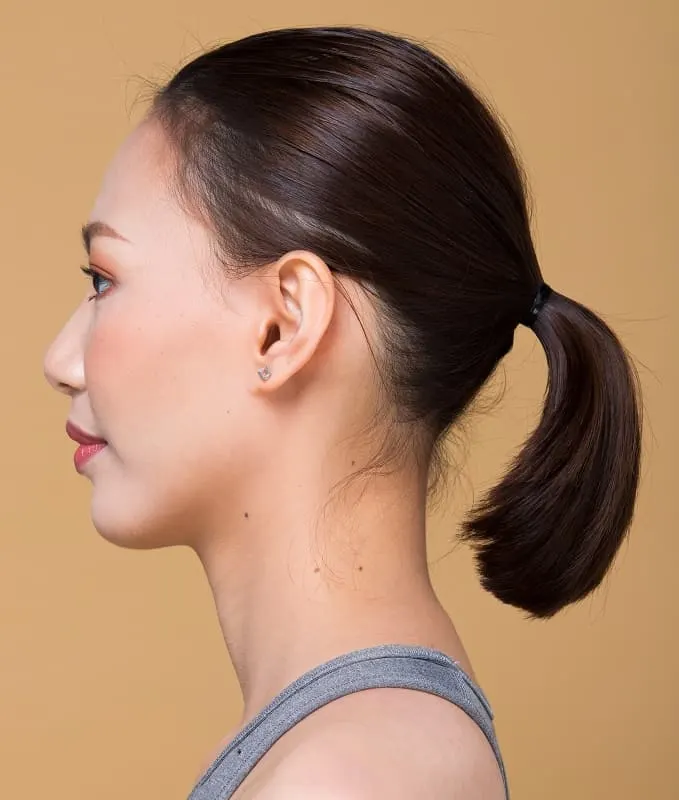 Here's another model-off-duty look that you can try for those days when you don't have the energy to fix your hair, but you still want to look beautiful and chic.
You can make this "rest day" hairstyle look by adding a few tweaks– using a stylish hair accessory, going for a side part, or pulling out a few hair strands to frame your face beautifully.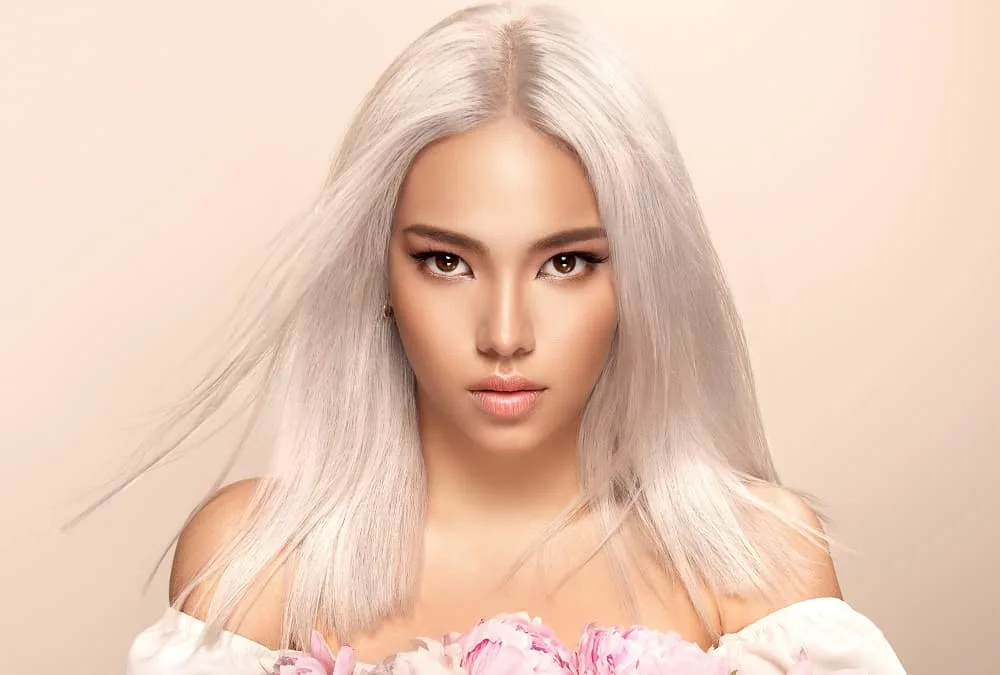 Asian women's skin tones range from pale to fair– which are the skin tones that perfectly complement platinum blonde hair. However, please note that going platinum is a big risk, so it's only for the brave girls.
But since platinum blonde is the most attractive and edgiest type of blonde hair color for Asian girls, there is, sporting this hair color will undoubtedly come with big rewards too!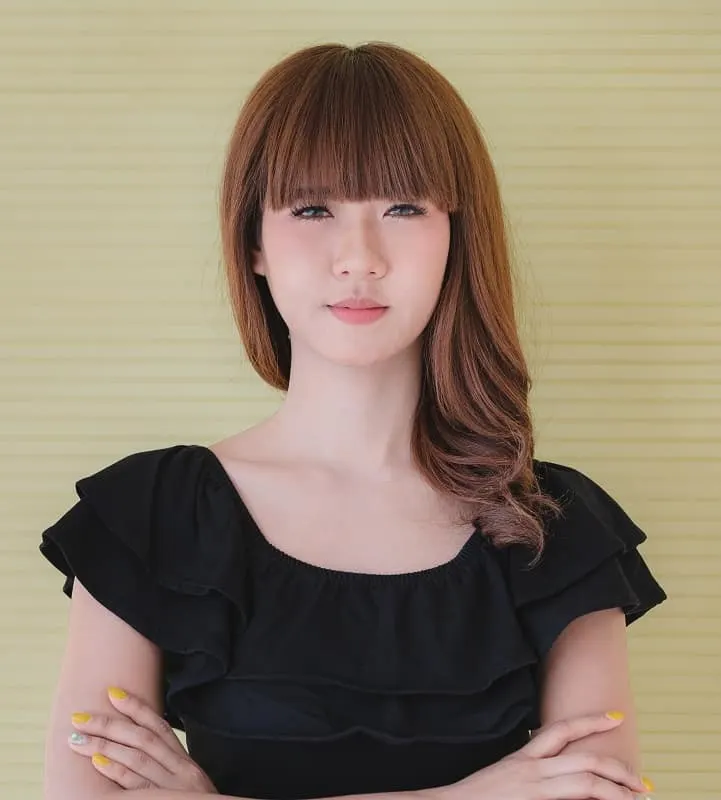 Not anyone can get away with thick full fringe, but Asian women definitely can!
The full fringe complements the square face shape the best. Just make sure that your bangs will hit just below your eyebrow or at the eyebrow level so it can balance your face shape pretty well. The curly tips will soften your entire look so you can enjoy an edgy yet feminine hairstyle.
18. Top Bun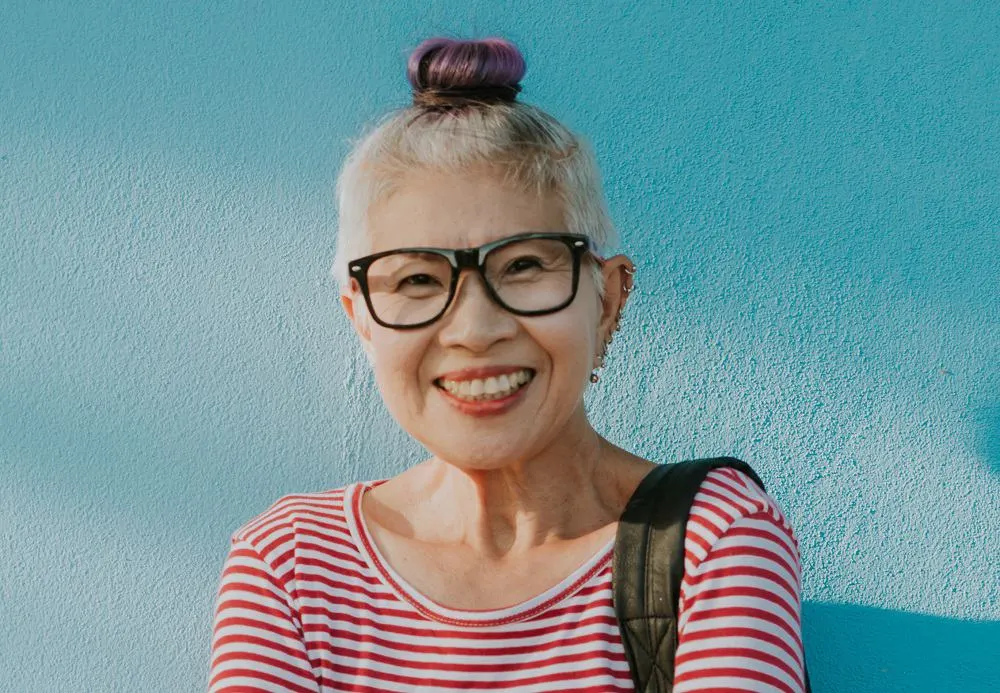 The big top knot bun is the go-to hairstyle of models when they're off-duty, but this cool look is not only limited to the models! Asian women are great at pulling off the big top knot too!
The good news is it's easy to create and won't require lots of time or hair products. All you need is a teasing comb, elastic hairband, and few bobby pins, and you're good to go.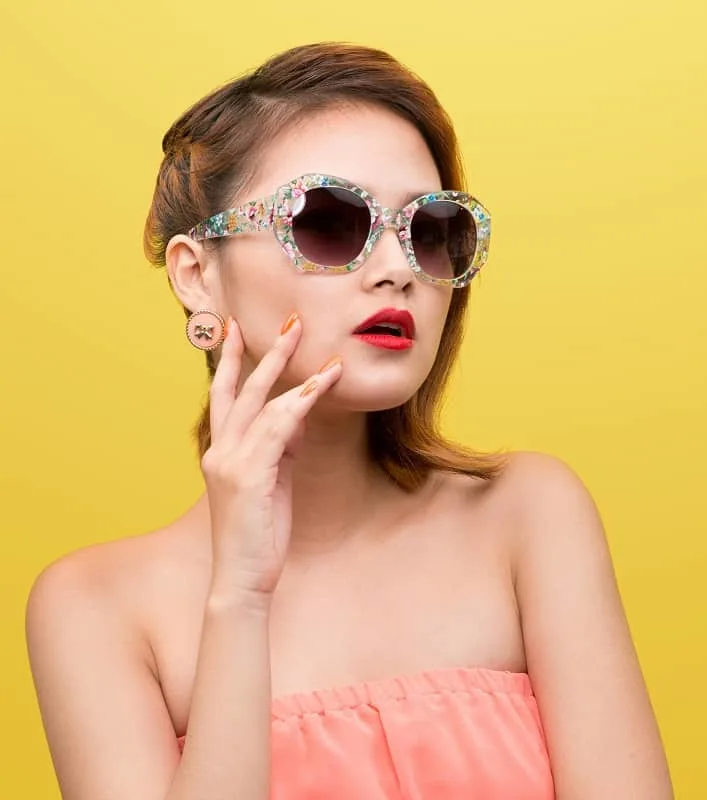 The side French braid adds a whole dimension to the classic pretty braids. It looks so pretty, hip, and edgy all at the same time. Because of this, it's perfect for just about any event or gathering you'll go to– may it be a wedding, a beach party, or a simple dinner at your friend's house.
The good news is it's easy to make too. Just create a small braid at the side of your hair up to the back of your head. You can leave one side as-is for a polished look or curl it to achieve that carefree vibe.
20. Center Braid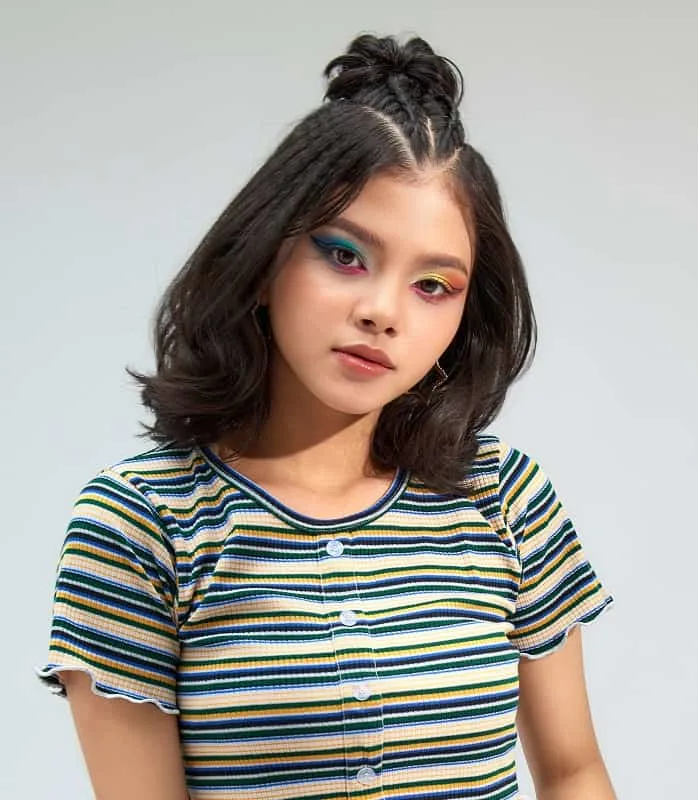 The center braid is not a popular option for older Asian women, but this is a big hit for the millennials and Gen Z's.
It's also called the French Mohawk Braid and is perfect for women who want to give off the hipster and edgy vibe. It's also one of the stylish solutions on how to conceal unwanted bangs.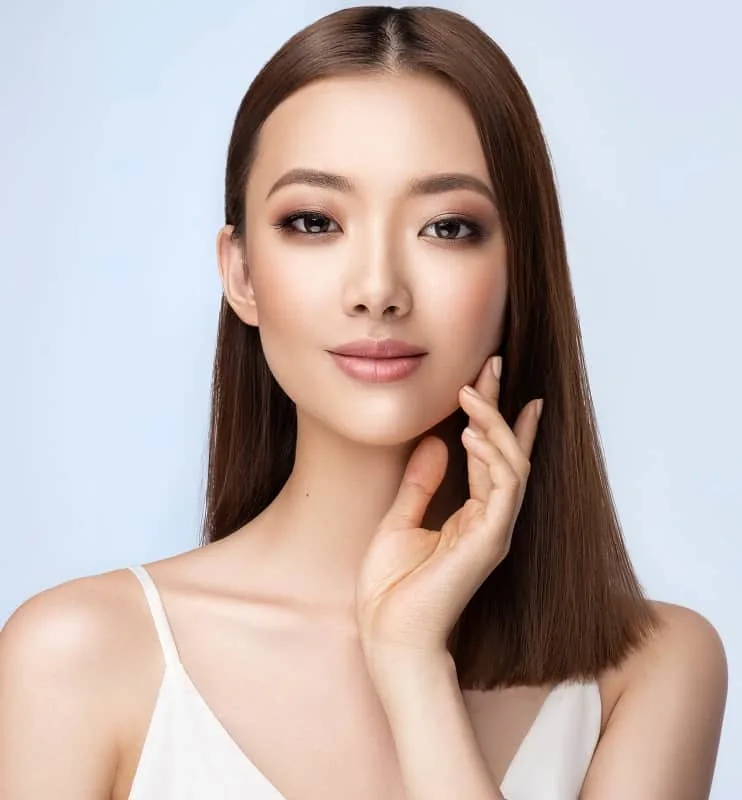 If you want to update your sleek and straight long hair but don't want to do anything too drastic, try chopping a few inches off! The classic lob is a modern update on your long hair, but without the amount of maintenance that colored and curly hairstyles would require.
Simple, beautiful, and modern– these are the three best words to describe this beautiful hairstyle.
Women all over the world are jealous of Asian women's sleek and straight hairstyles. Today, they are amazed at the wide range of hairstyles Asian women are proudly wearing. From curls to braids to lobs and bangs, Asian women can have it all.
But of course, you must choose a hairstyle that would suit not just your preference but your face shape and personality as well. Lucky for you, you have plenty of options to choose from!