If you have long hair and are tired of simple braids and ponytails, you should take a look at a great variety of bun hairstyles. More often than not, long hair gets in your way, even when it is braided. It gets dirty and tangled and causes a lot of hassle.
A great way out of these problems would be a simple bun. Making a bun will save you the time you would spend on touch-ups during the day and will keep your hair looking wonderful until evening time.
Over the years girls have been creating different bun hairstyles. You can make an original and innovative bun to surprise your schoolmates or coworkers and feel amazing at the same time.
Bun Hairstyles for Women
Buns have been popular for centuries, so the time has come for you to try one. If you are lost and don't know where to start, we will help you make your first step forward. We have prepared a list of the greatest and cutest bun hairstyles out there.
You can browse these 50 options and choose the one you like best. If you are not sure that you can make a complicated bun on your own, start with simple ones and go from there. There is no reason not to become a real bun guru. This hairstyle will help you look and feel special all year round.
This braided bun might seem complicated, but actually, this is one of the easy bun hairstyles out there. All you need to do is make a long braid and arrange it into a bun. Pin it to the rest of your hair in as many places as you wish to create a curved look.
The messy bun is a great way out for girls who don't want to spend too much time on their hair but would like to keep it out of their faces. Make a low ponytail, arrange it into a bun and pin it to keep its shape. In order to create a messy look, let it be loose. If you have long hair, try these long messy bun hairstyles.
3. The classics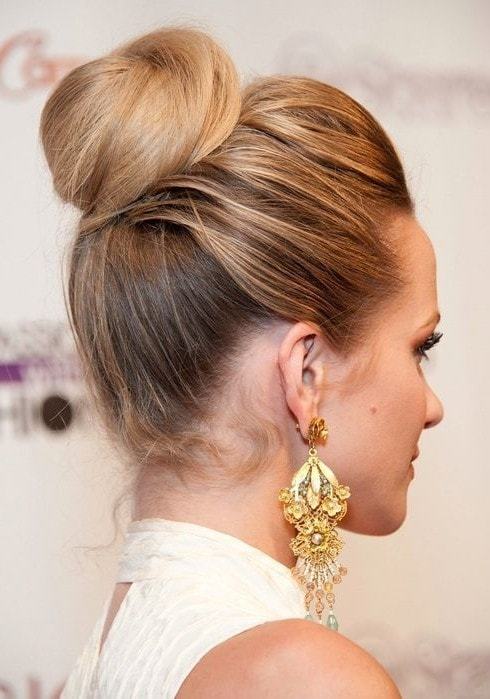 The classical bun is very easy to make. Gather your hair into a high ponytail and tie it with an elastic band. Then wrap the ponytail around the elastic band and use some pins to attach the bun to the rest of the hair. Use some spray to avoid stray hairs.
If your hair is not too long, there is no need to forget about the buns. In fact, small buns look extremely cute. So, follow through the standard bun making procedure and don't worry about the size. After all, everyone knows that size doesn't matter.
5. Loose Bun
This loose bun is perfect for medium-sized hair. Make a ponytail and tie it with an elastic band. If you don't have enough hair to wrap around, just pin it to the band. The result will look very interesting. A great choice for girls who don't like long hair.