Double buns are at their height of popularity right now, and there's no end in sight. And with so many different styling options, it's really no wonder why this adorable hairstyle has reached the top of the charts in the hairstyling world.
Origin of Double Bun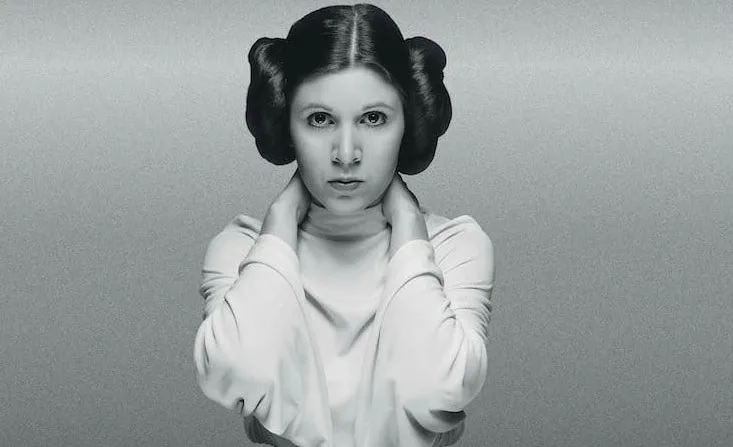 Think the double bun first stepped onto the scene on Miley's twerking head? Think again! The two buns have a long history that can first be seen on Princess Leia, who sported double cinnamon buns in Star Wars. Since then, the style has evolved from Brandy's gorgeous two cornrow buns in Moesha to Gwen Stefani's rockstar platinum blonde mini bun hairstyles.
Nowadays the two buns hairstyle has soared in popularity, seen on stars like Kylie Jenner and Rita Ora. With styles ranging from simple double top knots to more boho style half updos with tousled double buns and wavy hair underneath, there's a look for everyone.
How to Do Two Buns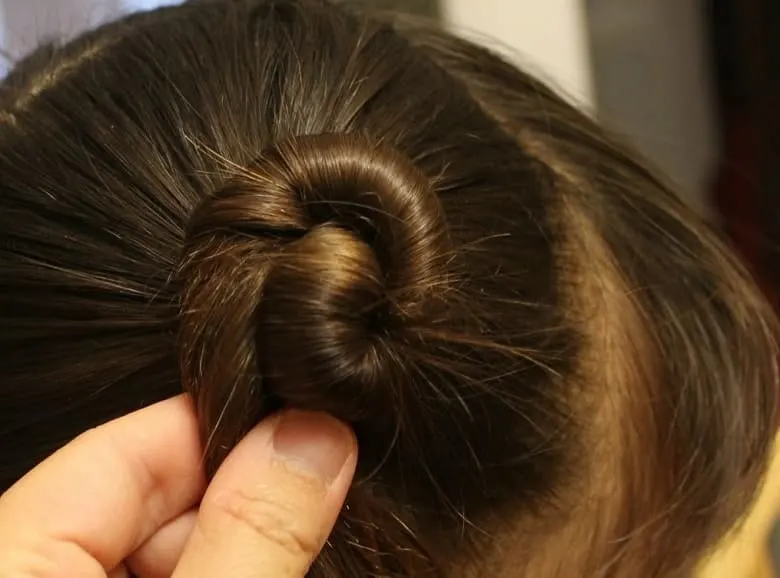 Doing two bun hairstyle is really simple. All you need is two elastic hair ties and a couple of bobby pins. You will pull your hair up into two ponytails, then wrap them into buns. Secure tightly with bobby pins and voila! You have an adorable, super trendy hairstyle done in less than 5 minutes.
Watch The Following Video to Learn How to Do Double Bun Hairstyle
How to Style Two Buns with Hair Down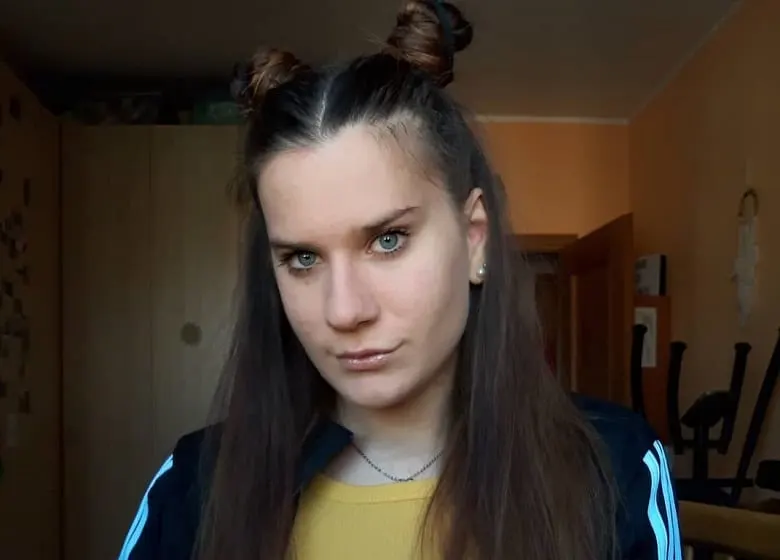 Making a Double buns hairdo with the hair down is essentially the same as doing a regular bun hairstyle, except you will need to section off some of your hair to leave down.
After sectioning off your hair, put the top strands into two high ponytails on top. Then you will wrap the hair into smaller sized double buns, securing tightly with bobby pins. You can then style the rest of your hair, leaving it straight, showcasing natural curls, or curling/crimping to your heart's desire.
Following Video Shows How to Do and Style Double Half-Up Bun Hairstyle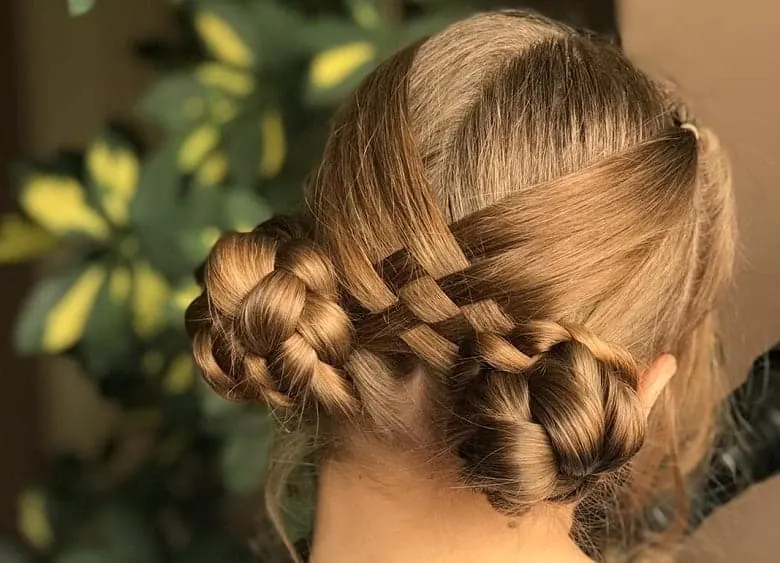 If you are putting braids in your two buns hair, all you need to do is a section of the hair and braids before pulling into a ponytail. However, if you only want the braid to be included in the actual bun, then pull to a ponytail first and then plait your braids before wrapping into buns.
The type of sectioning that is done will be based on the braid style you choose. For instance, braids starting at the nape of the head will be French braided up to a high ponytail before being bunned. On the other hand, a double bun style that features cornrows will have to start with several sections for braiding.
Always remember that when doing any type of two bun hairstyles you should follow the same format:
Section your hair.
Start with braids, or pull hair into high or low ponytails wherever you please.
Wrap the hair around your elastic and fasten with bobby pins.
If doing a half updo, style the loose strands however you please.
Following Video Shows How to Create and Style Two Braided Buns
Double Buns vs Space Buns
Space buns and double buns are essentially the same things, and the two definitions can be used interchangeably. However, some may argue that space buns have a more fuller appearance and are placed more on the sides of the head, while two buns can be worn in a multitude of styles such as a half updo, tight at the top of the head, or loosely pulled together.
Amazing Two Buns Hairstyles
Following are the bun hairstyles that Leia had sported in Star Wars. Check these two buns to twist and turn your look.
1. High and Tight
Ladies who don't have much time to style their hair can go for this look which involves styling it tightly into two high buns with a middle part. This hairstyle is ideal to conceal greasy hair and keeps it out of the face too.
2. Dreadlock Buns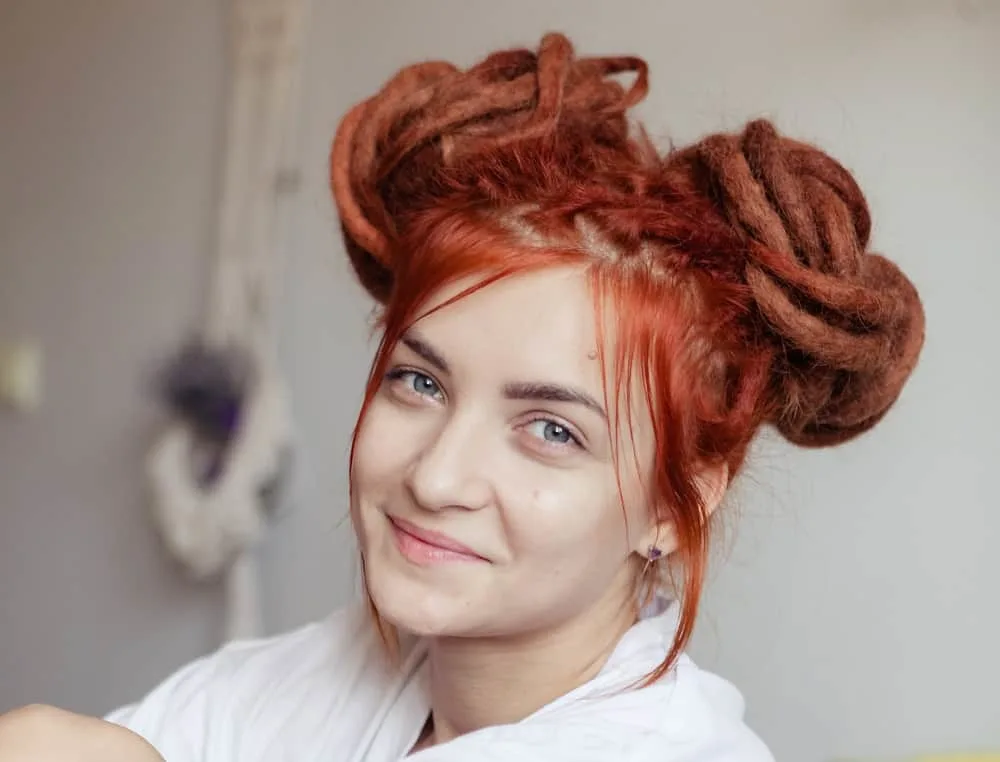 Who knew bold dreadlocks could be styled into two cute buns? The rust-red dreaded strands are divided into two parts and rolled around into oversized buns secured with pins. Loose fine strands at the front complete this look.
3. Micro Braids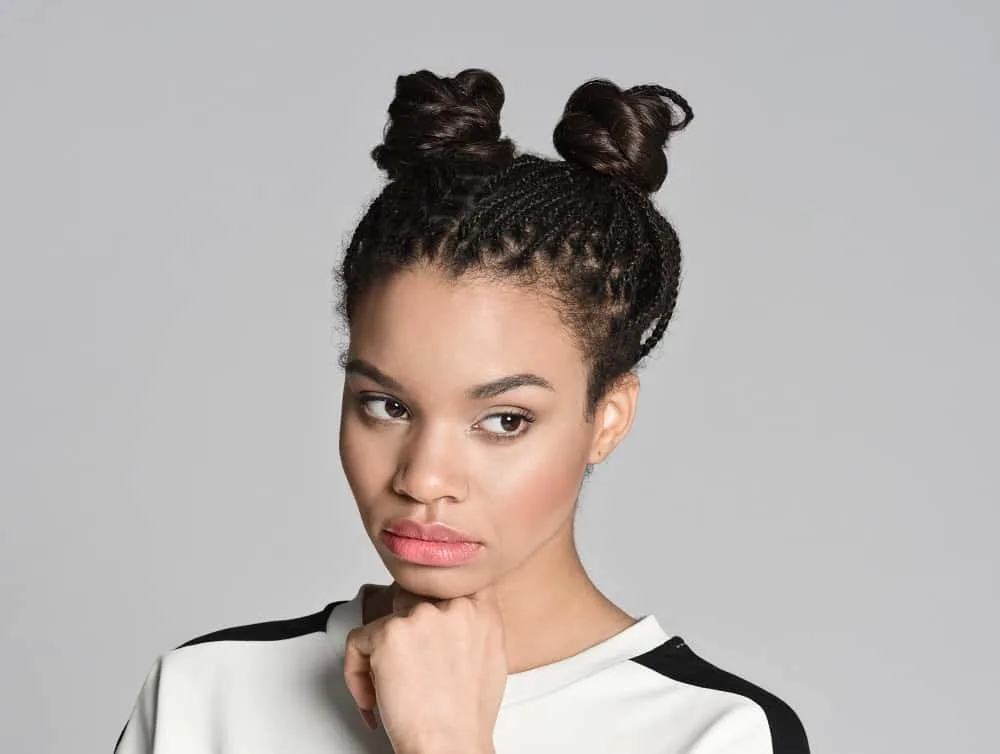 Go for micro braids to create a fun hipster style. The hair is divided into sections and braided finely to a few inches while the remaining is twisted around into two smooth buns. This contrasting look won't be overlooked.
4. Half Buns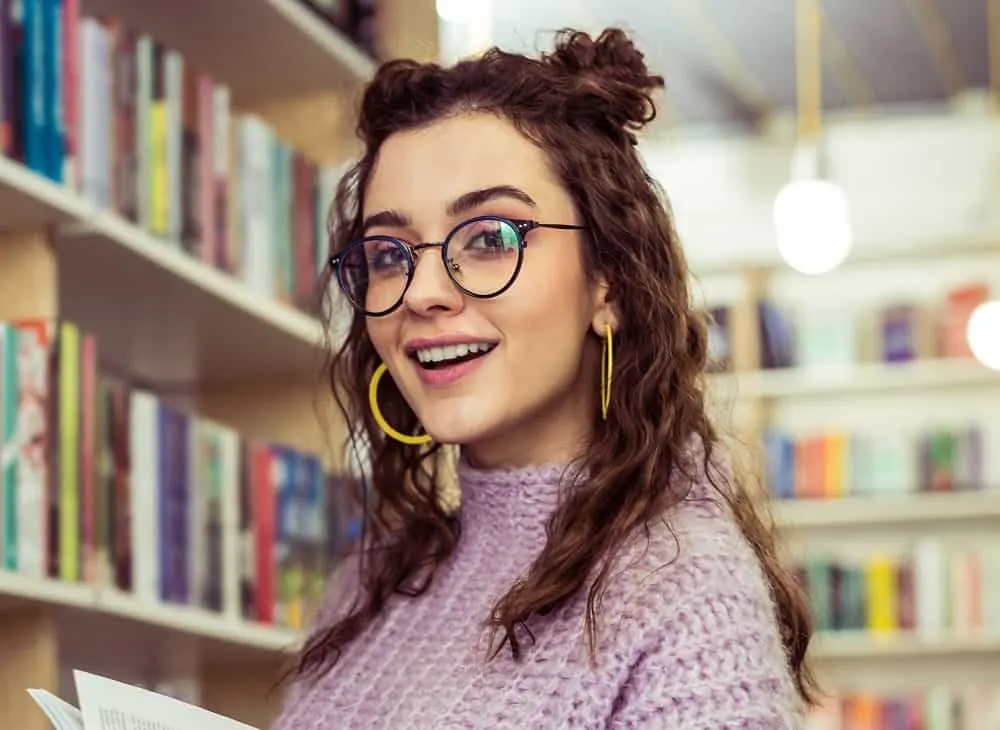 Flaunt your wavy locks in a carefree manner. The strands at the front top are secured into mini buns leaving the reaming ones loose. Young girls can pull off this look with ease.
5. Adorable Look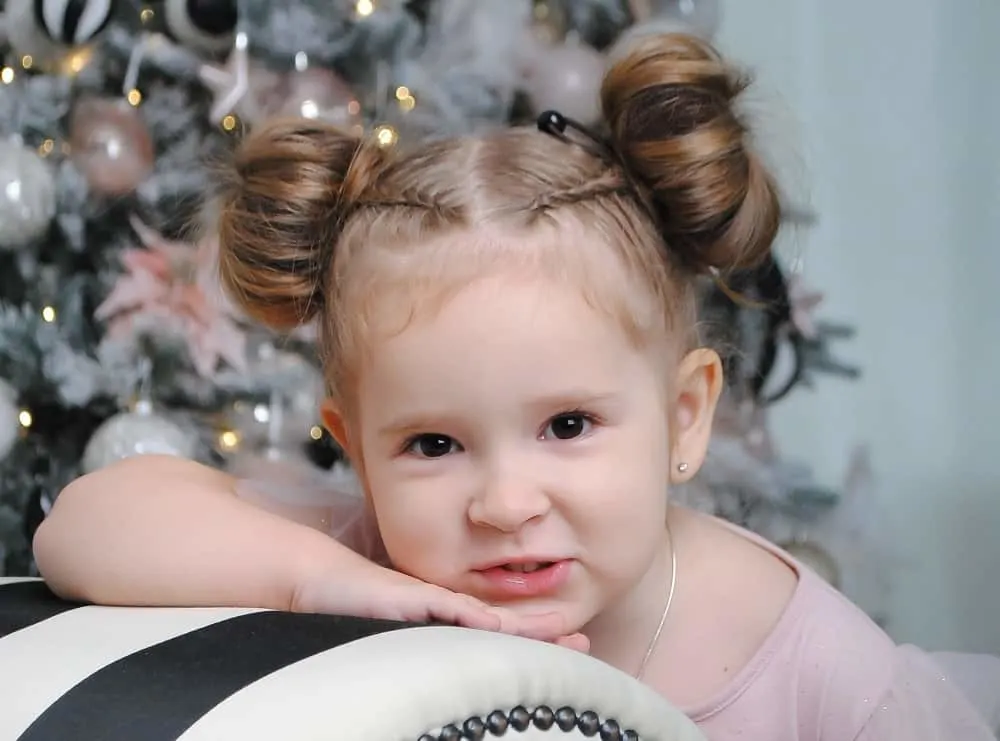 Have a look at one of the cutest two bun hairstyles for women which look equally adorable on little girls too. The middle-parted front is styled into two tight braids merging into the space buns created using hair donuts.
If elegance is your goal, then you want to be inspired by a hairstyle like this. Her two buns are stacked on top of each other and wrapped tightly to create the classic, sophisticated 'ballet bun'. Ballerina buns are elegant and beautiful, but we love how she opted to toss in some trend to her look by stacking one on top of the other. The addition of the beaded hairpiece adds a final, lovely touch.
Pull hair back into two small ponytails on top of each other. Wrap tightly into buns and secure with bobby pins. Make sure the buns are touched. Finish off with a hairpiece like this, if desired.
6. Rocker Buns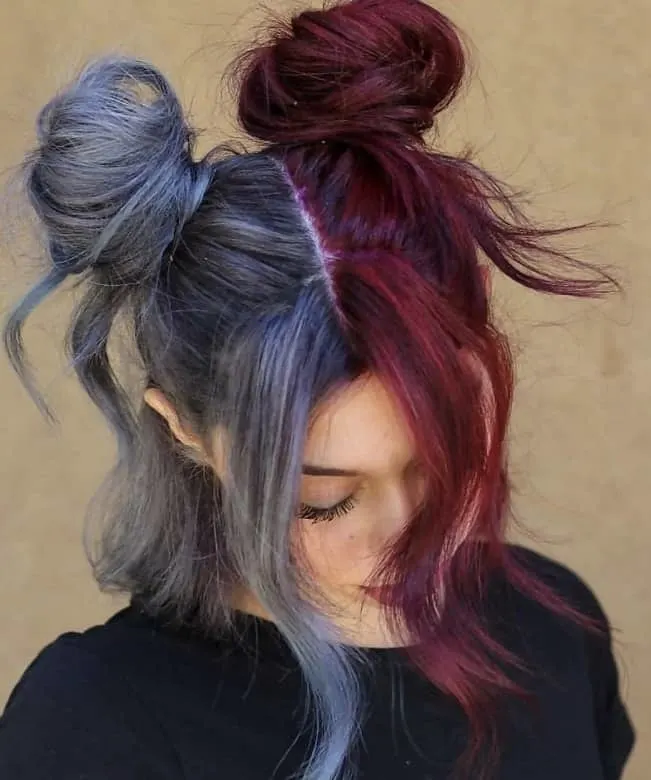 Creativity and personality is the theme for this punk rock look. The two raging hues of deep crimson and violet-blue are exciting and punk, while the messy bun half updo keeps things looking trendy and fun. She adds her own splash of personality to her look by adding rich colors, and the extra strands of hair left out of her bun and in front of her face give her hair some personality and dimension.
Even if you don't have colorful locks you can do this style. Separate hair to top and bottom. Wrap top hair into two separate buns, but leave extra hair up front to dangle around the face. Don't wrap the buns too tightly- you want some strands falling out.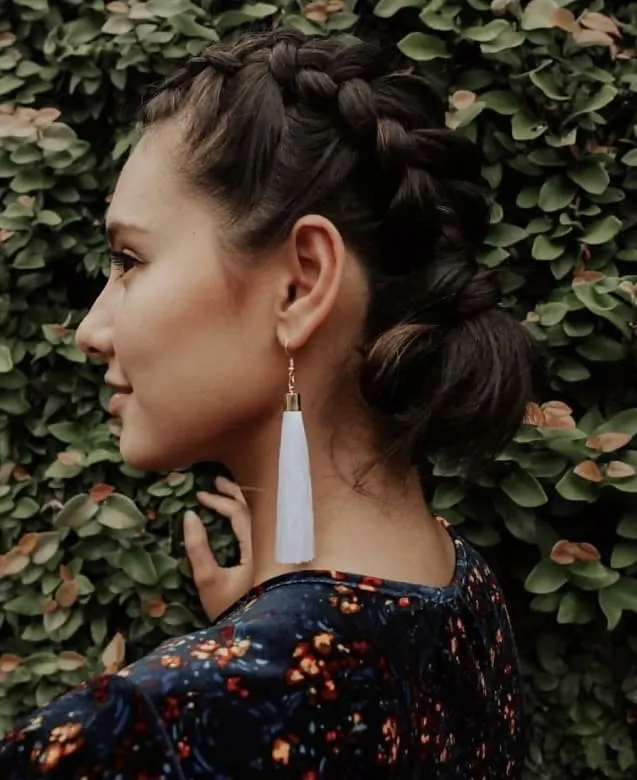 This look has all the allure you could ever dream of. It's simply a charming hairstyle that pairs the femininity of a Dutch braid with the delightful design of double low buns. The end result? A dazzling, elegant finish that's suitable for any and all events. The dainty design of this hairstyle is overwhelming, perfect for the woman who enjoys a softer, more ladylike appearance.
Begin by parting hair down the middle and begin plaiting a Dutch braid on both sides. When you get to the nape of the neck, wrap the hair up into ponytails. At this point, you can swirl the ends around to form buns, not excessively tight.
Quirky? Cute? Kittenish? How about all of the above!? This look has all the coy attitude you could ever dream of. It's just oh, so cute! It's a simple and utterly adorable way to style two buns hair, and the side-swept bangs add in a dose of sensuous and contemporary feels. Tight buns are key for this look! Just make sure you leave your side bangs out to play.
Talk about fierce. This look has no limits when it comes to striking personality and intense creativity. The designed fade in the back is downright mesmerizing, and the double buns up top allow for the fade to take center stage. To put it plainly, this look is bursting with mod fashion.
It's a foolproof creating of both boldness and beauty. You will need to start off with a fade. You don't need to use this particular design. Get creative and do something unique to you! With the remaining hair, wrap up into two high, voluminous buns. Viola!
11. Mousey Two Buns
If you thought of Minnie Mouse when you saw this look, you would be right on point. This charming look features two buns hairstyle that is bursting with height right on either side of the head, while the rest of the main is beautifully curled ever-so-slightly for a hint of alluring appeal. It's cute and sassy and stands out from the crowd.
You will want to create super high and voluminous buns on either side of the head. The rest of the hair will be softly curled and tousled up for a little bit of flirtatious personality.
When it comes to hairstyling, you can't go wrong with braids. And while many two braided bun hairstyles will have you piecing braids back to the buns, she opts for a more elegant and neat appearance by ditching the extra plaits and tossing them all into her buns. This look is downright flawless. The sleek and straight hair beneath the tightly wrapped braids creates a sensationally delicate finish that could be seen at even the fanciest locations.
Start by separating the top and bottom halves of hair. Create two separate ponytails with the top half, and braid. Wrap around braids into tight knots and secure tightly. Straighten remaining hair for glossy effect.
13. Classic Double Bun DO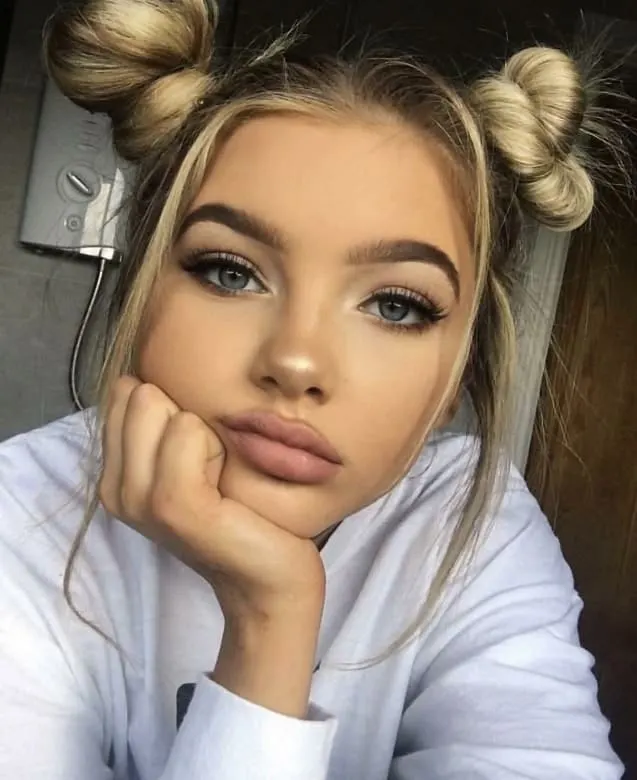 Go back to the root of double updos with this style. It's trendy to the max and has a flirty, fun finish that's great for school or summer days. This was the original space bun 'do and it still holds its popularity today. It's quick and easy, cute and flirty. The perfect combination!
This look can be done in minutes. All you need to do is part down the middle and pull hair into two ponytails on opposite sides of the head and wrap into tight buns. Leave a few extra strands around the face to frame the face and give off a casual feel.
14. Flowery Two Buns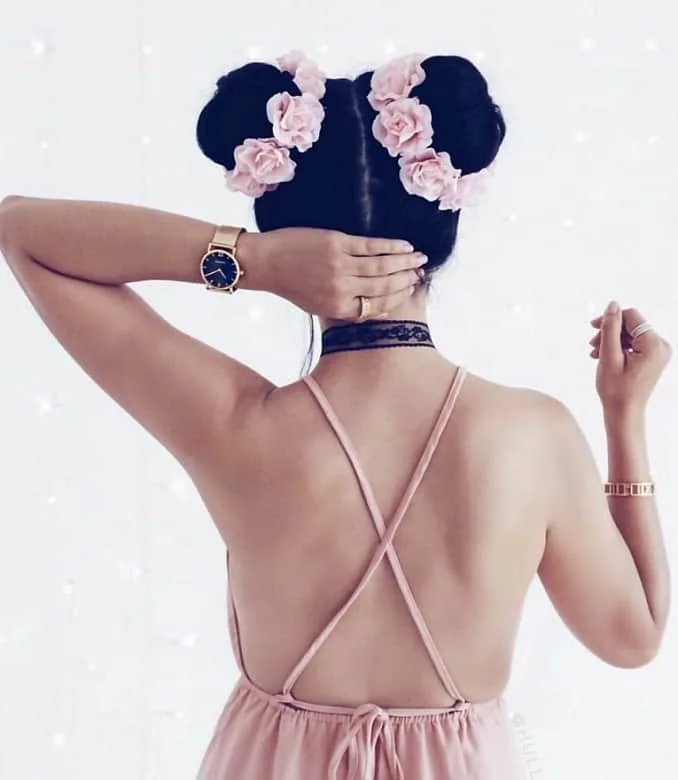 Two buns hairdos don't always have to be about being a trendsetting queen! The great thing about buns is their overall versatility, so if you need something more elegant and sweet, you can switch it up by adding in a floral hairpiece. It takes the normal bun and gives it an elegant makeover in a flash.
Style your Princess Leia inspired buns like normal. Make sure the buns are tight and there are NO extra strands hanging out. This look should be very neat and complete with floral accessories, preferably ones that can wrap around the core of the buns.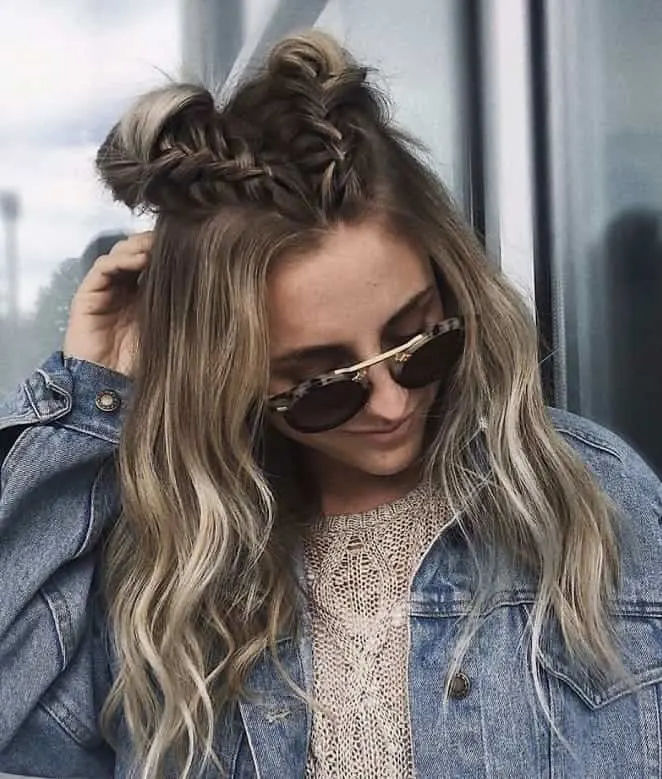 Earlier we noted the casual appeal of super tousled french braids, but this diva goes a different route. She is inspired by boho flavors, with tight plaits that lead back to subtly rustled buns. To finish off her bohemian bun style, she tosses some wave into her tresses. Stunning! In this day and age, we love everything with a boho theme, so this is an obvious winner for everyone.
Styling this is easy. You want to part your half to top and bottom halves. Coil the top half into Double French braids (tight but not TOO tight) and wrap them into sloppy buns. Use a heated tool or some hair product to add waves to the remainder of your hair.
16. Posh Stacked Mini Buns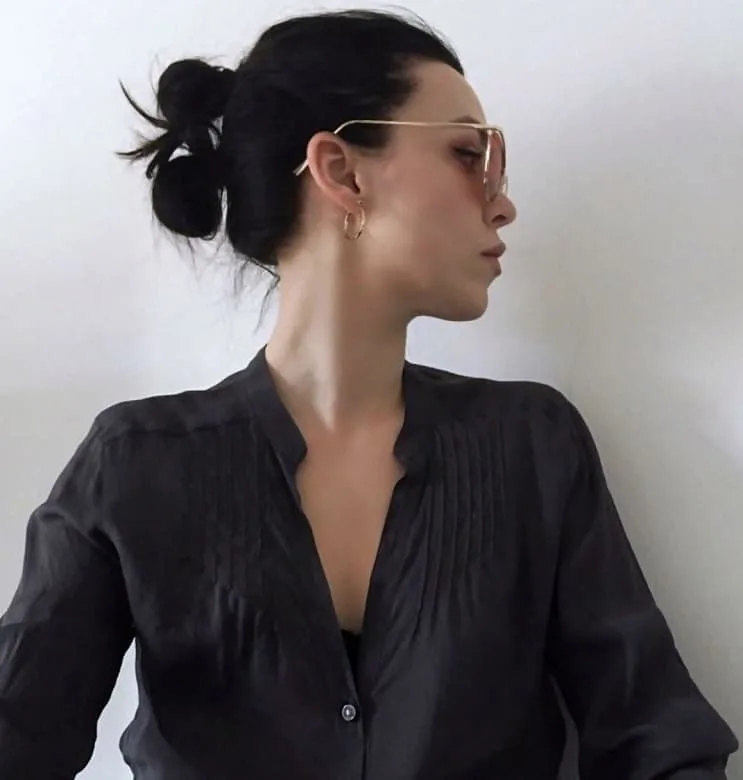 This look has that high-fashion glamazon appeal, with tightly wrapped mini braids stacked right on top of each other. With strands perfectly glazed back to two miniature buns, it gives off a modelesque view that keeps strands out of the face and lets facial feature be more prominent.
Styling is simple: just bring back hair to two ponytails at the middle of the head, then wrap into tight buns. Make sure no strands are loose from the head, but a little looseness in the bun is okay.
Hair not cooperating today? Just want to give your look a little more color and flair? It's easy to switch it up when you add in a headpiece such as this. The headband gives this entire look a burst of intriguing and delightful colors, while also giving her more personality.
For this look, all you need to do is wrap your hair into two buns like normal. Then add on your favorite headpiece, whether it's a colorful thick headpiece like this or something more slender and one-noted. There's so much versatility with this particular style, so feel free to add in your own unique likes!
All we can really say about this look is: wow. It's a delightful combination of beautifully wrapped cornrows and fierce attitude, using a side-by-side double bun design that mimics the modern bun Mohawk. Everything about this look is oozing with creativity and bold personality.
It's totally unique, super flashy, and a definite eye-catcher. Begin with perfectly posed cornrows. Bring them up into two big buns with plenty of height, one in front of the other, and fasten securely.
19. Unicorn Buns
Unicorn hair. Do we really need to say how much we're loving these buns!? The unicorn hues of her hair are downright magical, and when tossed into two loose buns, we get a fashionably focused hairstyle that slays the competition. You will want to bring hair up into two topknots, but make sure you leave a little extra hair out to dangle!
20. Zig-Zag Parted Messy Two Bun
This style may look like the classic two messy buns for long hair, but it gets a little extra spice thanks to the zig-zag pattern in the design. The look takes a classic, on-trend style and gives it a unique twist by adding patterns. You don't have to settle just for zig-zag, either. Make it your own with a variety of different patterns distinctly made at the crown!
When you part your hair before wrapping the hair up into buns, you'll want to use a somewhat sharp instrument to instill the zig-zag pattern into the crown.
Giving your low buns a little dash of softness completely switches up the style. With these delicate 'do, you can attend any fancier occasion such as a wedding or graduation event. Double buns tend to have a sassy appeal, so opting to plait together a braid and create softness around the face gives these bun hairdos more versatility.
Part your hair down the middle and begin braiding at the scalp. Follow the braid down the side of your head to the back. Grasp the rest of your leftover hair and wrap it together with the braid. Secure with bobby pins. Repeat on the opposite side.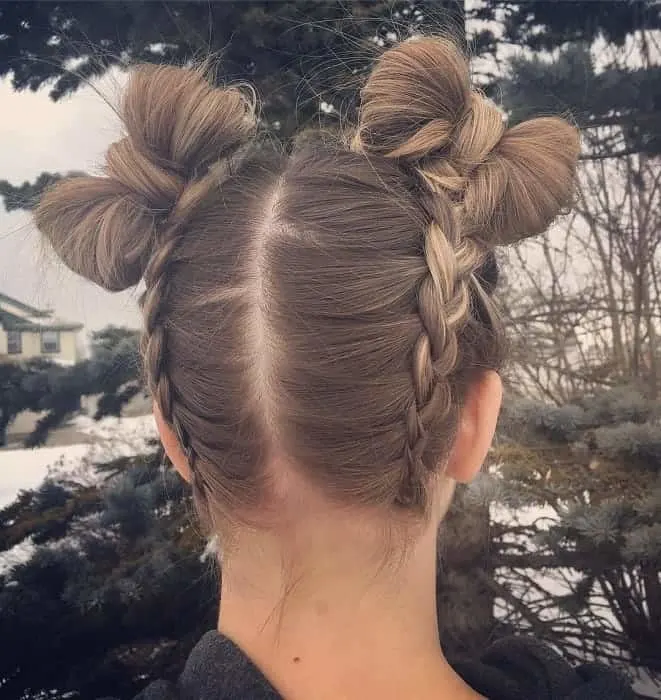 Double bow bun are a hit right now, but settling for the same old style can be a bore. To make this look a bit more unique, try tossing in your own personality as this lovely lady did. This look has that 'just got out of bed' attitude that's both casual and stylish.
For this look, you want to separate the hair into upper and lower portions. Split down the middle and piece together braids on both sides. Wrap up into a tousled bun. Pull the strands of the French braid gently to create more a relaxed, rustled up finish.
Who said braids always had to be on top of the head? Switch it up and give the back of your head some attention with this sensational style. By adding in upside down French braids from bottom to top on the back of the head, she creates an overall look that is very appealing to the eye. She continues the braid through the rest of her hair as well, giving the bun more dimension and details.
You will want to start by dividing hair in half and braid from the bottom, up. Once you reach the top of the head, wrap hair into a tight ponytail. Continue plaiting the ponytailed strands all the way to the ends, then wrap into a neatly tied bun on both sides.
You can't go wrong with glitter- and this look proves it. Her style is sassy and sweet, a killer combo if you're planning to have eyes locked on you for the evening. Dutch braids are immensely popular right now, so pulling them back into half updo is an on-trend overload we absolutely adore.
Styling this look will start with parting hair into two halves. With the upper half, plait double Dutch braids leading back to buns. For a little more pizazz, stack on glitter down the middle like this charmer did!
25. Double Bun with Pompadour
We all know the beauty and popularity of the pompadour, and it looks extra nice when it's paired with a fashionable two bunned half updo hairstyle. The extra height added on top for a pompadour is a great way to elongate the face and create a more slender appearance. As far as the half updo is concerned, it's super stylish and gets an elegant makeover thanks to the perfectly coiled curls down below.
Tease, tease, tease! Teasing is the name of the game when it comes to this hairstyle. Tease hair generously in the front before rolling into two side-by-side buns. The rest of the hair should be curled into smaller, more obvious coils.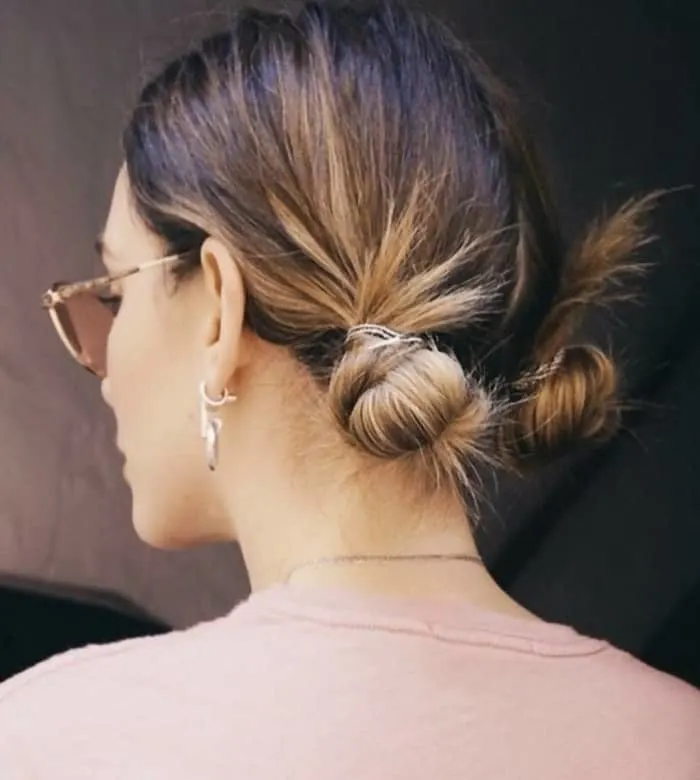 Low buns don't always have to be tight, elegant, or perfectly poised. This woman decides to shake up the game and leave her hair spiking out on top, which gives the whole look some bouncy and fun personality. It's super fun and super cool! When wrapping the hair into low buns, leave some extra hair out on the ends so they can 'spike' up and create volume and dimension.
27. Extra Braided Low Buns
French braids, Dutch braids, no braid; nobody ever talks about more braids. This woman decides to go with the well-known phrase 'the more the merrier' and tosses in a variety of different braids, a stunning collection of plaits that add a ton of texture to her two low bun hairstyle. All the braids add so much more dimension to this style, creating a finish that is not only unique but heavily desired.
Go for one, two, three, four, or how many braids as you want. Lead them all down into two low ponytails, then continue braiding to the ends. Wrap up into thick, lovely low buns that showcase those admirable plaits beautifully.
28. Half up Two Buns
Elegance is key with this half updo, and we couldn't more in love. The stacked buns look almost like a set of delightful flowers, which makes this a feminine powerhouse that's sure to be adored.
When fixing together your half updo, pull the top of the hair back into two ponytails stacked one on top of the other. Wrap into braids and you're done!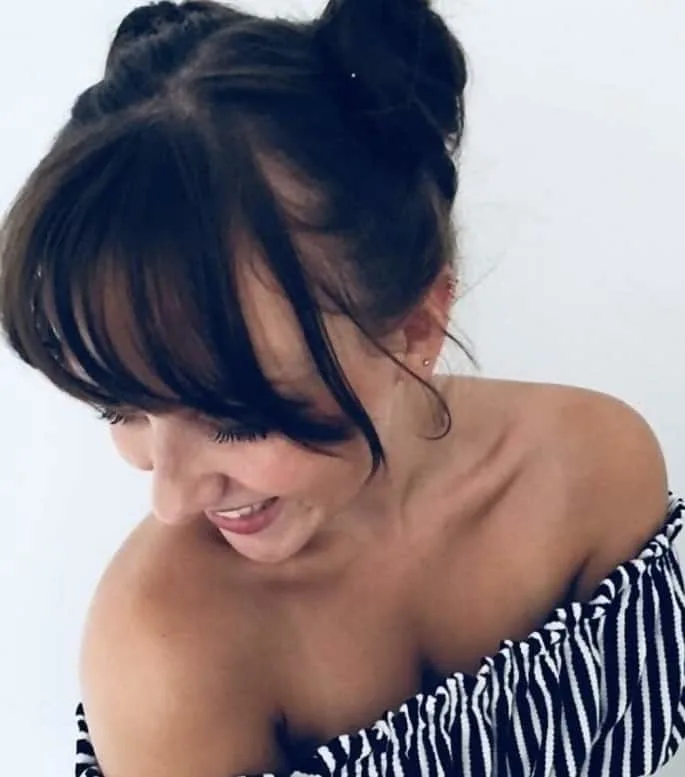 Just because your bangs can fit into your double updo, doesn't mean they should. Let the bangs dangle over your eye to create a more coquettish finish that's sure to make ant heart drop. Her look is flirty and fun, allowing her bangs to breathe a fresh of youthful life into her appearance.
When forming your double buns hairstyle, leave your long bangs out. Give them a gentle curl on the ends so they subtly trickle over your eye for that soft, beautiful effect.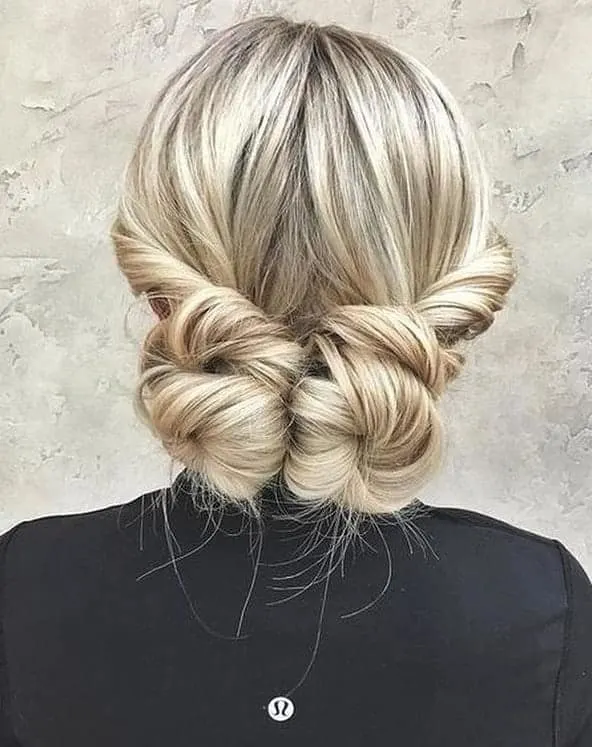 The beauty of a chignon can never be surpassed. There's just something about those delicate twists of the hair that form a beauty that truly can't be described. However, you can make a classic chignon even more delightful by using a low French bun inspiration. It's elegant, it's soft, it's one of the most classical and luxurious hairstyles we have ever see. Not to mention it's overwhelming fashionable touch!
Twist hair back into a classic chignon style, but stop when you get to the back. Toss into two separate buns that are side by side. So glamorous!
When it comes to popular hairstyles, two buns hairstyle looks are all the rage right now and they don't seem to be dropping in popularity any time soon. Whether you're wearing a half updo with curly ends or showcasing your natural curls in a set of space buns, you can rest assured you will be looking on-trend no matter where you're headed.