One of the reasons braided bun hairstyles are so popular is because of their versatility. They range between casual coiffures and fabulous formal 'dos, but you can wear them anywhere, for anything, and you'll fit in seamlessly wherever you are.
The good news is that if you know how to braid and how to twist a killer bun, you can probably create most of these styles yourself. You can also flash your favorite photo at your stylist, and she or he will work some magic on your hair.
How to Tie Braids in A Bun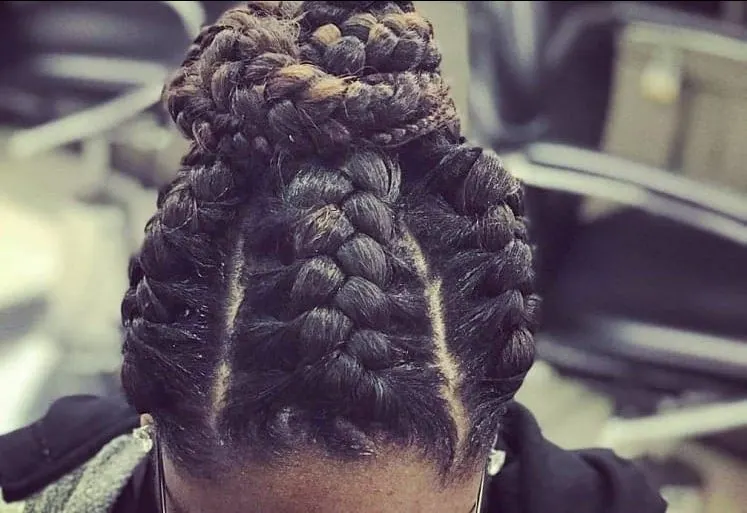 For this hairstyle you will need just a few things:
Comb
Braided hair extensions
Rattail comb
Hair gel
Boiling Water
A few sectioning clips
After you have washed your hair and removed all the knots and tangles, you are now ready for braiding and wrapping your gorgeous braids in a bun.
Section your hair and decide how many braids are you going to make. Use the rat tail comb to divide the parts, and sectioning clips to hold them.
If you have opted to go with hair extensions, pick the one chunk of hair. Divide the extension into 3 equal parts.
Put the extension near the hairline, at the center of the chosen section you are braiding.
Combine extensions with natural hair and divide your hair into 3 sections.
Braid your hair for about two stitches and then start adding more hair into the hair.
Use gel on your hands to make the braiding easier and your hair smoother.
Once you have reached the end of your hair, soak it in the boiling water to seal it.
If you want more braids, repeat these steps until your hair is completely braided.
Take all your braids and simply wrap them into a low or high bun.
Secure the bun with bobby pins.
Braided Bun Hairstyles
Cocktail party, birthday party, girls' night out—throw your hair into a braided bun hairstyle and head out the door like you just spent hours and a small fortune on your hair.
Braids are funky, buns are classic, and the combination of the two is sheer perfection. Don't believe it? Check out these hairstyles.
1. Box Braided Bun
If you want to recreate this gorgeous hairstyle with a bun, you need to pin your long box braids on top of your head and create a big loop of hair. Use your favorite scarf and use it to keep your hairdo in one place.
2. Braided Space Buns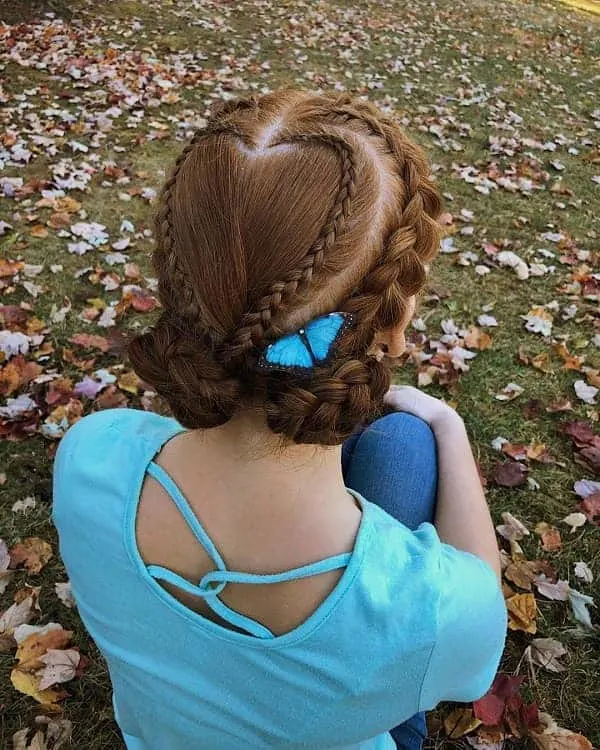 For this space bun hairstyle, you need to split your hair into two sections. Create two braids in shape if a heart, in the center of your back head, and two other twists on the sides. Pin them all in two low buns.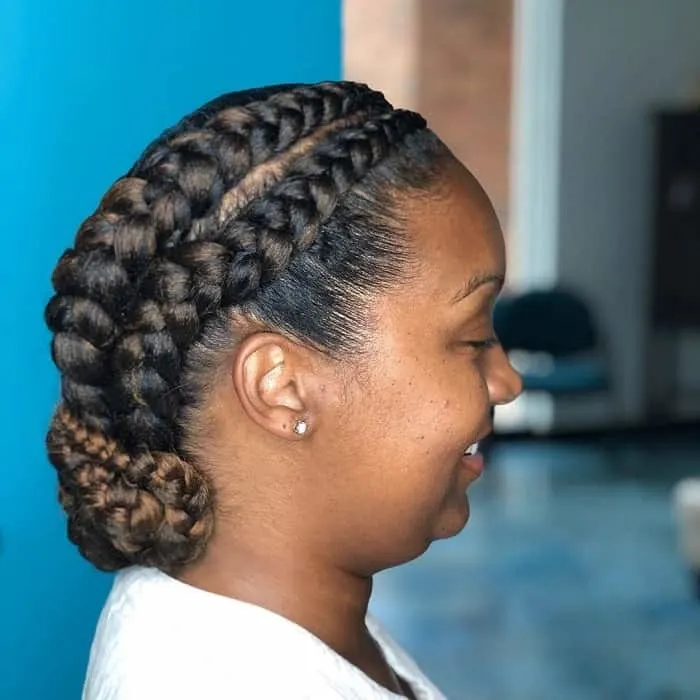 This hairstyle can make you look elegant and stylish, and all you have to do is to create two double braids on each side and pin them all at the base of your neck. Create a big braided low bun.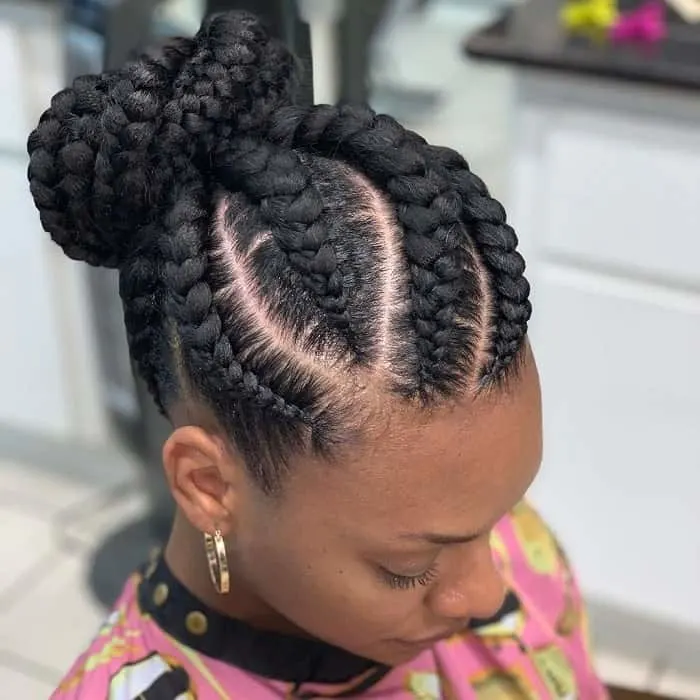 Start your braids from your forehead and direct them to the center of your head. Create a big braided bun hairstyle that will make each twist look eye-popping.
5. Braided High Bun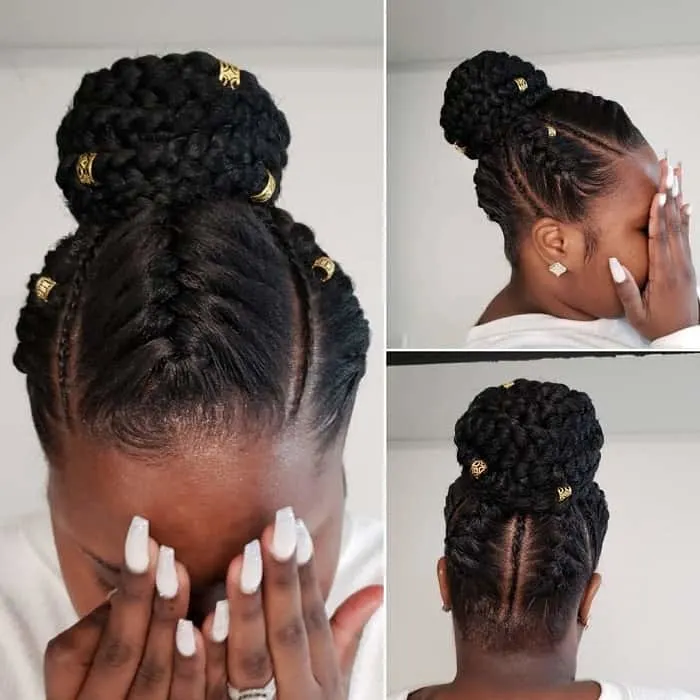 Create five big braids that are oriented to the top of your head. Separate them with smaller twists and add cuffed golden beads to decorate them. Pin all the braids in a big spiral bun.
6. Braided Low Bun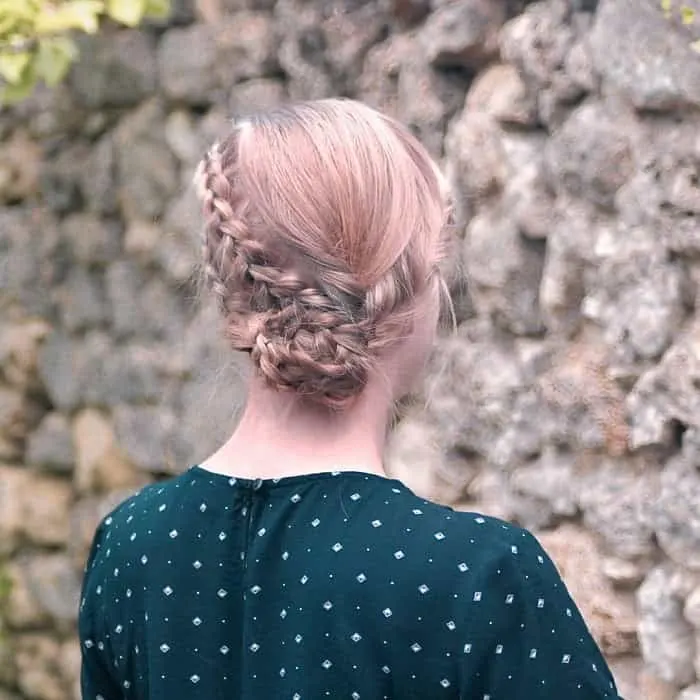 Create two braids that start from one side of your head and lead them to the other side, near your neck area. Create a messy bun, and you will get a gorgeously romantic look.
7. Cornrow Bun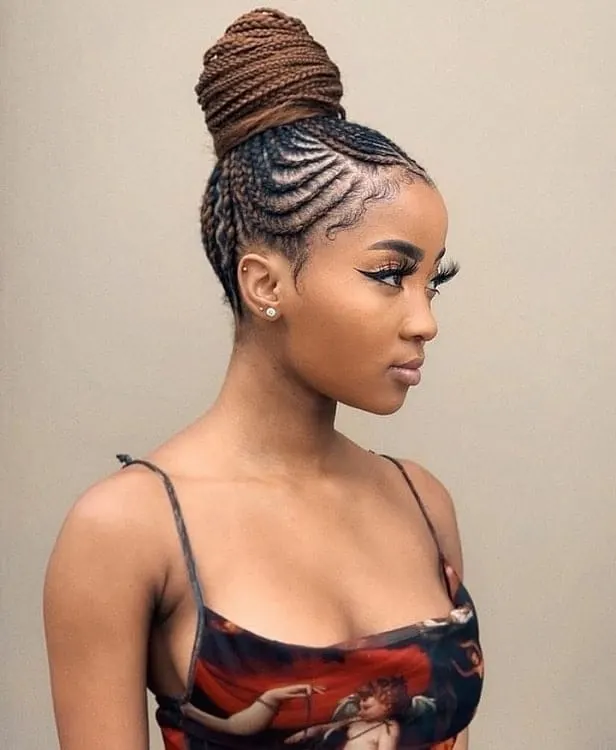 Cornrow braids look fantastic if you choose to pin them all up and create a big dimensional bun. Give your sideburns a Latina girl look, and your hairstyle with braids and bun will look spectacular.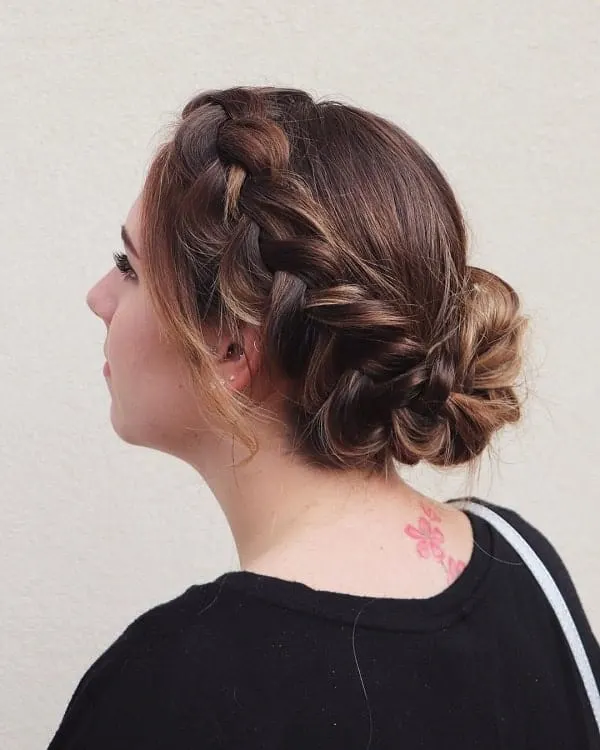 Spare your bangs and flip them on one side and braids a Dutch braid starting from your forehead. Knit it only on one side and create a stylish low bun. This hairstyle is ideal for a wedding or any other event where you need to look your best.
9. Braided Bun with Weave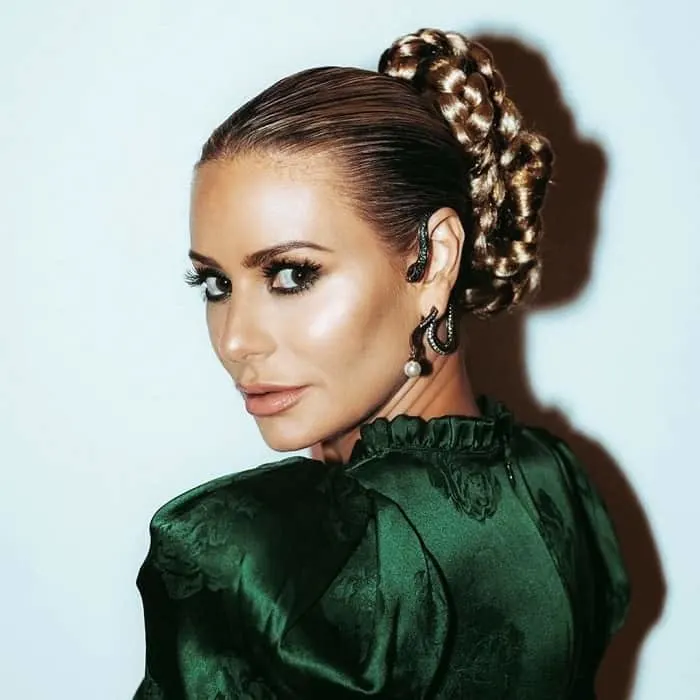 Comb all of your hair on your back and create a sleek look. Use your remaining hair and a weave to create a gorgeous elegant crown that is made of braided hair.
10. Braided Bun for Kids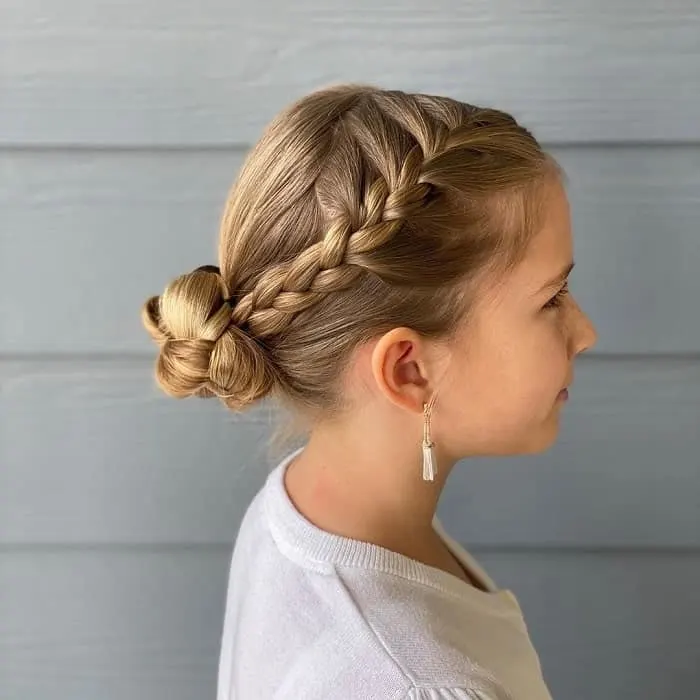 This kid's braided bun is pretty easy to recreate! Braid your girl's sides and tie these two knits in a low bun. Your little princess will love this hairstyle for kids!
Braided bun hairstyles are surprisingly easy to style. They look complicated, but the truth is that even when they look a bit messy, they still exude glamor. The Dutch braided crown here tucks straight into the bun, where a few tendrils escape to soften the back and sides.
12. Side to Side
This braid is different, in that the braids form at the temples. If you're new to the fine art of braids and braided buns, then this is the perfect style with which to practice. It's easier to start with two separate braids. Work your way up to crafting a braid that wraps all the way around your head.
Princess Like Braided Hairstyles for Women
13. Messy Bun with Braids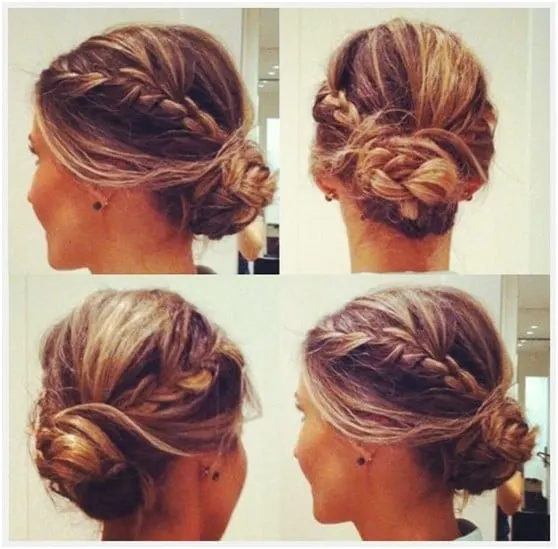 Messy buns are all the rage and have been since … well, since the 1990s, at least, and probably well before that. Guess what happens when you introduce braids? You get the epitome of the Boho look. All you need is a maxi dress and some oversized sunglasses.
To create a braided bun hairstyle that's even more casual than a messy bun, you can always opt for a tousled chignon instead. Chignons are typically situated down at the nape of the neck. They're casual and elegant on their own. Add some thick braids and a messy twist, and you have unkempt perfection.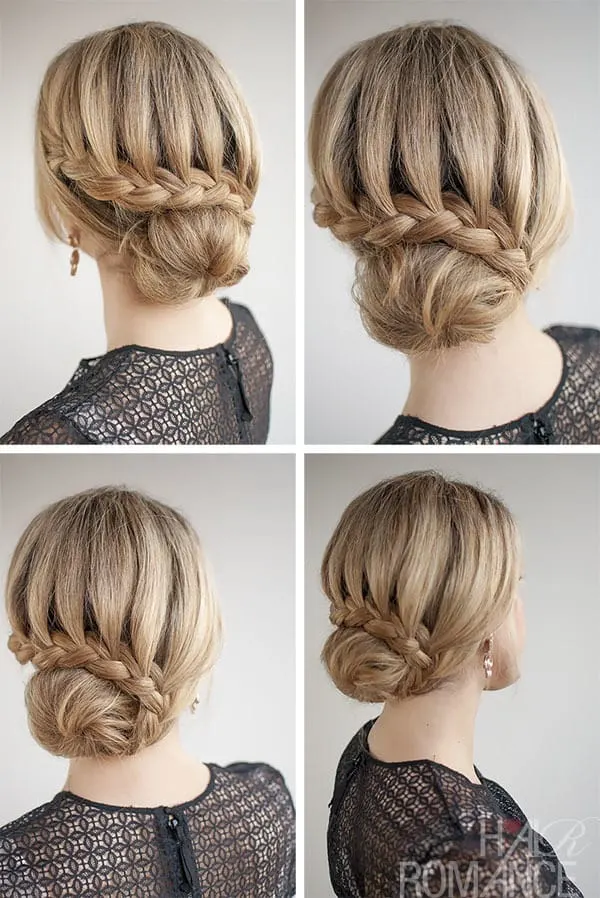 Don't worry—waterfall braids look more intricate than they are. It takes practice, however, and you might need an extra pair of hands. The way the braid spirals into the bun makes it all worthwhile, though.
16. Double-Braided Bun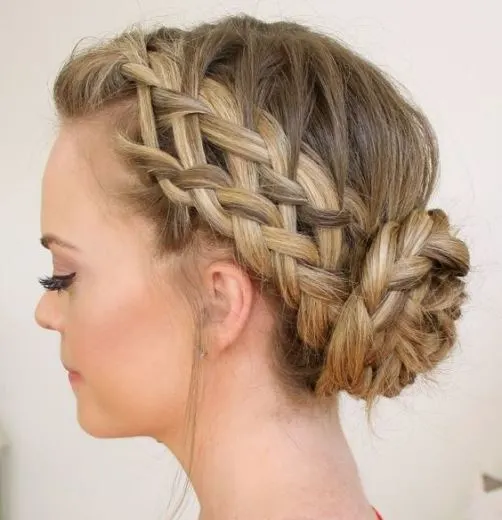 Look closely and you'll see that one braid begins at the crown, then splits off into two. The technique used here appears to interweave strands from the top braid into the bottom braid, creating an interesting crosshatch effect as it twists around to form the bun. Magnificent!
17. Big Bun and Double Braids
This double braid bun hairstyle is more distinct. That is, the braids are more defined. They simply tuck into the bun, as well, so you don't have to braid the tendrils all the way to the ends—unless you want to, of course. That would look neat, pinwheeling through the bun.
18. Braided and Looped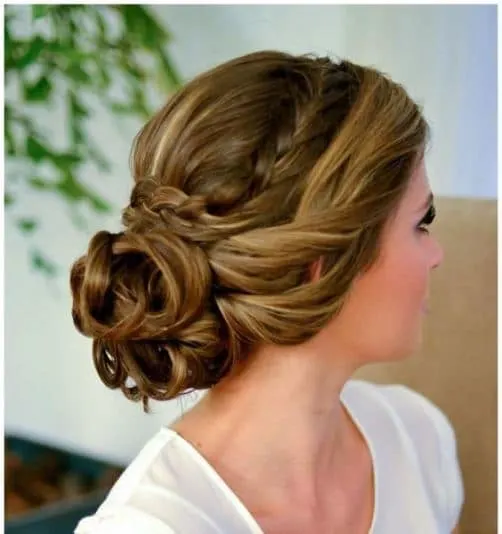 Braided headbands are all the thing, you know. Unlike others, however, this one occurs near the top of the head, but back from the forehead. Instead, soft tendrils of hair drape down the jaw. The braid is mostly separate from the bun, as well, and winds all the way around the crown.
19. Upside Down Braided Bun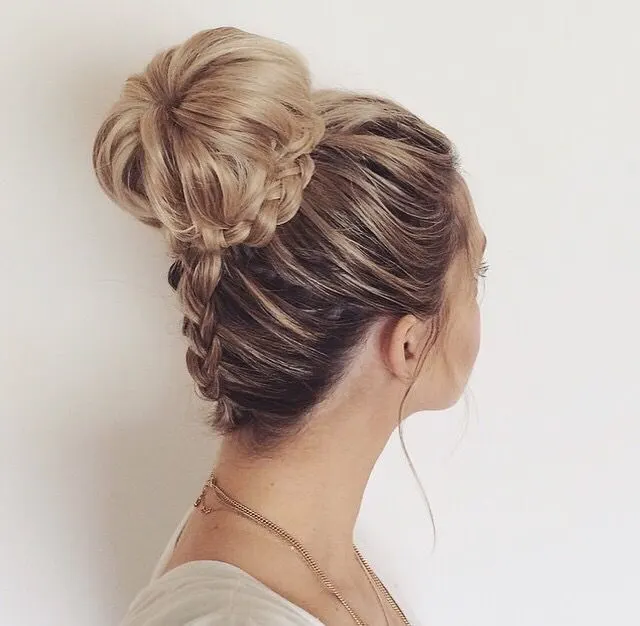 Upside down braids are difficult to perfect. If you try this yourself, you'll spend a lot of time with your head hanging upside down. It's worth the payoff, though—few things look cooler than a braid that starts at the nape of your neck. Love the way it circles the bun, too.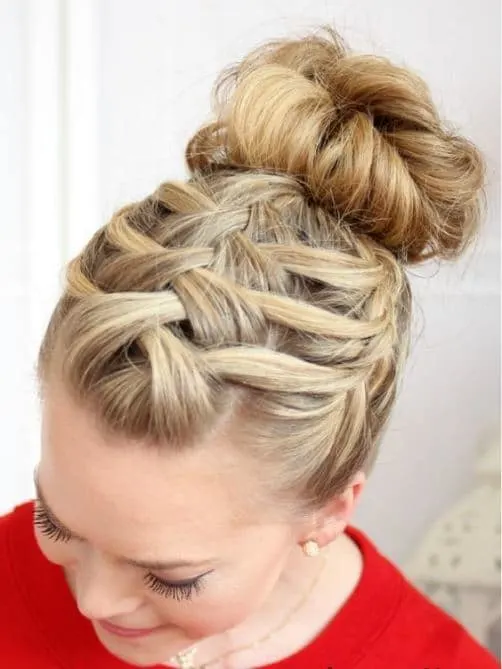 We're looking at the ultimate French braid here. This plaiting technique uses a crosshatch pattern, as well. It's hard to tell from the photo, but it's entirely possible that there's another braid on the side of the head we can't see. This is the perfect updo for prom, a wedding, or any other special event.
A bun doesn't have to encompass your entire head of hair, you know. A half bun keeps the hair out of your eyes and face but looks incredibly chic. Start off with a French braid, then wrap the rest of the hair section into a neat bun. All done!
22. Braided High Bun
Wear your braid as a crown. Better still, wrap it around a high, thick, beautifully formed bun. Pull down a few soft tendrils to frame your face, focusing on the hair at your temples and the nape of your neck. It's simple to do and stunning to see.
23. Cross Braids
How nifty is this braided bun hairstyle? From the back, it's almost an optical illusion. It's actually quite easy, though. Simply separate your hair into three sections, French braid the sections on the side until your reach the back of your head, then tuck one beneath the other and continue braiding. The ends of your pigtails, along with the third section of hair, form the bun.
24. Snaking Plait
This braid sneaks around the head. Look at the curve it creates. You have to begin at one temple, then French braid all the way over to the other temple. A bobby pin or two will help hold the plait in place.
25. Boho Chignon
A thick, messy braid is perfectly fine, even for formal occasions. It's even red carpet approved. Lead your big, sloppy braid down to a chic chignon, and you're ready to wow everyone you meet.
26. Double Braided Half Buns
Here it is: one of the cutest braided bun hairstyles you'll ever see. It looks complicated, but you're basically French braiding the top half of your hair, then twirling the remains into a bun. The bottom half of your hair flows free and loose.
Bun Hairstyles for Women of All Ages
27. Braided Side Bun
Side buns are vintage through and through, but they're not just making a comeback—they've already arrived. To make this retro-inspired coiffure even classier, weave a thick braid from one side of your head to the other, keeping it low toward the nape of your neck.
28. Classic Braided Bun
Simple, chic, elegant—there's nothing complicated here. You can begin with the bun or the braid; it's up to you. Just make sure you carefully comb out and measure the section of hair you intend to braid before you do anything else.
29. Jagged and Edgy
You don't have to spend a lot of time on braided bun hairstyles. Keep it sloppy. That's edgy. No lie—just look at this. Straight ends stick out from everywhere, you can see bobby pins, but the style is still spot-on.
30. Keep It Thick
The braids are thick, the bun is thick, her roots are thick, her blonde color is on-point. Definite win!
Braided bun hairstyles don't take hours, but if you feel like experimenting, many of the styles are beautifully intricate. How do you combine braids and buns when you do your hair?